A+ Art Blog 2020
PATRICIA FRISCHER, the coordinator of the San Diego Visual Arts Network, writes these occasional notes. These blogs are now available at this link where you can comment back.
To leave a comment about this blog or see other comments, please go to the BLOG SPOT LINK or
Archived A+Art Blogs orBlog away. on our Picked RAW Peeled blog site.
Archived A+ Art Blogs

Current and Past 2020 A+Art Blogs
Understanding AB 2257, Follow Up Legislation to AB 5, and Its Impact on the Arts Sector A+ Art Blog by Patricia
Guiding Principles and Manifestos A+ Art Blog by Patricia Frischer
San Diego + Imperial counties Regional Conversation Summary A+ Art Blog by Patricia Frischer
2020 Brain Candy: A Virtual Salon Series – The Curators A+ Art Blog by Patricia Frischer
The Power of Art Part 2 A+ Art Blog by Patricia Frischer
The Power of Art A+ Art Blog by Patricia Frischer - This is a pictorial composition of the recent protest posters in memory of George Floyd.
It's Not Easy, Being Difficult A+ Art Blog by Patricia Frischer
I feel that I am in phase 3 of the pandemic. Phase one was sheer terror and disorientation. Phase two was organizing survival. Phase 3 is still undefined but some things are coming to mind that I will share.
This is not a time to be selling me anything or for me to sell anything to you. It is not a time to act as if I know what people will need or how the world will be different. I am sorry, but this is not a time when I feel that knowing we are all in this together helps me in any real way.
This is a time for me to be asking if you are OK. It is a time for me to donate my money, my skills, my time. This could be a time for re-evaluation of what I want to be.
It is a time where I am so grateful for the support of our arts community. I am so proud of the job that our artists and arts leaders are doing to sort out the myriad of problems that are thrown at us every day from grant application to conditions for safe re-openings.
It is a time when I am disappointed and ashamed of the way minorities are being treated. It is a time that I am amazed and humbled by peaceful demonstrations. I am heartened by the way that people want to continue to be engaged in the arts. It is truly my belief that the arts can help bring about social change for the better.
I am lucky to be able to find things for which I am grateful. I hope I can always be authentic and true to myself while having respect for others. I send the same wish to you.

Remember when Corona was a Cigar or a Beer Some Private Musing A+ Art Blog by Patricia Frischer

Part 1
Part 2
I have never looked at so many links: jokes: virus reports and even a site to build your own virtual museum. I usually never check Instagram or Facebook. They have always been a one way street out for me. But now I am directed there often as a way to exchange information. Text messages and even WhatsApp and Skype are now checked daily. We have had a couple of virtual cocktail parties on zoom with close friends here that we are used to seeing regularly. It was actually a hoot. My 8 month-old grandniece is on the edge of walking and there is a constant stream of video from her proud parents.

Here is a few picks of interesting sites I have found:
#subwayhands is as describes by Hannah La Follette Ryan on Instagram: I have had a long fascination with hands and you can see a lot of them on my website especially the new Not Your Mother's Fingerbowls which is growing with a series of Gold Standard of Hand Washing.

A poignant series called Leaving and Waving by Deanna Dikeman. I now know personally someone that had COVID-19. He is a dear friend who lives on his own in London. He has made it through but this makes it even more real for me. We will all be in this position eventually.

Many years ago during a brainstorming for the future dinner party, I suggested a band aid that took all your vital signs each day. You then deposited into a device that sent it to your doctor. Now we have fitbit watches and the info can go by Bluetooth anywhere automatically. So it was great to hear about this thermometer that crunches data all over America and can pin point virus hot spot symptoms at the beginning stages. After this crisis, maybe information about heart rate and temperature can be gathered world-wide so that we are all safer, individually and as a community.

A scary thought: what happens when all new programing of movies and TV episodes has aired? Will we have 6 months of repeats? A comforting thought: at this stage I can watch a silly movie from last year again and barely remember any of it.

This is a time to slow down and take a few breathes. I wake up in the morning and am whim driven. That might mean maybe reading a book the whole day. If my attention span is short then a break for the puzzle of cupcakes set up on the dining room table, create a new cracker recipe or do a de-stressing meditation with Insite Timer.

Everything is being delivered to us and goes straight to a sanitation station we have set up outside in our courtyard. I guess I will now have to bedazzle some sort of cover for the mask we are now instructed to wear.

I finally got over my initial block…you wait for time to do your art and then all of the sudden you have it and it looks like a black pit. But then the light shines and I am working on 5 new sculptures now and so happy to move forward again. Have you made any art lately?
Part 3
Some of the best one liners:
Boarder police have just seized 2 tons of toilet paper hidden in cocaine.
I'm trying to make protein shakes, but they keep coming out as margaritas.
Your grandparents were called to war. You're being called to sit on the couch. You can do this!
Homeschooling is going well. 2 students suspended for fighting and 1 teacher fired for drinking on the job.
My body has absorbed so much soap and disinfectant lately that when I pee it cleans the toilet.
With everything proceeding at a molasses pace, I have noticed more what I am eating and how it affects my body. With less exercise we are not eating at night and my indigestion has gone away. No more pills for heartburn. And as I experimented with almond flour, my body seems happier so maybe gluten free is a way to stay healthier for me.
I find myself thinking about a bucket list of things I want to do before I die but I think this has been influenced by the isolation. I never even thought of a bucket list before and some of these are things I have done before but want to do again. I want to ride on a Ferris wheel. I want to go to a restaurant and have dessert first. OK, there are only 2 things on the list, but I just started.
My husband chooses what we are ordering for online delivery and I think that is why I am losing some weight, no impulse buying. I made matzoh today to celebrate Passover...no leavening as this was the bread the Jew made as they were escaping Egypt. So it is bread on the run...or for isolation. It will go perfectly with our ham on Easter Sunday!!! And yes, I now have 10 pounds of sliced ham in the freezer and ham soup for eternity.
I am enjoying isolation so much I realized I might be a "closet" agoraphobe. I am starting to worry that I won't want to go out when and if this isolation decree is over. Having food delivered, no doctors appointments, no rushing to return overdue books, no make up (except for Zoom meetings), no traffic, really no schedule, maybe this is what retirement is all about instead of the way I was doing it.
Carlsbad survey of concerns included this information:
Top programs/services the city could provide
• 50% Fitness classes
• 39% Musical performances
• 36% Learn to paint, draw, other art making
Top ways the community would like to stay connected
• 56% An online exchange where people could ask and offer help with things like grocery shopping
• 51% Sharing good news stories
• 28% Pen pal program for seniors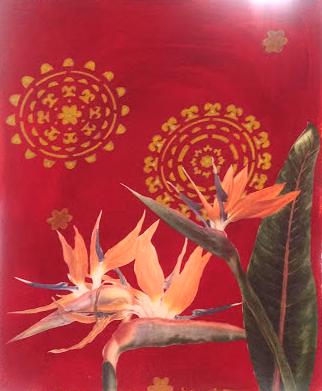 Constance White at The Residency Project in Pasadena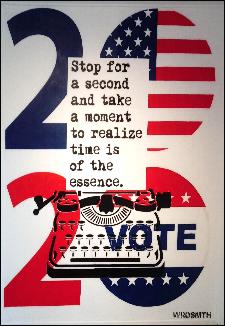 The Role of the Arts in Defining Democracy

Random thoughts from February 2020
I was taught early in my art career to use the technique of compare and contrast to help me make decisions about art works. To me, this means looking at how things are similar, aligned, symmetric, balanced and how are they different, exciting, challenging. In my own head, this debate is constantly happening.
I know it is irrational but I honestly want conflicting things to happen. For example, I don't want urban sprawl or high rises, but I do want affordable housing. I want to feel stimulated by beautiful images, but I also want content that sustains my interest. I want to see art on the streets, but I respect people's property rights.
I realize that I have avoided having political discussions with certain friends as the disagreements are so uncomfortable. But I realize that uncomfortable is sometimes necessary to prevent another holocaust or be ruled unfairly.
I use my yoga breathing to accept that these are times that are troubling and confusing and know because of current circumstances that is the correct way to feel.
I am not a historian or a philosopher, but as a spunky little American, I feel it in my gut that democracy is a good thing. I just need to define what I mean by democracy. Maybe the struggle to define democracy is a role for art. Maybe democracy is the right to compare and contrast.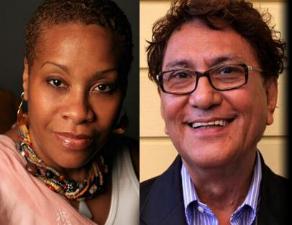 State of the Arts California, 2020


Archived A+ Art Blog

2019 past A+ Art Blogs including
Who wants to be a millionaire artist?
Immigration, Migration, Integration: SD Chinese Historical Museum
Isolationist or Globalist?
Ocular Artist
Birthing a New Art Organization
Three Things You Need to Know
Passport to Dance produced by Encinitas Friends of the Arts
Life Doesn't Frighten Me: Hope Inspired through Art at Fallbrook Library
The Cotwolds: Purton and Cirencester
Modern Couples at the Barbican
Great Big Indian Wedding: Cultural event that ends my year!
India: Monuments and Museums
India: Modern and Contemporary Art
Barnsley House Hotel and Spa
State of Mind, State of the Arts, 2019

2018 past A+ Art Blogs including
Politics and Art: Don't forget the we are human seeking connections
VOTE Like your life depended on it
Ten Reason to Support the Arts
North County Arts Events: Lux Art Couture and SD Botanic Gardens
Look at #Me,Too
Men on Boats at new Village Arts, Carlsbad until April 22
State of the Arts 2018
Outside Mullingar from the Oceanside Theater Co. at Brooks Historic Thea

2017 past A+ Art Blogs including:
End of Year NCAN Arts and Economic Summit Take Aways
SDVAN Giving Tuesday
Patricia Frischer: London Post Script 2017
Patricia Frischer: London Letter, Part 1, 2017
Patricia Frischer: London Letter, Part 2, 2017
Patricia Frischer: London Letter, Part 3, 2017
Patricia Frischer: London Letter, Part 4, 2017
Flash Forward at Oceanside Museum of Art
I matter
Desert X: a close by way to see large scale art
Off with the new, on with the old
Passing on a legacy
Empowering Advocacy
Walker Art Center, Weisman Art Museum in Minneapolis and The Broad in LA
State of the Arts/State of the Website 2017
I matter
Off with the new, on with the old
Empowering Advocacy

2016 Past A+Art Blogs including
State of the Arts 2016
What is the What of What
London Journal March 2016
Today San Diego, Tomorrow the World
1000 Words! Where is a picture when you need it?
Five trends in Social Innovation
August Challenges
Art of Science Learning Proof of Impact..The Facts, just the facts
Old Fashion or Out of Fashion
Annual San Diego Tourism Authority (SDTA) Workshop
Can Falling Behind, Put You Ahead

2015 Past A+ Art Blog including
North County arts Network meeting at CCAE in Escondido
True Collaboration Means Sharing Credit
Why San Diego needs an County Arts Council
Hobby Store Heaven
State of the Arts: Are these the Questions for 2015?
Scaling Up and Out: The changing audience for the arts
Spoiled for Choice equals a Guilt Free Art Life
Changes to the SD Art Prize
Naimeh Tahna Woodard: Queen of Parties and Art Supporter par Excellence
In Praise of Saying Thank You
Maker's Spaces
Art Makes things Strange : Looking at and Talking About Art
Thankful for STEM into STEAM
Your Donations Make a Difference

2014 Past A+ Art Blog including
Mural by Paola Villasenor at SDAI and Art Fair Miami
Turn on, chill out and Pop up
Incubator for Innovation - final 9 teams for San Diego
London Journal 1: Tate Britain Folk Art
London Journal 2: Horst at the Victoria and Albert Museum
London Journal 3:Today's Special: Pace Gallery, Tate Modern Matisse
London Journal 4: National Portrait Gallery and Saatchi
London Journal 5: London Fashion Week and London Design Show at Tent and Super Brands
London Journal 6: Gilbert and George, Boyd and Evans, Anslem Kiefer and AI WEIWEI
A Call to Action
SD Fringe Festival Art Exhibition at Ten Street Art Center
ILLUSION: Nothing Is As It Seems at the Ruben H. Fleet Science Museum
Deborah DeLisi and One Minute Mandalas at SDVAN sponsored Mission Federal ArtWalk
DNA of Creativity Introduction at Oceanside Museum of Art
Notes on Aesthetics and Authenticity Symposium
SD Art Prize has its roots in the Turner Prize

2013 Past A+Art Blog including
State of the Arts: The Rise of the Living Artist, 2013
New Art at the SD Airportt: Flying High


San Diego Incubator for Innovation




Arts Leaders Motivations




Politics and Art in San Diego




Art Eats Food


Alternative Materials Panel Discussion - Sparks Gallery
London Art Newsletter 2013
Maximal
San Diego: Identity Crisis or Identity Opportunity? March 2013
Palm Springs Art Fair, Feb, 2013
Corporate Collecting Book Review, Jan 2013

2012 Past A+Art Blog including
Art of Science, Science of Art
Holistic Education
San Diego Steps It Up
Art Spaces for Art Places
Curated Exhibitons/OMA New Director
TED Speak: Introducing SDVAN View Art Now App
Augmented Realty
Big Art Big Bucks
Three Things You Can Do to Help the Art World
United Councils of San Diego?
Thank you to Dennis Paul Batt
New Horizons in SD Art

2011 Past A+Art Blog including
Is La Jolla coming back as a center for the visual arts in San Diego?, Dec 2011
Audience Engagement, Nov 2011
London Part Two, Oct 2011
London Part One, Sept 2011
Drink, Mate, Art, Aug 2011
Too Brave to Fail, July 2011
Out and About In June, 2011
Putting our Tax dollars to Work
The Birthing of Art Meets Fashion
DNA of Creativity
Los Angeles Contemporary Art Fair 2011 in under 2 minutes!

2010 Past A+Art Blog including
Best Tidbits for the Twelve MOnths of 2010
Katherine Sweetman has a home at SDVAN
Filling a Need
Collectors Take Note
Birthing Process
...And Three to Go
Willing to Fail
Life, Luck and Survival
Arting: are we consuming the right art?
Cliffnotes: One Month Condensed into One Week
Allison Renshaw Discovered
Dreams and Visions: MOvers and Shakers 2
State of the Arts 2010 - the Future of Art Publications


2009 Past A+ Art Blogs including
London and the Venice Biennial, 2009
Meet the Press
Beyond the Borders International Art (BTBIAF)
Interpersonal Theory of Art: Little & Large community phenomenon and the museum exhibition, Calder Jewelry at SDMA
Little and Large Launch
Little & Large Introduciton
The Recycling Buzz
Economic Realities for the arts in May 2009
Seven volunteer Inspried Visual Arts Projects
Snapshot – One women's personal views on Changing Perspectives in the San Diego Art Scene: Notes from the panel discussion
The Economy and Affordable Live/Work Spaces
State of the Arts 2009


2008 Past A+ Art Blogs including
State of the Arts 2008
Hungry for Chinese Art?
Eat Your Art Out plus John Baldessari conversation with Hugh Davies
London Burning: A Damien Hirst Update
SD Flash Forward; Movers and Shakers Speak Out
Museum Trends: NY Times Cliff Notes
London Newsletter 2008
Art Collecting Clubs Part II
Artcentric Interiors
Poopielickles for All: attending Art Fairs in LA
Reading the Zines for Good Ideas, Feb 2008
Changing Power Base: State of the Arts 2008

2007 Past A+ Art Blogs including
Burnished by Fire: Stories of Firestorm, November 2007
The What and the How and the Wow, October, 2007
Careerist Artist, September, 2007
Non-Profit is not a Free Ride, July 2007
Crowd Control at Museums, June, 2007
May and It'sDarling Buds - May, 2007
Cruelty Free Art Zone - April, 2007
Critical Issues Facing the Arts, March, 2007 – The James Irvine Foundation, September 2006 summary
Letter from London Dec 2006 - Feb 2007
State of the Arts Jan 2007

2006 Past A+ Art Blogs
Crossover: How Artists Build Careers
Art and Wine Tour of Northern CA- October, 2006
Web Heaven- August, 2006 Advice on Websites for Artists
Vacation Art-July, 2006
Art Critic Revealed: Robert Pincus - June, 2006
Artistic Freedoms- May 2006
Art and Science, Progress and Mystery - April, 2006
Building Market Share - March, 2006
Glass to Go - February, 2006
Collectors on Show - January, 2006

PATRICIA FRISCHER, author of "The Artist and the Art of Marketing" has lectured extensively on marketing for artists. She is a trainer of artists' agents, art dealers, consultant and collectors. Frischer has taken on the roles of gallerist, curator, writer, teacher, website coordinator and artist. Her many metamorphoses make her difficult to fit into any of the usual art world categories. She is a founding member and coordinator of the San Diego Visual Arts Network, (www.SDVAN.net ) which funds the SD Art Prize, directory and events calendar and SmART Collector features. Her own artwork (www.DrawsCrowd.com ) has been shown internationally and her most recent one person show was at Oxford University.

back to top

or back to Archived A+ Art Blog