A+ Art Blog 2020
PATRICIA FRISCHER, the coordinator of the San Diego Visual Arts Network, writes these occasional notes. These blogs are now available at this link where you can comment back.
To leave a comment about this blog or see other comments, please go to the BLOG SPOT LINK or
Archived A+Art Blogs orBlog away. on our Picked RAW Peeled blog site.
Archived A+ Art Blogs

Current and Past 2020 A+Art Blogs
Remember when Corona was a Cigar or a Beer Some Private Musing A+ Art Blog by Patricia Frischer
Part 1
I latch on to any good news to balance the bad news. How wonderful that we have a factory in Carlsbad ramping up to make COVID 19 test. How crappy that we have to take the test.

I am considering canned hearts of palm to be a fresh vegetable.

After canceling 6 meetings the last 2 weeks of March, I felt more stress free than I had in ages.

We are quarantined by decree of the governor. I love my home so it is like being given sick days without being sick, a little like snow days from my youth.

When you go on a three-week vacation, the first week is all wide eyed, taking in all the new sights and sounds. The second week is really the relaxing week. You read a whole book in one day. You aren't impatient with the 2 ½ minutes it takes to use your electric toothbrush. You write shorter sentences as you take the time to put in a period and then a capitol letter instead of just a comma. As I remember the third week is a frantic mind set into what you have to do at work when you get home. I am in the second week and it appears I may linger here longer than a vacation.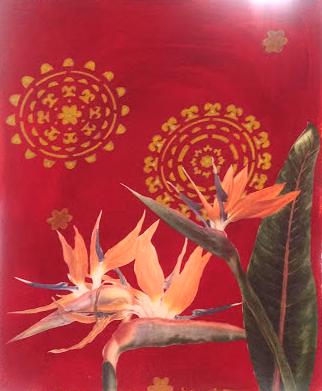 Constance White at The Residency Project in Pasadena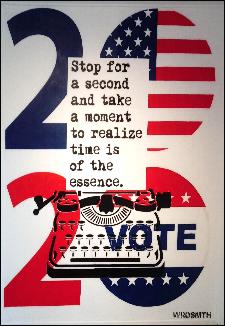 The Role of the Arts in Defining Democracy

Random thoughts from February 2020
I was taught early in my art career to use the technique of compare and contrast to help me make decisions about art works. To me, this means looking at how things are similar, aligned, symmetric, balanced and how are they different, exciting, challenging. In my own head, this debate is constantly happening.
I know it is irrational but I honestly want conflicting things to happen. For example, I don't want urban sprawl or high rises, but I do want affordable housing. I want to feel stimulated by beautiful images, but I also want content that sustains my interest. I want to see art on the streets, but I respect people's property rights.
I realize that I have avoided having political discussions with certain friends as the disagreements are so uncomfortable. But I realize that uncomfortable is sometimes necessary to prevent another holocaust or be ruled unfairly.
I use my yoga breathing to accept that these are times that are troubling and confusing and know because of current circumstances that is the correct way to feel.
I am not a historian or a philosopher, but as a spunky little American, I feel it in my gut that democracy is a good thing. I just need to define what I mean by democracy. Maybe the struggle to define democracy is a role for art. Maybe democracy is the right to compare and contrast.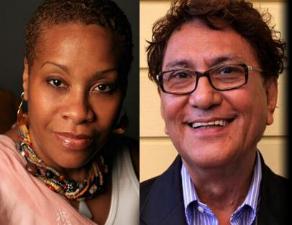 State of the Arts California, 2020


Archived A+ Art Blog

2019 past A+ Art Blogs including
Who wants to be a millionaire artist?
Immigration, Migration, Integration: SD Chinese Historical Museum
Isolationist or Globalist?
Ocular Artist
Birthing a New Art Organization
Three Things You Need to Know
Passport to Dance produced by Encinitas Friends of the Arts
Life Doesn't Frighten Me: Hope Inspired through Art at Fallbrook Library
The Cotwolds: Purton and Cirencester
Modern Couples at the Barbican
Great Big Indian Wedding: Cultural event that ends my year!
India: Monuments and Museums
India: Modern and Contemporary Art
Barnsley House Hotel and Spa
State of Mind, State of the Arts, 2019

2018 past A+ Art Blogs including
Politics and Art: Don't forget the we are human seeking connections
VOTE Like your life depended on it
Ten Reason to Support the Arts
North County Arts Events: Lux Art Couture and SD Botanic Gardens
Look at #Me,Too
Men on Boats at new Village Arts, Carlsbad until April 22
State of the Arts 2018
Outside Mullingar from the Oceanside Theater Co. at Brooks Historic Thea

2017 past A+ Art Blogs including:
End of Year NCAN Arts and Economic Summit Take Aways
SDVAN Giving Tuesday
Patricia Frischer: London Post Script 2017
Patricia Frischer: London Letter, Part 1, 2017
Patricia Frischer: London Letter, Part 2, 2017
Patricia Frischer: London Letter, Part 3, 2017
Patricia Frischer: London Letter, Part 4, 2017
Flash Forward at Oceanside Museum of Art
I matter
Desert X: a close by way to see large scale art
Off with the new, on with the old
Passing on a legacy
Empowering Advocacy
Walker Art Center, Weisman Art Museum in Minneapolis and The Broad in LA
State of the Arts/State of the Website 2017
I matter
Off with the new, on with the old
Empowering Advocacy

2016 Past A+Art Blogs including
State of the Arts 2016
What is the What of What
London Journal March 2016
Today San Diego, Tomorrow the World
1000 Words! Where is a picture when you need it?
Five trends in Social Innovation
August Challenges
Art of Science Learning Proof of Impact..The Facts, just the facts
Old Fashion or Out of Fashion
Annual San Diego Tourism Authority (SDTA) Workshop
Can Falling Behind, Put You Ahead

2015 Past A+ Art Blog including
North County arts Network meeting at CCAE in Escondido
True Collaboration Means Sharing Credit
Why San Diego needs an County Arts Council
Hobby Store Heaven
State of the Arts: Are these the Questions for 2015?
Scaling Up and Out: The changing audience for the arts
Spoiled for Choice equals a Guilt Free Art Life
Changes to the SD Art Prize
Naimeh Tahna Woodard: Queen of Parties and Art Supporter par Excellence
In Praise of Saying Thank You
Maker's Spaces
Art Makes things Strange : Looking at and Talking About Art
Thankful for STEM into STEAM
Your Donations Make a Difference

2014 Past A+ Art Blog including
Mural by Paola Villasenor at SDAI and Art Fair Miami
Turn on, chill out and Pop up
Incubator for Innovation - final 9 teams for San Diego
London Journal 1: Tate Britain Folk Art
London Journal 2: Horst at the Victoria and Albert Museum
London Journal 3:Today's Special: Pace Gallery, Tate Modern Matisse
London Journal 4: National Portrait Gallery and Saatchi
London Journal 5: London Fashion Week and London Design Show at Tent and Super Brands
London Journal 6: Gilbert and George, Boyd and Evans, Anslem Kiefer and AI WEIWEI
A Call to Action
SD Fringe Festival Art Exhibition at Ten Street Art Center
ILLUSION: Nothing Is As It Seems at the Ruben H. Fleet Science Museum
Deborah DeLisi and One Minute Mandalas at SDVAN sponsored Mission Federal ArtWalk
DNA of Creativity Introduction at Oceanside Museum of Art
Notes on Aesthetics and Authenticity Symposium
SD Art Prize has its roots in the Turner Prize

2013 Past A+Art Blog including
State of the Arts: The Rise of the Living Artist, 2013
New Art at the SD Airportt: Flying High


San Diego Incubator for Innovation




Arts Leaders Motivations




Politics and Art in San Diego




Art Eats Food


Alternative Materials Panel Discussion - Sparks Gallery
London Art Newsletter 2013
Maximal
San Diego: Identity Crisis or Identity Opportunity? March 2013
Palm Springs Art Fair, Feb, 2013
Corporate Collecting Book Review, Jan 2013

2012 Past A+Art Blog including
Art of Science, Science of Art
Holistic Education
San Diego Steps It Up
Art Spaces for Art Places
Curated Exhibitons/OMA New Director
TED Speak: Introducing SDVAN View Art Now App
Augmented Realty
Big Art Big Bucks
Three Things You Can Do to Help the Art World
United Councils of San Diego?
Thank you to Dennis Paul Batt
New Horizons in SD Art

2011 Past A+Art Blog including
Is La Jolla coming back as a center for the visual arts in San Diego?, Dec 2011
Audience Engagement, Nov 2011
London Part Two, Oct 2011
London Part One, Sept 2011
Drink, Mate, Art, Aug 2011
Too Brave to Fail, July 2011
Out and About In June, 2011
Putting our Tax dollars to Work
The Birthing of Art Meets Fashion
DNA of Creativity
Los Angeles Contemporary Art Fair 2011 in under 2 minutes!

2010 Past A+Art Blog including
Best Tidbits for the Twelve MOnths of 2010
Katherine Sweetman has a home at SDVAN
Filling a Need
Collectors Take Note
Birthing Process
...And Three to Go
Willing to Fail
Life, Luck and Survival
Arting: are we consuming the right art?
Cliffnotes: One Month Condensed into One Week
Allison Renshaw Discovered
Dreams and Visions: MOvers and Shakers 2
State of the Arts 2010 - the Future of Art Publications


2009 Past A+ Art Blogs including
London and the Venice Biennial, 2009
Meet the Press
Beyond the Borders International Art (BTBIAF)
Interpersonal Theory of Art: Little & Large community phenomenon and the museum exhibition, Calder Jewelry at SDMA
Little and Large Launch
Little & Large Introduciton
The Recycling Buzz
Economic Realities for the arts in May 2009
Seven volunteer Inspried Visual Arts Projects
Snapshot – One women's personal views on Changing Perspectives in the San Diego Art Scene: Notes from the panel discussion
The Economy and Affordable Live/Work Spaces
State of the Arts 2009


2008 Past A+ Art Blogs including
State of the Arts 2008
Hungry for Chinese Art?
Eat Your Art Out plus John Baldessari conversation with Hugh Davies
London Burning: A Damien Hirst Update
SD Flash Forward; Movers and Shakers Speak Out
Museum Trends: NY Times Cliff Notes
London Newsletter 2008
Art Collecting Clubs Part II
Artcentric Interiors
Poopielickles for All: attending Art Fairs in LA
Reading the Zines for Good Ideas, Feb 2008
Changing Power Base: State of the Arts 2008

2007 Past A+ Art Blogs including
Burnished by Fire: Stories of Firestorm, November 2007
The What and the How and the Wow, October, 2007
Careerist Artist, September, 2007
Non-Profit is not a Free Ride, July 2007
Crowd Control at Museums, June, 2007
May and It'sDarling Buds - May, 2007
Cruelty Free Art Zone - April, 2007
Critical Issues Facing the Arts, March, 2007 – The James Irvine Foundation, September 2006 summary
Letter from London Dec 2006 - Feb 2007
State of the Arts Jan 2007

2006 Past A+ Art Blogs
Crossover: How Artists Build Careers
Art and Wine Tour of Northern CA- October, 2006
Web Heaven- August, 2006 Advice on Websites for Artists
Vacation Art-July, 2006
Art Critic Revealed: Robert Pincus - June, 2006
Artistic Freedoms- May 2006
Art and Science, Progress and Mystery - April, 2006
Building Market Share - March, 2006
Glass to Go - February, 2006
Collectors on Show - January, 2006

PATRICIA FRISCHER, author of "The Artist and the Art of Marketing" has lectured extensively on marketing for artists. She is a trainer of artists' agents, art dealers, consultant and collectors. Frischer has taken on the roles of gallerist, curator, writer, teacher, website coordinator and artist. Her many metamorphoses make her difficult to fit into any of the usual art world categories. She is a founding member and coordinator of the San Diego Visual Arts Network, (www.SDVAN.net ) which funds the SD Art Prize, directory and events calendar and SmART Collector features. Her own artwork (www.DrawsCrowd.com ) has been shown internationally and her most recent one person show was at Oxford University.

back to top

or back to Archived A+ Art Blog