A+ Art Blog 2022
PATRICIA FRISCHER, the coordinator of the San Diego Visual Arts Network, writes these occasional notes. These blogs are now available at this link where you can comment back.
To leave a comment about this blog or see other comments, please go to the BLOG SPOT LINK or
Archived A+Art Blogs orBlog away. on our Picked RAW Peeled blog site.
Archived A+ Art Blogs

Current and Past 2022 A+Art Blogs



Support for the Arts at the County Level
The following is a letter I wrote to thank and support our county supervisors who are moving forward in supporting the arts with a designated staff and office for arts and culture when the June county budget is passed. Feel free to copy this and send it to your own district supervisor who are all holding information meetings about the upcoming budget. (see below for dates)
Dear County Supervisor Lawson-Remer, Fletcher, Vargas, Desmond and Anderson,
We would like to thank you each and your fellow county supervisors for the unanimous support you are giving the arts and culture community in San Diego. We truly appreciate the efforts of Supervisor Fletcher and Vargas in championing the move to allocating funds for building an administrative structure on a county wide basis.
At this time, we want to confirm that we are in support of the 2022 budget including the new Office of Economic Development and Government Affairs (EDGA) to coordinate regional efforts through the creation of a Comprehensive Economic Development Strategy (CEDS). We are particularly happy that the Office of Arts and Culture and its staff are ideally placed in the new Economic Development and Prosperity division of EDGA which will be implementing the county wide coordination and arts and culture initiatives.
We are looking forward to seeing details of these strategies and the posting of these vital staff positions which need professional art experience at this high level. These positions as well as the arts and culture commissioners need to be equitably available and filled. We applaud your effort to make this a vital part of your mission enabling diversity to flourish.
We are here to support you and the county in approving this budget and we are here to play any role in aiding or advising you through future white papers about this office by calling on the expertise of our many colleagues.
With kindest regards,
Patricia Frischer
Founder/Coordinator, San Diego Visual Arts Network
A database of 2500 visual arts resources and calendar, reports and support information produced to improve the clarity, accuracy and sophistication of discourse about San Diego's artistic and cultural life, dedicated to the idea that the Visual arts are a vital part of the health of our county.
Monday May 23: District 3 Lawson Remer
REGISTRATION LINK
Tuesday May 31:District 4 Fletcher
MORE INFORMATION
Thursday, June 2 District 1 Vargas
REGISTRATION LINK
Monday June 6, District 5, Desmond
MORE INFORMATION
Wednesday, June 8 District 2, Anderson
MORE INFORMATION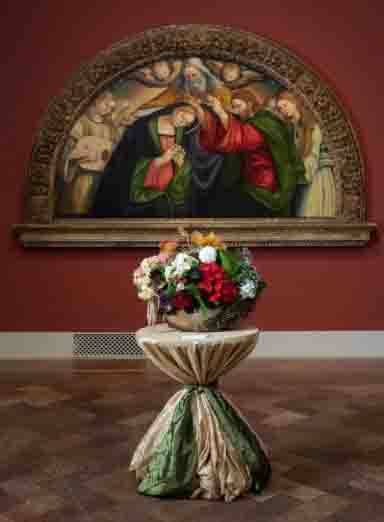 The San Diego Museum Art Arts Alive blooms again in a kaleidoscope of color this April 28-May 1, 2022. Talented floral designers inspired by the Museum collection, offer a brilliantly colored backdrop for a weekend of beloved traditions and art-inspired activities. Thurs, April 28 Art Alive 2022 Premiere Dinner from 6:30pm–11:30pm, Fri, April 29 is Members' Preview from 8am –10am. and Bloom Bash from 7pm.–midnight, Art Alive Floral Exhibition Fri.10am–5:pm Sat/Sun 9am to 5pm, and Sat/Sun Garden of Activities from noon–4pm.
How are the arts doing: Americans for the Arts Survey?
I was asked by a friend who knows how involved I am in the visual arts, how are the arts doing? I had just filled out a survey for Americans for the Arts, and so my first impulse was to think about all the challenges that the arts face. But what came out of my mouth instead was the arts are doing rather well in San Diego. We just got promised $7 million for a new art center in Encinitas, the Museum of Contemporary Arts in La Jolla just opened and is a knock out, The Mingei just re-opened as well and the new Institute of Contemporary Art Central and North seems to be thriving. There are new exhibitions opening every week and our SDVAN events calendar is full. Everyone seems to be working hard to make sure of diversity and equality of opportunities.
Below are my answers to the survey. I have shortened and only selected a few of the questions to post here. But I would love to hear your answers…so feel free to email me patricia@sdvisualarts.net
1. What is the greatest advancement or success of the arts and culture field in your lifetime?
Acceptance of the internet as a way to communicate and create greater involvement
2. What are the three greatest transformational aspirations for change in arts and culture in the next five years?
a. Recognition of the arts in our everyday lives for full integration, in school subjects, corporate spaces, private homes etc.
b. Support for organizations county wide instead of just pockets of support in large or well funded cities.
c. Tax relief for artists as essential workers, tax incentives for supporting artists and to make work live spaces available.
3. What are the three greatest concerns/fears you have about what could transformationally change in arts and culture in the next five years?
a. The election of power hungry and greedy politicians in all level of government
b. A backlash undoing some of the good of more equitable diversity measures taken to recognize minorities
c. Marginalization of the arts due to issues of war and climate change instead of embracing the arts to showcase these causes.
4. What is your highest priorities for the needs of the arts?
Fostering innovation is the highest of my high priorities. A large organization like Americans for the Arts is like a huge ship and I believe it needs to be nimbler if it wants to be more innovative. Applying that innovation to create more funding through more relationships with the business community will only be possible with cross sector collaborations. Business communities want national recognition to give big funding so these priorities are all linter-related.
6. What is the most completely transformational way you could imagine Americans for the Arts changing that would be exciting or valuable to you?
Funding for affordable housing for artist and an expansion of the creative corp.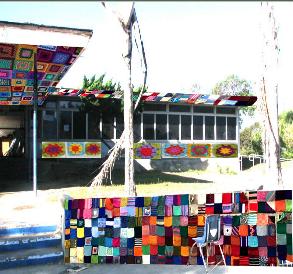 Arts and Culture Center for Encinitas
I am not a patient person in general. I like immediate gratification. But some projects are more like life-time dreams. Many of you know, I have been working toward bringing back a San Diego County Arts Council, but some might not know that I have also been waiting for an Arts and Culture Center to come to the City of Encinitas.Although the entire region of San Diego is important to me, as I age, I want to make sure that my own neighborhood is well served by the arts. That is why I joined the Encinitas Friends of the Arts (EFA) when it first started in 2014. The EFA has a stellar record and this week, after 8 years, we finally got the go ahead to make the Pacific View school property, a stunning site, into that arts and culture center.


It was an unanimous vote from the entire city council which is most gratifying. Our thanks go to Mayor Catherine S. Blakespear and City Council Members Kellie Hinze, Tony Kranz, Joe Mosca and Joy Lyndes. The city which owns the property, will pay for the renovation and be responsible for maintenance, security, staffing and the EFA will help with fundraising and programming along with the city staff and the Encinitas Commission for Arts and Culture.
.Imagine a place where seniors pass on skills to the young who in turn help their elders learn about technologies. Where the design of a garden is not only for physical sustenance, but for spiritual joy. Where the discarded trash is given new life. Where diversity is celebrated and healing is non-verbal. Imagine an art center full of these small miracles that bring communities together, defines them, makes them stronger. Imagine such a jewel in the middle of our art district, an ace in the hole for prosperity and growth. This is our vision for the Arts and Culture Center Encinitas as a Center for Innovation through Art.
Having an arts and culture center for Encinitas will define the Cultural life of our community. At the heart of this new development is Art Education for all. We are prioritizing Communal experiences and Cross sector development with a strong need to encourage Innovation by creating a gathering place for both locals and cultural tourists. We want to activate this much-loved building into a valuable art education resource;
Create the economic growth for which the arts are well known.
Add value to our community by celebrating 500 artists and 90 arts organizations willing to contribute their expertise.
Create new jobs for a state-of-the-art facility
Take advantage of state and national funding for the arts as never before

.
Naimeh Woodward, the president of the EFA says, "The EFA has been a solid partner for the city for over 7 years. In fact, we just renewed our MOU with the City for the next two years and recently agreed to take on the task of promoting cultural tourism including calendar of events for the community."

The activation of the site which originally cost $10 million, could be anywhere from approx. $4 to $8 million, but Woodward has Assembly Member Tahsa Boener Horvath word to consider matching the City's funding up to $3.5. With that sort of backing, other funds should be forthcoming.There has been lots of controversy and rumors about delays in this activation. But now is the time to do what the arts are best at…bringing a community together to heal and prosper.
You can read the EFA full vision of the Arts and Culture Center in Encinitas.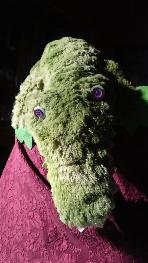 Gator Aid : An upcycle rescue story
We walked down our alley and saw the saddest road kill ever. It was a completely squashed and mangled green mess. I took a photo and posted it to some friends. I got so much feedback on the formerly plush creature, that on our walk the next day I brought a body bag. Beyond believe, there was a pulse. This was an Intensive Care Unit case. Blind and missing a limb, emaciated beyond belief, amazingly, our little allegator had not bled out. The following treatments were administered: cataract surgery so our patient can now see, bionic leg replacement, Botox and plastic surgery on various wounds especially the tail and belly, reverse liposuction i.e. putting the fat back in, complete spa treatment including bubble bath, hot rocks and massage, organic dye job i.e. food coloring. Alley the Alligator now resides on my car dashboard with a much higher view of the world.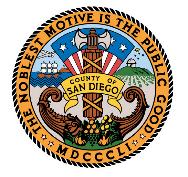 State of the Arts 2022: Hurry up and Slow Down
I have been pushing to re-form a San Diego County Arts Council since I found out that there used to be one that did not survive. Now, it appears that will happen in my lifetime! The Reimagine Vibrant Communities Through Arts & Culture report has now been made public and is in the hands of the SD County Supervisors. It advises that criteria be set for Commissioners to be chosen and so we are heading in the right direction to bring back an art commission or art council for the county of San Diego.

But perhaps San Diego should not adhere to any existing outline for a county-wide arts and culture commission even if it is deemed "best practice". Don't we need to create a new structure suitable to our own population? San Diego has an arts scene like no other community that I have experienced. There is no central power structure and I deem that a good thing. A re-formed county arts and culture administration should not rush in to fill that void. In fact, most agree that we can't see this step as a panacea for all our problems. Let's manage our expectations and allow time for some creative failure along with much needed aid.

I really applaud that equity will be the cornerstone of that revised organization. And a big part of what needs to be done is not only broadcasting successes, but to also support well intentions experimentation even when not successful. The question is, how do you assure both of those goals will be reached.

When forming any organization, it is essential that all involved have a basic agreement on their shared values and beliefs. So that is a starting place; artistic excellence, accessibility to all, inclusivity for all regions, ethical and professional behavior, enabling and empowering, collaborative and cooperative, seeking economic viability, respectful equity.

Do we need another layer of administration to assure eventually agreed upon objectives, goals and strategies? My answer is yes, but I don't see this as an either/or proposition, but one with potential added value. Just like there is a big push for the arts to be help social services, there is also a place for art to simply be that thing that adds immense joy to our lives.

Yes, we have waited a long time for the county to add more to the conversation about the arts. Now we have to hurry up and slow down to get it right.

This year for my State of the Arts report I decided to take a look back at all of the support for the arts that was mentions in our RAW columns in 2021. This is just a snapshot and is not every call for application or every funding report. Can you see some trends? READ MORE

2021 past A+ Art Blogs Including
SDVAN New Normal Cookbook: Eating Your Art In
Selling the Soul
California Creative Corps Pilot Program Development Update
A Red Letter Day with the passage of a proposal for a County Commission for Arts and Culture
The Blue Economy
Desperate Times
VAPA Asks: What is your superpower?
On the Occasion of our 200th SDVAN RAW Column
Simply the Best: A Step Too Far and actually quite dangerous!
A Tale of Two Learnings
Finger on the Pulse
State of the Arts 2021: San Diego Creative Industry by the Numbers

2020 past A+ Art Blogs including
Artist Guide to Surviving the Pandemic: 5 things you can do which will keep you working
Understanding AB 2257, Follow Up Legislation to AB 5, and Its Impact on the Arts Sector
Guiding Principles and Manifestos
San Diego + Imperial counties Regional Conversation Summary
2020 Brain Candy: A Virtual Salon Series – The Curators
The Power of Art Part 2


The Power of Art




It's Not Easy, Being Difficult


Remember when Corona was a Cigar or a Beer


Constance White at The Residency Project in Pasadena


The Role of the Arts in Defining Democracy
State of the Arts California, 2020



2019 past A+ Art Blogs including


Who wants to be a millionaire artist?
Immigration, Migration, Integration: SD Chinese Historical Museum
Isolationist or Globalist?
Ocular Artist
Birthing a New Art Organization
Three Things You Need to Know
Passport to Dance produced by Encinitas Friends of the Arts
Life Doesn't Frighten Me: Hope Inspired through Art at Fallbrook Library
The Cotwolds: Purton and Cirencester
Modern Couples at the Barbican
Great Big Indian Wedding: Cultural event that ends my year!
India: Monuments and Museums
India: Modern and Contemporary Art
Barnsley House Hotel and Spa
State of Mind, State of the Arts, 2019

2018 past A+ Art Blogs including
Politics and Art: Don't forget the we are human seeking connections
VOTE Like your life depended on it
Ten Reason to Support the Arts
North County Arts Events: Lux Art Couture and SD Botanic Gardens
Look at #Me,Too
Men on Boats at new Village Arts, Carlsbad until April 22
State of the Arts 2018
Outside Mullingar from the Oceanside Theater Co. at Brooks Historic Thea

2017 past A+ Art Blogs including:
End of Year NCAN Arts and Economic Summit Take Aways
SDVAN Giving Tuesday
Patricia Frischer: London Post Script 2017
Patricia Frischer: London Letter, Part 1, 2017
Patricia Frischer: London Letter, Part 2, 2017
Patricia Frischer: London Letter, Part 3, 2017
Patricia Frischer: London Letter, Part 4, 2017
Flash Forward at Oceanside Museum of Art
I matter
Desert X: a close by way to see large scale art
Off with the new, on with the old
Passing on a legacy
Empowering Advocacy
Walker Art Center, Weisman Art Museum in Minneapolis and The Broad in LA
State of the Arts/State of the Website 2017
I matter
Off with the new, on with the old
Empowering Advocacy

2016 Past A+Art Blogs including
State of the Arts 2016
What is the What of What
London Journal March 2016
Today San Diego, Tomorrow the World
1000 Words! Where is a picture when you need it?
Five trends in Social Innovation
August Challenges
Art of Science Learning Proof of Impact..The Facts, just the facts
Old Fashion or Out of Fashion
Annual San Diego Tourism Authority (SDTA) Workshop
Can Falling Behind, Put You Ahead

2015 Past A+ Art Blog including
North County arts Network meeting at CCAE in Escondido
True Collaboration Means Sharing Credit
Why San Diego needs an County Arts Council
Hobby Store Heaven
State of the Arts: Are these the Questions for 2015?
Scaling Up and Out: The changing audience for the arts
Spoiled for Choice equals a Guilt Free Art Life
Changes to the SD Art Prize
Naimeh Tahna Woodard: Queen of Parties and Art Supporter par Excellence
In Praise of Saying Thank You
Maker's Spaces
Art Makes things Strange : Looking at and Talking About Art
Thankful for STEM into STEAM
Your Donations Make a Difference

2014 Past A+ Art Blog including
Mural by Paola Villasenor at SDAI and Art Fair Miami
Turn on, chill out and Pop up
Incubator for Innovation - final 9 teams for San Diego
London Journal 1: Tate Britain Folk Art
London Journal 2: Horst at the Victoria and Albert Museum
London Journal 3:Today's Special: Pace Gallery, Tate Modern Matisse
London Journal 4: National Portrait Gallery and Saatchi
London Journal 5: London Fashion Week and London Design Show at Tent and Super Brands
London Journal 6: Gilbert and George, Boyd and Evans, Anslem Kiefer and AI WEIWEI
A Call to Action
SD Fringe Festival Art Exhibition at Ten Street Art Center
ILLUSION: Nothing Is As It Seems at the Ruben H. Fleet Science Museum
Deborah DeLisi and One Minute Mandalas at SDVAN sponsored Mission Federal ArtWalk
DNA of Creativity Introduction at Oceanside Museum of Art
Notes on Aesthetics and Authenticity Symposium
SD Art Prize has its roots in the Turner Prize

2013 Past A+Art Blog including
State of the Arts: The Rise of the Living Artist, 2013
New Art at the SD Airportt: Flying High


San Diego Incubator for Innovation




Arts Leaders Motivations




Politics and Art in San Diego




Art Eats Food


Alternative Materials Panel Discussion - Sparks Gallery
London Art Newsletter 2013
Maximal
San Diego: Identity Crisis or Identity Opportunity? March 2013
Palm Springs Art Fair, Feb, 2013
Corporate Collecting Book Review, Jan 2013

2012 Past A+Art Blog including
Art of Science, Science of Art
Holistic Education
San Diego Steps It Up
Art Spaces for Art Places
Curated Exhibitons/OMA New Director
TED Speak: Introducing SDVAN View Art Now App
Augmented Realty
Big Art Big Bucks
Three Things You Can Do to Help the Art World
United Councils of San Diego?
Thank you to Dennis Paul Batt
New Horizons in SD Art

2011 Past A+Art Blog including
Is La Jolla coming back as a center for the visual arts in San Diego?, Dec 2011
Audience Engagement, Nov 2011
London Part Two, Oct 2011
London Part One, Sept 2011
Drink, Mate, Art, Aug 2011
Too Brave to Fail, July 2011
Out and About In June, 2011
Putting our Tax dollars to Work
The Birthing of Art Meets Fashion
DNA of Creativity
Los Angeles Contemporary Art Fair 2011 in under 2 minutes!

2010 Past A+Art Blog including
Best Tidbits for the Twelve MOnths of 2010
Katherine Sweetman has a home at SDVAN
Filling a Need
Collectors Take Note
Birthing Process
...And Three to Go
Willing to Fail
Life, Luck and Survival
Arting: are we consuming the right art?
Cliffnotes: One Month Condensed into One Week
Allison Renshaw Discovered
Dreams and Visions: MOvers and Shakers 2
State of the Arts 2010 - the Future of Art Publications


2009 Past A+ Art Blogs including
London and the Venice Biennial, 2009
Meet the Press
Beyond the Borders International Art (BTBIAF)
Interpersonal Theory of Art: Little & Large community phenomenon and the museum exhibition, Calder Jewelry at SDMA
Little and Large Launch
Little & Large Introduciton
The Recycling Buzz
Economic Realities for the arts in May 2009
Seven volunteer Inspried Visual Arts Projects
Snapshot – One women's personal views on Changing Perspectives in the San Diego Art Scene: Notes from the panel discussion
The Economy and Affordable Live/Work Spaces
State of the Arts 2009


2008 Past A+ Art Blogs including
State of the Arts 2008
Hungry for Chinese Art?
Eat Your Art Out plus John Baldessari conversation with Hugh Davies
London Burning: A Damien Hirst Update
SD Flash Forward; Movers and Shakers Speak Out
Museum Trends: NY Times Cliff Notes
London Newsletter 2008
Art Collecting Clubs Part II
Artcentric Interiors
Poopielickles for All: attending Art Fairs in LA
Reading the Zines for Good Ideas, Feb 2008
Changing Power Base: State of the Arts 2008

2007 Past A+ Art Blogs including
Burnished by Fire: Stories of Firestorm, November 2007
The What and the How and the Wow, October, 2007
Careerist Artist, September, 2007
Non-Profit is not a Free Ride, July 2007
Crowd Control at Museums, June, 2007
May and It'sDarling Buds - May, 2007
Cruelty Free Art Zone - April, 2007
Critical Issues Facing the Arts, March, 2007 – The James Irvine Foundation, September 2006 summary
Letter from London Dec 2006 - Feb 2007
State of the Arts Jan 2007

2006 Past A+ Art Blogs
Crossover: How Artists Build Careers
Art and Wine Tour of Northern CA- October, 2006
Web Heaven- August, 2006 Advice on Websites for Artists
Vacation Art-July, 2006
Art Critic Revealed: Robert Pincus - June, 2006
Artistic Freedoms- May 2006
Art and Science, Progress and Mystery - April, 2006
Building Market Share - March, 2006
Glass to Go - February, 2006
Collectors on Show - January, 2006

PATRICIA FRISCHER, author of "The Artist and the Art of Marketing" has lectured extensively on marketing for artists. She is a trainer of artists' agents, art dealers, consultant and collectors. Frischer has taken on the roles of gallerist, curator, writer, teacher, website coordinator and artist. Her many metamorphoses make her difficult to fit into any of the usual art world categories. She is a founding member and coordinator of the San Diego Visual Arts Network, (www.SDVAN.net ) which funds the SD Art Prize, directory and events calendar and SmART Collector features. Her own artwork (www.DrawsCrowd.com ) has been shown internationally and her most recent one person show was at Oxford University.

back to top

or back to Archived A+ Art Blog