Archived Resource Focus articles 2006 - 2015
Art Resource Focus 2022
Our Resource Focus articles are a series written by some of the top art professionals in charge of visual art non-profits in the San Diego region. These organization have survived and even thrived during the COVID Pandemic. We asked them to report on the their current position and their future visions for thier organizations. Watch this space and Join our mailing list. for our eblast announcements of new articles added.
Art Resource Focus 2023

Mental Wellness for Artists
It's Time at the SD History Center
Art Reach by Anna Laroque
Sparks Gallery by Sonya Sparks
Wellness for Children Project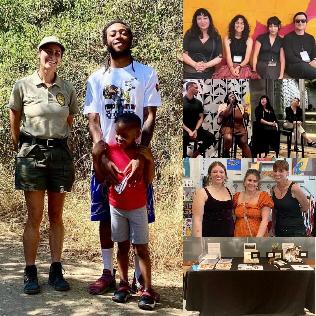 I formed Mental Wellness for Artists (MWA) in late 2021 through the "Art Unites Community Partners" private Facebook group. I invited the group's arts leaders and entrepreneurs to join me in researching, centralizing, and promoting mental health resources within San Diego's arts community. Our goal was to take and inspire positive action in response to limited accessible and affordable professional services, heightened stress, and the increase in mental health disorders and suicide rates. Our plan was to leverage our networks and strategic marketing. MWA grew rapidly in terms of number of followers, community partners, and opportunities to and from MWA. I attribute this to our constant efforts, resource curation, and strategic marketing.
Today, MWA's mission is to "support San Diego artists' mental health and wellness by promoting mindfully diverse resources, events, and opportunities" on Instagram and in artistic, culturally significant, and visually stunning spaces - oftentimes, with the collaborative support of our community partners, which include: Family Health Centers of San Diego, Space 4 Art, Visionary Dance Theatre, Vanguard Culture, California Lawyers for the Arts, and many more.
Following are a few examples of MWA resources, events, and opportunities:
Mental health organization flyers
Safety Plan (suicide prevention) zine templates
Mental Wellness for Artists Resource Fair with over 40 community partners including Champions for Health and San Diego County Health and Human Services Agency
MWA Mindful Nature Walk
Gender-affirming closets for artists
Mental health art exhibition opportunities
Setting up the MWA booth and delivering presentations in "artistic, culturally significant, and visually stunning spaces" is strategic and important to us. It allows us to meet artists where they are, and introduce artists to hidden gem locations throughout San Diego County. Additionally, the spaces' creative, historical, and visual attributes inherently contribute to mental health and wellness. MWA has had the pleasure and honor of sharing mental health and wellness information at The Old Globe, Mingei International Museum, and The Soap Factory, among other remarkable spaces. Our forthcoming engagements include the Suicide Prevention Walk/Run by You Are Not Alone OB, Creator Fest by Nelson Photo and Video, and Music and Art Festival by Reality House West.
I am proud of MWA's innovative and holistic model for mental health conversations and social change, and deeply grateful to everyone who has supported MWA's journey.
Blanca Lucia Bergman, MBA
Founder, Mental Wellness for Artists and Art Unites
Co-Founder, Cycad Gallery

To reach us and learn about Mental Wellnes for Artists, please use Instagram
Instagram: @mentalwellnessforartists
Email: mentalwellnessforartists@gmail.com
Phone: 619.540.0310
It's Time at the SD History Center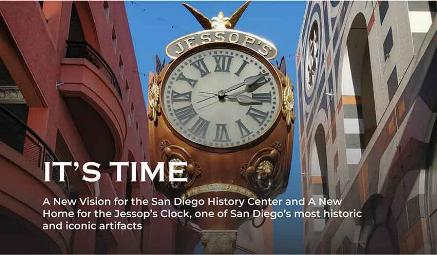 For more than a decade, the Jessop Family, led by Jim Jessop, has been seeking a permanent home for the Jessop Clock. With the completion of our new master plan for the museum, the San Diego History Center envisions the clock as a central component of a new, permanent exhibition that connects the past to the present and sets the stage about where San Diego, the eighth largest city in the nation, is headed in the future.

The San Diego History Center in Balboa Park will be the new, permanent home for the iconic Jessop's Clock. Not only is the clock an important artifact from San Diego's history, it will be the feature of a core exhibit - and the first of many improvements - as we reimagine the museum for our 100-year anniversary in 2028.

For more than 100 years the Jessop's Street Clock has stood in public service marking the passing of time and witnessing the growth of our region. The clock, commissioned by businessman Joe Jessop in 1905, served as a beacon for the family's jewelry store on 5 Avenue in 1907. The Jessop's Clock was installed two more times, with subsequent moves of the store to another 5 Avenue location, and finally where it was last on public display in the center of downtown's Horton Plaza Shopping Center. With the sale and repurpose of the mall, the clock was dismantled and placed into storage in 2019, where it has been ever since.

In 2028 the San Diego History Center will mark its Centennial, and we need your interest and support to bring our new vision for the museum to life and to preserve this important object for the next 100 years.

Click here to join the Friends of the Jessop's Clock and to receive updates on our progress toward our Centennial Vision.

Bill Lawrence
President & CEO, San Diego History Center

The History Center presents engaging, family-friendly exhibitions with participatory activities that tell the remarkable stories of our region – past, present, and future.

The SDHC Research Archives provides access to the photograph collection and our special collections, the region's largest collection of historical materials, covering hundreds of years of San Diego history. We have allocated additional staff resources to migrating more of our collections to the public digital space – requiring ongoing processing, cataloging, and digitization of large portions of our collections – we have also increased the efficiency by which researchers can physically access the research archives. Physical access to the Research Archives is now managed through a fee-based appointment system, with discounts for SDHC Members. Any questions may be emailed to collections@sandiegohistory.org . Please note that the SDHC special collections receive many reference and research questions on a daily basis and we strive to respond in a timely manner.

We also offer popular public programs and special events such as Sim Bruce Richards, the Sensuous Environment, which chronicles the mid-century career, architecture, art and design of Richards, who created a design aesthetic unique to our region. The exhibition is curated by Keith York (Modern San Diego) and the first retrospective of Richards career in 40 years and draws upon the architectural archive of the San Diego History Center and UC Santa Barbara's Art, Architecture and Design Museum.

Read the SDVAN article: Sim Bruce Richards, the Sensuous Environment at the SD History Center Picked RAW Peeled by Patricia Frischer

Now open at the SD History Center in Balboa Park until May next year.
Wednesday through Sunday, 11am-5pm
More info: Leilani Alontaga Caithness 619-232-6203 x1

ArtReach: igniting youth creativity through visual arts expression and community connection by Anna Laroque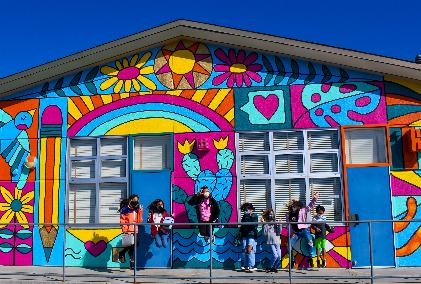 ArtReach cultivates creativity, sparks confidence, and ignites imagination through exceptional visual art and mural programs San Diego County youth each year. As a nonprofit organization dedicated to meaningful art experiences for young people, ArtReach provides the resources needed for students to express themselves and creatively engage with the world around them. ArtReach aims to build lifelong learners and leaders who are inspired to make positive change in their communities and beyond.
ArtReach's Artist Residency Programs are designed to draw inspiration from contemporary and relevant visual arts practices. By engaging in artmaking, young people are encouraged to tap into their inherent creativity, process and express their emotions, and cultivate self-esteem within a supportive yet challenging environment.
ArtReach offers Free Programs for Title I Schools to elementary schools that lack the financial resources to fund a visual arts program for their students. Additionally, all San Diego County schools with a Title I designation are eligible to receive an ongoing discount on total program costs.
ArtReach believes in the transformative power of community and art to make a positive impact on people's lives and spaces. The ArtReach Mural Program works directly with youth at schools and community centers to dream up large-scale, collaborative works that represent their vision.
ArtReach has recently opened its studio doors to inspire artists, families, and neighbors of all ages, offering free workshops to break down financial barriers that often prevent access to arts education. These Community Workshops provide visual arts education opportunities for the public while offering paid teaching opportunities for artists.
ArtReach's annual Charity Art Auction challenges artists to transform ordinary objects into unique and extraordinary works of art, highlighting the idea that anything can be art. Proceeds from the event benefit ArtReach's free visual arts education programs. The next auction features a collection of art on bicycles and bicycle accessories that were generously donated by Electra . All items will be sold online from April 1st-30th and will be available for public viewing at Mission Fed ArtWalk in Little Italy on April 29th & 30th.
ArtReach is teaming up with North Park Main Street for an upcoming fundraiser at the 2 nd Annual North Park Music Fest . The event will feature custom art pieces made from vinyl records created by talented artists. The artworks will be showcased and sold in person during the two-day event on May 27th & 28th. Proceeds from the event benefit ArtReach's free visual arts education programs.
Follow along: @artreachsd
Learn more: artreachsandiego.org
Invest in our mission: artreachsandiego.org/donate
Reach out: info@artreachsandiego.org
ArtReach is a 501c3 nonprofit organization: Tax ID 39-2067596
Sparks Gallery by Sonya Sparks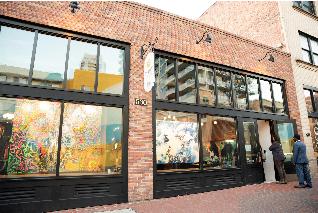 Image by Tim King
Surviving the pandemic was almost like a period of hibernation for us at Sparks Gallery. Diversification, collaboration, and investment in infrastructure helped get us through. We scaled back, and I personally went to the gallery to do a lot of the work that the staff had been doing.
We quietly hung shows, and shared the works online , often in auction format.
Our marketing budget (at this point very thin) shifted to improving our online presence.
We started a secondary market platform for clients looking to sell.
We also collaborated with another gallery to share their artist's work.
Thankfully, our art sales did not decrease significantly. We are now even seeing a big rise in art purchases as people become tired of the spaces they occupied full-time during the pandemic. But we did lose our event rental business for these past 2.5 years. We were happy to host the panel for the MissionFed Art Walk Art Business Scholarship in 2022 as soon as events were back.
Now, we are seeing events back in full swing, which will continue to support us going forward. We especially look forward to bringing back publicly-available creative conversations and supporting the artists with opportunities for commissions .
Our stable of artists will continue to exhibit artwork. Regularly featured on SDVAN, Cheryl Tall will be exhibiting in a solo show Dramatis Personae, from March 12 to April 30 th with an opening reception on Sunday, March 12, 2023 from 5-8pm. Our exhibition calendar is listed on our homepage , with solo exhibitions in 2023 from Daniel Ketelhut, Kathleen Kane Murrell, Annalise Neil, and Stefanie Bales' as well.
Kira Carrillo Corser's Wellness for Children Project is a rhymes for wellness book series designed to help kids 3 to 7 and theirr families cope with stress, illness, and anger includes books and videos, posters, huggable stuffed animals and more. This brings 92 items together for the first time in one place with books just published through Compassionate Arts in Action . Her Imagination Adventures feature Kira's new series of International Healing Angel paintings. More info: WellnessforChildrenProject@gmail.com
THE PROJECT
What impact can creativity have in helping kids cope with fear, stress, and illness?
Kira Carrillo Corser is a San Diego artist nationally known for her work in health, social justice, and the environment. She just published 5 Rhymes for Wellness books featuring her writing and painting and Ron Coviello's illustrations. This Wellness for Children Project is designed to help kids 3 to 7 years old cope with all of these issues and includes books and videos, posters, huggable stuffed animals and more. This is the first time Kira is bringing together 92 items in one place. The books include pages from her Parent/Teacher Guide with adorable rhyme stories and Healing Angel paintings and KidsZone activities.
The Wellness for Children Project Kit includes a large Storyteller Version with all 4 Rhymes for Wellness, a Breathing Adventures and one of the Imagination Adventures, plus huggable animals, videos on flash drive and more. The Wellness for Children Project includes group or individual video showings with follow up audio CD's, books, imagination workshops, breathing puppets, etc. This work encourages relaxing breathing and "Imagination Adventures" for ways to cope with illness or stress. These Adventures feature Kira's new series of International Healing Angel paintings.
ABOUT KIRA CARRILLO CORSER
Most people in San Diego know Kira Carrillo Corser as a social justice, health and environment artist working with communities across the country. On the world stage her art was displayed behind President Clinton speaking about healthcare on NBC and with President Carter streaming with world Human Rights Defenders. Her exhibitions include: The National Steinbeck Center, The Carter Center, the Museum of Monterey, the California Center for the Arts, and Oceanside Museum of Art (Part of SDVAN's DNA of Creativity SeaChanges.org Exhibition in 2014)
Some may know her as the Staff Photographer at KPBT TV and Radio Station and her work with Mr. Rogers Children's programs? What you might not know is that for over 20 years she created videos and designed workshops to use creativity in aiding kids and communities to combat stress, fear and illness. She is a a 30-year cancer survivor. When her friend's 3-year-old was diagnosed with leukemia, Kira looked in vain for the same visualization tools she used to help herself heal. She had to take action. Now, she has just published a series of Rhymes for Wellness books through Compassionate Arts in Action.

HISTORY
Kira Corser found a tremendous need for resources to help families with young children coping with stress, pain, and illness. The Wellness for Children Project was founded by her over 20 years ago, and Kira has been designing original creative materials ever since. She continues to help empower children to help themselves relax when they are under stress with medical procedures and to visualize wellness. The project also encourages parent, teachers, and health care providers to use the video and Parent Teacher Guide to personalize each child's experience. These efforts are sponsored by private funders and the California Wellness Foundation.
Past videos and books were in the hospitals in Monterey County, foster care center, and Jacob's House (kids with cancer) and several libraries plus screenings with healing art workshops at California State University Monterey Bay and the Unitarian Church in Monterey. Some other hospitals: Marshfield Children's Hospital Marshfield, Wisconsin. and San Diego Children's Hospital also had copies.

FUTURE
Kira's original film is now being edited into 8 episodes and art tutorials and interviews including a Wellness Fairytale called "The Laughing River's Secret of Wellness." The story features a little girl (who is sick) who goes in search of The Laughing River to learn "one of the Secrets of Wellness," but she learns that she already knows this - relaxing breathing and imagination/visualization. On her journey, she meets a grouchy bear with a sore back, a deer who is afraid but loves to dance, two bickering birds who love to sing, and of course, The Laughing River. The character costumes and songs are all original created by Kira and her talented friends from California and Georgia.
The Wellness For Children Project Parent/Teacher Guide for parents, therapists, teachers, and nurses is a large part of each book and each episode, so that siblings and others can help sustain the learning. The video fairytale script is also being made into an eBook in English and Spanish with images from the video. The Spanish translation and voice over recordings are ready to dub, so a Spanish Version (when funding to complete this is obtained) will come next. The first 8 minutes is already dubbed with puppets, so kids could watch that part in Spanish and practice their own breathing with the Spanish Language Parent/Teacher Guide on the Wellness For Children Project YouTube Channel. (access through the website or find the links in the books)
ACTION
Kira is raising money so she can donate the complete kits to places where it will do great service like children's cancer hospitals, foster care and homeless shelters. If anyone wants to donate they can contact Kira at WellnessForChildrenProject@gmail. com or go to the www.WellnessForChildrenProject.com website.
Kira is doing book readings in Northern California and looking for people and places to partner with her in San Diego. Contact Kira at the WellnessForChildrenProject@gmail.com
The 8" x 8" books, or 12" Storyteller Version, can be purchased by contacting Kira at the WellnessForChildrenProject@gmail.com or on the Project website.
Social Media
www.WellnessForChildrenProject.com
https://www.facebook.com/profile.php?id=100078779266769
www.CompassionateArts.org