Archived Resource Focus articles 2006 - 2015
The time has come to relaunch our Resource focus articles with a series of articles written by some of the top art professionals in charge of visual art non-profits in the San Diego region. These organization have survived and even thrived during the COVID Pandemic starting in 2020. We asked them to report on the changes and their future visions for thier organizations. Watch this space and Join our mailing list. for our eblast announcements of new articles added.
Art Resource Focus 2022

Front Porch Gallery by Julie Weaverling
Space 4 Art by Jennifer de Poyen, Executive Director
ArtsBusXpress by Ted Peña, President and Julia McMeans, Executive Director
The City of San Diego Central Library Art Gallery
Art San Diego Returns To San Diego Convention Center Sept 9—11, 2022 by Linda Mariano
The San Diego Art Prize presented by San Diego Visual Arts Network
Encinitas Friends of the Arts: A story with a happy ending by Naimeh Woodward
Art Produce Produces by Art Produce Team
Art Unities by Blanca Lucia Bergman
Compassionate Arts in Action (Artists, Teachers, Scientists, Families) by Kira Carrillo Corser
CoTA (Collaborations: Teachers and Artists) by Marisa Cooper
Executive Director
Front Porch Gallery by Julie Weaverling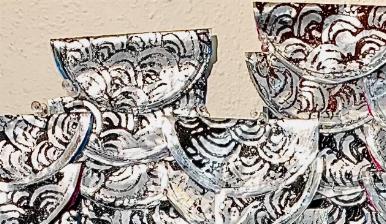 (detail of work by Carol Abbe inspired by El Anatsui, famed African artist.)
Front Porch Gallery is an outreach program of Front Porch, a not-for-profit organization based in Glendale, CA., serving individuals and families through full-service, active adult communities, affordable housing and related management and development.
In 2020, when everything shutdown the gallery did as well. After a couple of weeks, we were still closed but back in the gallery beginning to work to support residents of Front Porch Retirement Communities who were in complete lockdown. Beginning with phone calls to residents, it became clear that the residents who were being creative were continuing to be engaged and were experiencing a higher level of well-being. Others however were finding the isolation difficult and found it hard to get going.
One resident in Santa Barbara had suggested to her fellow residents that they use leftover yarn they had on hand to knit squares which would be put together as events allowed. This gave way to the idea, "what if we could get residents of all the communities to work separately then later together to create collaborative quilts." More phone calls were made to engage a resident at each community who would be willing to be the point person for their project. This was easy at Carlsbad by the Sea where they already have a group of quilters engaged to create baby quilts for the newborns at Camp Pendleton. Other communities took more convincing! We thought we could create community by having Zoom gatherings of those working on the quilts. This turned out to be wonderful as residents from various areas were able to discuss the Collaborative Quilt Project and enjoy conversations and getting to know one another.
That year we also created and sent out kits with two projects. The first were Milagros! (based on San Diego artist Jane LaFazio's work) to create hand-sewn and embellished hearts that were created with the idea that they would be given. There were also peace doves that were embellished and hung from the gallery "sky" as a symbol of hope. The quilts, Milagros! and peace doves were all exhibited in the Creating Meaning exhibition in 2020 which was accompanied by a mini-documentary about the project. In 2021 the quilts went on tour to all of the communities.
The Kitchen Table Art Project was also born in 2020. Residents joined in on Zoom for creative comradery every other week. We engage in book arts projects, study discernment, learn about various artists, use prompts and new techniques for art journaling, have guest artists, etc. In 2021 we began doing an investigation of El Anatsui, famed African artist. The lead to a project of brainstorming items to recycle and transform. From plastic cups and bottles, to lighting, security envelopes and lids from toss away breakfast cereal arose many ideas. We then worked on how these items might be transformed to create something new that would not be recognizable upon first glance. Artist Carol Abbe worked diligently for a couple months to transform the humble lids from breakfast cereal bowls but cutting, folding, stapling, using markers and paint. She ultimately decided to use a stamp she had created and had made with a 3D printer (see photo of a detail of the final piece above).
2021 also brought the partnership with Brecia Kralovic-Logan and Women's Woven Voices. We worked with 500 residents as well as others in the community to create over 800 weavings which represented the stories of the makers. Kits with simple looms and various yarns were sent out and Zoom meetings were held weekly for months where we answered Women's Woven Voices prompts as well as others to dig deep into ourselves, our stories and our lives. The tapestry went on tour to the retirement communities in 2022.
Our hope is that these programs provided respite from the isolation that so many seniors faced during lockdown and beyond during this time of Covid. We also believe that being creative in itself is healing and offers endless opportunities for growth. And all we have to do is start.
On January 22, the gallery will open the inaugural exhibition of Lift the Sky. Artists from around the world have been invited to create art pieces that answer the question, "what's your message to the world?". The last few years provided the genesis of the idea for me as director of Front Porch Gallery and founder of Lift the Sky. The project will then continue to grow, and additional exhibition opportunities are being considered.
Front Porch Gallery in Carlsbad is a non-profit, community resource dedicated to creating vibrant, vital communities through art. The gallery collaborates with individual artists and innovative organizations to produce unique exhibits, themed shows, juried exhibits and professional invitationals that celebrate the full range of artistic expression at every level of experience. Additionally, Front Porch Gallery engages with Front Porch residents through programs such as the Artist Speaker Series and Creating Meaning, a multi-workshop art making program designed to create Community and conversation about our lives and the spirituality of aging.
Art Resource Focus: Space 4 Art by Jennifer de Poyen, Executive Director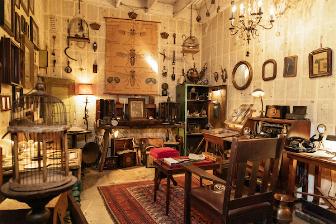 Space 4 Art grew out of a simple idea: To nurture a strong "arts scene," you need to provide meaningful support to artists. These are the workers, mostly low- to mid-wage, who actually make the art. In 2009, founders Bob Leathers, Cheryl Nickel, and Chris Warr learned that the Number One reason artists were leaving San Diego was because they couldn't afford to stay. This was after a series of meetings, charrettes, and surveys gathering in hundreds of local artists and arts supporters, in San Diego, a city with a notoriously stubborn gap between wages and cost of living. So, they set about establishing in San Diego's dynamic East Village, an innovative Arts Center in which artists could live, work, educate youth, and share their work with the community at large. In order to avoid the fate of displacement through gentrification that has leveled so many art spaces before it, the founders immediately established the goal of ownership. By 2014, the Board of Directors had acquired a vacant lot on Market Street in Grant Hill. They set about the slow, hard work of building out a larger, wholly- owned facility that would allow the nonprofit to help solve the problem of affordable artist spaces, and expand its programs and services in the community. The forced downsizing of our rented East Village facility in 2017 only underlined the urgency of a long-term solution that would withstand gentrification, which has made San Diego one of the least affordable cities in the country.
The global pandemic of 2020-21 posed a serious challenge to Space 4 Art's plans for a new large-scale Arts Center on Market Street. It shut down much of the art world, threatening Space 4 Art's tenant-artists' livelihoods, and impacting our public-facing programming, operational income, and momentum on the Arts Center project. But it also forced the nonprofit to focus on fundamentals: our tenant-artist community, financial stability, external partnerships, and service to the broader community. After pivoting to an online format during the shutdown, Space 4 Art's educational outreach program came back in person with a commitment to student- and artist-centered programming, and more partnerships than ever. After shutting our doors to the public, our Open Studios events are back, with a keen focus on the interactions and well-being of our artistic community. And after the post-pandemic real-estate boom and supply-chain issues put long-term plans on the back burner, the Arts Center project has been reinfused with support from community partners, elected officials, and rank-and-file artists. They all realize that only a human-centered arts scene can fuel healthy economic growth, especially in under-resourced communities.
Though we are proud to annually serve a community of 35+ artists, and hundreds more arts lovers and schoolchildren, we are excited to ramp up efforts to build a larger, permanent, and comprehensive Arts Center. This facility will focus on below-market housing, work studios, galleries, wood/metal shop, a performance space and a classroom. While the contours of our Arts Center are clear, we are still working to find the right partners and the financing necessary to get our plans off the drawing board and roofs over the heads of more than 80 cultural workers. Those workers, in turn, will use those spaces to pursue their arts careers, teach in our local schools and colleges, and innovate and connect with each other to both push their art in new directions. They then offer this to the community to experience during our regular cultural events.
You can experience one of these events by attending our Dec. 9 Open Studios event from 7- 9:30 pm at our East Village facility 340 East 16 th, San Diego 92101. More details are on our website at sdspace4art.org/s4a-events. Please join us there and in our quest to #MakeSpace4Art for all of San Diego and beyond!
Space 4 Art
Jennifer de Poyen, Executive Director
Help us #MakeSpace4Art! Donate at www.sdspace4art.org
ArtsBusXpress by Ted Peña, President and Julia McMeans, Executive Director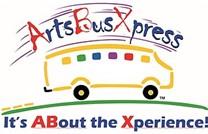 Our mission to "enrich student learning one field trip at a time" by connecting teachers and students to the arts and sciences, has kept us focused since our beginning in 2002. We accomplished our mission by raising funds to pay for the bus transportation costs that were hard to find in school budgets due to other priorities like salaries, security, and infrastructure.
On March 13, 2020, the world was shut down, turning the K-12 education experience upside down. We quickly recognized that learning must still continue, only this time it would be learning from home via the internet. The traditional field trip experience came to a screeching halt as buses stopped rolling because of the COVID pandemic.
Working with a dozen local arts and science institutions, we modified our mission to create field trip experiences in a different way. We accomplished this by funding educators working within our partner institutions, who created live and interactive programs delivered directly from their venue/institution into student homes and classrooms virtually. Through the entire FY2021 school year, field trips could still happen, only now…"without the bus."
With virtual field trips, we were delighted to still help teachers bring the wonders of STEAM content found only outside the classroom by applying for funding to pay for amazing programs at arts and science venues. And for many educators, this helped keep them working through very difficult times.
As our national and local community learned to manage the impact of the pandemic on our school population, we funded both virtual and on-site field trip experiences beginning in FY2022. We finished our best year of fundraising and student participation since the early 2000's. Nearly 10,000 students engaged in a field trip experience funded by ABX.
Our ability to respond to the demand from teachers to provide exciting and academically rigorous field trip experiences required us to focus on fundraising and to make the transition from an all-volunteer board to one with a paid staff. With a professional grant writer by our side, we received significant grant awards from the Parker Foundation, The Conrad Prebys Foundation, and the County and City of San Diego. With the support of our long time committed private foundations like The Rice Family Foundation and the Linda Brandes Foundation, we were able to hire a program administrator and executive director this past year. With new resources on board, our growth has continued. ABX doubled its fundraising in FY2022. Through the first quarter of FY2023, ABX has already funded three times the number of students on field trips compared to this time last year.
We are humbled by our success to grow our budget ten times in just the last seven years, but we have only scratched the surfaced. ABX hopes that someday, every K-12 student in San Diego County public and charter schools will benefit from "enriched learning one field trip at time, with our without the bus!"
Help us make that happen. Donate today! See you on the "ArtsBusXpress."
The City of San Diego Central Library Art Gallery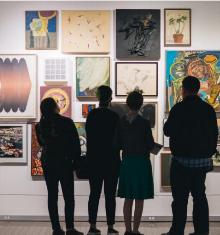 The City of San Diego Central Library Art Gallery 's exhibition program allows free access to visual art and cultural exhibitions, while promoting San Diego artists and creative community groups.
We are so pleased that three SD Art Prize 2022 artists featured on the 9th floor Central Library Fine Arts Gallery also have work acquired into the Civic Art Collection via the SD Practice initiative. This is part of the City of San Diego Art Collection and you can learn more at a tour at the Central Library on Monday Nov 7 from 6-8 with host Dr. Lara Bullock, Senior Civic Art Manager with the Commission for Arts & Culture. This walking tour, we will be visiting floors 2, 3, 4, 5, 8 and ending in the 9th floor Art Gallery SD Art Prize 2022 exhibition. Registration open until Nov 6 limited to 20. Free and free parking. More info: Bonnie Domingos 619.236.5881
Remember the 2022 San Diego Art Prizepresented by San Diego Visual Arts Networkcelebrates this year's recipientsAlida Cervantes, Angélica Escoto, Carlos Castro AriasandCognate Collective. Each artist engages with issues of immigration, colonization as well as past and current multiculturalism of the San Diego/Tijuana border region. Central Library Art Galleryshowing until Jan. 7th, 2023
Exhibitions at the Central Library's Gallery are curated and by invitation only; unsolicited application are not accepted. There are limited opportunity to exhibit in cases, in the Teen Center, or in the Popular Library on the ground floor. Please contact them with a letter of interest to determine if these spaces are appropriate for your needs. throughout the library. OnView@sandiego.gov. For questions on how they choose what to exhibit at the library, please see their FAQs.
Central Library Art Gallery
330 Park Blvd. – 9 th Floor
San Diego, CA 92101
See map: Google Maps
Contact Info: Bonnie Domingos
bdomingos@sandiego.gov
(619) 236-5881
Art San Diego Returns To San Diego Convention Center Sept 9—11, 2022 by Linda Mariano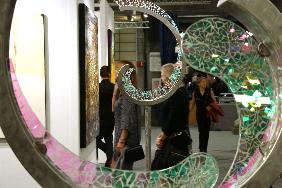 Deanne Sabeck and Jeffery Laudenslager sculpture detail at Art San Diego


It's the art experience of the year! Art San Diego is back! After a three year hiatus, you can mark your calendars for Art San Diego 2022! The 14th edition of Southern California's most anticipated contemporary art event promises to bring together an outstanding international slate of galleries and artists showcasing the best of their cutting-edge art.

During the pandemic forced hiatus from live events, Art San Diego took a pivot and hosted a virtual art fair online in March 2021. To support our artists and galleries and bring them together with our loyal collectors and art enthusiasts, we created RAVE (Redwood Art Group Virtual Events) and hosted one for the San Diego audience. It was met with good success, achieved its goal, and today we incorporate a virtual online event with each of our live events.

Explore an amazing array of contemporary and modern art at Art San Diego, taking place in person at the San Diego Convention Center located along the beautiful waterfront setting of San Diego Bay. Presenting its 14th edition September 9 to 11, Art San Diego is unique in bringing exceptional artwork from local, national, and international galleries, independent artists, fine art photographers, and designers together alongside outstanding show programming, live entertainment, and other exclusive events.

Art San Diego will continue its goal of bringing the community together through art and art awareness via its Access to Art Program, a community outreach program in partnership with UBS Financial Services. Access to Art aims to work with selected charities and their clients to share opportunities in art, design, business development, and more. This year's Access to Art will benefit Monarch School, Humble Design, and ArtReach all working in partnership with Liberty Station Arts District to support this important community initiative.

Also returning for Art San Diego 2022 will be the San Diego Art Prize recipeints unveiling. Conceived to promote and encourage dialogue, reflection and social interaction about San Diego's artistic and cultural life, this annual award honors artistic expression. The 2022 recipients, Alida Cervantes, Angélica Escoto, Carlos Castro Arias, Cog • nate Collective, will be featured at Art San Diego.

As Art San Diego looks to the future, we are excited about the opportunity to expand our Access to Art Program, reaching further into the community to support their needs through innovative programs and opportunities.

Art San Diego 2022 Featured Exhibitions & Special Events

Art Labs: Curated exhibitions by leading local art museums & institutions.

Discoveries Collection: A special collection showcasing affordable pieces—each one a great option at $3,000 or less.

Spotlight Program : Cutting-edge galleries and artists recognized for their skill and achievement in the visual arts.

Access To Art: To further our goal of bringing the community together through art and art awareness, Art San Diego, in partnership with UBS, works with selected nonprofit organizations to foster and share learning opportunities in art, design, business development, and more.

Local Talent : Showcasing to further amplify the focus on San Diego's exceptional artistic talent, unrepresented San Diego artists will be selected to create a curated exhibition.

We look forward to seeing you at Art San Diego!!

The San Diego Art Prize presented by San Diego Visual Arts Network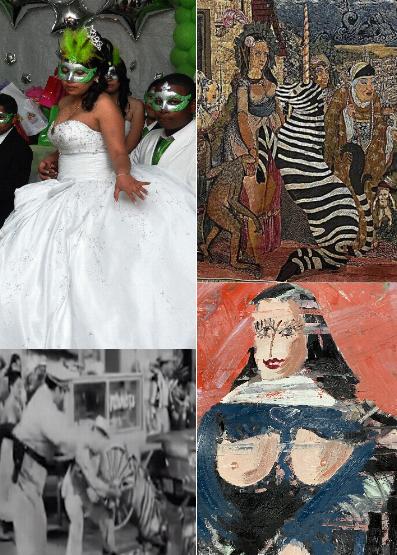 When you are in the 15th year of a project like the SD Art Prize and the 19 th year of our non-profit San Diego Visual Arts Network (SDVAN), you know you have to keep changing to keep relevant. At SDVAN, the last years of the pandemic have seen us pivot to promote virtual events as well as upgrading our featured events and ongoing event pages. We have also leaped ahead with the prize under the direction of the curator Chi Essary.
The prize started in 2006 by match making established artists with emerging artists. We defined emerging artist as those "emerging into the light." After 14 years, we streamlined the process to concentrate on mid-career artists that are ready to rise. The SD Art Prize committee tossed around many different ideas but wanted to make sure that the competition aspect of the prize was minimized. Everyone nominated has been worthy of recognition and the goal is to give as much attention as we can to deserving artists in our own community.
In 2022, we made the leap to make sure that these nominated artists were viewed by a much wider audience starting with a special panel of selectors from the Whitney Museum of Art in New York Marcela Guerrero, San Francisco Museum of Modern Art Jovanna Venegas, Frost Art Museum, Florida Amy Galpin and from Mexico City José Springer, Independent Curator. The nominators, that include professional art writers, and the selectors change every year growing a wider and wider circle of influence in the art world.
The selectors this year showed great interest in our local talent because of border and immigration issues and the general diversity of cultures in our region. The chosen artists Alida Cervantes, Angélica Escoto, Carlos Castro Arias, and Cog • nate Collective will be featured at Art San Diego on Sept 9-11 ( free tickets ) and at the Central Library Gallery f rom Sept 17, 2022 to Jan 7, 2023. Alida and Carlos are highly involved with the colonial period of 17 th century Mexico. Cervantes reworks traditional portraiture from kings to nuns and Castro intervenes with sculpture from that time alerting us to the ways this influence is still affecting cross border views. His cast of busts of the infamous are recast and decorated with Inga beads or re-created in bird seed. Cognate Collective is more involved with immigration issues and used symbols and rituals in their performance arts to pay homage to those who have died trying to get to the United States. Both use video to retain a history of these conceptual art works. Escoto turns her camera on the family rite of passage for 15 year old girls in more than 200 Quinceañeras she has documented in greater San Diego. Sharing these artists outside our region is our great joy so that their talent can enrich other communities as it does ours.
About two thirds of our budget for the prize comes from the incredible in-kind donations made by designers, printers, photographers, foundations, galleries, fairs, writers, press reports and a host of volunteers. That kind of community support has made it possible for us to survive, grow and excel. The printed catalog which is free again this year is also supported by public and private donations and it will be available, as all previous catalogs , for free online.
The SD Art Prize exactly matches the mission of SDVAN to improve the clarity, accuracy and sophistication of discourse about San Diego's artistic and cultural life. We are dedicated to the idea that the Visual Arts are a vital part of the health of our county.
You can also read about the history and criteria of the SD Art Prize and the SD Art Prize Committee .
Encinitas Friends of the Arts: A story with a happy ending by Naimeh Woodward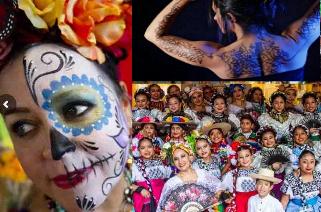 The story of the Encinitas Friends of the Arts (EFA) is quite inspiring. It centers around a former Encinitas Commissioner of the arts who was not happy with the status quote and wished to see tangible results with proposed cultural art programs and projects. Naimeh Tanha Woodward had a single vision to bring diversity to city through cultural art programming, while at the same time working toward the support of an art center to serve the entire community.
Woodward with support from the other art commissioners was able to gather a like minded group of volunteers and promptly formed the non-profit EFA so that money could be raised to support various city art projects. Now EFA has a memorandum of understanding with the city to deliver certain culturally focused art programs such as Passport Series, Ballet Folklorico dance program and a city arts and culture calendar and newsletter. This is in exchange for access to city owned venues and staff support as well as some funding especially for the very successful and biggest event for the city, Dia de los Muertos (Day of the Dead): This annual celebration brings together local and regional talents celebrating the visual and performing arts to foster an appreciation and awareness of Latino cultural community. It is a free family-friendly day so the public can experience art-making workshops, artist demonstrations, student exhibitions, live Mariachi Band and a Community Ofrenda, a group altar celebrating those who have passed. It attracts over 3000 people each year, a combination of residence of the city and Latinos of the area.
There was no Dia de los Muertos in Encinitas prior to the formation of EFA. But the additional and very popular Passport events feature a variety of cultures including Brazil, Persia, France, Afria, Cuba, India, the Silk Route and even Passport to Dance showcasing multiple countries. Each ticketed event showcases performing and visual arts, foods and crafts and is meant to provide an education about the rich diversity of cultural life around the world.
EFA advocated from the beginning for public art to be on display at outside locations in Encinitas. They raised funds to purchase a large sculpture by Jeffery Laudenslager which was the vanguard of a project that the city has now embraced with sculpture stand for five more rotating sculptures. They also raised funds for a new concert grand piano for the Encinitas community center which will help to offer affordable access for more concerts to the residents of this community and surrounding cities.
The most amazing success of the EFA was advocating for the Pacific View School to become an art center. Patiently waiting for the city to realize that they had to pay not only for the building but the renovations of the property was a challenge. But with a concrete vision for the art center and the backing of the Commission for Arts and Culture, the city is now prepared to spend $7 million dollars to make the Pacific View Art Center a reality. During the pandemic, the EFA continued with digital events and this advocacy. The next challenge is to raise funds for programing for the Art Center with an emphasis on making the facility available to the underserved.
Ballet Folklorico de San Dieguito and Mariachi Band which will be starting soon are dance and music education programs for children ages 7-16 that provides an opportunity for socioeconomically disadvantaged youth to participate in an enrichment art program for which they would otherwise not have access. The program at the Encinitas Community Center is run by an independently-contracted instructor who offers classes to students for a nominal donation. EFA supports this program by fundraising to offset costume expenses and augmenting the costs of instructional costs.
The first events at the Pacific View site will include the EFA Encinitas Flea & Art Market which is now accepting vendor applications. All proceeds will go to support the activation of the Pacific View site as an art center so save the date Saturday, July 23rd from 10 am to 3 pm. The vendor deadline is July 14th and will be on a first come first served basis.
Art Produce Produces by Art Produce Team

Constance White, Marianela de la Hoz, Helen Redman
Imagine you are a woman of color who is above all curious. You see a workshop offered to explore where you are in your life journey with a chance to gain some new art skills. Now imagine you are a recognized public art consultant who is also an artist and a passionate community gatherer. Art Produce in North Park brings these two together for a workshop during the artist residency of Constance White. Ms. White held a gathering to discuss all sorts of social issues and then prepared individualized packets of collage materials for each of the participants. She then stood back and watched what happened when reality meets imagination. Each woman revealed herself in the choices she made, while guided to make compositional decisions based simply on added the knowledge of foreground, middle ground and background. The results are fascinating, revelatory, and stunning. The bonus: Ms. White declared she continues to learn how to be a better teaching artist by listening to her students during these engagement workshops.
The Artist in Residence program is in its third consecutive year and it provides both emerging and established artists with a 4–6-week residency and a small stipend. This year, the residency is awarded to 11 artists, many of whom will also offer a workshop to the community during their time at Art Produce. As the circle of participating artists expands, connections are forged among the artists that are ongoing and beneficial in various ways beyond the residency. A group exhibition of all 11 artists will be held August 13 - September 17 with an opening on Saturday August 20.
This is an award-winning artist-run non-profit, a public/private enterprise, linking cultural programming and community development in North Park's Arts District, an historic urban neighborhood of San Diego. Founded by Lynn Susholtz, the mission is to integrate community voice and vision into the cultural and physical landscape through art and education. Many have called and claimed Art Produce as a "third space" —it provides camaraderie, support, and encouragement along with time and openness to investigate ideas and experiment with materials.
Artists of all stripes continue to gather, exhibit, perform, and teach at Art Produce in 2022. Artists in Residence have quiet spaces to create, performers are bringing music and dance to the gallery and to the garden, artists are exhibiting provocative work, and workshop teachers are reaching out with fresh projects to work with community. The key word here is community engagement and interaction as the gallery transforms with each show. Walls and floors are occupied with work that is made with thought and action with art as an exchange between maker and viewer. It is a busy, productive, and lively time at a beloved community gallery and space. Earlier this year, a joint exhibition of artists Marianela de la Hoz and Helen Redman Retelling/Recontar, drew visitors and interest from all over San Diego. Viewers came to see the extraordinary paintings and to understand the artists' motivations in making them. Both artists use symbolism and are strongly women-centric. The art by both was intermingled on the walls which helped to encourage conversations to compare and contrast them. The artists discussed the isolation from friends during the years of the pandemic and how Art Produce has been a place of family gathering.
The flourishing community garden on Herman Avenue is the other public front of Art Produce. It is a place where flowers, fruit, and vegetables are in a continuous flux, reflecting the growth and completion of the numerous happenings at the non-profit.
This year, summer FREE art classes in the garden for all ages starts on every Saturday June 4, 12-2pm through August 27. These weekly sessions are a great place to learn a new skill—printmaking, drawing, creating sculpture using simple materials—and to spend time with family and friends. Sometimes you may meet a stranger and make a connection with them. You may go home with a spark or a thought about the possibility of art-making in everyday life. You may return time after time to be with this ever-changing community.
Finally, this summer, Art Produce is creating and staging a unique dance event called Sauced. Choreographed and performed by veteran San Diego dancers, Sauced offers audience members an intimate view of contemporary dance while enjoying a specialty cocktail or mocktail. To attend this saucy performance, get your tickets here

Art Produce is located at 3139 University Avenue. Be part of its vibrant community by attending the Garden pARTy Fundraiser on Saturday September 24, 2022. To be notified of everything happening at Art Produce, sign up for the newsletter at artproduce.org and follow on Instagram at @artproduce.
Art Unities by Blanca Lucia Bergman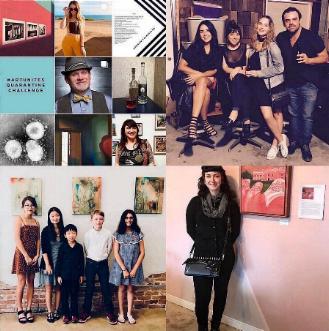 Art Unites began as a one-time interdisciplinary art event titled "Art Unites." I had two event goals: to promote a message of "respect for all," following the controversial 2016 United States presidential election, and donate the proceeds to a local music program for children. I had no knowledge of the life-changing experiences that would follow upon forming Art Unites.

Art Unites rapidly developed into a dynamic and unifying art business with 30 artists in leadership roles including music, art, and dance directors. Our primary objectives were to host interdisciplinary art events at traditional and alternative art spaces throughout San Diego and promote career, exhibition, performance, volunteering, networking, collaboration, and leadership opportunities created by Art Unites and Art Unites Community Partners (arts leaders who provide mutual support to Art Unites and share our core values of kindness, gratitude, respect for all, and continuous learning).

Art Unites became the embodiment of my love for all things art, San Diego, and business. Through it, I gained a deeper understanding of San Diego's arts scene, life-long friendships with global arts leaders, and personal and professional growth. I am most proud to say that Art Unites has had a positive impact on fellow San Diego artists and entrepreneurs, too.

"A beautiful community filled with love and compassion, uniting the San Diego art scene one event at a time!"

"A fantastic community of artists with amazing core values."

"Art Unites inspired me to use my artistry in supporting important causes."

"Art Unites influenced my vision for my first interdisciplinary art event."

Many artists, including artists quoted above, went on to form impressive collaborations, arts collectives, and new businesses incorporating Art Unites's multidivisional, values-based business model.

Art Unites dramatically changed with the emergence of the COVID-19 pandemic. Our live events came to a halt, our leadership team was significantly reduced, and my focus shifted to increasing Art Unites's partnerships to strengthen opportunities for artists; interviewing arts leaders to educate and deepen art appreciation; and presenting arts business workshops online to support working artists. In late 2021, I had the honor of partnering with Mission Fed ArtWalk, San Diego Visual Arts Network, and Sparks Gallery to produce the 2022 Mission Fed ArtWalk Business of Art Scholarship program. This project led to new professional relationships with outstanding artists, several of whom Art Unites will feature this month at "Art Unites and PICCARD [e] STUDIO Present: Light in Darkness," a visual and music art event honoring Mental Health Awareness Month and showcasing creativity by artists with mental illnesses or neurodivergence, uplifting stories, and mental health resources.(www.eventbrite.com/e/300019134307 )

I am excited to change Art Unites again. In 2022, Art Unites will leverage its network and experience and focus on the sale of diverse services and products created, redesigned, or procured by San Diego artists under the brand, Art Unites Bazaar.

Please follow us on Instagram at @artunitesbazaar.

Blanca Lucia Bergman , MBA
Founder, Art Unites and Art Unites Bazaar
For more info and to subscribe to the mailing list: welcome@artunitesbazaar.com

Compassionate Arts in Action (Artists, Teachers, Scientists, Families) by Kira Carrillo Corser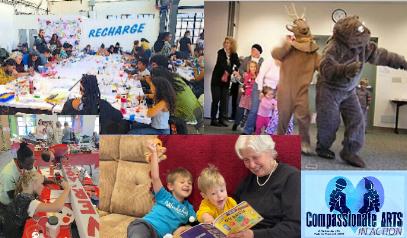 "Youth and adults need more than food and jobs right now. They need hope."
Rev. Carolyn Wilkins, Inspirational Ministries, Compassionate Arts Advisor
"Every week, it seems like another disaster is going to kill us: fires, floods, a super volcano, COVID 19, and now war."
Madison Ross, San Marcos High Student, Compassionate Arts Youth Ambassador
People need hope. Fear is permeating our world. Art can give a needed break from harmful stress, into a world of calm and beauty. Like mediation, it lets the body heal and lets the mind focus to think more clearly on solutions.
Compassionate Arts is a collective that demonstrates how art affects lives in important ways. We work to show how art, as a creative tool in communities, schools and homes, changes lives.
A friend at USD once said, "The greatest political statement is one that is purely human." Why is this true?
Art can connect the things we really care about by linking to our daily decisions in life. Art allows deeper understanding by involving the heart and connecting our actions, experiences and facts. Sometimes it is easier to feel more depth when the imagery is not a straight documentary portrait of a person, but instead is an artistic creative representation of an experience. Art is an incredible tool that makes that happen.
Using this knowledge, I have 20 years' experience producing nationally traveled exhibitions and books themed on sensitive health issues or homelessness. I now teach this to others through Compassionate Arts in Action. This work is founded from a 30-year history of using the arts as a creative tool: to educate leaders and policy makers, empower communities and churches, enable and encourage universities and schools.
This began when I was younger and it changed my life. I was working at KPBS as staff photographer and at San Diego Home and Garden Magazine. I thought about how to help students and faculty understand visual literacy. Then later, I founded the Visual Literacy component in the Institute for Human Communication at Cal State University Monterey Bay. This knowledge makes a difference on how compassionate human imagery, sound, and performance can increase audience interest and promote deeper understanding, especially when presenting research and social issues.
One of my students included a powerful video of the bombing of Pearl Harbor as he walked to the stage to do his Capstone Presentation on Japanese Internment Camps. He had recorded voices of families who had been interned in the California Desert Camps and built a replica of a one-room-home in the camp. People attending the presentation could walk through this replica of the tiny living space and experience the sounds and family mementos showing sadness and separation. These artistic elements promoted compassionate understanding of a complex situation.
Another student did her presentation on Hidden Domestic Abuse in Military Homes. She used sound from a recorded argument to alert the audience. She included creative photography of hands, connecting to universal emotions while not showing faces. This allowed the audience to feel the distressing hidden impacts.
We have two concurrent campaigns: 1 - Health and Wellness and 2 - Environmental Issues Affecting Communities (MOTHER EARTH: FRAGILE PLANET & When Black and Brown Go Green)
These 2 campaigns are connected. Climate change and pandemics are scary. Fear breeds illness and violence. We have some members who have lost homes, family members, and friends. Loss of habitat and wildlife are big changes affecting our communities. Our youth are traumatized and asking for mental health help.
Here are a few videos you can see on our Compassionate Arts in Action YOUTUBE Channel on projects you can join that can help make the world more compassionate!
MOTHER EARTH: FRAGILE PLANET - art, poetry, music and performance focused on building resilience and solutions with environmental problems and experiences. We have an exhibition at the Fallbrook Library until April 29th, and are looking for more sites and partnerships to grow this project.
YOUTH FOCUSED MENTAL HEALTH - panel discussions and videos highlighting artworks about youth determined topics, lead by Compassionate Arts Youth Ambassadors. This work is a partnership with Compassionate San Diego, CompassionateCalifornia.org, SDVAN , Beloved San Diego, Poway POINT Interfaith, Charter for Compassion.org, and California Global Education Project. On May 15, Art Unites , a San Diego nonprofit has an event to raise awareness of Mental Health and our art is part of this. Check them out!

WELLNESS FOR CHILDREN PROJECT - videos, music, puppetry, books for kids ages 3 to 7 promoting calming stress reduction techniques and teaching the use of imagination for wellness and healing.
Creative representation is part of the reason I co-founded Compassionate Arts with Felecia (Fe Love) Lenee Williams. She identified as a young Black queer performance artist in Los Angeles. We grew Compassionate Arts to enable youth and underserved communities to have a voice. Our art projects often represented how health, justice and environmental issues disproportionately affect communities of color, youth, and others whose voices may not be heard.
We believe that collaboration and partnership is how our art is most effective. We work with medical professionals, scientists, teachers and with elected leaders and ask San Diego artists to join us. Art changes lives. We have seen it save lives. April is Arts and Culture Month and #NationalMonthOfHope and includes Earth Day on April 22. These national celebrations speak to the core of our current art projects.
Compassionate Arts is connected to the international CharterForCompassion.org . There are Compassionate Cities (23 in CA) Compassionate Countries, and now in 2021, California passed legislation creating the first Compassionate State in the Union, Compassionate California! We are also on the state leadership team for CompassionateCalifornia.org . The Charter for Compassion is a document that urges the peoples and religions of the world to embrace the core value of compassion. The charter currently is available in more than 30 languages and has been endorsed by more than two million individuals around the globe.
We support communities, by helping design projects with creativity to increase empathy and compassion. If you are an individual, business, school or organization that is interested in partnering with us and/or hosting a Compassionate Artsin Action workshop, please contact KiraCorser@gmail.com 510.684.4651
Kira Carrillo Corser

You can find out even more at the following websites:
www.PostsforPeaceandJustice.org
www.kiracorser.com
www.SeaChanges.org
CoTA (Collaborations: Teachers and Artists) by Marisa Cooper
Executive Director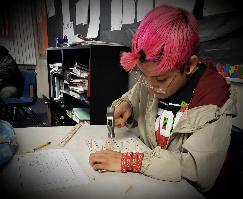 March is Arts Education month, but for many of us, every month is arts education month.
I personally have been in the arts and education space for my entire career and since last December, I have had the immense joy of leading Collaborations: Teachers and Artists (CoTA), an arts education organization here in San Diego. I was drawn to the opportunity to shepherd CoTA because of their commitment to research and innovation. But I fell in love with CoTA because of the creativity, talent, and dedication of the artists.
CoTA is a nonprofit organization which employs arts integrated learning, the method of using the arts to teach traditional subjects like math and science. This promotes engagement, accessibility, and relevance for all students. Our pioneering arts integration method makes creativity a dynamic aspect of classroom learning in line with our mission to bring the arts to every student, in every classroom, every day.
CoTA is fundamentally a professional development organization, meaning we target our programs in support of the adults that support student learning with and through the arts. This is the work that we, and our incredible peers in arts education, do every day. There is a robust and talented community of people - artists, teaching artists, K-12 teachers, administrators, and staff – here in San Diego that support bringing the arts to students across the region. As a former middle school teacher, I am incredibly proud of the ways my organization supports teachers. CoTA professional development programs, from two-hour exploratory workshops to week-long institutes to our 3-year residency program, offer opportunities for our educators to experiment with HOW to put the arts to work for their students.
Our long-running flagship program, Collaborations, involves sustained professional development over a three-year period with every teacher in our partner schools. Each teacher, in partnership with one of our incredible teaching artists, is guided through differentiated lesson design and co-teaching of arts integrated projects in their classroom. The Collaborations program builds teacher confidence and expertise in the design, implementation, and assessment of arts integrated learning in the classroom. Our program Alumni continue to receive professional development workshops, 1:1 instructional coaching, art supplies, and online arts-integration resources to support creativity driven instruction.
We are not the first, or the only organization to place talented artists in our K-12 classrooms. We do this work to ensure that the arts remain accessible to our students. It takes a robust community and network of organizations working in collaboration to keep the arts present in our schools. Many of you reading this are vital parts of that network; the artists and teachers delivering programs directly to our schools every day.
We all play a role in shaping a future that is inclusive of the arts for all students. Whether you make art, teach art, or simply appreciate the arts, your voice is part of how we shape that future. This coming November, we have a historic voting opportunity to make a lasting impact on arts education. Please consider the ways you might support these efforts, and take the opportunity to learn more about the ballot initiative here .
To learn more about CoTA, or explore ways to become a CoTA Program school, please visit www.cotaprogram.org, follow us @cotaprogram, or email us info@cotaprogram.org
Marisa Cooper
Executive Director, CoTA (Collaborations: Teachers and Artists)