SD ART PRIZE: Recognition of Excellence in the Visual Arts
presented by San Diego Visual Arts Network
SD Art Prize Catalogs

2022 SD ART PRIZE RECIPIENTS
Alida Cervantes, Angélica Escoto, Carlos Castro Arias, Cog • nate Collective

2021 SD ART PRIZE RECIPIENTS
Beliz Iristay, Hugo Crosthwaite, PANCA, Perry Vasquez
Dediciated to the memory of SD Art Prize Committee member Larry Baza
2020 SD ART PRIZE RECIPIENTS
Alanna Airitam , Kaori Fukuyama, Griselda Rosas, and Melissa Walter
2018 SD ART PRIZE RECIPIENTS
Anne Mudge with Erin Dace Behling
Robert Matheny with Max Robert Daily
2017 SD ART PRIZE RECIPIENTS
Cy Kuchenbaker with Rizzhel Mae Javier
Fu/Rich with Alexander Kohnke
2016 SD ART PRIZE RECIPIENTS
Shinpei Takeda with Irma Sofie Poeter
William Feeney with Richard Keely
2015 SD ART PRIZE RECIPIENTS

Wendy Maruyama with emerging artist Peter Scheidt

Roy McMakin with emerging artist
Kevin Inman
2014 SD ART PRIZE RECIPIENTS
Marianela de la Hoz with emerging artist Bhavna Mehta
Philipp Scholz Rittermann with emerging artist Joseph Huppert
2013 SD ART PRIZE RECIPIENTS
James Hubbell with emerging artist Brennan Hubbell
Debby and Larry Kline with emerging artist James Enos
2012 SD ART PRIZE RECIPIENTS
Arline Fisch with emerging artist Vincent Robles
Jeffery Laudenslager with emerging artist Deanne Sabeck
2011 SD ART PRIZE RECIPIENTS
Rubén Ortiz-Torres with emerging artist Tristan Shone
Jay Johnson with emerging artist Adam Belt
2010 SD ART PRIZE RECIPIENTS
Gail Roberts with emerging artist David Adey
Einar and Jamex de la Torre with emerging artist Julio Orozco
2009 SD ART PRIZE RECIPIENTS
Kim MacConnel with emerging artist Brian Dick
Richard Allen Morris with emerging artist Tom Driscoll
SD Art Prize 2009 Artists Information Sheet
2007/2008 SD ART PRIZE RECIPIENTS
Marcos Ramirez ERRE with Allison Wiese
Roman De Salvo with Lael Corbin
Eleanor Antin with Pamela Jaeger
SD Art Prize 2007/2008 Artists Information Packs pdf
2006-2007 SD ART PRIZE RECIPIENTS
Banners by our SD Art Prize recipients can be found archived on our banner page
Ernest Silva with May-ling Martinez
Jean Lowe with Iana Quesnell
Raul Guerrero with Yvonne Venegas
SD Art Prize 2006/2007 Artists Information Packs pdf
2007/2008 New Contemporaries: Emerging Artists nominated for the SD Art Prize
2009 New Contemporaries II: Emerging Artists nominated for the SD Art Prize
2010 New Contemporaries III: Emerging Artists nominated for the SD Art Prize
2011 New Contemporaries IV: Emerging Artists nominated for the SD Art Prize
2012 New Contemporaries V: Emerging Artists nominated for the SD Art Prize
2013 New Contemporaries VI: Emerging Artists nominated for the SD Art Prize
2014 New Contemporaries VII: Emerging Artists nominated for the SD Art Prize
2015 New Contemporaries VIII: Emerging Artists nominated for the SD Art Prize
2016 New Contemporaries: Emerging Artists nominated for the SD Art Prize
2017 New Contemporaries: Emerging Artists nominated for the SD Art Prize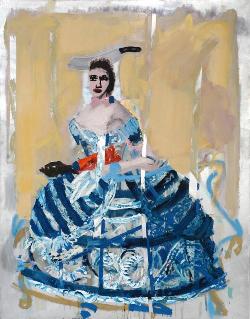 Alida Cervantes (b. 1972) is a Mexican artist who lives and works in the Tijuana and San Diego border region. Traveling daily between the US and Mexico, Cervante creates work characterized by an interest in power relations between race, class, gender and even species. She explores these hierarchies both at the level of sexual or intimate relationships and on the broad stages of history and politics. Cervantes earned a BA from the University of California, San Diego (1995), then studied at Florence's Scuola di Arte Lorenzo de' Medici for two years. In 2013, she earned her MFA from the University of California, San Diego. Alida Cervantes' work is part of the Museum of Contemporary Art San Diego, the Charles Saatchi Collection, London, and the Jorge M. Perez Collection.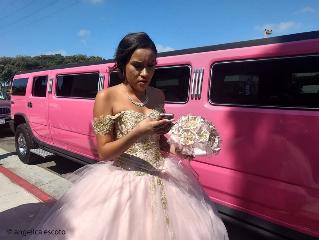 Angélica Escoto (b. 1967) is a multidisciplinary artist and photographer living and working in Tijuana, Mexico. She studied journalism in Mexico City, worked as an editor in several Mexican regional newspapers and has published work internationally. Escoto came to photography and the visual arts more than 30 years ago. Her photographic work explores narratives around existence, origin and identity often using autobiographical subject matter over time. In addition, Escoto uses literature to tie themes from history, geology, biology and astrophysics into her work. Angélica Escoto has exhibited extensively across the U.S., Europe and Latin America.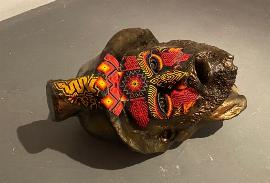 Carlos Castro Arias, is Colombian artist, professor and musician. His practice departs from the appropriation of historical images and the formal and symbolic re-contextualization of found objects. Castro's work explores elements of the individual and collective identity and aims to bring to light muted histories and ignored points of view. He received a BA from the Universidad Jorge Tadeo Lozano, Bogota, in 2002; in 2008 he attained a Fulbright Scholarship to go San Francisco Art Institute, where he got an MFA in Painting in 2010. Castro currently works as an associate professor at San Diego State University. In the last seven years alone, the artwork of Carlos Castro Arias has been featured in nine solo exhibitions and more than forty invitational group exhibitions. Those venues include museums and galleries in Bolivia, Brazil, Colombia, France, Mexico, New Zealand, Peru, Spain, Sweden, the United States, and Venezuela.
Cog•nate Collective develops research projects, public interventions, and experimental pedagogical programs in collaboration with communities across the US/Mexico border region. Since beginning their collaboration in 2010, their work has interrogated the evolution of the border as it is simultaneously erased by neoliberal economic policies and bolstered through increased militarization. It has traced the fallout of this incongruence for migrant communities on either side of the border. As a result, their inter-disciplinary projects often address issues of citizenship, migration, informal economies, and popular cultural, arguing for understanding the border as a region that expands and contracts with the movement of people and objects. They have exhibited work locally and internationally at venues including the Museum of Contemporary Art San Diego, the Getty Center, The Craft Contemporary, School of the Art Institute of Chicago, FLACSO Arte Actual in Quito, Ecuador, and the Organ Kritischer Kunst in Berlin, Germany. Regionalia, a monograph of their work was published by X Artists' Books in 2020. Cog • nate is a collaboration between Misael Diaz, Assistant Professor of Art, Media, and Design at California State University, San Marcos and Amy Sanchez Arteaga, Lecturer of Art History at San Diego State University. Their practice is currently based in National City, CA, and they work between Tijuana, BC and Los Angeles, CA.
Beliz Iristay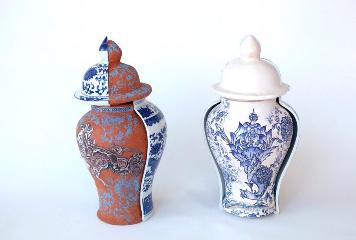 Beliz Iristay is a Turkish-American ceramic and mix-media artist, born in Izmir, Turkey, and lives as a "border artist" between Baja California, Mexico and San Diego, California with her family.
Iristay studied traditional Turkish ceramics at Izmir Dokuz Eylul University where she received her Bachelor of Fine Arts in Ceramics. She moved to the United States in 2005 and recently built her ceramic studio in the Guadalupe Valley, Ensenada, Mexico. There she incorporates local clay into her practice while exploring traditional & contemporary ceramics.
In her work, Iristay often uses the traditions of her "home countries", Turkey, Mexico, and the US, and combines them with contemporary techniques. She collects the subject materials for her work from the traditions, politics and gender issues of the countries in which she has lived.
Iristay has shown work in the Bienal de Estandartes, Tijuana, Mexico; Balboa Park Centennial, San Diego, CA; El Paso Museum of Border Art, El Paso, TX; El Paso Museum of Art, El Paso, TX; LUX Art Institute, Encinitas, CA; and many more. Her installation at the El Paso Museum of Art Border Biennale won first prize and she has won individual prizes in the National Ceramic Biennale of Mexico; 4th National Ceramic Biennale of California, Brea, CA; and UNICOM Jury's choice, International Ceramic Biennale, Ljubliana, Slovenia. She was first nominated for the SD Art Prize in 2015 and became a SD Art Prize recipient in 2021.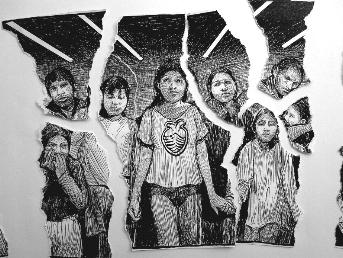 Hugo Crosthwaite was born in Tijuana and spent his formative years in Rosarito, Mexico. An American citizen with family on both sides of the border, he graduated from San Diego State University in 1997 with a BA in Applied Arts. Crosthwaite lives and works in Rosarito, Mexico and San Diego, CA.
Allowing the act of drawing to dictate his compositions in works that range from intimate drawings to large scale murals, Hugo Crosthwaite juxtaposes a wide range of textural and tonal ranges with a deep respect for the narrative.
Crosthwaite is the 2019 winner of the Smithsonian's National Portrait Gallery Outwin Boochever Portrait Competition. His works are included in the permanent collections Los Angeles County Museum of Art; Orange County Museum of Art, Newport Beach, CA; Museum of Contemporary Art, San Diego, CA; San Diego Museum of Art, CA; Museum of Latin American Art, Long Beach, CA; Boca Raton Museum of Art, FL; the National Museum of Mexican Art, Chicago, IL; The Progressive Art Collection, and numerous private collections around the world.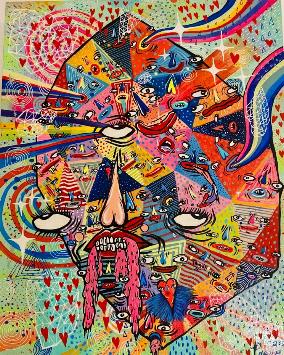 Born in Chula Vista, CA, to Mexican parents, PANCA is an Illustrator-Painter-Muralist- Installation Artist that resides in Tijuana, Mexico. She grew up speaking English at school and the "outside" while exclusively speaking Spanish at home and spending weekends and all holidays with family in Mexico. Her parents felt it very important to keep her connected to her heritage. She has been working between Mexico and the United States since 2004.

This binational, bilingual and bicultural artist feeds her art from her experiences living and working in Tijuana and San Diego. These very personal yet contrasting experiences fill her work with raw emotion, isolation and nostalgia as it pours out full of symbolism.
Her work has shown in museums, galleries, magazines, Netflix movie sets, on the streets and tattoo design. Her most recent work was featured in a fully published book in partnership with Bread & Salt gallery.

Perry Vásquez was trained as an artist and designer. He lives in the San Diego/Tijuana area and draws inspiration from the region's bi-national cultural milieu. His father was born in East Chicago, Indiana, into a family of Mexican migrant workers. His mother was born in West Virginia, as a coal miner's daughter. His parents met in Los An geles where he was born in 1959. At age 7 his parents divorced and his mother subsequently relocated him and his brother to North Carolina where they took up temporary residence with their grandmother who lived next door to a free- will Baptist church. A Catholic son of Southern California, he was abruptly dropped into a predominantly white , Protestant , evangelical cultural environment where his odyssey as an Appala-Chicano began. Since then he has blended both Mexican, American, Catholic and Protestant cultural influences into his work. He has a life-long love of learning and has degrees in Political Science and Painting from Stanford University and Painting and Criticism from UC San Diego.
Vásquez is co-creator of the Keep on Crossin', a seminal project in the development of the San Diego/Tijuana border art scene. Vásquez has produced a range of works across different media. Among his other works are The Gates of Heck, inspired by the mythologies of superhero-dom and Rodin's Porte de l'Enfer, and Under the Perfect Sun, a series of paintings that explore the myths of Southern California and its changing landscape. Vásquez was recently selected to create murals for the new San Diego County Probation Building and has work in the permanent collection of the
Museum of Contemporary Art San Diego.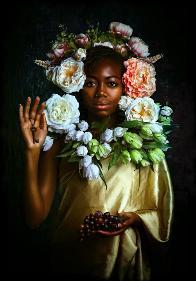 Photographer ALANNA AIRITAM was born in Queens, New York and now resides in San Diego, California. As a portrait photographer, her work focuses on identity and representation, and proposes an investigation into the concept of wholeness. Her use of chiaroscuro lighting creates a painterly effect, that coupled with her use of symbolism allows her to explore the duality of light and dark both metaphorically and literally. Her subjects are illuminated in a way that calls for them to be viewed as the counter to contemporary stereotypes. Airitam's images have been published in a variety of national and international media outlets such as Chicago Tribune, BBC News, VICE!, The Huck, Lenscratch, Range Finder, Feature Shoot, and the San Diego Tribune, among many others. Airitam has exhibited at Catherine Edelman Gallery in Chicago, San Diego Art Institute, Art Miami, and Bread & Salt in San Diego, California. An award winning short film From Haarlem to Harlem about Alanna Airitam's body of work The Golden Age has been screened at various film festivals around the United States. Alanna Airitam: How to Make County by Julia Dixon Evans

Kaori Fukuyama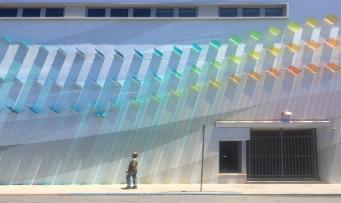 KAORI FUKUYAMA is a multi-disciplinary artist from Japan, who lives and works in San Diego. She creates paintings, drawings, sculptures, and site-specific installations that explore the interactions of color, light and shadow. Her subtle and delicately balanced work plays with our visual perception, and often invites us to slow down and be present in the moment. Kaori Fukuyama was an Artist-In-Residence at Bread & Salt in 2018, and recently completed a large-scale public art installation in North Park (San Diego). Her work is a part of private collections internationally and has been exhibited at multiple institutions including Oceanside Museum of Art, Laguna Art Museum, San Luis Obispo Museum of Art, San Diego Art Institute, The Athenaeum Music & Arts Library, and William D. Cannon Art Gallery. Kaori Fukuyama enjoys teaching at The Athenaeum Music & Arts Library, and continues to expand her artistic boundaries. Light and Space: Contemporary Continuations at Cannon Gallery Picked Ripe by Patricia Frischer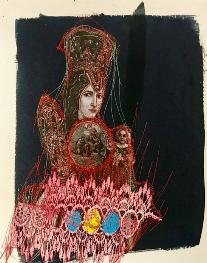 Griselda Rosas (Born and Raised in Tijuana, Mexico) is an artist and educator from the border region. Her artwork falls under the umbrella of Post-Colonial art, in the way it addresses issues of identity, ethnicity and gender practices creating installation, sculpture, site-specific, curatorial projects and stitching-Paintings decolonizing imagery. Rosas' work has been exhibited in national and international venues, The Florence Biennale, Italy, The Barrett Art Centre, New York, art residency at the Camac art Centre- UNESCO program Marnay, France, Bread & Salt Gallery, San Diego, CA and at the Museum of Contemporary Art, San Diego. She was granted a fellowship through the minister of Mexican Culture -FONCA, 2016-2019 where she is developing a research on the aesthetics of Mexican female traditional clothing, presenting and publishing her research at the 56th International Congress of Americanists (ICA) Salamanca, Spain 2018. Griselda Rosas' work has a strong relationship with poetry and mind wandering, speaks about the ecosystem's fragility through an implicit construction of historical-imagery-memorabilia. Griselda Rosas at Lux Art Institute Picked Ripe by Patricia Frischer

Melissa Walter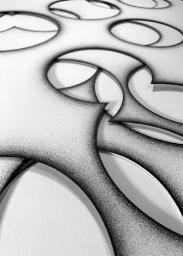 MELISSA WALTER is best known for her optically stimulating sculptures of twisting paper and drawings of detailed geometric patterns. She visually explores concepts concerning Astronomy and astrophysical theories. Walter has worked as a graphic designer and science illustrator for NASA's Chandra X-ray Observatory and as a team member of the Harvard-Smithsonian Center for Astrophysics. Her experience has inspired her to visually articulate wonders of the Universe, such as black holes, supernovas, neutron stars, dark matter and more recently, dark energy.Walter has completed artist in residence programs at 1805 Gallery and Bread & Salt, and participated in exhibitions at the Smithsonian's S. Dillon Ripley Center, Quint Gallery, the San Diego Art Institute, Torrance Art Museum, Helmuth Projects and the San Diego International Airport for a temporary exhibition titled Intergalactic Dreaming in 2017. Melissa Walter received her BFA, cum laude from the University of Rhode Island in 1998. Melissa Walter at Ice Gallery, Bread and Salt Picked Ripe by Patricia Frischer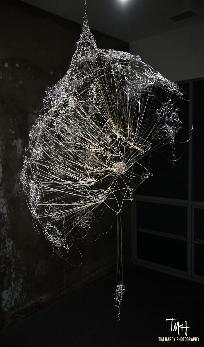 Anne Mudge is a nationally acclaimed sculptor and public artist who lives and works in northern San Diego County on a property shared by her nurseryman husband. The specialized landscapes of his trade have frequently informed her work, as do her daily nature walks, which she documents through photographs. The core of her work has to do with process. Whether it's as simple as working in call and response to the materials at hand in her studio or working within the context of a public space, she looks for the living edge – that liminal space that only reveals itself when the initial conditions of environment, materials, and conceptual intent engage in a kind of dance. Mudge likes being surprised by outcomes that defy meddling preconceptions and exhibit the rich complexity of innumerable inputs, resulting in an unexpected synthesis. She often employs labor-intensive collaborations with materials and processes to reference living forms and systems. She has a passion for the environment and a belief that opening pathways to experiencing it is critical to our wellbeing, and that art plays an important role in awakening our senses to the multiplicities of colors and sounds and textures that too often escape our notice within our cloistered human surroundings.
Mudge has shown in San Diego at the Museum of Contemporary Art, San Diego Museum of Art, California Center for the Arts Museum, as well as the List Visual Arts Center at M.I.T., Delaware Center for Contemporary Art, Metropolitan Museum and Art Center in Coral Gables, Florida and at numerous college and university galleries. Her public art commissions include the North Park Gateway at University Avenue and Boundary Street, San Diego; the San Diego State University Transit Center, which was awarded the Grand Orchid under sponsorship by the San Diego Architectural Foundation; curbside seating for Lindbergh Field at the San Diego International Airport; suspended sculptures for the County of San Diego's Planning and Permit Building; and interpretive mosaics of the surrounding natural habitat for the City of Moorpark, CA. She is represented by Quint Gallery, San Diego.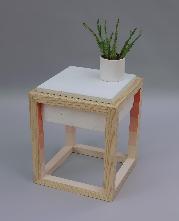 Erin Dace Behling is a designer, furniture maker and educator based in San Diego, CA. She holds an MFA from San Diego State University and BFA from Herron School of Art & Design; both degrees were emphasized in furniture design and woodworking. Behling currently teaches at community colleges in the greater San Diego area. She has shown work at several galleries in Southern California including Lois Lambert Gallery of Functional Art, The La Jolla Athenaeum, Alexander Salazar White Box Contemporary, William D. Cannon Art Gallery, Art SD Contemporary show.
In her work, Behling utilizes the language of furniture to explore various mediums such as wood, fiberglass, plastic, concrete, foam, asphalt shingles and fibers, while striving to arrange a setting where they are able to cohesively exist. In her current series, Candyland, Behling explores geometry as she is interested in the repetitious nature and how shapes can result in forms through this repetitious patterning and mathematical formulas. She is drawn to these forms as they are calming yet mystical and often found in nature. She spends time in the desert, exploring the subtleties of life within the harsh environment, finding hints of color in a sea of seemingly flat, neutral tones. Erin Behling depicts this beauty by creating functional furniture forms and seeks to create a landscape within each object.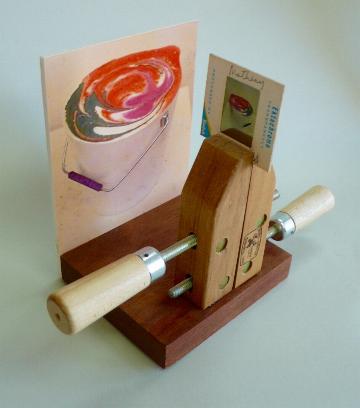 Robert Matheny made his first painting and first sculpture, as an adult, in 1963 and has been making art ever since because it pleased and challenged his intellect. He likes solving problems and using new materials and especially likes working with ideas. He is a sculptor, painter, jeweler, graphic designer, filmmaker, small press operator, and performer. He was founder of the art department and gallery at Southwestern College. They owe their permanent collection of contemporary art to him, as well as great exhibitions including the art of John Baldessari in 1962, the very first show. Since his retirement in 1991, he has completed many different series of work spending just about every day in his studio. Matheny studied under art department chair John Olsen, Stan Hodge and others at Long Beach State College. He earned a MA degree in art education. He has had a museum show at the CECUT in Tijuana, Mexico, numerous one-person shows in San Diego including the Nexus Gallery in La Jolla and a few group shows in the Los Angeles area. Bob Matheny cannot imagine not making art.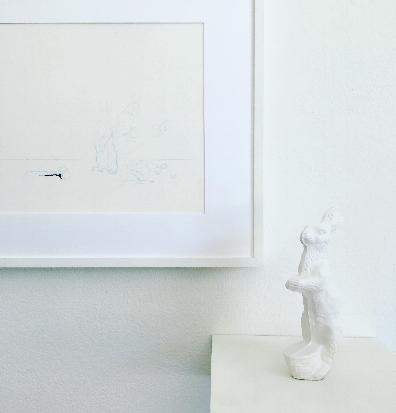 Max Robert Daily is a San Diego based artist working in visual art and performance, incorporating media ranging from drawing and sculptor, to puppetry and mime. Along with being a published author of children's illustration books, Daily is a butcher by trade and the proprietor of Oslo sardine bar-cum-installation artwork at Bread & Salt in Barrio Logan. Prior to attending the prestigious Cotsen Center for Puppetry at CalArts, Daily was a student of set design at San Diego City College and resident puppeteer at the Marie Hitchcock Puppet Theater in Balboa Park. Daily remains an avid advocate of the Balboa-based Theater where he also received the Jim Henson Family grant award for his production of Peter and the Wolf.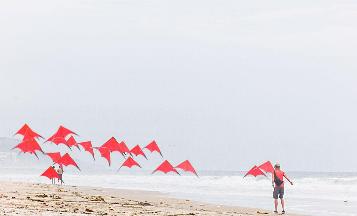 Cy Kuckenbaker is an experimental filmmaker and photographer who works with software; digital video; analog and digital photography; and the written word. He received his MFA in film direction from the California Institute of the Arts in 2006, was the recipient of a Fulbright Fellowship in 2004 and served for two years as a Peace Corps volunteer in Lithuania from 2000-2002. His experimental videos have been shared broadly online by platforms such as The Atlantic magazine, Designboom, Journal Du Design and more. Most recently his work was featured in PhotoViz, an artbook publish by Gestatlen, edited by Nicholas Felton, that featured cutting edge work in the area of photo visualization. The themes of Kuckenbaker's work vary but include American identity; time based narrative; bureaucracy and capitalism; and human vision. Cy Kuckenbaker is a full time faculty member at San Diego City College where he teaches film.
The Cardinal Directions is a photo and video series focused on his relationship to the city of San Diego and his need to orient himself within its narrative. Created with handmade stereo cameras that take hours to expose an image; the unpredictability of the cameras and the long exposure times demand meditation and invite randomness; a rebellion against the formalized, tourist oriented, narrative of the city.
Rizzhel Mae Javier is an artist and educator from San Diego and the Founder of Bridge. She is an advocate for arts education and is always looking for opportunities to bring visual arts into the community. Rizzhel uses photography in her personal work, which exist in sculptural forms, to make objects that explore memory, human interaction and relationships. She teaches photography with The AjA Project, with displaced children and incarcerated youth, and video at Pacific Arts Movement as Instructor for their Documentary Short Film program Reel Voices. Rizzhel Mai Javier Keep the Channel Open with MikeSakasegawa, Espisode 46. Class not dismissed, Part !: Teaching artists to gight the good fight, Rizzhel Mae Javier San Diego City Beat by Rachel Michelle Fernandes, March 20, 2018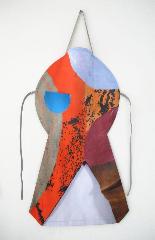 FU/RICH is a collaboration between artists Victoria Fu and Matt Rich. Fu works primarily in video and image-based installation, while Rich is a painter. Their collaborative practice is a coming together of aesthetic sensibilities and working processes, visible through the combined palettes and textures--from film-grained gradients and painted brushstrokes to frayed canvas threads. Fu (b. Santa Monica, CA) received her MFA from CalArts, MA in Art History/ Museum Studies from USC, and BA from Stanford University; Rich (b. Boston, MA) received an MFA from the School of the Art Institute of Chicago, a BA from Brown University. They met at Skowhegan in 2010, and embarked on this studio partnership for a solo exhibition at The Suburban, Milwaukee, WI, this past May. The show traveled to Angels Gate Cultural Center in San Pedro, CA, this past summer, and will travel to University of Massachusetts Boston, MA in March 2018. They live, work and teach in San Diego.

Alexander Kohnke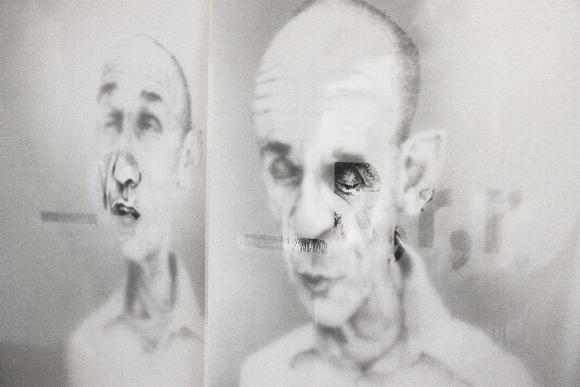 Alexander Kohnke's work observes and visualizes the underlying, raw forces of life in our everyday existence. Using a wide range of media and armed with a keen aesthetic and a sense of
humor, Kohnke works in drawing, photography, printmaking and video to create work that is both personal and universal. He was born in Germany, lived in Belgium and Switzerland before moving to Los Angeles in 1994 and San Diego in 2014. He holds a BFA from Art Center College of Design, Pasadena. The art work of Alexander Kohnke has been shown in San Diego and L.A., most recently at a solo exhibition at Airlock Gallery in San Marcos. Alexander Kohnke Keep the Channel Open with Mike Sakasegawa, Espisode 28 and hear Kohnke speaking about this work on The Artist Odessey
Shinpei Takeda is a Japanese artist based in TJ/SD area and Düsseldorf, Germany. He uses a wide range of mediums exploring the memory of human violence, particularly via the narratives of those in exile. His recent projects include two series Alpha Decay(2010-2012) and Beta Decay (2013-2015). He has made large installations in different sites across the world based on his 8 years of investigations, interviewing over 60 atomic bomb survivors living in the North and South Americas. Takeda is also a Founder and Creative Director of The AJA Project. This nonprofit started in 2001 is dedicated to working with resettled refugee children in San Diego using participatory photography. His recent documentary films include El Mexico mas Cercano a Japon (48mins/2008) about the first Japanese photographer of Tijuana in 1920s, and Hiroshima Nagasaki Download (73mins/2010). His recent publications include Alpha Decay: How can contemporary art express the memory of atomic bomb. He also leads Tijuana based noise punkformance unit "Ghost Magnet Roach Motel" in which he, two Mexican artists, and two American musicians join to punkform using sound.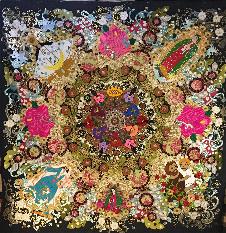 Irma Sofia Poeter (1963) is a Mexican-American, multidisciplinary and self-taught artist that has lived most of her life on both sides of the San Diego-Tijuana border. She currently lives in Tecate, Mexico.
Her paintings, sculptures, photographs and art installations are made or intervened with garments, fabric, textiles and embroidery, materials she acquires from artisans, vintage stores or has brought back from her travels.
Poeter lived in Oaxaca (2008-2010) where she worked on a project called Identidades Revestidas for the Museum of Textile of Oaxaca. She interviewed 40 migrants and told their stories using the indigenous dress of their hometown. She also made a series of seven dresses, one for each chakra, that where presented in London at the Oxo Tower during London Fashion Week (2015). They were presented as an art installation and as a performance piece.
Irma Sofia Poeter has had 13 solo shows and more than 30 collective presentations in countries like Mexico, Cuba, England, Poland and the United States. She received an Honorary Mention from the Baja California Biennal (1995), a grant from the Fondo Estatal para la Cultura y las Artes of Baja California (2001), the San Diego Art Prize (2016) and an art residency in Italy (2017).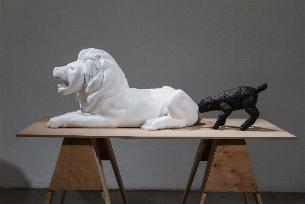 William Feeney's art is about questions. He tries to tell a story, but gets hung up on details, which would be easy to gloss over. Feeney occupies those taken-for-granted aspects of the narrative, and presents objects that speak to questions he has fixated on. The result is his artwork occupies a space that exists between things. Feeney received a BFA from UMass, Amherst, and an MFA from UC Santa Barbara. He was awarded a California Arts Council Grant in 2003, a StartUP Award from the Museum of Contemporary Art, San Diego in 2007, and a residency at Djerassi in Woodside, CA in 2014.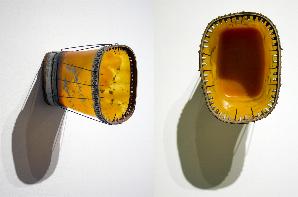 Richard Keely is an artist and educator from Southern California . Originally trained as a painter, Keely's work during the last twenty years has turned towards sculpture, photography and installation. With the sculptural work Keely is often concerned with transforming ordinary objects into visually dense wall pieces that have the potential to evoke an array of experiential possibilities.
Richard Keely's Installation projects have included collaborations with Santa Fe based artist Lynne Hendrick, and his wife Anna O'Cain. With these installations Keely, Hendrick, and O'Cain explore ideas concerning the visceral side of accumulating, storing, preserving, and communicating ideas and information. Additionally Keely and O'Cain have collaborated on a large body of work on the topic of hurricane Katrina that includes photography, installations and film.
Keely's work has a national reputation including solo exhibitions at gallery 4016 in Los Angeles and CAD/XO Gallery in Chicago and collaborations with Anna O'Cain for the Alt Picture Show, Museum of Contemporary Art San Diego, Ben Maltz Gallery (Otis School of Art, Los Angeles), Art Around Adams and the Spruce Street Forum in San Diego. Additional collaborations with O'Cain include a Ceremonial performance Kat and Lilly Lee at Beyond Baroque in Los Angeles and INSITE 2000 in San Diego. Richard has exhibited his work and given lectures at several well-known Universities and has been a "Visiting Artist" at Murray State University, Oberlin College and Montana State University. Currently Richard Keely is living in San Diego, CA. and is an Associate Professor of Art at San Diego State University, where he teaches sculpture for the School of Art and Design.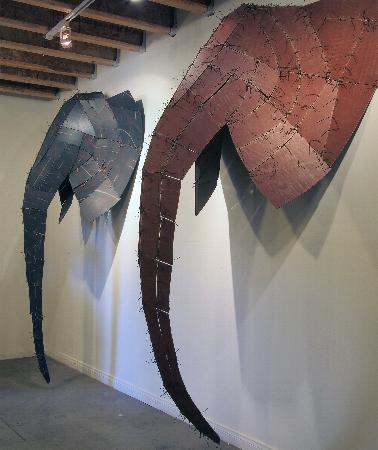 Photo credit wildLIFE Project by Bill Schairer
Wendy Maruyama is an artist and educator from San Diego, CA. She was the first woman to graduate with a Masters in furniture making from Rochester Institute of Technology. Maruyama's early work combined ideologies of feminism and traditional craft objects. Her practice continues to move beyond the boundaries of traditional studio craft and into the realm of social practice. The wildLIFE project serves to illustrate the plight of elephants and rhinoceros, a cause that is very personal for Maruyama. She took a sojourn to Africa last year and met with zoologists and wildlife advocates to investigate the dangers of continued poaching of both elephants and rhinos. In recent years her work has taken a narrative direction, integrating images and text into shrine-like cabinet forms which add an additional layer of sensory experience for the viewer. Maruyama was an artist in residence at Pilchuck Glass School in May 2013 and worked with both cold and hot glass for this body of work. The exhibition is made up of object-based works combined with a societal message about the dangers of poaching and the need to preserve animals in the wild.
Maruyama has exhibited her work nationally, with solo shows in New York City, San Francisco, Scottsdale AZ, Indianapolis, IN Savannah GA, and Easthampton, NY. She has also exhibited in Tokyo, Seoul and London. Her work is included in permanent collections at the Victoria and Albert Museum, London, UK; Museum of Fine Arts, Houston, TX; Los Angeles County Museum of Art, Dallas Art Museum, Queen Victoria Museum and Art Gallery, Launceston, AUS; Museum of Fine Arts, Boston, MA; Philadelphia Museum of Art, Philadelphia, PA; Museum of Craft and Design, San Francisco, CA; Mint Museum of Art, Charlotte, NC; Fuller Craft Museum, Brockton, MA; Mingei International Museum, San Diego, CA; and the Oakland Museum of California, Oakland, CA.
Please watch the following Ted Talk by Wendy: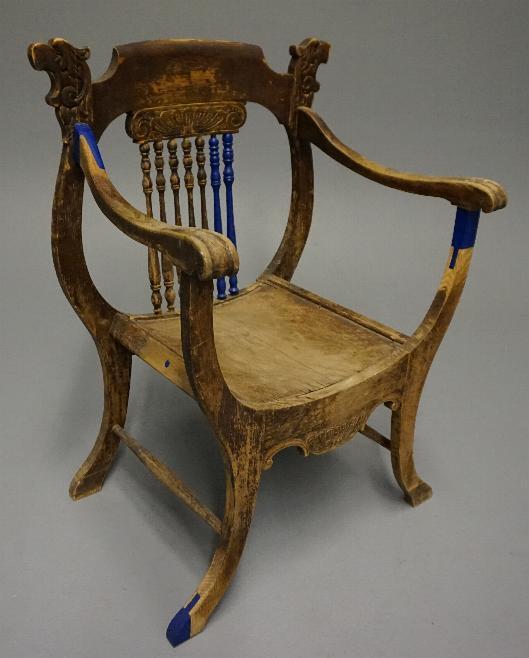 Peter Scheidt's recent studio furniture work interrogates furniture as a cultural and social formation. Theoretical reflection is important to his practice and he strives to create innovative work, which integrates theory and practice. He often operates in a realm of irony and contradiction, simultaneously respecting furniture's long craft tradition but also working irreverently with furniture objects.
As machines have changed production methods and materials, the difference in value between artisanal handwork and production work (by human hand or machine) has drastically increased. Manufacturing technologies, driven by desires of economy and profit shape the image of the furniture we surround ourselves with - whether it is the design decisions made by a lone craftsman based on efficiency of labor, or driven by the bottom line of a big box store. By working with found furniture or found designs, he is able to begin a conversation with the viewer which is already loaded with rich history and meaning for both artist and audience.
Scheidt graduated with a BA in critical media theory from Brown University and is currently a graduate student at San Diego State University. He has worked designing and building furniture independently and collaboratively since 2005.
Roy McMakin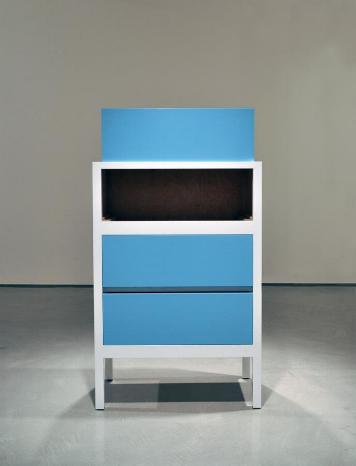 Photo credit Untitled (with one drawer that doesn't fit), by Roy Porello

Roy McMakin is both an artist and accomplished designer. He runs his design company Domestic Furniture / Domestic Architecture out of Seattle. McMakin's furniture is often incorporated into his artwork. He combines form and function, furniture and visual art, to produce hybrid objects of clean, sensuous surface with humorous underpinnings. His work often plays with scale and language, inviting both visceral response and conceptual contemplation.

In the text for Roy McMakin: A Door Meant as Adornment, Michael Darling writes;
Poetic interconnections with the words "adore," "adornment," "ornament," and "store" make them ripe for McMakin's gamesmanship and allow him to conflate disparate concepts and uncover surprising connections. For McMakin, furniture and domestic architecture have long offered a framework within which to enact these contextual corruptions, bringing poetic play home to where it naturally and comfortably encounters the body on a daily basis."

Roy McMakin has completed numerous commissions and architectural projects on the entire west coast including this small sample: The J. Paul Getty Museum, Museum of Contemporary Art San Diego, San Diego International Airport, and Annenberg Community Beach House, City of Santa Monica. From 1986 to the present there is an extensive bibliography about his work from many publication including but not limited to: The Los Angeles Times, The New York Times, The Chicago Tribune, Vogue, Esquire, Cosmopolitan, The Statesman, and Riviera. Catalogs have been produced for show at Mathew Marks Gallery, San Diego State University, MOCA Los Angeles, Institute of Contemporary Art at University of Philadelphia, and Cooper Hewitt in New York. Roy McMakin is represented by Quint Gallery in San Diego.

back to top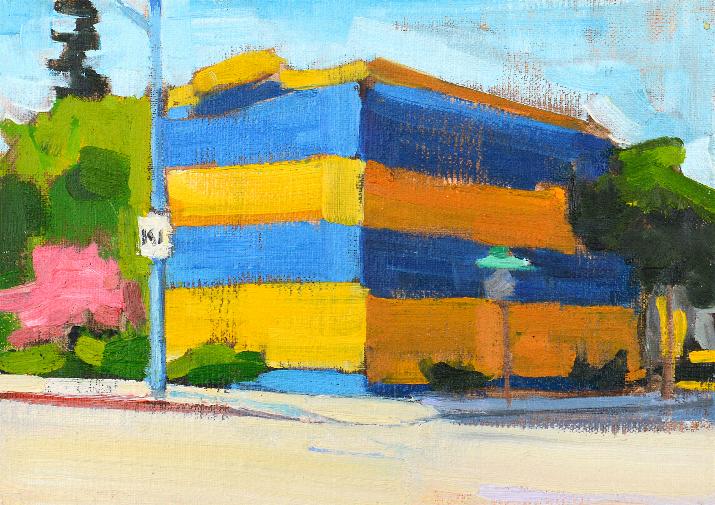 Kevin Inman is a San Diego painter, focusing on landscape and cityscape oil paintings. Inman often works outdoors, making intimately scaled plein-air studies. These small works aim to capture the light, color, and atmosphere of a place and are used to gather information for studio works. For the past several years, Inman has blogged these daily painting efforts.
Inman was born in Honolulu in 1980. Raised in a military family, he led a nomadic existence at duty stations around the US and in Japan. Inman studied at the Universidad de Valencia, Spain, received a BA from the University of Virginia, and a MFA from Radford University. He has exhibited in solo and group shows around the US. The Termite House painting above was recently included in the California Dreaming exhibition at the Oceanside Museum of Art.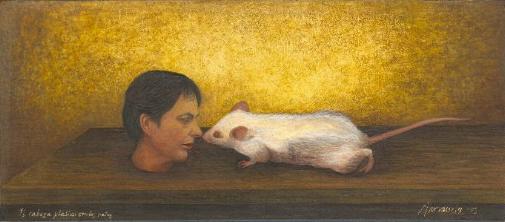 Marianela de la Hoz paints using the ancient medium known as egg tempera, with a contemporary look into current images. The works are extremely detailed, delicate and precise. She seeks to offer insights into the hidden character of her subjects through visual codes and exaggerated features. Her version of magic realism has been termed "white violence" because of her use of black humor and fantasy to depict the darker side of humanity.
Like a researcher she puts a drop of the blood of each theme under the microscope. Each painting is analyzed without moral judgments. It takes considerable skill and a great deal of time to observe these subjects and compose this art so well, hence the small formats. The viewer peers into a miniature world, unlocks a key and enters armed with a magnifying glass, expecting to come close enough to hear a whisper, to feel a pinch, to discover a hidden secret, and perhaps to crack a smile.
The contents, the formats, the technique, the texts (written thoughts), all conform a unique work of art and invite the viewer to approach, to get closer and closer. The small size perhaps makes an audience feel safe, but like a spider draws a fly into its web, de la Hoz seeks to entrap the viewer rationally as well as viscerally.
Marianela de la Hoz artwork has been exhibited in prestigious galleries as well as in several museums, universities and cultural institutes in her native Mexico, in the USA where she resides since 2001, and in Canada, Dubai, Japan and Germany. De la Hoz is represented by Noel Baza Fine Art
Bhavna Mehta draws with a knife, cutting paper to tell visual stories. Her work is based on the idea that everything is connected. Starting with a single sheet of paper, she cuts out shapes to reveal the image. She was raised in India where pattern and color are part of daily life. The abundance of these memories roots her work. Whether it's a figurative story or one inspired by a line from a song, her goal is to build a narrative with a universal theme. In telling one story in a particular setting, she hopes to speak in a common language about cultural and personal associations. Mehta has been exhibiting her work since 2009 and her work was reviewed in Art Ltd in 2013. She has engineering degrees from both India and US and worked as a software engineer for many years before turning to art. She learned paper cutting from Beatrice Coron at Penland School of Craft. She is now the Education Chair for San Diego Book Arts and teaching workshops all over San Diego County. She is represented by Noel-Baza Fine Art.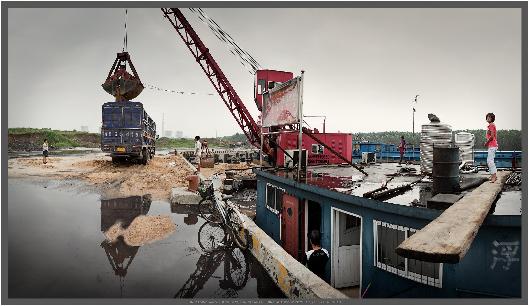 From nocturnal scenes of industry to views of pristine landscape, Philipp Scholz Rittermann's work spans opposite ends of our environment. His work is held in over one hundred public, private and corporate collections, from MoMA, New York to the Bibliotheque Nationale in Paris, France. Scholz Rittermann exhibits in national, and international venues. He was honored with a mid-career survey at the Museum of Photographic Arts San Diego, which published the monograph "Navigating by Light". Philipp Scholz Rittermann has been teaching photography for over thirty years in the USA and abroad. In 2011, the Museum of Contemporary Art San Diego, La Jolla Campus exhibited large scale photographs from "Emperor's River", a multi-year project he conducted in China.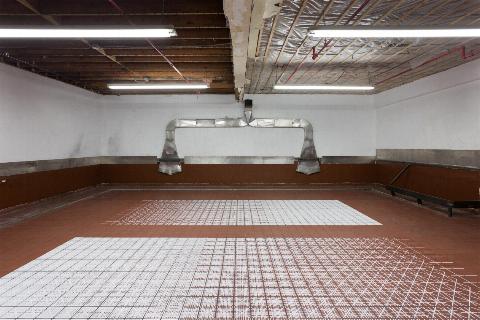 Photography ©2010 - 2013 Philipp Scholz Rittermann

Joseph Huppert was born in Mesa, Arizona and grew up Phoenix and discovered early that drawing was his passion. He likes the simplicity of using just a few materials, for example graphic lead on a mylar substrate. He soon learned that although University was not for him, he had a hunger for information, first art history then art theory, but most importantly the books by the artist in their own words when clear and concise. One artist led to another as he explored the writings of Donald Jude, Sol LeWitt, and Robert Smithson. He admired the words and eventually with direct experience the artist Robert Irwin. He helped install his 2007 show at the Museum of Contemporary Art San Diego and now works as a full time assistant to Irwin. They both share the love of dance and often use the metaphor of improvisation to explain a process which has similarities. Huppert was a break dancer, Irwin loves jazz.

Huppert chooses to work outside the context of museum and galleries with guerrilla type intervention but has in the past few years accepted the challenges of exhibiting at Ice Gallery and Bread and Salt. The inside space has limitation that he embraces including the dimensions of the space, entry point, and light and that led him to a bias toward geometry in those processes. Working now with Philipp Scholz Ritterman, they will be exploring the more limitless outdoor spaces where both will influence the outcome in a series on Collaborative Interventions.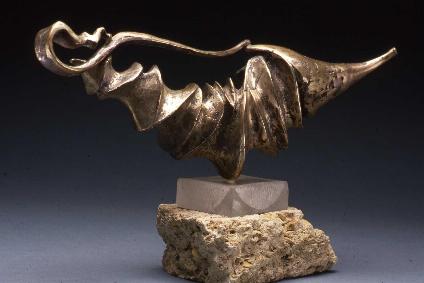 James Hubbell, born in 1931, grew up in the eastern part of the USA. After graduating from high school he traveled extensively in Africa and returned through Europe. Viewing Notre Dame Cathedral in Paris and experiencing that masterpiece first drew his interest to stained glass.He studied design and painting at Whitney Art School in New Haven, Connecticut, then served in Korea. Returning home, he studied painting and sculpture at Cranbrook Academy of Art in Michigan. He took another year hitchhiking and exploring architecture and art in Europe.
In 1958 he married Anne Stewart, a schoolteacher, and moved to the mountains in the backcountry of San Diego. They designed and built their home had four sons in the midst of continuous construction. Four of the eight buildings they eventually constructed burned in the Cedar Fire of 2003. The Hubbell's have been working to bring them back and have also put the complex into their Ilan-Lael Foundation.
It was interest in their handmade home that drew clients to Hubbell to design in architecture. He and his architect son work together. Hubbell's studio has grown to 4-6 assistants and apprentices. They work in stained glass, forged iron, wood, cement and other materials. Hubbell has designed hundreds of commissions including doors, sculptures, fountains, and gardens. He has created restaurants, homes, chapels, schools, and parks, but is best known for the Chapel at Sea Ranch, California and the Doors of Abu Dhabi in the United Arab Emirates.
At the present time, he has become increasingly interested in parks and gardens as a way to link the human world to the world of nature. Some of the most recent work is the Gazebo Park in Shelter Island, a fountain at the City Complex on Coronado, and a large forged-iron gate at the Julian Multi-Use Library. James Hubbell's work has become known through videos and publications and he now enjoys an. international reputation with work done in the United States, Mexico, Scotland, United Arab Emirates, Russia and China.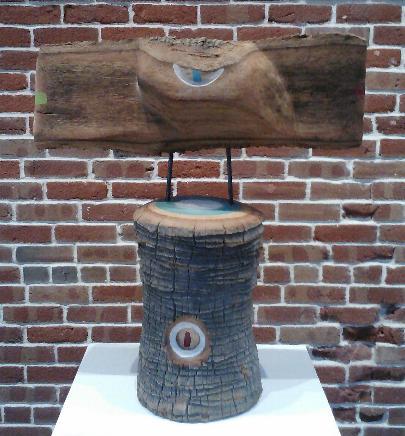 Brennan Hubbell (b. 1968) began creating art as soon as he could walk. Even as a kindergartener, he helped build Ilan-Lael, the art and nature center, which is now home to his parents Anne and James Hubbell and Hubbell Studios. Growing up in the country, he learned how to live and create in tandem with the outside environment. With the nature-loving seed planted at a young age he continued creating nature-based art through early adulthood. His work is wide ranging from large public sculptures to smaller commissions in a variety of materials including mosaic, wood, iron and featuring often water and light. He also works in video documentation. Brennan Hubbell is a student of people foremost and his art springs from his observations in humans in the natural environment. Hubbell attended Webb Academy in Claremont, California for high school, then went on to major in Fine Arts at St. Olaf College in Minnesota. In his twenties he studied permaculture in Oaxaca, Mexico under the instruction of Chuck Marsh, the North Carolina-based permaculturalist and designer. As a father of two young children, Brennan Hubbell hopes to pass on a love for art and nature to future generations.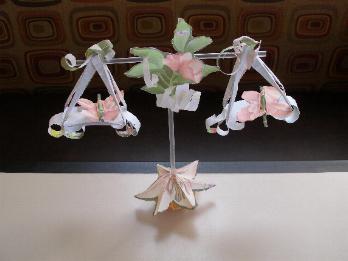 Debby and Larry Kline are collaborative artists with a focus on issues of justice. They pose provocative questions, challenge preconceptions and generally screw with context to make a point. They strongly believe that the process of experimentation leads to truly amazing things in the studio.
The Klines have been featured in many solo exhibitions, including Mission Cultural Center for Latino Arts ( San Francisco), California Center for the Arts Museum, La Casa del Tunel Art Center ( Tijuana), Southwestern College Art Gallery, Mesa College Art Gallery and Athenaeum Music and Arts Library. Their work was featured in "Nature/Nation," an international exhibition of environmental artists at Museum on the Seam ( Israel), which involved traveling to Jerusalem and creating a 1 ton adobe structure on the roof of the museum. They have participated in The Center for Land Use Interpretation's residency program and were highlighted artists at BEYOND the BORDER: International Contemporary Art Fair and Art San Diego 2013 Contemporary Art Fair. Their work has received international acclaim and coverage in both fine arts and mainstream publications. They have been awarded three grants from The Gunk Foundation, NY, and grants from Potrero Nuevo Fund, San Francisco, and Center for Cultural Innovation, Los Angeles.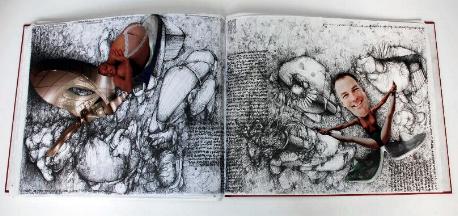 James A. Enos is an artist and architectural designer producing narrative works that offer an alternative imagination of urban space. Focusing on questions of civic identity and collective strategies for social change, he offers a poignant critique toward addressing what he describes as the "fundamental aesthetic challenges facing North American cities." By way of institutional performances, public programming, and via interdisciplinary visualizations, Enos pairs our erroneous and irrational conceptions of the 21 st century landscape with provocations of reciprocity. He is the co-founder and director of The Periscope Project, a collaborative project platform, urban think tank, and former alternative space, and has served as North America project Director of Port Journeys for Spiral Wacoal Art Centre, Tokyo & ZOU-NO-HANA Terrace, Yokohama. He has exhibited at the U.S. Pavilion in 13th Venice Architecture Biennale, The Museum of Contemporary Art San Diego, The Adler Planetarium & Astronomy Museum Chicago, The San Diego Museum of Art, Gallery at CalIT2, The University Art Gallery UCSD, The Athenaeum Music & Art Library, and Oceanside Museum of Art, among others. Additionally, his work has been featured by Wired Design, KCET Los Angeles's Emmy nominated Artbound Episode 1, and in publications such as Architext, and Architizer. He holds an MFA from The University of California San Diego, an M.Arch from The Newschool of Architecture, and a B.S. from Purdue University's School of Technology.
Arline Fisch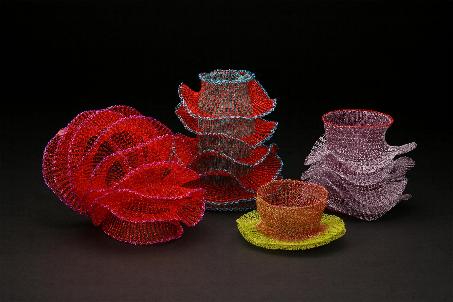 Photo credit: William Gullette
Arline Fisch was born in New York and studied art at Skidmore College, the University of Illinois, and the School of Arts and Crafts in Copenhagen. She has received four Fulbright grants, two to study and conduct research on silversmithing in Denmark and two to lecture in Austria and Uruguay. She has taught at Wheaton College, Skidmore College and San Diego State University, where she established the Jewelry and Metals program in 1961; she retired as Professor (Emerita) of Art in 2000.
Fisch is best known for the way she handles metal using textile structures such as knitting, weaving and braiding, to produce pliable planes which conform readily to the human form. Her wearable art has a softness and warmth not always seen in metal. Fisch prefers working in a larger than usual scale, with collars, pectorals, head ornaments as favored formats. Although she works in precious metals - silver, gold, and platinum, anodized aluminum is also used in non-textile constructions to make colorful, wearable ornaments of large dimension. She has cited jewelry of ancient cultures, Etruscan, Egyptian, Greek, Pre-Columbian, as being a continuing reference and inspiration for her work.
In addition to being a Director and Vice President of the World Crafts Council and serving as Trustee of the American Craft Council and of Haystack Mt. School of Crafts she is a founding member and past President of the Society of North American Goldsmiths. In 1979 she was elected to the Fellows of ACC, and in 1985 was designated a "Living Treasure of California" by the California legislature for her work as artist, educator, author and contributor to the field of American crafts. In 2002 she received an honorary Doctor of Humane Letters from Skidmore College, and in 2006 a $50,000. fellowship award from United States Artists in support of her creative work. Arline Fisch's work has been widely exhibited in the United States, Europe, Asia and Australia and is represented in public collections around the world.
Arline Fisch is represented by Taboo Studio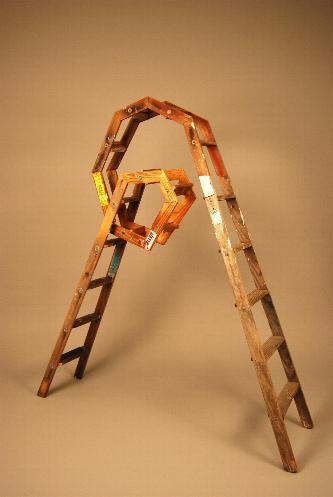 Vincent Robles primarily works within the realms of sculptural furniture elements. Currently, his work addresses domestic space and the relationships from one common object to the next. There is a psychological tension that lies within the walls of the home. In every nook and cranny, underside of table, between the rungs of a banister and under the rug, something has taken place. In his work, he is reading between these lines and channeling through the layers to expose what might have been left undiscovered. The relationship between our environment and the space that we imbue provokes a dialog through our past associations and historical references. Robles is a second year graduate student in the Furniture Department at San Diego State University. He has a background in applied design/ home renovations/ and carpentry. It is through these skills that Vincent Robles has utilized the language of buildings, inspiration for content in his work, to further question our own associations to the objects he creates.
Photo credit Ron Holt & Ellen McReney
Jeffery Laudenslager creates effects with his kinetic sculptures that range from the thrill of a near miss on a roller coaster ride to the peaceful satisfaction of a tai-chi routine. He works with titanium, which is lightweight and strong, for outdoor artworks that respond to the wind, completing complicated movement at varying speeds, always graceful and elegant but with an undeniable power. His designs are essentially made from arcs and angles, and this geometric approach offers a myriad of combinations that Laudenslager reduces to their most condensed expressions. Precision and balance are always present.
Laudenslager says, "Throughout my career I have constantly sought the most economical means at my disposal to convey my ideas. The reductive nature of my effort has made for an understated result true to my nature. I find that ambiguity and illusion are my principal characteristics. The context and form have had great diversity over the years but, as Isamu Noguchi said, I do the same thing again and again - but differently each time. What we call knowledge is actually more like belief; what our senses deliver to us is insubstantial, and what we refer to as temporality is omnipresent and insoluble. " His non-kinetic pieces, whether small or large-scale, are illusionist riddles in patinaed and painted steel, so even his static sculptures appearing animated.
In 1999, Laudenslager's 34-foot high kinetic sculpture Archimage, commissioned for the Torrey Reserve complex in Del Mar, received the coveted Orchid Award in the Fine Arts category. With over 40 solo exhibitions, Laudenslager's sculptures can be found in corporate and public collections throughout the USA and in private collections in the U.S., England, Switzerland, Germany, Taiwan, and South Korea, including the Laguna Art Museum, The Woodlands in Texas, and the Wolfstein Sculpture Parks at Scripps Memorial Hospital La Jolla and Encinitas.
Video credit: Sidney Wildesmith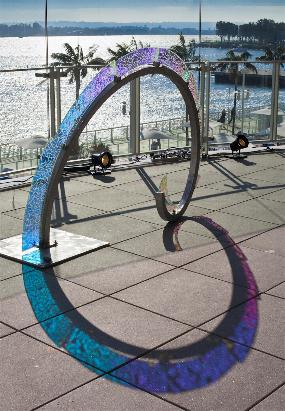 Deanne Sabeck began a career in architectural stained glass in 1973. During her journey, she experimented and mastered almost every technique known in the glass world and developed her own unique art form. Trained originally as a painter, she received a BFA from Arizona State University but has continued her studies at Pilchuck and other schools. In 1990, she relocated from Sedona, Arizona to Encinitas and changed her focus from architectural glass to creating "Light Sculpture". Finding the reflected light patterns more intriguing than the windows themselves, she began working directly with the light spectrum itself as a sculptural medium. Using various types of reflective glass, she creates spatial sculptural installations of light. The glass is bent, cast, fractured and sometimes etched with text and or imagery to distort and refract the light, bathing walls, floors and ceilings in vibrant color. Conceptually, the work uses illusion to question our perception and the essence of our visual reality, LIGHT. Sabeck has completed many large commissions including public art, commercial and residential installations through-out the US and abroad, including "Lightwaves" at the SD International Airport and a cast glass window for Mel Gibson. Her work is shown in many galleries across the country including Sculpture Site Gallery in Sonoma, CA., Pismo Fine Art, Aspen, CO. and Kuivato Gallery (her own glass gallery) in Sedona, Arizona. Deanne Sabeck has had a solo show at the Museum of Neon Art in Los Angeles.
Rubén Ortiz-Torres was born in Mexico City in 1964. Educated within the utopian models of republican Spanish anarchism soon confronted the tragedies and cultural clashes of post colonial third world. After giving up the dream of playing baseball in the major leagues he decided to study art. He went first to the oldest and one of the most academic art schools of the Americas (the Academy of San Carlos in Mexico City) and later to one of the newest and more experimental (Calarts in Valencia CA). After enduring Mexico City's earthquake and pollution he moved to LA with a Fullbright grant to survive riots, fires, floods, more earthquakes, and proposition 187. During all this he has been able to produce artwork in the form of paintings, photographs, objects, installations, videos, and films. He is part of the permanent Faculty of the University of California in San Diego. He has participated in several international exhibitions and film festivals. His work is in the collections of The Museum of Modern Art in New York, the Los Angeles County Museum of Art, the Museo Nacional Centro de Arte Reina Sofía in Madrid Spain and others. RubénOrtiz-Torres received the 2011 Lincoln Innovation Artist Award.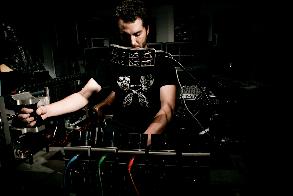 Ground Control Magazine Presents: TRISTAN SHONE from augustine arredondo on Vimeo.  
Tristan Shone's layering of differently guitars, keyboard, and electronic percussion to create the sound that is the justification for the shapes of his sculptures. Just as the music has melody and discordance, the structures he forms have flow and angle. This contrast of mechanical and emotional is confident, intense, and impressive. Alongside fabricating machines and composing sound for performance, Shone works at the National Center for Microscopy and Imaging Research as a mechanical engineer and the Center for Research and Computing in the Arts at the University of California, San Diego as a researcher in sound interface design. Tristan Shone as Author & Punisher is an industrial doom and drone metal, one man band utilizing primarily custom fabricated machines/controllers and speakers. He has performed and shown these machines in festivals and exhibitions in the United States and abroad extensively, releasing his third album, yet first sculpture/art based album entitled "Drone Machines" in 2010 on Heart & Crossbone Records out of Tel-Aviv. His new record, focused primarily on the newer Dub Machines, will be released in the Summer/Fall of 2011.
Video by Melissa Au and interview by Jon Au: Tristan Shone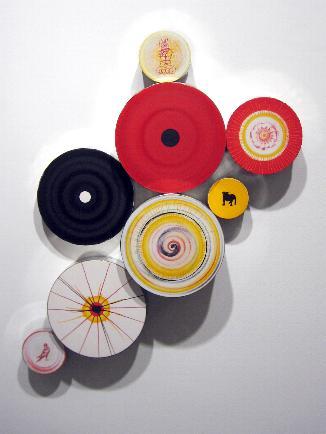 Jay S. Johnson has worked with several materials, from clay to wood and metals. He has experimented more with paint recently, and has incorporated it beautifully into his wooden sculptures. An expert craftsman, he has worked off and on in construction, refining his wood-working skills. Whether his works are figurative or symbolic, they are most often wry and thought-provoking. Johnson himself says, "Utilizing the neutral background of the wall I attempt to draw the viewer closer to my objects by employing simple yet seductive materials and forms. Familiar images applied to these interior shapes may sometimes be clues to deciphering the content of the work, which typically deals with issues concerning man's relations to each other and to nature." Robert L. Pincus, art critic for the San Diego Union-Tribune wrote about Johnson's solo exhibition at the Athenaeum Music & Art Library, saying: "The two major qualities that make Jay Johnson's art so persistently compelling come together gracefully in "Smoking Room,"… One of them is his genuine gift for elegance – not easy elegance, but the taut sort of understated beauty that emanates from a keen sense of how to use materials and employ symbolic images. The second quality is his fascination with the relationship between a single form and surrounding objects, which takes a new form in this show." Johnson work has been widely exhibited, reviewed, and collected in California including the important Museum of Contemporary Art solo show in 1997.Jay Johnson has been a UCSD lecturer for sculpture since 2001.
Video by Melissa Au and interview by Jon Au: Jay S. Johnson
Jay S. Johnson is represented by Quint Contemporary Art, La Jolla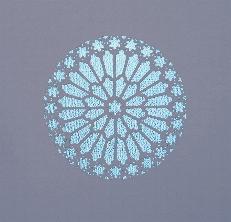 Adam Belt works with physical manifestations of the unseen including the inherent properties of materials such as salt, ice and concrete, our interaction with the landscape and our wonder of the cosmos. Currently he is working with and documenting a small portable phenomenological installation. "A Thing is a Hole in a Thing it is Not" is comprised of two full-length mirrors with a lit wall in between. Experienced and documented outside at various locations during the naturally changing light of afternoon/evening the viewer observes and experiences a heightened sense of time and the presence of the self. Adam Belt received his BFA from the University of San Diego and completed his MFA from Claremont Graduate University in 2001 and is now working as an artist and a professor in San Diego. His work is included in many local collections including the Museum of Contemporary Art San Diego, and the La Jolla Athenaeum Music and Arts Library. Adam has been published in Leonardo, the International Society for the Arts, Sciences and Technology magazine. His work has been reviewed in The San Diego Union Tribune, Art Week, Riviera and various other publications.
Video by Melissa Au and interview by Jon Au: Adam Belt

Adam Belt is represented by Quint Contemporary Art, La Jolla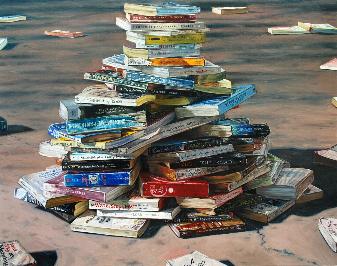 Current artworks by Gail Roberts are trail-markers for our times. Roberts moved in 2006 from an idyllic rural community in north San Diego back to city life. She transitioned from painting the beauty and catastrophic events of nearby scenes to a new range of concepts in response to what she perceives as a compromised and troubled relationship to nature in today's culture. Both periods of her work share rich color palette, fine draftsmanship and superior composition.

Roberts is an obsessive collector. She has gathered and catalogued collections of birds' nests, animal bones, dirt samples, and rocks from hiking and traveling. She has also documented nearby locations over extended periods of time amassing hundreds of photographs of the exact same site, observing both dramatic and subtle changes. Aspects of these collections have found their way into the paintings. The juxtaposition of natural and synthetic environments in the paintings is not so much to judge the scenario but to actively influence the subject and show how we are increasingly alienated from nature. Amazingly she does this with irony and humor and the works are actually joyful.

In the series Accumulations, Roberts has documented her own collection of patterans or trailmarkers, a word originating in Europe. Patterans were made of natural materials, such as handfuls of grass or stones heaped in cairns. Robert's patterans are piles of paperbacks, weekly trash accumulations or pyramided assortments of cut flowers. The most recent paintings focus on a further investigation of books and book titles as subject matter juxtaposed with images of birds' nests. The paintings continue to be a vehicle for inquiry and commentary regarding her reflections on nature, culture and our temporal existence.

Roberts' work has been exhibited nationally and internationally including a recent solo exhibition at the Galeria Nacional in San Jose, Costa Rica and Luis de Jesus Seminal Projects in San Diego, CA as well as inclusion in a traveling exhibition entitled Speculative Terrain, Recent Views of the Southern California Landscape from San Diego to Santa Barbara.' She has received several awards including a California Arts Council Fellowship and residency fellowships in France and Costa Rica. She has completed public art commissions at the Chicago Public Library, Lux Art Institute, and Tree Lines at the San Diego International Airport. In 2010, she was awarded a Balinglen Artist's Fellowship, a month long residency in Ballycastle, Ireland. Gail Roberts received her BFA and MA at the University of New Mexico in Albuquerque and is a Professor of Art at San Diego State University.

More work can be seen at the artist's website. Gail Roberts is represented by Luis De Jesus Los Angeles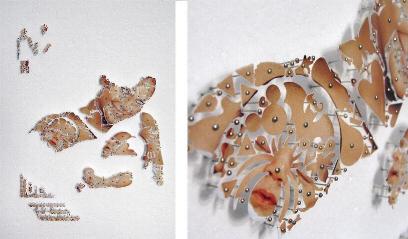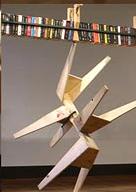 David Adey was born in Morristown, NJ in 1972. He graduated with a BA in Visual Art from Point Loma Nazarene University in 1994. He spent six years in the graphic design field in New York and San Diego creating corporate identity campaigns and package design for a variety of products and international brands. In 2002 he received his MFA in Sculpture from Cranbrook Academy of Art in Michigan. His work has been exhibited recently in San Diego, Los Angeles, Miami, Detroit, Boston and Berlin. He is currently Associate Professor and co-Chair in the Department of Art and Design at Point Loma Nazarene University where he teaches Sculpture, 3D Design, Contemporary Art Seminar and Illustration. His work will be featured in The Athenaeum in Feb/March 2010. He lives and works in Point Loma.

Named after the larger-than-life character from American folklore, is the name of the most recent work shown at both the Athenaeum Music & Arts Library and Luis de Jesus Los Angeles. It combines hardcover books, clamps, sawhorses, and steel with logic defying engineering. In John Henry, David Adey implements the traditional principles used in bridge design to brace two elevated rows of books between the walls of the gallery. Everything used to guide the structure of this installation, including trapezoidal keystone blocks that push the books upward and thin wooden shims that reciprocate the pressure downward, is visible and marks the "backyard experiment" element of the process. As with Adey's previous works, in which long hours were spent learning the physics of specific materials and developing a successful method of exercising them, it is always the ideas that carry from piece to piece—not always the material.

John Henry exemplifies a conceptual process that is informed by a particular set of constraints the artist establishes in a match between opposing forces, each time rendering something new and unexpected. "Once it's under way, I'm not so much making aesthetic decisions on an intuitive level as trying to fulfill an idea," says Adey. The finished work speaks of futility, pressure, and spectacle, feats of strength, absurdity, faith, poetry, and death. An appropriately heroic interpretation of this enduring American legend, "John Henry" represents the human sense of purpose derived from working towards understanding and accomplishment, whether out of necessity or curiosity.

More work can be seen at the artist's website. Adey is represented by Luis De Jesus Los Angeles Our thanks to Luis de Jesus for this description of the John Henry work.

Mexican-born artists Einar and Jamex de la Torre are brothers and artistic collaborators, who moved to the United States from Guadalajara, Jalisco in the early 1970's. Leaving behind the academic, religious and social rigors of an all-boys Catholic school in 1960's Guadalajara, the de la Torre brothers ended up in the small Southern California surf town of Dana Point, where they discovered the unbridled joys of co-ed public schools.
While attending California State University at Long Beach in the 80's, they studied sculpture and glass blowing, during which time the artist-brothers began a flame-worked glass figure business. This business was quickly eclipsed when their artistic collaboration began in earnest in the late 1980's with small mix media works. In the late 1990's, they began to do large-scale sculptural installations, eventually branching out into commissioned site-specific and public art projects.
Currently, the brothers live and work on both sides of the San Diego-Baja California border, enjoying a bi-national life style that very much informs their art. Einar and Jamex de la Torre have worked, taught and exhibited both nationally, as well as internationally. Their distinctive three-dimensional work can be found in galleries, museum collections, Museum catalogs, as well as in various public art installations. Recent recipients of the Joan Mitchel foundation award and the Louis Comfort Tiffany foundation award.
Julio Orozco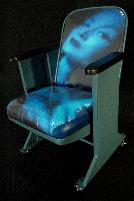 Julio Orozco began as a documentary photographer in 1992. Working for a daily newspaper on the police beat gave him a unique opportunity to portray the crime scene of his native city and develop a visual ability to communicate facts, which he later applied to his creative work. He transforms images to reinvent a sort of social 'realism' to avoid global standardization. Movie houses were designed for and provided us with a classic structure for storytelling from ideal romances to space invaders including popular myths of common people. Orozco has created an ongoing series of works related to these moving picture emporiums where the art is often displayed (as well as the institutional space of a museum or gallery) in thoughtful installations with interactive environments that enmeshed the audience in a web of narratives. Issues are raised of nostalgia, historiography and cultural identity. The experimental works are rendered by the appropriation of historical documents, objects, sounds and images to establish new connections between memory and fiction, past and future as a reflection on Cinema.

Julio was nominated by Debra Poteet for this award and this is her statement:" I first visited Julio's studio about 5 years ago after some of his pieces were shown at the Strange New World Show at the La Jolla Museum of Contemporary Art. Marcos Ramirez or Erre a wonderful conceptual artist and a person who many of the Tijuana artist look-up to as both a mentor and spokesperson for the Border Art Scene, arranged for us to visit several Tijuana based artists including Julio Orozco. Julio's studio or more like a garret in the traditional historical context of turn of twentieth century Paris, was small and dark with an almost cave like quality. There like Merlin the magician, Julio had created some of the most original conceptual pieces, we had ever seen. His videos shown through the lenses of ancient movie projectors, were both haunting and mystical. His photography of Mexican cartoon characters, spoke volumes of the cultural context he lived in and also displayed his considerable photographic talent. And the retrieved from the rubble cinema seats were simply magic. The quality of Julio's work from a collectors standpoint, evokes mystery and wonder. You just can't stop looking at his work."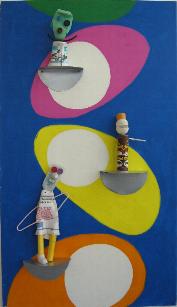 The story of how Kim MacConnel named his most recent series of pictures, Women with Mirror, tells a lot about the artist and the man. It is not surprising that he would be interested in the pattern in the backgrounds of Pablo Picasso's paintings. Pattern Painting has been the genre most associated with MacConnel. But MacConnel decided that just as Picasso had used African art as the subject of his work and added backgrounds of pattern, he would look at those backgrounds and take out the subject matter. Sounds good on paper, doesn't it? But when he actually began his research, MacConnel found very little pattern in any of the Picasso works that related to his sketches. Finally, Women in A Mirror, was the one work where he saw a connection. It is amazing that so slight an inspiration could produce a body of works that is so intriguing and so ongoing.
We will be showing the Age of Plastic series, a precursor to those new works, during the exhibition for the SD Art Prize 2009 coming to the L-Street Gallery of the Omni Hotel in the spring. The title is an ironic reference to the Guggenheim's 1993 sculpture exhibition The Age of Steel. MacConnel choose two of the most despicable trends of our times that he could think of….clowns and beach trash and used the cleverest of combinations to make trash into treasure. In his March 1995 article in Art In American, Michael Duncan says, "With its eye-grabbing commercial palette and hard-candy texture, plastic rubble provides a perfect medium for MacConnel….. MacConnel's clowns are both formally rigorous and playful, yet their lowly medium heads off any possibility of pretentiousness."
Born in Oklahoma City, MacConnel's family comes from San Diego but he was raised on both coasts and in the Texas and Mexico as well. He currently teaches at the University of California, San Diego. The first showing of the Age of Plastic was at Holly Solomon Gallery, New York followed by Thomas Solomon's Garage, Los Angeles and finally Clowntown was displayed at the Quint Gallery, San Diego all in 1994. This series was included in Kim MacConnel- - Selected works from 1974 - 1996, at the California Center for the Arts, Escondido, California in 1997 and Parrot Talk: A Retrospective of Works by Kim MacConnel curated by Michael Duncan, Santa Monica Museum of Art, Santa Monica, California in 2003. Clowning Around was shown at Margeaux Kurtie Modern Art, Madrid, New Mexico in 2001.
Amy Goldin, an influential UCSD visiting professor while MacConnel was in school in the 70's, put forward the concept that pattern is not just the repetition of a motif but the rhythms created between the motifs. MacConnel has explored these and other very formal aesthetic concerns with a continuous nod to art history. His fearless use of color and his mesmerizing pattern is why these works breathe with the joy of life.
Kim MacConnel is represented by Quint Contemporary Art, La Jolla and Rosamund Felsen Gallery, Santa Monica
"Brian Dick's art constructed from everyday vernacular materials emerges from a process of play and are purposefully temporary-not works meant to last over time. Each morning since 1997 whether at home, visiting family or on a vacation trip, Dick transforms the mattress, sheets, pillows, blankets, and even the frame of the bed into a temporary sculpture, costume or performance. Dick documents these creations and actions with color photography. The ten year duration of the series, Making My Bed, is a testament to Dick's commitment to the idea as well as to his self-imposed ritual. The results are: a bump in a mattress caused by the bedding, which has been placed underneath it; diapered monster outfit and mask (performed by the artist's mother); or an upright totem. For a new project, Dick has been designing mascots for select museums constructed from recycled clothing, crocheted afghan throws, and consumable domestic materials such as paper cups and clothes pins. In so doing , museums are thereby treated to the same emblematic form as is common for sports teams. The mascots take the shape of sculptural masks that are worn in impromptu performances in a variety of public settings. Related posters and handbills expand the absurdist gestures of both the bed and mascot projects." Betti-Sue Hertz, Curator SDMA for Inside the Wave: Six San Diego/Tijuana artists construct social art.
Dick was born in Las Cruces, New Mexico and raised in Southern California. He received his B.A. from UCLA and, after graduating with an MFA from the University of California, San Diego in 1995 Dick accepted a six week residency at Arteleku in San Sebastian, Spain. Shortly thereafter he was invited to an extended residency through The American Center in Paris where he stayed for two years. He appeared in several group shows including shows at The Center George Pompidou, The Musée d'art moderne and in spaces in Denmark and the Netherlands. Additionally, he had solo shows at Gallerie Chez Valentin, Paris, France and Gandy Gallery, Prague, Czech Republic. He also appeared in two of the first ever web-based shows in France. Since returning to San Diego, he has participated in shows and film festivals in San Diego, Dallas, Houston, Reno, Kyoto, Japan and Berlin. In 2007/2008 Dick had solo shows at Spacecraft Gallery and Luis de Jesus Seminal Projects. Also in 2008 he participated in the group show Inside the Wave (with Christen Sperry-Garcia) at the San Diego Museum of Art as well Childsplay at The New Children's Museum, San Diego. In 2009, among other things, Dick will be participating in Bushwick: SITE, a performance fair in Brooklyn, NY, as well as a guest curator at Sushi Visual Arts Space, San Diego, CA.
Dick lives and works in Southern California. More work can be seen at the artist's website.

Richard Allen Morris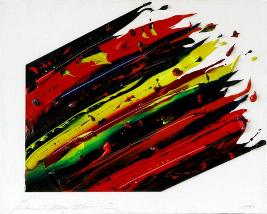 Richard Allen Morris was born in Long Beach, CA in 1933. Morris is self taught exploring his enormous interest in art history with no formal art education. He began exhibiting at the age of 26. He served in the Korean War leaving the service in 1956. His first solo show was in 1959 and has had solo and group exhibitions throughout California since. He currently lives and works in San Diego.
Morris's works are firmly anchored in the Abstract Expressionist school. The handling of the paint is always seductive and he managed to transfer that same feeling to his collaged works. You feel these collages are gathered from the snipes and off cuts found in the waste areas of his studio which he spins into gold. He has the obsessive nature of many great artists and has produced a large body of work which treads the line between great sophistication and a child like glee in the world around him.
Morris has been recognized recently in Germany and Switzerland where his work is much in demand. He has been the focus of many exhibitions and catalogues. Richard Allen Morris: Retrospective, 1958-2005 was an exhibition that includes 150 paintings made over the course of his fifty-year career organized by Museum Haus Lange, Krefeld and shown at the Museum of Contemporary Art, San Diego in 2005.
Published in Art Scene which is the guide to exhibitions in Southern California of show at Mandarin Gallery in Los Angles in 2006 was this statement about the show Body and Soul. " Richard Allen Morris' brand of eye candy sets up this challenge: how much visual incident can be squeezed onto the head of a pin? The effect of walking into a roomful of these impastoed dandies will immediately either put a smile on your face or raise your hackles. But the decorative indulgence is beside the point. Let yourself get your nose up to these things, then step back again so you can go along on Morris' ride. His deft brush takes us to a surprisingly wide variety of places without having appeared to have done very much. "
From this same show David Pagel writes in Special to The Times for the Around the Galleries feature, "…..playful combination of paint squeezed straight from the tube and slathered on with a palette knife resembles the aftermath of a food fight between Matisse and Gauguin."
Richard Allen Morris is represented by RB Stevenson Gallery, La Jolla.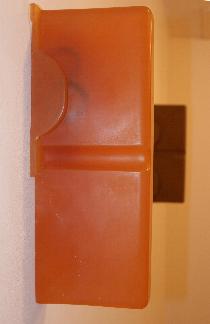 Tom Driscoll was born in San Diego, California in 1945 and lived in Mission Beach between the ages of one to eight years old. At the age of eight, his family moved to the more arid terrain of Chula Vista when his father went to work at Rohr Corporation a part of San Diego's aerospace industry.
Driscoll was drawn to sculpture early. "A point where I realized I was good with my hands occurred when I was a senior in high school. In an art class I started stone cutting and direct carving on wood. One of my pieces ended up being displayed at the school library. It was the first pat on the back I recall receiving." Those early carvers - Moore, Brancusi and Hepworth - turned his head.
After high school, he enlisted in the U.S. Army and served with the 82 nd Airborne. Upon returning to San Diego he enrolled at Southwestern College. His exposure to the "Artist Lecture Series" - the guests included Robert Irwin, Paul Brach, Newton Harrison, moderated by John Baldessari. - captured his attention as no other class had up to that point.
A significant change in Tom's career occurred in 1981 when he moved to downtown San Diego. Here he encountered several artists living and working in cheap commercial spaces: Richard Allen Morris, Lynn Engstrom, Barbara Sexton, Gillian Theobald, Carl Peck, Lynn Schuette, Richard Sigmund, William Gambini, Jay Johnson and Gary Ghirardi. "We would each arrive at night after our day jobs to work in our studios. At that time a number of art galleries opened in downtown San Diego: Patty Aande, The Pawn Shop, 552 Gallery, Newmyer, and later Quint Gallery and Sumay Space. These galleries brought all of us together."
Driscoll's work has received critical acclaim and has been included in numerous solo and group exhibitions throughout Southern California, i.e. Mandarian Gallery in Los Angeles and Quint Gallery in San Diego. Best known for his cast cement and large-scale sculptures (cones and spheres), Driscoll has produced a body of diversified work over the years including a recent series where he used Styrofoam and vacuum formed plastic packaging as molds. The inner negative spaces of the material produced an array of abstract shapes replacing the original product.
With his masterful handling of material, Tom Driscoll is currently producing an intriguing series of cast epoxy – mysterious in their deep red and amber translucency.
Richard Allen Morris and Tom Driscoll share qualities of honesty, perseverance and a respect for art history. San Diego has benefited from their continued presence.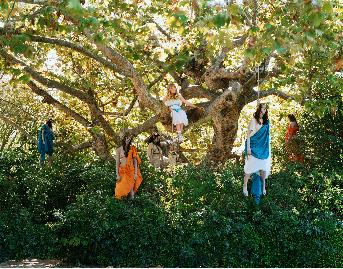 Eleanor Antin is internationally renown for her work in photography, video, film, performance, installation, drawing, and writing. She has had one-woman exhibitions at the Museum of Modern Art, the Whitney Museum, the Wadsworth Atheneum, etc. as well as a major 30 year retrospective at the Los Angeles County Museum of Art which published a book ELEANOR ANTIN by Howard Fox. Her retrospective also traveled to the Mildred Lane Kemper Art Museum at Washington University in St. Louis and toured the U.K. She has been in major group exhibitions at the Hirschhorn Museum, the Los Angeles Museum of Contemporary Art, the Kunsthalle Wien, the Sydney Biennale, and the Beaubourg, among others.

She is represented in major collections including the Art Institute of Chicago, the Whitney Museum, the Museum of Modern Art, the Jewish Museum, the San Francisco Museum of Modern Art, etc. As a performance artist she has appeared in venues around the world including the Venice Biennale and the Sydney Opera House. Several of her mixed media, groundbreaking works such as "100 BOOTS", "CARVING; A Traditional Sculpture", "The Angel of Mercy", "Recollections of my Life with Diaghilev", "The King of Solana Beach", "The Adventures of a Nurse," are frequently referred to as classics of feminist postmodernism. She is represented by the Ronald Feldman Gallery in New York.

Excerpt from Art in America by Leah Ollman, 2000. "Antin's ability to imbue this bodiless amalgam with pathos is remarkable, a hint of what was to come in her various personae. Each of her characters strives for centrality yet remains caught at the periphery─ the Nurse is instrumental yet undervalued, the Ballerina cast off by history as marginal. Antin has written her own fate, or perhaps her own fears, into these roles. .....Purposefully aligning herself with outsiders and exiles, she thrives on the margins, where she stirs up trouble with her devious antics. In creating her personae, she created herself, a pantheon of tricksters bent on blurring the boundaries between past and present, reality and fiction, life and performance. When those borders dissolve, Allan Kaprow wrote in 1966, describing the Happenings that were to transmute into performance work like Antin's, "Not only does art become life, but life refuses to be itself."
Please note: Eleanor Antin: Historical Takes will be on display at the San Diego Museum of Art from
July 19–November 2, 2008.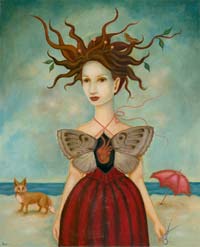 Pamela Jaeger lives in San Diego and graduated from San Diego State University where she obtained a Bachelor's Degree in Graphic Design. She has studied drawing, painting, color theory, costuming and design. The influence of costume design is apparent in many of her painted characters. She studies fashion and beauty traditions of the past and also finds inspiration for paintings in childhood memories, dreams and journal writings to create a story of truth and fiction. In her paintings she creates an ethereal, fanciful world for the characters to live in.

Excerpt from Simayspace New Contemporaries Exhibition by Kevin Freitas, Art as Authority July 2007.
"Jaeger's paintings are generally modest in scale, painted in a classic figure-foreground composition, typically portraits of women with generic faces and changing hairstyles, often in Victorian style gowns and/or "boudoir" lingerie – they want to be like Marie-Antoinette but all the decadence and steamy sex has been left out. Jaeger has created a saccharin world of blueberries, raspberries and strawberries, pink and blue cotton candy, cats, dogs, butterflies, bubbles, daffodils, pink and violent roses and Pixy Sticks for her heroines to exist in."

Excerpt from Edgy Charm: Works frame a surreal take on life by Robert L. Pincus, Union Tribune, July 3, 2005. "The world is a touch enchanted and sometimes unnerving in the paintings of Pamela Jaeger. Her "Rodeo Queen," a young girl, sits atop a toy horse with wobbly, stiltlike legs and a ladder leaning against its flank. In "Sweet Nothings," a bird whispers in a woman's ear. Since 2003, Jaeger has been showing steadily in San Diego, where she lives and works, as well as Los Angeles, creating images that are attuned to folk tales, dreams and her own memories of childhood. Her style carries strains of storybook illustration, surrealism and folk painting..... From her touchstones, in particular medieval religious art and Frida Kahlo's self-portraits, Jaeger has surely gleaned ways of making life look fantastical."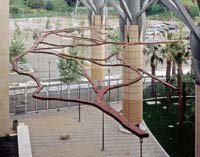 San Diego based artist Roman de Salvo received a BFA from the California College of Arts and Crafts, Oakland, CA and an MFA from the University of California, San Diego, La Jolla, CA. In his sculptures and installations, de Salvo manages to be both restrained and high-spirited, blending his fascination for machines and craftsmanship with an interest in language and wordplay. He has exhibited throughout the United States and Europe, including solo shows at Quint Contemporary Art, La Jolla (2001), CA, and the Museum of Contemporary Art San Diego, La Jolla, CA (1998). Recent group exhibitions include Baja to Vancouver: The West Coast in Contemporary Art, Seattle Art Museum, WA (2003; traveled), and the 2002 California Biennial, Orange County Museum of Art, Newport Beach, CA (2002). He's taken his skills into their largest arena yet with "Nexus Eucalyptus," which he and his crew are installing at the new Caltrans District 11 headquarters in Old Town. The 115-foot-long, 50-foot-wide construction in wood is more readily recognizable as an art object than many of his creations. But it shares with them his sense of play and the ability to execute with precision an imaginative, outlandish concept.

Roman de Salvo was the only local artist commissioned to create work for the new Museum of Contemporary Art in the David C. Copley building in downtown San Diego with multiple works from the Electrical Conduit Series. His work,Utility Filigree, is located in the Kresge Foundation Stairway and is comprised of de Salvo's modular macramé, made from electrical conduit, boxes, and connectors—materials that are customarily hidden within the finished surfaces of buildings. The stairway where the work is located has a raw, industrial, and utilitarian feel, and the modular macramé has a similar feel yet it is also decorative. With modular macramé, these materials are used as ornamentation as well as functionally at MCASD to provide lighting in the stairway. Interview available with the artist courtesy of the New Children's Museum of San Diego.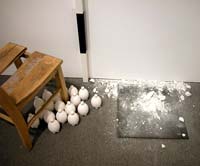 Lael Corbin is a San Diego based artist. His work has taken the form of installation, individual sculptures and photography. He lived in Hawaii where he studied figure sculpture at the Honolulu Art Academy. He received his MFA in sculpture from San Diego State University in 2007. Currently he teaches drawing, design and photography in the Department of Art and Design at Point Loma Nazarene University, as well as overseeing their workshops and facilities. His installations and sculpture have been seen at local venues such as the Produce Gallery, San Diego State University, and The University of California, San Diego as well as Simayspace Gallery at the SD Art Academy.

Excerpt from Simayspace New Contemporaries Exhibition by Kevin Freitas, Art as Authority July 2007. "Lael has installed against one wall of the gallery a testing ground for an experiment he calls "Peculiar Velocity". Indeed there are some peculiar objects that are being readied for their maiden flight or should I say fall, and their rate of speed of that action – the tossing, dropping, throwing of these objects will be calculated, to what end is unknown as the experimentation appears to have stopped in mid-course. No one seems to be too concerned about the results though, a few calculations are scribbled on the wall, and sketches of a better design are notated while a few of the actual cast plaster models lie smashed upon the floor. Not that they had a chance of surviving intact since someone has intentionally placed a large square steel plate underneath the drop zone."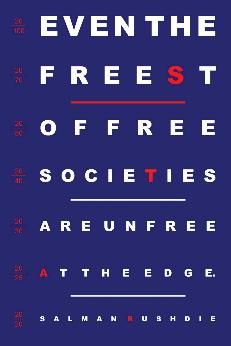 Marcos Ramirez "Erre" was born in Tijuana, Baja California, Mexico in 1961. He studied law at the Universidad Autonoma de Baja California. He has exhibited throughout Mexico and in the United States since 1993. His most critically acclaimed installations have been "Century 21" for inSite '94, and "Toy and Horse" for inSite '97. His most "memorable exhibition", as Robert Pincus writes, was "Amor como primer idioma/Love As First Language" at the Museum of Contemporary Art, San Diego in 1999. In the year 2000 at the Whitney Biennial, he presented "Stripes and Fence Forever - Homage to Jasper Johns," a metal structure in which two flags (Mexico and the United States) are built as if they were the fence that divides Tijuana and San Diego.
Excerpt from Whitney Biennial, 2000. " Marcos Ramirez, also know as "ERRE" from the Spanish pronunciation of the first letter in his surname, creates large-scale public installations informed by a political and social consciousness......he addresses the dynamics of the border between the United States and Mexico....and calling attention to the gap between poverty and wealth in Mexico by building a shanty and yard with discarded construction materials and setting it against the showy exhibition facade (inSite94). For InSite 97, he installed a 33-foot-tall wood horse with wheels on the boundary line between the US and Mexico. This evocation of the Trojan horse had two heads, raising questions about who was invading whom."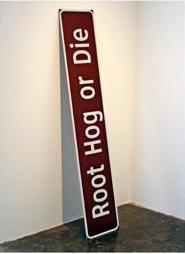 Allison Wiese is an interdisciplinary artist who makes sculptures, installations, sound works and architectural interventions.. Wiese learned to walk and talk in Brooklyn, drive in southern California and everything else important in Texas. Her work makes poetry with the ready-to-hand, altering spaces through christening and commemoration. Wiese's projects often employ the diversion of commodities or language through space and time. She recently negotiated a large awning off an empty office tower in downtown Houston, for instance, and installed it, capsized, on the floor of a tiny residentially-scaled gallery. She has also developed a site-specific solar audio work for the Museum of Contemporary Art, San Diego. In the above work, archaic sentiments grace highway signs fabricated according to contemporary standards for cultural and historical attractions. Root Hog or Die is one of a series that also includes: I Ain't Rich But I'm Free and Industry Need Not Want

Artist Statement: " I am interested in work that makes poetry with the ready-to-hand, and my sculptures, installations and architectural interventions often employ simple material diversions to make meaning. I'm just as likely to drag ideas through time - my recent work finds its vocabulary within a certain vein of populist Americana. I'm interested (with a simultaneous and perverse kind of hopelessness and optimism) in re-plumbing the social and political landscape of the near past as a way of both querying the lingering presence and viability of certain very American myths and pointing to truths about the present. The materials and subjects I choose are the result of an ornery insistence on using stuff from everyday experience, minimally transformed, as relevant art material – often dragging it into the space of the art institution to point to a different kind of (infinitely less sterile) space and experience."

"Ernest Silva is a consummate painter, sculptor and installation artist with an individual vision and distinctive vocabulary. His work is an expression of mankind's eternal longings and fears, and in his world human beings are restless souls on a lonely journey through a sometimes, dark environment filled with risk and danger," comments Mary Beebe, director of the Stuart Collection.

Ernest Silva received a BFA from the University of Rhode Island in 1971 and an MFA from Tyler School of Art in 1974. Since 1972, his work has been shown in over 45 one person shows and over 150 group shows. His one person shows have included the Institute of Contemporary Art, Boston; Artists Space, New York; Laguna Museum of Art, California; Art Resources Transfer, New York; the Museum of Contemporary Art, Roskilds, Denmark; and numerous gallery exhibitions in New York, Chicago and Los Angeles. In 1989, he was awarded a National Endowment for the Arts Fellowship in Painting and in 1995; he was the artist in residence at the National Workshops for Arts and Crafts, Copenhagen, Denmark, known as Gammel Dok. Mr. Silva has been commissioned to construct several public art projects in the San Diego/Tijuana region. His public projects include a permanent installation at the Children's Museum of San Diego, 1995; the Casa de la Cultura, Tijuana, 1994; and the Centro Cultural Tijuana
Mr. Ernest Silva has been a Professor of Visual Arts at the University of California, San Diego since 1979. Silva's recent paintings and sculptures were shown at the Patricia Correia Gallery in Santa Monica, CA June 24 - July 29, 2006.

MAY-LING MARTINEZ emerging artist showing with Ernest Silva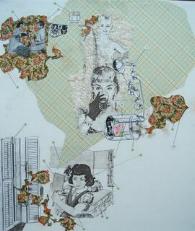 May-ling Martinez was born and raised in Puerto Rico, but has made San Diego her home. She is a recent graduate with a MFA degree in sculpture from San Diego State University in 2005. In 1996 she recieved a bachelor's degree in communications and visual arts from Sacred Heart University, in Puerto Rico. Her work consists of mixed media installations, sculptures and collages that function as triggers to evoke memories."For a while now I have been collecting and working with home related elements and objects. I've always found comfort and humor in them and in the general idea of the house. Philosophers, psychoanalysts and poets have perceived the house, or the home, as a magical place full of contradictory wonders that can function as a structure forming device," said Martinez.
"May Ling's artwork shows the impact of the cultural aesthetic with which she grew up, as well as the effect of her strong family ties. From her father, an engineer, she inherited an interest in logic and mathematics, which is reflected in her repeated use of numbers, ledger paper and mechanical imagery. After a brief career as a secretary, her mother became a homemaker, and inspired Martinez's fascination with household objects and the concept of "home" as a symbol for domestic happiness," says Tina Yapelli, director of SDSU's University Art Gallery.
California-based artist Jean Lowe earned her MFA at the University of California, San Diego in 1988, the same year she presented her first solo exhibition at the Dietrich Jenny Gallery in Downtown San Diego. Lowe earned her BA at the University of California, Berkeley and was the winner of the first Alberta duPont Bonsal Foundation Art Prize in 2000. For 18 years, Lowe has been inspired and challenged to make work that is visually seductive, viscerally engaging, but also provocative in its critique of how we live in relation to other species and the environment. Lowe enjoys creating artwork that tackles difficult issues such as over-development, exploitation of the environment, sex, power, and the widespread mistreatment of animals. "I'm motivated," says Lowe, "by a desire to stimulate conversation around issues I think are important, and challenged by the desire to do so in a way that is engaging and playful as opposed to dry and didactic." Her work ranges from traditional painting and sculpture to her most common medium, enamel-painted papier-mâché. "At L Street Gallery, I'll be exhibiting one brand new large scale landscape and a couple of existing works that will hopefully have a nice conceptual resonance with the work Iana will be showing."

IANA QUESNELL emerging artist showing with Jean Lowe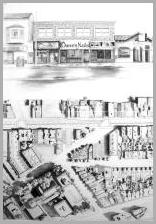 Iana Quesnell is from the southern states and is currently in the Masters Program at UCSD. Iana's current work is about temporary living situations, specificity of place, as well as, navigation through the spaces she occupies and intends to occupy. Whether that be a military tent in Bosnia, her car, a studio on the border in Tijuana, or the Omni Hotel (for a week for this project), each incorporates architectural floor plans and schematic rendering with more experiential and ephemeral details. A viewer is initially pulled in to the work by its beautiful draftsmanship and the surprise of its scale but it's the conceptual underpinnings that seal the deal. She's quite literally drafting her life and this odd combination of technical drawing and autobiography yields an unexpected and original narrative. Iana Quesnell engages drawing as a mediating tool between her own body and her immediate surroundings. Often painfully honest these exceptional, large scale drawings take into account her every move with excruciating detail.
Both Lowe (the established artist) and Quesnell (the emerging artist) have a fascination with places that humans occupy. Lowe's concentration is on an impersonal level as it relates to "plunked down communities" that she feels has no aesthetic appeal while Quesnell's interest is on a deeply personal level as she shares specific relationships with the places she inhabits. The visual contrast is strikingly different, Lowe uses a more traditional painterly style while Quesnell's works as a draftsman with graphite on paper.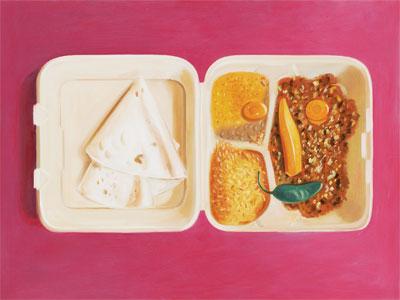 Raul Guerrero graduated from the Chouinard Art Institute, Los Angeles in 1970, BFA. He held his first one person exhibition at the Cirrus Gallery in 1974, which was followed by numerous solo and joint exhibitions in such diverse cities as San Francisco, Santa Fe, New York, Madrid and Tokyo to name a few. Significant among these were a retrospective survey of his artwork at the Museum of Contemporary Art San Diego in 1998. In 2006 he kicked off a series of exhibits beginning in April with a show at the Billy Shire Fine Arts Gallery in Culver City: Problemas y Secretos Maravillosos de Las Indies/ Problems and Marvelous Secrets of the Indies , which ran fromApril 15 - May 20, 2006. Guerrero is currently part of the Strange New World: Art and Design from Tijuana, which is running concurrently at both MCASD Downtown and MCASD La Jolla. His work will be featured at the de Young Museum in San Francisco, as part of the exhibition: Chicano Visions: American Painters on the Verge running from July 22 - October 22, which includes works of some of the country's best Chicano and Chicana artists. Works by Guerrero are also currently being featured in Ravenna Italy at the Galleria Ninapi.
Raul has been a Lecturer for the Department of Visual Arts at the University of California, San Diego for the last nine years where he teaches oil painting and drawing.
YVONNE VENEGAS emerging artist showing with Raul Guerrero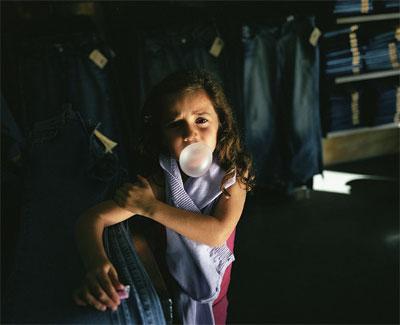 Yvonne Venegas grew up in Tijuana, Mexico, studied in San Diego, Ca. and Mexico City before spending a year at the International Center of Photography (ICP) in New York. In New York she assisted photographers as Dana Lixenberg, Juergen Teller and Bruce Weber. Her work has been published in The New York Times Magazine, SPIN, Details and also in Zoom and Luna Cornea, from Mexico among others. She has exhibited her work in Tijuana, Mexico City, New York, California, Madrid, Valencia and Quebec, and is currently exhibiting with the San Diego Museum of Contemporary Art. In 2002 she won 1st prize in the Mexico City Photo Bi-enal. She is currently studying Visual Arts / Media focus at University of California San Diego.

2007/2008 New Contemporaries: Emerging Artists nominated for the SD Art Prize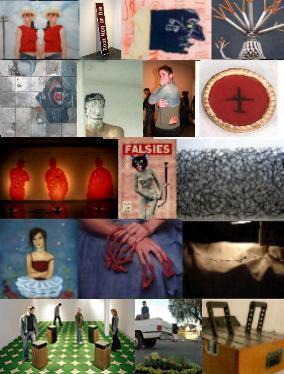 Alida Cervantes, Allison Wiese, Andy Howell, Ben Lavender, Brad Streeper, Brian Dick,
Camilo Ontiveros, Lael Corbin, Christopher N. Ferreria, Jason Sherry, Matt Devine,
Pamela Jaeger, Nina Karavasiles, Tania Candiani, Nina Waisman, Shannon Spanhake,
Tristan Shone
For information on these artist on SDVAN see New Contemporaries
New Contemporaries II: Emerging Artists nominated for the 2009 SD Art Prize


David Adey, Tania Alcala, Michele Guieu, Keikichi Honna, Omar Pimienta, Daniel Ruanova, Marisol Rendon, Tara Smith, Matt Stallings, K.V. Tomney, Jen Trute, Gustabo Velasquez, Yuransky
For information on these artist on SDVAN see New Contemporaries II
New Contemporaries III: Emerging Artists Nominated for the 2010 SD Art Prize


Greg Boudreau, Kelsey Brookes, Stephen P. Curry, Steve Gibson, Brian Goeltzenleuchter,Wendell M. Kling, Heather Gwen Martin, Robert Nelson, Julio Orozco, Allison Renshaw, Lesha Maria Rodriguez, James Soe Nyun, Stephen Tompkins
For information on these artist on SDVAN see New Contemporaries III


New Contemporaries IV at Alexander Salazar Fine Art
Aug 1 to Aug 31, 2011
Opening Reception Monday Aug 1, 6-9.
Mely Barragan, Adam Belt, Susannah Bielak, Fred Briscoe, Isaias Crow,
Shay Davis, Damian Gastellum, Gretchen Mercedes, Han Nguyen,
Jaime Ruiz Otis, Lee Puffer, Chris Puzio, Cheryl Sorg
New Contemporaries V at Susan Street Fine Art Gallery
Thursday June 7 th, 2012 from 6pm-9pm
June 2 to July 3, 2012
Shawnee Barton, Lauren Carerra, Noah Doely, Rob Duarte, Alexander Jarman, Anna Lavatelli, Lee M. Lavy, Ingram Ober, Vincent Robles,
Deanne Sabeck, David Leon Smith, Brian Zimmerman
New Contemporaries VI at Sparks Gallery
Opening Reception Sat. June 8, 7 to 10 pm
Sat. June 1 to Sun. June 30th, 2013

Jennifer Anderson, Irene de Watteville, Michelle Kurtis Cole,
Franco Mendez Calvillo, James Enos, Sonia López-Chávez, Marie Najera,
Timothy Earl Neill, Griselda Rosas, Ilanit Shalev , Anna Stump


New Contemporaries VII at Meyer Fine Arts
Opening Reception: Thurs. May 15, 6-9 pm NoLI Nights
Fri. May 9 to Sat June 28, 2014

Shane Anderson, Leonardo Francisco, Dave Ghilarducci, Garrett P. Goodwin,
Emily Grenader, Bhavna Mehta, Margaret Noble, Kim Reasor , Gail Schneider
Lauren Siry, Cheryl Tall, Vicki Walsh, Joe Yorty

2015 New Contemporaries VIII



New Contemporaries VIII at Valencia Gallery
Fri. May 1 to Fri. May 29
Opening Reception: Fri. May 1, 6-9 pm
Closing Reception: Fri. May 29, 5 - 7 pm
Final selection of art work by Alexandra Moctezuma, San Diego Mesa College Art Gallery

Atara Baker,Claudia Cano, Larry Edwin Caveney, Andrea Chung,
Collective Magpie, scott b. davis, Tom Demello, Prudence Horne, Jim Hornung,
Beliz Iristay, Jessica McCambly, Marco Miranda, Tim Murdoch


2016 New Contemporaries



2016 New Contemporariesat City College Gallery
Sat. June 18 - Thurs. July 14, 2016
Opening Reception: Sat. June 18, 6 - 8 pm

Robert Andrade, William Feeney , Kim Garcia, Robert Michael Jones, Erin Dace Behling, Sasha Koozel Reibstein, Aren Skalman, Graham Smith, Shinpei Takeda, Paola Villasenor (PANCA), Nicole Waszak
2017 New Contemporaries




2017 New Contemporaries at basileIE + CMCuratorial
Sat June 10 to August 5, 2017
Opening Reception: Sat June 10, 2017 from 6 to 9 pm
Open Barrio Logan Art Crawl and Sat. July 8, 2017 from 6 to 9 pm
Closing Reception and announcement of Art Prize recipients, Sat. Aug 5,2017 from 4 to 6 pm

Miriam Gabriela Garcia Aguirre, Cathy Breslaw, Ashley Fenderson, Carrie Anne Hudson, Rizzhel Mae Javier, Adrienne Joy, Alexander Kohnke, Pablo Llana, Michelle Montjoy, Julio M. Romero, Brittany Segal, Rebecca Louise Webb, and Oslyn Whizar

The SD ART PRIZE is produced by The SD Art Prize Committee who volunteer their time and effort.
SD Art Prize Mission: Fusing Energy for San Diego Visual Arts: Mentorship, Education, Recognition, Collaboration
If you believe in our mission, we are happy to accept your donations to support the San Diego ART PRIZE online or send any amount with checks made out to SDVAN to 2487 Montgomery Avenue, Cardiff by the Sea, CA 92007. Please mark them for SD ART PRIZE. Visit the Support page of SDVAN to donate online.