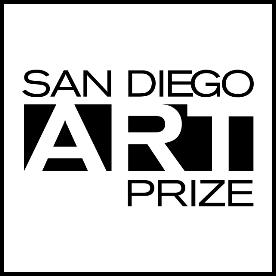 SPONSORS AND SUPPORTERS
SD ART PRIZE: Recognition of Excellence in the Visual Arts
presented by San Diego Visual Arts Network
SD Art Prize Catalogs
SD Art Prize Mission: Fusing Energy for San Diego Visual Arts: Mentorship, Education, Recognition, Collaboration
Artists Testimonials
The SD Art Prize uses San Diego Visual Arts Network as it's non-profit funding source. Thus, those who support SDVAN are also supporting the prize by their donations. Please take a look at the full list of financial support on our SPONSOR page

Titanium White Benefactors over $2000
Smart Family Foundation
L Street Gallery of the Omni Hotel
Jonathan and Wendy Segal
Athenaeum Music and Art Gallery
Art San Diego
Seth Sprague Educational and Charitable Foundation
Patricia Frischer and Darwin Slindee
Cerulean Connoisseurs $201 to $2000
Synergy Arts Foundation
Joan Siefreid
Ann Berchtold and SanDiegoArtist.com
James Robbins
Douglas and Alice Diamond
Vivian Lim and Joe Wong
Ernest Silva
Coop and Patti Cooprider
Charles and Julie Pinney
Larry and Debra Poteet
Jay S. Johnson
Artist and Craftsman Supply San Diego
Amy Galpin as a tribute to The Patricia & Phillip Frost Art Museum


Violet Patrons from $101 to $200
Ron Newby (Bronowski Art and Science Forum)
Virginia Bell Jordon
Naimeh Woodward
Karen Schlapper Young
Jonathon Glus

Magenta Supporters from $26 to $100
Florence Frischer
Kennan E Kaeder
Kim McConnel
Andy and Jane Kecskes
Beyond the Border Gallery - Larry and Debra Poteet
Kira Corser
Mark Ralls
Robert Pincus
Emiko Scudder
Dion Frischer
Keith Mautner
Susanna Peredo Swap
Claire Slattery
Nate and Ralyn Wolfstein
Sandi Cottrell
Einar de la Torre
Katie Dolgov
Gregory Reade
Arzu Ozkal
Robin Lipman
Ingrid Westlake
Greg Colgate in memory of Larry Baza
Vanguard Culture
Perry Vasquez
Alessandra Moctezuma
Felicia Shaw
Samar Sepehri
Becky Guttin
Stuart Strenger
Marie Mingalone
Al Lopez
Nancy Gordon
John Reynold
Jennifer and Douglas
Linda Garwood
Alan Ziter
Keith Mautner
Mod Est
Deanne Sabeck
Ivana Mikic
Shadi Dayeh
Perry Vasquez
Crit Stuart
Jennifer and Douglas
David Fobes
Viki Walsh
Steven Eilenberg
Corey Fayman
The 2006/2007/2008/2009 the San Diego ART PRIZE is a collaborative effort of SDVAN, and the L Street Gallery of the Omni Hotel.

From 2010 to 2019 the San Diego ART PRIZE is a collabroative effort of the SDVAN and theAthenaeum Music & Arts Library.
From 2020 to 2021 the San Diego ART PRIZE is a collabroative effort of the SDVAN and Bread and Salt

In 2022 the San Diego ART PRIZE is a collabroative effort of the SDVAN and Central Library Gallery
From 2010 to the present and the San Diego ART PRIZE is a collabroative effort of SDVAN and the Art San Diego Contemporary Fair
The San Diego Art Prize is a wondrous year-long event used to affirm and highlight the excellence of San Diego artists. It is also a tangible expression of appreciation by those of us who recognize that art plays an essential role in our local cultural capital. By promoting important artistic practices to the public we help reveal, shape and support the cultural infrastructure of our city. We need your support for the SD Art Prize
Take superb exhibitions at the glamorous locations. plus VIP parties hosted by leading collectors and architects, and the atmosphere becomes electric! It is talk that makes the buzz - and the talk at these events is all about the artists.
Bhavna Meta: "I am so thrilled the way the Art Prize is going for this year and so excited about the new established and emerging artists.... Meeting and working with and getting to know Marianela (de la Hoz) is very gratifying for me and the prize was a great impetus for that to happen."

Marianela de La Hoz: "It was an extraordinary experience for me working this year along with Bhavna (Mehta).I am so grateful and may I congratulate you for your support and your commitment to the arts and the community."
Debby and Larry Kline: "....our highlight event associated with the prize, we both agree it was when David Antin, who was in the midst of several projects himself, said yes, that he wanted to write about our work."

Jeffery Laudenslager: "... I genuinely have enjoyed and take pride in my participation with your program."
Deanne Sabeck: "Receiving this has inspired me to create with new vision and to help elevate the art scene in San Diego. You are never too old or experienced to be emerging."

Gail Roberts: "...receiving the SD Art Prize reinforced the fact that there are individuals in the community, specifically in this case those who serve on the board ad the changing selection committee, who continually devote time and effort to insure that the arts are supported and appreciated....it was an honor to be part of it. (SD Art Prize)"
David Adey: "The prize money came at a time when it's greatly appreciated. I have a great deal of respect for Gail Roberts and ...she has become a close friend."
James Enos: "The honor not only extended a huge network of support and opportunity to me, it also fueled many pressing conversations surrounding collaborate needs locally."
James Hubbell: "I think what SDVAN is trying to do for San Diego is to try to get people and the art world here to realize the talent we have. Personally, it is a honor to be included."
Jay Johnson: "( I am gratified to realize).... that there are still people out there who care enough about the contemporary art to work hard for it's exposure."
Arline Fisch: " It (SD Art Prize) enables me to complete a long-term project with a self published small catalog."
Kim MacConnel: "Nice to see that artists put together with interest , actually works."
Tom Driscoll: "A good exhibition can be achieved through cooperation and working professionally towards a common goal. A good show!"
Brian Dick: "I appreciated some nice exposure that has lead to some additional attention form local visual arts institutions."
Marcos Ramirez Erre: " In many good ways it feels to be recognized in your own community."
Allison Wiese; ",,,afforded me the opportunity to exhibit with an established artist of international reputation AND pay off a credit card bill!"
Roman de Salvo: "It has been an unusual honor to receive the SD Art Prize. In particular, I enjoyed the opportunity to champion an emerging artist (Lael Corbin) whose work is now noticed more widely as a result. The prize money is appreciated. It's nice when some of the artist's income is not tied directly to sales."
May-ling Martinez:"It is encouraging to know that we are part of an arts community willing and able to support its members in an admirable and proactive way."
Jean Lowe:".....the program has really great positive energy."
Iana Quesnell:"The SD Art Prize has had a tremendous impact on the exposure I have received in the last year..."

Raul Guerrero:"It has been a tremendous honor to be recognized by my community"
Ernest Silva: "I have received excellent commentary on my work in the San Diego Union Tribune. Increased interest in my work, evidenced by comments from viewers of the shows, offers of several future exhibitions, inquiries from arts professionals who are interested in writing about my work, the potential addition to several museum collections and greater exsposure about my work on the web. The increased awareness of the artists of this region, particularly of emerging artists who will undoubtedly show their work in the future regionally and nationally has been exciting. I really value the conversations with the artists and sponsors of this project, and it has been energizing and inspiring to work with all of them....From my perspective, I believe the San Diego Art Prize is recognizing and promoting nationally and internationally an increasing awareness of the quality of the visual artists of this region"

Our MERC goals have been met through
MENTORSHIP: Twenty eight superb exhibitions building mentoring relationships. from 2006 to 2019 and Mid-career promotion of 12 artists and more in the future
EDUCATION: Art Notes by imminent art professionals: Stephanie Hanor, Derrick Cartwright, Teddy Cruz, Mary Beebe, Amy Adler, Tina Yapelli, Alice Diamond, Kevin Freitas, Ellen Phelan, Mark Murphy, Betti-Sue Hertz, Lucia Sanroman, Erika Torri, Doug Simay, Larry and Debra Poteet, Gabrielle Wyrick, Robin Clark, Katherine Sweetman, Vallo Riberta, Laurie Mitchell, Karen McGuire, L auren Buscemi, Mark Quint, Alessandra Moctezuma, Heriberto Yepez, Tom Noel and Larry Baza, Chris Martino, Alexander Salazar, Ellen Salk, Robin Bright and, Terry Sowell , Amy Galpin, Sally Yard, Leah Olman, Natalie Haddad, Scott White, Betsy Lane, Rob Sidner, Catherine Gleason, David Antin, Daniel Foster, Danielle Susalla Derry, Constance Y. White, Roxana Velásquez, Kathryn Kanjo, Ben Strauss-Malcolm and many many more
RECOGNITION: At the Omni Hotel's L-Street Gallery, Art San Diego and the Athenaeum Art and Music Library, Bread and Salt and the SD City Library Gallery we held VIP parties hosted by leading collectors and architects. Here the featured artists had the opportunity to share their work and thoughts with the community in an electric atmosphere of creativity. Press Coverage including The Union Tribune, Voice of San Diego, ArtRocks!, LetsPlayDowtown, KPBS, KUSI, Expresso, San Diego Business Journal, Riveria. with more than 200 pressarticles posted.
COLLABORATION: Exhibitions opportunities at California Center for the Arts, Escondido (CCAE), Simayspace at the Art Academy, Susan Street Fine Art, Sparks Gallery, Meyer Fine Art, Alexander Salazar Fine Art, Project X, Noel-Baza Fine Art. La Valenica Gallery and Sledgehammer.
PLUS: Public acceptance and support at all of our event opening receptions. Corporate sponsorship by the Omni Hotel and L-Street Fine Art Gallery. Private grant funding from the Smart Family Foundation and other private donors through the San Diego Visual Arts Network.
We have lofty goals to further the mission and spread the word of the Art Prize; a published catalog, to encourage writing about the visual arts, and Educational Outreach materials for the SD Art Prize. .
The SD Art Prize is a 100% volunteer effort and all funds go to the support the prize. San Diego Visual Arts Network is the non-profit which enables your donations to be tax deductible.
If you would be interested in the fostering of growth of the Art Prize and becoming part of the family (which includes invites to all parties !!), please contact us (760) 943-0148 with questions or suggestions of ways to get involved.
Emails are provided as links below. We are also very appreciative of donations!
Patricia Frischer, Program Director

A very special thanks goes to Melissa Au of Dandelions Dreams Photography for documenting the artists in their studios. These photos and slide shows are shown at the Art San Diego Fair each year in 2012 and 2013.
Leading art resources have encouraged the SD ART PRIZE. We are grateful to the following for their continued financial and in-kinf support and sponsorship.:
| | |
| --- | --- |
| | |
| | |
| | |
| | |
| | |
| | |
| | |
| | |
| | |
| | |
| | |
| ARTROCKS! Internet Radio | |
| | |
| | |
| | |
| | |
| | |
| | |
| | |
| | |
| | |
| | |
| | |
| | |
| | |
| | |
THE Goals of the SD ART PRIZE, as presented by the San Diego Visual Arts Network, are to:
Recognize and celebrate existing visual art accomplishments by spotlighting local artists.
Create an exciting event that facilitates cross-pollination between cultural organizations and strengthens and invigorates the San Diego Visual Art Scene.
Broaden the audience of the visual arts in San Diego by gaining national attention to the competition through a dedicated media campaign.
Promote the vision of the future role that the visual arts will play in the San Diego community as lively, thriving, positive and empowering.
Expand the infrastructure of spokespeople/art celebrities who can bring awareness to San Diego and perform as role models for our student artists.
Join us in our mission. We are happy to accept your donations to support the San Diego ART PRIZE. Send any amount with checks made out to SDVAN to 2487 Montgomery Avenue, Cardiff by the Sea, CA 92007. Visit the Support page of SDVAN to donate online. Please mark donations for SD ART PRIZE. We are glad to send you a special Art Prize
The SD ART PRIZE is produced by The SD Art Prize Committee who volunteer their time and effort.