Children's Visual Arts Resources

The following list is a compilation of the visual arts resources for children in SD. Of course, all the school provide some sort of art and all the galleries are available to show art to children, but the following resources are listed on SDVAN mainly. Please send us news of any resources you might know about that are not on our list and we are happy to add them. info@sdvisualarts.net

We highly recommend that you read
The Arts: Ask for More campaign of American for the Arts list all the benefits to children of art in their lives and helps parents, teachers and the community by suggesting ways to bring more art into their lives.

Here is a list of organizations that offer Summer Camps: Athenaeum Art and Music Library, Charity Wings, Fallbrook School of Art, FARM Summer Camps Japanese Friendship Garden, Kids Like Clay, Lux, Monart, Museum of Contemporary Art San Diego, Museum of Photographic Arts (MOPA), New Children's Museum, Oceanside Museum of Art, SD Art Institute, San Diego Museum of Art, SD Museum of Man, Spanish Village Art Center, San Diego Children's Discover Museum

and take advantage of:


The New Children's Museum plus Check Out The New Children's Museum a program through the area libraries that gives free passes to the museum.

101 Artists' Colony offers Summer Art for Kids partially funded through a grant from the City of Encinitas Community Grant Program

Arts Education Partnership provides information and communication about current and emerging arts education policies, issues, and activities at the national, state, and local levels. Their major projects and activities include: commissioning and disseminating research about critical arts and education issues; maintaining and linking databases on state-level policies for arts education; and convening national forums around significant themes and issues in the field. Their partners include federal arts and education agencies, state departments of education, state arts agencies, national arts and education organizations, and arts and education collaboratives at the state and local level. California Arts Education State Policy Data is recorded on this site.

Arts Empower SD is a coalition of arts organizations, school districts, and the San Diego County Office of Education to lead arts education in San Diego schools. A comprehensive arts education empowers each student to create, think critically, collaborate, and communicate.

AjA Project is a after-school youth development program which utilizes participatory photography methodologies to engage refugee youth in the creative storytelling process.

ART Produce Gallery and StonePaperScissors Lynn Susholtz teaches and develops curriculum for public and private schools as an arts education consultant for local school districts, teacher education programs and community & cultural centers. Children classes are offered on the premises.

ArtReach - Takes professional artists into elementary schools throughout San Diego County to provide standards-based, visual art workshops. ArtReach provides both fee for service programs and, when able, grant-funded free programs for schools that have have few or no art resources and no ability to pay.

A Reason To Survive (ARTS) is dedicated to healing, inspiring, and empowering children facing life challenges by providing innovative arts-based programs, education, and opportunities.

The Art Kids provides lessons in visual arts for young talented artists who are looking to improve their skills and learn how to market their own art. Lessons and materials are provided free.

The Art Kids of San Diego County teaches kids how to make a living in the arts and is based in Imperial Beach.

Art Start provides quality art experiences for school age children in weekly classes and art camps.

Arts Education Roundtable (AERO) - web site TBA is part of the SD County Office of Education program to bring arts into the schools.

Art Academy of San Diego No previous art experience is necessary taught by professional artists. Special classes for ages 6 -12 on Sundays.

Art Miles Mural Project promotes "global harmony through art" by creating twelve miles of murals painted on canvas, and is an official project of the UN Decade of the Culture of Peace and the Guinness Book of World Records. Children are painting part of this worldwide project located in SD.

ArtsBusXpress provides the needed transportation so students can have a culturally enriching experience as an extension of their school programs. For some, this will be the only opportunity they will have to visit a museum, see the opera or a play, or attend a classical concert.

ArtKidsWalk is where local arts organizations team up with ArtWalk to offer fun and creative hands-on projects for kids throughout the ArtWalk weekend. ArtWalk also sponsors ArtReach which offers on-site visual art experiences to San Diego County students in grades K-6. The ArtReach team tailors programs to the individual needs of each school.

ArtNSoul Norma Hill is offering a class for adults with children as well as children classes in Leucadia using photography with lots of interesting techniques.

ArtSplash offers chalk painting. Sand sculpting. Juggling. Acrobatics for one weekend each year in Carlsbad.

The Bishop's School is an academic community pursuing intellectual, artistic, and athletic excellence in the context of the Episcopal tradition.

Bravo School of Art offers one day workshops in a wide variety including Mosaic, Mural Art, Floor Cloth, Book Arts, Digital Photography, Collage, Mixed Media, Drawing, Painting: Watercolor, Acrylic, Oils, Weaving, Basketry, Jewelry Making, Printmaking and more. Classes for adults and children, for experinced and novice located in the NTC.

California Alliance for Arts Education is an advocacy organization to make sure that art education get proper funding. They are the only statewide organization that unites all primary constituencies for arts education, serving and representing over 100,000 individuals and organizations across the arts, education, public, and private sectors. The Encinitas Alliance for Arts Education is an outshoot of that organization.

CARE program is a Collaborative Art Resources for Educators put together by the education departments of SDMA, MoCASD, MoPA It provides outreach to three school, workshops for teachers and a web site of lesson plans.

Carla's Art Camp where kids can learn about clay, glass and fabric for ages 6-14+ and 4-5 and teens are welcome In adult classes.

Casa De Arts in Carlsbad has classes for kids and specializes in recycled materials.

Center of the Arts at Little Italy provides free art education opportunities to children of all ages in San Diego County.

Chalk La Strada is a free community event in historic Little Italy that celebrates street painting, an Italian tradition. This event benefits arts and culture in Little Italy and Monarch High School.

Coronado School of the Arts is a public arts conservatory for students in grades 9-12 that embraces and encourages artistic creativity and academic excellence. This is a pre-professional arts program offering a nurturing environment focused on individual growth, opportunity, and diversity.

Coyote Tales Community Arts provides art experiences for families and individuals with exceptional needs and atypical developmental ability.

Dot-to-Dot is a bi-national collaboration of artists and children dedicated to nurturing creative expression and forming a dynamic cultural exchange by bridging the Mexican/United States border to transform communities

Foothills Art Association Junior Membership Art Program offers art classes to kids ages 8-17.

Fusionglass Co. offers summer art classes for kids age 6 -16 years old including a invitation to show in the Homegrown Exhibition.

High Tech High Media Arts has a mission to develop and support innovative public schools where all students develop the academic, workplace, and citizenship skills for post secondary success.

iEARN is the world's largest non-profit global network that enables young people to use the Internet and other new technologies to engage in collaborative educational projects that both enhance learning and make a difference in the world.

FARM Creative Market & Art School was built to be anything but boring. At FARM, creativity grows thanks to a fresh collection of innovative, exciting and (dare we say) fun classes, workshops and events spanning both digital and traditional arts. Young or old, pro or newbie, work or recreation, pencil or pixel, your creative seeds will flourish at FARM

Kids College is a not-for-profit founded to provide quality before and after school educational programs for elementary and middle school students focusing on all subject including Visual and Performing Arts. They provide students quality, interesting, and creative programs taught by professional instructors that both stimulate and teach. The classes are conducted at the students' own school and are geared to the interests of the parents and student population. They also offer summer class at some schools.

La Jolla Art Association Summer Classes for Youth and Teens is a series of art classes for 5 to 18 year olds during July and August. A modest fee will be charged for classes and all materials will be provided by the La Jolla Art Association.

Losina Art Center
has classes for all ages and a summer camp for kids 7 - 12 at the Sports Arena location. Special parents and children workshops are offered.

Lux Art Institute created The Valise Project as an education outreach program to give students a chance to create their own artwork based on the themes discovered during the classroom presentation. .The Luxcursion includes a docent-led tour through the artist's studio and exhibition areas, as well as related hands-on art projects in their new education center. There are a variety of classes for all ages taught by local artists.

Media Art Center offering summer media classes ie The Teen Producers Project for ages 10 ot 18 and spring break classes for ages 4 to 10 who will learn about filmmaking and digital storytelling and wi engaging video projects.

Mog and Rue offering summer classes for those 8 -11 and 11 -18 The classes discuss personal style, fashion careers, trends, color and what not to wear and there is on hands sketching using a variety of materials.

MONART Leading educators recognize Monart as a way students can use several learning modalities by teaching them how to focus and concentrate, make decisions, solve problems, plan sequence, and develop hand-eye coordination.Monart students learn to perceive what they want to draw in terms of five basic elements of shape, and to develop the skills they need to translate that information onto paper.

Museum of Contemporary Art San Diego

provide all school tours for grades 4-12 lead by Gallery Guides; a professional corps of art educators and practicing artists. The MCASD After School program aims to give students consistent exposure to contemporary art and allow them direct contact with artists and Museum staff. MCASD C.A.M.P (Contemporary Art, Media & Precess) invites childreen between ages 5 and 15 to explore contemporary art through a series of week long art making workshops led by local contemporary artists.

Museum of Photographic Arts provides school tours, hands on workshops, after school programs, outreach to schools. We especially liked the course which teaches high school student how to take photos of music events How to Listen with Your Eyes.

NTC Summer Arts Academy at the NTC Promenade presents an exceptional experience for youngsters (grades 3-8) featuring the instructional expertise of professional artists in dance, art, music, theatre, martial arts and physical conditioning. Scheduling will allow your child the opportunity to sample various artistic programs in half-day and whole day programs.

Oceanside Museum of Art OMA Outreach is an after school program in area elementary and middle schools taught by professional instructors from OMA's School of Art.. Plus once monthly free family days with lovely projects like paper-mâché Calaveras(skeleton) art workshop and using recylcled materials to make holiday ornaments.

Puppetry Center(San Diego Guild of Puppetry/Puppet - introduces the magic of the puppet theatre experience to San Diego County children

Reflections (PTA) The Reflections Program provides opportunities for students to express themselves creatively and to receive positive recognition for original works of art inspired by a pre-selected theme, while increasing community awareness on the importance of the arts in education. This programs covers all student ages up to and including high school. Students submit work on a local, state and then national level.

San Diego Art and Space Museum is showing a special Da Vinci exhibition until Jan of 2010 and there are drawing activities, tours, summer camps and even birthday parties.

San Diego Art Department provides an inclusive, collaborative environment that fosters artistic expression, for all ages and proficiencies, using art to contribute value and diversity to the community with educational programs, exhibitions and workspace.

San Diego Art Institute The David G. Fleet Young Artists Gallery showcases work from elementary, junior

and

senior high public, private & parochial schools in San Diego County.

San Diego Foundation Community Scholarship Program gives aid of up to $2500 for students in need as funds permit.

San Diego Museum of Art Although art classes are temporary halted, SDMA continues to offer free tours for all schools county-wide, participates in School in the Park activities, provides free docent tours daily, offers interactive learning via the IMAGE Gallery, and hosts family-oriented outreach activities such as monthly Family Drop-In Day and quarterly Family Festivals. Young Art is SDMA's biennial exhibition of K–12 student artwork from San Diego city and county schools.

San Diego Museum of Man conducts summer camps, school tours, outreach, workshops and a junior friends of Balboa Park program

San Diego Natural History Museum provides a Kids Habitat, school tours, half day camps and weekend classes

Studio Ace has been collaborating with schools and local groups to increase arts offerings in the community. and holds art classes for artists of all ages and skill levels.tudio ACE expanded to add an additional classroom space, and also opened the ACE Art Shop, which features the work of local artists & artisans!

Vista Art Foundation though its YAG (Young Artists Gallery) provide exhibition space and art workshops for children.

Young Audiences of San Diego has dedicated itself to integrating the arts into the education and lives of all children of our region through an extraordinary range of high quality performances, residencies and workshops to help our young people identify their cultural roots and discover their creative wings.

Young Rembrandts teaches the drawing skills children need while developing learning skills that give children an academic advantage in the classroom.

And don't forget books on art which are such a great resource: Barnes & Noble and San Diego Public Library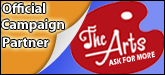 The Arts: Ask For More
We are honored to be a partner in the The Arts Ask For More Children's Arts Campaign by Americans for the Arts. Our article demonstrates how the arts help children and how parents and all of us can get more involved in bringing the arts into our children's lives in the school, in our homes and in our community.
"For students living in a rapidly changing world, the arts teach vital modes of seeing, imagining, inventing, and thinking. If our primary demand of students is that they recall established facts, the children we educate today will find themselves ill-equipped to deal with problems like global warming, terrorism and pandemics. Those who have learned the lessons of the arts, however – how to see new patterns, how to learn from mistakes, and how to envision solutions – are the only ones likely to come up with the novel answers needed most for the future." Art for Our Sake by Profs. Ellen Winner and Lois Hetland, 2007
The Visual Arts
Improve kids' overall academic performance.
Show that kids actively engaged in arts education are likely to have higher test scores than those with little to no involvement.
Develop skills needed by the 21st century workforce: critical thinking, creative problem solving, effective communication, teamwork and more.
Teach kids to be more tolerant and open.
Allow kids to express themselves creatively and bolster their self-confidence.
Keep students engaged in school and less likely to drop out.
One of our young readers Valerie has recommended Ceramic Tile Projects
Ten Simple Ways Parents Can Get More Art in Their Kids' Lives
Enjoy the arts together. Sing, play music, read a book, dance, or draw with your child at home.
Encourage your child to participate in the arts and celebrate their participation in or out of school.
Explore your community's library and read "the classics" together—from Mother Goose to Walt Whitman.
Read your local newspaper to find out about attending local arts events like museum exhibits, local plays, festivals, or outdoor concerts.
Tell your child's teacher, principal, and school leadership that the arts are vital to your child's success and an important part of a quality education. Find out if your school has sufficient resources for arts education, including qualified teachers and materials. If not, offer to help.
Contact your local arts organizations to inquire about the arts education programs they offer either during school hours or after school. Volunteer to donate time, supplies, or help with their advocacy efforts and connect these services to your child's school.
Attend a school board or PTA meeting and voice your support for the arts to show them you care and make sure the arts are adequately funded as part of the core curriculum in the school budget.
Explore your child's dream to sing, to dance, to draw, to act—and encourage them to become the best they can be through the arts.
Be an arts supporter! Contact your elected officials—lawmakers and school board members—to ask them for more arts education funding from the local, state, and federal levels. Visit Online Resource Center.
Sign up to become an activist on the Americans for the Arts web site, just a click away! Through our e-activist list, you will get news updates and alerts about arts education. Visit E-Advocacy Center.
To view the Ten Simple Ways in Spanish, visit 10 Formas Sencillas.
In addition to advocating for and supporting a strong arts program in your school district, you can help your child enjoy the arts outside of school by participating together at home, taking advantage of your community's cultural resources, or checking out resources online.
At Home
A simple paper and pencil or crayon offers children the chance to express themselves—even a scribble is a good beginning—the important point is for them to feel encouraged and to develop the habit of writing and drawing. Their skill will improve as they naturally compare their work to other pictures and words they see around them. Drawing and writing together will help them see that you value those activities as well.
Have pictures and books available for them to enjoy and value. Your local library can be a terrific source of material at no cost to you.
Seek out high-quality children's programming that can stimulate your child's imagination and expand his/her understanding of the many different art forms that exist. Public television is available with or without paying extra for cable and offers cultural programming for adults and children. If your child sees you valuing the arts, they will too.
Practice photography. Buy a disposable camera for your child to practice. Talk to them about composing a photograph—what is included and what is cut out through the choice of the photographer? What are the elements of and their proportions in the photograph? Work together on creating family photo albums or other thematic collections.
Make videos together. Try organizing the shots ahead of time to tell a story as in filmmaking.
In Your Community
Most communities have arts festivals or craft fairs—even seasonal celebrations that feature music and dancing. The more opportunity children have to see the arts in action, the more ideas they will get about how they can participate and contribute.
Attend presentations in the arts at your local schools, colleges, and universities. Colleges and universities often produce calendars of activities that you can call and request or look for online. Costs are free or lower than most professional venues.
Attend presentations at professional venues to help your child experience excellence: Many communities have museums where you and your child can look at art of different kinds. If you don't know of any museums, browse through an art store or gallery just so your child can enjoy seeing a variety of different artistic expression. Feel free to ask museum or store personnel to tell you about the particular works of art you are seeing. Museums often offer special events and classes at free or reduced rates.
Enroll them in classes that teach drawing, painting sculpture, clay arts. There are some classes that parents and children can take together. Private teachers and studios offer lessons but less-costly arts opportunities can also be found through local Boys and Girls Clubs, YMCAs, YWCAs, Girl Scouts, and libraries, to name just a few.
Check out a book from the library introducing your child to the visual arts: painting, drawing, sculpture, photography, and more. Knowing what others have done in an art form can inform and inspire your child as they participate in the same activity.
Check out books from the library that tell stories about visual artists. This will introduce your child to the arts and help them feel like they "know" various artists.
Help your child understand art forms that were developed by people of your own racial or ethic heritage. Or talk about family members that had a particular talent or interest in an art form; maybe Grandpa loved to paint or Uncle John was a good photographer. Ask them what art form they enjoy doing the most and encourage them to do it.