Custom Search


Our banner above is in support of
North County Arts Network
Networking Event
Looking North: Seek to be Found
at the
Museum of Making Music (
5790 Armada Dr, Carlsbad, 92008) on Monday, April 9 from 5:30 to 7:30. This will be a chance to network with both performing and visual arts resources and also get updates about spreading the word about your events and projects.
RSVP for free tickets
.



Remember: Oceanside Museum of Art Auction with a preview from March 31-April 7, Auction on April 7 from 6:00-9:30pm. Our thanks to those artist who contributed images: David Fokos, Allison Renshaw, Trinh Mai and Grant Brittain,, Mark Edwards Adams, Kirsten Francis and Arline Fisch.

March is Women's History Month and March 8 is International Women's Day! Keep your eyes open for all the exhibitons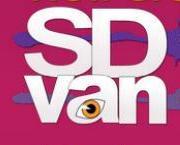 Click here to use our new

San Diego View Art Now App