Be the first to know!
Join our mailing list and
get a monthly update.

SDVAN ON DEMAND
Custom Search

Our banner above is in support of
Tara Donovan: Slinkys
opening on Sat. Feb 6, 6-8 pm to April 2 at

Quint Gallery
( 7547 Girard Avenue, La Jolla 92037).
More info:
Nina Makosch
858-454-3409
Photo credits Kerry Ryan McFate©Tara Donovan, courtesy Donovan Studios,
LLC and Kerry Ryan McFate©Tara Donovan, courtesy Pace Gallery

Call for College Student "The Business of Art" scholarship
at
Mission Federal ArtWalk

Application due Feb 15, 2016
April 30th and May 1st, 2016 Sponsored by

San Diego Art Institute
and
San Diego Visual Arts Network
More info:
Celia Gold
619-236-0011
2016 Creative Catalyst: Individual Artist Fellowships
Deadline Fri, Feb 19, 2016 at 5:00 p.m. PST.

Application and Guidelines
.
The San Diego Foundation,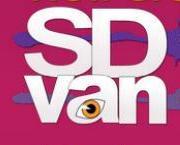 Click here to use our new

San Diego View Art Now App

If you are an artist or art resource in SD, please go to Resource Log in on our top menu bar and sign up in our directory
February 2016
| | | | | | | |
| --- | --- | --- | --- | --- | --- | --- |
| S | M | T | W | T | F | S |
| | 1 | 2 | 3 | 4 | 5 | 6 |
| 7 | 8 | 9 | 10 | 11 | 12 | 13 |
| 14 | 15 | 16 | 17 | 18 | 19 | 20 |
| 21 | 22 | 23 | 24 | 25 | 26 | 27 |
| 28 | 29 | | | | | |
| | | | | | | |
click colored dates to see events
FEATURED EVENTS
Best in Show
Sat. Feb 13, 6-8 $5
Until March 17
San Diego Art Institute
1439 El Prado, SD 92101
More info: Celia Gold 619-236-0011
Daniel Foster: Inside Out
BYOF (Bring your own flashlight)
Reception: Fri., Feb.12, 5-9:30 pm
Artists Talk: Sat, Feb. 13, 4-6 pm
Showing Feb 8 -12 by appointment, Sat/ Sun, Feb. 13-14 from 12-4 pm
Susan Street Fine Art Gallery
200 North Cedros Avenue , Solana Beach, 92075
More info and RSVP: dbfosterart@gmail.com
WHAT SELLS: Creating a Saleable Body of Workwith Stephen C. Wagner
Wedn. Feb 10 7-9 pm $20
Studio Fine Artists Network
4434 30th Street , SD 92116
More info: Stephen5W@hotmail.com 415-518-6485
Chor Boogie: The Divided State of America
Feb. 11 Reception: 4:30 - 6:30 pm. Artist talk following at 6:30 pm
Showing until March 2
San Diego Mesa College Art Gallery
D-101, 7250 Mesa College Drive, SD 92111
More info: Alessandra Moctezuma
619.388.2829