Custom Search

Our banner above is in support ofs Arts Advocacy Day


March 20–21, 2017

when arts lea
ders come together to
underscore the importance of developing strong public policies and appropriating increased public funding for the arts.

You are invited to
The Before Show: Patricia Frischer
. at
Symbologist Gallery
(2060 Logan Ave unit C, SD 92113 in Barrio Logan) . Save the date for the closing reception on
Sat. March 11 from 6 to 9 pm during Chicano Park gallery crawl night.
The exhibitio nruns from Feb 11 to March 15, 2017 More info:
Kaarin Vaughn
619-693-5004
See images from the show

John Dillemuth: Contraptions And Go-mo(s) at Oceanside Museum Of Art(704 Pier View Way, Oceanside 92054) opening on Feb 4 and runs to July 23 with an opening reception on March 25. Curated by Vallo Riberto, assemblages, contraptions, vehicles, and paintings combine to create an installation that references the real and imaginary
.
For more info: Collette Stefanko 760.435.3720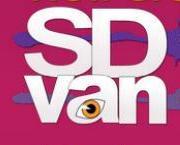 Click here to use our new

San Diego View Art Now App