Our banner above is in support of
SD Art Prize
Presented by
San Diego Visual Arts Network
at the
Athenaeum Music & Arts Library (
1008 Wall St. La Jolla, 92037) with
Anne Mudge
with
Erin Dace Behling, and
Robert Matheny with Max Robert Daily.
This exhibitions runs from Sat, May 11 to Sat, July 6 with an opening reception on
Friday, May 10
, 2019 from 6:30 to 8:30. More info:
press@ljathenaeum.org
858.454.5872 or
Patricia Frischer
Now available for free
SD Art Prize Catalog 2018

Molly Paulick
who has been selected as the
San Diego Visual Arts Network
2019 The Business of Art Scholarship
award winner will be featured at the
35th Annual Mission Federal ArtWalk
on April 27 and 28.in booth #621.
Patric Stillman
from
Studio Door
has mentored her for this opportunity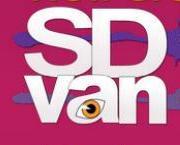 Locate events near your location

San Diego View Art Now App