Be the first to know!
Join our mailing list and
get a monthly update.

SDVAN ON DEMAND
Custom Search

Our banner above is in support of
New Contemporaries VIII
at Valencia Gallery
Catalog VIII
Closing Reception, Fri. May 29 from 5 to 7 pm.
Special performances and artist presentations
from
Marco Miranda and Prudence Horne

Fri. May 1 to Fri. May 29.
Final selection of work by
Alessandra Moctezuma, SD Mesa College Art Gallery
Artists:Atara Baker, Claudia Cano, Larry Edwin Caveney, Andrea Chung, Collective Magpie, scott b. davis, Tom Demello, Prudence Horne, Jim Hornung, Beliz Iristay, Jessica McCambly, Marco Miranda, Tim Murdoch
Barracks 16 Suite 101 2730 Historic Decatur Rd SD 92106
Wed. to Sun., 11 am. to 5 pm. and by appointment
More info: Aida Valencia 619 752-6118

We are supporting the
Artist Odyssey Kickstarter
campaign.
This project will only be funded if at least
$25,000
is pledged by
.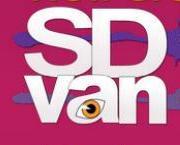 Click here to use our new

San Diego View Art Now App

If you are an artist or art resource in SD, please go to Resource Log in on our top menu bar and sign up in our directory