Be the first to know!
Join our mailing list and
get a monthly update.

SDVAN ON DEMAND
Custom Search

Our banner above is in support of
the
San Diego Visual Arts Network participation booth
FARM Creative Market and Art School Art Mura
l
at the
10th Annual ArtWalk at NTC
August 1 5 – 16, 10 AM to 6 PM
.
Ingram Plaza at NTC Liberty Station

REMEMBER
A Midsummer Night's Dream
Final reception and prize giving Aug 1st.
Fusionglass Co. Gallery & Studio
8872 La Mesa Blvd.,La Mesa,, CA 91942
More info:
Deb
619.461.4440
.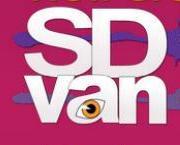 Click here to use our new

San Diego View Art Now App

If you are an artist or art resource in SD, please go to Resource Log in on our top menu bar and sign up in our directory
FEATURED EVENTS
Women's Voices, Women's Visions Symposium
Thurs. Aug 13/14/15
Livingkindness Foundation
5998 Alcalaá Park, SD 92110
$299 early bird fee
More info: jan@janphillips.com 619.260.4637
Together: James and Brennan Hubbell :
Sat, August 1, 6 to 9pm
Showing until Sept 22
Sparks Gallery
530 Sixth Ave, SD 92101
More info: Sonya Sparks 619-696-1416
Watercolor Intensive: Under the Sea, Pet Portrait and Landscape
Fri, Sat, Sun July 31 - August 2, 10am - 4pm,
Bravo School of Art
2690 Hist Decatur Rd, Studio 206, SD 92106
More info: Lauren Becker Downey 619-223-0058
Art Against Humanity
Tue, Aug 4 at 7 pm
Thumbprint Gallery
410 Tenth Avenue, SD 92101
More info: Paul Ecdao 619 203-6030