Be the first to know!
Join our EMAIL LIST and get a monthly update.

SDVAN ON DEMAND


2016 SD Art Prize
Irma Sofia Poeter with emerging artist Shinpei Takeda
Richard Keely with emerging artist William Feeney
More2016
.
info: patricia@ssdvisualarts.net
760 .943.0148 Press Release
SD Art Prize Catalog 2016


New Contemporaries 2017 emerging artists for the SD Art Prize Miriam Gabriela Garcia Aguirre, Cathy Breslaw, Ashley Fenderson, Carrie Anne Hudson, Rizzhel Mae Javier, Adrienne Joy, Alexander Kohnke, Pablo Llana, Michelle Montjoy, Julio M. Romero, Brittany Segal, Rebecca Louise Webb, and Oslyn Whizar at basileIE + CMCuratorial Sat June 10 to August 5, 2017
NEW! May 2017 Monthly Message Site updates and your invite to attend our meetings, events and particpate in our projects.


NEW!
A+ At Blog
Off with the new, on with the old by Patricia Frischer, coordinator, SDVAN . You can now blog back and leave your comments.


NEW! RAW April 2017 now features a list of PICKED RAW PEELED art reports plus an entire list of reports from a multiple of publications.

Picked RAW for April 2017 List before the end of the month to be eligibe. Branching Out featuring recently listed resources


Custom Search

Our banner above is in support of the
San Diego Art Prize 2016 at Athenaeum Music & Arts Library
Displacement | Replacement
May 13- June 10, 2017
Opening reception on Friday, May 12, 6:30-8:30PM.
Irma Sofia Poeter

with emerging artist

Shinpei Takeda
Richard Keely

with emerging artist

William Feeney
1008 Wall St. La Jolla, 92037
More info:press@ljathenaeum.org 858.454.5872
SD Art Prize Catalog 2016




Mission Federal ArtWalk, San Diego Visual Arts Network and The Studio Door who are pleased to introduce the artistry of emerging artist Mikaela McLeigh at the 33rd Annual Mission Federal ArtWalk in Little Italy to held on April 29 and 30. Mikaela was selected as this year's awardee for The Business of Art scholarship which includes a booth at the prestigious art festival, professional development throughout 2017, and an impressive marketing package.



2017 New Contemporaries SD Art Prize Nominated Artists at basileIE + CMCuratorial
Sat June 10 to August 5, 2017
Opening Reception: Sat June 10, 2017 from 6 to 9 pm
Also Open Barrio Logan Art Crawl, Sat. July 8, 2017 from 6 to 9 pm
Closing Reception and announcement of Art Prize recipients, Sat. Aug 5,2017 from 4 to 6 pm
2070 Logan Ave, SD 92113
More info: Chris Martino cm@cmartino.com 858.361.9052

New Contemporaries2017 Catalog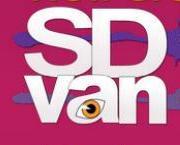 Click here to use our new

San Diego View Art Now App

April 2017
| | | | | | | |
| --- | --- | --- | --- | --- | --- | --- |
| S | M | T | W | T | F | S |
| | | | | | | 1 |
| 2 | 3 | 4 | 5 | 6 | 7 | 8 |
| 9 | 10 | 11 | 12 | 13 | 14 | 15 |
| 16 | 17 | 18 | 19 | 20 | 21 | 22 |
| 23 | 24 | 25 | 26 | 27 | 28 | 29 |
| 30 | | | | | | |
click colored dates to see events