Be the first to know!
Join our EMAIL LIST and get a monthly update.

SDVAN ON DEMAND


We are delighted to announce as the 2016 SD Art Prize recipients
Irma Sofia Poeter with emerging artist Shinpei Takeda
Richard Keely with emerging artist William Feeney
SD Art Prize Catalog 2016
.
More info: patricia@ssdvisualarts.net 760 .943.0148 Press Release


New Contemporaries 2017 emerging artists for the SD Art Prize Miriam Gabriela Garcia Aguirre, Cathy Breslaw, Ashley Fenderson, Carrie Anne Hudson, Rizzhel Mae Javier, Adrienne Joy, Alexander Kohnke, Pablo Llana, Michelle Montjoy, Julio M. Romero, Brittany Segal, Rebecca Louise Webb, and Oslyn Whizar at basileIE + CMCuratorial Sat June 3 to August 5, 2017


NEW!
A+ At Blog
Empowering Advocacy by Patricia
Frischer,
coordinator, SDVAN . You can now blog back and leave your comments.


NEW! RAW February 2016 now features a list of NEW! PICKED RAW PEELED art reports plus an entire list of reports from a multiple of publications.


NEW! Picked RAW for March 2017 List before the end of the month to be eligibe. Branching Out featuring recently listed resources

NEW! Doug Simay picks of LA for March
Custom Search

Our banner above is in support ofs Arts Advocacy Day


March 20–21, 2017

when arts lea
ders come together to
underscore the importance of developing strong public policies and appropriating increased public funding for the arts.
Empowering Advocacy
by
Patricia Frischer,
coordinator of SDVAN.

You are invited to
The Before Show: Patricia Frischer
. at
Symbologist Gallery
(2060 Logan Ave unit C, SD 92113 in Barrio Logan) . The exhibition extended to March 30th, 2017 More info:
Kaarin Vaughn
619-693-5004
See images from the show

John Dillemuth: Contraptions And Go-mo(s) at Oceanside Museum Of Art(704 Pier View Way, Oceanside 92054) opening on Feb 4 and runs to July 23 with an opening reception on March 25. Curated by Vallo Riberto, assemblages, contraptions, vehicles, and paintings combine to create an installation that references the real and imaginary
.
For more info: Collette Stefanko 760.435.3720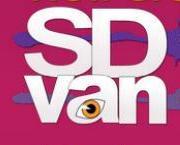 Click here to use our new

San Diego View Art Now App