Be the first to know!
Join our mailing list and
get a monthly update.

SDVAN ON DEMAND
Custom Search


Our banner above is in support of
San Diego Art Prize 2014 at Athenaeum Music & Arts Library
March 28-May 2, 2015
Opening reception on Friday, March 27, 6:30-8:30PM
Marianela de la Hoz
with emerging artist Bhavna Mehta
Philipp Scholz Rittermann
with emerging artist Joseph Huppert
1008 Wall St. La Jolla, 92037
More info:press@ljathenaeum.org 858.454.5872

.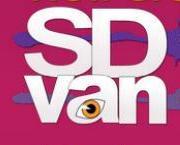 Click here to use our new

San Diego View Art Now App

If you are an artist or art resource in SD, please go to Resource Log in on our top menu bar and sign up in our directory
FEATURED EVENTS
Brush Painting in Asian Manner with Rosemary KimBal
Sat, March 28, 10 to noon and 1 to 3 pm
Bravo School of Art
2690 Historic Decatur Rd, SD, 92106
$29 member / $33 non-member + $5 Materials fee
More info: Rosemary KimBal 619.223.0058
First Friday North and South Friday April 3 from 5 to 9 pm
First Friday: Oceanside Arts Walk
Oceanside Cultural Consortium
Starts at Oceanside Museum of Art
More info: Gallee Walker Wells 805.704.7482
Friday Night Liberty- A Fresh Art Experience
NTC at Liberty Station 2640 Historic Decatur Road, SD 92106
More info: Whitney Roux 619.573.9260
San Diego Watercolor Society Art Takes Root
Reception April 3, 5 to 8 pm Showing April 1 to April 26
2825 Dewey Rd Suite 105 , Liberty Station, SD 92106
More info: gallerymanager@sdws.org 619.876.4550
Through Our Eyes : Vicky DeLong – Ceramic Art and Michelle Gonzalez – Acrylic and Watercolor
Sunday, March 29, 1:00 - 4:00 p.m Showing until April 24
Mission Trails Regional Park
One Father Junipero Serra Trail, SD 92119
More info: Vicky de Long 619-668-3280