REAL ART WEST: Art a la mode

ARCHIVED RAW


RAW December 2019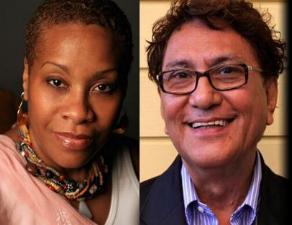 Chair of the California Arts Council Nahomeh Lindo and Vice Chair, San Diego's Own Larry Baza.


State of the Arts California, 2020 A+ Art Blog by Patricia Frischer

"Great art picks up where nature ends." Marc Chagall

Art Reports by or about SDVAN


Tiny Canvases: The Art of the Nail at OMA Picked Ripe by Patricia Frischer
Stitched Together: Visions hosts 5 eye-catching exhibits at Liberty Station La Jolla Light by Lonnie Burstein Hewitt
Every picture tells a story: See Judy Tuwaletstiwa at Lux Art Institute La Jolla Light by Lonnie Burstein Hewitt
Sensuality - Objects of Beauty at the IN Gallery Picked Raw Peeled by Patricia Frischer


The New Year starts off on Sat. Jan 11, 2 to 4 pm with an Artist Salon sponsored by The Encinitas Friends of the Arts' Artist Collective. The Eco-Visionairies will be a discussion that asked, "How can you use your art to advance solutions for environmental concerns?" This discussion will be moderated by Ellen Speert and held at her California Center for Creative Renewal, (1905 Crest Drive, Encinitas, CA 92024) RSVP for free tickets.

The Comic-Con Museum received notice of two major grant awards in support of our Education Center! Thanks to the David C. Copley Foundation ($250,000 award) and the Mandell Weiss Charitable Trust ($30,000 award). This will help with their second phase of the new space in Balboa Park and to build 5 new classrooms.

SD Museum of Art is stepping up its focus on technology and contemporary artists. Nick Roth: Fates is now open and a new video installation by Cauleen Smith will be coming in the spring.

Julia Dixon Evans is transitioning to KPBS as a full time arts editor from her free lance work at Voice of San Diego. We shall look forward to seeing her coverage of the arts there and to see who will take over at Voice of San Diego.

Attention, Ladies. Sent to me by Vallo Riberto: These 8 Female Artists Only Saw Their Careers Catch Fire Well Into Their 80s. Here's How They Finally Got Their Due. Good things come to those who wait. By Katie White, November 27, 2019 ArtNet

FIG member Helen Redman discovered that a painting by Anna StumpJane Doe, was removed without permission from the FIG exhibition That's What She Said...Artists Speak Out at the Martha Pace Swift Gallery due to remain until Jan 10, 2020. This gallery is located in building 2020 at Liberty Station. In its place a painting of an elephant was hung. We are pleased to say the painting was returned. Here is part of the Facebook posting from Wes Chester: "The pilfered painting….has been restored thanks to the efforts….of the primary witnesses @Pinot'sPalette whose info was invaluable….Julie Schrager who tracked down the security cam footage. Finally thanks to Anna Stump for trusting my hostage negotiation skills. This little canvas made it all the way to Kilgore TX and came back by mail."

We are so sorry to hear the sad news that La Bodega Gallery is closing its doors at the current location at the end of the year. This decision was made after the landlord made an unsustainable rent increase. But watch this space for news of a new location, we hope, as soon as possible. Contribute to their Go Fund Me campaign and help them in this transition to a new space.

We are losing Kaytie Johnson former curator at the SD History Museum in Balboa Park to the John Michael Kohler Arts Center where she will become the senior curator in Sheboygan, Wisconsin. Good luck, Kaytie

Watch this space for news of a new interim director for the Women's Museum of Califorina.. We predict good things for this essential organization.

Rosemary KimBal sends us a report about The Montreal Museum of Fine Art which is the first museum to have actually set aside physical space and created a scientific committee dedicated to art and health. In Canada, doctors are prescribing museum visits with the cost of admission covered by universal healthcare. Chaired by Rémi Quirion, Chief Scientist of Quebec, this advisory committee is made up of experts from the areas of health, art therapy, research and the arts, in addition to philanthropists and representatives of the MMFA. When we see art in hospital that is the Hospital as a Museum, now we have Museums as Hospitals!

OPPORTUNITIES (click to see a list of all current opportunities listed on SDVAN)

You can apply now for the Studio Door/San Diego Visual Arts Network Business of Art Scholarship for mentoring and a free booth at the Mission Federal Art Walk in April. Click here to download application. Due by Feb 1, 2010.

The Studio Door has also announced its judges for 2020 juried shows. You can enter your submissions on CaFé. The Crow Show: Judy Gradwohl, President and CEO of The NAT • San Diego Natural History Museum, 50 To Watch: Megan Pogue, Executive Director of Timken Museum of Art and PROUD+: Hunter O'Hanian, Executive Director of Stonewall National Museum & Archives (Fort Lauderdale & Wilton Manors, FL)

Fallbrook Art Center is making a call for artists with the theme Reflections of nature wildlife and landscape show. The artists are limited to 20 with an exhibition date of May 2&3, 2020. More info: Kimber Petralito 760 728 1414

Have you got tidbits or other bits of gossip that you want to broadcast. Contact info@sdvisualarts.net
RAW Archived for 2018
RAW Archived for 2017
RAW Archived for 2016
RAW Archived for 2015
RAW Archived for 2014
RAW Archived for 2013
RAW Archived for 2012
RAW Archived for 2011
RAW Archived for 2010
RAW Archived for 2009RAW Archived for 2008
RAW Archived for 2007
RAW Archived for 2006
RAW Archived for 2004 and 2005
A peculiar fact about termite-tapeworm-fungus-moss art is that it goes always forward, eating its own boundaries, and, likely as not, leaves nothing in its path other than the signs of eager, industrious, unkempt activity. Manny Farber

Art Reports by or about SDVAN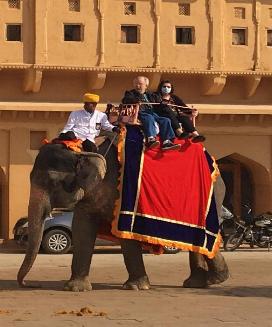 I spent the holidays in India, extremely complex country with so many levels, and so many influences which have formed it. It is not really a melting pot in the sense America is, more like a 10 course meal. Survival seems prominent to the detriment of culture. That is why it is so amazing that the culture is what one still feels ties the country together. As the world grows so much smaller because of world wide web communication, I am not sure that the contemporary culture especially in fine art, can sustain an Indian identity. It can have India subject matter but not a true Indian individuality...I don't believe that exist anywhere in the world anymore as we are now so interconnected and influenced. If art is the harbinger of new things, then coming together to create unified art might sign a coming together of one world and a new sense of how we need to interconnect to have world peace. I know that sounds preachy, but I think world peace is most important than identity. I say that because I have a very strong sense of our self uniqueness and am not worried about that being lost.
Great Big Indian Wedding: Cultural event that ends my year! A+ Art Blog by Patricia Frischer
India: Monuments and Museums A+ Art Blog by Patricia Frischer
India: Modern and Contemporary Art A+ Art Blog by Patricia Frischer
Barnsley House Hotel and Spa A+ Art Blog by Patricia Frischer
The art world lost a valiant supporter with the passing of Ellen Phelan this January. No one showed up more consistently at more events than this determined lady. She did not suffer fools and has a very keen eye and was responsible for rallying the art troops any number of times over a long career. I remember her most for her efforts on behalf of the SDMA Contemporary Arts Committee, but I loved her stories of art shows she organized well before I arrived 22 years ago. She will be greatly missed. Beyond Blue – Mavi – Ma Vie: Irene de Watteville and Belize Iristay is not to be missed and runs to March 9, 2019 at The Athenaeum Music and Arts Library in La Jolla. Opening Reception Fri. Jan 11 from 6:30 to 8:30. This exhibition is dedicated in memory of our great art advocate Ellen Phelan.
ARTS DISTRICT Liberty Station is proud to present a cross-border art collaboration installation with nearly 350 birds, hand created by over 350 school children across 7 schools in both the San Diego and Baja region. These art works will fly high above the ARTS DISTRICT's Luce Court as well as in Tijuana. The project, Birds without Paradise, began with Oaxacan artist Manuel Molina as a way to raise awareness about the impact of bird trafficking. The project quickly transformed into a binational program focused on the theme of freedom (an increasingly relevant topic in the San Diego-Tijuana cross-border community). What better visual representation of freedom than a bird in flight?
We are excited about the Tangible Memories exhibition at the La Jolla Historical Society. The reception, Friday, Feb. 8th, 2019, 4:30-7:30 pm involves refreshments, a dance performance by LITVAKdance, and meeting the artists and seeing their interpretations of the historic figure they have been assigned. It should be quite an interesting exhibition with participating artists including: Tara Centybear, Taylor Chapin, Becky Guttin, Bhavna Mehta, Lee Puffer, Bridget Rountree, Anna Stump, Cheryl Tall, Kelly Telebrico, and Rebecca Webb. Exhibition continues to May 19 and is curated by Danielle Deery.
We applaud Brent Beltran, Soni López-Chávez and Chris Zertuche, (both owners of La Bodega Gallery), and Max Bojorquez (Diztinta Print Shop) who are publishing the new La Neta 92113. In their own words, "A free, monthly, barrio-based magazine. We will showcase the unique people, art, style, food, small businesses, and activism that makes San Diego's historic communities of Logan Heights and Barrio Logan the culturally rich neighborhoods that they are today. LA NETA will utilize artwork, articles, interviews, cartoons, poetry, and more to highlight the people, places y corazón of these working class barrios." We would certainly love to see more neighborhoods come together in this way and be financed by ads from the local businesses.
We applaud FusionGlass/Idea Field for creating new project and programs continually. They now have free video tutorials for fun projects you can do at home with a series of optional Project Kits to go with the videos. So you'll be able to do the project without having to shop for the supplies. The shop has exhibitions and makes Calls to Artists so click here to request info on both from Deb Solan.
Always impressive, Lynn Susholtz from Art Produce has added another exhibition space: The Cooler Room has had many lives since the building was purchased in 1999 - an artist studio, meditation room, beer tasting room - but its earlier life was as a walk-in cooler for North Park Produce. Now it exists as an exhibit space, artist-in-residence workspace, and anything else her and her team's collective heart's desire. First show opening Jan 26 features multi-media works combining objects from her childhood home in Houston with local materials.
We are looking forward to more reports in 2019 from the new art critic for the last 7 months at the SD Union-Tribune,Jim Daichendt.Andrea Lopez-Villafaña and Seth Combscontinue to write for City Beat. KPBS/Arts editor, Nina Garinis starting to cover more visual arts and Julia Dixon Evans has taken over from Kinsee Morlan at Voice of San Diego.
One last hurrah from Helmuth Projects as their building has been sold. Josh Pavlick the self-defined facilities resident will be presenting on March 1 Andrew Alcasid and his "architectural interventions". The show will be up April fool's day until the building is torn down for condos. We are glad they said it loud since 2011.
OPPORTUNITIES (click to see a list of all current opportunities listed on SDVAN)
Becoming an artist that gets paid isn't just about being able to create beautiful artwork; it is about becoming a professional. If you have a strong interest in being an artist and have begun to build a body of work, The Business of Art Scholarship may be the next step for you to navigate the complex art industry while participating in this year's Mission Federal ArtWalk. The scholarship is a unique opportunity for an artist who has a body of work to showcase and is interested in selling their artwork during Mission Federal ArtWalk. To ensure a successful launch at this year's festival, the artist will receive personalized mentoring from Patric Stillman, artist and owner of The Studio Door, and receive an exceptional media package provided by San Diego Visual Arts Network. The Business of Art scholarship is presented by Mission Federal ArtWalk, San Diego Visual Arts Network and The Studio Door for the 35th Annual Mission Federal ArtWalk [April 27 and 28, 2019]. There is no application fee for this opportunity. Recent scholars include Eleanor Greer (2018) and Mikaela McLeish (2017). Due Feb 1, APPLY TODAY >>>> Click here to download application. The Studio Door Preview Day on Jan 19. Noon to 7 PM with live music from A New High at 1 and 5. This Studio Door has survived and moved to a new Hillcrest location: 3867 Fourth Avenue, SD 92104 with new tel: 619-255-2867. Like a new year's harbinger it has returned to us better than ever. More info: Patric Stillman.
Cal State San Marcos is posting a new faculty position in Digital Photography. They are interested in attracting applicants who represent the vibrancy of our diverse student body and who engage in digital photography in expansive ways that discuss important issues.
Call for Artists for the Spring Talmadge Art Show, Sunday May 19, 2019. $125 booth fee and with central cashiering and 20% sales commission for quality craft including: clothing, jewelry, pottery, glass, purses, furniture, painting and more. Artists must be at the show. Applications due March 1. Questions: Sharon Gorevitz 619-559-9082 Liberty Station Conference Center. Up to 75 artists will be accepted.
Each year the Poway Center for the Performing Art selects artists to exhibit in its beautiful lobby gallery. The application process is now open and will close on April 15th. If you/your group are interested in applying for the 19/20 exhibition season, please visit https://www.powaycenter.com/158/Art-Exhibitors for more information and for the application.
"Anxiety is love's greatest killer" Anaïs Nin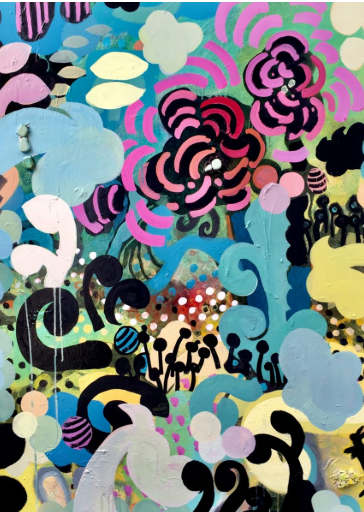 The new Texture exhibit is now open at Adelman Fine Art until April 16 and it includes this new work Bunny Hope by Ellen Dieter.

Art Reports by or about SDVAN

Beyond Blue – Mavi – Ma Vie: Irene de Watteville and Belize Iristay at the Athenaeum Picked RAW Peeled by Patricia Frischer
Athenaeum's 'Beyond Blue' art exhibit in La Jolla can chase your blues away Picked RAW Peeled by Lonnie Burstein Hewitt
The Studio Door Now Open for Business Picked RAW Peeled by Patricia Frischer
Pause/Play Fleet Science Center Picked Ripe by Patricia Frischer
Courtney Mattison at Lux Art Institute Picked Ripe by Patricia Frischer
Winter Openings at OMA and the 1st Encinitas Art Night Picked RAW Peeled by Patricia Frischer
The last two reports from England:
The Cotwolds: Purton and Cirencester A+ Art Blog by Patricia Frischer
Modern Couples at the Barbican A+ Art Blog by Patricia Frischer

Life Doesn't Frighten Me: Hope Inspired through Art at Fallbrook Library, March 10 - May 4, opening reception March 15, from 6:00 to 8:00 pm is based on a poem by Maya Angelou. This exhibit brings together stories, photography, paintings and fabric art from the perspectives of 12 artists; Kira Carrillo Corser, Patricia Frischer, Aldonia Bailey, Heather Hillard Bonds, Helen Redman, Renee Scott-Femenella, Brecia Kralovic-Logan, Adeola Davis Aiyeloja, Sergio Sanchez Mereno, Marilyn Huerta, Jennifer Colby, Grace Gray Adams. In partnership with the Peace and Justice Project, the Fallbrook show artwork from 40 students from Fallbrook High and CSUSM guided by LA and SD artists. There will be a special performance by Fe Love, a Los Angeles award winning spoken word artist at 7:00 pm, a jazz poem by Aldonia Bailey and a flute song by nationally known composer, author, Maria Kostelas.

Congratulations to Molly Paulick who has been selected as the San Diego Visual Arts Network 2019 The Business of Art Scholarship award winner. Patric Stillman from Studio Door will be mentoring her and you will have a chance to meet her at the 35th Annual Mission Federal ArtWalk on April 27 and 28.

Art Night Encinitas combines three civic art galleries opening their doors on the same night 6 times a year. That means in 2019, 47 exhibits by local artists will be presented. Enjoy refreshments and a mix of music, artist demos and more. A free shuttle will transport you to the Encinitas Library, City Hall and Encinitas Community Center. As Art Night Encinitas grows, it is likely to include local art galleries and cultural institutions. Mark your calendars for Feb. 23, April 6, June 1, August 3, October 5 and November 23 from 6 to 9 pm. Art Night Encinitas is presented by City of Encinitas, Commission for the Arts, Encinitas Friends of the Arts.

San Diego Mesa College Art Gallery is beginning the 2019 Spring semester with an exciting gallery space located in the newly remodeled Fine Arts Building. The inaugural exhibition Looking Forward, Looking Back featured the work of 47 alumni that are presenting current projects.

Mission Federal ArtWalk is back for its 35 th year bringing San Diego's Little Italy a weekend-long premier arts and culture event on Saturday, April 27 and Sunday, April 28. The free festival brings more than 120,000 locals and visitors to San Diego's Little Italy. New this year to celebrate San Diego's oceans and beachy surf culture, Mission Federal ArtWalk is partnering with Rerip, a nonprofit organization that specializes in repurposing surfboards to hold a Surfboard Art Auction. Ocean Tunnel at the Piazza della Famiglia is a 120-foot-long walk-through of painted canvas created by the Students from Scripps Institution of Oceanography. Michael Rumseyone of the featured artists this year is a surfboard maker. Ruth Fromstein and Jennifer Hannaford (represented by Adelman Fine Art) are 2 more local of the 8 artists featured this year. San Diego Visual Arts Network and Artist & Craftsman Supply will be returning with the Interactive Art Project where attendees can participate in actually creating art.

This year promises to be a show stopper at The New Children's Museum including a local partnership with SDSU School of Art and Design students to refurbish the Paint and Clay Studio. There will be a significant new installation by an international artist Toshiko MacAdams "From the first time my son played in MacAdam's "Woods of Net" Pavilion at the Hakone Open Air Museum in Japan, I dreamed of collaborating with her," said Tomoko Kuta, Deputy Museum Director. Tanya Aguiñiga was first commissioned for The New Children's Museum's grand opening in 2008. Then a budding artist from the San Diego-Tijuana region, she created Texture Forest and she is back now for an artist residency culminating in a reimagined Tot Studio. All of this and more can be accessed by entering the Museum through an exciting new bridge creatively designed by Tijuana-based artist PANCA.

Manuelita Brown is one of three San Diegans to be honored as Keepers of the Culture 2nd Annual Recognition at the San Diego History Center in recognition of her extraordinary talent as a sculptor and activist through her art. She has have paved the way for future sculptors with her vast installations nationwide and willingness to pass on her knowledge to any and all who are interested.

The City of Chula Vista Performing and Visual Arts Grant has funded more than $1 million to Artists and Arts Organizations since its inception.This year's grant cycle is now open.! More info: Lynnette Tessitore

We welcome Laura Mitchell who has been named Visions Arts Museum: Contemporary Quilts + Textiles new Executive Director The Board selected Laura Mitchell for the position after an extensive international search. Mitchell has 25 years of experience in academic and cultural institutions, including the Smithsonian Institution, the Luther Institute and currently, Hong Kong Academy. Originally from Southern California, she is looking forward to returning home and launching a dynamic new era for Visions Art Museum. The museum seems especially excited about her ability to lead a capital campaign. She begins on March 4 th.

Welcome to a new La Jolla Gallery at 1020 B Prospect Street 92037. Fresh Paint Gallery presents its first show: Personal/Political, figure painting by Patrick Brown, Billy Hawkins and Weston Riffle which you can catch until March 3. They feature emerging to mid-career contemporary artists, working in a variety of media, in solo and group exhibitions, both local and international. More info: info@freshpaintgallery.com

A one-bedroom unit for $970 including a large studio, a loft bedroom and overlooking the city and bay: Wow! Those are the aims of Space4Art once their new studios are constructed. Larger spaces will be more but units in a group work space could be a low $330 a month. Read the whole Voice of San Diego article about their meeting in Feb. Jonathon Glus, Commission for the Arts and Culture director, was there and restated his interest in making sure that the creative community remains in the city of San Diego.

Nicely furnished room for rent in a beautiful artist's home just one mile to Carlsbad Beaches is now available for $975. Super quiet, no through traffic and lush tropical grounds with pool. Only for one person who is quiet, no drinkers or smokers, or animals. Rent includes all utilities and use of the new washer and dryer in garage, barbecue outside etc.

There are still questions pending about the future of Pacific View Art Center in Encinitas. A decision on confirmation of the plan presented by the Encinitas Arts, Culture and Ecology Alliance in February has been put off until April to allow for more exploration.

Medium Photo has presented the 2019 Second Sight Award to Tijuana based artist Mariel Miranda. She will lecture 9:30 am, October 19, 2019. Each curator, editor, and gallerist at Medium's annual Review nominates three artists for the Second Sight Award, whose work explores new creative avenues and whose ability to speak about their work supports enriched understanding of it.

"The forthcoming World Healthcare Congress, Europe, which takes place in Manchester in March, will 'have an arts, health and social change agenda throughout' explains Clive Parkinson, head of Arts for Health at Manchester Metropolitan University, the UK's longest established arts and health unit. With initiatives such as doctors being encouraged to prescribe art lessons as part of a GBP£1.8 million UK government strategy, and a trip to the Montreal Museum of Fine Arts now part of the prescribing options for members of Médecins Francophones du Canada, art and wellness are increasingly being talked about in the same breath. As MMFA director general Nathalie Bondil put it last year when the Montreal scheme was announced: 'In the 21st century, culture will be what physical activity was for health in the 20th century.' Read the whole article on Frieze.

Tom Noel tells us"As some of you may already have heard, Hugo Crosthwaite is undergoing treatment in Mexico for stage three testicular cancer. His prognosis is not good but he is fighting this with all his strength. A GoFundMe Hugo page has been set up for his medical expenses, he has no insurance. Please help if you can. Let Hugo know he is not facing this dark battle alone" $26,969 has already been raised! And we are happy to report that the GoFundMe Roberta for Roberta Walker, Encinitas 101 Main street director bicycle accident victim has raised $111,060 of $125,000 goal.

The National Endowment for the Arts has awarded more than $3.5 million to California arts organizations in its first round of funding for fiscal year 2019. Federal dollars totaling $3,572,500 will benefit 152 grantees across the state. A small part of this approx. $210,000 went to 11 San Diego arts organizations with $40k to the Old Globe and $35k going to MOPA as the two largest amounts. Does anyone else think this is a small proportion? But congratulation to those who are receiving NEA grants.

If February is the month of love then those of you who adore love and art with enjoy Two Art Collectors Who Caught Each Other's Eye.

Is it really a museum, well no, but it is fun idea and with 3000 people attending the opening at $24 for an adult tickets, The Museum of What LOVE TOUR is a pop up money maker now located on El Camino in Encinitas next to TJ Maxx and Staples. It will be open until at least mid-March and you can see a full report on News8

The Flee Science Museumt will host a special edition of Two Scientists Walk Into a Bar on Thursday, March 7. This event is putting the "A" in STEAM by bringing a scientist and an artist to a bar to engage in interesting conversations with patrons. Check to see if they'll be at your favorite watering holes throughout the county.


OPPORTUNITIES (click to see a list of all current opportunities listed on SDVAN)

The International Friendship Commission (IFC) of the City of Chula Vista is now accepting applications for the 2019 Ambassador Program with Sister City Odawara, Japan. Four exchange young people between the ages of 18 and 23 will be selected and hosted in each city. Candidates must be in college or college bound, or be young professionals and must be Chula Vista residents. The IFC provides up to $1,000 travel stipend toward airfare. US Ambassadors will be in Odawara, Japan, August 1-13, and the Japanese Ambassadors will be in Chula Vista August 13-23. Application must be completed by 5 p.m. on March 11, 2019. For more information, please contact Cultural Arts Manager Lynnette Tessitore at 619.409.5465.

Carlsbad's Front Porch Gallery Annual Open Juried competition showcasing the best of what San Diego County artists are currently creating is currently calling for applications. Featuring a wide variety of mediums such as painting, sculpture, mixed media, fiber art, photography, ceramics, basketry, mosaic, etc, this competitive exhibit is highly anticipated by artists as well as the community at large. More info: Julie Weaverling 760-795-6120

56th annual Lenten Art Show at St. Mark\'s United Methodist Church from March 10 to April 21 with a reception on March 16. All media juried art show $15 for 1st work, $7 each 2nd & 3rd work Donation 20% of any work sold; price set by artist. More info: Judy Edelblute 858-278-0255

"I have always stood in awe of the camera. I recognize it for the instrument it is, part Stradivarius, part scalpel." Irving Penn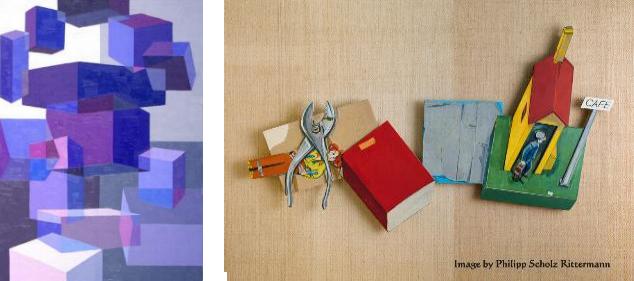 R. B. Stevenson Gallery (above left) is showing Becoming Visible by San Diego artist Stephen P. Curry. This exhibition represents his first solo show with the gallery and the gallery is now in its new space in the same building. The artist will feature new paintings will remain on view thru April 6 th.

Doug Simay (above right) is offering a great Manny Farber construction Check the Leader, 1984, oil on board, 45 x 84 inches for $12,000 USD. Farber made few constructions (perhaps just nine). This construction was in a Farber retrospective at the MOCA Los Angeles called, One Day at a Time: Manny Farber and Termite Art just this year. Simay cannot accommodate it in his art storage any longer. Contact doug@simayspace.com

Art Reports by or about SDVAN

Tangible Memories at La Jolla Historical Society and La Jolla Daughter and Father Artist. Picked Ripe by Patricia Frischer
Life Doesn't Frighten Me: Hope Inspired through Art at Fallbrook Library Picked RAW Peeled by Patricia Frischer
Desert X from Palm Springs to the Salton Sea Picked Ripe by Patricia Frischer

Remember Molly Paulick who has been selected as the San Diego Visual Arts Network 2019 The Business of Art Scholarship award winner will be featured at the 35th Annual Mission Federal ArtWalk on April 27 and 28. Patric Stillman from Studio Door has mentored her for this opportunity.

Young Arts Patrons Ice CreamSocial is at the Studio Door on Sat. April 13 from 11 am to 12:30. This is the kickoff event for arts patrons and philanthropists who are under 40 and interested in becoming informed donors. Have fun, meet the next generation of local artists and educate yourself on how to support the creative community. Artist: Alfa_Kat, who has learned how to utilize Instagram to sell her art, was recently interviewed on KPBS and is our youngest studio artist. Special Guest: Patricia Frischer of San Diego Visual Arts Network will present the secrets of collecting art. More info: Patric Stillman 619-255-2867

Starting in 2019, April will officially be Arts, Culture and Creativity Month in the state of California. Want to get involved? Check out the Californians for the ArtsWays to Engage Guide. Want to attend advocacy training? Register today and they will alert you when there is one coming to your community or sign up for a webinar. Got a compelling video or narrative about your public arts program? Share your "Arts Impact Story"? We especially want to support Governor's Newsom permanent funding increase of $10 million to the California Arts Council.

We are so proud of Bhavna Mehta who has worked nonstop since her SD Art Prize in 2014. Art Produce announced her as a 2019 resident at the gallery beginning May 31 with a collaborative performance with Monarch School students.

We are excited to see Carpet Showroom: New Jean Lowe Installation at the Quint Gallery which was shown at the Palm Spring Art Fair and is now on view locally. It is showing at the same time as Michael James Armstrong: Line and Fuzz until April 13.

Mark Stuart is new President and Executive Director of The SD Foundation. He is local and was at the SD Zoo Global as their main fundraiser and made an astonishing $530 million globally in the last 13 years. We don't know his position on the arts, but he does seem competent. We would need to tell him Art is good for his health! When this new job gets tough, take 2 aspirin and go to a museum.

It was great fun to see the future home of the Comic Con Museum in the old 68,000 square foot Hall of Champions museum building in Balboa Park. They showed a very fun display of 50 years of Comic Con program covers. But it may be 2022 before they open their doors as they are still fundraising for this venture. We were there to celebrate at the annual Balboa Park Cultural Partnership party.We learned about all sorts of new programs starting in the park and one of my favorites was 9 new countries being added in 5 new buildings in the International Cottages of the Hall of Nations. This will brings the total up to 32.Ground breaking is soon. They will eventually be opened on Sat and Sun from noon to 5 pm like all the existing cottages, but you can watch for special events/classes/demos within each one. There was also news about the renovations at the Mingei Museum, new lighting for the Botanical Gardens (shall we hold our breath, this was proposed in 2014!) and the addition of the new Sanford Children Zoo.

Please help Space 4 Art if you are an artist by filling out thisSURVEY. They need at least 200 artists so that they can move forward and prove Space 4 Art is a needed facility in San Diego.We know affordable housing and studio space is on the top of the list for so many of you, so please take just 5 minutes to give this helpful hand.

Many of us have seen the butterflies flitting through our neighborhoods, but 100 bird sculptures have traveled from Liberty Station to Seaport Village. The Birds Without Paradise installation will be on display until April. Manuel Molina is the artist in collaboration with the San Diego-Tijuana Smart Boarder Coalition, and 350 students from San Diego Unified School District painted these birds and were funded by Vesta.

The 2019 SD Airport Arts Master Plan and associated Policy recommendations were approved unanimously by the Airport Authority Board putting another arts master plan in affect. It would be great to see Arts Master Plan for every city and major entity in SD County.

OPPORTUNITIES (click to see a list of all current opportunities listed on SDVAN)

Del Mar Art Center Gallery (1101 Camino del Norte 92014) is making a call for new member artists. DMAC is offering both full and limited membership. Open to all emerging artists living in San Diego region. No craft or functional art Submission of artwork is 5 jpg images of art completed within the last three years. More info: Maidy Morhous 858-259-0234

Museum and Arts Growing Escondido Culture (MAGEC) is looking for talented artists to exhibit and sell your work at Art in the Garden. This is a juried show located in Heritage Garden adjacent to the Grand Avenue Street Festival in Escondido on Sunday May 19, 2019 9am-5pm. $10.00 application fee and a further space fee for those accepted of $55 for approx. 10'x 10' booth. Application deadline is May 4. More info Carol Rogers 760-715-4958

Mission Federal ArtWalk needs 250 volunteers this year on April 27 & April 28. You'll get to meet artists who travel from all over the US and Mexico, and assist with a variety of tasks, from set up, to assisting with a charity auction and more. There are fabulous perks as well. Minimum age to volunteer is 16 years. Learn more and sign up here! Spaces are also still available for fine artists for the 35th annual festival Italy district, Each participating artist has a dedicated page on their website, www.missionfederalartwalk.org. Photography and Jewelry categories are currently full. Applications are available for all other mediums. Apply online today by clicking here.

"(My art)…has as much to do with re-acting as acting" Julian Schnabel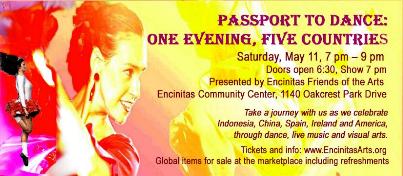 Passport to Dance: One Evening, Five Countries takes place on Sat, May 11, 7 pm – 9 pm. Presented byEncinitas Friends of the Arts(EFA) at the Encinitas Community Center(1140 Oakcrest Park Drive). Take a journey with the EFA to celebrate Indonesia, China, Spain, Ireland and America, through dance, live music and visual arts. Featuring: Flamenco Arana, LITVAKdance Company, Malone Academy of Irish Dance, Pete Polansky on fiddle and friends, Blue Ming Chinese Dance Company and Ni Wayan Ekarini, Balinese Spiritual Journey and Wren Polansky I am American art exhibition. This is a fundraiser for Public Art and Arts Education in Encinitas, Global items for sale at the marketplace including refreshments. Passport to Dance-Tickets.

Art Reports by or about SDVAN

Minoru Obira at Lux Art Institute and Jean Lowe Carpet Showroom at Quint Picked Ripe Peeled by Patricia Frischer

SD Art Prize presented by San Diego Visual Arts Network at theAthenaeum Music & Arts Library(1008 Wall St. La Jolla, 92037) withAnne Mudge with Erin Dace Behling and Robert Matheny with Max Robert Daily. This exhibitions runs from Sat, May 11 to Sat, July 6 with an opening reception on Friday, May 10, 2019 from 6:30 to 8:30. More info: press@ljathenaeum.org 858.454.5872 or Patricia Frischer Now available for free SD Art Prize Catalog 2018

Remember Molly Paulick who has been selected as the San Diego Visual Arts Network 2019 The Business of Art Scholarship award winner will be featured at the 35th Annual Mission Federal ArtWalk on April 27 and 28. Patric Stillman from Studio Door has mentored her for this opportunity.

The Contemporary Arts Council (CAC) of the SD Museum of Art is holding its next meeting on Monday, May 13, with an artist talk by Irene de Watteville starting at 7:30. They are looking for a new chair starting July 1. Requirements: Must be a member of the CAC and the museum at the family level and have organizational skills as well as dedication to the committee but duties will not include producing a newsletter. You will have support from an excellent board. No salary but personal satisfaction and great friendships. Contact: Robin 858-794-7968 for more information.

We are thrilled that Alessandra Moctezuma will be showing her own work at The Athenaeum Music & Arts Library Art Center annex AAC in Logan Heights at Bread and Salt. Identity I Antiquity alsofeatures works by Hilary Paul McGuire. The AAC will exhibit two of Moctezuma's recent series: self-portrait drawings reflecting on her role as a mother, a wife, and a daughter, and political cartoon collages on the subject of America's obsession with guns. Of Hilary Paul McGuire's found-iron assemblage pieces, the artist explains: "My sculptures are like a group of wise and elderly family members coming together to say something new for future generations." The show continues to May 30.

Studio C Gallery in Chula Vitas presents HINT featuring the works Carlos Castrejon. He for the first time present the conceptual theme of Purses and their secrets, a collection of paintings that observes the distinctive personalities of women represented by the contents of her purse or hand bag. Showing until April 26 th.

Coming June 29 to the San Diego Art Institute is Forging Territories: Queer Afro & Latinx Contemporary Art, curated by Rubén Esparza, founder and director of the Queer Biennial in Los Angeles. This is an exhibition of Afro and Latinx artists in the LGBTQ community who portray themselves, their friends, and their environments as part of their queer cultural awakening. Before that Indoor/Outdoor start June 21- July 7 and is a pop-up exhibition exploring how climate influences paintings of indoor and outdoor space. It's the result of an international collaboration between Southern California artists from the Feminist Image Group and Swedish artists from Krogen Amerika. Part of the exhibit will be at SDAI and part will be at the Athenaeum Art Center in Logan Heights. AND we are looking forward to Café Mingei at SDAI while the museum is closed.

Time for a reminder about Thumbprint Gallery. The have several ongoing events including first of the month Monday Night Medley from 5 to 10 pm at Urbn Coal Fired Pizza in North Park; every third Forward Fridays from 10pm to 2 am: Benefitting Progressive Causes at Bar Basic downtown SD; Draft from 5 to 8 pm: free life drawing sessions at various locations and dates but you can connect on Facebook HERE or sign up on MeetUp HERE.

We highly recommend the Soul of a Nation: Art in the Age of Black Power 1963-1983 exhibition at The Broad in Los Angeles. This show was seen and reported on in 2017 as part of Letter from London Part 2. It is a powerful eye opener and honors the work of African American Artists. Showing until September 1 st.

The SD New Children's Museum is one of only 15 museums (and one of only two children's museums) nationwide to be selected for the 2019 National Medal for Museum and Library Service. This is the highest honor given to museums and libraries for service to their communities. Watch this interview with the Museum's Executive Director Judy Forrester

The Jewish calendar designates a sacred day, Yom Hashoah, to pause and remember the victims of the Holocaust. The Farm House Gallery of the Leichtag Farm is hosting local survivor and artist Ruth Platner at an evening to learn about and view her enlightening art collection on May 1 from 7 to 8:30.

Have you ever wondered how to get a City of San Diego grant from Economic Development Department (through both Community Development Division (CDD) and its Business Expansion, Attraction and Retention Division (BEAR), Commission for Arts and Culture ( through Funding for Arts and Culture Nonprofits) and/or City Council Offices City Council Community Projects, Programs, and Services (CPPS). TheCity of San Diego Nonprofit Academy, which is held twice a year at USD, is a FREE, two-day training program designed to strengthen the effective management and organizational capacity of nonprofits in San Diego . The City's arts and culture nonprofit contractors are encouraged to attend this program this year on May 30 and 31. But this year they are expanding the opportunity for arts and culture nonprofits along with artists, arts organizers to attend Digital Marketing for the Arts: A One-Day Intensive on Wednesday, May 29, led by industry-practitioners. The training program is geared for those applying to city grants but the second workshop is countywide with registration opens already open.

The Medium Photo 2019 Keynote Lecture is presented by Luis González Palma, beginning at 7:00pm on October 18, 2019. Tickets to the Keynote Lecture are included with all Portfolio Review passes, as well VIP and Festival passes (on sale in summer 2019). Individual tickets to the Keynote Lecture can be purchased in summer 2019.

We loved this article on Health Benefits of Art sent to us by the Art Academy of San Diego by email and reposted on North County Arts Network in their Loud and Clear blog.

RJ Brooks co-founder of Ship In The Woods, the volunteer run organization was solely operated out of the generosity of their main supporter who recently moved out of state to pursue a new path. They are asking for donations to continue their work as an independent, alternative showing space. This year they are dedicating the entire 2-acre SHIP IN THE WOODS property as an educational permaculture arts-infused nature reserve called "The Living Classroom". The goal of the program is to utilize the arts and sciences to explore and discover nature while building cultural and environmental stewardship in the next generation.

San Diego Book Arts is pleased to announce that they currently have 141 members for 2019. Check out their list of events as many of them are already wait listed!

Lux recently converted to a Pay As You Wishadmission structure which is based on a suggested donation ($5) for entry to the galleries. And the Individual membership was upgraded to include exclusive access to Lux events, such as all VIP Opening Receptions and Studio Series, 15 annual engaging events, free of cost. We are so thrilled with these changes. They are open Thurs & Fri 1 to 5 and Sat 11 to 5.

Art San Diego has moved again downtown San Diego at the convention center from Oct 10 to 13, 2019. The first international contemporary art fair was in Del Mar Grand Hotel, then it moved to the Hilton Hotel downtown, then to the Activity Center in Balboa Park, then to the Del Mar Fair Grounds and now it is back downtown.

Irwin Jacobs cofounde of r Qualcomm has finally had to back away from the Plaza de Panama project which would have taken all cars out of the center of the Balboa Park by creating a bypass of the bridge to a partially underground car park. Jacobs will instead concentrate on helping individual museums within the Balboa Park. Support by city councilman Chris Ward was needed and not forthcoming to revive the plans that were started in 2012.

In New York, The Sackler Family has funded the following major art institutions: American Museum of Natural History's Sackler Educational Laboratory, Dia Art Foundation's Sackler Institute, Guggenheim Museum's Sackler Center for Arts Education, Metropolitan Museum of Art's Sackler Wing, New York. This is all brought into question by the source of the family's business i.e. OxyContin from Purdue Pharma. But it turns out there are two large branches to the Sackler Family. The ones that give to the arts have no connection to Purdue Pharma. But because the UK's Oxford Ashmolean Museum, British Museum, National Gallery, Royal College of Art, Tate Modern, and Victoria and Albert Museum, this has becomes a major scandal and a major rethinking of art funding for the future. Many of these institutes have already said they will no longer accept donations from the Sacklers. Many news outlets are covering this story so watch for more updates. It would be a pity to lose much needed funding for the arts because of a need for juicy news items without fact checking.

OPPORTUNITIES (click to see a list of all current opportunities listed on SDVAN)

Synergy Arts Foundation is seeking six professional artists to mentor and collaborate with six young adults with autism. These young adults have an established body of work and are pursuing visual art as a vocation.

Mentor artist will dedicate three (3) two-hour sessions one-on-one to create one collaborative artwork (18" x 24") using the broad theme of "community". The balance of these sessions will be used to guide the mentee in creating one artwork. Each mentor will receive a stipend of $350 for these three sessions and to help cover the cost of any materials. The collaborative piece, the mentee's original piece and one (existing) artwork by the mentor will be exhibited at Foundry Gallery, Revision, Lux Art Institute, and Culture Brewing. To apply, please send a resume and cover letter to Naomi Nussbaum by April 30 for a final exhibition in September 2020.

There is a new full time tenure track ceramics/sculpture position at San Diego City College. Check it out here.

Volunteer beer servers are needed for the Craft Beer Block at the 23rd Annual SDCCU Festival of Arts in North Park on Saturday, May 11th. The festival is a community event for the betterment of North Park and for arts education. Contact Maximilian Guardacosta 619.294.2501

Front Porch Gallery and Oceanside Museum of Art are collaborating on a juried photography exhibit, The Six-Word Story. All selections will be shown at both venues. See the full prospectus for this no fee entry or contact Julie 760-795-6120

The City of Carlsbad's Library & Cultural Arts Department is seeking a mural artist to create a large-scale mural that will be all-ages friendly and have a strong visual impact. The mural will be located on the west-facing INTERIOR wall of the Georgina Cole Library, located in north Carlsbad near the intersection of Carlsbad Village Drive and Pio Pico Blvd. For more info: Karen McGuire 760.602.202

"A good photograph is one that communicates a fact, touches the heart and leaves the viewer a changed person for having seen it. It is, in a word, effective." Irving Penn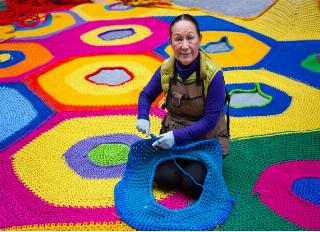 We are so excited about The New Children's Museum newest art commission Whammock! by internationally renowned textile artist Toshiko Horiuchi MacAdam. We can thank Tomoko Kuto for arranging MacAdam's first large-scale work at a Museum in the United States. A visually stimulating array of bright, hand-dyed nylon rope crocheted into a large-scale, three-dimensional sculpture resembling a large hammock, Whammock! will open to the public June 15. The New Children's Museum has won the 2019 National Medal for Museum and Library Service, the nation's highest honor given to libraries and museums. The New Children's Museum is the only children's museum to win the award.
Art Reports by or about SDVAN



SD Art Prize at the Athenaeum produced by San Diego Visual Arts Network

Picked RAW Peeled by Patricia Frischer
Art Walk Little Italy April 2019 Picked RAW Peeled by Patricia Frischer
Ruth Platner: Yom Hashoah - A Holocaust Remembrance through the Arts a Leichtag Foundation Picked Ripe by Patricia Frischer
Sandra Chanis sculptures: FRIVOLOUSPicked Ripe by Patricia Frischer
Passport to Dance produced by Encinitas Friends of the ArtsA+ Art Blog by Patricia Frischer


San Diego Visual Arts Network has a new Ongoing Events feature page on the website. So not only will we feature any event listed on our home page and in on our calendar, it will also appear with an image on our ongoing events page until the event ends: https://www.sdvisualarts.net/sdvan_new/ongoing_events.php

San Diego Visual Arts Network is pleased to announce that Chi Essary has been selected as the new curator of the San Diego Art Prize. Over the next year Essary will be streamlining and restructuring the prize to focus solely on emerging artists, increasing the prize's visibility and building public engagement. "I'm looking forward to streamlining the Art Prize and building its reputation and audience. It's a valued milestone in the artist community and I'd like to build the general public's interest in the prize and the emerging artists we have right here in San Diego." Chi Essary, new curator of the SD Art Prize. "We feel really fortunate to put the SD Art Prize into the capable hands of Chi Essary who will breathe new life into this time honored award for excellence. " Patricia Frischer, founder and coordinator of the San Diego Visual Arts Network which funds and produces the San Diego Art Prize.

San Diego Festival of the Arts is a multiple mediums of fine art and craft on Sat. June 8 from 10-6 and Sun. June 9 from 10-5. Waterfront Park (1600 Pacific Highway, SD 92101). SD Festival of the Arts has raised in excess of $2.5 million in support of 33+ adaptive sports programs benefiting more than 150,000 San Diegans with disabilities. More info Cami Tran 619.744.0534

Adam Belt: Almost There is having his third solo exhibition at the Quint gallery for the artist. The works from ALMOST THERE include reflective paintings, sculpture, and wall and video installations. The exhibition grew from a creative wanderlust engaging the artist's connection to place, phenomena and concerns that arise from a lifetime of exploration of the landscape. The artist states, "… The works featured in ALMOST THERE are born from a return to the landscape as the source for my work." Adam Belt is a former SD Art Prize recipient.Showing until June 22.More info: info@quintgallery.com 8584543409

We are lucky to be living in San Diego County which has a set of Library systems that now supplies 3-d printers! As the prices come down we might all have these printers in our homes evidentially, but for now, free instruction on how to use Tinkercad to create your own simple shapes and Thingiverse to choose existing files is offered. The price of $.15 a gram is reasonable for a small object and a fun exercise. As machines get faster and more efficient, prices will surely come down. Contact your local library to learn more.

Swish Project is the newest space in North Park (2903 El Cajon Blvd) which aims to engage and inspire the San Diego community through art exhibitions, poetry readings, installations and live music. They want to make art accessible for emerging, established and international artists — while creating a platform for local artists to reach an international audience. The space is managed by Edwin Negado (Gym Standard), Julian Klincewicz (Artist) and John Itiola (Artist/Musician). No website, but you can follow them on Instagram.

This past month, The Museum of Man has been celebrating the first anniversary of the opening of their exhibition PostSecret. Since opening in April 2018, they have received over 15,000 postcards. CBS Sunday Morning spoke with Frank Warren, the founder of the PostSecret project, and Erika Katayama, the museum's Senior Director of Audience Engagement, about the origins of the project and how the exhibit came to life. We saw it live but if you missed it then a look at the CBS link above.

The Athenaeum announced the latest addition to the Mural of La Jolla project. Alex Katz's Bill 2, 2019 is located at 7540Fay Avenue and was sponsored by Debby and Hal Jacobs; Larry and Tammy Hershfield . This mural celebrates Bill T. Jones, a well recognized modern-dance choreographer. Nine of the 30 artist in this project were part of the SD Art Prize.

Latin American Art Fair Fundraiser: A Night of Dinner and Art takes place on June 20 at 7 pm at Bread & Salt (1955 Julian Ave, SD 92113) $80 per person $150 per couple Contact Aida Valencia for more info.

The OH San Diego Architectural Foundation tour held a photo contest and the winners were announced. This is a great way to see a few of the details of our best structures.

The Lux Institute which is again between directors is still making progress. The new Reception Pass membership allows the membership holder free annual admission to all Opening Receptions and Studio Series at Lux for only $50 a year. This includes 5 annual guest tickets so you can invite friends and family! Their last opening reception of this season is Carolyn Case starting June 14.

R.B. Stevenson Gallery is pleased to announce More Like a Forest: paintings and sculptures by Richard Allen Morris at the Museum of Contemporary Art San Diego Downtown Jacobs Building which will open June 21 through Nov 3.

Congratulations to Hugo Crosthwaite who is one of 46 finalists in a Smithsonian National Portrait GalleryOutwin Boochever Portrait Competition. His portrait will be on view in Washington, DC for 10 months starting Oct 2019. If he wins he will get $25,000, plus a commission to create a portrait for the museum's permanent collection.

Eleanor Greer is featured on The Studio Door's Creative InnerView series. She was the Business of Art Scholarship recipients for the Mission Federal Art Walk last year sponsored by San Diego Visual Arts Network. Other interviews can be found at this link.

Luis Garcia and Mauro Doñate have now opened their space Weird Hues to the public but are looking for a new site. Chula Vista is a richer district because of these two dedicated art promoters.

Do you miss the Mingei? Crafting Opportunity is a new exhibition at the Downtown Library which showcases works from the Mingei while its Balboa Park facility is under construction. Barbara Hanson Forsyth curated the show with an emphasis on mid-century women's creation in furniture, textile and design. The exhibition is on view until July 28.

OPPORTUNITIES (click to see a list of all current opportunities listed on SDVAN)

The Athenaeum Music & Arts Library in La Jolla announced a call for entries for its 28th Annual Juried Exhibition . The deadline to apply is June 7 for this exhibition which is one of the best juried shows in San Diego

By the time you see this, the deadline will be over (May 22) but the SD Airport is commissioning a $300,000 new art work to be sited in front of security fencing that surrounds a secured Airside apron area used by airline tenants for staging of cargo and ground equipment. The artwork is expected to double as a screening element and may take the form of a screen, wall relief, or multiple successive sculptural elements.

The annual call for artists comes from the Mission Trails Regional Park to showcase your work in 2020. The deadline to apply is June 30 for application. For more info: Vicky DeLong 619-286-1361

"I like to put my all into it because that is the whole point of making art, not to pretend I am someone else but put myself out there." C. Duncan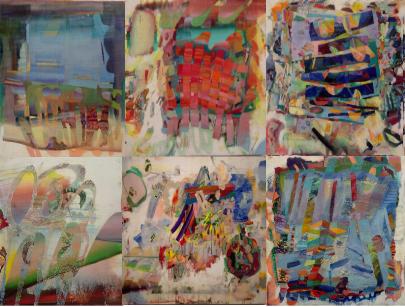 Baltimore artist,Carolyn Case, is the current Artist in Residence at Lux Art Institute. You can meet her there until July 13 and see the show through August 3.

Art Reports by or about SDVAN

Fun, fine art and furniture featured at Art Prize exhibit in La Jolla La Jolla Light by Lonnie Burstein Hewitt
In Common at WonderspacesPicked RAW Peeled by Patricia Frischer
San Diego Museum of Art, June 2019 Picked Ripe by Patricia Frischer

Our next banner is in support ofMethodology and Processat RB Stevenson Galleryincluding Richard Allen Morrisand John Rogers in La Jolla on view until July 20. More info: 858.459.3917

I am pleased to announce the formation of the South County Arts Network. Like NCAN goes west to east, so does SCAN and includes all the visual and performing arts resource from south and east county. They are holding an organizational meeting on Sat. July 6 for arts leaders and we would like to see any of you there from this part of SD County. The meeting is from 10 am to noon at the Bonita Art and Cultural Museum. See full details and get your free tickets.Why should you go….Three Things You Need to Know A+ Art Blog by Patricia Frischer

As many of you know SDVAN has been very instrumental in forming the North County Arts Network. They put on a very successful Open Your Hearts to North County Arts last year which will happen again this fall of 2019. So make sure and list your October events on SDVAN as soon as possible to make sure you are included in the printed brochure.

We can't wait to see the latest installation by Roman de Salvo (SD Art Prize) at the Timken Museum. Electric Picnic is the result of his the artist-in-residence status and once again he will be using everyday materials in an unusual way. The installation is up until August 28 th.

The Bonita Museum and Cultural Center presents Nuestra Frontera: Our South Bay Families at the Border from June 29 to August 24.There is a fundraising dinner on June 29. Watch for more events at the museum as it is now directed by Wendy Wilson and she is transforming the space. For more info:619.267.5141

Lux Art Institute founded in 1998, announces its new executive director as Andrew Ütt. He acts as Lux's third director now that Reesey Shaw and Kathleen Stoughton are gone. "Andrew brings the energy and experience that we're looking for to work closely with our staff and reach out to the community," said Linda Brandes. "He'll be an asset to Lux's growth and developing the programs that make a difference to those we serve." In San Diego, Ütt has worked with the Mingei International Museum, the San Diego Art Institute, and the Museum of Contemporary Art.

As you can see from the posting above, San Diego Museum of Art, June 2019, it is a good time to join the museum and at the same time you might consider joining the SDMA Contemporary Art Committee. After a very successful run as chair by Robin Lipman, that post is now going to be held by Vallo Riberto former director of the Southwestern College Art Gallery.

We are really looking forward to Edgar Degas:The Private Impressionist, Works on Paper by the Artist and His Circle (exhibition opens July 20th) at the California Center for the Arts, Escondido. His circle includes from Mary Cassatt, Paul Cézanne, Edouard Manet, Camille Pissarro, and Henri de Toulouse-Lautrec.

Did you know that the current theme for art at the SD Airport isForces of Nature? This temporary exhibition is open for a year and has installation by 16 artists including Sasha Koozel Reibstein, Rebecca Webb, Perry Vasquez, Lori Lipsman & Terri Hughes-Oelrich, Cheryl Sorg and William Feeney (can wait to travel so I can see his suspended cardboard sharks!)

Balboa Park was declared one of three cultural districts in SD (Oceanside and Barrio Logan are the other two) and they were further helped by the CA state budget by $8.66 million to the city of San Diego for Balboa Parks projects – specifically $8.26 million for the Botanical Building renovation and $0.4 million to complete the International Cottages. We were also pleased to see that $9 million is going to the Navy Training Center Foundation (NTC at Liberty Center) for renovations to this arts center.

The California Arts Council announced 1,243 grant awards totaling $20,823,541 in project and operational support for nonprofit organizations and units of government throughout the state of California. Two additional grant programs, providing support for local, regional and statewide arts partnerships, are slated for approval by the Council at its meeting on June 25, increasing the total award amount for the 2018-19 fiscal year to a projected $24,508,541 across more than 1,300 grants. This is the largest investment in the arts in two decades.

Whoopee for Museum of Modern Art in New York. MoMA has recently received a $100 million gift from David Geffen (the Hollywood guy) and another $200 million from the estate of David Rockefeller. Yes, MoMA director Glenn Lowry, these are the "…gifts you only dream about," The museum will be closed until Oct for major renovations and rehanging.

OPPORTUNITIES (click to see a list of all current opportunities listed on SDVAN)

Lux Art Institute is looking for a new Membership Coordinator at $22/h to process donated, outstanding, and new memberships via Etapestry, mailing/email lists, and generate membership gifts.

It is that time of year when we are calling all fine artists who would like to participate in the 15th LeucadiART Walkpresented by 101 Mainstreet on August 25, 2019. This is the largest juried fine art walk in North County with 101 artists on display, live music, dance performance, live art opportunities and more! They invite you to apply via our website. Event details: Sunday, August 25th from 10am-5pm. More info: 760.436.2320 or info@Leucadia101.com

It is not too late (deadline June 30) to submit your lighted sculpture tree topper design for the Encinitas Holiday Tree. The theme this year is Spirit of Encinitas and it is the 25 th year of the lighting of this tree that has its own address and light source.

LEWIS is a global marketing agency with an office in downtown San Diego. They work with artists within the community to help bring exposure to their work. They are accepting submissions for digital, print, painting, drawing, mixed media and more to be hung in their office's Orbital Display for 12 months. The submission deadline is August 20th, 2019 and qualifying submissions will be chosen by September 3rd. If interested in details of the call, who we are, and what the display is all about, please contact Halston 6193085229 requesting the essential call documents and mood board

Art On 30th / Ashton Gallery is making a call for artists for its show 75 and Sunny. Any piece that has prominent yellow is eligible. Any piece that captures the spirit of summer in San Diego is eligible. Also, if you are 75 years old, your entry is free. $35 for 1 to 2 entries $45 for 3-4 entries. Juror: Cindy Blumkin Owner, ArtnSoul 101. Submit by July 5 for opening reception on July 13 More info: Ari Kate Ashton 619-894-9009

"Working on Photography is working on oneself." Irving Penn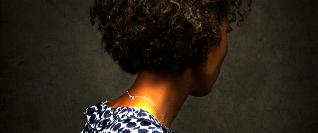 Alanna Airitam: Crossroads until Sept 14 at Quint Gallery
Art Reports by or about SDVAN
Melissa Walter at Ice Gallery, Bread and Salt Picked Ripe by Patricia Frischer
Adam Belt at Quint Gallery Picked Ripe by Patricia Frischer
Richard Allen Morris and John Rogers at RB Stevenson in La Jolla Picked RAW Peeled by Patricia Frischer
'Wonderspaces' interactive-art experience pops up again in San Diego La Jolla Light by Lonnie Burstein Hewitt
Kaleidoscope of Dance exhibition at Sergott Contemporary Art Alliance Picked Ripe by Patricia Frischer
Light and Space: Contemporary Continuations at Cannon Gallery Picked Ripe by Patricia Frischer
Birthing a New Art Organization A+ Art Blog by Patricia Frischer
This month's banner is in support of ArtsBusXpress, a non-profit organization which provides transportation funding for teachers to take their students to the many arts and culture venues across the county. As teachers make plans to return to school this fall and include educational field trips as part of their curriculum, please support their efforts by providing them with the gift of transportation. For many students, these educational field study trips are their first time to experience live theatre, symphonies and art museums. You can donate to their cause at ArtsBusXpress because "no child should ever have to miss the bus!"
Art San Diego is returning to downtown San Diego at the San Diego Convention Center this fall from October 10—13. Continuing into its second decade with Presenting Sponsor UBS Financial Services, the fair will showcase the leading galleries, exceptional artistic talent, and host specially curated programming including the SD Art Prize this year presented by Vallo Reiberto for the San Diego Visaul Arts Network.
Synergy Arts Foundation is collaborating with Andrea Moriarty, author of Radical Inclusion, and Revision Creative Arts Program, which works with developmental disabilities. Six professional artists were paired with an artist with autism The resulting collaborative works together with one original artwork from each participant will tour San Diego County from August this year through the end of 2020. The Radical Inclusion Traveling Art Exhibition will be on display at the Sophie's Gallery in Kensington, Foundry Gallery in Carlsbad, Culture Brewery in Encinitas, Revision in San Diego, and Lux Art Institute in Encinitas. All works will be for sale.
Congratulations to all our friends in El Cajon. The new Magnolia Performing Arts Center was formerly the East County Performing Arts Center, shuttered for the last 10 years ago. But it will rise again on Sept 13. The Price tag was $8.2 million for this makeover which includes seating for 1200 fans, a completely refurbished lobby bar serving craft beer and cocktails, a brand new VIP Lounge, plush front row seating, updated guest amenities and elevator access to the upper level seating for easy accessibility.
John Chalmers is a scientist who has an artwork in the UC San Diego Visual Arts Group's 2019 Summer Art Show at the UCSD Price Center West. The show runs until August 30 in the Red Shoe Room, Bear Room, and first and second floor display cases. His work plots music theory in The Minor Mode. Chalmers was deeply involved in our DNA of Creativity project that culminated at the Oceanside Museum of Art in 2014.
The San Diego Museum of Art Artists Guild is publishing aCentennial Book of the 100 Artists from the last 100 years. It was researched and selected by Guild members and financed by members and other donors. We are excited to see this soon as the Guild is the oldest support committee of the Museum. For more info: Angelika Villagrana, (619) 222-1034
It's official: Governor Newsom has signed the 2019-20 budget to include an ongoing $10 million increase in the general fund to the California Arts Council, the state arts agency. This represents an increase in state funding for the arts from $16 million to $26 million, the largest increase in funding since 1999. The funding total represents a per capita investment of $.66 cents per person and places California in 26 th rank for per capita spending in the United States:National Assembly of State Arts Agencies
New Village Arts is giving us a great combo of Art and Theater with their production of A Weekend with Pablo Picasso. The artist living in France in 1957 at the height of his celebrity and facing an unexpected high-profile commission to crank out six paintings and three vases over the course of a single weekend ("Who do you think I am — Dali?" he grouses on the phone to his art dealer). Each night, the Picasso actor Herbert Siguenza will auction off one of the paintings he creates during the course of the evening's performance. The production will run from August 9 to August 25, 2019 and is written by Herbert Siguenza and directed by Todd Salovey.
Fabiola Jean-Louis, Judy Tuwaletstiwa, Chiachio & Giannone, Kahn & Selesnick, Cammie Staros are the artists chosen for the 2019/2020 season at the Lux Art Institute. These artists who come from outside San Diego will have a residency period and then extended exhibition schedule are will be showing a variety of mediums.
Ted Washington's Puna Press is in his 10th year exhibiting at the San Diego Comic-Con International. They are primarily poetry publishers but this has been a great way to create diversity in their audience. One project is Horn Dog, hand drawn and written by Washington and photocopied to make a zine style publication.
San Diego International Airport Arts Program's 2019 temporary exhibition Forces of Nature is on view now. The yearlong airport-wide exhibition features sixteen distinct exhibitors whose artwork and collections explore the complexity, fragility, and beauty of our natural landscape. Selected by a jury of art professionals, the participants were chosen based on their creativity, unique use of media and relevance to the exhibition theme. Of the eighteen sites that make up the exhibition, seven are located before the security checkpoint and eleven are post-security.
In a recent survey report issued by Expedia on the subject of Bleisure travel (Business that also include leisure) it turns out that museums/art and culture at 41% are higher attracter that outdoor recreation/beaches 34%!
OPPORTUNITIES (click to see a list of all current opportunities listed on SDVAN)
Now is the time to sign up for ArtWalk Liberty Station August 10 & 11. In 2019, ArtWalk @ Liberty Station celebrates 14 years of bringing visual arts, music, and interactive art-making for families to San Diego in Ingram Plaza at the Arts District at Liberty Station. ArtWalk @ Liberty Station also features a shaded wine and beer pavilion and a street food area. And don't forget to sign up for ArtWalk Carlsbad September 21 & 22, 2019. In 2018, ArtWalk Carlsbad made its debut. This fine art festival is part of the ArtWalk San Diego brand known for promoting the experience of owning original art. More than 175 visual artists will show and sell their work, alongside colorful chalk art. This year A.J. Croce will perform Sunday Sept 22 afternoon performance at 2pm. More info Sean Christensen 619.615.1090
"Youth is the gift of nature, but age is a work of art." Stanislaw Jerzy Lec


Deron Cohen (left)professional artist and Stevenson Sapper (right)autistic artist struggled to communicate verbally, but the relationship soared when the conversation became visual. Both are showing in Radical Inclusions an exhibition where six professional artists were paired with six autistic artists to create collaborative artworks reflecting their vision of "community". It opened at Sophie's Kensington Gallery and continues until Sept 1 and then launches again at Revision Gallery at 2050 Hancock St. SD 92110 starting Sept 21 produced by Synergy Arts Foundation.

Art Reports by or about SDVAN

What's new at Museum of Contemporary Art San Diego downtown? Three makes-you-think exhibits open La Jolla Light by Lonnie Burstein Hewitt
Athenaeum Annual Juried Exhibition July and August, 2019 Picked Ripe by Patricia Frischer
Oceanside Museum of Art - Four in one: Roland Reiss, Dress Rehearsal plus Picked Ripe by Patricia Frischer
Ocular Artist A+ Art Blog by Patricia Frischer

San Diego Visual Arts Network is pleased to announce the four artists that have been nominated by a group of art professionals for the San Diego Art Prize in 2020 - Alanna Airitam, Kaori Fukuyama, Griselda Rosas, andMelissa Walter. These four nominees were chosen from the nomination list for an exhibit at the Athenaeum Music & Arts Library from Sat, May 9 to Sat, July 3, 2020when the winner will be announced. The four nominated artists will be showing examples of their work at Art San Diego from Thurs, Oct 10 to Sun, Oct 13, 2019, this year at theSan Diego Convention Center Booth #122 (Hall E 111 W Harbor Dr. SD, 92101). A selection of artists will be on display curated by Vallo Riberto, former gallery director at Southwestern College and current president of the Contemporary Art Committee of the San Diego Museum of Art. Read the full press release SD Art Prize 2020 Finalist Announced including new members of the SD Art Prize committee Larry Baza and Alessandra Moctezuma.

Please support the Open Your Hearts to North County Arts campaign to promote visual and performing art for the entire month of October. Remember to list your north county visual arts events on SDVAN for Oct so it will be displayed on the. North County Arts Network website. Please buy your tickets for ArtWalk Carlsbad on Sept 21/22 where for the second year, this promotion is being launched with this code which will give $2 per ticket back to NCAN.

South and East County Arts Network (SECAN) will have their next meeting in mid-September. Send Blanca your email address to be added to the list to get minutes, agendas and updates about this new organization.

Encinitas Friends of the Arts is holding its third EFA Artists Collective meetingon Sept 28 at the Encinitas Library from 3 to 5 pm. RSVP to be included in this meeting to establish goals and projects for local artists. There is a call for a new logo for this group and a prize to the design used. More info: Angela Jackson

Debb Solan founder of Idea Field/FusionGlass is closing the doors to the physical gallery to concentrate on her online presence, custom work and mobile classes and workshops. The decision will allow the artist to travel to see family in friends, who are long since overdue a visit!We are so happy for her, but it is definitely the end of an era. The good news is on Sept 6 th there will be a special sale event for VIP's from 6:30 -9:00pm and open to the public on Sept 7 th. The better news is that custom classes and workshops are still available from their mobile selection which includes Marjorie's Pezzoli's silk painting classes as well as many of the classes that have been available over the years. They bring all class supplies to your location. Debb will be back without the overheads of a shop and we know her making all of things bright and beautiful will continue.

The New Children's Museum Introduces a new Studio by the Bay in Seaport Village. This is an extension of the Museum's collaborative and process-based art practice and provides a space for selected artists to create new artwork in a studio that is open to visitors. Along with creating a new body of work that explores San Diego's blue economy and connection to water, the artists are partnering with the Museum each month to host Studio by the Bay Family Days, free weekend art workshops for children and families. The first artists are Kurosh Yahyai and Writerz Blok: Jose Venegas.

We applaud Voice of San Diego writer, Julia Dixon Evans who is giving advance notice not only of performing art and literature but also visual arts. In one posting in late July she promoted for example: Culture and Cocktails night at SDMA .a public art unveiling at Arts Park at Chollas Creek of Roman de Salvo's "Chollas Realm," and Deedee Morrison's LED project "Visualize Biodiversity.", "Shades of Green" a plant-inspired art show at Visual in North Park Best Practice's exhibition, "Familiar Spirit," by Angie Jennings, and "Dress Rehearsal" at the Oceanside Museum of Art.

Help James Hubble to finish the film of his life story. Give to a Kickstarter fund by the end of September…some nice rewards, but the best reward is paying homage to this fine man. More info from Ilan-Lael Foundation

Congratulation to Studio Door for being chosen the Best Studio Gallery in San Diego for 2019 by San Diego Magazine in their Best of San Diego Issue. They have a terrific line up of exhibitions and events coming up including: Oct 5 – 26 for San Diego Original Printmaking Showcase, Nov 2 – Dec 20 for Best of FIG - Feminist Image Group, Sept 14 with Michael Kimmel workshop: The ART of Aging Well and Sept 26 Uptown After Hours [Jazz]. PLUS: Sonia Sparks has invited the studio artists of The Studio Door to collaborate for the exhibition Uptown Meets Downtown from Sept 29 to Jan 5 with an artist talk on Oct 17 from 6 to 8 pm.

Cornelia Feye Lectures on Surrealist Art is a four-part lecture series at the Athenaeum Music & Arts Library in La Jolla from on Oct 1 to 22 on Tuesdays at 7:30 pm. Tickets are $14 member / $19 nonmember but series tickets: $48 member / $68 nonmember. More info: Lidia Rossner 858-454-5872

Medium Photo welcomes you to a full day of artist lectures on Saturday, October 19 with a lecture by artist and Guggenheim Fellow Louie Palu

SD Rising Arts Leaders announced its 2019 Virgil Yalong Quick Grant recipients: Carly Topazio, Cassandra Kaawaloa, Nhu Nguyen, Carolyn Osorio, Victor De La Fuente, Diana Agostini, John Hogan and Elizabeth Carrow. These professional development grants are up to $1,000 each.

Nina Garin is leaving KPBS Arts to take a new job at San Diego Union-Tribune's Pacific Magazine. We understand the new arts correspondent will be Beth Accomando. We hope that Pacific Magazine gives plenty of shoot outs to the arts. San Diego CityBeat is under new ownership, recently acquired by Times Media Group. We are wondering how this might affect the art and culture reporting?

Joe Terzi, president and CEO of San Diego Tourism Authority will retire in January 2020. Terzi has done an incredible job leading the tourism industry for both the San Diego region and for California since he took over the leadership in March 2009. Under his direction and vision, the SDTA expanded their focus and influence from the west coast to the current broad reach of the entire U.S. and eight countries with a fully integrated destination sales and marketing plan.

Monarch/Arredon Art in La Jolla is now solely Arredon Art and is moving to a gallery office in West Broadway. Right now they are only open by appointment. Their online gallery is hosted by Art Net.

We just found out about this Murals of San Diego Map from the San Diego Tourist Authority. We don't know who put this together or why all the Murals of La Jolla or the Chicano Park murals or the Encinitas murals are not on this map.

The Big Story Art Exhibition at Sophies Kensington Gallery is the first curated by Phil Petrie and starts on Sept 4. Stories are important whether they are small stories about the challenges and triumphs in our lives or big stories about the arc of a civilization. In a period of crisis (environmental and otherwise) stories can serve as guides, showing us where we are and nudge us toward transformation. For each work in this show the intention was to bring these stories together to create a bigger story of our culture at this particular 21st century moment. More info petriep2@gmail.com 619.654.3679

SANDAG has invented a Vision Lab to help flesh out the 5 Big Moves – Complete Corridors, Transit Leap, Mobility Hubs, Flexible Fleets, and the Next Operating System (OS) to enable future transportation planning. This includes a digital sketch planning tool and interactive maps to learn where people live and work around our region. There is a Vision Advisory Panel to develop the strategy. "The Vision Lab is a place for SANDAG staff to work alongside transportation and technology experts and members of the public to develop the best transportation system in the world," said SANDAG Executive Director Hasan Ikhrata. "We invite all San Diegans to visit, learn, and have a voice in the future of this bold new vision." You can visit Tuesdays between 10 a.m. and noon and Thursdays between 2 and 4 p.m. but these may change through 2021. SANDAG Downtown offices, 401 B St., 20th floor, San Diego.

Naomi Nussbaum fromSynergy Art Foundationtells us thatThe Los Angeles County Board of Supervisors will impose a 1 percent civic art fee on non-residential developments in unincorporated areas, to fund civic art but postponed a decision on whether to do the same for large residential projects. The county already requires developers on county-funded public building projects to pay 1 percent of project valuation for the arts, and at least 36 cities countywide have similar policies or ordinances. The ordinance would apply to projects valued at a minimum of $750,000. San Diego has an art in private development program that requires certain private, non-residential development projects in the city provide 0.5 percent to 1 percent of the total building permit valuation. This program is governed by the San Diego Municipal Code and is overseen by the Commission for Arts and Culture. Come on other San Diego county wide cities, what are we waiting for!

We love this miniature golf course designed by artist inspired by the Nelson Aitkens Museum in Kansas City. Art Course is an original, fun idea and is nice to see this sort of creativity used promote the arts.

OPPORTUNITIES (click to see a list of all current opportunities listed on SDVAN)

The 28th Annual Juried Exhibition runs from July 20–August 24, 2019 at the Athenaeum Music and Arts Library is a show we always look forward to viewing. The following is a personal selection and does not show the wide selection made by the jurors: Anthony Graham, Assistant Curator, MCASD and Alana Hernandez, Curatorial Fellow, MCASD.

Encinitas City Art Exhibitions is inviting submissions from contemporary artists in various forms of 2D Media, Sculpture-based, Mosaics & Ceramics, inspired by the theme of Oneness and Unity of existence. The is an Art Interfaith exhibition with the goal of promotion of the spirit of Unity and oneness through the universal language of ART produced jointly by M.T.O. Shahmaghsoudi® School of Islamic Sufism® in collaboration with SDIMA (San Dieguito Interfaith Ministerial Association). Deadline: August 31, 2019. For more info: Soori McEachern 619-866-8808

The California Arts Council 2019-20 grant season is coming to you by mid-September! Be sure to check your ArtBeat newsletter weekly for all the need-to-know info, including program-specific details, dates, guidelines and more.

Overheard: "It's like everything and nothing at the same time"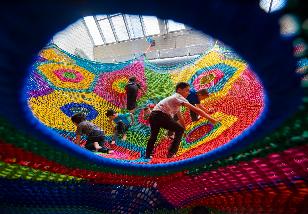 The New Children's Museum Whammock! by Toshiko Horiuchi MacAdam photographed by Philipp Schotz Rittermann (SD Art Prize recipient). This past year, the Museum has worked closely with Los Angeles-based and internationally-acclaimed artist, designer and craftsperson Tanya Aguiñiga to reimagine a new Tot Studio, called tikitiko, scheduled to open in October.

Art Reports by or about SDVAN

Cheryl Sorg: To Reach the Clouds at Hillstreet County Club Gallery Picked RAW Peeled by Patricia Frischer
Chromatic: Grounding with Color with April Rose and Katie Ruiz at SD Mesa College Art Gallery Picked Ripe by Patricia Frischer
Fabiola Jean-Louis at the Lux Art Institute Picked Ripe by Patricia Frischer
Haunting Black Narrative opens Lucky Season 13 at Lux Art Institute Encinitas Advocate by Lonnie Burstein Hewitt
Isolationist or Globalist? A+ Art Blog by Patricia Frischer
Art San Diego 2019 press release

October is Art Fair season in San Diego. Visit theSD Art Prize at Art San Diego presented by San Diego Visual Arts Network featuring SD Art Prize 4 finalists:Alanna Airitam, Kaori Fukuyama, Griselda Rosas, and Melissa Walter andFrom Folk to Artificial Intelligencecurated by Vallo Riberto: Ernesto Bogarin, John Dillemuth, Shuichi Hashimoto, Kazmier Maslanka, Gustavo Mayoral, Neil Shigley, Ron Tatro and Cindy Zimmerman. Both can be found at Booth #122 from Thurs, Oct 10 to Sun Oct 13 at the San Diego Convention Center (Hall E 111 W Harbor Dr.SD 92101). Read the full press release

Finally the two fairs are coordinated and so we have a satellite fair just like the big cities! Latin American Art Fair 2019at Bread and Salt (1955 Julian Avenue, SD 92113) on Sat/Sun Oct 12/13 is recognized as a multicultural hub for showcasing art and cultural programming in Northern Baja and Southern California. Fair goers can enjoy a juried Latin American art exhibition and savor Latin cuisine, craft Mexican beer and some of the best wines from Valle de Guadalupe, BC, while being entertained by a variety of music and performance entertainment. To watch a video and more info Aida Valencia 619 752-6118.

Good news the Barrio Art Crawl is also that Sat Oct 12. All together consider this a San Diego Arts Weekend. For you film fans San Diego Film Festivalis the next weekend Oct 15 to 20.

October is the official National Arts and Humanities Month, and we loveOpen Your Hearts to North County Artsnow in its second year.This promotion is for the whole month of October. Check out both visual arts performing arts on the North County Arts Network.

Portrait of People in Motion at New Americans Museum (NAM) is an exhibition resulting from the yearlong residency NAM Artist-in-Residence Kerianne Quick. The residents of San Diego were invited to share meaningful objects related to their story. The resulting exhibition; paints a portrait of our city through objects carried, remembered, historical, or necessary brought on – or left behind during – an international or domestic migration journey. Technology was used to digitally record and re-create a translucent version of these items of deep significance which tell each individual participant's story.

We are so pleased for Meyer Fine Art, which has just been nominated for reader's choice Best Art Gallery by San Diego Magazine. Their exhibition Summertime featuring Clay Walkeris on now through October 12.


Stone and Glass has been awarded Glass Blowing Studio of the Year 2019 Southern California and Best Community Arts Experience 2019 San Diego County by LUXLife magazine in theirannual Family and Visitor Attraction Awards.

At the San Diego Museum of Art, Bouguereau & America reexamines the painter whose reputation declined with the introduction of Impressionism. Bouguereau's rise and fall serves as a prime example of the power society has in shaping preferences in the art world. This exhibition will start November 9, 2019 and be on display until March 15, 2020. Also at the San Diego Museum presents a new Culture & Cocktails evening to celebrate the female artists who contributed to the Abstract Expressionist movement on Thurs, Oct 17th from 6 p.m. to 10 p.m. Walk through the exhibition that inspired it all – Abstract Revolution, which views abstract expressionism through the lens of women's contributions..

Watch for 2 great presentations at Studio Door (3867 4 th Ave, SD, 92103): San Diego Art's Coverage with Michael James Rocha on Sat. Oct 5 at 11 AM and California Arts Council with Larry Baza on Sat. Nov 9 also at 11 AM. More info: Patric Stillman 619-255-2867

Sparks Gallery has invited the studio artists of The Studio Door to collaborate with an exciting exhibition titled "Uptown Meets Downtown" at Sparks Gallery. The opening reception wine sales will benefit the nonprofit group POZabilities. It is a win-win-win!

Rising Arts Leaders SD is presenting Creative Conversations 2019 Perspectives on San Diego's Arts and Culture Landscape with guest speakers, Jonathon Glus, Executive Director, San Diego Commission for Arts and Culture, Alessandra Moctezuma, Gallery Director and Professor, San Diego Mesa College and Tomoko Kuta, Deputy Museum Director, The New Children's Museum. This will be held Fri. Oct 11 at 5:30 - 7:30 PM at White Box Live Arts (2590 Truxtun Rd, # 205, upstairs, SD 92106) More info: risingartssd@gmail.com and tickets

You will have to wait until Nov 9 th to see the exhibition James Verbicky: Lost Where I Belong at the Madison Gallery in Solana Beach. But they are featuring works by Boaz Vaadiathe Israel artist who died in 2017 who worked with slabs of blue stone to build up potent figure shapes.

With Out Walls i.e. WOW Festival produced by La Jolla Playhouse is a biennial four-day celebration of site-based and interactive performances, taking place October 17–20 at the Arts District Liberty Station in partnership with the NTC Foundation. This year, a whole range of visual arts venues will be open during the festival plus the three new public art installations will be on view. Check out the full schedule for both. Tickets for WOW Festival performances range from free to $20 and are now on sale. More info: WOWFestival.org .

OPPORTUNITIES (click to see a list of all current opportunities listed on SDVAN)

The City of Encinitas Cultural Arts Division oversees three civic galleries: the Civic Center Gallery at City Hall, the Encinitas Library Gallery, and the Encinitas Community Center Gallery (with 2-D and 3-D exhibits at all locations). They are accepting applications to exhibit in 2020 with 50 exhibitions of 2 months each to fill. There is no gallery commission so the artist receives 100% of all art sales. Artists from Encinitas and San Diego County are welcome to exhibit. The deadline is September 26 so fill out an application now. For more info: full details for all galleries.

Space for Art is looking for a new Manager of Operations and Administration. For a complete list of duties look at the SDVAN opportunities listing or contact Jennifer de Poyen 619 269 7230

Oceanside Cultural Arts Foundation is making a call for artists for Art Walls Oceanside 2020. They have just completed the pilot year at O'side Bakery will continue with 6 artist shows into 2020. They have added 2 shows at the Mission Branch Library as well as 1 show at the Civic Center Library. And, they have also acquired a new business venue in downtown Oceanside, Blade 1936, an Italian restaurant opening soon. There is a $25 fee. Applications by Nov 1 st. For more info: Blake Kern 760.439.0928

Commission for Arts and Culture is making a call for artists for Public Art / Public Sphere: A 3-day Intensive for Artists will be held on three Saturdays: November 16, 23 and December 7, from 9-5 p.m. Applications are due: October 4.

Join the Stories Committee and interview or be interviewed for a special series highlighting the precious stories of artists, art educators, arts leaders, arts organizations, and art businesses in south and east San Diego. Or Join the Directory Committee and research south and east San Diego arts organizations, galleries, and artists or be featured! For more information and to volunteer contact Blanca Lucia Bergman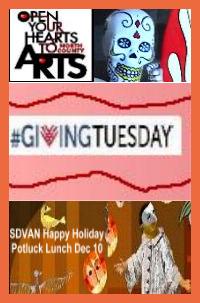 SDVAN is supporting of Dia de los Meurtas events all over the county including Encinitas Friends of the Arts event on Oct 26 th from noon to 4 pm.
Make a note: Giving Tuesday Dec 3 is our once a year donation campaign.Your donation make possible our brand new bi-monthly events digest emails, our new ongoing events feature page and the rolling upcoming events on our home page. We want to thank all the organizations that list events on our calendar. We appreciate donations of any amount.

Save the date: We hope you will celebrate with us at our Annual SDVAN Holiday Pot Luck Party on Tue. Dec 10 from 11 am to 2 pm. Thanks to Jack Ofield for his image. Please bring one dish or drinks for 8 to share plus Jewelry and Accessories for our free swap exchange. RSVP Patricia for direction to Cardiff by the Sea


"Creativity is like seeing what everyone else has seen, and thinking what nobody else has thought." Albert Einstein


Art Reports by or about SDVAN

Art San Diego top selections including the SD Art Prize and From Folk to AIPicked RAW by Patricia Frischer
Latin American Art Festival at Bread and Salt Picked RAW by Patricia Frischer
Liberty Station Then and Now Point Lomo OB Monthly by Lonnie Burstein Hewitt
NTC Liberty Station Art Installations and That's What She SaidPicked Ripe by Patricia Frischer
Immigration, Migration, Integration: SD Chinese Historical Museum A+ Art Blog by Patricia

SDVAN is supporting of Dia de los Meurtas events all over the county including Encinitas Friends of the Arts event on Oct 26 th from noon to 4 pm.

Make a note: Giving Tuesday Dec 3 is our once a year donation campaign.Your donation make possible our brand new bi-monthly events digest emails, our new ongoing events feature page and the rolling upcoming events on our home page. We want to thank all the organizations that list events on our calendar. We appreciate donations of any amount.

Save the date: We hope you will celebrate with us at our Annual SDVAN Holiday Pot Luck Party on Tue. Dec 10 from 11 am to 2 pm. Please bring one dish or drinks for 8 to share plus Jewelry and Accessories for our free swap exchange. RSVP Patricia for direction to Cardiff by the Sea

San Diego Art Institute is holdinga benefit party for the launch of the C-NOTE event on Nov 14. It will offer attendees first-dibs on over 300 contemporary art pieces from the 900 submissions juried by a select panel of six regional arts professionals for just $100, $200 and $300. (Limit one piece per guest during the opening night.) These works will be available to the general public starting at noon on Sat Nov 16. Free Public Preview Only Day: Friday, Nov. 15, 8am-3pm Public Sale Days: Sat/Sun, Nov 16/17 from 12-5pm. More info: 619-236-0011 info@sandiego-art.org

We would like to welcome Ladan Akbarnia, Ph.D. as the new Curator of South Asian and Islamic Art for The San Diego Museum of Art who started in October. Her most recent role was as Curator and Assistant Keeper for the Islamic Collections at The British Museum in London, where she was a lead curator for the Albukhary Foundation Gallery of the Islamic World.

This year at Art San Diego, Access to Art helped w selected nonprofits and those they serve to share opportunities in art, design, business development, and more. These included; Monarch School, ArtReach San Diego, Rady Children's Hospital, and Humble Design. Watch the video for last year's projects.

The SD Airport Arts Program debuted a new mural titled On The Map, features vintage San Diego aviation pioneers on a map-like design. It is the second of a three-mural commission by Jari "WERC" Alvarez, and is located on the Harbor Drive-facing south wall of the former Commuter Terminal, now the Airport Authority Administration building. In his commitment to the spirit of public art, WERC created On the Map utilizing input from both the community and the Teen Art Group of the MCASD.

The San Diego Museum of Art is opening Bouguereau & America November 9th, and will features nearly 40 canvases depicting modern interpretations of classical subjects by the popular French academic artist William Adolphe Bouguereau. Bouguereau's rise and fall serves as a prime example of the power society has in shaping preferences in the art world. Despite having been sought-after for his technique and themes, Bouguereau's reputation declined with the introduction of Impressionism.

Lots of exhibitions right now that are based on words: It Begins with a Word until Oct 25 at the Mission Trails Regional Park Gallery; The Six-Word Story until Nov 2 at the Front Porch Gallery and also at the Oceanside Museum of Art until Nov 24; That's What She Said….Artist Speak Out until Jan 10 at the Martha Pace Swift Gallery at Liberty Station which is a FIG and Expressive Arts Institute collaboration.

Our own San Diego fashion designer and now subject of the bookZandra Rhodes: 50 Fabulous Years in Fashionis published this month.You can get free shipping, a discount price and a portion of the sales comes to San Diego Visual Arts Network when you use the smileamazon link to purchase your copy. Great holiday gift!

We love it when a gallery lets me know some of their upcoming events. It makes me feel that the art world is secure and functioning properly. Sparks Gallery is hosting Duke Windsor for a Gold Leaf Workshop Jan 29 from 6-8 and there is a Contemporary Cake Walk: Sparks Gallery 5-Year Anniversary Celebrationon Feb 29 from 6-9.

Ladies Who Paint hosted 12 international and local woman artists to each paint a mural in East Village, San Diego. Their week-long stay included housing, all mural painting supplies, food and drink accommodations and an experience fit to encourage the powerful experience for these women.These women worked from Sept. 28 — Oct. 5, 2019, and you can see a map of their outside mural and use it to do your own art walk.

Quint Gallery has opened a new satellite space in La Jolla called FURTHER. This venue is in collaboration with the advertising and marketing company SIXTEENFIFTY Creative Design (7509 Girard Ave, La Jolla), and takes place in the office spaces, graffitied stairwell and lobby area of the building. Artworks by Ryan McGinness, Kim MacConnel, Roman de Salvo, Lee Materazzi, Mel Bochner and Thomas Glassford are included in the presentation. Stay tuned for more information on what is to come behind a massive gold door in the alley behind the building! Open Monday through Friday from 10-5, and by appointment. For more info or a private tour, contact Nina Howard.

Sparks Gallery (530 Sixth Ave, SD 92101) owner and chief curator Sonya Sparks has hand selected artwork from several local artists for a group show titled "Array". Trunk Show provided by Slipped Jewelry on opening night on Nov 2 from 6 to 9 pm. Exhibition until Jan 2, 2020. RSVP is required for the opening reception. 619-696-1416

Lux Art Institute has designed a class where students will discover through hands-on projects how to seek solutions, resolve problems and be creative in a meaningful way. The Sahm Family STEAM Program will offer some scholarships and takes place for ages 12-17 from 4 to 6 pm on Nov 7, 14, 21 and Dec 5, 12 and 19 . As you all know STEAM stands for Science, Technology, Engineering, ARTS and Math. For more info: info@luxartinstitute.org


OPPORTUNITIES (click to see a list of all current opportunities listed on SDVAN)

Conception Arts is accepting artists until Nov 10 for a one day event in San Diego Sat, Nov 16 th from 7 to 10 pm. To submit your work go to the website and choose \"submit work\". See examples of participating artists and events on Facebook, and Instagram @conceptionartshow. Conception Exhibits are now taking place across the US, and have been featured in the Dallas Patron Magazine, Wall St Journal and ABC news. More info: Renee Smith 212-369-7971

The City of Vista Art Commission announced a show at the Civic Gallery at the Vista Civic Center of work by Don Fike: Challenging the Surfaces open until Nov 3. They also made a call for artist for their next juried photo show from Nov 6 to Dec 18 but what is still open is the call for artist for the 12 Exhibition Summer 2020 Kites over Vista for original sculptural work with a deadline of Jan 21. Up to six artworks will be selected through a juried competition conducted by the City's Public Arts Commission. The selected artists will agree to loan the artwork to the City for a minimum of 12 months with ownership rights remaining with the artists. There is a stipend of $2,500.

1805 Gallery and Porto Vista Hotel are pleased to announce an open call for Vend Arts an art exhibition space inside a vending machine at the Porto Vista Hotel. The exhibition will explore "Material Zones", examining spatial environments that humans and nonhumans inhabit. We invite artists to submit works between $5- $60 with a maximum size 4x6 inches that observe the landscape and articulate their experience living in a natural world that is rapidly developing. Deadline: Monday, October 28. For more info Lauren Siry 619.888.8288

Mission Federal Art Walk Little Italy April 25/26is making a call for artist for its 36th year. Please submit your application by Nov 4 to be included in our Featured Artist selection process.

"There are two distinct languages. There is the verbal, which separates people… and there is the visual that is understood by everybody." Yaacov Agam


Art Reports by or about SDVAN
See 'em while they're hot: Several exhibits open at Oceanside Museum of Art La Jolla Light by Lonnie Burstein Hewitt
Dia de los Muertos, Coronado Historical Association and Museum, Talmadge and more Picked RAW Peeled by Patricia Frischer
Student photographers join the pros for Museum of Photographic Arts exhibit in San Diego La Jolla Light by Lonnie Burstein Hewitt
Bouguereau & America at SDMA Picked RAW Peeled by Patricia Frischer
Judy Tuwaletstiwa at Lux Art Institute Picked RAW Peeled by Patricia Frischer
Don't Bite These Fingernails! Fanciful 'Tiny Canvases' at Oceanside Art Museum La Jolla Light by Lonnie Burstein Hewitt
Who wants to be a millionaire artist? A+ Art Blog by Patricia Frischer

Make a note: Giving Tuesday Dec 3 is our once a year donation campaign.Your donation make possible our brand new bi-monthly events digest emails, our new ongoing events feature page and the rolling upcoming events on our home page. We want to thank all the organizations that list events on our calendar. We appreciate donations of any amount.

We hope you will celebrate with us at our annual SDVAN Annual 2019 Holiday Potluck Lunch on Tues, Dec 10, 11 am to 2 pm 2487 Montgomery Avenue, Cardiff by the Sea, 92007) Please bring One dish or drinks for 8 to share and Jewelry and Accessories for our swap exchange. Our thanks to Jack Ofieldfor his image on our full invitation card and the banner.The SDVAN Annual Holiday Potluck is a chance to clean out your costume jewelry drawer and maybe get a few pieces in exchange for those of yours that are looking for a new home. It is very casual, first come first choose, but as people arrive at different times, there are new selections over the course of the party. Accessories include jewelry, shoes, belts, hats purses, scarves…anything you want to have a new home. No money is exchanged. RSVP: patricia@sdvisualarts.net 760.943.0148

The New Children's Museum in downtown San Diego is the first museum to have a union organized work force. Eyes will be on the museum not just for it visually stunning setting for children but to see how this new contract is negotiated.

Hugo Crosthwaite has been awarded the first-prize in the Smithsonian National Portrait Gallery's Outwin Boochever Portrait Competition. He was selected from amongst 46 finalists and over 2,600 individual artist entries, including seven artists that were shortlisted for prizes. As the first-prize winner, Crosthwaite receives a cash award of $25,000 and a commission to create a portrait of a notable living person for the museum's permanent collection.

Congratulations to Kathleen Stoughton for starting a new position as Member Board Of Trustees, Chair Development and Acquisitions Committee atMuseum of Photographic Arts.

The Women's Museum of California at Liberty Stationis seeking 100 women to commit $100 a month in recognition of 100 years of suffrage. The goal is to sustain the museum into the future. Email or call Ashley 619 865-0276

We are always happy to see any promotion of the arts in San Diego and David L. Coddon is writing an email newsletter from the Union-Tribune Arts & Culture department with news about talented artists in town and from out of town who are bringing excitement and creativity to the stage, to the screen, to the galleries.

OPPORTUNITIES (click to see a list of all current opportunities listed on SDVAN)

Distinction Gallery (317 E. Grand Ave, Escondido) has a 120 square foot artist studio available at $475/Month and price includes: Wall for display space outside studio with 24/7 access (no live in) with huge number of perks and promotions included. More info: Melissa Walker 760-781-5779

Artists and artist teams are invited to submit qualifications for consideration to create an original artwork design for the Admiral Boland Way Mural Project to be reproduced as large-scale murals along the fence running parallel to the Wind Tunnel Building. Each mural will be 144' wide by 6' tall and will be on view for approximately 1 year. This opportunity is open to both emerging and established professional, practicing, previous public art experience not required. San Diego-based artists are strongly encouraged to apply. Application deadline is Dec 9th, 2019 by 11:59pm. For complete details and to apply, visit san.submittable.com.

RAW December 2019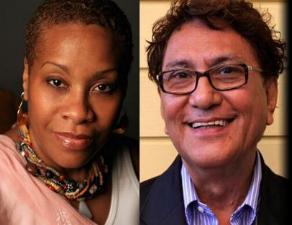 Chair of the California Arts Council Nahomeh Lindo and Vice Chair, San Diego's Own Larry Baza.


State of the Arts California, 2020 A+ Art Blog by Patricia Frischer

"Great art picks up where nature ends." Marc Chagall

Art Reports by or about SDVAN


Tiny Canvases: The Art of the Nail at OMA Picked Ripe by Patricia Frischer
Stitched Together: Visions hosts 5 eye-catching exhibits at Liberty Station La Jolla Light by Lonnie Burstein Hewitt
Every picture tells a story: See Judy Tuwaletstiwa at Lux Art Institute La Jolla Light by Lonnie Burstein Hewitt
Sensuality - Objects of Beauty at the IN Gallery Picked Raw Peeled by Patricia Frischer


The New Year starts off on Sat. Jan 11, 2 to 4 pm with an Artist Salon sponsored by The Encinitas Friends of the Arts' Artist Collective. The Eco-Visionairies will be a discussion that asked, "How can you use your art to advance solutions for environmental concerns?" This discussion will be moderated by Ellen Speert and held at her California Center for Creative Renewal, (1905 Crest Drive, Encinitas, CA 92024) RSVP for free tickets.

The Comic-Con Museum received notice of two major grant awards in support of our Education Center! Thanks to the David C. Copley Foundation ($250,000 award) and the Mandell Weiss Charitable Trust ($30,000 award). This will help with their second phase of the new space in Balboa Park and to build 5 new classrooms.

SD Museum of Art is stepping up its focus on technology and contemporary artists. Nick Roth: Fates is now open and a new video installation by Cauleen Smith will be coming in the spring.

Julia Dixon Evans is transitioning to KPBS as a full time arts editor from her free lance work at Voice of San Diego. We shall look forward to seeing her coverage of the arts there and to see who will take over at Voice of San Diego.

Attention, Ladies. Sent to me by Vallo Riberto: These 8 Female Artists Only Saw Their Careers Catch Fire Well Into Their 80s. Here's How They Finally Got Their Due. Good things come to those who wait. By Katie White, November 27, 2019 ArtNet

FIG member Helen Redman discovered that a painting by Anna StumpJane Doe, was removed without permission from the FIG exhibition That's What She Said...Artists Speak Out at the Martha Pace Swift Gallery due to remain until Jan 10, 2020. This gallery is located in building 2020 at Liberty Station. In its place a painting of an elephant was hung. We are pleased to say the painting was returned. Here is part of the Facebook posting from Wes Chester: "The pilfered painting….has been restored thanks to the efforts….of the primary witnesses @Pinot'sPalette whose info was invaluable….Julie Schrager who tracked down the security cam footage. Finally thanks to Anna Stump for trusting my hostage negotiation skills. This little canvas made it all the way to Kilgore TX and came back by mail."

We are so sorry to hear the sad news that La Bodega Gallery is closing its doors at the current location at the end of the year. This decision was made after the landlord made an unsustainable rent increase. But watch this space for news of a new location, we hope, as soon as possible. Contribute to their Go Fund Me campaign and help them in this transition to a new space.

We are losing Kaytie Johnson former curator at the SD History Museum in Balboa Park to the John Michael Kohler Arts Center where she will become the senior curator in Sheboygan, Wisconsin. Good luck, Kaytie

Watch this space for news of a new interim director for the Women's Museum of Califorina.. We predict good things for this essential organization.

Rosemary KimBal sends us a report about The Montreal Museum of Fine Art which is the first museum to have actually set aside physical space and created a scientific committee dedicated to art and health. In Canada, doctors are prescribing museum visits with the cost of admission covered by universal healthcare. Chaired by Rémi Quirion, Chief Scientist of Quebec, this advisory committee is made up of experts from the areas of health, art therapy, research and the arts, in addition to philanthropists and representatives of the MMFA. When we see art in hospital that is the Hospital as a Museum, now we have Museums as Hospitals!

OPPORTUNITIES (click to see a list of all current opportunities listed on SDVAN)

You can apply now for the Studio Door/San Diego Visual Arts Network Business of Art Scholarship for mentoring and a free booth at the Mission Federal Art Walk in April. Click here to download application. Due by Feb 1, 2010.

The Studio Door has also announced its judges for 2020 juried shows. You can enter your submissions on CaFé. The Crow Show: Judy Gradwohl, President and CEO of The NAT • San Diego Natural History Museum, 50 To Watch: Megan Pogue, Executive Director of Timken Museum of Art and PROUD+: Hunter O'Hanian, Executive Director of Stonewall National Museum & Archives (Fort Lauderdale & Wilton Manors, FL)

Fallbrook Art Center is making a call for artists with the theme Reflections of nature wildlife and landscape show. The artists are limited to 20 with an exhibition date of May 2&3, 2020. More info: Kimber Petralito 760 728 1414