(Don't forget - Check out the Picked RAW choices for next month)

ARCHIVED RAW
RAW May 2017
"Creativity is allowing yourself to make mistakes. Art is knowing which ones to keep." Scott Adams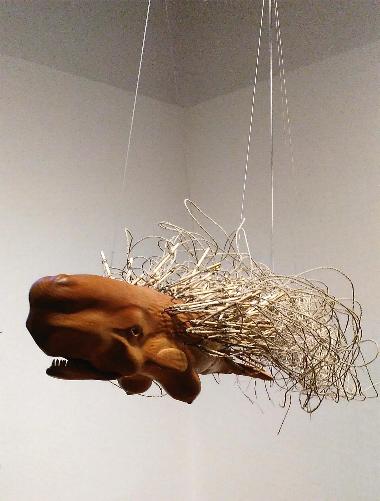 This is a hand carved wooden female sperm whale by William Feeny and part of the San Diego Art Prize 2016 at Athenaeum Music & Arts Library. You can see the fearsome teeth of this predator but look more closely and from profile and then from underneath you see human female breasts. Then what you thought was some sort of hair, are actually harpoons scaled to size. Feeney was inspired by the Moby Dick tale. He titled this work 2016 and says it represents the political will of women, fiercely swimming forward no matter has much it is attacked. We take off our pink pussy hats to William Feeney. This show continues until Sat. June 10th and features Irma Sofia Poeter with emerging artist Shinpei Takeda and Richard Keely. See and read more from the SD Art Prize Catalog 2016.

You don't want to miss the 2017 New Contemporaries SD Art Prize Nominated Artists at basileIE + CMCuratorialwhich opens on Sat June 10 from 6 to 9 pm. You can vote again for your favorite artist who will receive an extra cash prize. The artists are showing until Sat. August 5, when there is a closing reception and announcement of Art Prize emerging artists recipients from 4 to 6 pm (2070 Logan Ave, SD 92113) More info: Chris Martino cm@cmartino.com 858.361.9052 New Contemporaries 2017 Catalog

The Big Exchange is organized by the SD Museum Council and if you are a member of one of the participating museums, you can get into 29 other institution for free until May 31.

City of SD mayor has put forward huge cuts to arts funding and lots of art organizations including SDVAN are protesting. Click the link and add your voice. Originally the cuts were $4.7 million to the city's Commission for Arts & Culture. The final sum cut is $2.3 million which leaves a budget of only $24 million just one hundred thousand less than half.

ART REPORTS by or about SDVAN

Desert X: a close by way to see large scale art A+ Art Blog by Patricia Frischer
Reuse Recreate Reimagine, Second Time Around: The Hubcap as Art at CCAE Picked Ripe by Patricia Frischer
Cultural Districts: OMA and Barrio Logan plus Passport to the Silk Road Picked RAW and Ripe by Patricia Frischer
SDVAN project SD Art Prize at the Athenaeum Picked RAW by Patricia Frischer

County Wide Reports

Culture Report: Building Art, Not Walls Voice of San Diego by Kinsee Morlan
Local arts and culture groups have the budget blues City Beat by Seth Combs
San Diego Museum of Art 'unlocks' vault in new exhibit Union Tribune by Michael James Rocha
Business Owners Turn Graffiti Into Murals in Paradise Hills NBC 7 By Monica Garske
Culture Report: Tidelands Turned Community Stage Voice of San Diego by Kinsee Morlan
Recycled art exhibits shine at California Center for the Arts La Jolla Light by Lonnie Burstein Hewitt
Bad news looks good in La Jolla Historical Society's Climate Change show La Jolla Light by Lonnie Burstein Hewitt
Botero exhibit at Tijuana Cultural Center Union Tribune by Sandra Dibble
A "World Without Walls" Doesn't Look Promising Huffington Post by John Eger
Persian Music and Peace Caravan featured at Passport to the Silk Road SD Union Tribune by Linda McIntosh
Salk Scientists' Latest Experiment Is Collaborating With Artists Voice of San Diego by Kinsee Morlan
The Most Devastating Cuts in the History of Our City to Arts and Culture Voice of San Diego by Kinsee Morlan
GRRRL Art Collective aims to unite women artists City Beat by Rachel Michelle Fernandes
Allison Manch threads the needle City Beat by Rachel Michelle Fernandes
Mothers of invention City Beat by Seth Combs
Interesting Side Effects of Artificial Intelligence Huffington Post by John Eger

OPPORTUNITIES (click to see a list of all current opportunities with full details listed on SDVAN)

The Japanese Friendship Garden San Diego in Balboa Park is making a general call for artist for 2017 to 2010. If you are interested in showing in their space contact Emiko Scudder 619.232.2721

Museum of Photographic Art i s making a Call for Entries for their 12th Annual Juried Youth Exhibition



The Encinitas Arts Culture and Ecology Alliance

is hiring a program administrator to help launch the former Pacific View school site into its new incarnation as a center for arts, culture and ecology.


Join guest Curator and artist Debby Kline along with artists; Vandegraaff Gearheardt, Becky Guttin, Larry Kline, Cheryl Nickel, and Roberto Salas, to learn how they were moved to create the artwork in Reuse Recreate Reimagine on May 28 at 2 pm at California Center for the Arts Escondido. Using antiques, crutches, Perrier cans, huaraches, and car radiators, the artists were inspired to re-purpose these items into works of art.

At Mingei International Museum, Sandy Swirnoff continues to show knotted fiber jewelry until June 4.

The Museum of Contemporary Art San Diego features Andrea Chung: You broke the ocean in half to be here showing downtown until August 20.

New Children's Museum is excited to welcome Bean Sprouts, a nationally-recognized café concept where kids and families participate in a playful eating experience. Bean Sprouts plants its good-for-you cafés inside family destinations to meet rising demand for healthier choices. The American Alliance of Museums Awards Museum for Innovative Art Installation awarded the museum the Special Achievement Award, Exemplary Innovative Practice for The Wonder Sound ,by artist Wes Sam-Bruce. This immersive art installation opened in June 2016.

Exciting news for the fall from the Oceanside Museum of Art when theUndocumenta exhibition opens as part of the Pacific Standard Time: LA/LA. Subverting the title of one of the premiere European art events by referencing the plight of the 'undocumented,' this exhibit will focus on artistic production that takes place at the convergence of Latin America and Southern California. It will include artists Maria Teresa Fernandez, Claudia Cano, Dominic Paul Miller, Marcos Ramirez ERRE, Omar Pimienta and Teresita Delatorre and is curated by Alessandra Moctezuma. A whole schedule of events is planned including a TJ day trip and panel with Claudia Cano, Omar Pimienta, and Marcos Ramirez ERRE who have all been involved in the SD Art Prize.

The San Diego Museum of Art continues the Richard Deacon exhibition, which has been extended until Sept 4. I saw this piece and wondered how they got it into the museum. Now I know! Lovely exhibition so try to catch it.

Timken Museum of Art Collections in Context: Private Devotions: Italian Paintings and Sculptures from San Diego Collections on view June 22 - August 20. The second exhibition in the Timken's summer series features more than a dozen magnificent Italian works of art from the 13 th through 17 th centuries. Drawing on the strengths of San Diego private art collections, very few seen on public display, and the newly displayed Timken masterpieces this exhibition showcases objects often used by individual worshipers as part of personal prayers or shown in intimate domestic settings. Click for more information.

Women's History Museum and Education Center One Hundred Years of One Hundred Handbags from June 2 to July 2 explores how women's lives have shaped the fashion of handbags through a collection of one hundred handbags ranging from the 1850s to the 1950s. Fashion, utility, lifestyle...handbags are intrinsically connected to how women live in modern society.

We are grateful that everyone just stayed where they are and in good health for a month and give transitions a rest. But we see BIG tranisitons in the future.

The LA Times reports that the NEA and public broadcasting are good for another year. "Congressional leaders rejected the Trump administration's proposal to eliminate money for federal arts programs, providing a small increase as part of a bipartisan spending deal. The spending bill that Congress is expected to vote on this week includes $150 million for the National Endowment for the Arts and an identical sum for the Humanities endowment. In both cases, that's a $2-million increase over last fiscal year.

The new Tate Museum in London will be named after its Russian benefactor…but wait, this is a Russian who moved to the US. The £260 million extension of the Tate Modern, The Switch House, is to be renamed the Blavatnik Building,

If you are craving a bit more Silk Road especially Afghanistan, then take a trip to the Khyber Pass Gallery in Laguna Beach to see a one day show by Diane Stacey. As an extra treat Marcy Llamas Senese is going to read her poems. More info: skylotus@sbcglobal.net

Have you got tidbits that you want to broadcast. Contact info@sdvisualarts.net
RAW Archived for 2015
RAW Archived for 2014
RAW Archived for 2013
RAW Archived for 2012
RAW Archived for 2011
RAW Archived for 2010
RAW Archived for 2009
RAW Archived for 2008
RAW Archived for 2007
RAW Archived for 2006
RAW Archived for 2004 and 2005
"Humanity could not have developed art, music, literature, science, philosophy, and it could not have brought forth the ideas of peace and justice, kindness and compassion if there had not been the possibility of improving upon ourselves. As we suspend in the gracious beneficence of a sunbeam, visualize our majestic personal starship. Hold it in your hands. That's us. Think of it kindly. Think of it compassionately. Think of it responsibly. Then, take a next good step. Help us evolve a little bit more. It is all up to us. And we can do it together." Carolyn Benesh, Robert Liu and Patrick Benesh-Liu, Ornament Magazine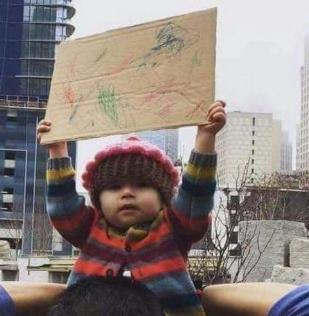 The San Diego sister of the Nasty Women Exhibition that launched in New York is on at the Helmuth Projects (1827 5 th Avenue, SD 92101) and closing on Sat. Jan 28 from 6-9. They will be donating 100% of proceeds to Planned Parenthood of the Pacific Southwest, La Maestra Community Health Centers, or San Diego LGBT Community Center​.More info: Josh Pavlick 619-448-4587. See some of the works: Nasty Women at Helmuth Projects Picked RAW by Patricia Frischer . We are proud of the 40.000 San Diegans that came out to march for so many causes on Jan 21 st.

You are invited to join the NCAN/SDVAN Visual Arts Committee on Tuesday Feb 7 at 10 am for a Looking Glass meeting. This project aims to connect arts to business through public projection of images. A Valentine Card Making Party will be held after the meeting at 2487 Montgomery Avenue, Cardiff by the Sea 92007. Email me if you have some ideas to share and want to become involved: patricia@sdvisualarts.net

The 2017 Mission Federal ArtWalk Artie Awards honor influential arts & culture supporters in the community. This year's winners were announced at the Westgate and included Kinsee Morlan, engagement editor and author of the Arts and Culture Report at Voice of San Diego; Scripps Health, a leader in healthcare in San Diego and long-time arts supporter; and Jane Wheeler, philanthropist and ArtReach supporter. The eight featured artists were there including three from San Diego: Moni Blom, Jason Humphrey from La Mesa, and Michael Summers from Oceanside. Other featured artists include: Franco Forte, Mildred Gil Parada, Matthew Grabelsky, , Iris Scott, and Ivano Stocco

Southern CA Sculpture by the National Sculpture Society is on view until March, 5 at Sparks Gallery (530 Sixth Ave, SD 92101). . This juried exhibition will feature 23 top sculptors in the thriving artistic community of Southern California. More info: Jessica Amaya 619.696.1416

Artsy in connection with UBS has posted for 2016 a list of the top Living Artists,Curators and Emerging Artists. It makes an interesting comparison with those from the Huffington Post top 17, ArtNet top 100, Blouin Art Info top 370. Plus here is a link to the San Diego Union Tribune visual year in review 2016. by Michael James Rocha and City Beat's Seth Combs The year in art: 2016

The Artist Odyssey Blog is presenting pen & ink artist Ted Washingtonin What's New following Matt Forderer and then interactive artis Dave Ghilarducci and paper artist Bhavna Mehta. Many of these What's New are repostings of videos from Art Pulse produced by Executive Producer, Barbarella Fokos with added up dated interviews.

Walker Art Center, Weisman Art Museum in Minneapolis and The Broad in LA A+ Art Blog by Patricia Frischer
Mission Federal ArtWalk Artie Awards and Featured Artists Picked Ripe by Patricia Frischer
Nasty Women at Helmuth Projects Picked RAW by Patricia Frischer

County Wide Reports

Israeli Artist, Syrian Refugee Make Art Not War In San Diego KBPS by Tarryn Mento
2017 Art Preview City Beat by Seth Combs
San Diego's Arts Scene Has More Leading Ladies Than Ever Voice of San Diego by Kinsee Morlan
Artists Aim To Make Border Fence 'Beautiful' KPBS by Jean Guerrero
San Diego women getting nasty for new art show City Beat by Lara McCaffrey
What is the future of UCSD's University Art Gallery? City Beat by Jordan Packer
Rep. Duncan Hunter Calls for Art Censorship at the Capitol Voice of San Diego by Kinsee Morlan
S.D. artists explore the beauty of the book for 'Over the Moon' SD Union Tribune by Roxana Popescu
Visual art: My wish for 2017 is ... SD Union Tribune by Michael James Rocha
Meet The Artist Selected For Public Art Project At New East Village Park KPBS by Maureen Cavanaugh, Brooke Ruth
Culture Report: Chinese Historical Museum Wants to Make a Bigger Splash Voice of San Diego by Kinsee Morlan
La Bodega Confronts the Challenges of Going From Grassroots to Grownup Voice of San Diego by Kinsee Morlan
Why I Left San Diego's Art Scene Behind Voice of San Diego by Jonathan Raymond Mireles
The Struggle for San Diego Artists Is Real, But Worth It Voice of San Diego by Patric Stillman, Studio Door
Arts Community Aims To Save Cultural Hive In North Park KPBS by Claire Trageser
Exhibition brings national sculpture artists to Sparks downtown gallery Pacific Magazine by Laurie Delk


OPPORTUNITIES (click to see a list of all current opportunities with full details listed on SDVAN)

The Business Of Art Scholarship is now accepting applications for one emerging or student artist. Mentorship by The Studio Door, sponsored by San Diego Visual Arts Network and with a free booth donated by Mission Federal Art Walk. April 29/30. Applications due Feb 10, 2017

Space 4 Art is making a call for a new Executive Director. The next ED will join the organization at a critical time its 10-year history - preparing to move to a new permanent home. Deadline for applications: Feb 10 and salary range $65,000 - $75,000 per year. For full information contact Cynthia Viveros 619 269 7230

In order to respond to the rapid growth in international arrival activities anticipated in 2017 and beyond, San Diego International Airport will re-conceive a Federal Inspection Services Facility (FIS) that: adds greater flexibility; increases FIS capacity level; and utilizes the newest processing efficiency introduced by the Customs and Border Protection (CBP). The FIS project presents exciting opportunities for the integration of public art into the site. Atrium Suspended Public Artwork: This is an opportunity for an artist or artist team to design, fabricate and install a suspended artwork within the "meeter/greeter" lobby of the FIS facility. Glass Partition Wall Public Art Project: This is an opportunity for an artist or artist team to design, fabricate and install an art glass treatment within an approximately 270' x 13' partition wall along the south edge of the baggage claim hall of the FIS facility. Deadline to apply is Tuesday, February 7, 2017 at 2 p.m. (PST) Lauren Lockhart

The Oceanside Museum of Art Artist Alliance is making a call for artists for submissions loosely-based on the collective themes of two consecutive plays at North Coast Repertory Theater in Solana Beach CRT, The Illusion (celebrates the magic nature of with this tale of passion, regret, and love) and Travels With My Aunt (shaking up the life of her staid bourgeois nephew buried within his gray flannel soul.) There is lots of scope for creativity between these two plays. For more info: Katie Sanderson 760-435-3721

The Japanese Friendship Garden San Diego (JFGSSD) in Balboa Park is making a call for artists and curators and encourages interested artists/groups/organizations to apply for their exhibitions program Exhibit spaces are made available, in accordance with their Guidelines, to diverse individuals, groups, and organizations throughout the U.S. and abroad. All media is eligible for consideration. Applicants do not need to be of Japanese descent and are not restricted to Japanese or Japanese style collections. For more Info: Emiko Scudder 619.232.2721

February is Museum Month : Presented by Macy's, San Diego Museum Month invites everyone to enjoy half-off entry fees at over 40 museums in our region for the all of February. Pick up your passes at any Macy's and go to theSD Museum Council for more info.

California Center for the Arts Escondido Cowboys & Vaqueros: Legends of the American West right now until Feb 26 but hubcaps are coming in April. Second Time Around: The Hubcap as Art

Mingei International Museum Thirty knotted fiber necklaces and bracelets are on view by Sandy Swirnoff until Jun 4.

The Museum of Contemporary Art San Diego has closed it La Jolla branch for a re-build but Artist's Perspective series at the local luxury cinema and dining venue, The LOT is continuing. In January, the casual and engaging lecture series featured acclaimed artist Los Angeles-based Kori Newkirk.

Susan Street Fine Art in Solana Beach has been working with Kathryn Kanjo, the new director of The Museum of Contemporary Art San Diego and Joan Jacobs to put together a major collection of 300 art works for the new UCSD Jacobs Medical Center. We were delighted to see that the art of Matt Devine and Kim MacConnel are included.It does seem like there is money for art in San Diego and it is time for the formation of a Friends of the University Art Gallery at UCSD to assure that the art gallery survives with the establishment of an endowment for the arts.

Museum of Photographic Art From photographer Lynda Koolish's book African American Writers: Portraits and Visions, the pop-up exhibition Portraits of Vision from Feb. 21 - March 9, 2017.

New Children's Museum Register today for February's Eat Better Art, Treat Your Valentine, where you'll create seasonal dishes and a simple art activity to take home!

John Dillemuth: Contraptions And Go-mo(s) at Oceanside Museum Of Art(704 Pier View Way, Oceanside 92054) opening on Feb 4 and runs to July 23 with an opening reception on March 25. Curated by Vallo Riberto, assemblages, contraptions, vehicles, and paintings combine to create an installation that references the real and imaginary. Also note: Michelle Montjoy's show Rope opens at the say time on March 25. For more info: Collette Stefanko 760.435.3720

A terrible crime has been committed and Victorian London's most celebrated detective needs your help to find out "whodunit"! Sherlock Holmes and the Clocktower Mystery opens Saturday, February 11, 2017, at the Rubin H. Fleet Science Center. This immersive, entertaining and clever murder-mystery will test your powers of observation and deductive reasoning. You will need your thinking cap to solve this baffling thriller.

The San Diego Museum of Art Contemporary Arts Committee, the support group of the SDMA is holding a Plein Air art Home Tour on Sat. March 18 from 10 am to noon. Visit to the Craftsman home and studio of artist Mark Fehlman with his personal collection of notable California plein air artists. Fehlman, the recipient of numerous awards, will share some of his studio techniques. In close proximity is the historically-designated Craftsman home of Wendy Nash with an extensive collection of Fehlman's work. In the garden, they will visit with 2015 San Diego Art Prize winner Kevin Inman. Inman's current work focuses on small landscapes and cityscapes. Coffee and treats will be provided.CAC Members $50 and Non-CAC Members $60. To RSVP for the tour: click here

Lynda Koolish: Portraits of Activism starts Feb 3 at Women's History Museum and Education Center

Gustaf Rooth is closing down his gallery space, but we are happy to report his marriage to Daphne Hill so we know he will always be connected to the arts with her encouragement and will wait to see what his next venture will be.

Vincent Kitch left Carlsbad quite awhile ago, but we are just hearing of the arrival from Arizona of Richard Schultz who takes his place as the new Cultural Arts Manager. He arrives in February and we are so happy that this position has been filled.

Vista High School was one of 10 high schools in the US awarded $10 million over a 5-year period to implement their vision of a XQ Super School. Kim Richards (known for her work on STEAM and KDPR) has joined an incredible team at Digital Promise, Vista's partner in the project, and with be leading communications, marketing and partnerships for the XQ Vista High project. Take a look at xqsuperschool.org and digitalpromise.org for more information. This is a very exciting development in Vista and the eyes of the nation will be on this and the other 9 schools.

You have got to laugh over this dispute about the pinkest pink paint between Stuart Semple and Anish Kapoor published in Blouin Arts. We loved all those pink pussy hats at the Women's March. We understand no pink yarn was available on the east coast last week.

Auction sales are way down from $996 million in 2015 to about $544 million in 2016, but this is just for the top ten lots sold. Highest amount paid for one lot was about $81.5 million in 2016 for the Monet's "Meule" as opposed to $179.4 in 2015 for Picasso's Les Femmes d'Alger.

Here is the story about Congress Taking That Anti-Police Painting Down from Buzz Feed News.

Have you got tidbits that you want to broadcast. Contact info@sdvisualarts.net

" Art is the only way to run away without leaving home." Twyla Tharp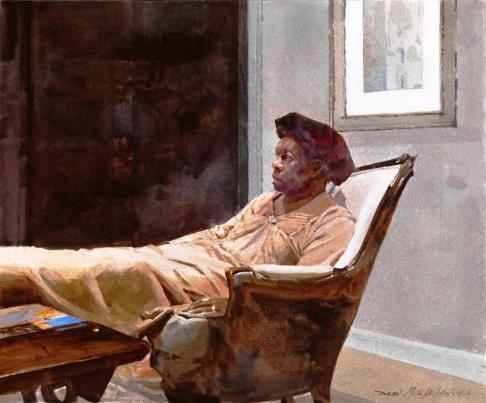 The Fallbrook Art Center is now showingWorld of Watercolor & Beyond, their 8th Annual International Signature American Watermedia Exhibition and they sold a Dean Mitchell painting calledHazel Maefor $18,500 and approx. $40,000 worth of art sold during the show. This work also won the $1500 best of show award. A total of $10,000 was given out in awards and there is still time until March 19 to vote for the public award of $250. Click here for list of participating artists and more about the show

March 20–21, 2017 is Arts Advocacy Day and we are celebrating it with a banner on the home page of SDVAN. Each year, arts advocates from across the country convene in Washington, DC for the annual Arts Advocacy Day. This effort brings together a broad cross section of America's cultural and civic organizations, along with more than 500 grassroots advocates from across the country, to underscore the importance of developing strong public policies and appropriating increased public funding for the arts. Empowering Advocacy by Patricia Frischer, coordinator of SDVAN.

Save the date for the closing reception of The Before Show: Patricia Frischer Closing VIP reception Sat. March 11 from 6 to 9 pm at Symbologist Gallery (2060 Logan Ave unit C, SD 92113 in Barrio Logan) during Chicano Park gallery crawl night The exhibitionruns from Feb 11 to March 15, 2017 More info: Kaarin Vaughan 619-693-5004. The Before Show: Patricia Frischer at Symbologist Picked Ripe by Patricia Frischer

North County Arts Network Quarterly Meeting is titled Performing Arts Five on Five: Innovative Happenings in the Arts and happens on Wed, March 29th from 6 to 9 pm at New Village Arts (2787 State St. #B, Carlsbad, CA 92008)

Mission Federal ArtWalk, San Diego Visual Arts Network and The Studio Door are pleased to introduce the artistry of emerging artist Mikaela McLeigh at the 33rd Annual Mission Federal ArtWalk in Little Italy to held on April 29 and 30. Mikaela was selected as this year's awardee for The Business of Art scholarship which includes a booth at the prestigious art festival, professional development throughout 2017, and an impressive marketing package. Over 30 artists applied for this year's opportunity.

In the months since the passing of David Antin, his son, Blaise Antin, has established a graduate prize fund to honor David's extraordinary service to UC San Diego and his lasting legacy in the Department of Visual Arts. As a poet, critic, artist and teacher, David Antin played a seminal role in establishing the reputation for cutting edge art in the graduate program he helped to found. The David Antin Endowed Prize for Excellence in MFA Visual Arts Fund will bestow the prize on the student who best demonstrates the originality, creativity and multi-disciplinarity as artists or writers in the field of art criticism for which David Antin is held is such esteem

Madison Gallery's first Artist in Residence Program featuring New York artist James Austin Murray started in February. They invite collectors for studio visits to personally meet the artist and select artworks. Murray will be creating an exclusive collection at his upcoming September solo exhibition Light On Black.

The Ilan-Lael Foundation and Pacific Rim Park will host Gateway Conversations, a three day event exploring the role of art in international relations from April 28-30 in various locations around San Diego and Tijuana. Special guests will include Mayor Kevin Faulconer, world renowned artist James Hubbell and keynote speaker, Kathleen Stephens, Distinguished Fellow at Stanford University, Former US Department of State, US Embassy Seoul South Korea.

The SD Regional Arts and Culture Coalition reports that 7 of 9 San Diego City Council Members Included "Arts & Culture" in their FY18 Budget Priority Memos which means they are encouraging the Mayor to draft a City budget that includes a flat or increased budget for the Commission for Arts & Culture next fiscal year.


ART REPORTS by or about SDVAN

William T. Cannon Gallery 2017 Juried Biennial Exhibition Picked Ripe by Patricia Frischer
John Dillemuth: Gomos and Contraptions at Oceanside Museum Of Art Picked RAW Peeled by Patricia Frischer
Impressions: African American Artists, Connections to African Art San Diego Mesa Gallery Picked Ripe by Cathy Breslaw
The Before Show: Patricia Frischer at Symbologist Picked Ripe by Patricia Frischer
Local Artist awarded the business of art scholarship – to be featured at 2017 Mission Federal Artwalk Art Guide San Diego by Brian Baxter

County Wide Reports

Culture Report: Trinket Shops Get Some Artsy Neighbors in Old Town Voice of San Diego by Kinsee Morlan
Local Leaders Can Learn From Cities That Prioritize Artists Voice of San Diego by Justin Navalle
San Diego Art Institute encourages dialogue with inaugural AMT Festival Union Tribune by Michael James Rocha
Dimensions at MCASD downtown presents a wide range of viewpoints Union Tribune by Martina Schimitschek
Surfing Madonna donates $30,000 to Pacific View project Encinitas Advocate by Brittany Woolsey
Italian artist Siro Cugusi speaks 'visual language' at Lux Union Tribune by Catherine Gaugh
The Fleet's new Sherlock Holmes exhibit holds the clue to big fun Union Tribune by Karla Peterson
Surfing Madonna group to offer peek at new mosaic Union Tribune by Barbara Henry
Culture Report: History Center Tackles a Present-Day Lightning Rod Voice of San Diego by Kinsee Morlan
Culture Report: Trinket Shops Get Some Artsy Neighbors in Old Town Voice of San Diego by Kinsee Morlan
David Antin's Words Live On: Hundreds pay tribute to local poet at The Getty Center La Jolla Light by Lonnie Burstein Hewitt
First AMT Fest in San Diego kicks off art and science collaborations La Jolla Light Lonnie Burstein Hewitt
Q: What does San Diego's art scene need to thrive? City Beat by Seth Combs
Surprise! It's art in a box! City Beat by Matt Baldwin
Will a massive "Statue of Responsibility" soon grace the San Diego skyline? City Beat by Mathew Foresta
San Diego Space 4 Art moving in, local artists moving out City Beat by Seth Combs
To see or not to see: Weathering the Storm: Trauma Beneath the Surface City Beat by Seth Combs

OPPORTUNITIES (click to see a list of all current opportunities with full details listed on SDVAN)

Oceanside Museum of Art (OMA) is looking for a Programs & Events Manager responsible for the planning and execution of the museum's programs and special events, and assisting with the coordination of educational programming. This includes exhibition receptions, school visits, artist demonstrations, lectures, programming for extended museum hours, and signature fundraising events such as The Museum Ball and Art After Dark, among others. This position requires some weekend and evening hours. For more information, please contact jobs@oma-online.org 760-435-3730.

California Center for the Arts Escondido is looking for a Programs Manager responsible for the planning and execution of the museum's programs. Contact Leah Goodwin.

Front Porch Gallery is looking for fine art/craft on consignment for the retail side of their gallery. Glass, ceramic, paper, mixed media, assemblage, etc. are acceptable mediums. Commission to artist is 60%. To apply, email 5-10 images for consideration to Julie Weaverlnig 760-795-6120

Would you like to participate in San Diego's largest annual showcase of visual and performing arts? Sign up to volunteer at the 2017 Mission Federal ArtWalk. They offer about 250 volunteers the opportunity to get involved on event days, this year taking place April 29 & April 30, with a few positions during the month of April. As a Mission Federal ArtWalk volunteer, you receive the official 2017 T-shirt and may participate in a "volunteers-only" raffle of great artwork and prizes, donated by our artists and sponsors. Minimum age to volunteer is 16 years. Access their online volunteer registration system here.

Encinitas Friends of the Arts (EFA ), in partnership with the City of Encinitas Arts Division, will celebrate Passport to the Silk Road : An Evening of Time Travel as we embrace the exotic and diversified cultures of Xi"an to Constantinople on Saturday, May 13, 2017, 6-10 pm at the Encinitas Community Center, 1140 Oakcrest Park Drive. In keeping with the mission to celebrate diversity through arts and culture, this event will foster an appreciation of cultures of China, India, Iran, Turkey, and other countries along the old Silk Road. 100% of funds raised at this event will be allocated to arts programing and education in Encinitas. They are making a call for volunteers you will get to enjoy the show and a light dinner for 2-3 hours of work. Sign up now and save the date.

Local artist Sandra Dodd conducts adult art classes for beginners at the Cardiff-by-the-Sea Library. The sessions are complimentary and all materials will be supplied. Second and Fourth Tuesdays of each month beginning March 29, 2016, 5 pm to 6 pm.

MUSEUMS

California Center for the Arts Escondido is looking for a Programs Manager responsible for the planning and execution of the museum's programs.

Mingei International Museum Thirty knotted fiber necklaces and bracelets are on view by Sandy Swirnoff until Jun 4.

New Children's Museum presents Make/Shift, an indoor play space that builds on the age-old concept that children enjoy playing with the box as much as the gift that came in it is now open. The 1,200 square foot installation consists of a collection of custom-made plywood furniture, fabric, cardboard boxes, ropes and other loose parts that can be shifted and remade by children and adults in infinite ways.

John Dillemuth: Contraptions And Go-mo(s) at Oceanside Museum Of Art(704 Pier View Way, Oceanside 92054) opening on Feb 4 and runs to July 23 with an opening reception on March 25. Curated by Vallo Riberto, assemblages, contraptions, vehicles, and paintings combine to create an installation that references the real and imaginary. Also note: Michelle Montjoy's show Rope opens at the say time on March 25. For more info: Collette Stefanko 760.435.3720

A terrible crime has been committed and Victorian London's most celebrated detective needs your help to find out "whodunit"! Sherlock Holmes and the Clocktower Mystery opens Saturday, February 11, 2017, at the Rubin H. Fleet Science Center. This immersive, entertaining and clever murder-mystery will test your powers of observation and deductive reasoning. You will need your thinking cap to solve this baffling thriller.

The San Diego Museum of Art Contemporary Arts Committee, the support group of the SDMA is holding a Plein Air art Home Tour on Sat. March 18 from 10 am to noon. Visit to the Craftsman home and studio of artist Mark Fehlman with his personal collection of notable California plein air artists. Fehlman, the recipient of numerous awards, will share some of his studio techniques. In close proximity is the historically-designated Craftsman home of Wendy Nash with an extensive collection of Fehlman's work. In the garden, they will visit with 2015 San Diego Art Prize winner Kevin Inman. Inman's current work focuses on small landscapes and cityscapes. Coffee and treats will be provided.CAC Members $50 and Non-CAC Members $60. To RSVP for the tour: click here

TRANSITIONS

Naimeh Tahna Woodward has stepped down from the Encinitas Art Commission to make way for new talent but she remains the driving force behind the Encinitas Friends of the Arts. Watch for their next Passport to the Silk Road onSaturday May 13 from 6 to 10 pm at the Encinitas Community Center.

California Arts Council announces planned departure of director Craig Watson who led California's state arts agency through five year renaissance, accomplishments include 5x increase in funding. There will be a national search for a new director and Watson will return to south California. Let's hope he can continue to help us in our struggles to get more aid for the county of San Diego.

Fusion Glass has a new name addition. There art workshops and classes are branded under the name Idea Field.

Monarch | Arredon Contemporary is moving to a smaller location showroom located on 608 Prospect St. Suite A, in La Jolla which is closer to MOCASD.

Matthew J. Mahoney was one of San Diego Art Institute's first artists-in-residence and we were saddened to hear of his passing. San Diego Art Institute has set up the Matthew J. Mahoney Artist-in-Residence Program to continue to help the careers of emerging and mid-career artists as they explore, experiment and create new work. These tax deductible donations can be made at: https://app.moonclerk.com/pay/b6lpz52e63i

The good news is that Space 4 Art may be staying in its space for four more years while it finances and build out its new space. The bad news is that they did not realize that the compromise of space might have results some artists being given notice in another part of the building. Let's hope they can all work this out.

TIDBITS

ArtFinder is pointing out gender inequality and what they are doing to support women's art! We are pleased to announce that over half of the emerging artist in our next New Contemporaries show are WOMEN!

We are very much in favor of Design Thinking in which many possible solutions are generated after research and brainstorming before anything is tested. John Eger discussed this in the Huffington Post: Design Thinking Takes Center Stage

Earlier this month, two Trump transition team advisors are recommending elimination of the National Endowment for the Arts, National Endowment for the Humanities, and privatization of the Corporation for Public Broadcasting. We are supporting a petition signed by 100,000 Arts Action Fund members which can be found here. For more information about supporting Americans for the Arts here is a link to a few FAQs from questions the staff has already fielded. Please sign the petition as we are better coming together to make sure the arts are supported.

Two thousand and seventeen marks the centenary of the death of Auguste Rodin, the father of modern sculpture so watch for art museums around the world that are mounting special exhibitions and installations to celebrate including the Legion of Honor in San Francisco.

"Painting seems like some kind of peculiar miracle that I need to have again and again." Philip Guston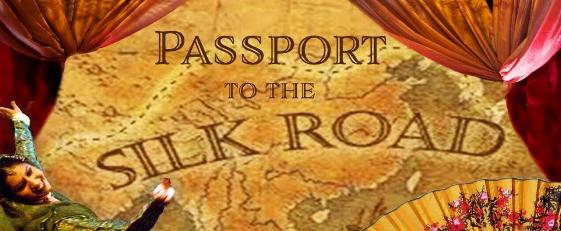 Embrace exotic and diverse cultures from Xi'an to Constantimople at Passport to the Silk Road on Sat May 13 from 5 to 10 pm at the Encinitas Community Center (1140 Oakcrest Park Drive). The Encinitas Friends of the Arts invites you to a light dinner, dancing and entertainment: Master of Persian Music Reza Mahini and Del ava Ensamble, Bviolin & Mystic Groove Ensemble, Gulistan Dance Theater, Silk Road photographs of Marla Mossman. $40 EFA members, $45 general, $50 event+join,$50 at the door – event always sells out! Henna art and wine for purchase at Silk and Spice Bazaar
Mission Federal ArtWalk, San Diego Visual Arts Network and The Studio Door are pleased to introduce the artistry of emerging artist Mikaela McLeigh at the 33rd Annual Mission Federal ArtWalk in Little Italy to held on April 29 and 30. Mikaela was selected as this year's awardee for The Business of Art scholarship which includes a booth at the prestigious art festival, professional development throughout 2017, and an impressive marketing package. Over 30 artists applied for this year's opportunity. We are featuring Mikaela on the banner on our home page this month.
We are happy to announce the 2017 New Contemporaries SD Art Prize Nominated Artists: Miriam Gabriela Garcia Aguirre, Cathy Breslaw, Ashley Fenderson, Carrie Anne Hudson, Rizzhel Mae Javier, Adrienne Joy, Alexander Kohnke, Pablo Llana, Michelle Montjoy, Julio M. Romero, Brittany Segal, Rebecca Louise Webb, and Oslyn Whizar These artists will be showing at basileIE + CMCuratorial from Sat June 3 to August 5, 2017 with an opening Reception: Sat June 10, 2017 from 6 to 9 pm during the Open Barrio Logan Art Crawl, Also July 8, 2017 from 6 to 9 pm. The Closing Reception and announcement of Art Prize recipients, Sat. Aug 5, 2017 from 4 to 6 pm. basileIE + CMCuratorial (2070 Logan Ave, SD 92113) More info: Chris Martino cm@cmartino.com 858.361.9052
North County Arts Network Quarterly Meeting is titled Performing Arts Five on Five: Innovative Happenings in the Arts and happens is on Wed, March 29th from 6 to 9 pm at New Village Arts hosted by Alex Goodman (2787 State St. #B, Carlsbad, CA 92008). Participants include Judy Bauerlein, California State University San Marcos, Kristen Fogle, Writers, Ink, Justin Hudnall, So Say We All, Soroya Rowley, Circle Circle Dot Dot, and Carolyn Grant, Museum of Making Music.
In August, the City of San Diego's Commission for Arts and Culture and Economic Development Department launched The Nonprofit Academy in partnership with the University of San Diego's Institute for Nonprofit Education and Research. This was to encourage new arts organizations to apply for TOT funding which the commission administers. Larry Baza (chairman) and Dana Springs (ED) have worked hard to simplify this process ( the new application is only 6 pages long) and in March they held the Academy for education about the funding for the year and also the public panels will be sitting to determine who gets the funding from last year's applications. Fifteen new organizations applied but 15 old ones dropped out. You can read more about this new process with links to more information: Culture Report: The City's Changing Up How it Funds Arts and Culture Voice of San Diego by Kinsee Morlan
Friends of Oceanside Arts is the new fiscal agent for the once monthly but now quarterly Oceanside Art Walk. It has been renamed the Four Season Art Walk. PLUS the First Friday Art Walk will continue and also be part of the new two day quarterly event.
San Diego Mesa College Art Gallery is proud to present FOBIA, a participatory project with internationally acclaimed artist Shinpei Takeda (one of the 2016 SD Art Prize recipients.) FOBIA will invite attendees to sit with Takeda inside a tent, hand woven by the artist inside the gallery. Takeda will have "one on one consultations where guests will be invited to divulge their deepest fears, phobias and anxieties." On April 06 starting at 4:30pm there is a reception and lecture by the Takeda.

ART REPORTS by or about SDVAN
Making Communities: Art and the Border at UCSD Art Gallery Picked Ripe by Cathy Breslaw
Intergalactic Dreaming Exhibition Opens at San Diego International Airport Picked RAW Ripe
SD Art Prize artist: Shinpei Takeda has become an international artistic force SD City Beat by Seth Combs
Michelle Montjoy at OMA Picked RAW Peeled by Patricia Frischer
Passing on a legacy A+Art Blog by Patricia Frischer
County Wide Reports
Random Public Spaces Are San Diego's Hottest New Galler Voice of San Diego by Kinsee Morlan
The Most Memorable Acts of Protest Art at the Border Voice of San Diego by Kinsee Morlan
Craig Watson Helped Shape a New Model for The California Arts Council Huffington Post by John Eger
The Promise of World Art and Culture Huffington Post by John Eger
Culturecast: Revisiting Balboa Park's 'Fruit Loop' Voice of San Diego by Kinsee Morlan
Culture Report: The City's Changing Up How it Funds Arts and Culture Voice of San Diego by Kinsee Morlan
'A Hopeful Tale of What San Diego Might Become' Voice of San Diego by Clifford Deaton
Culture Report: Meth Addiction Takes Center Stage Voice of San Diego by Kinsee Morlan
Female artists come together for Ni Solo Mujeres SD City Beat by Seth Combs
San Diego History Center exhibit explores work, lives of Jewish artists SD Union Tribune by Roxana Popescu
Exhibit opens at Civic Center Library Coast News by Promise Yee
UCSD is Not a Polytechnic University The Triton by Ashley Awe
Public art controversy surfaces in Solana Beach SD Union Tribune by Phil Diehl
Oceanside holds first Four Seasons Art Walk this weekend Coast News by Promise Yee
Comic-Con Museum to open in Balboa Park SD Union Tribune by Roger Showley
San Diego Art Institute's Ginger Porcella leaving for Tucson museum Union Tribune by Michael James Rocha
Culture Report: We Reap What They Sew Voice of San Diego by Kinsee Morlan
Even in a Space for Cash-Strapped Arts Groups, the Rent Is Too Damn High Voice of San Diego by Kinsee Morlan
OPPORTUNITIES (click to see a list of all current opportunities with full details listed on SDVAN)
Front Porch Gallery , a non-profit gallery in Carlsbad will be holding its annual juried exhibition and invites artists to participate. This is an open exhibition with no specific theme. They are looking for all expressions across mediums. Open to all artists18 years of age and older living or working in San Diego County with a showing from July 16 – September 9, 2017 Opening Reception with live music and hors d'oeuvres: Submission deadline: June 13, 2017. AWARDS 1st: $350 (winning image will be used as the cover image for the next year's postcard), 2nd: $200, 3rd: $100, $35 each for 3 Honorable. Jurors are Steven Nossan, Gallery Director Julie Weaverling, Assistant Gallery Director. More info: 760-795-6120.
If you are looking for craft supplies there is a big liquidation sale in a 7000 foot warehouse in Barrio Logan
Party Hats on Etsy at fabulouspartyhats is closing down and you can contact Stephen Markowitz 619.239.7700 at 2109 Newton Ave, SD 92113 and see what you might like to add to your collection.
21st Annual San Diego County Credit Union Festival of Arts in North Park will feature The Studio DoorGallery in the Streets Exhibition on May 20, 2017 11 AM - 10 PM. This is an open call for artist for one work under $500. There is a $15 submission fee. More info from the juror Patric Stillman, Founder and Director of The Studio Door 619-255-4920
Lux Art Institute has an opening for an Education Director to oversee and manage all aspects of the day-to-day operations for the Lux Education Pavilion. More info: info@luxartinstitute.org 760-436-6611
We understand that the SDAI will be doing a national seach for a new director. Watch this space for details.
MUSEUMS
The Institute of Museum and Library Services named The Museum of Contemporary Art San Diego one of 30 finalists for the 2017 National Medal for Museum and Library Service. The National Medal is the nation's highest honor given to museums and libraries for service to the community. For 23 years, the award has celebrated institutions that demonstrate extraordinary and innovative approaches to public service and are making a difference for individuals, families, and communities.
New Children's Museum Take a trip under the sea to a world of creatures created by YOU! Sketch Aquarium uses the best in 21st century technology to create a beautiful, engaging art and science experience for all ages. This immersive art piece by Japanese artist collective, teamLab, will be opening soon.
Starting Sunday, March 12, Oceanside Museum of Art is having new hour and Thursday and Friday are open late: 11 am to 8 pm. Tuesday, Wednesday, and Saturday 11 am–5 pm, Sunday 12–5 pm. Don't miss John Dillemuth: Gomos and Contraptions at Oceanside Museum Of Art Picked RAW Peeled by Patricia Frischer . Michelle Montjoy showing River is funded by a grant from the Creative Catalyst Fund of The San Diego Foundation. Montjoy is also the current artist in residence at Art Produce Gallery & Garden in North Park and is one of the 13 emerging artists (10 of which are women) nominated for the SD Art Prize. Her work will be shown at at basileIE + CMCuratorial from Sat June 3 to Aug 5. Her show at OMA is showing until July 9th. Michelle Montjoy at OMA Picked RAW Peeled by Patricia Frischer
Richard Deacon: What You See Is What You Get at The San Diego Museum of Art is the renowned British artist's first major museum exhibition in the United States. Winner of the Turner Prize in 1987 and the subject of a survey at Tate Britain in 2014, Deacon has been exhibited frequently internationally and remains a pioneering figure in the field of contemporary sculpture. Don't miss this show and watch for a report next month.
TRANSITIONS
San Diego Art Institute's Ginger Porcella leaving for Tucson museum (Union Tribune by Michael James Rocha) it was announced by the SDAI board in March. They will do a nation wide search for a new director. Porcella was able to put the SDAI in the black and get massive PR for the institute with new programming.
"San Diego Comic-Con International will open a museum of popular culture in Balboa Park under an agreement by the San Diego Hall of Champions and its Breitbard Hall of Fame. The new museum would likely open no earlier than 2018, since the sports museum has nine months to vacate the building, north of the Air & Space Museum." Read the whole article: Comic-Con Museum to open in Balboa Park SD Union Tribune by Roger Showley
We are so sad to see the closing of Rhino Arts supply store in Encinitas. They close their doors on March 31 claiming death by a thousand cuts.
Merry Lampinen is the new Programs & Events Manager at Oceanside Museum of Art(OMA) responsible for the planning and execution of the museum's programs and special events, and assisting with the coordination of educational programming. This includes exhibition receptions, school visits, artist demonstrations, lectures, programming for extended museum hours, and signature fundraising events such as The Museum Ball and Art After Dark, among others.
TIDBITS
This note came in from Senator Diane Feinstein: Senator Tom Udall (D-NM) introduced S. 2648 on March 8, 2016. Among other provisions, this legislation would have allowed tax deductions for the fair market value of charitable artistic contributions, directed the Small Business Administration to develop additional assistance for artist-owned businesses, and required the Federal Emergency Management Agency to ensure artists are eligible for disaster assistance. S. 2648 did not receive a vote before the 114th Congress ended. It will need to be reintroduced in the current Congress and Ms. Feinstein confirms she will continue to support that bill.
California's Art and Culture Districts : Deadline is an article by John Eger about the new cultural district designations. If you can't apply this year…then maybe next year. Alan Ziter at the NTC Foundation is confident that Liberty Station will be selected as one of the 15 disignated cultural arts centers in this first round. Escondido and Encinitas are 2 cites working tirelessly to get his designation.
April 2017
"Love of beauty is taste. The creation of beauty is art." Ralph Waldo Emerson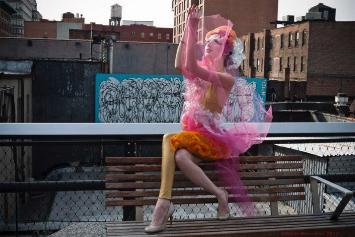 Marla Mossman is coming to San Diego and will be displaying work at Passport to the Silk Road on Sat. May 13. She is holding a Marla Mossman photography workshops "Art of Seeing Through the Lens" in San Diego'sChicano Park - Thursday, May 11 - 4:00pm - 7pm. E xplore the fascinating culture of San Diego: Barrio Logan, and the vibrant murals in the historic Chicano Park. Participants learn the tips of successful street, portrait, environmental, photography. With over 25 years of experience as a professional photographer, Marla Mossman instructs on how to shoot strategically, getting more interesting photos and participants will come away with a foundation to improve photographs in the future, whether for work and or pleasure. All Levels from beginner to advanced for $99.99/person/group session with a portion of the proceeds from this class benefiting The Encinitas Friends of the Arts for their Public Art and Art Education programs. Book to info@marla.net or 212 722 7039

Embrace exotic and diverse cultures from Xi'an to Constantimople at Passport to the Silk Road on Sat May 13 from 5 to 10 pm at the Encinitas Community Center (1140 Oakcrest Park Drive). The Encinitas Friends of the Arts invites you to a light dinner, dancing and entertainment: Master of Persian Music Reza Mahini and Del ava Ensamble, Bviolin & Mystic Groove Ensemble, Gulistan Dance Theater, Silk Road photographs of Marla Mossman. $40 EFA members, $45 general, $50 event+join,$50 at the door – event always sells out! Henna art and wine for purchase at Silk and Spice Bazaar.

The San Diego Visual Arts Network is delighted to announce the artists recipients of theSan Diego Art Prize 2016 at Athenaeum Music & Arts Library (

1008 Wall St. La Jolla, 92037

) in an exhbition called Displacement | Replacement running from May 13- June 10, 2017 with an opening reception on Friday, May 12, 6:30-8:30PM. The show will feature Irma Sofia Poeter with emerging artist Shinpei Takeda and Richard Keely with emerging artist William Feeney. Art Notes by Melinda Chiment, executive director, The AJA Project, Norma Iglesias-Prieto, Professor at San Diego State University and Researcher at El Colegio de la Frontera Norte , Jim Ruland, writer, Neil Kendricks, are posted in the SD Art Prize Catalog 2016.



Mission Federal ArtWalk, San Diego Visual Arts Network and The Studio Door are pleased to introduce the artistry of emerging artist Mikaela McLeigh at the 33rd Annual Mission Federal ArtWalk in Little Italy to held on April 29 and 30. Mikaela was selected as this year's awardee for The Business of Art scholarship which includes a booth at the prestigious art festival, professional development throughout 2017, and an impressive marketing package. Over 30 artists applied for this year's opportunity. We are featuring Mikaela on the banner on our home page this month.

It was extremely disappointing to hear of the proposed cuts to arts in culture in the city of San Diego. San Diego has long been a national leader in its commitment to public funding of the arts, however, the Mayor's recommendation to cut arts and culture by $4.7 million is over a 31% cut to the Commission for Arts and Culture. Compared to other city departments this is a disproportionate cut and is unfair. Please protest these suggested cuts by writing to your councilman if you live in the city of San Diego.

The Encinitas Commission for the Arts selected Irene Abraham for a design for the new retaining wall which is part of the major railway improvement scheme in Cardiff by the Sea. She will present her design by May 1 st the commission will then approve it and the entire council will then have to approve it. SANDAD was involved in the initial selection process..


ART REPORTS by or about SDVAN

Timkin Museum and the San Diego Symphony Team Up with Witness to War Exhibition Picked Ripe by Cathy Breslaw
What You See Is What You Get: Sculptor Richard Deacon Reveals Materials and Process Picked RAW Peeled by Cathy Breslaw
Richard Deacon: What You See Is What You Get Picked Ripe by Patricia Frischer
Performing Arts Five on Five: Innovative Happenings in the Arts: NCAN at New Village Arts Picked RAW Peeled by Patricia Frischer
Las Comadres Collective Reassessed: Women Artists, Scholars and Activists Talk About Four Life-Changing Years Picked Ripe by Cathy Breslaw
Off with the new, on with the old A+ Art Blog by Patricia Frischer

County Wide Reports

Nurturing A World Community: The Power of the Arts Huffington Post by John Eger
Double-track project to add artistic flourish to Cardiff Union Tribune by Barbara Henry
Southeastern San Diego Gets Some Stage Time Voice of San Diego by Kinsee Morlan
Liberty Station's arts district, a space created for culture, celebrates 10th anniversary Union Tribune by Roxana Popescu
LOS FOUR Meets LOS 40 at La Bodega Gallery YEW by Chris Cantore
Art Beat: April Gallery And Exhibit Openings Pacific San Diego Magazine by Lisa Deaderick
Arts Alive Banners adorn North Coast Highway 101 The Coast News by Aaron Burgin
To See or Not to See: UCSD Open Studios 2017 City Beat by Seth Combs
Local curator irked by trendy border art shows City Beat by Seth Combs
Culture Report: San Diego's Art and Science Scenes Are Starting to Collaborate Voice of San Diego by Kinsee Morlan
Encinitas arts alliance receives $25K grant from Leichtag North Coast Current
Culture Report: An Artistic Take on the Homeless Conversation Voice of San Diego by Kinsee Morlan
Proposed Holocaust memorial rejected for San Diego's Embarcadero Union Tribune by John Wilkens
First Person: Artist Shinpei Takeda Explores 'Fobias' In Latest Exhibit KPBS by Brooke Ruth
'No Border Wall' mural unveiled at Chicano Park ABC Channel 10 News by Jessica Chen
Neighborhood Watch: Barrio Logan City Beat by Torrey Bailey
Oceanside Looks To A More Colorful Future With Murals Initiative KPBS by Alison St John
One Wall At A Time: Murals Transform San Diego's Lincoln Park KPBS by Ebone Monet
Local curator irked by trendy art shows City Beat by Seth Combs
Should parents bring their kids to art shows? City Beat by Seth Combs
To See or Not to See: May-ling Martinez City Beat by Seth Combs
A pig is still a pig and a wall is still a wall City Beat by Seth Combs
At Lux, artist's bell-based sculptures address environmental changes Union Tribune by Maya Krouth
Culture Report: Gallery Owner Makes a Case for Pay-to-Play Art Shows Voice of San Diego by Kinsee Morlan
Chicano Park's new mural has fans, detractors Union Tribune by Kate Morrissey
Congressional art competition entries on display at Liberty Station Union Tribune by Karla Peterson
SPACE TIME screens APPLE PIE at Bread & Salt City Beat by Rachel Michelle Fernandes
So long, Ginger Shulick Porcella City Beat by Seth Combs
Encinitas arts alliance receives $25K grant from Leichtag Foundation North Coast Current
National Academy of Science Examines Role of Liberal Arts in STEM Huffington Post by John Eger

OPPORTUNITIES (click to see a list of all current opportunities with full details listed on SDVAN)

If you are available on May 13 then the Figment Project invites you to submit a proposal to a participatory art event called FIGMENT at Chicano Park in Barrio Logan. For more info: 619-237-9042 Nicole Hickman

Mission Trails Regional Park (One Junipero Serra Trail, SD 92119) is making its annual call for artist for 2018. If you are interested, please contact Vicki DeLong at 619.286.1361 and/or email her for a prospectus. vbde@cox.net

The Veterans Art Project is seeking funding proposals from colleges, artists, and community centers who work, or wish to work, with Veterans their spouses and their families. A total of $78,000.00 will be awarded to the projects that best engage Veterans in arts education in the context of their communities. Proposal submissions are due by June 1 for projects taking place Fall, 2017 and Spring, 2018.See the Full Criteria for Submission and Guidelines here.

MUSEUMS

California Center for the Arts Escondido Reuse Recreate Reimagine will be on view in conjunction with Second Time Around: The Hubcap as Art thus devoting the entire museum to art made of recycled materials. The exhibition celebrates the trans-formative nature of art in the most physical sense and is on until May 28.

Mingei International Museum Sandy Swirnoff's Knotted Fiber Jewelry is on view until June 4. She began creating knotted fiber jewelry in the early 1990s. Working with antique glass shards from the famed companies of Peynaud, Daum, Galle and Tiffany, she creates unique works of art that merge the old with the new. Swirnoff builds a custom beaded bezel and mount for each irregularly shaped glass piece and combines it with various beads including glass seed beads, vintage and Czech glass beads, freshwater pearls, Carnelian, Serpentine, amber and turquoise. Her knotting process, a form of macramé, is spontaneous and her designs are free form. This exhibition will feature approximately 30 necklaces and bracelets that reveal the artist's passion for nature, color, and texture.

The Museum of Contemporary Art San Diego) in collaboration with the University of California San Diego Department of Visual Arts presents A Step Away: Artists from the MFA Program at UC San Diego, an exhibition featuring work by eleven graduating artists. A Step Away opens at the Museum's popular and free monthly program, Downtown at Sundown, held on Thursday, April 20, from 5 to 8 PM. The exhibition will remain on view at MCASD's Downtown location through May 29.

Museum of Photographic Art last days to see India and the Picturesque. Selected from the Museum of Photographic Arts' collection of 150 19th century images of India, this exhibition highlights the rich photographic legacy that was created over two decades from 1860–1880. With images made by Samuel Bourne, John Edward Saché, Edmund David Lyon, Indian photographer Nathulall, and others, the people, places, and landscapes of India were brought to life for viewers of the day.

New Children's Museum has launchedSketch Aquariumin partnership with Tokyo-based teamLAB. Visitors are able to design a sea creature, scan it in and watch it swimming and interacting within minutes in the 20' x 10' touch screen wall-sized digital aquarium. Visitors can virtually feed the fish or direct them throughout the aquarium. "Sketch Aquarium allows children to express their creativity in an open and highly collaborative environment," said Tomoko Kuta, Deputy Museum Director. <iframe width="560" height="315" src="https://www.youtube.com/embed/FSeaDGg4i3M" frameborder="0" allowfullscreen></iframe>

Oceanside Museum of Art 's highly anticipated annual gala is taking glitz and glam to a new level at The Museum Ball: Puttin' On The Ritz on July 22. Attendees will enjoy an elegant and captivating evening of dining and dancing under the stars. The night commences with a sunset champagne toast on the expansive Biogen-Idec museum terrace before party-goers proceed to the Oceanside Civic Center Plaza where cocktails, hors d'oeuvres, and an al fresco dinner and live auction.

The San Diego Museum of Art will continue to show Richard Deacon until July 25 so make sure and catch it if you go to Arts Alive, the annual floral displayed themed to images in the museum from April 28-30

TRANSITIONS

Stop the world we want to get off. Can everyone just stay where they are and in good health for a month or two and give transitions a rest, please.

TIDBITS

From Feb 25 through April 30, 2017, the Coachella Valley Desert X and its desert landscape has become the canvas for a curated exhibition of site-specific work by established and emerging artists, whose projects will amplify and articulate global and local issues that may range from climate change to starry skies, from tribal culture and immigration to tourism, gaming, and golf. The art works, in various indoor and outdoor locations, will be available free and will offer visitors a way to see the valley and reflect on serious and playful issues through the lens of the participating artists' creativity and work. We are especially excited to see Lita Albuquerque at Sunnylands.

Tom Sergott at Sergott Contemporary Art Alliance is on a roll. This year he is at Art Market San Francisco 2017 in April and Context New York 2017 in May and has already exhibited at Art Palm Springs 2017 and LA Art Show 2017. Way to go, Tom. Artist who want wider notice of their work should take note.

"Creativity is allowing yourself to make mistakes. Art is knowing which ones to keep." Scott Adams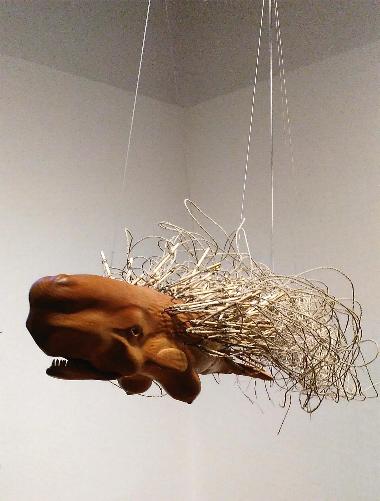 This is a hand carved wooden female sperm whale by William Feeny and part of the San Diego Art Prize 2016 at Athenaeum Music & Arts Library. You can see the fearsome teeth of this predator but look more closely and from profile and then from underneath you see human female breasts. Then what you thought was some sort of hair, are actually harpoons scaled to size. Feeney was inspired by the Moby Dick tale. He titled this work 2016 and says it represents the political will of women, fiercely swimming forward no matter has much it is attacked. We take off our pink pussy hats to William Feeney. This show continues until Sat. June 10th and features Irma Sofia Poeter with emerging artist Shinpei Takeda and Richard Keely. See and read more from the SD Art Prize Catalog 2016.

You don't want to miss the 2017 New Contemporaries SD Art Prize Nominated Artists at basileIE + CMCuratorialwhich opens on Sat June 10 from 6 to 9 pm. You can vote again for your favorite artist who will receive an extra cash prize. The artists are showing until Sat. August 5, when there is a closing reception and announcement of Art Prize emerging artists recipients from 4 to 6 pm (2070 Logan Ave, SD 92113) More info: Chris Martino cm@cmartino.com 858.361.9052 New Contemporaries 2017 Catalog

The Big Exchange is organized by the SD Museum Council and if you are a member of one of the participating museums, you can get into 29 other institution for free until May 31.

City of SD mayor has put forward huge cuts to arts funding and lots of art organizations including SDVAN are protesting. Click the link and add your voice. Originally the cuts were $4.7 million to the city's Commission for Arts & Culture. The final sum cut is $2.3 million which leaves a budget of only $24 million just one hundred thousand less than half.

ART REPORTS by or about SDVAN

Desert X: a close by way to see large scale art A+ Art Blog by Patricia Frischer
Reuse Recreate Reimagine, Second Time Around: The Hubcap as Art at CCAE Picked Ripe by Patricia Frischer
Cultural Districts: OMA and Barrio Logan plus Passport to the Silk Road Picked RAW and Ripe by Patricia Frischer
SDVAN project SD Art Prize at the Athenaeum Picked RAW by Patricia Frischer

County Wide Reports

Culture Report: Building Art, Not Walls Voice of San Diego by Kinsee Morlan
Local arts and culture groups have the budget blues City Beat by Seth Combs
San Diego Museum of Art 'unlocks' vault in new exhibit Union Tribune by Michael James Rocha
Business Owners Turn Graffiti Into Murals in Paradise Hills NBC 7 By Monica Garske
Culture Report: Tidelands Turned Community Stage Voice of San Diego by Kinsee Morlan
Recycled art exhibits shine at California Center for the Arts La Jolla Light by Lonnie Burstein Hewitt
Bad news looks good in La Jolla Historical Society's Climate Change show La Jolla Light by Lonnie Burstein Hewitt
Botero exhibit at Tijuana Cultural Center Union Tribune by Sandra Dibble
A "World Without Walls" Doesn't Look Promising Huffington Post by John Eger
Persian Music and Peace Caravan featured at Passport to the Silk Road SD Union Tribune by Linda McIntosh
Salk Scientists' Latest Experiment Is Collaborating With Artists Voice of San Diego by Kinsee Morlan
The Most Devastating Cuts in the History of Our City to Arts and Culture Voice of San Diego by Kinsee Morlan
GRRRL Art Collective aims to unite women artists City Beat by Rachel Michelle Fernandes
Allison Manch threads the needle City Beat by Rachel Michelle Fernandes
Mothers of invention City Beat by Seth Combs
Interesting Side Effects of Artificial Intelligence Huffington Post by John Eger

OPPORTUNITIES (click to see a list of all current opportunities with full details listed on SDVAN)

The Japanese Friendship Garden San Diego in Balboa Park is making a general call for artist for 2017 to 2010. If you are interested in showing in their space contact Emiko Scudder 619.232.2721

Museum of Photographic Art i s making a Call for Entries for their 12th Annual Juried Youth Exhibition.

The Encinitas Arts Culture and Ecology Alliance is hiring a program administrator to help launch the former Pacific View school site into its new incarnation as a center for arts, culture and ecology.

MUSEUMS

Join guest Curator and artist Debby Kline along with artists; Vandegraaff Gearheardt, Becky Guttin, Larry Kline, Cheryl Nickel, and Roberto Salas, to learn how they were moved to create the artwork in Reuse Recreate Reimagine on May 28 at 2 pm at California Center for the Arts Escondido. Using antiques, crutches, Perrier cans, huaraches, and car radiators, the artists were inspired to re-purpose these items into works of art.

At Mingei International Museum, Sandy Swirnoff continues to show knotted fiber jewelry until June 4.

The Museum of Contemporary Art San Diego features Andrea Chung: You broke the ocean in half to be here showing downtown until August 20.

New Children's Museum is excited to welcome Bean Sprouts, a nationally-recognized café concept where kids and families participate in a playful eating experience. Bean Sprouts plants its good-for-you cafés inside family destinations to meet rising demand for healthier choices. The American Alliance of Museums Awards Museum for Innovative Art Installation awarded the museum the Special Achievement Award, Exemplary Innovative Practice for The Wonder Sound ,by artist Wes Sam-Bruce. This immersive art installation opened in June 2016.

Exciting news for the fall from the Oceanside Museum of Art when theUndocumenta exhibition opens as part of the Pacific Standard Time: LA/LA. Subverting the title of one of the premiere European art events by referencing the plight of the 'undocumented,' this exhibit will focus on artistic production that takes place at the convergence of Latin America and Southern California. It will include artists Maria Teresa Fernandez, Claudia Cano, Dominic Paul Miller, Marcos Ramirez ERRE, Omar Pimienta and Teresita Delatorre and is curated by Alessandra Moctezuma. A whole schedule of events is planned including a TJ day trip and panel with Claudia Cano, Omar Pimienta, and Marcos Ramirez ERRE who have all been involved in the SD Art Prize.

The San Diego Museum of Art continues the Richard Deacon exhibition, which has been extended until Sept 4. I saw this piece and wondered how they got it into the museum. Now I know! Lovely exhibition so try to catch it.

Timken Museum of Art Collections in Context: Private Devotions: Italian Paintings and Sculptures from San Diego Collections on view June 22 - August 20. The second exhibition in the Timken's summer series features more than a dozen magnificent Italian works of art from the 13 th through 17 th centuries. Drawing on the strengths of San Diego private art collections, very few seen on public display, and the newly displayed Timken masterpieces this exhibition showcases objects often used by individual worshipers as part of personal prayers or shown in intimate domestic settings. Click for more information.

Women's History Museum and Education Center One Hundred Years of One Hundred Handbags from June 2 to July 2 explores how women's lives have shaped the fashion of handbags through a collection of one hundred handbags ranging from the 1850s to the 1950s. Fashion, utility, lifestyle...handbags are intrinsically connected to how women live in modern society.

TRANSITIONS

We are grateful that everyone just stayed where they are and in good health for a month and give transitions a rest. But we see BIG tranisitons in the future.

TIDBITS

The LA Times reports that the NEA and public broadcasting are good for another year. "Congressional leaders rejected the Trump administration's proposal to eliminate money for federal arts programs, providing a small increase as part of a bipartisan spending deal. The spending bill that Congress is expected to vote on this week includes $150 million for the National Endowment for the Arts and an identical sum for the Humanities endowment. In both cases, that's a $2-million increase over last fiscal year.

The new Tate Museum in London will be named after its Russian benefactor…but wait, this is a Russian who moved to the US. The £260 million extension of the Tate Modern, The Switch House, is to be renamed the Blavatnik Building,

If you are craving a bit more Silk Road especially Afghanistan, then take a trip to the Khyber Pass Gallery in Laguna Beach to see a one day show by Diane Stacey. As an extra treat Marcy Llamas Senese is going to read her poems. More info: skylotus@sbcglobal.net