SUPPORT
SDVAN is a 100% volunteer organization and runs solely on your donations. The San Diego Visual Arts Network needs and is very grateful for your support.

Donate on Line
Donate by check and mail
Levels of Support
SD Art Prize and Art San Diego
Affiliates
Volunteers
How your support helps us to support the Visual Arts


Give with confidence.

San Diego Synergy Arts Network DBA San Diego Visual Arts Network is listed with the California Cultural Data Project and Better Giving/Guidestar through the SD Foundation http://bettergivingsd.guidestar.org/NonprofitProfile.aspx?OrgId=38244


Yes, I would like to support SDVAN which provides representation and support for the entire visual arts community of the San Diego region through its directory and calendar services.

You can donate online our secure site by credit card or Pay Pal


or call to donate by credit card 760.943.0148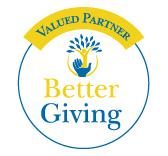 We are pleased to be a valued partner of
Better Giving
Levels of Support:




Basic Black

Friends with a minimum $25 donation to SDVAN includes these benefits
Consideration for featured event status on the home page
Recognition on the Sponsorship page of SDVAN
Listing of resource in the directory and event listing. This listing appears on the calendar date. The calendar is resident on multiple sites. The event is listed as one of the next 15 visual arts events taking place in San Diego and also listed as an ongoing event after its start if that is appropriate. The listing contains a live link to the sponsor's own web site.
Magenta

Supporters from $26 to $100— all the above plus
Advance notice goes to the SDVAN committee members in the minutes to pass on to their networks of your donation.
Notice given of the event to RAW for inclusion in Ally Bling Bling's gossip column
Violet Patrons from $101 to $200 - all the above
Inclusion in all VIP events
CeruleanConnoisseurs $201 to $1999— all the above plus
A selection of your artists featured on a home page banner
Logo status recognition on the site sponsor page
Titanium White Benefactors over $2000 — all the above plus depending on donation amount
Special custom event designed around your needs
Press release sent out about your event by email
Major Sponsor logo on all printed materials


Contribute any amount to support this special SD ART PRIZE which is dedicated to the idea that the visual arts are a necessary and rewarding ingredient of any world-class city and honors excellence of artistic expression.Please mark your donation for SD ART PRIZE. We are glad to send you a special corporate SDArt Prize sponsorship opportunity document by request. patricia@sdvisualarts.net

SDVAN is the fiscal agent for Art San Diego Contemporary Art Fair. We accept donations on thier behalf and to support the SD Art Prize at Art San Diego. Please mark your donation for SD Art Prize/Art SD.
LISTING ON OUR DIRECTORY AND EVENTS CALENDAR
: We are suggesting a minimum donation of $25 for any entity interested in being listed in the directory or using the calendar service but this is not mandatory. We suggest a minimum of $5 for each artist listing on SDVAN. A

$5 donation for each listing on our events calendar

and
a
minimum $25 donation for events to appear on our home page as a featured event
is much appreciated.
Send donations to SDVAN at 2487 Montgomery Avenue, Cardiff by the Sea, CA 92007 or go to donate online (Please note, we have non-profit status so your donation is tax deductible.)
You can now donate on our secure site using a credit card or Pay Pal

or call to donate by credit card 760.943.0148
or
Donate by Check: Please print out the following information and send the form:
---------------------------------------------------------------------------------------------------------------------------------------------
My Contribution level is:______________________.
My donation is in the amount of: $___________________________.

I can't become a Friend of the SDVAN at this time, but please accept my donation in support of SDVAN for $__________________.

Name:
Company:
Address:
City,
State
Zip:
Telephone:
Email:

THANK YOU FOR YOUR MOST GENEROUS GIFT!
SDVAN is a non-profit organization and your donation is tax deductible. Our tax code is 501(c)3
Please make checks payable to San Diego Visual Arts Network and mail to:
SDVAN
c/o Patricia Frischer
2487 Montgomery Ave.
Cardiff by the Sea, CA 92007
Any questions? Contact by Phone: (760) 943 0148 or email to patricia@SDVisualArts.net
back to top

We welcome the support of volunteers to achieve the goals of the SDVAN. We are looking for committee members for Public Relations and a number of editors for each of the sections of the directory. Please contact Patricia@SDVisualArts.net
You can now support San Diego Visual Arts Network by visiting the following affiliates. A percentage of your purchases on these sites comes to SDVAN as a donation. Please click on the following links:


How your contribution will help:

San Diego Visual Arts Network is a database of information produced to improve the clarity, accuracy and sophistication of discourse about San Diego's artistic and cultural life and is dedicated to the idea that the Visual Arts are a vital part of the health of our city. Did you know:

The SD Visual Arts Network (SDVAN) helps create synergy among all the visual arts. The 90 organizations involved with the Commission for Arts and Culture reach more than 1.3 million people. The SDVAN will connect more than 1,000 organizations and more than 3,000 artists and will be the largest resource ever brought together to support the visual arts community of San Diego. Its potential for influence within the entire community could be astounding.

Art is big business and growing all the time.
- Total revenue from fine art auctions worldwide rose 37% to close to USD 3.5 billion. With a number of major sales in the modern art segment, we are experiencing a very successful year for contemporary art, which doubled its revenue of the previous year.
- According to Artprice's econometric data, prices on the contemporary art segment rose 17% over the twelve months with the segment accounting for 6.4% of total art revenue compared to 4.4% the previous year.
- Arts and cultural attractions brought at least 1.8 million cultural tourists to the San Diego region, which contributed $210 million to the local economy. Cultural tourists spend 45% more money than other tourists during their visits. They take longer trips and are more likely to shop and pursue other educational activities.
- Cultural revenue from San Diego residents is estimated at $2.6 million for admission fees alone. SD invested $8.6 million in grants and $116 million was direct expenditure to local businesses and individuals by the art community.
- Non-profit art sector contributed a total of $257 million to the economy. San Diego has more than 6,500 art related business and is ranked 8th in the nation in number of art related businesses per capita.
- For our children, Arts Education can enhance scholastic achievement, creative thinking, social skills, self-esteem, attendance at school, cognitive performance, leadership skills and multicultural sensitivity.

SDVAN contributes to this increasing economic blossoming by giving access to information for free to all resources and visitors of the site.
back to top
The San Diego Visual Arts Network would like to thank those organizations and individuals who have already lent their support to the SDVisualArts.net. Click here to see a list of SDVAN sponsors.
Support SDVAN and you receive more than the gift of art. You support that which binds us together that goes beyond religion, race, or gender. You support our freedom to express ourselves and to gather to celebrate our creativity.