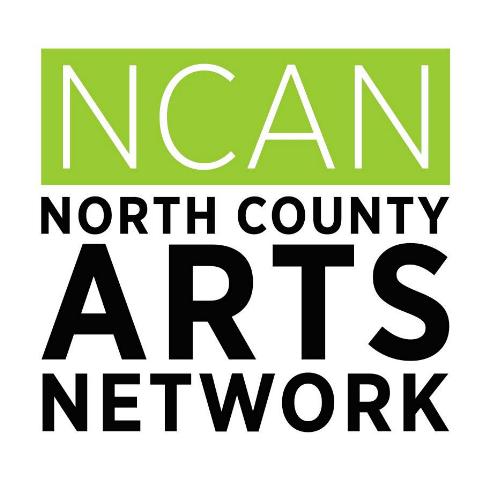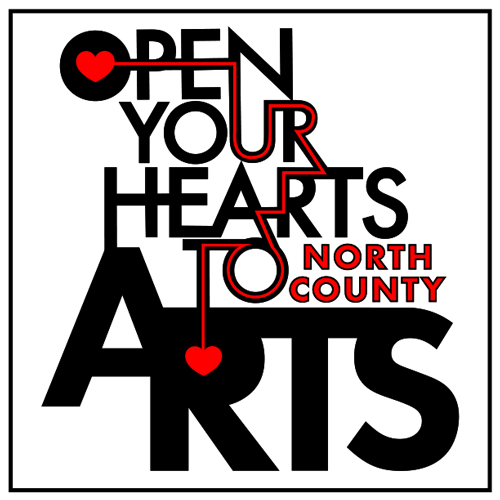 OPEN YOUR HEARTS TO NORTH COUNTY ARTS
Please visit the NCAN website http://sdncan.org for detailed information about this month long celebration of arts and culture in SD North County.

Facebook Twitter GooglePlus LinkedIn UTube
NCAN Vision: "Uniting the arts to invigorate the quality of life and prosperity in our region via the power of collective impact to leverage and maximize support for our creative community." Our vision is that the arts are recognized as vital in the lives of people in North County and San Diego.
NCAN Mission: "On the move to develop an innovative vision, plan, and collaborative effort to strengthen the arts in North County and the Greater San Diego region." Our mission is to serve, advance, and lead the diverse network of organizations and individuals who work in the arts in North County and San Diego.
General NCAN Areas of Priority:
Networking/Alignments/Macro- and Mini-Collaborations

Formal Approaches
Informal Approaches

Research/Data/Mapping and Dissemination

Mapping of Sector and Cross-Sector Partnerships
Research/Data/Best Practices
Case Statement/Stats on Value of Arts

Joint Marketing

Master Calendar
Website/Social Media/List Serve for NCAN and beyond
Shared Expenses on Marketing and Literature Distribution
Media Relations Dev.

Audience Development

Arts organizations collaborative cross-promotions
Business/Arts Reciprocal Discount Program

Cross Sector Collaborations

2016 Arts Summit w/SDNEDC
Cultural Tourism
Countywide collaborations

Advocacy/Civic Engagement/Leadership Development

Civic Cultural Planning
Civic Public Art Planning and Development
Civic Professional Arts Administration
Leadership Dev./Next Generation
Effective Advocacy/Lobbying Campaign Strategy Dev.

Arts Funding

Sustainable Arts Funding Methodologies (i.e., TOT, 1%, Pennies for the Arts, Round-Up, Legacy Societies)
Funding Initiatives

Large/National Foundations & Government
Funder Forums

Re-Grant Program Development

Arts Education

College/University Community Engagement

Joint Programming

Large Regional Festivals/Events
Expanded visual arts presentation spaces/venues

Special Initiatives/Projects

CA Cultural Districts
San Diego Film Commission
Caltrans Freeway/Wayfinding

Organizational Dev./Capacity Building/Technical Assistance

Strategic Visioning/Planning
Board/Staff Development & Professionalization
Fundraising Strategy Dev./Legacy Society Dev.

Individual Artist/Talent Development

Affinity Groups
Diversity and Inclusiveness
Pay Equity for Artists/Performers

To find out more information about NCAN and join the mailing list
please contact: Daniel Foster

Committees
Visual Arts Programming


Arts Education


Civic Arts/Public Art


Arts Funding/Economic Development
Performing Arts Programming
Arts Marketing/Audience Development
For a complete list of PRESS
Group seeks to drive North County's economy through arts Seaside Courier by Ruarri Serpa
Arts community seeking a voice Union Tribune by Edward Sifuentes
North County Arts Network (NCAN) Arts and Economic Development SDVAN A+ Art Blog by Patricia Frischer
North County Arts Network meeting at CCAE in Escondido
SDVAN A+ Art Blog by Patricia Frischer
Why does San Diego need a County Arts Council?
SDVAN A+ Art Blog by Patricia Frischer

Scaling Up and Out: The changing audience for the arts
SDVAN A+ Art Blog by Patricia Frischer
The Arts at Work North County Development Corporation Business Journal pages 19 to 21 by Emmet Pierce

The Time for North County Arts Has Arrived Voice of San diego by Kinsee Morlan (NCAN update)
NCAN Quarterly Meeting: Strengthening Support for North County Arts Community at Poway Center for the Arts SDVAN Picked RAW Peeled by Patricia Frischer