Meet the Collector
An Artist's Art Collection: Dennis Paul Batt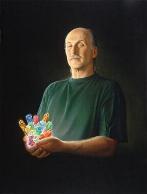 Painting of Dennis Paul Batt by Jen Trute
Dennis Paul Batt (b.1952 South Dakota) received his education at the Museum School of Fine Arts, Boston. He has exhibited his painting and drawing and works in stone in several one-person, invitational, and juried exhibitions both locally and nationally. Dennis created a comprehensive database of stone-to-stone artwork American Masters of Stone to introduce lapidary as a fine art. In 2005, Dennis was inducted into the National Rockhound & Lapidary Hall of Fame in the Lapidary division. Dennis is a Past-President of the San Diego Museum of Art Artists Guild and a former trustee of the San Diego Museum of Art. He is now the co-managing trustee of the Outdoor Art Foundation. He also serves on the boards of COFAC (Consejo Fronterizo de Arte y Cultura - Border Council of Arts & Culture) and the Synergy Art Foundation. Dennis works with the committees of the San Diego Visual Arts Network and Oceanside Museum of Art Artists Alliance. He is the founder and web-person for the San Diego Visual Artists Guild, Dennis also is the founder and the executive director of a charitable organization, the Museum Artists Foundation (MAF) which holds fundraisers for the visual arts. He helped create and design Wildlife Art Exhibition & Sale, held at the San Diego Natural History Museum in 2005 through 2006. Dennis recently became a member of the executive steering committee for a local think tank, Imagine Carlsbad. In January, 2007 Dennis launched a new business venture called Virtual Fine Art. He is the owner and President of the company, which features 3-D Interactive Virtual Art Museum.
Collectors Interview Questions and editing by Patricia Frischer
Tell us the story of the first work of art you purchased?
Dennis: The first work of art I purchased was a painting by fellow artist, Dominic, in Boston in 1976. There actually is a story about this particular piece. Dominic is an extremely versatile artist who works in all manners of media; from oil painting to bronze sculpture, from pastel to print making. I had a one-person show at the Newbury St. Gallery in Boston that represented both of us. My work was in gouache with a lot of detail. Dominic saw my exhibition and decided to create his own gouache painting, a media he had never used. To totally trump my work he spent hundreds of hours using a one-hair brush and created a great piece, similar in technique to gouache paintings produced in India and Persia. He and his wife kept giving me a play-by-play account of the progress of the painting. The day before the opening of his own one-person show, I saw it on sale for the ridiculously low price of $500 (pennies per hour for the work that went into it). I bought it before the show opened. He has never done any work quite like that piece since.

How would you describe your collection? How has it evolved?
Dennis: My collection is mainly composed of local San Diego and Baja artists, but I also have many works from other artists, as well as objects d'art from around the world.

Do you have idols/mentors that have influenced your collection?
Dennis: I was influenced by my parents, who collected works of art as well as objects d'art. Some of their collection has recently been added to my own.

What resources do you use to find the work you acquire?
Dennis: Whenever I have a good job that supplies me with a bit of surplus income, instead of going on vacation, I purchase a work of art to show for it. I also have traded for work, acquired pieces as gifts, and have commissioned artists to create pieces for me.

What are the strangest items you have collected and where are they now?
Dennis: The strangest items I have collected are probably some pieces of my own which I've retained in my own collection, specifically my sculpture. Though, I have tried to find homes for some of them in the past.

Tell us about the 'work' that got away? What was the one item you wished you had acquired but did not?
Dennis: Only one piece "got away" and it was a silent auction piece by Bob Perine. It went for only $300. I misunderstood the process and lost out. However, a good friend did acquire that piece so I have been able to view it frequently.

What advice would you give someone who is starting to collect?
Dennis: If possible, get to know the artist. Spend as much as you can afford, and buy more than one piece from the artist if you can. Also, artists love to be commissioned to create works.

Please describe one favorite work in your collection and tell us the story of how you came to acquire it .
Dennis: This is a very difficult question to answer as I can think of more than one piece. However, one of my favorite pieces is a stone sculpture by Will Richards of Avalon, Catalina. Will is a friend of mine and when I was ready to purchase another work of art I commissioned him to carve a steatite (black hard soapstone) raven similar to one I had seen in his studio. For the price I was willing to pay, I presumed he would do a small 6" high piece. However, he went out into the field, picked up a 40-50lb. block of steatite in the hills of Catalina Island, and carried it on his back for miles up and down steep canyons and ravines. He then carved a large magnificent bird, which I am very proud to now own. Artists like commissions as I mentioned before!