Ask the Art Activist
Interview with Patricia Frischer: Artist,
San Diego Community Organizer for the Arts
Article and interview by Cathy Breslaw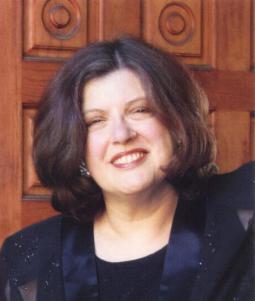 I met Patricia Frischer in 2001, a few years after she moved to the San Diego area. My studio was on the COVA Studio Tour and as Patricia introduced herself, and we had a conversation, it was obvious to me how enthusiastic she was about making and seeing art , meeting artists and reaching out to the art community. In the last ten years or so, Patricia has brought her generosity of spirit, art know-how and years of experience in her own art career to pioneer and build the San Diego Visual Arts Network. She has also been the driving force in many successful San Diego projects including Little and Large, Art Meets Fashion, Movers and Shakers, the San Diego Art Prize and the upcoming DNA of Creativity.
When I asked Patricia about what advice she has for artists in the San Diego community who are charged with the difficult task of promoting themselves and their work she had one thing to say - "Don't wait to be discovered." If anything has defined her journey through her art career and her life, it has been Patricia's ability to navigate proactively through the challenges and opportunities presented to her. During our interview, Patricia told me the story of her art career and how "giving back to the visual arts community" of San Diego became her central priority which continues today.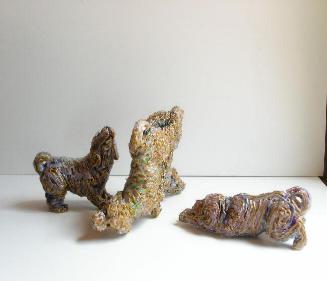 Patricia grew up in Kansas and her first art experience that sparked an interest was jewelry-making and studying the craft side of art. Her first two years of college were at Washington University in St. Louis. Realizing that she belonged in an art school, Patricia moved to California where she attended the California College of Arts and Crafts. There her interest in jewelry making quickly turned into creating sculpture because as she said "My jewelry became so large that it eventually grew into sculpture". Though she was offered a teaching position when she completed her bachelors and masters degree, Patricia thought she needed to move out into the world to gain some experience. So rather than staying in the "cocoon of the support system" at California College of Arts and Crafts, she chose to travel. She speaks fondly of her years in art school, including the many mentors and friends she had there who she still communicates with today.
So, Patricia packed her bags for London. Running out of money, she decided to stay in London and get a job and applied for a position as gallery assistant in an art gallery. During her time there, the gallery changed owners many times and the final owner, who was an entrepreneur, promoted her to gallery director and told Patricia she could create whatever kind of gallery she'd like. Taking on this amazing opportunity, Patricia turned the gallery into one that promoted drawings - she saw that no other London galleries were promoting unique works on paper. In the process of developing the gallery, Patricia met some famous artists including Henry Moore and Alan Jones, and organized a show of California artists which toured American embassies as part of a cultural program. As if all that were not enough, Patricia simultaneously made and exhibited her art during this time - focusing on small soft sculptures and small paintings - simply because she had a small flat and didn't have room for larger work.

Missing familiy connections, Patricia then returned to the U.S., and found a job running art galleries for Humboldt State University, taught a few classes and wrote a book called: Artists and the Art of Marketing. Wanting to return to England, Patricia decided to go back to London. She proceeded to travel throughout England visiting universities presenting lectures on the content of her book on artist marketing. From this experience, she was offered a position as head of the art department at Southbank International School, which is a international baccalaureate high school. Patricia stayed at this position for 15 years, teaching students while simultaneously training art agents for MM Arts and creating her own art. During this time she met and married Darwin Slindee and in 1996 they decided to move back to the U.S.and to San Diego to live.
The San Diego Visual Arts Network, or SDVAN as it is known, came about as Patricia's desire to bring together artists, curators, galleries, museums, art collectors and art aficianados in San Diego county into a resource directory and a way for these various groups to become aware of one another and to unite them in a common effort to strengthen the visual arts in San Diego. Since its launch in 2003, SDVAN has grown to over 1100 artists and 860 museums, galleries and non-profit organizations. The site also offers an events calendar, 'Picks of the Month", a collectors area, blogs, art reviews and more. At the beginning, Patricia asked for voluntary donations of $25.00 to obtain a listing on the site, but now Patricia says people donate freely and the site now pays for itself including the exchange of services for the listings. As Patricia explains, the beauty of this resource directory is that it doesn't require an office, administrators, or employees that would otherwise add costs to fund it's existence. Because of this, the money raised for the organization can go to help fund portions of special projects like Art Meets Fashion, Movers and Shakers, Little and Large, San Diego Art Prize and the upcoming DNA of Creativity. The common goal of all these projects has been Patricia's desire to make the visual arts "front and center" to all residents of San Diego county. The most recent project, the DNA of Creativity, is planned for completion in the Fall of 2013.
If there is one message Patricia has it is her "belief in the power of art, how it enhances our lives - for both artists and those that appreciate it." She believes that artists in San Diego have opportunities in the many galleries, and alternative venues that exist in the area. Her advice to artists is to band together with others of like minds and like kinds of work. She suggests these artists groups come up with themes for shows and present their ideas directly to gallery directors.
I am reminded of one of the books I've read by Joseph Campbell, philosopher and mythologist, who compared one's life to the story in a novel - He said that if you look back over your life, the weaving of all the events, relationships and things that occur are like a well written story and it is easy to see how we wound up in the life we have today. It is just so with Patricia Frischer and the story she shared with me about how she went from artist, to traveler, to gallery director, to educator, to writer and how all those experiences prepared her for her fine work in the San Diego community and important contributions she has made in bringing many disparate groups together to enjoy and appreciate the visual arts.

For more information about Patricia's work and projects:
www.DrawsCrowd.com
and visit our business web site at: www.PCbytheSea.com
Art Girls Inc networking and art event planning www.artgirls.net
SDVAN arts directory and events calendar www.SDVisualArts.net
Lecture service www.ArtProCA.com
Cathy Breslaw is a southern California visual artist, writer and lecturer who has had over 25 solo exhibitions, and 50 group exhibitions across the country at museums, art centers, college and university galleries and commercial galleries. Her work can be found in many private and corporate collections. Her work and writing can be seen at:
www.cathylbreslaw.com
www.artfullifebycathy.blogspot.com
cathybreslaw@roadrunner.com