2011 DONATIONS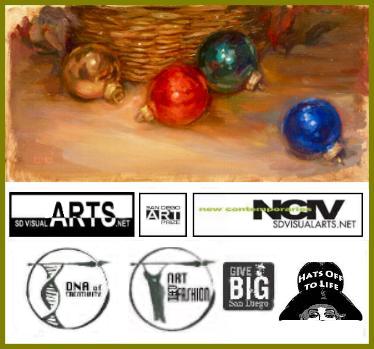 Above image courtesy of Lori Escalera
Did you know we are a 100% Volunteer Organization?
Your input and donations* helps SDVAN fashion our arts community. All donation go to programs and promotion of the visual arts in San Diego.
*All tax deductible donations $5 or more made until Dec 31, 2010 recognized online with a live link of your choice on the 2010 sponsor page. Please join our list of 2010 supporters.
Under $5, $25, $26 - $100, $101 - $200, $201-$1999, $2000 and over. All donations of $25 or more are also archived on our sponsors page
or Donate by check
Please make checks payable to San Diego Visual Arts Network and mail to:
SDVAN
c/o Patricia Frischer
2487 Montgomery Ave.
Cardiff by the Sea, CA 92007
In 2011, SDVAN continued to work tirelessly to arrange collaborations and to showcase talent in the SD region. This year we presented the SD Art Prize recipients at Art San Diego Contemporary Fair at the Hilton Bayfront where we sold $22,000 in art on the opening night. We have a new alliance with the Athenaeum Art and Music Library in La Jolla for group shows of the award recipients. The New Contemporary IV exhibition of emerging artists was held at Alexander Salazar Gallery.
The wonderful Art Meets Fashion promotion had 11 teams each one with an artist, a fashion designer, an educator, and a documenter to record the collaboration. The resulting products were featured at the first ever fashion show at the SD International Airport as well as boutiques and galleries in Northpark, the NTC and Downtown. Over 1000 people attended our public launch for this project at the NTC. There were more than 45 Fringe events on the theme of art and fashion being crossed promoted, an online competition, a show for the artists involved, a mannequin project and Jeans4Justice component.
We are now raising money to continue our work to promote the visual arts in San Diego with the DNA of Creativity., which will fuse the energies of the art and science communities.
Money given to SDVAN is money given to help the visual arts in the entire region of San Diego prosper and be recognized as the vibrant and creative resource that it truly is.
Immense thanks to the following for 2011 donations to SDVAN:
*denotes donation designated for SD Art Prize
Under $5, $25, $26 - $100, $101 - $200, $201-$1999, $2000 and over. All donations of $25 or more are also archived on our sponsors page
Under $25

Portia La Touche
Beth King
Carol Graber
Claire Slattery
Emmy Garncia
John Chalmers
Ron Newby
Robin Lipman
Deanne Sabeck
Michelle Kurtis Cole
Lynn Jennings – San Diego Guild of Puppetry
College Art Association
John Eger, Lionel Van Deerlin Endowed Chair of Communication and Public Policy at the School of Journalism and Media Studies, San Diego State University
Coop and Patti Cooprider
Barbara Gothard
Jill Le Croissette
Dion Frischer
Florence Frischer
James Robbins
Doug Simay
Ellen Speert
Hyacinthe Baron
Women in Creative Photography
Barbara Jones (for AMF)
Maurine Stein (for AMF)
Nate and Ralyn Wolfstein (for AMF)
Katrina B. Hart (for AMF)
Dana Smith (for AMF)
Lauren Kurek
Alexander Salazar Fine Art
Alice and Doug Diamond
$201 to $1999

Art Institutes of California, San Diego
*Julie and Charles Pinney III
Pamela and Michael Stafford (for AMF)
Carolann Dekker (for AMF)
Dr. and Mrs. Thomas and Ann Sergott
Irene de Watteville
Florence Frischer
Art of Photography Steven Churchill
Jay S. Johnson
Schneer Foundation

$2000 and over

Seth Sprague Education & Charity Foundation
Quint Contemporary Art
San Diego Regional Disaster Fund/San Diego Foundation's After The Fires Fund
SD International Airport Art Program
Smart Family Foundation