REAL ART WEST: Art a la mode by Alexandra Rosa
Check out the Picked RAW choices for month and Picked RAW Peeled for reports on event plus
Archived RAW
RAW April 2013
Artist Ed Moses, August 30, 2012 "I don't like the terms art or artist."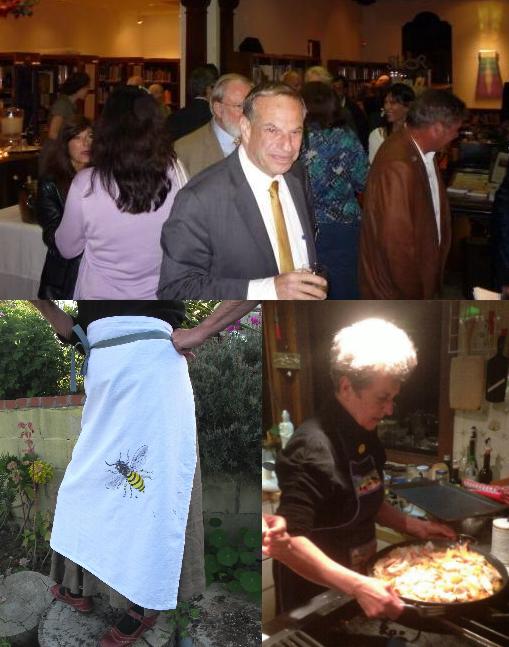 Mayor Filner at the Athenaeum Music & Arts Library opening for Jeffery Laudenslagerwith emerging artist Deanne Sabeck, Arline Fisch with emerging artist Vincent Robles from until May 4. Irene de Watteville's Busy Bee aprons and hard at work for the palette 2 Palate event on April 27.
EAT YOUR ART OUT :Palette to Palate SDVAN/Synergy 10 th Anniversary Party on April 27, in support of Synergy Art Foundation, San Diego Visual Arts Network and Feeding America SD, Please pre-book your Blank to Beauty Bash tickets and rock to Ruby and the Redhots, find incredible art in the silent auction, eat terrific desserts. $15 now but $20 cash at the door at 9 pm. Cash bar. For entrance go to Synergy Arts Foundation
We are pleased to present Jennifer Cerutti Art Walk Business of Art Scholarship recipient booth #567 at the 2013 Mission Federal ArtWalk in Downtown, Little Italy. This is the second year that SDVAN has mentored a SDSU student for their first public showing at the art walk.
More info: Sandi Cottrell 619.615.1090
We are also happy to announce the participation of Jason Rogalski( JCS San Diego Academy) leader of the Urban Succession team of the DNA of Creativity who will be showing in the Mission Federal Kidswalk
Connect with your inner Picasso and learn from artist Gabriela Alvarezon how to use both paint and your fingers to create unique works of art in her interactive workshop called Grown Up Fingerpainting. Gaby's technique utilizes an inventive combination that results in unique blending of colors, shapes and shading. SDVAN is happy to support this interactive part of the Art Walk that gives hands on experience to the general public. Look for Gabriela on India Street near Dick Blick who is also a sponsor of this presentation. All these events and so much more are April 27 and 28 th from 11 am to 6 pm

Last chance to see Two Perspectives from Two Generations (click this link for the video) photography by Nancy Everds and Joan Everds until April 5 at the Mission Trails Regional Park.
OPPORTUNITIES (click to see a list of all current opportunities listed on SDVAN)
TAKE A SEAT is a chairs for charity event where area designers, artists, craftsmen and students will take an old chair (or existing materials) and create something special and unique to benefit Hurricane Sandy and Japan Tsunami relief efforts. They are calling artists (by April 30 th) to use their talents to reinvent an old chair into something special. It does NOT have to end up as a piece of furniture, but can be an art piece or sculpture. This international event is being held simultaneously in New York, San Diego, and Osaka, Japan and sponsored in San Diego by the Southern California branch of The International Furnishing and Design Association. After the kick-off party on the evening of May 7 these chairs will be on display daily at Planet Rooth Design Haus beginning May 8 and the exhibition concludes with a gala event and auction on May 16, where the chairs will be sold to the highest bidder. More info: Karen C. Wirrig 602-321-9154
2nd Annual Art in the Park Fundraiser and Juried Fine Art Exhibition with wine, cheese & chocolate. Held atMission Trails Regional Park(One Father Junipero Serra, SD 92119). Contact Vicky DeLong for a prospectus 619.668.3281
Frame of Reference Exhibit at Studio M on 10th invites artist to submit for the upcoming exhibition concurrent with Mo`olelo Performing Arts Company's production of Extraordinary Chambers, June 6 – 30th, at 10th Avenue Theatre and Arts Center. ( 930 Tenth Avenue, San Diego, CA 92101) Submissions by May 17, $25 registration for 5 images. More info: Gerald Montoya 619.356.0410
Summer Break is The San Diego Museum of Art's new contemporary culture series. Summer Break uses contemporary art to explore a theme present in another exhibition currently on view at the Museum. Lectures, video screenings, workshops, performances, readings, and concerts are all equally valuable parts to this program, which this year will use the Museum's exhibition Arnold Newman: Masterclass for inspiration. Summer Break is 10 continuous days of presentations, occurring from August 1-10. Go to the link Summer Break for content for this year series along with instructions for submitting a proposal.
MUSEUMS
Oceanside Museum of Art presents Dr. Steampunk's Art Extravaganza part of their Art After Dark program on Fri. May.10, 7 to 10 pm with Dr. Steampunk's Cabinet of Curiosities in the Gerald and Inez Grant Parker Gallery from May 7 – 10. ( 704 Pier View Way, Oceanside, 92054. $10 for members, $20 for non-members. More info: 760.435.3720
The Museum of Contemporary Art San Diego and The San Diego Museum of Art present internationally renowned sculptor Charles Ray as the featured speaker for the 13th annual Axline Lecture on Thursday, May 16 at 7 PM at MCASD La Jolla. Ray's work is currently on view at MCASD as part of Lifelike. The Los Angeles-based artist is best known for his uncanny sculptures, which alter and refashion familiar objects, testing the viewer's ability to discern between what seems to be and what is .
Art Alive opening celebration is Friday, April 26, 7:00 - 11:00 p.m. at The San Diego Museum of Art and is $200 for members and $250 for nonmembers. Ticket includes admission to Flowers After Hours, the after-party for this event. 9:30 p.m. – 1:30 a.m.
Lux Art Institute presents James Chronister until May 18 and we visited this show which probably one of the most obsessive compulsive visions we have yet seen. This artist painted every pixel with a dot of paint. It does retain the hand man, hand craft appeal of original art. As always, it is fascinating to see the process of the artist first hand.

Ruben H. Fleet Science Museum Co-Chairs Lori Fleet-Martin and Nancy Robertson invite you to celebrate the Fleet Science Center's past, present and future at the 40th Anniversary Big Bang Gala honoring Executive Director Jeffrey Kirsch on Sat May 11 from 6 to midnight.
On Sat. May 18 at 11:00 a.m. Timken Museum of Art professional storyteller Harlynne Geisler will share the story of Bartolome Esteban Murillo's life and will weave a fanciful tale about angels and peaches in front of the artist's masterpiece. Afterwards, gather outside the museum and get creative as we make wearable angel wings with artist Elizabeth Washburn. Ages 5 and up are welcome. Admission and art materials are FREE!
No reservations required.
TRANSITIONS
We are devastated to announce the tragic lost of Cara Mia Ciasulli. She was a web designer, developer and founder of Park Blvd. Marketing - a full-service boutique web agency serving San Diego and the world. While she held a Bachelor of Science from New Jersey Institute of Technology, her 12 years' experience in web is entirely self taught. An additional passion is being the founder and coordinator of San Diego's Open Arts Collective, an association promoting community multimedia arts engagement via large-scale arts events. Cara Ciasulli was also an electronic musician, vocalist, and photographer. Cara Mia Ciasulli passed away in March, 2013. We honor her memory with our continued work on the SD View Art Now app that she was so dedicated to bringing to life.
ArtPulse, a visual art training and exhibition nonprofit, is moving from the Liberty Station to Bread and Salt in Barrio Logan.
TIDBITS
Do we see a trend here? The Frieze Fair May 9-12. in New York has new satellites whirling around it. The latest to join the Frieze fray is the new Fridge Art Fair, a small, 12-exhibitor event being held at the Lower East Side's Gallery Onetwentyeight. Fridge Frieze, get it! Many of the SDVAN artists were contacted by Parallax Art Fairalso held at the same time and offering affordable space for individual artists. Multiple events give more reasons to visit a city during a fair season. The Amory in March is losing some of it's participants but this April show still has the Affordable Art Fair and we are happy to SD Sergott Contemporary Art Alliance showing there.
Here is one for the books and takes our Murder Mystery theme for the table at Palette to Palate (Black and White and Red All Over) part of the way into real life. Adam Parker Smith set out to steal a whole show of work for an exhibition. Once he purloined the art, he wrote and called each of the artists to tell them what he did. They all seem to agree to the joke and agreed to show their work with a small percentage of anything sold going to Mr. Smith. This little tidbit was sent to us by Michelle Kurtis Cole.
back to top

Alexandra Rosa
RAW for SDVAN
Now watch Alexandra Rosa on Video at ArtRocks247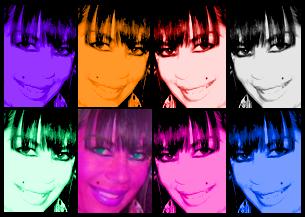 Check out the Picked RAW choices for month and Picked RAW Peeled for reports on event plus
Archived RAW