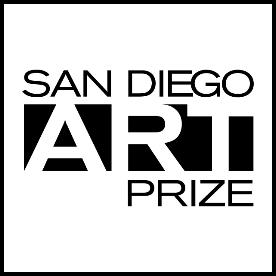 New Contemporaries II
SD Art PRIZE: Recognition of Excellence in the Visual Arts
Every year the SD Art Prize Art Notes writers and previous SD Art Prize recipients along with the SD Art Prize committee nominates emerging artists as possible suggestions for the SD Art Prize established artists to mentor. These artists are all featured in the New Contemporaries exhibitions held at local sales galleries.

2009 SD Art Prize: New Contemporaries II
Catalog
Nominating Committee
Spotlight Exhibitions
Exhibition Introduction
Press
Emerging Artists nominated for the 2009 SD Art Prize



David Adey, Tania Alcala, Michele Guieu, Keikichi Honna, Omar Pimienta, Daniel Ruanova, Marisol Rendon, Tara Smith, Matt Stallings, K.V. Tomney, Jen Trute, Gustabo Velasquez, Yuransky


Noel-Baza Fine Art
Wed. February 18, 2009 – Sat. March 21, 2009
Public reception Kettner Night, Friday, March 13, 6 to 9 pm
2165 India Street - San Diego, CA 92101
Gallery Hours: 11-6 Tuesday-Thursday, 11-8 Friday and Sat. closed Sun, Mon
Info: Patricia Frischer 760.943.0148 or noel-baza@cox.net 619.876.4160
NOMINATING COMMITTEE 2009 : SD Art Prize Artists 2007-08: Lael Corbin, Allison Weise, Pamela Jaegar, Eleanor Antin, Marcos Ramiriz (Erre), Roman de Slavo; Art Notes Contributors 2007-08: Alice Diamond, Kevin Freitas, Mark Murphy, Betti-Sue Hertz, Lucia Sanroman, Erika Torri, Doug Simay, Larry Poteet; SD Art Prize honorary Chairpersons 2007-08: Vivian Lim and Joe Wong, Patti and Coop Cooprider, Cap and Julie Pinney; SD Art Prize Committee: Patricia Frischer, Ann Berchtold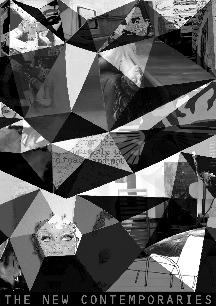 Our thanks to Yuransky for his art layout above and John Rippo of Expresso Newspaper for printing images and bio of each of the artists.
Our thanks to Ann Berchtold and SanDiegoArtists.com for full coverage of the artists.
New Contemporaries II: Emerging Artists nominated for the 2009 SD Art Prize at Noel-Baza Fine Art
Tom Noel and Larry Baza made the choices of works by these artists spending hours to showcase each artists so they could be seen in the best possible light. The SD Art Prize is extremely grateful to them both for their efforts on our behalf. We hope our readers support this exhibition with your attendance and purchase of the works by these up and coming creative talents.

Introduction to the Exhibition by Larry Baza
New Contemporaries II is an extremely varied exhibition with thirteen different takes, visions or statements on 21 st century life, important enough to be made into visual art by thirteen artists living and working in San Diego County. This show comes together not in the traditional manner in which a show is curated by one or more curators or gallerists around a central theme or a specific art form. Instead, the artists showcased in New Contemporaries II were nominated for the San Diego Art Prize, a project of the San Diego Visual Arts Network. The artists were selected by professionals for the quality, excellence and the promise of their work in the "Emerging Artists Category." The nominators included other artists, gallerists, a curator, art collectors/patrons, an art critic, and arts administrators. Essentially, this exhibition provides viewers with a great opportunity to experience a microcosm of the high quality of art being made in this region by thousands of artists.
Noel-Baza Fine Art is pleased to host New Contemporaries II which affirms our belief in the fine art being made by local artists. We are sure that viewers will have the chance to be delighted, challenged, dazzled, and provoked by the variety of art put forth by these artists. Our following brief comments on the work of each artist hopefully will encourage you to read each artist's statement about their work which will enhance the experience and dialogue you have with each work of art. Tania Alcala's paintingspresent the essence of color. David Adey's work, both three-dimensional and mixed media, reconstructs Amercan icons. Michele Guieu's thought provoking work on her life and ours has a cinematic quality. Keikichi Honna comments on contemporary life with humor and an absurdist bent. Omar Pimiento continues the dialogue on the Mexico/U.S. Border with Lady Liberty and Libertad. Marisol Rendon makes social commentary with light and shadow. Daniel Ruanova'spainting and three dimensional work challenge the viewer with an aggressive declaration. Tara Smith's paintings involve scale and proportion creating tension between huge trucks and humans. Matt Stallings'narrativeportraitsexpose American icons. K.V. Tomney provides us with glimpses of mid century America with reflected light and elegant line. Jen Trute's masterful and operatic paintings warn of the growing scourge upon the natural environment. Gustabo Velasquez creates three dimensional tableauxusing discarded "left-for-dead objects." Yuransky the founder of a new philosophy of painting, Zedism, presents his unique mathematically based vision. One of the most exciting aspects of this show will be watching the trajectory of each artist's career as it moves forward.
We offer our sincere thanks to the all of the Artists, the Nominating Committee, Patricia Frischer, Ann Berchtold, and the San Diego Art Prize for the opportunity to host this exciting exhibition.
Mil Gracias/A Thousand Thanks to our family for their work to make this show happen: Marc Baza, Gigi Cantin, Mary Cunningham, Sarah Garcia, Evelyn Mitchell, and Pierrette Van Cleve.
Larry Baza and Tom Noel, Noel-Baza Fine Art

CATALOG OF 2009 SD Art Prize: New Contemporaries II
We are highlighting the SD Art Prize: New Contemporaries featuring Artist nominated in the emerging category for the SD Art Prize 2009 and we hope that many of you will attend the reception at Noel-Baza Fine Art and see the exhibition. There is a wide range of mediums represented as well as a range of age and experience. The most important point is that not all these names are known to all of us. We are celebrating the excellence of these artists and the high quality of the artwork nominated. We encourage you to see some of these artists with more indpeth exhibitions. Watch for the following shows during 2009.
Daniel Ruanova

&


Gutasbo Velasquez
Luis de Jesus Seminal Project
2040 India Street
San Diego , CA 92101
More info: Luis de Jesus 619.696.9699
Feb 14 - March 21

Reception:
Fri. Feb13,
6 to 9 p.m.

Matt Stallings

Subtext
2479 Kettner Blvd.
San Diego , CA 92101
More info: Dylan Jones 619.546.8800
KPBS show with Seth Combs (at 13:10/22:39 in the segmen)
City Beat Cover story by Seth Combs

Dec 11th to Jan 10, 2010
Fri, Dec. 11th,
6-10 pm
Tania Alcala

L Street Gallery
628 L Street, SD, 92101 at the Omni Hotel
Tania Alcala's art courtesy of Noel-Baza Fine Art
More info: Ann Berchtold


Nov 23 - Feb TBD
No Reception
Michele Guieu

Art Produce Gallery
3139 University Ave, SD 92104
More info: Lynn 619.584.4448
Review by Katherine Sweetman;
KPBS show with Keli Dailey ( at 8:35 / 22:39 in the segment);
Union Tribune article by Keli Dailey;
Interview by Keli Dailey,
944 Magazine look for "The Top Three Not to be Missed" on page 20;
Seth Combs review in CityBeat


Dec. 12 to Jan. 24

Sat, Dec 12 Artist talk on Jan 9, 2010 at 6:30

Marisol Rendon
Art Produce Gallery
3139 University Ave, SD 92104
More info: Lynn 619.584.4448
(left_o_ver)
April 18 - May 3
Reception: Sat. April 18, 6-9 pm
Press Release, Jan 2009
Riviera Magazine page 42 Jan 2009
SanDiegoArtists.com Full coverage of New Contemporaries II, Jan 2009
Art as Authority, Feb 2009
Georgia Hoopes, Feb 09
Michele Guieu and Yuransky live and archived on ArtRocks! Radio.
Robert Pincus, Union Tribune, Fear Factor, March 5, 2009
Kevin Freitas Art As Authority "Faite comme d'habitude" or the Culture of Me Me Me New Contemporaries II - Part 3 - March, 2009
Kevin Freitas Art As Authority "Faite comme d'habitude" or the Culture of Me Me Me New Contemporaries II - Part 4 - March, 2009
Seth Combs, City Beat, Mr. Combs' Daily "Obsethssion" #5–David Adey's "Britney's Mental Illness" March 20, 2009
Seth Combs, City Beat, Culture Shock: Matt Stallings, April 7, 2009
SD Art Prize Mission: Fusing Energy for San Diego Visual Arts: Mentorship, Education, Recognition, Collaboration
If you believe in our mission, we are happy to accept your donations to support the San Diego ART PRIZE online or send any amount with checks made out to SDVAN to 2487 Montgomery Avenue, Cardiff by the Sea, CA 92007. Please mark them for SD ART PRIZE. Visit the Support page of SDVAN to donate online.
To find out how these artist were chosen and lots of other information about the SD Art Prize read SD Art Prize Frequently Asked Questions