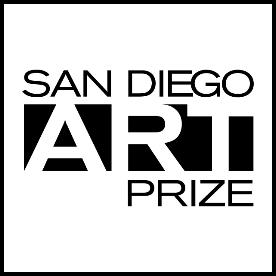 New Contemporaries I
SD Art PRIZE: Recognition of Excellence in the Visual Arts
Every year the SD Art Prize Art Notes writers and previous SD Art Prize recipients along with the SD Art Prize committee nominates emerging artists as possible suggestions for the SD Art Prize established artists to mentor. These artists are all featured in the New Contemporaries exhibitions held at local sales galleries.

2007/2008 SD Art Prize: New Contemporaries

NCI Catalog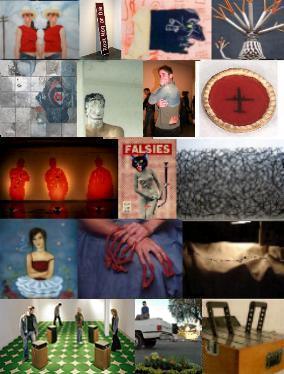 Left to right, top to bottom Alida Cervantes , Allison Wiese, Andy Howell , Ben Lavender , Brad Streeper , Brian Dick , Camilo Ontiveros , Lael Corbin , Christopher N. Ferreria, Jason Sherry , Matt Devine , Pamela Jaeger , Nina Karavasiles , Tania Candiani , Nina Waisman , Shannon Spanhake , Tristan Shone
Featuring Emerging Artist nominated for the SD Art Prize 2007/2008 Simayspace at the Art Academy
Opening reception June 22 from 6 pm to 9 pm - Exhibition continues through July 27, 2007
840 G Street, Downtown SD, 92101 - 619.231.3900 doug@simayspace.com
Hours: Monday through Friday 9 am - 6 pm, Saturday 9 am - 1 pm
The Espresso Mini Catalog PDF
Event Media sponsor: The Espresso
Simayspace New Contemporaries by Doug Simay , June 17,2007
Art Rocks Interview: New Contemporaries with Doug Simay and Shannon Spanhake, June 2007
Click here for your invite to the reception on June 22
We are highlighting the SD Art Prize: New Contemporaries featuring Artist nominated in the emerging category for the SD Art Prize 2007/2008 and we hope that many of your will attend the reception and see the exhibition. There is a wide range of mediums represented as well as a range of age and experience. The most important point is that not all these names are known to all of us. We are celebrating the excellence of these artists and the high quality of the artwork nominated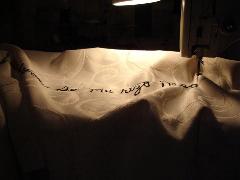 Tania Candiani ' s inspiration can come from real sources like old magazines of the 1950s and 60s and although much of her work is sewn with detachable parts and geometric precision, she is an accomplished photographer as well. The work is conceptually based and many layered. This is a self-taught artist but an avid reader who has a broad base of references in her work.
Alida Cervantes is examining the hierarchies of her own society through a series of images of housekeepers who have worked for her families. She creates exceptional portraits, which tie together these workers while separating them from us. They are affectionate although they show the affects of age and hard work and are revealed as matriarchs, caregivers but mostly as individuals.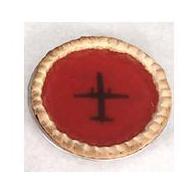 Lael Corbin is part of the adjunct faculty of Point Loma Nazarene University where he oversees the Art Department's shops and facilities. You can tell he loves found objects and the way they can be altered and assembled as his installations and sculpture use mixed media to reflect his current passion. He currently teaches 3-D Design and is in his final year as a M.F.A. Candidate at SDSU.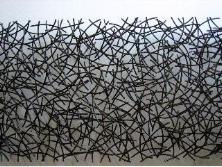 Matt Devine is a self-declared Minimalist influenced by the mid-century design icon Isamu Noguchi as well as Alexander Calder, Barbara Hepworth and Richard Serra. Matt uses steel, copper and bronze to make sculptures with a strong but quiet presence and an elegance that is very powerful.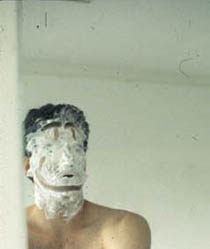 Brian Dick has survived his name and is now a teacher and artist who really likes comic books and movies. He thinks David Collier is a genius. His favorite color is red. He loves thrift store finds especially super-8 movies and old records children's, Hawaiian, old-time radio, homemade records, really any kind of oddball record. He owns an old house. He works a lot and has a very cool girlfriend. His animated videos are way cool and make you laugh.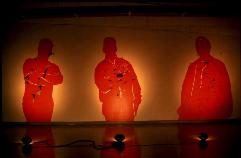 Christopher N. Ferreria's creative practice is not formal but instead examines relationships between objects, spaces, the audience and himself as the artist. There are chance encounters and interactions, which are site specific and southeast San Diego remains the backdrop for much of his work. His Filipino heritage embodies the cultural schizophrenia between the drive of self-determination and the comfort of colonial mentality. Ferreria's practice draws upon these difficult, and many times conflicted, intersections of geography, history, culture, and politics expressed through the subjects of cockfights and the car and gang cultures of his hometown ghetto and the military experiences of his father.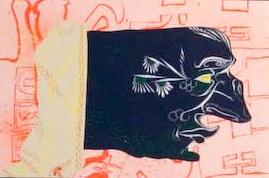 Andy Howell takes iconic street language of graffiti and twists and turns it into forced and raised perspectives reminiscent more of Degas' circus imagery and less of 'street' language. His canvases combine the calligraphic language of the rhythm of words as well as high and absurd color contrast through the use of a whiplash electric organic line. The work is based on representation but evolves into shape and color and line, which lead us out of the canvas and into an energized world of action. Andy's work is read, like Gauguin's, from one direction to another, like a text. This artist is a champion of the streets but reads like immortal French School artist of the turn of the last Century.

Pamela Jaeger is described by Robert Pincus as making works that are ".... enchanted and a touch unnerving." We see a combination storybook illustration, surrealism and folk painting. "My own work can turn into a little world that doesn't exist," she says. "Storytelling is a big part of what I do." she explains. "I think of my art as a way of looking through windows – seeing things you might not want to see." But the colors and forms are so sweet and attractive that they candy coat our experience of her work.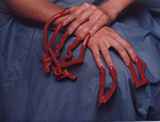 Nina Karavasiles, is a public artist and sculptor, photographer/documenter of her site-specific installation and performance work. She created the cast metal elements and the general concrete form for "A San Diego African American Legacy" at Lillian Place . Nina uses history in her other art pieces like the 70th St. Trolley Station to reveal the geological substrata, and Recipe for Friendship in Amici Park which has bronze cafe table setting with recipes from the Little Italy heritage. But Nina is also a subversive art activist who challenges the ideas of willful acquisition and has been known to place her works in public places and in private collection with no desire for compensation.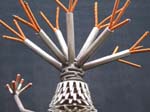 Ben Lavender creates works of art varying from steel and concrete sculpture, paintings and mixed media relief's, to custom furniture and woodworking. Often found working with several mediums simultaneously, it is his sensitivity to materials and attention to detail, which sets these works apart. His inspiration comes from the similarity among the natural forces of growth and erosion. He utilizes raw industrial materials to mimic nature with astonishing results.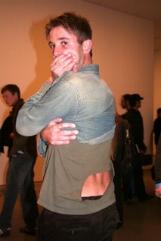 Camilo Ontiveros, br ought "Exchange/Alteration" to SD from Tijuana, a project in collaboration with Mélanie Badalato, where the two altered participants' clothes on the spot. Both these artist are part of a process of change they want to bring about by being part of the dialogue about their community. In fact community is so strongly a part of their lives that they actually remove themselves to a certain extent from the individual "star" system that has been established for high-end art market. This is the gentler side of art activism where art is used to bring awareness to social issues many times through humor and irony.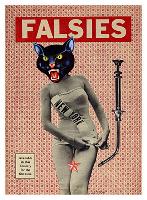 Jason Sherry is concerned with the real and the unreal. "I am concerned with presenting the absurdity of human history and culture by assembling disparate objects and images into new objects..." There is humor but also an underlying meaning in these collaged works whether paper, photographic, mechanical or mixed media. These are totally obsession works, which flow from the artists in a steam of conscious and unconscious narrative.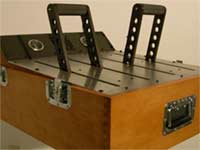 Tristan Shone uses layering of differently guitars, keyboard, and electronic percussion to create the sound that is the justification for the shapes of his sculptures. Just as the music has melody and discordance, the structures he forms have flow and angle. This contrast of mechanical and emotional is confident, intense, and impressive.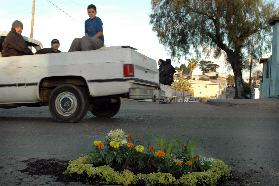 Shannon Spanhake modifies physical structures to reveal cracks and tensions within social structures of the everyday. She transforms familiar things and places into an uncanny and absurd space located somewhere behind reality and in front of real-life. Her practice explores the possibilities and limitations of a site often through a subversive gesture – a tangible hack of the physical world. In "A Tijuana Garden" she planted gardens in potholes throughout Tijuana, using the potholes as open wounds to mark the failure of man's Promethean Project to tame nature. The documentation of this project was organized into a book, "Tijuana: A Fantasy of Absolute Place" and she is the co-founder of the art space and collective Lui Velazquez.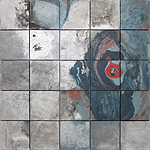 Brad Streeper uses a painting process that is intuitive, and involves unconventional manipulation of paint, glue, gesso and ink. Incompatible materials are mixed, layered and distressed using tools like T-shirts and hammers. Despite the intuitive nature of his process, the end product often references personal interests beyond visual arts. From molecular biology to barren lunar landscapes, he finds himself drawn to the similarities between the micro and macro worlds.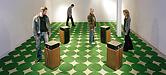 Nina Waisman mines the time and space between events and a form, considering what is at stake as technology advances. Will the need to navigate our evermore minutely mapped world lead to increased expressivity, increased constraint, or something in between? As visitors walk along a path in one of her installations, their footsteps are amplified and played back with increasing temporal delay. Counter to this steady temporal delay, the walkers' footsteps shuttle unpredictably back and forth in space. This double miss-alignment of the body's natural "sound envelope' evokes playful, meditative and at times wary responses - some visitors feel stalked by their own technologically displaced footsteps. Waisman's work ranges from interactive sound-and-sculpture installations to blind-embossed prints of weaponry morphing into modernist form.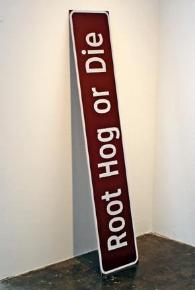 Allison Wiese is an interdisciplinary artist who makes sculptures, installations, sound works and architectural interventions. Wiese learned to walk and talk in Brooklyn, drive in southern California and everything else important in Texas. Her work makes poetry with the ready-to-hand, altering spaces through christening and commemoration. Wiese's projects often employ the diversion of commodities or language through space and time. She recently negotiated a large awning off an empty office tower in downtown Houston, for instance, and installed it, capsized, on the floor of a tiny residentially scaled gallery. She has also developed a site-specific solar audio work for the Museum of Contemporary Art, San Diego.
Doug Simay, curator of Simayspace, is a fixture of the San Diego Visual Art scene. He was known for the excellence of his shows at Simayspace, his support for contemporary local artist (he has been collecting for more than 30 years), and as the foundling father of the SD Art Academy (a non-accredited studio art school in downtown SD) . He makes a pick of his favorite exhibitions on his monthly tip to Los Angeles which are published on the Art Academy website and linked to SDVAN. The description "passionately energetic and verbal" sums up Doug perfectly.
SD Art Prize Mission: Fusing Energy for San Diego Visual Arts: Mentorship, Education, Recognition, Collaboration
If you believe in our mission, we are happy to accept your donations to support the San Diego ART PRIZE online or send any amount with checks made out to SDVAN to 2487 Montgomery Avenue, Cardiff by the Sea, CA 92007. Please mark them for SD ART PRIZE. Visit the Support page of SDVAN to donate online.