REAL ART WEST: Art a la mode by Alexandra Rosa
(Don't forget - Check out the Picked RAW choices for next month)
Hear Ally and Philly live/archived at ARTROCKS! Internet radio

ARCHIVED RAW
RAW Archived for 2010
RAW Archived for 2009
RAW Archived for 2008
RAW Archived for 2007
RAW Archived for 2006
RAW Archived for 2004 and 2005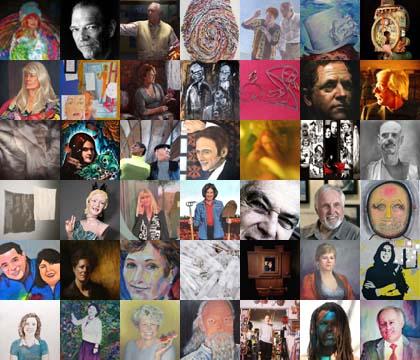 We hope to see you al at Movers & Shakers 2: Who's Who in San Diego Visual Arts at Art Expressions Gallery . T to celebrate the opening, a reception will be held on Thursday, Jan 21 from 6:30 to 8:30 pm to honor the Movers and Shakers, as well as the artists who created their portraits. San Diego Visual Art Network will be showcasing portraits in an online gallery with linked images produced by San Diego Visual Artists Guild . The show is on view from Jan 21 to Feb 6 2010 where all these invited artists will exhibit portraits of VIPs in the SD Visual Arts scene. Want to attend the VIP portion of the evening....they are looking for volunteers.
Here a wonderful project we just heard about. When someone commissions a thumbprint portrait personalized to them from Cheryl Sorg, 25% of the $1,200 selling price (so, $300) gets donated to one of a handful of organizations who work to fight the problem of human trafficking, especially as it affects women and children through sex trafficking, forced prostitution and the sexual exploitation of children. Cheryl is also creating a large installation piece entitled Taken which will consist of black and white thumbprint portraits of survivors - former sex slaves - using their thumbprints and their stories. Additionally, there will be an enormous collection of smaller inked thumbprints and a catalog that tells the victims' stories, gives facts about sex trafficking, gives information about organizations fighting the problem, etc. This project is meant as an awareness-raising piece. She wants to create an exhibition and auction that will be comprised of thumbprint portraits of celebrities and high-profile artists, writers, journalists and politicians and is in the recruitment stage of this project. We are happy to have one of Cheryl images in our upcoming Movers and Shakers exhibition. Contact her for more information: cheryl.demollerat@att.net
Kudos to Ann Berchtold and her team as The Beyond the Border International Contemporary Art Fair (BTB ICAF) announced expansion plans for 2010 which include moving the 2 nd year event to a larger home in downtown San Diego. BTB ICAF has signed a three-year contract with Hilton San Diego Bayfront, the newest luxury hotel in downtown San Diego, boasting the largest ballroom space in San Diego. "Moving downtown allows us to double the number of galleries we can include and opens the door to satellite fairs and collaborative programming with downtown arts institutions. In addition, our Fair can now begin to directly influence the artistic DNA of downtown", stated Ann Berchtold, founder and director of BTB ICAF. The fair in 2010 will be Sept 2-4, 2010. Watch this space for all sorts of updates.
And remember that the SD Art Prize produced by SDVAN is the non-profit beneficiary for the fair. The next SD Art Prize event is the New Contemporaries III show at Project X in April. Those artists will be announced in the New Year.
Congratulation to Downtown El Cajon where you can now see 12 works of art have been added to the landscape on utilities boxes and 9 new artists' submissions have been approved for the upcoming year. Get The Guide to Painting a Utility Box and learn all about the application process, rules, and guidelines. Contact Rebecca Reyes, Community Development Associate, 619.401.8858 or click here to get your copy.
San Diego Center For Jewish Culture and the Gotthelf Art Gallery is presenting Manny Farber: Four Decades of Paintings and Drawings until Feb. 24. The exhibition presents a small, concise group of works painted between 1974 and 2008 and features prime examples of Mr. Farber's wonderfully vibrant artwork and spans the artist's most active and prolific years before his death in 2008 at the age of 91. It is presented in conjunction with Quint Contemporary Art. For more info: 858.362.1114 gallery@lfjcc.com
Congratulations to Rachel Blaser, Assistant Professor, Department of Psychological Sciences at USD who won 1 st place for the English language round, and was a runner up for the worldwide competition at the International Photo Contest for National Geographic.
Well done to Stephen Burns who was contacted by NAPP (National Association of Photoshop Professionals) about being the feature artist and producing the cover for the January/February issue of Photoshop User Magazine. You can buy a copy at any local bookstore. The article shares how to create 3D objects to be used in CS4's 3D layers.
OPPORTUNITIES (click to see a list of all current opportunities listed on SDVAN)
Thumbprint Gallery is currently seeking artists to do 2 person shows for 2010. You may see our consignment options under SUBMISSIONS on our website. Thumbprint Gallery is located in the North Park neighborhood of San Diego and was established to offer a space for local emerging and established artists to showcase their work. For more info: Paul Ecdao 619.203.6030
The Kenneth A. Picerne Foundation will begin accepting Artist Outreach Project Grant applications beginning January 4, 2010. This grant supports accomplished visual, literary and performing artists, 55 years of age or older and living in North County, who are motivated to give back to their community. The Foundation will award twenty artists $12,000 to provide educational, mentoring or therapeutic art experiences of their own design to underserved people who lack opportunities to engage in meaningful arts programs. More info: Victor Nelson 949.267.1517
The Center for Cultural Innovation (CCI) is pleased to announce that the Guidelines and Application Form for Round V of the Investing in Artists grants program . Following an initial three rounds of funding made to 54 artists in 2007 and 2008, CCI is pleased to continue the grants program from 2009-2011, supported by The James Irvine Foundation and The William and Flora Hewlett Foundation. The Investing in Artists program provides grants in two categories, for: 1) Artistic Equipment and Tools; and 2) Artistic Innovation. Beginning in 2009, the grants program will contain significant guideline changes, including a new Artistic Innovation grants category, the rotation of application deadlines according to discipline-specific groupings, and the requirement of online application submissions only. Round V is designated for Visual Arts, Craft and Literary Arts applicants only, and the deadline for submission of online applications is January 11, 2010. For more info: Cora Mirikitani 800.418.1671
The 5th annual ArtWalk on the Bay's 2010 dates have been announced as September 18 & 19 with a New Location: Hilton San Diego Bayfront Park. Artist application information is available on the site.
The Best Western Yacht Harbor Hotel seeks an artist or artist team to create new, site-specific, original artwork(s) which may incorporate multi-sensory and eco-friendly water elements, for the newly renovated hotel. The hotel is located at 5005 N. Harbor Drive, San Diego, California. The process for artist selection is being administered by the Port of San Diego Public Art Department. The estimated budget is $32,000 and the deadline for submissions is Friday, January 15, 2010, at 5 p.m. PST. For more info: c-cjones@portofsandiego.org 619.686.7254
Pacific Beach Elementary School is seeking artist to create mural with high visibility. Mural will accent entrance to school & should be child-centered, multi-cultural, colorful, simple, graphic, and reflective of school's environment, hopefully resulting in a school logo. Previous mural experience necessary. Budget $3000, including honorarium. If interested, please email to receive images and more info about how to submit design for consideration. AndreaHales, PBE Mural Committee 858.472.2838
Enter Photos for the Vista Photo Contest with awards from $25-$50-$200 in Color and Black and White. For more info: Susan Roncone 760.305.8ART
The Fallbrook Art Center is proud to dedicate the 17th Annual "Reflections of Nature" in memory of Janice Griffiths in recognition of her love and support of wildlife art and the environment. This year they have expanded to include "Nature in Miniature", a supplemental juried show in the Salon Gallery. Show dates: April 30, May 1 & May 2 with a submission deadline is Feb 15, 2010. For more info: Mary Perhacs 760.728.1414
MUSEUMS
The San Diego Museum of Art is giving you this last chance to see Calder Jewelry before itcloses on Sunday, Jan 3. Art critic Robert Pincus of The San Diego Union-Tribune says "For those who know Calder's art, it won't surprise you that this work is witty, funny, formally rigorous, ingenious and beautifully made…" SDVAN still has a few supporting exhibition in the Little & Large promotion. Contemporary Fine Art Gallery and Hallmark Fine Art Gallery and Timmons Gallery to Dec 31 plus Gemological Institute Of America to Jan 3.
We can not say this too much….DON'T MISS THE TARA DONAVAN show at The Museum of Contemporary Art San Diego (MCASD). We have spoken to no one who contests this as the most impressive show in San Diego. You can see these awe inspiring works until Feb. 28 downtown. Take your children and students and let them see what contemporary art is all about.
Continuing at the Lux Art Institute is Specimen , a collection of items for sale collected by Mark Quint and Adam Belt. This is another innovative move by an art institute in San Diego (look at the California Center for the Arts, Escondido shop as well) to bring some creativity into the shopping experience which goes a long way to support the fundraising needs of the organization. With Beth Smith moving to Vision Art Quilt Galleryit will be interesting to see how the outstanding Oceanside Museum of Art'sgift shop changes. Specimen is open the regular hours of Lux Thurs & Fri: 1-5 pm and Sat 11am-5pm.
Both the Mingei International Museum and the Museum of Photographic Arts have outstanding gift shops. Join them both for an exploration of how our respective exhibitions, SONABAI and Beloved Daughters, relate to women's issues in India and throughout the world. A distinguished panel will share the stories of resilient Indian women who have struggled with and often transcended adversarial circumstances. Stories of Indian Women: Resistance, Resilience and Transcendence will take place at the MOPA' s Auditorium: Tuesday, January 19, 2010, 7 pm. $5 MoPA and Mingei members /$7 students/$10 non-members.
Info: 619.239.0003, ext. 405
Learn about the alchemical process behind John Zabrucky's exhibition Industrial Alchemy at Oceanside Museum of Art on Thurs. , January 7 th from 7:00 to 9:00 p.m. for "An Evening with John Zabrucky." The artist will present a power point lecture that demystifies the complex process behind his technique. The lecture is $5 and free for members of Oceanside Museum of Art.
New Children's Museum is forecasting 20 tons of real snow in downtown San Diego on Mon, Dec 28 2 – 4 pm in the Museum Park, and plenty of sleds, saucers and activities for kids and families. In addition to Snow Day, NCM has a variety of holiday themed workshops and special events through the new year including the 2nd Annual New Year's Family Celebration & Fundraiser, Jump Party, will be held on January 1.
TRANSITIONS
James "Skip" Pahl is officially retiring from the Oceanside Museum of Art once a new director has been found. Carolyn Mickelson, Chair of the Arts Commission, City of Oceanside and Vice- President, Board of Trustees, Oceanside Museum of Art confi
rmed this and is requesting names to be put forward for the position.
760.940.8200
Gustaf is moving Planet Rooth to Hillcrest, sadly leave North Park, but happy to have the expanded 3000 square feet on Fifth Avenue between Thorn and Upas. Driven out by the beer drinkers that have moved in and from the need to expand his space, we wish him good luck in the new location.
Contrary to rumors, Santa is still alive and well and delivering hope to the visual arts in San Diego. We love the space4Art project which is helping to transform the East Village at 325 Fifteenth St. SD (between J & K). If you need a transition to a new live work space or just a studio, let them know.
TIDBITS
Stephen C. Wagner (former Education director at SDAI)has signed the lease on a building on Folsom Street in San Francisco's South of Market area to openArc Studios and Gallery, a new space for artist studios, an art gallery, and art education center. They very cleverly have a connection with Blue Bottle Coffee cafe. Construction on the studio build-out started in Nov and they plan on being ready for occupancy by January 1st.
Glasgow-based painter Richard Wright, 49 won the Turner Prize 2009 at Tate Britain and took home the 25,000 pound ($40,000) prize The Turner Prize is awarded annually to a British artist under 50 and always quite controversial. Wright destroys his large-scale wall murals after they have been exhibited. He triumphed over Roger Hiorns, Enrico David, and Lucy Skaer, who were the other short-listed artists.
A new study from the National Endowment for the Arts finds a notable decline in museum attendance between 2002 and 2008 for adults 18 and older, and a sharper fall from 25 years ago. The drop was for virtually all art forms and for virtually all age groups and levels of education. The NEA's senior deputy chair, Joan Shigekawa, listed a few possible reasons: The rise of the Internet; less free time; and cuts in arts classes. Between 2002 and 2008, percentages fell, for museums/galleries from 26.5 to 22.7. Released Thursday, the NEA's 2008 Survey of Public Participation in the Arts is the sixth such report to come out since 1982, when 39 percent of adults attended a "benchmark arts activity" at least once in the previous year. The percentage peaked at 41 percent in 1992, just as the Internet was taking off, and dropped to 34.6 percent in 2008.

One advantage of having a destination quality building is that you can celebrate its 50th anniversary with an amazing exhibition. The Frank Lloyd Wright–designed Guggenheim Museum has invited more than two hundred artists, architects, and designers to imagine their dream interventions in the space for the exhibition Contemplating the Void: Interventions in the Guggenheim Museum from Feb 12–April 28, 2010


Wings & Snow is the 10th annual holiday show featuring a collection of unique angels and winged mosaic pieces at Sophies Art Gallery (109 Rea Ave, El Cajon, 92020) with a reception Dec 4, 5:30 - 8 pm. There is a $20 suggested donation for the opening reception but the show runs until Dec 31 st. More info: Wendy Morris 619.593.2205

There are three SD Art Prize Spotlight exhibitions of the New Contemporary II, 2009 artists in December. Michele Guieu: Lucy Darwin and Me with an opening reception Sat. Dec.12, 6-10 pm. Show until Jan. 24, 2010. Lecture by artist Jan 9, 6:30 at Art Produce Gallery (3139 University Ave, SD 92104) More info: Lynn 619.584.4448. Matt Stallings opens Fri, Dec. 11th, 6-10 pm and continues until Jan 10, 2010 at Subtext (2479 Kettner Blvd. SD, 92101)More info: Dyla Jones 619.546.8800. Plus SD Art Prize Spotlight exhibition of Tania Alcala (SD Art Prize New Contemporary II, 2009) and Silvia Valentino Karabashlieva from Nov 25 to Feb 15, 2010 at the L Street Gallery 628 L Street, SD, 92101 at the Omni Hotel. More info: Ann Berchtold 858.254.3031 Tania Alcala's art is shown courtesy of Noel-Baza Fine Art

Teapots: Object to Subject runs until Jan 31, 2010 so you have time to see these wonderful assortment of art works from the best entries from the 2004 Survey of American Teapots sponsored by the Craft Alliance in St. Louis, Missouri. Held at the William D. Cannon Art Gallery (1775 Dove Lane, Carlsbad 92011) do look for local artists Irene de Watteville, Christie Beniston, Christopher Lee, Cheryl Tall, Lana Wilson and Lee Puffer amongst many others. More info: Arts@carlsbadca.gov 760.602.2021

A teapot adorned the invite for the Palomar College Student Art and Craft Sale which offered affordable unique gifts. Thur and Fri 9 am to 8 pm and Sat 9 to 2 pm, Dec 3,4,5. Palomar College is at 1140 West Mission Rd in San Marcos and the sale is in the Student Union.

Donate money for breast cancer at Pink Party San Diego which is this year at the House Of Blues in San Diego. It starts at 7:30 p.m. and if you buy tickets online they are only $20 before the event. Dennis Paul Batt ( San Diego Visual Artists Guild ) is curated the fine art show this year with the work of Julia C.R. Gray, Jenifer Broomberg, Araceli Carrera, Tracy Johnson, Sinclair Stratton, Lia Strell, and Juli Veee.

The Bronowski Art&Science Forum at The Burnham Institute for Medical Research Auditorium has changed from the second Thursday to the first Thursday of the month and in December will be featuring John Welchman , UCSD "The Uncanny and Visual Culture" on Dec 3. John Welchman combines the roles of modernist art historian and contemporary critic with work in visual-cultural studies. This reception at 6:30 pm is sponsored by Darwin Slindee of PC by the Sea and Patricia Frischer, coordinator of SDVAN. The John Welchman presentation will be at 7:00 pm. More info Ron Newby

You may have missed the Mission Federal ArtWalk 2010 call to Artists for featured artist consideration on November 2 but it is not to late to apply for Event Applications: January 8, 2010. They receive 1000 applications, and accept 300 artists but charge no fee to apply. This year the Art Walk is April 24 th and 25 th.

UC San Diego , Master of Fine Arts Candidate Sheryl Oring has extended her "Creative Fix" project to teens. You can see teens (age 11-18) at The New Children's Museum until January 5 , in their creative fix to improve the world videos One of these will be voted on by museum visitors to receive $250 to make that fix really happen! To watch some Creative Fix videos visit Sheryl's YouTube page. Join them for a reception on Thurs, Dec 3 from 5:00 – 7:00pm.

Artist Painting Artists is a show organized by Mary Feener from Dec 1 to Jan 4, 2010 at the Encinitas Library Community room ( 540 Cornish Dr) loosely on the ideas of Movers and Shakers. Of the 27 artists many of them are the but this time casting their eyes on each other and concentrating only on the Encinitas area. Reception Dec 13 from 1 to 4 pm. More info Jim Gilliam 760.436.0775

The San Diego Performing Arts League invited all North County Visual and Performing Arts Organizations to the first SDPAL North County Division Meeting in November hosted by Alex Scollon, Managing Director of New Village Arts Theatre and SDPAL Board Member. This meeting addressed the unique challenges and great opportunities that lie within the North County demographic as it relates to: Audience development, Networking, Advocacy, especially government relations. Group marketing programs and Professional development. You did not need to be a member of SDPAL to attend and you can give your input by filling out the survey to help steer the course of the SDPAL North County Division.

Congratulations to OBR Architecture and Young Audiences of SD who raised $2000 in a charity art auction. Every month, OBR has featured a new artist as a part of the Ray @ Night experience. Instead of charging a fee, OBR has requested that each artist donate an art piece for OBR's Arts Charity Auction. After collecting art work, OBR then turned to their neighbors on Ray Street who donated four additional items for auction. This noble idea turned out to be a great success! A total of fourteen art items were successfully auctioned, many at or over their full estimated value. Several additional items including artist books, postcards and jewelry were included. Featured Artists Included :Michael Arata, Tasha Christine, Jason A. Gould, Chris Graber, Angela Kohler, Patty O'Connor Lauritzen, Rise Parberry, David Tyrone Villa, Kevin Walsh and Ray at Night Neighborhood Artists and Supporters included Soul Ryde, Planet Rooth, Anne Wolfe at Ray Street Annex, and Matt Cirello at Cirello Gallery, and Ray Street Custom Framing.

Manny Farber: Four Decades of Painting and Drawing is presented with Quint Contemporary Art at the Gotthelf Art Gallery from Dec 14 to Feb 24 and includes a small, concise group of works painted between 1974 and 2008 This show presents prime examples of Mr. Farber's wonderfully vibrant artwork and spans the artist's most active and prolific years before his death in 2008 at the age of 91. For more info: gallery@lfjcc.com 858.362.1154

Nina Katchadorian, Tom Brumley, Robert Andrade, Christen Oatman, Mr. Shrine, Brian Gibson, W.L. Wilson, and Roy D. Rogers play and investigate the socio-political meaning of toys, the seeming neutral space they occupy and the discursive exchange of cultural knowledge these toys promote between child and adult in the U.S. Society. Showing Dec 12 to Jan 4 at Gallery 262 at the Escondido Arts Partnership. ( 262 E. Grand Ave, Escondido, 92025) For more info: Roy D. Rogers, curator. Don't miss Summation 2009 with juror Fritzie Urquhart at the same times. More info: Wendy Wilson 760.480.4101

OPPORTUNITIES (click to see a list of all current opportunities listed on SDVAN)

SD Space 4 Art sponsored by Synergy Art Foundation has found a truly fantastic space in East Village to transform into approx. 30 studios of varying sizes, plus approx. 4-5 work/live units. Spaces range from 250 - 1740 sq.ft. and prices range from $220 - $1,650 per studio, per month, utilities included (some studios are heated and air conditioned). They hope this will be a pilot project to demonstrate how successfully they can create a vibrant, self-sustaining, dynamic artspace with common showing space.They need to secure tenants as soon as possible. If you are interested in becoming part of this pioneering project, please contact them at sdspace4art@gmail.com.

Distinction Gallery has several artist studios available ranging in size from 150-400 sq ft. Prices start at $350/mo and include utilities, shared lounge and kitchen, additional show space, website inclusion, monthly receptions, and tons of advertising. Distinction is located in Escondido and is a 7000 sq ft building housing a gallery and 14 artist studios filled with talented painters, photographers, sculptors, jewelers, and designers. The gallery sells to clients around the world and has received numerous awards. It is a great place for down to earth artists to meet, collaborate, and exhibit. For more info: . Melissa Inez Walker 760.781.5779

San Diego Art Department has five individual studio spaces on site with a 230 sq. foot studio currently available. Pricing includes utilities, shared kitchen, additional show space, 2 monthly receptions and more. They are also looking for a studio assistant which is a paid More info: Andrea Chamberlin 619.299.4278.

Gallery 21 is announcing the 25 th Annual Small Image Show at Spanish Village Art Center from Jan 16-Feb 28, 2010. This Show started in the 1970's and is a great way to show art work in a small format. See the website for the prospectus with receiving dates Jan 8 and 9. For more info: Elizabeth Woolrych 619.236.8997 or Vicki De Long

MUSEUMS

The SD Natual History Musuem is showing Mummies: Secrets of the Pharaohs from Dec 1 to January 31, 2010 Journey to the royal tombs of Egypt and explore the history of ancient Egyptian society as told through the mummies of the past. Follow explorers and scientists as they piece together the archeological and genetic clues of Egyptian mummies, and provide you with a window into the fascinating and mysterious world of the pharaohs. The movie, which is included in the General Admission, along with great exhibitions such as the upcoming Darwin: Evolution|Revolution, makes the Museum a great place to spend some time with family or out-of-town visitors over the holidays. For more info: Hallie Shere 619.255.0189

The Museum of Contemporary Art San Diego (MCASD) has put on the best show of the year and we highly recommend the Tara Donovan art exhibition at the downtown facility. MCASD was thrilled to announce they have received a grant of $75,000 in support of youth education programs, awarded by The Hearst Foundations. Among the programs benefiting from this grant are MCASD's Teen Art Council and teen programs, school programs including MCASD After School, and the touring programs led by MCASD Gallery Guides. We shall look forward to seeing this money well spent. They also announced a partnership with the UCSD Library to make their collection of reading material available. Seth Lerer, dean of Arts and Humanities at UCSD (who gave a fabulous entertaining lecture at the Bronowski Art & Science Forum at Burnham Institute, See Picked RAW Peeled for a report) believes, "Since the collection crosses over into sound art, installation, and performance, I expect it will also be of interest to students and faculty in Music and Theatre and Dance departments as well, further enhancing trans-disciplinary exchange at UC San Diego."

Oceanside Museum of Art's Meet the Artist series features Les Perhacs on Sat, Dec 12 th at 2:00 p.m. Perhacs will discuss his forty-five year journey as an artist. The exhibition features expertly crafted bronze sculptures and detailed drawings. The Art of Les Perhacs is curated by Michael C. Gross and will be on view in the Parker Gallery through Jan 8, 2010. You can also see John Zabruckyl's Industrial Alchemy. Zabruckyl has been creating a series of hyper-detailed flat relief works that celebrate the mysteries of technology. The exhibition will be on view through March 28, 2010.Finally, San Diego NOW: Eight UCSD Visual Artistspresents top artistic talent emerging from one of the finest conceptual art institutions in the nation.. Designed to encourage a meaningful dialogue between Masters of Fine Arts students and the larger San Diego art community, San Diego NOW features artists curated by Danielle Susalla including James Enos, Jesse Mockrin, Zac Monday, Omar Pimienta (New Contemporaries II ), Lesha Maria Rodriguez, Tim Schwartz, Julia Westerbeke, and Suzanne Wright.

The San Diego Museum of Art is trying to encourage more members at the Friends level $175 by offering on Wed. Dec 2, from 6:00-8:00 p.m. at the James Copley Auditorium an evening of coffee, dessert, and conversation with Julia Marciari-Alexander PhD, Deputy Director of Curatorial Affairs; John Marciari PhD, Curator of European Art; Sonya Quintanilla PhD, Curator of Asian Art; Amy Galpin, Project Curator for American Art; and Ariel Plotek PhD, Assistant Curator More info 619.696.1937 or click here. On view also from Dec 5 through March 7, 2010, From Rembrandt's Studio: The Prints of Ferdinand Bol will focus on printmaking in Rembrandt's Holland and document the efforts of the Dutch painter and printmaker Ferdinand Bol to arrive at his own style while working with Rembrandt, the greatest artist of his time.

Lux Art Institute welcomes the next artist-in-residence of the 2009/2010 Season, Susan Hauptman. On view until Jan 9, the artist's extraordinary exhibit featuring enigmatic charcoal self-portraits and still lifes.

Center for the Arts, Escondido presents The 5th Annual Holiday Tree Lighting and Winter Wonderland - Sat, Dec 5, 4 - 7 p.m., Lyric Courtyard and Great Green. This event has lots of art activities for kids and includes a Santa visit, free cookies, carols and a snow play area.

Museum of Photographic Arts (MoPA) is collaborating with Zandra Rhodes for the fall of 2010 in organizing an exhibition of forty-seven haute couture costumes from the 1960s through the 1980s by this London- and San Diego-based iconic fashion designer. These costumes will reveal her process, approach to shape, color, technique and world wide influences. Zandra's work as a designer first of textiles, then of fashion, will be highlighted; and her dresses will be complemented by related textiles from the Museum's collection to emphasize the varied cultural sources of her creations.

TRANSITIONS

Quilt Visions announces the appointment of Beth Smith as its executive director beginning Decem ber 1, 2009. An all volunteer organization established in 1985, Quilt Visions built a permanent gallery two years ago in Li berty Station's NTC Promenade in Point Loma. Smith joins Quilt Visions after more than ten years at Oceanside Museum of Art first as assistant director managing the museum's public relations, volunteers, and museum store, and more recently the museum's director of development.

Warp 9 Imaging has moved back to 3820 1/2 Ray Street , 92104. Remember they hold classes as well. More info: Larry Stein 619.677.2118. Ray Street Custom Framing is located at 3807 Ray Street . More info: Michelle Robinson 619.255.2022

Jeanne-Claude wife and constant companion of Christo, died in Manhattan. She was 74. The cause of death was complications from a brain aneurysm, her family told the Associated Press.

TIDBITS

We are encouraging all of you to take a look at the new Studio Protector which was created by the Craft Emergency Fund a national organization that helps artists after a disaster such as a hurricane, a fire or a flood. Please follow their guide lines to be safe. This would make a nice holiday present for a friend or family member. It is very cleverly designed graphically and we highly recommend it.

Museums in the movie business. Tate and Legacy Trust UK ( a charity which supports cultural projects during the London Olympics) will produce the first ever Tate movie. This is an idea of Aardman, the animation company behind Wallace and Gromit, and Fallon. The Tate Movie project will use master works to inspire 5-11 year olds who will in turn contribute their ideas. These kids will create will have a hand in drawing the characters, plot construction, even the zapps and whizzes and the wardrobe. Children will use an interactive website. Three million pounds has been allocated for this project and it will be interesting to see the results in the coming year.

Here is a flash tip for a local museum: have a radical new slant on a sculpture installation by transforming the gallery into a real life 'silent disco'. Add a light-up disco dance floor, mirror balls and lighting design as Wayne Hemingway and his son Jack did at the Tate and create a completely new interactive gallery environment .

Hurrah to the The Smithsonian's National Portrait Gallery which announced that Dave Woody of Fort Collins, Colo., has received first prize for the "Outwin Boochever Portrait Competition 2009" for a photograph titled, "Laura." First prize is a cash award of $25,000 and a separate commission from the museum to portray a remarkable living American for its permanent collection. The National Portrait Gallery in London has long had a portrait prize for an under 50 artist to encourage this area of the arts. Our Movers and Shakers project is the closest San Diego has gotten to this idea.


Temple University's Tyler School of Art announced that Ryan Trecartin had been named the recipient of the inaugural Jack Wolgin Fine Arts Prize, which recognizes the highest level of artistic excellence on an international level with a $150,000 cash prize. The Jack Wolgin Fine Arts Prize is the world's largest prize (established just this year) given to a visual artist in a juried competition. Ryan Trecartin was one of three finalists selected earlier this year from a group of fourteen nominees by a panel of three prominent art professionals. Wouldn't it be lovely if some angel stepped forward and gave even a tenth of this money for the San Diego Art Prize.

The New Cultural Policy website if offering a framework to aid the cultural recovery and its role in national recovery. You are encouraged to sign their petition to: 1.Use creativity for the common good. 2. Engage all of us. 3. Build on cultural memory. 4. Put artists to work to support cultural recovery. 5. Stand for free expression, supporting democratic media.

We hear from Sotheby's in New York that Andy Warhol's monumental masterpiece, 200 One Dollar Bills, sold for $43,762,500. Its estimate was only $8/12 million. The Contemporary Art sale totaled $134,438,000 more than double it's estimate. Does this signify an art market recovery or just prove that works over $600,000 do hold their prices?

The Temecula Art Council issued a call for artists for "Visual Expressions 2010" a juried art show including all of San Diego County cities. The deadline for submission is December 5th. Please contact Sissi Hale 951.304.7391 for further details and a copy of the prospectus/registration form.

We love this trend to put food with art and there is a new trough in town. Zanzibar at The Loft is now officially open. They are offering a Bites Menu* available from 4 pm to midnight as well as drinks. The Loft is also an art gallery, video and music venue located within the Price Center East, 2nd Floor at UC San Diego

Watch for the SD Art Prize Spotlight exhibition of Tania Alcala (SD Art Prize New Contemporary 2009) and Silvia Valentino Karabashlieva from Nov 25 to Feb 15, 2010 at the L Street Gallery 628 L Street, SD, 92101 at the Omni Hotel. Tania Alcala's art is displayed courtesy of Noel-Baza Fine Art.. More info: Ann Berchtold 858.254.3031

The San Diego Foundation and the City of San Diego Commission for Art & Culture in partnership with Americans for the Arts, invite you to join thousands of emerging arts and culture leaders across the nation in celebrating October as National Arts and Humanities Month and taking part in Creative Conversations —a network of gatherings and events designed especially for emerging arts leaders on Wed, Oct 28 from 4:30 pm - 7:00 pm at The New Children's Museum San Diego, 200 West Island Ave. San Diego, CA 9210 (Arrive by 5:30 pm and park underneath the Museum for free.) For more info about registering: Contact Kate Ridge 619.235.2300

Ellen Dieter, Shahla Dorafshan and Richard Allen Messenger will be showing the entire series of works leading up to their portrait collaboration of Tim Field, Andrea Chamberlain and Kerstin Robers at the San Diego Institute of Art with a reception on Fri. Nov. 13 from 6 – 8 pm. There will be a book of photos of all three artists painting together, the documentation of the process, and there will be a written statement as well. For more info: Ellen Dieter 619.997.3169

This fall UC San Diego's Department of Visual Arts welcomes the inaugural class for the Ph.D. concentration in art practice, one of the first doctoral programs in the country designed for practicing artists. Visual Arts Department Chair Grant Kester says, "Where other schools will often segregate art history and art practice, Ph.D.s and MFAs, we bring them together…." The art practice concentration is housed within the Ph.D. program in Art History Theory and Criticism. Katrin Pesch and Cara Baldwin are the first entering the Ph.D. concentration in art practice; Baldwin received her Master of Fine Arts from the California Institute of the Arts and is a published author and exhibiting artist with a background in curatorial work and art activism. She is a founder and co-editor of the Journal of Aesthetics & Protest and is currently working on a pair of anthologies on contemporary art and politics. Pesch completed her MFA at Weissensee College of Art, in Berlin. She has participated in the Whitney Museum of American Art Independent Study Program and was a Visiting Artist at the Art Center College of Design. More info: Sheena Ghanbari 858.822.7755

Karla Duarte has started a new on line magazine: Lines-mag.com to connect people with a social network designed to flow information about arts and culture in the United States and Mexico border region. Their goal is to reach out to the under-exposed border towns through the use of on-line technology. The first edition includes Pepe Mogt with his personal stories; Carolina Aboumrad with her passion for music; Haydeé Jiménez with for her keen interest in the female revolutionary spirit; Nico who connects with the teens of his community, and Javier Ramírez Limón with his photography and interview (interview will be featured in November 2009).

Congratulations to Steve Gould on his cover story for City Beat. Making palm trees into fall leaves is not only clever but obviously newsworthy.

Scott White is calling for support for the purchase of a Bernar Venet sculpture to be permanently sited in San Diego. If you want to see this happen please write your letter of support to Stephen Cushman, Chairman, United Port of San Diego, Victoria Hamilton, Executive Director, City of San Diego Commission for Arts and Culture, Yvonne Wise, Public Art Director , Unified Port of San Diego and Mayor Jerry Sander's office.

We can't wait to see the Cannon Art Gallery ( Carlsbad) show of teapot that opens Nov 22. Cheryl Tall and Irene de Watteville are included along with 24 other locals curated by Karen McGuire to join this traveling show.

Congratulations to Vista resident, Artist Lori Escalera who took first place "Best of Show" at Carlsbad's ArtSplash in September. Many artists drove from all over Southern California to participate in the event. Escalera has also painted for Little Italy's 15th annual Festa "Gesso Italiano" in early October and got " Best of Show" and has completed the River Mural in Mission Valley. Volunteers from the San Diego River Park Foundation (Rob Hutsel, SDRPF Executive Director 619.297.3780), Warren Walker Middle School Students, MADCAP's, and the community at large, came together for four days to create a 272 feet community mural at the corner of Camino de la Reina and Qualcomm Way. The mural is "River Life" and tells the story of the myriad of animal inhabitants that reside in the San Diego River specific to the local area - Mission Valley, where the mural is erected. For more info contact the artist responsible for this additional beautification to our city. Lori Escalera, 760.295.4665. Quite a season for her!

Heather Raffo's 9 Parts of Desire is playing until Nov 1 at Mo`olelo Performing Arts Company so you have time still to see this play which has partnered with local visual artists who have put together an art show called Wishes / Umniat that speaks to the themes of the play. The artists are Doris Bittar, Joyce Dallal, John Halaka, Wade Harb, Adeeb Makki, Al Nashashibi, and George Wahab. For more info: Seema Sueko 858-761-3871

The University Art Gallery at UC San Diego opens its 2009-10 exhibition season with Off The Beaten Path: Violence, Women and Art, which brings together 21 artists from 19 countries to explore the global ramifications of gender-based violence. The internationally traveling show makes its first stop in the United States at UCSD, opening Oct. 23 and remaining on view through Dec. 12. Premised on the visionary potential in art, the exhibition avoids tabloid and sensational imagery. The invited artists were asked "to help us create new representations through their artworks and, in doing so, help us feel and understand the essence of the problem of violence against women," says Randy Jayne Rosenberg, the curator. The University Art Gallery at UCSD is partnering with 5 Women Who Care, CASTLA, Center for Community Solutions San Diego, End Violence Against Women International, Survivors of Torture, Amnesty International, The Voices and Faces Project, and United 4 Iran as well as departments and programs on campus in order to create a calendar of programming. More info: 858.534.2107 uag@ucsd.edu.

Fashion Industry Development Conference at FIDM 350 10th AVE Suite 300, SD on Sat. Oct 24 th from 10:00am - 4:00pm. FOCUS San Diego will bring together an innovative and inspiring group of emerging designers, industry executives, students and multi-channel professionals to leave about social networking and the business of fashion. The keynote speaker is Brett Savage, VP of Product at REEF. To register or for more info: info@focusSD.org 888.814.5482

Wed. Oct. 28th, 2009 at 11:30am is the Zandra Rhodes Exclusive Fashion Show Luncheon 'Passion for Fashion and Frills' at the Westgate Hotel, SD. Zandra Rhodes creates glamour again with her enchanting and exotic collection of one of a kind fashions paired with a three course menu created by international food consultant and famous cook book author Jeanne Jones. Celebrity personalities from San Diego's radio, television and print media kindly volunteered to model. Tickets are $79 per person (not inclusive of tax and gratuity), and proceeds will benefit the American Friends of Zandra Rhodes Museum in London. 619.238.1818

Custom design a pair of canvas sneakers with paints, dyes, markers, buttons and found objects to make a one-of-a-kind fashion statement onFri, Nov 6th, from 5:30 p.m. - 8 p.m! Cost is $25 at Sophie's Art Gallery ( 109 Rea Ave in Downtown El Cajon.) Call 619-593-2205 to reserve a spot or for more information. They even supply a snack.

On the weekends of October 17/18, and October 24/25, Edgeware Gallery will celebrate its one-year anniversary by luring eleven artists out of their studios to create art onsite at the gallery. The creation process will be filmed, and video of the artists creating their works will be played during the "Art Wow" exhibition that will open on Friday October 30, from 5 to 9 pm. Artists include Eric Wixon, Daniel Thedell, Chris Vannoy, Anna Stump, Anna Zappoli Jenkins, Dan Adams, Kim Maria Cruz, Maura McHugh, and Joseph Paul Mueller For more info: Josh Bellfy 619-534-8129

OPPORTUNITIES (click to see a list of all current opportunities listed on SDVAN)

The Museum of Contemporary Art San Diego is putting on an exhibition of contemporary local artists in 2010. They sent a press release and are welcoming artists to come forward to be considered. They seemed a bit defensive about this process as they included a list of every local show ever put on by the museum since 1973 (a total of 6, the last in 2000). But we are thrilled to see this happening now.

The process of research for the exhibition Here

not There

is underway.

For more information about artist submissions for consideration

,

please visit MCASD's Web site at

www.mcasd.org/about/proposals.php. Artists must have established residency in San Diego County for consideration. Current art students at any level will not be considered. The deadline for submissions is January 1, 2010.

The deadline for Mission Federal ArtWalk is Nov 2. Apply by this deadline and your work will be included when the 12 Featured Artists are selected. Featured Artists for this event benefit from being given high profile placement in the ArtWalk Magazine, on the event website, and in pre-event publicity.

The deadline for San Diego County Regional Airport Authority is Nov 6 at 2 pm to submit qualifications to be considered for collaboration, design, fabrication, and/or installation on several public art opportunities to be integrated into their facilities. These are really wonderful opportunities with large budgets for artists, writers and performers: Chill Zone- Estimated Budget $300,000; Reflection Room- Estimated Budget $216,000; Performing Arts Venue- Estimated Budget $306,000; Departures/ArrivalsPlaza- Estimated Budget $510,000; Terminal 2 Pedestrian Bridges-Estimated Budget $596,000; United Service Organization Park and Gateway- Estimated Budget $420,000; Terminal 1 Baggage Claim- Estimated Budget $180,000. There is an online registration to view the full RFQ. If you need help contact Constance White or her staff 619.400.2891

The Pacific Beach Town Council Safe and Beautiful Committee announced a call for entries to a public art project in which seven mini murals will be created on traffic signal boxes at intersections in Pacific Beach's main corridors. Entries due Nov15. For more info PBMurals@yahoo.com 412.443.1310

The Maritime Alliance , in conjunction with the Port of San Diego, is hosting its 1st annual San Diego Maritime Week along the Embarcadero and at the B Street Cruise Ship Terminal. The Maritime Art & Film Festival (MAF) is open to artists working in all media; painting, photography, sculpture, graphics, installation, conceptual, sound, performance, etc. All genres are welcome, as are both new and previously exhibited works. The primary focus is "Water and Illumination" with creative connections encouraged; from classic battleship art to surf culture. A considerable amount of space is open to artist's work. Participation is free to selected artists. The submission deadline is 26 October 2009. Send request for guidelines and details to Sean Newsome or call 619-450-4000 x1 for more info.

MUSEUMS

The SD Natural History Museum opens Darwin: Evolution/Revolution, on Nov 7 (through the end of February 2010) giving visitors a rare glimpse inside the mind and life of British Naturalist Charles Darwin to mark the 200 th anniversary of Darwin's birth and the 150 th anniversary of the publication of On the Origin of Species. In addition to the exhibition, they are hosting an evening called "Art Inspired by Darwin" with poetry, photography, and the musical talents of The Galapagos Mountain Boys. For more info: Delle Willett 619.255.0244

On Thurs, Nov5, 2009, TNT (Thursday Night Thing) returns to The Museum of Contemporary Art San Diego's (MCASD) downtown location with a dynamic evening of live music, art-making activities, and interactive performances themed around the new exhibition, Tara Donovan. Opening Oct 25, this is the first major museum survey of artist Tara Donovan's work. MCASD is the only West Coast venue to present this traveling exhibition, organized by the Institute of Contemporary Art/Boston.

In celebration of Day of the Dead, Oceanside artist Daniel F. Martinez will install a mixture of paintings, fabrications and marionettes in the Parker Gallery of the Oceanside Museum of Art on October 8th. Cafe Con Muertos introduces ancient traditions of El Dias De Los Muertos adding satire, historical fact, and social commentary. "Meet the Artist" Daniel F. Martinez October 24th at 2:00 p.m. Free with museum admission.

The San Diego Museum of Art invites you to see American Artists from the Russian Empire in the evening with music, vodka, and a few comrades. This show starting on Oct 23 features nearly 70 paintings and sculptures by many of the best-known artists working in America in the postwar period, among them Louise Nevelson, Jules Olitsky, Mark Rothko, and Ben Shahn. Culture & Cocktails event on Thursday, October 29, from 6:00-9:00 p.m. Members free/nonmembers $15.

Watch for the new Studio Series designed to bring new light to exhibitions in the Lux studio by inviting artists, scholars and professionals to share their perspective through commentary and discussion at the Lux Art Institute.

California Center for the Arts, Escondido has the most fabulous series of email promotions going out for merchandise in their shop. We loved the entire display that is up right now until Jan as it has real art at incredible prices by some of the best artists like Jean Lowe, Kim MacConnel and Tom Driscoll (all SD Art Prize recipients). The email promotions are so clever we advise you to sign up to get them ASAP. Here is an example: Insanium In The Cranium "We are extremely pleased to offer our museum guests a very special, once in a lifetime opportunity to own a piece of cranium history. We have acquired, by way of an anonymous Romanian dealer of fine and obscure objects, one of the world's rarest collections of skull replicas known to exist in private hands. Our buyers stumbled upon the dealer and this cache in a small, remote village to the north of the Carpathian Mountain Range on our last annual search for unique items for the museum's Halloween sale. Rumor has it that this collection comes from the estate of a British collector whose skull, upon passing away, was used as the model for Damien Hirst's platinum and diamond encrusted skull sculpture. We can't guarantee anything regarding this unbelievable find, but if you want to get the best skull available come to Escondido soon. "

Mingei International Museum, the Museum of Man and the Museum of Photographic Arts (MoPA) announced that they are reinstating last spring's successful weekend reduced admission program and adding a fourth venue, the Museum of San Diego History. From October 1 through May 31, 2010 (Memorial Day), they will offer half-price admission on Saturday and Sunday mornings from 10 a.m. to noon except for MoPA who will offer half-price admission from 10-12 on weekends during October and then again from January through Memorial Day.

Three complementary exhibitions opened at Mingei International in October. They are Fisch Out Of Water: Sea Creatures of Arline Fisch,Transformed By Fire: Enamel Vessels from the Forrest L. Merrill Collection by June Schwarcz and Fifty-Six Chinese Hatboxes - and one hat!

TRANSITIONS

We were sad to hear of the passing of Alison Christler. She was originally trained as a classical pianist, but went into the family business of interior design in the late 1960's. In the 1970's, while continuing the career in design, she began to study drawing, painting, and printmaking. Fine art was interspersed with a broad range of design projects, including residential and commercial interior design, fabric, furniture and architectural design, a book cover (The Last City, by Roger Burke), etc. After moving to Los Angeles in the early 1980's, she continued her fine art studies in oil painting under Sergei Bongart. Relocating to San Diego County in the mid-90's, Alison began studying watercolor with Sandra Bray and taking workshops at the San Diego Watercolor Society (Robbie Laird, Al Brouillette, Frank Webb, Gerald Brommer, Carole Barnes, Cheng-Khee Chee, Skip Lawrence, Serge Hollerbach, Linda Doll, Barbara Nechis, Frank Francese, etc.) and outside SDWS, Charles Reid, Alex Powers, Katherine Chang Liu and Milford Zornes. Since 1999, Alison has been a full-time artist, winning many local awards, and participating in art exhibitions in the Southern California area.

TIDBITS

A Damien Hirst's at the stained glass window painting made from buterfly wings sold for $6.9 millionat the Seoul Auction. A 53 foot giant shiny silver helium balloon rabbit by Jeff Koons is now floating above Covent Gardens.

Ran Ortner of Brooklyn, N.Y wons the Art Prize in Grand Rapids and went home $1/4 million richer. Rick DeVos made sure the voting was by the public for this event which as he hoped, has brought lots of attention to his home town.

Mayor Jerry Sanders announced that a non-profit group will be set up to help finance and run Balboa Park. Last year it was decided that the city could not fund the part. A 17-member task force comprised of officials from Balboa Park's museums, various arts organizations, planning committees and park, community and historic groups will meet weekly for the next six months. Balboa Park is not being privatized. And will remain under the control of the San Diego Park and Recreation Department. The $240 million backlog of deferred maintenance is responsible for this move to create funding.

Included below is a small teaser about Patricia Frischers trip to London….a full art report will come to you in November about London and Venice.

"Anish Kapoor at Royal Academy was by far my favorite exhibition so far on this trip. (click the link "view exhibition photos). Take a look at the firing of the cannon video. By the end of the show the room will be filled with wax and I found this both a strangely exciting and silly experience. Kapoor gives us a once in a life time sensuous experience of cherry red lacquer and gooey oil and wax and ultra shiny surfaces that distorted the room and those in it. It is monumental in scale especially a large H.G. Wells type construction of massive rusted steel which might have been a cross between a time machine and submarine hull with lovely curves and seductive opening. I don't think I can do justice to describing the giant train-like object that ran on rails blocking five huge gallery spaces and appearing to squeeze through three doorways leaving trails of red wax and oil everywhere. The giant depression in the wall which was a very pure yellow was phenomenal…a Zen experience which was on a level with his first powdered pigment pieces. A few of these were on show and were very disappointing. I don't know if they were just bad versions or if he has moved on so far from these that they just seemed rather pathetic. I think it might be my first impression of the mirror balls as you come into the courtyard of the Royal Academy that will stick with me (and is the new wallpaper on my cell phone). I was most impressed with the Royal Academy for letting him do major construction and destruction to their rooms. No photo can do them justice. You have to experience them to feel their grandeur. London is all a buzz about this show and it is the one thing everyone agrees you should not miss. Plan a trip to London by Dec 10 if you possibly can."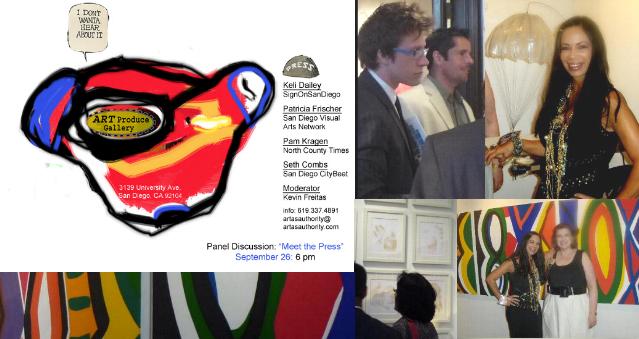 Meet the Press is your chance with the help of Keli Dailey from SignOnSanDiego, Pam Kragen from North County Times, Patricia Frischer from SDVAN (San Diego Visual Arts Network), Seth Combs from San Diego CityBeat and moderator Kevin Freitas from Art as Authority to get a handle on who covers the arts in San Diego. How do they decide who to review and what to publish? What makes for outstanding arts writing or reviews? What are their submission criteria? These are some of the questions that the distinguished panel from several local newspapers and weekly's here in San Diego will be asked. At the end of the discussion, audience members will be invited to submit their own reviews or articles that cover various art, music, and theater events. The goal is to encourage more writing about the arts and to increase public awareness of our cultural and community institutions. Art Produce Gallery (3139 University Ave, SD, CA 92104 in North Park) in conjunction with the exhibit, David White's "Agitprop: Brain Trust" presents this panel on Sat. Sept 26, 2009 at 6 pm. More info: Lynn Susholtz 619.584.4448 Please note: Art Writer should come prepared to write and submit articles for future posting.

In "Brain Trust" , (Closing Reception: Sat, Oct 10; 6-9pm) Agitprop turns corporate and art world institutional conventions on their head as a method of generating support for projects based on connectivity and community at the scale of the neighborhood. "Brain Trust" asks people to become "investors" in Agitprop. Agitprop is a space in North Park that attempts to blur the lines between individual art practice, the Studio, the Gallery and the Neighborhood. Through "Brain Blocks", an edition of 1000 concrete sculptures that, when purchased, act as "stock" in Agitprop, sculptural "shareholders" will become facilitators of Agitprop's upcoming projects and will be asked in the future for feedback on these same projects. In addition to the "Brain Blocks" portion of the exhibition there will be several single day events over the duration of the exhibition including a walking tour of North Park discussing residual spaces, self-portrait photography sessions, free soup and more… A calendar of these events will be available at the exhibition as well as on the website. For more info: David White

Synergy Art Foundation Bohemian Beatnik Bash takes place onSat. Oct 3 from 7 pm and returns again to The House of the Future, ( 5481 Toyon Road, SD). This is an evening extraordinaire, full of playful, glamorous, highly creative Beat Generation inspired entertainment highlighted by live music featuring Tim Moran , and Marhaba, Spoken Word performances, Animal Cracker Conspiracy , one of San Diego's hottest DJ's, and much more. The Bash includes great food, no host bar with proceeds to benefit Synergy's San Diego Emergency Artists Support League (SD-EASL) and San Diego Performers & Writers Emergency Relief. (SD-PWR) and their Art Education Programs.Admission is $35 in advance or buy at door. Also check out their new website designed by Fei X. Zhou . More info: Naomi Nussbaum


Roman de Salvo (SD Art Prize recipient) opens with a new exhibition: Split, Splice, Splay, Display until Oct 17 at Quint Contemporary Art, La Jolla. His work is always beautifully made and full of humor and in this stunning new show he returns to his love of wood which are indeed, split, spliced, splayed and displayed. The works are immediately appealing but are so intriguing that you can literally get lost in the woods. We saw three red dots and left half way through the opening, so don't delay. That's half the show

New paintings & prints by Tony Larson at Project X: Art

Opening reception

in Solana Beach

is on S

at., Oct 10, 6-10pm and the show runs Oct 6 - Nov 7. It is great to see art again in this space once occupied by GDAI and vacant for so long. Watch this space for our next New Contemporaries III exhibition in 2010.

The first Bronowski Art&Science Forum at the new location The Burnham Institute for Medical Research Auditorium, featured Carmen Cuenca who gave a presentation on the wonderful inSite Project. It was fascinating to learn of the history of this project and even a bit about it's future. Chris Lee of The Burnham Institute talked briefly about their ongoing research programs. The next Forum is Thurs, Oct. 8 th when we will hear from theartist and UCSD professor Ernest Silva (SD Art Prize recipient). The doors open at 6:30 pm which will offer time for networking and the talk begins at 7 pm. More info: Ron Newby


Moving Points: Contemporary Drawing in Southern California at the Cannon Art Gallery is an exhibition of works by artists Adam Belt, Joseph Biel, Tom Morgan, Enjeong Noh, Iana Quesnell (SD Art Prize), William Riley, Ernest Silva (San Diego Art Prize), and Pat Warner on view until Nov 1. Whether done as a sketch or as a finished piece, drawing has always been an important medium for practicing artists. This exhibition offers a mixture of representational and abstract work by a group of dynamic Southern California-based artists whose drawings are central to their lives and art. For more info: Colleen Finnegan 760-602-2021

Reincarnated: Eco Art Featuring artwork by Connie Cannon at The San Diego Art Department ( 3830 Ray Street) this show is on display until Oct 11. Cannon says "I am passionate about preserving our resources that end up in our landfills. It disheartens me to know that we are leaving behind so much waste for our next generation. The eco-friendly artist in me is ecstatic about giving an object a whole new life, creating a piece of artwork out of something that was once so precious to us, but has lost its meaning or use. As a Mahayana Buddhist, I believe this process symbolizes reincarnation in the artistic and religious aspect." For more info: Connie Cannon 858.354.5538

We hear that Currant American Brasserie is doing a great job showing and selling art on the walls of their restaurant. The past show featured Grey, goth, Montpeit and Bibi. But what sets them apart from other eateries who are looking for free docor is they had arranged private sessions with the artists for their restaurant staff to introduce the pieces being displayed. This is before the public receptions where samples of their food are offered for free. They then had printed material on the artists and their artwork bound in metal covers (similar to wine lists) for customers who were interested. And finally and most uniquely, they offered small commissions to any staff who participated in making a sale of the art. Bravo for being more professional than many galleries in SD. We wish them the best of luck for this amazing effort. For more info: Chris Cooke 619.702.6309

Keli Dailey reports in City Beat on the raw deal San Diego was given in the last round of federal stimulus money for the arts given out by the NEA. Victoria Hamilton, executive director of the city of San Diego's Commission for Arts and Culture was reported to be "pissed off", perhaps not words directly spoken by Ms. Hamilton but we agree with the sentiment. About $4.5 million was awarded to arts groups throughout California. San Francisco, population 800,000, got $1.5 million. San Diego County, population 3-million-plus got a $75,000.

You are still in time to see the closing performance of Alexander Lee in his exhibition Expanding-Eel-Devourer!FromThe Great Fish Changing Skies on Thurs. Oct 1 at 7 pm at Mesa College Art Gallery . This performance by Lee and Keith Moore, with Juliana Snapper, Kumu Hula Kapena Malulani Perez and Halau Hula 'O Malulani features an installation by artist Lee, a former student now exhibiting at an international level. For more info: Alessandra Moctezuma 619.388.2829

The Commuter Terminal at San Diego International Airport is now home to a new sculpture by Christie Beniston: Time Interwoven, This is the first work acquired by the Airport Authority under its new Art Master Plan which has annual budget exceeding $7.4 million including works by artists closely working with architects, engineers, and designers Constance White oversees the now 23 piece permanent public art collection. She is doing an amazing job and deserves our kudos.

There's so much public art in Downtown El Cajon that St. Madeleine Sophie's Center and supported in part by California State Council on Developmental Disabilities has made you a handy map to help point you to each piece! This brochure features information on each art establishment and piece of public art in Downtown El Cajon -including the location, artist name, and type of piece organized into an easy walking route for you to enjoy. You may pick up a printed copy of this brochure at the El Cajon CDC office, 131 East Main Street, Suite 201, or or click here (PDF) to download a map (updated April 2009).

Just too beautiful to pass up are giant brushes from Dancing Brush that measure 25 ½ inches with 10 inch bristles. Besides giant brushes, Rosemary KimBal takes pride in providing a wide range of quality art supplies for Sumi-e including beautiful Ink stones, ink sticks, various quality brushes. For more info: dancingbrush@cox.net

An update on the NTC. Seven buildings are now completed out of a total of 26. NTC Promenade is home to 25 cultural and civic groups, and a growing community of artists and designers. In 2008, over 250,000 residents, visitors and students attended receptions, festivals, performances, classes and exhibits. And, more than 1,300 events have taken place on their campus. They are now hoping to raise $6 which can be leveraged with federal tax credits to the $60 million they need to complete the other 19 buildings. They are offering all sorts of way to help including Legacy Naming Gifts at a wide range of levels for all San Diegans to leave a lasting impact at NTC. More info: Alan Ziter

Spirits at Liberty Station on Sept 2 from 6 pm (where NTC is located) is a smorgasbord of restaurant and alcohol tastings. Attendees will enjoy bands, deejays, massage therapy, live Afghani folk music, blacklight theatre, an art show, and much more. The event will offer attendees firsthand encounters with many of the artists and non-profit organizations based at Liberty Station. Proceeds from the event, which includes a dynamic silent auction, will benefit the Liberty School. Walk the Walk is one of the presenters of this event. $25 entrance fee. More info: Jon Block 619.846.7180

We welcome this year's Urban Trees 6 sculpture exhibit is now on view starting at the B-Street Pier at 1140 on North Harbor Drive. Take a look online at the Port Of San Diego . For more info: Allan Tait 619.686.7247

Lori Lipsman, Maura McHugh, Carol Graber and Sam Frazier will be exhibiting at The APT. The show, titled Vacancy is apt because it is held in a vacant apartment. See it Sat, Oct 24 from 6 to 9 pm at 3670 villa Terrace, SD 92101 between Landis and Dwight Streets, just south of University Avenue. More info: Carol Graber

Madison Gallery is presenting a series of 20th Century Masters works on paper with great educational information. Sign up for their newsletters and visit the gallery in La Jolla and website. For more information on MIro and Picasso with prices ranging $50,000.00 and up: Lorna York 858.459.0836

Brad Burkhart will be selling two of his works in a silent auction as part of the NAMI (National Association of the Mentally Ill) Inspiration Awards/Fundraiser Dinner this year held at the Catamaran Resort Hotel (3999 Mission Blvd. S.D., CA) on Fri Oct 2, from 5:30 to 9:30 P.M. Tickets for the gala dinner event are $75.00. Bids can be placed up until October 1 with Emy Alhambra. Bidding for the smaller piece Decoy of the Phoenix will start at $200 and bidding on the larger piece Ark of the of Innocencewill start at $400. You can see both of these sculptures in Gallery 3 on his website.

OPPORTUNITIES (click to see a list of all current opportunities listed on SDVAN)

Want an online program to help aid in the process of taking advantage of the social media tools online like Twitter and Facebook.. The Case Foundation, with support from Goldhirsh Foundation and See3, is pleased to present "Gear Up for Giving," a month-long series of social media tutorials but just for nonprofits. The live online training sessions start Sept10th and run until October 1st.

Twenty-four lucky artist will be chosen for a intensive 2½ days workshop at Hotel Indigo in using the internet for marketing of art works. Sponsors by Creative Capitol and the SD Commission for Arts and Culture you can get more info about applying by Oct 16 from Dana Springs,

MUSEUMS

The SD Natual History Musuem

are raising their admission prices as of October 5

.

But it is for a good cause. They are getting a new 3D movie theater and will start showing 3D films in October! It will be top-of-the-line projection equipment. And what's even better, is that now in addition to their 2D movies, their 3D movies will be included in the General Admission tickets. More info: Hallie Shere 619.255.0189

The Museum of Contemporary Art San Diego (MCASD) will present an exhibition of sculptural installations by artist Tara Donovan ( recipient of the The John D. and Catherine T. MacArthur Foundation "genius" grants in 2008) at its downtown Jacobs Building location from Oct 25 through Feb 28, 2010. Organized by the Institute of Contemporary Art/Boston, this is the first major museum survey of Donovan's work, and MCASD is the only West Coast venue for the exhibition.

In celebration of Day of the Dead, Oceanside High School graduate and artist Daniel F. Martinez will install a mixture of paintings, fabrications and marionettes in the Oceanside Museum of Art's Parker Gallery on Oct 8. Cafe con Muertos (Coffee with Death) introduces ancient traditions of El Dias De Los Muertos adding satire, historical fact, and social commentary.You can meet the artist Oct 24 th at 2:00 pm, free with museum admission. Plus there is a free hands-on Paper-Mâché Calaveras (skeleton) art workshop led by Martinez, on Sun, Nov 1 st from 1:00-4:00 p.m. More info: Danielle Susalla 760.435.3722

The New Children's Museum is opening up a new exhibition on Oct 11 called Animal Art. How do you communicate and interact with animals? What do you do each day to help save the environment? If you were an animal, what would you be? Ever wondered how an armadillo sees the world? Give your kids a chance to think animal, play animal, and create anima. There's always something new at The New Children's Museum! You can get a sneak preview if you are a member. Not a member? Join today.

A Salue to James Hubbell , a celebration of the accomplishments of this world famous, Santa Ysabel-based artist, designer craftsman and dedicated environmentalist, will be presented by Mingei International Museum in Balboa Park on Sat, Oct 3 from 5 to 7 p.m. The event premiers an intimate exhibition of some of his creations, on view through the end of the year. Hubbell Studio and Home tour is being arranged by the Mingei in Santa Ysabe on : Sunday, Oct 4, 9 am - 6 pm where you can experience his work on this full-day trip to the Hubbell home and studio . Cost is $75 Mingei International & Ilan-Lael Foundation members/$100 non-members and this is in conjunction with, Reservations are required 619-239-0003 ext. 116 or online

New York-based executive search firm Phillips Oppenheim is being retained by The San Diego Museum of Art to conduct the search for a successor to outgoing Executive Director Derrick R. Cartwright. Most recently, the executive search firm has recruited and placed directors at the Metropolitan Museum of Art in New York, the Contemporary Arts Museum Houston, the Seattle Art Museum, and the Cleveland Museum of Art. Also on the search committee are fellow Boardmembers Gordon Brodfuehrer, Martha Dennis, Tom Gildred, Sheila Potiker and Harvey White, current Board President Ken Widder and immediate past Board President Pam Cesak. Following Cartwright's departure on September 11, 2009, the team of deputy directors at The San Diego Museum of Art will assume leadership of the institution. The team is comprised of Deputy Director of Curatorial Affairs, Dr. Julia Marciari-Alexander; Deputy Director of Operations and Finance, Julianne Markow; Deputy Director of External Affairs, Katy McDonald; and Deputy Director for Education and Interpretation, Vasundhara Prabhu.

American Artists from the Russian Empire premiers this fall at its only West Coast venue, The San Diego Museum of Art. The exhibition features nearly 70 paintings and sculptures by many of the best-known artists working in America in the postwar period, among them Louise Nevelson, Jules Olitsky, Mark Rothko, and Ben Shahn. The show opens Sat, Oct 24, and runs to Sun, Jan 17, 2010.

Lux Art Institute is finally offering a season pass for $40 for free admittance to an entire season of show. It also allows you to bring in a guest for only $5 instead of the usual $10. Elizabeth Turk is in the studio from Sept 10 -Oct 31. Open to the public: Thurs. & Fri. 1-5pm, Sat. 11am-5pm

Museum of Photographic Arts (MoPA) will be showcasing the exhibition, Photo America featuring over 50 works from their permanent collection at the Tokyo Photo art fair, taking place from Sept 4 – 9, in the Roppongi district of Tokyo. Photo America will present a panoramic overview of American photographic expression. Virtually all of the works will be displayed for the first time in Japan. MoPA's Director, Deborah Klochko traveled to Tokyo to present this exhibition, and give a lecture. Congratulation for spreading the news of SD cultural life around the world.

Also remember: Jo Whaley: The Theater of Insects is closing Sun, Sept 27 and Ansel Adams: A Life's Work is closing Sun, Oct 4 both at Museum of Photographic Arts.

In honor of the 20th anniversary of its Costume Council, the San Diego Historical Society is rolling out the red carpet with San Diego Style. The sophisticated exhibition will showcase 40 ensembles, most from the Historical Society's stunning 7,000-piece costume collection along with select loans. San Diego Style will explore fashion in San Diego from the late 19th century to the present. The show runs from Oct 1, 2009 to April 1, 2010. For more info: Christianne Penunuri 619.820.0960

California Center for the Arts, Escondido has hit a jackpot with it new store manager and advertising campaign. A clever no discount discount and talk like a pirate promotion leave us wanting more. The showing space is stunning, the Quint exhibition a winner and now is the time to visit especially if you have not been to CCAE before or for a while.

TRANSITIONS

Danielle Susalla is now engaged and Andrea Chamberlain from the SD Art Department has bought her first home with her boyfriend. Love is in the air! Congratulations to both.

Walk the Walk has moved to Architectureat 3956 30th St. 92104 in North Park just around the corner from Ray Street where it used to be at Planet Rooth. This is the group that brings you Sight & Sound the third Saturday of each month, celebrating the finest in San Diego's creative talent.

Luis De Jesus Seminal Projects is very happy to announce the recent acquisition by the Museum of Contemporary ArtSan Diego of Brian Dick's Knick-Knack Mimicry. In these photographs Brian delves below the skin by embodying the essence of his subjects (actors and entertainers) through facial memory, or what he terms "muscle mimicry". In the new Knick-Knack Mimicry series he focuses on capturing the essence of that most humble and quintessential of American home décor objects. These and other works illustrate his continuous dissection of the varying ways the self can be represented. Brian Dick was the recipient of the 2008-2009 San Diego Art Prize in the emerging artist category.

Luis de Jesus Contemporary Art is that the new name for Seminal Projects? They will be moving to a new location yet to be disclosed. On Fri, Sept 25th, from 6 to 9 p.m., they will celebrate the end of "SOCIAL CLIMBING - Part I" and the (temporary) closing of SEMINAL PROJECTS. They are open through October by appointment only. info@seminalprojects.com 619.696.9699

The Board of Directors of SUSHI, A Center For the Urban Arts (announces its new Executive Director, Patrick Stewart. Stewart will be rejoining the San Diego arts community in January after finishing his tenure as the executive director of the Atlas Performing Arts Center, a multi-faceted center whose development, program, performance, and education accomplishments have served as the leading catalytic factor in the dramatic economic and social redevelopment of a major section of Washington, DC's Northeast quadrant.

TIDBITS

Don't you just love this idea: Invisible Exports ' Artist of the Month Club is a very nontraditional endeavor. The young, Lower East Side gallery offers a program in which members of the club get a dozen original, exclusive pieces for $2,400 a year. "You can sign up for a year's subscription, and every month you get a new work," explains Helen Allen, executive director of the Pulse contemporary art fair, which runs annually in Miami and New York.. The catch? Collectors won't lay eyes on the purchased pieces until they arrive in their homes. "The club involves a wonderful element of chance," adds Risa Needleman, the gallery's co-owner. "When you sign up, you know all the curators but none of the artists. You make a leap of faith, and a 12-piece collection is curated for you and dropped at your front door." Essentially, subscribers have professionals begin their collection for them, with each piece costing only $200 (shipping and handling is included in the price of membership).

The LA Art Show has changed it dates to Thur, Jan 21 - Sun, Jan 24, 2010. For more info: 310.822.9145 or info@laartshow.com.

We could not resist giving this link to the wonderful speech in 2007 speech by Isabel Allende, which just came to our attention. It was given at the TED conference. Enjoy…..especially our women readers.

We are now addicted to the San Diego Fashion Calendar . Sign up for their newsletter and be amazed at all the events that happen in SD. The calendar is maintained by SD Model and it is beautifully illustrated and always has a tidbit or two of interest.

Alexandra Rosa
RAW for SDVAN

back to top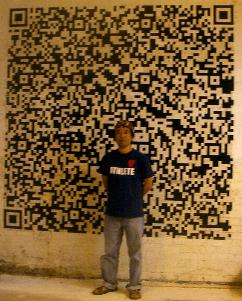 This is your invitation to the SD Art Prize 2009 presenting Double Header: Richard Allen Morris and Tom Driscoll opening on Sat. Sept 19, 7 -9 pm at the L Street Gallery (628 L Street, SD, 92101) of the Omni HotelInfo: Patricia Frischer 760.943.0148. This is all new work so don't miss a chance to see hot off the press paintings and sculpures.
And just before that don't forget the SD Art Prize at the Beyond the Borders International Art Fair , Wed – Fri, Sept 2-4 Del Mar Grand Hotel, Kim MacConnel, Brian Dick, May-ling Martinez and Ian Quesnell. Read our about the fair in our SDNN Culture Crunchers report. We have a team of volunteers that will be helping us so stop by and see Kay Colvin, Deborah Francis, Dave Ghilarducci, Tania Alcala, Rosemary KimBal, Valerie Henderson, Lisa Van Herik, Patricia Frischer and I will have a live feed to ArtRocks! Internet radio on Wednes at the opening night. More info: Ann Berchtold
ArtSplash 2009 takes place Saturday Sept 26, 10 am to 6 pm, and Sunday, Sept 27, 10 am to 5 pm at Armada Drive between Cannon Road and Palomar Airport Road. This year besides the Annual Chalk Art Festival, ArtSplash features James Lukinich's Masterpieces of Chainsaws, Scott Wade's Dirty Car Art & Joey Chavez's Recycled Electronics Reef. Both admission and parking are free, as are art demonstrations, hands-on art-making opportunities and music and entertainment, including Fern Street Circus on Sunday. Taste at ArtSplash TM, from 2-5 pm on Sat, Sept 26, will offer a delicious selection of local cuisine, including Italian and Mexican food. Proceeds benefit arts and music programs in North County San Diego schools. More info: Joni Miringoff. 760.436.2828
SD Space4Art is a design workshop to be held at the New School of Architecture ( 1249 F St Downtown SD). The overall objective is to involve the greater San Diego arts & music community in developing prototypical designs for future affordable work/live space for artists and arts organizations. Approximately 25 local architects will each lead different design teams on Friday night to brainstorm ideas for designs for six specific San Diego building sites. Teams will be comprised of artists, musicians, designers, developers, arts organizations, contractors and arts supporters. Saturday the architects will draw up blueprint plans based on Friday's design ideas, and Sunday's program will involve presenting the drawings to all participants who are interested in continuing to attend through the weekend. Fri. Sept 11, 5:30-9:00 PM: All participants invited to workshop designs. Sat, Sept 12, 10 AM-6 PM: Architects and Designers, but all interested are invited. Sun Sept 13, 10 AM - 2 PM Brunch and display of completed designs. This event is sponsored by Synergy Art Foundation and the New School of Architecture. .For more info: Cheryl Nickel, 858.243.1312 sdspace4art@gmail.com
The Wolfstein Sculptures Parks which now have art works in three locations are please to announce their website is now operational. Mostly containing works by San Diego sculptors, Scripps Memorial Hospitals in La Jolla and Encinitas are open to the public with no admission fee. Daytime hours are best for viewing. Sculptures are also sited at the UC Irvine campus. The Wolfsteins believe that public art enhances the healing environment and providing such art for the public to enjoy is a fitting way to celebrate life's special events. For more info: 818.788.4197
Healing Waters is an ArtforHealing project and features works by Gerrit Greve and Robin Przybysz who shows her charming gourd sculptures most recently seen at the Fallbrook Art CenterThe opening at the L Street Gallery of the Omni Hotel at 675 L Street was well attended with our local teens who also displayed their art to help heal others. The silent auction with proceeds from the sale of students' art will go to ARTS – A Reason to Survive & Family Health Centers of San Diego. They raised a whopping $6635. Congratulations to all involved.
Philly Joe Swendoza co-producer of Art Rocks! Radio has starting a series called Raging Art Bull. The third installment is about artists paying to be in juried show. He would love to see artists paid to show their work…..wouldn't that be fabulous! You can find the rest of these series under Art Rants: The Good, The Bad and the Ugly.
We are thrilled that The Bronowski Art&Science Forum has a new and spectacular venue which is The Burnham Institute for Medical Research Auditorium (formerly the Sidney Kimmel Auditorium). This is the series of lectures organized by Ron Newby and originally called the Art and Science Forum. The upcoming forum is Carmen Cuenca on Thurs., Sept 10 at 7:00 PM (note new time). This beautiful auditorium seats 119, tiered, intimate with outstanding acoustics and is conveniently located with adjacent parking. The auditorium is located very near The Torrey Pines Golf Course, The Hilton and just down the street from The Burnham Institute. To get program details with address and directions contact Ron Newby.
Fusionglass Co. is offering a wonderful August Gallery Special which is a $5 glass pendant, really lovely and if you visit the gallery you can get a head start on your gift shopping. There is also a limited edition Torrey Pines pendants for $29 available while supplies last, inspired by our very own unique neighborhood. There are only about 4,000 Torrey Pine trees left in the wild population, almost all of which reside right here in San Diego.
Thursdays on the Coast 's mission is to bring people to the Carlsbad Village who may not normally visit on a Thursday evening, "Combining fine art, live music and other types of performance, …...", said Robin Young, executive director of the Carlsbad Village Association, "Village businesses stay open late and are able to engage new customers who may not have realized they were there….." Nanette Newbry, Principal and Creative Director of Studio 2055 and Paul Uhler, owner of Ivanffy-Uhler Gallery on Grand Avenue are Co-Chair for the year-round event. They agree that art and culture infuse vitality to business districts in ways other activities cannot. "Through culture we find the very best part of our nature, and Thursdays on the Coast will bring that to Carlsbad." says Newbry, "I am so proud to be a small part of this event. Uhler concurs: "Art feeds the spirit and whenever you bring art to a community it is very uplifting." This event is now the last Thursday of the month. For more info: Robin Young 760.434.2553
Just to refresh your memory: other events in Carlsbad that are ongoing include: Carlsbad Art in the Village put on by Kennedy Fairs is in August; and Spark in the Park - 4th Sunday in Carlsbad at McGee Park. There are opportunities at all these events for artists.
Luis de Jesus Seminal Projects is very pleased to announce an exciting, two-part group exhibition titled Social Climbing. The first segment of the show, subtitled Part I: On The Move will open on August 8 and run through September 26and will feature work by over 20 artists.Over the course of each segment, artworks will be rotated and re-installed alongside different works, allowing them to be considered in new contexts. A work may also be replaced with another one by the same artist, or by an unscheduled, spur-of-the-moment surprise. (Part II will open on October 2 and remain on view through December 5, 2009.) More info: info@seminalprojects.com 619.696.9699
Cheryl Tall Art Studios has been selected for the 2009 Best of Carlsbad Award in the Artists category by the US Commerce Association. Each year, the US Commerce Association (USCA) identifies companies that they believe have achieved exceptional marketing success in their local community and business category. These are local companies that enhance the positive image of small business through service to their customers and community. Congratulations to Cheryl Tall.
There is a new art school at the NTC Promenade. Bravo School of Art is having its first Friday Open House. Visit their brand new facility in the newly restored historic Barracks 19 Art & Design Center at Liberty Station. See instructor demonstrations and artwork exhibition on Sept 4 from 6 pm. More info: Lauren Becker Downey 619-223-0058
If you are an organization of any size but especially a small non-profit who may someday want to apply for a grant or just get some free tools for fundraising, then check out the California Cultural Data Project. Yes, you will have to do about 10-12 hours of data entry, but once you information is inputted, they will automatically convert it to the format for many registered grants for you. That means if you fill out the TOT application for fund from the Commission of Art and Culture, you can fill this out instead and then apply for other grants without having to enter the data again. Yes, you will have to do a narrative still, but you will get the added benefit of reports that can be generated about your organization and statistics comparing you to other averages which could be very useful in showing what a good job you are doing, or convincing donors that you need more of their help. We are looking at this system because it is free but not a come on; a subsidized tool sponsored by lots of donors who want us to succeed in the arts. Thanks to the San Diego Foundation for funding the workshops on this valuable resource for us in San Diego. And extra thanks to the Pew Trusts for sending us the lovely Lauren Hooten who presented the workshop about this resource.
One more chance to join Courtney Bell on Wednesday Aug 25, 5 – 9 p.m for her Altered Clothing Class to recycle an over-sized dress or a man's button-down shirt, to make a cool summer top, to turn your old blue jeans into a chic new bag, or to remake those old jeans into a retro 60's skirt. In this green class you will learn some easy sewing skills, how to appliqué, make your own patches, and use fabric dyes to enhance your creations and add some color. Bring in a piece of clothing or choose from our stock. Classes are $15. At Sophie's Gallery ( 109 Rea Ave in Downtown El Cajon.) To reserve a spot or for more info 619.593.2205.
Do yourself a favor and put yourself on the mixture mailing list. We had so much fun looking at the combination art and design products you can buy there. Check out "Algues" (pronounced al-gees) which can be combined to make hangings, dividers or curtains. Great colors and so much fun to play with and only $40 for 6. Then the salad bowl boats by Aaron Kramer are inspired wall art. Their featured artist is Amy Paul and her works start at just $70.
Viviana Lombrozo is showing all new work in All My Ghosts on Sept 11, 6 - 9 pm at Perry L. Meyer Fine Arts Gallery ( 2400 Kettner Blvd, Suite 104, SD 92101) until Oct 3.
OPPORTUNITIES (click to see a list of all current opportunities listed on SDVAN)
Artists Against Hunger is a collaborative effort between the design and arts communities to raise money for the San Diego Food Bank. They are seeking posters from high-profile and up-and-coming artists and designers. The donated posters will be sold exclusively online, and all profits will go directly to the San Diego Food Bank. Their goal is to raise at least $10,000 to help feed the hungry. ParkerWhite in Cardiff by the Sea and Thumbtack Press are dedicating space on their websites to feature the posters. Your part is to create a poster that will increase awareness of hunger in our local communities. The prints will be sold exclusively at Thumbtack Press. For info: Christina Lutteroth 760.783.2020
La Jolla Art and Wine Festival '09 is making a call for artists. The event is Sat, October 10 & Sun, October 11 9 am – 5 pm at Upper Girard Avenue , La Jolla, California 92037 Artist application is now available on the Zapplication.com. Created by Friends of La Jolla Elementary, Inc this event will benefit the elementary school children of La Jolla with proceeds going directly to La Jolla, Bird Rock, and Torrey Pines Elementary Schools. They're looking for a variety of exceptional artists to join them in bringing an art festival back to La Jolla Village while supporting the area's public elementary schools with much needed funding. Fees are as follows: $25.00 Non Refundable Jury Fee, $175.00 Artist Exhibition Fee if accepted by the jury of artists, authors, Art dealers, and Art collectors from the community. Deadline Sept 15 so get on your skates. For more info: Ronda Ahrens or Harte Sawtelle 760.419.8859
7th Annual Imperial Beach Art Walk and Silent Auction will be held Sept 19 and there will be only 100 artists selected to paint live on the day from 8 am to 2 pm with the auction from 2:30 to 6 pm. This event is "Plein Air" and canvases are distributed and cash prizes are given for 1-3 place. More info: Howard H. Woodward 619.271.1450
9th Annual Chula Vista Art Guild Community Art Show 2009 is Oct 7 - Nov 14 at the Bonita Museum and Cultural Center 4355 Bonita Road, 91902) with cash awards totaling $1500! For more info go to the website or contact chulavistaartguild@yahoo.com 619.421.3456 or Vicky DeLong 619.267.5141
Lori Lipsman istrying to get some information from the San Diego art community on the viability of having an apartment available for exhibits in North Park. She has created a survey to get an idea if this would be something that artist would support either singularly or in group. If you are an artist interested in exhibition space then do take the survey and help her decide.
The Third Avenue Village Association will be hosting the 14th Annual Taste of Third Avenue and Art Walk on Thursday, September 24. We would love for artists to display their artwork along Third Avenue for this high spirited event. If interested, please contact and submit your application to Vanessa Barron no later than Friday, September 4th. More info from Heather Marshall
MUSEUMS
Museums in Miniature: Works by Marcel Duchamp and Joseph Cornell will open September 26, 2009 at the Museum of Contemporary Art San Diego (MCASD) in La Jolla. The exhibition explores the use of collage, assemblage, and staged tableaux by Marcel Duchamp and Joseph Cornell as plays on the notion of an exhibition space. Evocative juxtapositions, absurdities, and rebuses abound in Cornell's work, demonstrating the enduring influence of Duchamp's practice, and of Surrealism more broadly, during the second half of the 20th century.
MCASD is now allied with ArtBabble.org, an online community created to showcase art-based video content. The groundbreaking site, launched in April 2009, allows visitors to explore works of art online as never before, through a collection of interviews with artists and curators, original documentaries, and art installation videos. MCASD-produced content on ArtBabble.org includes teen-produced interviews with artists Robert Irwin, Joshua Mosley, Roman de Salvo (SD Art Prize 2007-08)), and Julio Cesar Morales, as well as video documentation of two reinvented Allan Kaprow happenings staged in 2008.
The San Diego Museum of Art is acquiring a significant collection of works of art from Africa, Oceania, and the Americas (AOA) as part of a newly formed alliance with the Sana Art Foundation, one of the largest collections of its kind in Southern California. Edward and Mina Smith are giving 900 works. You can see some of these works together with works from The Franklin Collection in the exhibition Oceanic Art through January 3, 2010.
What does the American Dream mean to you? Ceramic artist and SDSU alumnus Gregg Jabs questions the myth of the American Dream in this dramatic installation of playful circus characters, cowboys, mythical heroes and villains reflecting his deep concern for how society unconsciously shapes beliefs, behavior and culture ultimately establishing the archetype dream. Oceanside Museum of Art, August 30 - Jan 10, 2010, Preview Reception Sat, August 29 th 5-7 pm. For more info: Danielle Susalla 760.435.3722. Hear Danielle on Art Rocks!
A survey of artists represented by Quint Gallery is now on display at the California Center for the Arts, Escondido. The exhibition features paintings, sculptures, installations, drawings and prints by bold and innovative artists such as Jean Lowe, Mel Bochner, Kim MacConnel, Ryan McGinness, Manny Farber and Patricia Patterson. Plus the Center's newest public artwork by San Diego Art Prize artist, Kim MacConnel. They very cleverly has asked SD Art Prize artist Jean Lowe and Quint Contemporary Art owner Mark Quint to make a selection of objects for sale for the newly designed Museum Store. On view until Dec 31 st. More info: 760.839.4120
Now this show has opened superlatives do not adequately describe the Quint: 3 Decades of Art show at the California Center for the Arts, Escondido. The whole museum is filled with great art by many of our most elite international local artists. Almost all of them, with the exception of Italo Scanga and Manny Farber (both deceased) were there. A veritable who's who of artists, patrons, etc., Bob Irwin, Raul Guerrero, Kim McConnell, Jean Lowe, Tom Driscoll, Richard Allen Morris, Walter Pomeroy, Jay Johnson, Steve Curry, Robin Brailsford, Wick Alexander, Anne Mudge, Nilly Gill, Perry Vasquez, Stephanie Hanor, Louis Goldich, Robin Bright, William Gullette, Bill Feeney, Madeline Sherry, Dan Camp, Jane LaFazio, Clara Hennig, Molly Lipsher, Alfred Ventura, Christine Oatman, Kenneth Kapps, Eloise Haudenschild, Natasha Martinez, Reesy Shaw, Tom Noel, Larry Baza, Ron Stevenson, Luis DeJesus, Deborah & Bill Stern, Fritzie & Ian Urquhart, Erika Torri, Brian Dick, Larry & Debbie Kline, Patti & Coop Cooprider, Robert Pincus, Jen Trute, Dennis Paul Batt, Kathy & John Rubesha, Vicky Basehore,Olivia Luther, Mark Quint (of course), plus many more. It was the most well attended opening the Center Museum ever had. They are planning a catalog and we hope they can finance a tour. The exhibit can hold its own in any Contemporary Art Museum anywhere. We strongly recommend visiting before the end of the year and checking out this incredible display of some of our finest art.

Watch for the panel discussion accompanying the Quint: 3 Decades of Art exhibition at the California Center for the Arts, Escondido on Sept 26 at 4 pm with Mark Quint, Wendy Wilson, Olivia Luther, and Pamela Patterson. Also you can hear the SD Art Prize artists Jean Lowe, Kim MacConnel, Roman de Salvo, Raul Guerrero as well as artist Adam Belt on a panel Oct 17 at 4 pm.
TRANSITIONS
As of August 31, 2009 Artrageous! will vacate their Del Mar location at 3534-H, Del Mar Heights Road in the Del Mar Highlands Towne Center and consolidating their business to operate out of one location (5350-A Eastgate Mall, SD 92121). If you are looking for sleeves, glass shelving units, pedestals, design counters, art bins, etc, please visit their Del Mar site or contact Barbara Markoff 858.452.7280
U.S. Senate confirmed Broadway producer Rocco Landesman to serve as the next National Endowment or the Arts chair. The $170 million still needs to be approved in the fall.
Walk the Walk who presents Sights and Sounds will not be based at Planet Rooth any longer. We are waiting to hear of the new venue. Is there a story there?
TIDBITS
We are waiting San Diego department….. Dallas Cowboys owners Gene and Jerry Jones, along with their family, today announced the Dallas Cowboys Art Program, an ongoing initiative to commission contemporary artists to create monumental, site-specific installations for the recently completed Cowboys Stadium. The program launches with 14 commissioned artworks, which will be installed in prominent locations throughout the Stadium.
From the beginning of August Berline will be the home to what is probably the smallest gallery in the country. The Smallery. Behind the project is PULK Berlin. The Smallery itself is a small, purpose-built garden shed. The exhibition manages to fit 24 pieces into an exhibition space less than 1.5 m2 in size. The pieces are contributed by internationally successful illustrators from New York, Toronto, Los Angeles, Barcelona, Vegby ( Sweden), Hamburg, Munich and, of course, Berlin. The pieces themselves are, not surprisingly, unusually small. Each piece is to be reproduced in an edition of 50 high-quality prints and is available to purchase for 30 Euros.
Have you heard of Augmented Reality 2.0: The Future Of Interactivity? This is a very cool videofrom the University of Tokyo with Ultrasound technology showing exactly where Augmented reality is heading with new technology emerging. Make sure and scroll down if the video does not appear at the top of your page.
The TED conference was held for the first time in Oxford. Here are just a few of the presentation that were particularly well presented and received just to give you a taste. A little outside of the art box, but worth a read.

*The indefatigable nearly-90 Elaine Morgan, who's devoted her life to defending the idea that humans are descended from aquatic apes -- a hypothesis so far rejected by mainstream science. Reactions to the theory range from skeptical to sold, but the standing ovation showed an audience moved by Morgan's moxie. Afterward, she wrote in a Wales newspaper, "If that was my swan song, I can die content."

*Sculptures that fit in the eye of a needle, created under microscope by nano-artist Willard Wigan.

*A remarkable water filter from inventor Michael Pritchard that turns revoltingly filthy sludge into clear drinking water in seconds (our own Chris Anderson braves a sip to prove it).

*A warm, witty talk from writer-philosopher Alain de Botton that will change the way you think about success. He'll also change how you think about luxury cars: "When you see someone in a Ferrari, don't think, 'This is a greedy person.' Think: 'This is someone vulnerable and in need of love.'"
A little poem from Keikichi Honna, in Germany:
French guy is angry because he hasn't eaten anything,
Japanese man had white lice
Israeli rapsta says "Sheeit, fakkittup! You fakkittup, man"
Aussie says "have a good die"
SmileThoughts is the new way to send a sexy but classy email message. We love that they donates 5% of each card purchased to the Smile Train, a charity that repairs children with deforming cleft palates, and gives them the gift of a smile.

Alexandra Rosa
RAW for SDVAN
Executive Producer and Art Rocks! Internet Radio where you can hear many of these interviews with the makers and shakers of the art scene as mentioned above. Now appearing with a blog on the homepage of San Diego Art + Sol, which is sponsored by the San Diego Convention & Visitors Bureau
RAW JULY 2009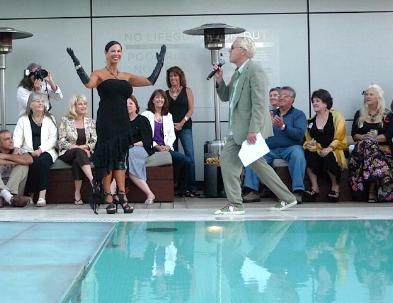 Photos from our second catwalk show of models from the audience by Ralyn Wolfstein

Little & LARGE Launch: The energy was incredible as the art world came together July 8 to celebrate over 90 artists working with 41 venues county wide to showcase over 200 art works. The Se Hotel was the perfect venue for this gathering of 450 art aficionados. Surface and texture play a huge part in the glamour of the décor for the hotel as well as the jewelry sported by all the guests. Adornments were documented on site in NowFlipThis books. VIP guest were treated to VeeV cocktails. The professional and amateur runway shows on the transparent runway over the swimming pool added to the excitement (MCed by Philly Joe Swendoza from ArtRocks! ) as did the 20 foot high slide show of images from the extensive catalog. To see more photos from the Launch we offer these links: A combination of images by different photographer (John Liu, Bruce Meyer, Diane Graber) in a Little & Large Launch Slide Show and Tom Wilson's collection http://www.tswilson.com/fashionshow/

Niche awards are amongst the most prestigious awards in the Fine Craft industry. These awards are available to all American and Canadian craftsmen and are given yearly in 34 different categories. We are happy to announce that we have three Niche award winners in the Little & Large promotion: Tara Magboo showing at Colosseum Fine Arts won a Niche award in 2009, Lisa Slovis Mandel is a 2006 Niche winner and Alexandra Hart, a multiple time finalist, are both showing at Contemporary Fine Arts Gallery.

San Diego artist Dave Ghilarducci will install a bicycle with a generator connected to the back wheel that will power an LED display. When the visitor climbs on the bicycle and takes a ride, the LED will project words of wisdom from books that discuss utopian and dystopian views of the future.Delayed Gratification at Oceanside Museum of Art curated by Emily Phelps, will be on view in the Parker Gallery through Sept 25, 2009. "Meet the Artist" on Sat, August 8 th at 2:00 p.m. "Meet the Artist" is free with museum admission and complimentary for members of OMA. More info: Daniella Susalla 760.435.3722

Healing Waters is an ArtforHealing project featuring works by Gerrit Greve and Robin Przybysz and local teens that created their art to help heal others. Taking place at L Street Gallery of the Omni Hotel at 675 L Street, this show starts Sat, Aug 15 with a public reception from 7 – 9 pm. There is a silent auction and proceeds from the sale of students' art will go to ARTS – A Reason to Survive & Family Health Centers of San Diego.

Victoria L. Hamilton , Executive Director of the City of San Diego Commission for Arts and Culture and NTC Foundation ex-officio board member, has received the prestigious 2009 Selina Roberts Ottum Award for Arts Leadership. In addition, Alan Ziter, Executive Director of the NTC Foundation, has been elected to a 3-year term on the board of directors of the San Diego Convention & Visitors Bureau.

Visual artists are invited to attend Public Art Opportunities event on Mon, July 27, 7:00 - 8:30pm at the Encinitas Library, Community Room, 540 Cornish Drive, Encinitas, CA 92024. You will hear from, Karen McGuire, City of Carlsbad, Susan Pollack, City of Escondido, Jim Gilliam, City of Encinitas, Carolyn Mickelson, Oceanside Arts Commission, Dana Springs, City of San Diego Commission for Arts and Culture, Constance White, San Diego County Regional Airport Authority, Anita Edman, City of Solana Beach and Bill Fortmueller, City of Vista. No RSVP is necessary. For additional information, call 760.633.2746

SD University Business for Arts is offering its next course which is Museum and Art Gallery Special Event Management Course from Aug 19 to Sept 2. Special events are important because they provide an entertaining source of income for current and potential donors. A successful special event involves about relationship cultivation, learning experience, promotion and management. This course studies and presents topics including recruiting volunteer leaders, developing an event committee, vendor relations, budgeting, timelines, collateral production, marketing exposure, underwriting, protocol, and achieving successful signature events in different venues. Patricia Frischer, SDVAN coordinator will be a guest for this course. All courses are $349 each. Scholarships are available. More info: Karla Duarte 619.260.2933

There is a launch party for the new Latent Prints website at the Whistle Stop Bar on Wed. August 5th
8 pm. Video Presentations will feature "What is The Latent Print?", featured Artists Videos, Trio Gadjo and The Drew Andrews Band. More info: Charlie Yi.

Carlsbad Village Association (CVA) presents Thursdays on the Coast (formerly ArtSurf); a free community visual and performing art walk being held the last Thursday of each month throughout summer in the Village of Carlsbad. Thursdays on the Coast will celebrate its inaugural season and opening night on Thursday, July 30th from 5:00 p.m. to 9:00 p.m. The evening will include original art in Carlsbad Village's permanent galleries as well as, village merchants acting as temporary "phantom" galleries. The event will host local and regional artists displaying their work throughout the Village, live art demonstrations, and ongoing theatre performances.

Visual Variations is an exhibition of painting and photography by five San Diego artists: Jeff Brosbe, Dana Levine, Caroline Morse, Gwen Nobil, and John Valois at the La Jolla Art Association opening Aug 3 with the reception Aug 8 from 4 -7 pm. More info: Dana Levine 858.459.1196

Sezio launches its Artist Exchange Program with Brooklyn-based Artist Morgan Blair with a show called Brain Glamor - Morgan Goes Pacific on August 14th & 15th (6-10pm) at Luce Loft ( 1037 J. St - SD, 92101). Road-tripping across the country, RISD graduate Morgan Blair will stay at the loft for a full week installing various works she has brought with her and also completing a large-scale painting. Along with Karl Strauss, San Diego's Museum of Contemporary Art has jumped on board to sponsor this event. MCASD has provided Morgan a travel stipend and in return Morgan will be leading an illustration workshop at the museum's downtown location on Thursday August 13th.To complete the exchange, Sezio will send a San Diego-based artist to Brooklyn in the spring of 2010. Sezio plans to facilitate these 'artist exchanges' twice a year. For more info:Zack Nielsen

OPPORTUNITIES (click to see a list of all current opportunities listed on SDVAN)

The San Diego Art Department is pleased to announce their first Open Call Fundraiser Exhibition Transitions with Juror: Kevin Freitas with Art As Authority. The world is full of transitions, whether it be internal or external, we are all affected by the passage from one form, state, style or place to another. Young to old, college to profession, single to married, daughter/son to mother/father, season to season, rich to poor, life to death. Due date Aug 1. All media accepted, original work, 2/3D. 12" x 12" only. Fee $5-$20. Reception: August 15, 6pm to 9 pm, Exhibition: August 15th thru Sept 13 th Open Call Registration Form Prizes will be awarded for Best In Show, 1st, 2nd, 3rd Place, Honorable Mention and People's Choice.

ArtSplash is looking for graphic designers that could come up with a design for the ArtSplash tote bags. These bags are recyclable, and they would like a design that shows their commitment to education. We are about color & the beach and sorry, no pay is being offered but we bet you could talk them into a free bag. They also have a big need for local artists to design/paint over 30 wooden clocks (provided) which will be auctioned with 25% going to the artists. Our event is Sept 26th and 27th. For more info: Joni Miringoff 760.930.9123 ext. 118

ArtWalk on the Bay 2009 has announced their call for artists. The event is Sept 12/12 from 10 -5 and this one remember is at the Embarcadero Marina Park North . Event fees are $400 for a 10 by 10 space and are limited to fewer than 175 artists, so don't miss this opportunity. Event management not only provides a high quality tent, every artist benefits from a page on the web site which stays posted for an entire year to promote sales of your artwork long after the event. To apply, click here to log in or set up an artist account, then apply.

St. Mark's United Methodist Church announced a call for Digital artists and photographers for its 6th annual Digital Art Show Sept 3-Oct 18. Artists may submit up to 3 entries Friday, 9-12, 6-8 p.m. & Sat. 9-13, 9am-noon. Best 50 will be hung. Cash prizes: $125, $100, $75. Awards Ceremony Sept 26 at 3pm. More info: Judy Edelblute 858-278-0255

Athenaeum Music & Arts LibraryEighteenth Annual Juried Exhibition runs August 1 – Sept 5. Jurors were Michael Krichman and Mathieu Gregoire and they selected Patricia Mercado, Dan Adams, Steven Nossan, Kraig Cavanaugh, Annie Omens, Amy Hyde, Neil Shigley, Neil Kendricks, K.V. Tomney, Elena Lomakin and Joseph Yorty. The reception is Fri. July 31 from 6:30 -8:30

Painted Pony Arts Festival has 10X10 booths available for artists to display and sell their art on November 7th from 10:00 to 4:00. The day will also include children's\' art activities, live music, and food booths. Real horses will be artistically painted plus for more "horse power" beautifully airbrushed motorcycles will be on display. An east county high school art show will be judged. The event is free and is on the grounds of Jamul Intermediate School, 14545 Lyons Valley Road. Jamul Arts and Music Council is a volunteer run non-profit that raises money for art programs in the schools and community. Contact Vicki Lindsey 619.669.7700

Hear about the only M.A in Arts Management program available in California when Claremont Graduate University invites you to a brown bag lunch on Friday, Aug 7 th, 12:30 pm – 1:30 pm at City of San Diego Commission for Arts and Culture , 1200 Third Avenue, suite 924, San Diego, CA 92101 Laura Zucker,

Executive Director of the Los Angeles County Arts Commission and Director of the Arts Management program will speak about this academic opportunity which includes a new Executive M.A. in Arts Management .

The world of the visual and performing arts has no shortage of talented, creative artists; what it needs are skilled, perceptive ethical leaders to help organizations adapt in an increasingly competitive and diverse world.

RSVP

to diana.luna@cgu.edu 909.607.9109

MUSEUMS

A summer peak at next year's Lux Art Institute artists: 1. Elizabeth Turk currently embraces and brings new vision to the classical practice of stone carving. With chisel in hand and fueled by her fascination with patterns, she painstakingly transforms solid, 400-pound blocks of marble into fantastic and improbable shapes — collars, pinwheels and ribbons. 2.Susan Hauptman: For over twenty years, her enigmatic, charcoal self-portraits have been her focus. Drawn with complete candor and near-photographic exactitude, the works display not only Hauptman's astonishing technical mastery but also serve as the artist's own means of self-revelation and reinvention. 3. Iva Gueorguieva: Her large-scale abstract paintings are filled with exuberant hues, dizzying brushstrokes, ghostly humanoid characters and churning landscape melodramas where themes of beauty, violence, isolation, sex and death are revealed. 4. Robert Lobe depicts rock and trees in shimmering, hollow forms. He uses an adaptation of the ancient process of repoussé to recreate ephemeral, natural objects as monumental sculptures whose aluminum surfaces glimmer with the play of light and shadow.5. Sati Zech's vibrant cloth fields in the series titled Bollenarbeit encompass elements of painting, drawing and sculpture. While the sumptuous displays of thick, red mounds of paint on torn rows of canvas hint at domestic handicraft and historically ritualistic mark-making, her bold, dynamic creations defy category.

Witness imagery by National Geographic photographer, author and expedition leader Ralph Lee Hopkins from September 19–January 3, 2010 is an art exhibition and sale Baja California. In addition to photographs by Hopkins, outstanding images by American and Mexican photographers will also be shown. Baja California , the 800-mile long peninsula that begins across the U.S. border, is stunningly beautiful with many endemic plants and animals. The peninsula includes the meeting of the Sonoran Desert, the Gulf of California ( Sea of Cortez) and the Pacific Ocean. All artwork in The Ordover Gallery at the SD Natural History Museum is for sale; a substantial portion of proceeds will benefit the Museum.

Following the wonderful exhibitions MIX featuring our local architects which was a real show stopper at The Museum of Contemporary Art San Diego (MCASD) is an innovative exhibition mapping the influence of architecture on contemporary visual art in an international context. Entitled Automatic Cities: The Architectural Imaginary in Contemporary Art, the exhibition sets work by prominent, architecturally engaged artists such as Julie Mehretu, Matthew Ritchie, and Rachel Whiteread in dialogue with that of emerging practitioners including Catharina van Eetvelde, Jakob Kolding, and Sarah Oppenheimer. Automatic Cities is curated by MCASD Curator Dr. Robin Clark and will be on view from September 26, 2009 through January 31, 2010 at MCASD's La Jolla location.

TRANSITIONS

The Museum of Contemporary Art, Los Angeles (MOCA), has raised nearly $57 million in the last six months, and the museum's Board of Trustees voted June 25 to contribute $4.25 million to MOCA's endowment assets, which will be matched by The Eli and Edythe Broad Foundation, for a total $8.5 million contribution. Additionally, the Board elected three new trustees and its officers for 2010. This is an amazing turn around showing that there is a role for the museum in the community. They also managed to reduce expenditures to a sustainable level so it appears they are here to stay. Thank goodness.

TIDBITS

Bravo's has invited Sarah Jessica Parker and her production company, Pretty Matches, together with the Emmy-nominated Magical Elves ("Top Chef," "Project Runway") and Eli Holzman, to produce an hour long creative competition series among contemporary artists. The Untitled Art Project will bring together thirteen aspiring artists to compete for a gallery show, a cash prize and a sponsored national tour. In each episode of the series, contestants will create unique pieces highlighting art's role in everyday life, while they compete and create in a range of disciplines including sculpture, painting, photography and industrial design (to name a few). In working beyond their preferred mediums, artists will have to adapt quickly in order to succeed. Completed works of art will be appraised by a panel of top art world figures including fellow artists, gallerists, collectors, curators and critics. The finalists' work will be showcased in a nation-wide museum tour. Open calls for artists interested in competing LA were in mid July.

The National Endowment for the Arts (NEA) announced direct grants to 631 nonprofit arts groups, totaling $29.775 million as part of the American Economic Recovery and Reinvestment Act. These direct grants are in addition to the 63 state and regional sub-grants previously awarded in April, totaling $19.8 million. Both of these funds are part of a $50 million federal stimulus package being allocated by the NEA in support of job recovery programs for nonprofit and local and state public arts agencies.

Leading British artist, Antony Gormley, today launched his nationwide work, One & Other, by inviting people, aged 16 and over, from across the UK to participate in the creation of a unique living monument on the Fourth Plinth in Trafalgar Square. One & Other will run for 100 days from 6 July – 14 October 2009 and will involve 2,400 people from all over the UK who will stand on the plinth for an hour each. 615 participants have been chosen for the month of July from the 13,000 applications that had been received at the time of the first draw. Nearly 2,000 more applications have been received since. The selected participants come from all over the UK, from as far afield as Coleraine in Northern Ireland to the Norfolk coast, from Paisley in Scotland to the West Country. Participants range from 16 to 83, and list their occupations as everything from blacksmith to professor, aquatic scientist to hospital porter.

We are some of the lucky ones following Keikichi Honna in his sojourn in Germany. He is taking the longest words he can find and painting them painfully on the walls of his temporary studio in the Reich. He calls his group k ünstlers and they are creating cunst. We know that they are actually Wand Malers.

Alexandra Rosa
RAW for SDVAN
Executive Producer and Art Rocks! Internet Radio where you can hear many of these interviews with the makers and shakers of the art scene as mentioned above. Now appearing with a blog on the homepage of San Diego Art + Sol, which is sponsored by the San Diego Convention & Visitors Bureau

This is your invitation! San Diego Visual Arts Network presents Little & Large with over 90 Artists creating a Sculpture and related Jewelry for display at 41 Venues County Wide. The Little & Large Launch Party is Wednesday, July 8, 7 – 9 pm at Sīrĕn 4 th Floor pool deck of the Sè Hotel , 1047 5 th Avenue at Broadway, SD 92101. This reception is open to the public with a no host bar benefiting San Diego Visual Arts Network. There will be two "Little" runway shows. You can perform in your own Flipbook. Please plan to stay late for hotel entertainment starting at 9 pm. All venue details available on www.SDVAN.net alphabetically by venue location and by artist.. Watch for Little & Large near you starting in June through Dec, 2009 A CATALOG with images of the works is now available to download for free on SDVAN.Besides this launch for the entire promotion there are Group Launches by Location for Little & Large. Most venues are having RECEPTIONS that are open to the public. Many of the areas have receptions on the same night. La Jolla, First Friday Fri. July 3, North Park, Ray at Night Fri. July 3 , North Park Nights Sat July 18 (Some venues, Sat, June 20/Sat August 8) , North County Inland Sat July 11 , Solana Beach , Cedros Design District Third Thurs, July 16 and El Cajon , Alley Cat Art Walk Sat. July 18. More info: info@sdvisualarts.net 760.943.0148
We are delighted to announce a new sponsor for Little & Large: VeeV is The World's First Açaí Spirit™ and is simply a better way to drink™. Açaí (pronounced ah-SIGH-ee) is the exotic tasting Brazilian national fruit popularized by surfers and sports enthusiasts, and is thought to be the healthiest fruit on the planet by the likes of Oprah Winfrey who recently named açaí her #1 superfood. In the spirit of allowing consumers to enjoy tonight and save tomorrow, VeeV donates $1 per bottle sold to Rainforest preservation through The Sustainable Açaí Project and is proud to be the only certified carbon neutral spirits company in the world. You can enjoy VeeV at all times at the Sè Hotel.
June's Sight & Sound ( 3811 Ray Street, SD 92104) presented by Walk the Walk on Sat. June 27 at 7 pm features seven creative performances, including rock band Apes of Wrath, provocative song & dance from Caburlesque Kittens, and didgeridu master Mitchell Walker. The ten exhibitors include House of Blues giving away free tickets to their July calendar, SDVAN's upcoming Little & Large launch party, and live painting from Brent Tilton. Proceeds from Sight & Sound benefit the Autism Research Institute. Attendees must be at least 21 years old; complimentary beverage with paid admission before 8:00 pm. More info: Jon Block/Adam Rosen 619.846.7180/85
Please remember the SD Art Prize 2009: Kim MacConnel and emerging artist Brian Dick at the L Street Gallery 628 L Street, San Diego, 92101 (Across from the Omni Hotel) Gallery Hours: Tuesday - Saturday, 10 am - 5 pm until June 26. There is a special walk through of the show: Talking to Myself: A conversation with Brian Dick on Thurs. June 25, 6:30 – 7:30 pm.
Scott White Contemporary Art has produced a very classy catalog which is available to see as a PDF. Welcome to the 21 st century.
The next session of New Century Media ( link to marketing class description) is in July. This is a class by John Hiemstra, founder San Diego Finishing School. More info 619. 654. 6208
Lyceum Theatre was the venue for the Pose 2's collaboration with SD's Culture Shock's Dance Theatrical. The program called Graffiti Life; the Color of my Sole was the first graffiti dance, music, theater collaboration that we have heard of right her in SD. Congratulations to all the participants.
Molly Whittake r went to the SDUSD Board meeting to help save the arts in our schools. She sent this report, "The meeting lasted from 8:30AM to 8:30PM! The school board was able to save the Visual and Performing Arts Department, as well as athletics, but there were cuts made to special ed, the school day is being shortened, and the price of school lunches is increasing, among other cuts. The board said they received over 1,000 emails. Thanks to everyone who took the time to write an email!"
Congratulations to Cheryl Ehlers for creating Stardust Arts and for receiving a Kenneth A. Picerne Foundation Grant. She is starting to teach in the Oceanside School district as well as offering an art program for the elderly.
You will have a chance to visit the Iris and Matthew Strauss collection if you join the new Gotthelf Gallery at the SD Center for Jewish Culture in La Jolla. Save the date August 16 at 4 pm. 858.362.1144
June brides could have an extra treat with a custom designed cake topper couple by Pamela Jaeger. Check out her Yartsale on Esty.
There is a wonderful interview of Jeffery Laudenslager, the kinetic sculptor from Encinitas posted by his SF gallery Sculpturesite. It would be nice to see more of these interviews from our local galleries. One of Laudenslager's new pieces went up this month at Family Health Centers of San Diego ( 823 Gateway Center Way, SD 92102). It was generously donated by Chuck Betlach II.
The City of Encinitas Commission for the Arts, working through the city's Arts Administrator, Jim Gilliam, maintains two civic art galleries in the library: in the lobby and Community Room. The National Association of Counties (NACo) has given a Best in Category Achievement Award to the Encinitas Library art program in the category, Arts and Historic Preservation for this the art program. Congratulation to Jim Gilliam, the Encinitas Library art program and to Pam Slater Price who will accept the award at the NACo Annual Conference in Nashville, Tennessee.
The William D. Cannon Art Gallery presents the 2009 Cannon Invitational, an exhibition featuring the work of Joseph Bennett, David Fobes, Tara Smith and Duke Windsor. These four artists were selected by the Gallery's Curator of Exhibitions, Karen McGuire, from the 26 artists featured in The 2009 Juried Biennial exhibition. The exhibition opens June 28 and continues through August 18 at the Carlsbad City Library Complex, 1775 Dove Lane at El Camino Real.
If you are lucky enough to have a www.Zhibit.org website (as little as $1 a month) you can now link that site to your Facebook pages. You can also use Zhibit. biz for non-art businesses.
The first of what will hopefully eventually be dozens of artists and designers in residence at NTC Promenade are moving into the newly renovated Art & Design studios in historic Barracks 19 at NTC Promenade. Core Design Studio , Kenneth Greene Photography & Design , Patrick Meehan Fine Art, Pantaleoni Photography and artist Petar Barbaros will move into their studios starting in June. We are happy to see these spaces filling up with art related businesses.
Sund
ay's Art in the Alley
takes place on the last Sunday of the month in Artists Alley, Oceanside. Free to the
p
ublic, Art in the Alley will display and sell art from local artists and is organized by Joey Chavez of JC Gallery and Studio
on
July 26th, Aug 30th and Sept
27th from 10am to 4pm.
(
between Mission Avenue and Pier View Way behind 212 N. Coast Hwy
).
The entry fee for artists is $10 which includes a table, display space and a little extra space to create your art but it's $20 if you wait to sign up on the Sunday
.
For more info:
Joey Chavez,
760
.
757
.
5524
OPPORTUNITIES (click to see a list of all current opportunities listed on SDVAN)
What is it about Cats in July: Catnip Connection is July 8 - 20 at Spanish Village Art Center/Gallery 21. If you want a full prospectus contact Vicky DeLong 619.850.6637. And Alley Cat Art Summer Fest in El Cajon is Fri, July 17 and Sat, July 18 th.
Lauren Becker Downey is launching a new School of Art in central San Diego and is looking for several very good qualified artists to teach art to adults or children. The school's structure will primarily be 1-day workshops in fine art, craft and home decorating. 619.696.1557
In partnership with the El Cajon Redevelopment Agency, El Cajon CDC is looking for talented local artists to transform ordinary utility boxes into works of public art for all to enjoy. If you're an art lover and/or community enthusiast, volunteer your artistic talent to UArt: Downtown El Cajon's Utility Art Box Program, and become part of the Downtown landscape for years to come! The UArt submission deadline is July 30, 2009 at 5:00pm. The Guide to Painting a Utility Box is now available. Contact Christina Burke 619.401.8858 for info.
Oceanside Arts Commission is making a call for outdoor sculptures for a juried competition for professional and non-professional artists, $2,000 Best of Show, $1,000 2nd Place, $500 for Honorable Mention and $500 for People's Choice. The work will be shown Aug 24 to Sept 18 but entries are due July 17. More info: Janene Shepherd 760.435.3062
There is a Lemon Grove office space available for rent in front of Sews and Shows Community Theater. Approximately 240 square feet, this space has its own parking lot and heavy foot traffic. Rent includes utilities. Ideal for jewelry, advertising agency, gallery. Location has a permit for performances. Has 2 restrooms and is ADA compliance. Producer utilizes theatre in rear of building. Rent based on hours of operation. Range $650 - $800. More info: Deebone 619.978.2000 who also has a Studio for Rent in College/Oak Park with 500 square feet available for $650.
The San Diego Art Department is pleased to announce their first Open Call Fundraiser Exhibition, The Art of Transitions. The world is full of transitions, whether it is internal or external, we are all affected by the passage from one form, state, style or place to another. All entries are to be no bigger than 12" X 12", properly wired, ready to hang and may be of any medium. The entry fee is (for Non-Members) $10 for one entry, $15 for two, $20 for three. The purpose of this fundraiser is to update and revamp class equipment and facilities. August 1, 2009 is the drop-off deadline and August 15, 2009 is the awards reception and opening reception. For more info: 619-299-4278 or info@sdartdept.com
C.O.A.L. Art Gallery Open Juried Show isreceiving work on July 25. This is a show put on by the Carlsbad-Oceanside Art League. More info: Josephina DiSalvo Pu 760.434.8497
MUSEUMS
2009 Oceanside Museum of Art Museum Ball on July 25 is featuring The Mar Dels at The Palm Club. The evening begins at 6:00 p.m. with a champagne reception at OMA and continues at the Civic Center Plaza for dinner and entertainment. Reservations are $200 per person, which is a wonderful way to support the cultural arts in the community with a fabulous, memorable evening. The Museum Ball is also the occasion to honor members of the museum and the community who have made a significant contribution to the success of Oceanside Museum of Art. This year the "Medal of Distinction" will be presented to John and Gail De Salvo.
Curiosity is the name of a benefit auction for the Center for the Arts, Escondido on July 11, 2009 from 6:00 p.m. - 10:00 p.m. This will be a decadent evening of dinner, drinks, entertainment as well as the rare opportunity to paint your own artwork directly onto the Museum walls. The event includes a silent auction of over 30 works of contemporary art by a selection of renowned local artists (Jean Lowe is one we know about), as well as a variety of unique items and experiences. $85 per person, non-members, $75 per person, members. More info: 760.839.4120
Self-taught artist Sonabai Rajawar lived in enforced isolation for 15 years in a remote village in central India, creating her own joyous sculptural environment. Through the necessity of expressing her own vision in the face of tremendous adversity, Sonabai developed her innovative art form, which she later taught to other artists. Today in the remote rural villages of her central Indian state, many other artists practice Sonabai's art in painted clay. Sonabai — Another Way of Seeing opens at Mingei International Museum in Balboa Park on Sun, July 26 and continues through Sept 5, 2010.
Kevin Freitas pointed out an article in the Los Angeles times which reported that in late January, the Museum of Contemporary Art San Diego, loaned out masterpieces from its collection to the Bellagio which is a casino on the Las Vegas strip. The rental from a nonprofit museum to a commercial enterprise violates various professional museum standards, but Dr. Huge Davies has implied that with the Las Vegas Museum of Art closing it doors, this is a chance for Las Vegas residents and visitors to see work of quality. We are assured that the works will be physically safe, which is another large concern. Anther blow to Las Vegas, when Anita and Poju Zabludowicz, chairman and chief executive of the private investment firm Tamares Group, canceled plans to build a $12-million contemporary art museum in an old fingerprinting building on East Fremont Street downtown.
You can ask him about this yourself when Dr. Hugh M. Davies, The David C. Copley Director of the Museum of Contemporary Art San Diego and a Francis Bacon scholar, will lecture on Bacon on Thurs., July 16, 2009 at 7 pm at the Museum's La Jolla location. The lecture is $5 general admission and free to MCASD Members and students. This lecture coincides with NY Metropolitan Museum of Art's Francis Bacon Retrospective.
A very early save the date for Club Monte Carlo which is the Museum of Contemporary Art San Diego's 33rd annual gala. Advance notice for this night of high style-revelry on Sat, Sept 12, 2009 at MCASD's oceanfront La Jolla location. More info: 858.454.3541
One more about MCASD: Museum of Contemporary Art San Diego announced today that it received a grant of $750,000 from The James Irvine Foundation through its highly competitive Arts Innovation Fund grant program. The grant will support the implementation of MCASD's labFORUM -- an innovative, transformative, and institutionally radical shift from the notion of MCASD as one museum with multiple locations (all doing essentially the same thing) to an institution with two distinct locations (the Lab in downtown San Diego and the Forum in La Jolla) each with different identities.
Don't forget the San Diego Museum of Art brings together for the first time almost 200 political portraits by Richard Avedon, America's pre-eminent portrait and fashion photographer, in Richard Avedon: Portraits of Power. Juxtaposing images of government, media, and labor officials with photographs of activists, pop-culture icons, and ordinary citizens caught up in national debates, this exhibition explores a five-decade photographic inquiry into politics and power by one of the country's best-known artists.
TRANSITIONS
4 Walls Gallery in North Park has closed after a wonderful run of shows.
TIDBITS
Using your iphone to make art has now come of age. An art work made this way was used on the cover of the New Yorker magazine and you can see a brief video about it on Yahoo Video News.
Do you want a good overview of the art market? Then check out the video put out by Sotheby's Very interesting to see how they spin this economic time and they are very clever and believable. A Calder went in the last May sale for $3.4 million, three times its estimate!
The Swimming Cities of Serenissima is a fleet of three intricately hand crafted vessels that will navigate the Adriatic Sea from the Litoral region of Slovenia to Venice, Italy in May of 2009. Designed by the visual artist SWOON, the floating sculptures are descendants of the Swimming Cities of Switchback Sea (Hudson River, 2008) and the Miss Rockaway Armada ( Mississippi River, 2006 and 2007). Built from salvaged materials, including modified Mercedes car motors with long-tail propellers, the boats' crew is made up of 30 collaborating artists from the United States. How cool is that!
The owners of the W Hotel could not pay their mortgage and have had to hand the hotel over to the bank. What a huge pity if the hotel is no longer functioning as it has been the site of many art related events. We hope the economy and tourism turns around soon. We are in collaborations with the Sè Hotel and the Grand Del Mar, both new and needing as much support as possible.
The 3rd Zone: Consistent Inconsistency is a show curated by Gerda Govine-Ituarte at Avenue 50 Studio, Inc., which is a non-profit art gallery in Highland Park. This is an interesting show as it features artists creating works about the 3rd Zone, a space and place corralled by the Tijuana-San Diego border - the busiest and most utilized land crossing in the world. See the show until July 5. More info: 323.258.1435.

Arnaud International presents Art at the Salon - The Perfect Fit starting on Aug 5 in Temecula ( 28780 Old Town Front Street, Suite C6). For more info: Daniele Arnaud 951.676.5980.


Alexandra Rosa
RAW for SDVAN
Executive Producer and Art Rocks! Internet Radio where you can hear many of these interviews with the makers and shakers of the art scene as mentioned above. Now appearing with a blog on the homepage of San Diego Art + Sol, which is sponsored by the San Diego Convention & Visitors Bureau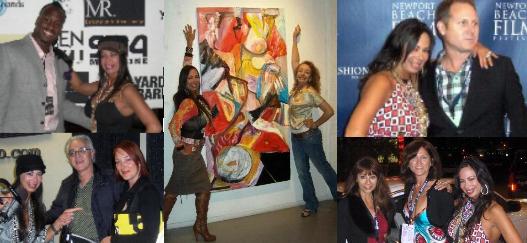 There are classes held at St. Sophie's Gallery where you can design a piece of jewelry and a related sculpture in the spirit of Calder, the American artist famous for inventing the mobile. This clas taught by Cyndy Fought is an official Little & Large class supported by San Diego Visual Artists Network. Wednesday evenings June 3, 10, 17, & 24th. Snacks provided. $40 / RSVP by May 24th and receive a $10 discount. More info: Wendy Morris 619.593.2205
ReEnVisioning A World Beyond Borders is a joint project between Qualcomm, project creator Brenda Regier and Beyond the Border International Contemporary Art Fair .(BTB) This will be a chance for Qualcom employee worldwide and their children to submit photos captured on a 3G mobile phone. Selected photos will be exhibited as part of the large-scale mobile phone digital installation at the BTB held September 2-4, 2009 at the Grand Del Mar hotel in San Diego. Work will also be published in Qualcomm's global marketing materials and posted to the external Web site. San Diego Visual Arts Network is the official fiscal agent for donations to BTBICAF and is the designated beneficiary for specific SD Art Prize events of the fair.
Ben Strauss-Malcolm has curated an amazing show for Quint Contemporary Art ( 7739 Drury Lane, La Jolla, 92017) called Homing In and featuring 50 local artists of every age and most mediums. For those of you who are wondering how this works fits in to Mark Quint's space, never fear, no work is over 24 inches. Many of the SD Art Prize nominated and awarded artists are featured (David Adey, Alida Cervantes, Lael Corbin, Roman De Salvo, Brian Dick, Tom Driscoll, Raul Guerrero, Jean Lowe, Kim Macconnel, Richard Allen Morris, Iana Quesnell, Ernest Silva, Matt Stallings) but the work of San Diego's top tier contemporary artists hasn't been seen in the same place at the same time since 1985, when the La Jolla Museum of Contemporary Art presented "A San Diego Exhibition: Forty-Two Emerging Artists." This should be a wonderful reception Fri. May 29, 6 – 8 pm and you have until July 11 to see the show. More info: 858.454.3409
Clay Walker: A Retrospective at Perry L. Meyer Fine Art has been extended until June 27 and this is a chance to see painting and a wonderful sculpture plus, of course, prints by this very talented local artist at a gallery that specializes in prints.
There are some outstanding woodcuts by Artemio Rodriguez show Drawn In at Noel-Baza Fine Art amongst the exciting drawings….you can ask to see some of these works if you missed the show and watch out for works by photographer Becky Cohn through June 18.
Happy 4 th Birthday to the The A List. Join them for Party Arty June 4th, 2009, 7:30pm - 9:30pm at the Athenaeum Music & Arts Library. This is where young professionals can express their creativity to paint or design your own cupcakes. Music by Midnight Debke. A List members free; nonmembers $10.
Save the date for Sushi's Red Ball Saturday, June 13th 7pm - Midnight Tickets are now on sale. Click Here for more info. o.o.t.s. is their visual art exhibition consisting of young artists from Vienna, Vancouver, and Los Angeles on until June 9 but Gallery is by appointment 619.235.8466
Mission Federal Artwalk 2009 was an amazing success, with an estimated 120,000 attendees who experienced 16 blocks of arts, music and culture in action, including 300 talented artists, 31 unique bands, and the delicious cuisine of Little Italy. This incredible event also contributed an estimated $1 million dollars back into our local San Diego economy at a time when we need it most. Congratulations to ArtWalk's Sandi Cottrell and Paula Kwast, the featured artists of Mexico, the businesses of Little Italy, as well as all Mission Federal ArtWalk official sponsoring partners for putting on a first-class, spectacular 25th Anniversary event. Remember 2009 ArtWalk on the Bay, Embarcadero Marina Park North, Sept 12 & 13, 10am - 5 pm
Congratulation to Jeff Yeomans whose work appear graces the pr for this year's La Jolla Festival of the Arts held June 20-21 (Genesee at Regents Rd). You can see Jeff's work all year long at Art Expressions Gallery
We are so pleased to see the announcement of Jennifer Spencer's work which will be shown at San Diego Dance Place at the NTC Promenade, Liberty Station until Sept 8. The show is titled Dancing to Abstraction and is images of the Jean Isaacs San Diego Dance Theater.
OPPORTUNITIES (click to see a list of all current opportunities listed on SDVAN)
Beyond the Border International Contemporary Art Fair. (BTB) is offering a great resume building opportunity for unpaid interns for gallery liaison, event planning and public relations. Times vary but there is an introduction in June, instruction in Aug and the fair is Sept 2-4. More info: Marie Vickers Horne
Felicia W. Shaw , Director Arts and Culture Strategy and Analysis at the San Diego Foundation announced the need for a full time development director position supporting the Environment and Arts and Culture focus areas of the San Diego Foundation. For more info: Anne Kilpatrick, Human Resources Manager at anne@sdfoundation.org.
Ditore Glass Works, Inc . is offering partial scholarships for Kathleen Sheard's workshop from July 26-31. There are limited number of scholarships available based on class enrollment but to be considered you should email five images of your work with your reason for choosing the class or teacher and a statement of your need along with your current resume. More info: Dick Ditore 858.780.0552
Jim Yuran of Ego-Id is looking for an artist(s) who makes recycled art, preferably out of paper, for an exhibit/open house at one of San Diego's premier printing companies (www.ranroy.com). The facility is absolutely beautiful and it will showcase the art to many of the top designers and marketing people in the city, as well as business decision makers. The opening is July 24 but they need to make selections soon so contact them soon: jim@ego-id.com 619.283.1210
Artists have from May 15 - June 5 to submit for the Alley Cat Summer Fest juried show in El Cajon. This is put on by the Friends of East County Arts, Inc. which is a 25 year old non-profit organization with a mission is to promote the visual and performing arts in the Greater East County. To date they have given in excess of $500,000 in grants to various community organizations and the district schools in East County. This is their third year of sponsoring the competition. Artists Reception and Awards ($1,750.00) is Fri, July 17th 5:30 to 7:30 PM.
David Beck-Brown wants very much to rent out Live/Work spaces to artists in Spring Valley. There is a 2-bedroom duplex for $1200, water and electricity paid, fully refurbished, private road, off road parking, available now. A second unit available June 1 for $990 has a fenced yard, pets OK, water and electricity paid. Additionally there is a 12x7x8 foot storage containers for just $150 with street access. Contact David and help him add to this growing artists colony. 619.462.1302
The Rancho Santa Fe Art Guild presents the 9th Annual "A Finer Art Affaire" 2009 to be held Sunday September 13th, 2009 from 10AM to 5PM. California's most outstanding artists are invited to display two dimensional art oils, ceramics, glasswork & woodworking. Register early to reserve your spot for a $150.00 booth fee. More info: Laurenn Barker 858.759.3545
At the entrance to the Golden Hill community, on the busy corner of 20 th Street and Broadway, is an approximately 12' x 12' plot selected to display and promote the work of local, talented San Diegan artists and Golden Hill Art is announcing a call for artists to show for several months, rotating to make room for other sculptors in the hopes of bringing a variety of different styles and images to the community. Golden Hill Art is the a non-profit arm of Golden Hill Rentals created out of a desire to support local artists and musicians and foster love and appreciation for arts in Golden Hill. Golden Hill Art also provides studio spaces to promote the work of resident artists and advertises local performances. Bart Ziegler also has 1000 square feet of basement studio space to rent in Golden Hill for 90 cents a square foot. Interested in either, please contact b'Art 619.239.2278.
So here is the deal so that you don't have to read the RFQ unless you want to: The city is encouraging owner of old store front to get updates for their shops. An architect is chosen but if the design includes an art work, there is more money for the team (called higher construction cost rebates). So the City of San Diego seeks artists or artist teams for inclusion in a pre-approved list to be used by participants in the Storefront Improvement Program administered by the Economic Development Division of the City Planning and Community Investment Department. Any artist or artist team permanently residing in San Diego County is eligible to apply. Applications Due: July 8, 2009. More info Dana Springs
The City of San Diego Commission for Arts and Culture also seeks an artist or artist team to create permanent, documentary public artwork(s) such as drawings, paintings, prints, photographs, videos or multi-media artworks, which record the unique nature of City Heights and engender community. Art Budget: $25,000 Application Deadline: July 17. Full RFQ: http://www.sandiego.gov/arts-culture/pdf/rfq.pdf More info: Nigel Brookes 619,236.6798
A design for the new library in Fallbrook , California has been selected and it's construction will begin August, 2009. There is now a request for proposals for six art projects. This includes a donor wall, three gates, a fence, a trellis cover and a two-sided wall. The deadline for submission is May 29. More detailed descriptions of the project locations and RPF download are provided on the website Fallbrook, Ca Library Rfp or call Martin Betz at 310.889.4757..
Tom Noel and Larry Baza of Noel-Baza Fine Art Gallery are jurors for the Art of Pride show which has announced its call for artists. The Pride theme this year is "Stonewall 2.0 - Activism for Equality". The show will be at the Pride Festival and the Ray Street Annex Gallery in North Park. There is no fee to enter and $325 in prizes. Entry deadline is June 8 For more info: John Keasler
The La Jolla Art Association is holding a Poetry and Art show in their new La Jolla Shores location with a $35 fee and is making a call for artists. For info: Tony Cuban 858.579.3615
The Solana Beach Public Arts Advisory Commission is currently developing a Temporary Art Policy and are creating a database of artists who might be interested in displaying their sculptures in that city. They are requesting a website link or photos of work to be sent to Katie Pelisek .
TRANSITIONS
Bev Stuber of the Oceanside Museum of Art Artists Alliance tells us of the sad news that the OMA School of Art is now closed. The OMA will instead support a children's art program to be held at the Museum on a bi-monthly/quarterly basis.
On June 30th, 2009 the doors of The Ubiquitous Bee Gallery & Studio will be closing because Jacqueline Nicolini is movingto Sicily in August for 2-3 years with her husband. We wish her well and suggest you don't delay if you want one of her originals and to take a final class. We wish her good luck and great inspiration in her new surroundings.
From the LA Times: Derrick R. Cartwright, who has headed the San Diego Museum of Art since 2004, has been appointed director of the Seattle Art Museum. He will succeed Mimi Gates, who will end her 15-year tenure at the end of June. In San Diego, Cartwright is credited with building the Balboa Park museum's international reputation, reaching out to a diverse community and enhancing the exhibitions and publications programs. When he moves to the Northwest, he will oversee an urban cultural center with three locations: the Seattle Art Museum downtown, the Seattle Asian Art Museum in Volunteer Park and the Olympic Sculpture Park.
MUSUEMS
On Saturday, May 30, 2009, the Museum of Contemporary Art San Diegowill host the first annual Artification: Teen Artfest, an event planned and produced by MCASD's Teen Art Council (TAC). From 7 to 10 pm, teens are invited to take over the Museum's downtown Jacobs Building galleries for a night of fun and artistic revelry. This free event will feature live music by local bands, teen DJs, gallery tours led by teens, teen-produced films, hands-on art-making activities, complimentary refreshments, and more. Applications are now available for next year's teen council. Huge congratulation to them for this innovative program to involve teen in contemporary art.
We are thrilled to see Jonathan Segal honored in the MIX: Nine San Diego Architects and Designers at Museum of Contemporary Art San Diego through September 6. There are 8 other architects and designers who lead local architectural design firms that are redefining housing design, development, and urbanization in the San Diego region and beyond including Teddy Cruz, Jennifer Luce, Sebastián Mariscal, James Gates and James Brown, Todd Rinehart and Catherine Herbst, Lloyd Russell, The architects and designers featured in MIX are known for their expertise and experience in designing and building spaces appropriate to a location. For this reason, each architect, designer, and firm will be defining their own representation for the exhibition, with new site-specific presentations of their own design.
At age 50 Esther Krinitz decided to tell her story in cloth, stitching thirty-six beautiful and poignant appliqué and embroidered panels. Oceanside Museum of Art is giving us all a chance to learn the story of young girl's remarkable journey of living through the Holocaust in Poland in their upcoming exhibition Fabric Of Survival: The Art of Esther Nisenthal Krinitz which opens with a Holocaust Memorial Service on Sun, June 14 th from 2:00-4:00 pm. The exhibition is on view through October 25, 2009. June 28 is a p resentation by Bernice Steinhardt and Helene McQuade, daughters of Esther Nisenthal Krinitz. For images please view their flickr account
The Palm Club Museum Ball comes to Oceanside Museum of Art on July 25 from 6:00 - 11:00 p.m. once again at the OMA and the Civic Center Plaza. Reservations are $200 per person 760.435.3720. For both events, more info: Danielle Susalla 760.435.3722
Art Alive 2009 , SDMA's annual art and flower extravaganza is June 12 to 14. If flowers and art are your fancy…and why wouldn't it be? Then this yearly event is done deal. Celebrating its 28th year, Art Alive is the San Diego Museum of Art's preeminent fundraiser and one of the most widely attended events of its kind in the United States. For three full days the Museum is transformed into a glorious spectacle of art and flowers, creating SDMA's enchanting summer exhibition. The Museum comes alive with floral arrangements presented by professional and award-winning designers. Live flowers in concert with Old Master, Asian, and American artworks create a glorious spectacle, transforming the Museum into a vibrant sea of color in the heart of Balboa Park. This year's interpretations emphasize the Museum's incredible presentation of Spanish and Italian paintings, and other select works from the permanent collection. The floral presentation is punctuated by a host of special events—including a member preview, an opening-night celebration, and special Culture & Cocktails.
I have always been a big fan of Richard Avedon; he was instrumental in bringing high fashion photography to the forefront. This exhibition is a real treat! Richard Avedon: Portraits of Power from June 6 to Sept 6 at the SD Museum of Arts traces Avedon's interest in and fascination with American politics through 200 portraits created from the 1950s until the photographer's death in 2004. Organized by the Corcoran Gallery of Art, Washington, D.C., with the cooperation of The Richard Avedon Foundation, New York, and the Fraenkel Gallery, San Francisco, the exhibition contains rarely seen photographs from the collection of The Richard Avedon Foundation, including works that have never before been exhibited or published.
The Museum of Photographic Arts (MoPA) in Balboa Park is pleased to present Ansel Adams: A Life's Work. The exhibition includes over 80 photographs by the 20th Century master, and celebrates Adams as an artist and conservationist. A Life's Work will be on view May 23, 2009 through October 4, 2009, and features an overview of Adam's work from his early years in the Sierra Nevada's and Yosemite Valley to his work in the Japanese Internment Camp at Manzanar, as well as his well-known masterpieces. More info: Aki Martin 619.238.7559, ext. 203
The summer of new is here! The New Children's Museum continues to unveil new art and new fun all summer long. The goal is to provide innovative ways for you and your family to think, play, and create and NCM has launched an eclectic line-up of programming through August 2009. Keep It New includes one-of-a-kind workshops, exciting events, hands-on art activities, and more! One of these is from the Lux Art Institute whowill partner in a two-part series of The Valise Project, a renowned component of Lux's educational programming, You missed the first but on Sat, July 25 experience Jean Lowe's Animal Tales, which will be a treat for all those who attend.
TIDBITS
From Colette Carson Royston, Chair and Victoria L. Hamilton, Executive Director of the Commission for Arts And Culture: "We are pleased to inform you that the FY10 budget that Mayor Jerry Sanders presented to the City Council today includes the same level of funding as FY09 for the Commission's two allocations programs (OSP and CCSD) and the public art fund….." Thank you, ladies and thank you Mayor Sanders!
From both Lynn Jennings of the SD Puppet Guild and Jennifer Oliver of Young Audiences:If you are a teacher in the arts or work in the field of arts education, please log on and register for Teaching Artists Research Survey by NORC at the University of Chicago that should be coming soon. She spoke with the researcher, Nick Rabkin (author of Putting the Arts in the Picture and other arts education resources) conducting the survey and feels this is something that could be helpful for all of you in the Teaching Artist Profession.
ArtPrize invites artists of all kinds from around the world to participate in an unprecedented competition that will award nearly one-half million dollars to prize winners, including $250,000 to the artist who receives the most public votes. The entire city of Grand Rapids, Mich is turning itself into a gallery for this event which is underwritten by a local patrons Dick & Betsy DeVos Family Foundation. Artists are charged a $50 entry fee and have to pay all the expenses of getting to Grand Rapids as well as finding their own venue amongst that offered online. Will it work? It is a daring plan that could put Grand Rapids on the map.
One of the four shorted listed artists for the annual Turner Prize in the UK is Richard Wright . Wright you may remember added gold leaf to the Museum of Contemporary Art , San Diegodowntown galleries in one of their first shows. The other artists are Lucy Skaer, Roger Hiorns and Enrico David.
David Hockney has an iphone with the application that gives him the ability to paint pictures on the screen and send to his friends. Mini-masterpieces and flowers that never die!
Congratulations to twenty six of UC San Diego's Master of Fine Arts (MFA) candidates who showed in the UCSD Open Studio 2009 , who are participating in The Dark Tower, a group exhibit at compactspace ( 105 East 6 th Street, LA, 90014). The show is curated by artist, filmmaker and UCSD visual arts faculty Cauleen Smith and continues until June 30. We always applaud when local SD artists are shown in LA.
The Affaire in the Gardens Art Show held in May in Beverly Hills includes again Alejandro Marínez-Peña. We are always happy to see TJ artists showing outside of our region.
We got news from the SD Puppet Guild that Basil Twist is coming to San Diego to perform Dogugaeshi at the Potiker Theatre at the La Jolla Playhouse from June 10- 14, 2009
Tickets are $30 each for this hour performance with a special screen effects. Check out the website to see how very special this opportunity really is.
Alexandra Rosa
RAW for SDVAN
Executive Producer and Art Rocks! Internet Radio where you can hear many of these interviews with the makers and shakers of the art scene as mentioned above. Now appearing with a blog on the homepage of San Diego Art + Sol, which is sponsored by the San Diego Convention & Visitors Bureau

You are invited to The SD Art Prize 2009 show of Kim MacConnel and emerging artist Brian Dick . The Opening Reception is Sat. April 25, 7 pm to 9 pmat the L Street Gallery 628 L Street, San Diego, 92101 (Across from the Omni Hotel) Gallery Hours: Tuesday - Saturday, 10 am - 5 pm We look forward to seeing many of you there on the night. We are pleased to announce that Tom Driscoll is the emerging artist chosen by Richard Allen Morris for the fall showing at the L-Street Gallery.
In a Bacchic celebration of the days getting longer and the weather getting warmer, The Andrews Gallery in Leucadia plan to put on a series of free events open to the public with eruptions of music, art, dance, and poetry on Saturdays in May. These events will be loosely centered around Matt Curreri and The Exfriends, a musical ensemble that has been dubbed "one of San Diego's best indie bands" by the San Diego Union Tribune (2008). They will showcase painter Floyd Elmore (Colosseum) as a new feature as well as a poetry series with readings from a diverse selection of San Diego County poets. They will fuse art and music in highlighting the work of San Diego local Owen Burke, who's hand crafted instruments display stunning levels of artistry, craftmanship, and sound. More info: Drew Synder 760.230.2680
On April 23 Art Expressions Gallery ( 2645 Financial Court, Suite C) presents Facing East an exhibition of fine art with Eastern influences, including recent works by printmakers, a ceramist and a furniture maker. The show opens with an artists' reception from 5:30 to 8:30 p.m. and continues through May 30. More info:858.270.7577
Times 3 is an exhibition of photographs through time by Will Gibson, Joe Nalven and Paul Sewell. Each artists is showing two series of work but we were particularly caught by the description of the Abandoned Americana by Sewell who delves into the world of color. "I wanted to document an America of times gone by, of places and objects long forgotten, and color was the best way to achieve this." Sewell takes the viewer on an almost ethereal journey to a place and time that was simpler. A time when "Anything was possible." Is that the dream we all seek? Maybe right now… The show starts onApril 29 to May 26 but the reception Sun, May 3, 1:30 - 4:30 p.m at the Poway Center for the Performing Arts (15498 Espola Road, Poway, 92064) More info: Joe Nalven 858.679.1242
The Bronowski Art & Science Forum is presenting the artist Becky Guttin "Migration and Large Scale Projects" on Wed. May 13, 6:30 PM at the Trustees Room of The Salk Institute. Just recently, Guttin has been invited to participate in three International Biennales this summer, 2009; the acclaimed Venice Biennale as well as biennales in China and Korea. For more info: Ron Newby Becky has just signed up with Galeria JAN in La Jolla and you can see her work included in the Little & Large promotion in July.
Katherine Sweetman tells us of her latest project at Voz Alta Project; The Infinity Lab Goes Crayo-Loco© in their new exhibit, "Nine Transient Things." After reflecting upon the recent avant-garde art terms "un-monumental" and "Altermodernism," the infinitists take low-tech to the next level by creating nine 3' square drawings of their performance gear using only Crayola® crayons as materials. During the opening and closing receptions, DJ Dan Camacho will mix soundscapes on three turntables. Also on display is a top-secret installation of a new "Blue Chip [artist] Special." Opening Reception: Sat, May 2, 2009 from 7p-11p.and closing Reception: Sat, May 16 from 7p-11p @ Voz Alta Project, 1754 National Ave. Barrio Logan, CA 92113.
This is the time of the year for student art shows at the schools. DRIVE is the SDSU MFA Thesis Exhibition at the Everett Gee Jackson Gallery from May 2 – 7. Party with them on May 2 starting at 6 pm. More info: Silvia Valentino Karabashlieva 619.379.6514
Also opening May 2 is the Annual Student Art and Photography show at the Boehm Gallery of Palomar College. More info: Joanna Bigfeather 760.744.1150.
The Spring 2009 Student Art Show at Mesa College opens April 30 (until May 14). We love the title, Art Your Can Sink Your Teeth Into. More info: Pat Vine 619.388.2829
La Jolla Art Association has moved and is having a Grand Re-Opening. Come celebrate with them on April 27 at 8100 Paseo del Ocaso, La Jolla Ca ( La Jolla Shores). They have all member shows, classes, and demonstrations. They are just introducing a newly established Youth Division (artist's 5 years thru 20 years) More info: Tony Cuban 858.459.1196
Fifteen area artists and members of San Diego Watercolor society have been accepted in the prestigious Western Federation of Watercolor Societies' 35 th annual juried exhibition to be held in San Diego at SDWS gallery beginning May 1 with an opening reception starting at 5 pm. To be selected into this prestigious show is recognition of outstanding achievement in watermedia techniques. Ninety five selections were made from over 1000 entries.The San Diego Watercolor Society artists living in the San Diego area who have been juried into this exhibition are: Gloria Galbraith, Ann Slater, Line Jullie', Marge Rauch, Kathy McChesney, Stan Goudey, Lynn Knowles, Diane Estrada, Jennifer Meeder, Amanda James, Virginia Cole, Mary Sievers, Chuck Rouse, Keiko Tanabe, Suzanne Geller, and Richard Hawk. More info: Jane LaFazio 619.876.4550
What relationship is more complex than that of mother and daughter? The process of creating affirmation dolls is handed down from African American slave mothers, who practiced this tradition with their daughters as a way to preserve a sense of dignity, hope and survival of spirit. Creating Affirmation Dolls : a workshop for mothers, daughters, sisters and friends with Ellen Speert on Sat, May 9 from 9 to 5 is only $95. What a great mother's day present. Ellen is also offering a new Colored Pencil Drawing in the Garden taught by her drawing mentor Irina Gronborg, Sat May 16, same time and a Tibetan Mandala Workshop ed by The Venerable Choeze Lotsel Gyamtso (Lobsang Tsultrim), a Tibetan Lama Sat and Sun, May 30-31 from 10 to 3.
First Friday Art Walk Lo Jolla will be held from 6 to 9 p.m. on the first Friday of each month.
The goal is to join the community together and introduce a wider audience to the distinctive arts and venues of La Jolla. Participating galleries include: Images of Nature; Wentworth Gallery; Martin Lawrence Gallery; Hallmark Gallery; Contemporary Fine Arts; Sally Huss: Morrison Hotel Gallery; Peter Lik Gallery; Monarch Gallery; Simic Gallery; Derissi Studio; Siamak Art Gallery; Africa & Beyond Gallery; and Charles Hecht Gallery. No website yet, but the next is Friday May1 and you can see Tom Marosz at Hallmark Fine Art that night. He is one of the artists who will be presenting jewelry to go with this stunning glass sculpture during the Little & Large promotion. ( 1162 Prospect Street, La Jolla, 92037) More info: Michael Hajdaj 858.551.8108
Talmadge Art Show is coming again to the San Diego Women's Club ( 2557 3rd Ave. SD 92103) on Sun, May 3.Fifty-four artists showcasing and selling handmade works of art including glass, clothing, purses, oil paintings, watermedia, mixed media, wire art and lots of jewelry. The artists of the Art Glass Guild are the guest artists for the Spring Show. Free parking, free admission, For more info: Sharon Gorevitz 619.559.9082
ARTS (A Reason to Survive) Creative Director Rob Tobin and Del Mar artist Betsy Schulz have teamed up for a community art project to make over the student garden at McKinley Elementary School in North Park. The team is working with McKinley's Carol Stephenson, Richard Kenyon, David Whitehead and all 45 of their second grade students. This exciting project is a combination of painting, mosaics and landscaping centered on the theme of The Octopus' Garden.
One Weekend Only on May 2 & 3, the Fallbrook Art Center presents their 16th Annual International Wildlife Art Show & Sale featuring 27 participating artists from across the United States and Canada. The 2009 show is dedicated in memory of Janice Griffiths in recognition of her love and support of wildlife art and the environment. More info: Mary Perhacs 760.728.1414
We wish lots of luck to those working to raise funds to renovate a 7,000 sq ft 1910 building, which can be used as a future art center at the corner of Sampson and Logan. For more info: Mario Torero 858.774.1286
Steve Breen , the editorial cartoonist for The San Diego Union-Tribune, has won the 2009 Pulitzer Prize for Editorial. You can read the whole story in the UT but we think it is interesting to note that his work is not thought to be mean spirited. "The people whom he targets in a cartoon, whom he criticizes, they call him asking for the original."
OPPORTUNITIES (click to see a list of all current opportunities listed on SDVAN)
Don't forget the Art of Photography call for Artists. You can read the Prospectus and you have until Fri. May 22 to enter. The show is held again at the Lyceum Theatre Gallery at Horton Plaza from Aug 29 and
juried this year by Charlotte Cotton Curator and Head of the Photography Department, Los Angeles County Museum of Art. For more info: Steven Churchill 858.793.0900
There is an urgent call (deadline May 20) for artists for a very worthy environmental show put on by the City of Encinitas Commission for Arts City Arts Program . The Reuse, Reinvent, Recycle exhibition is a juried show which will award $1,300 in cash prizes and will take place at the Encinitas Library. For more info: Jim Gilliam or go to the website and look under City News and Events.
SD Airport Authority Art Program has an Open Call for exhibits which includes organizations, groups and individuals* interested in submitting for the Cultural Exhibits Program. All media may be proposed for review. Submissions are reviewed by an Exhibits Review Panel annually or semi-annually as needed. The duration of exhibits is up to six (6) months depending on the nature of the exhibit and the selected site. Exhibits can be scheduled up to three years in advance. *Please note that the WestEnd Gallery is the only exhibit space available to groups outside of the San Diego region. Next submittal deadline: Fri May 8, 2009. For more info: Constance White 619.400.2891
Business for the Arts and Nonprofit Art Organizations Certificate Course starts on May 15 at the University of San Diego Douglas F. Manchester Executive Conference Center. Patricia Frischer will be a keynote speaker on Aug 19 for the segment on Museum and Art Gallery Special Events Management. You can take one course or all of them. $349 per course and perfect for those training for a career in the arts. For more information on this amazing new course: Karla Duarte 619.260.5986
Magee Park in Carlsbad comes to life the 2nd Sunday of every month, from 11-3. They will be igniting creativity in Carlsbad Village w ith a new event they are calling ArtSpark , This is an new art venue featuring original art that will focus on Young@Art burgeoning artists from May - July. They are calling for artists to participate who are just beginning to garner recognition in the local North County Community. Booth prices are only $25! Hands-on interARTaction is a large component of this venue and will nurture kids so they may look to the future with appreciative eyes! Thanks to The Carlsbad Village Business Association in association with Consider IT Done who are promoting this new arts activity. More info: Lisa Hamel
There is a Southwestern Artists' Association Plein air contest which is unusual as each of the entries must be painted entirely out-of-doors anywhere in the area of Balboa Park on May 4, 2009 between the hours of 11am to 1:00pm to be eligible for prizes and awards.. Entry fee is $5.00 to be paid during registration and there is no pre-registration. Artists return to Gallery 23 at 1:00pm. Judging will take place at 1:30pm followed by presentation of awards. The top three winners will hang in Gallery 23 for the month of June. More info:Maryellene Deason 619-463-4959
The Balboa Park Learning Institute is a new professional education program of the Balboa Park Cultural Partnership, the collaborative body and collective voice of 24 diverse cultural institutions in Balboa Park, San Diego, California. They are looking for their first Director who will lead and shape the Learning Institute in the formative stages of its development into full operation. This program is conceived to be an innovative and groundbreaking collaborative learning model for adults working in the cultural sector. For more info: David Lang 619.232.7502
Sushi is seeking a new Director. Founded in 1980, Sushi recently opened a new 6,500 square foot performance, gallery, and office space in Downtown San Diego's East Village neighborhood. Sushi maintains an annual operating budget of $250,000 which is expected to grow substantially as a result of an expanded level of activity underway at the new space. The organization is governed by a volunteer Board of Directors and employs a staff of three. Sushi's Director will be responsible for implementing Sushi's mission of cultivating alternative voices in the contemporary arts and providing a laboratory where creative exploration, community engagement, and new ideas flourish. Closing date Fri, May 1. For more info: dirsearch@sushiart.org

The Urban League of San Diego County will be launching its BE SMART Program and seeking a paid facilitator (with a math and science background) and volunteer group to work with 50 youth. BE SMART stands for a Better Education in Science, Math, and Arts for Talented Young Men. It is a program that provides a positive option in a safe environment in which to develop skills in math, science and the arts while having fun. For more info: 619.266.6265 kea@sdul.org.
Valley View Casino 1st Annual Art Show (July 25) is making a call for artists with inexpensive booth fee of $50 and no commission. For more info: Russ Coletti 760.712.7546
The Ramona Art Guild is now accepting entries for its Open Juried Show 2009 to be held June 1-28, 2009 at the Poway Center for Performing Arts. The exhibition will be juried by Michael Steirnagle. Entry deadline is May 15, 2009, and must be submitted as jpeg files by email only. Prospectus is online. For more info: Susan Bainbridge 858.603.9344 .
The San Diego County Fair begins June 12th. The deadline for registering your photo entry is April 24 th but finished pieces must be delivered May 13-14. Warp 9 Imaging is offering a special for fair entries. They will print, mount and mat your photo entry for only $49. The photograph will be printed on Premium Luster paper using our high quality Epson printers. The print will be hinge mounted on a 16"x20" foam core backing with a 4-ply black or white mat. Using this service guarantees that your entry will meet the show requirements. But the order deadline is May 5th. More info: Larry Stein
La Jolla Art Association has a new location in the La Jolla Shores and artists, photographers, sculptors and art organizations who wish to rent gallery are booking shows for this year and next. Join together with other artists whose work you admire and put together your own group show. To see which time periods are available, consult the LJAA calendar and click Events on the left side of our web page. The gallery has 100 linear feet of wall space (approximately 40 pieces of artwork can be hung on the walls plus an additional 4 –8 pieces on various sized easels. There are pedestals for sculptural pieces. The gallery rental fee is $600 per week for a non-member plus a 25% sales commission. For more info: Kris de Young 858.459.1196
The Athenaeum announced a call for entries for their 18th Annual Juried Exhibition. The Jurors are Michael Krichman Executive Director, inSite/San Diego- Tijuana and Mathieu Gregoire Artist and Project Manager, Stuart Collection, UCSD. The show is on view Aug 1 - Sept 5 so the deeadline to submit is June 23. Click the link to see the prospectus.
Distinction Gallery in Escondido has a few studio spaces available. They do a great job of showing and advertising the artists in the spaces. For more info: Melissa Inez-Walker
5 th Annual LeucadiART Walk announced a call for artists for their August 30 events.Love the slogan, "101 artists on Hwy 101". For more info: Paula Kirpalani 760.436.2320
City of Encinitas and Mizel Family Foundation Community Grant Program is now accepting applications for the grant program. Applications are available for download on the City website: but look for the link on the home page, left column, under City News and Events. The deadline to submit applications is Thursday, May 28, at 4:00 pm. and grants can be for as much as $5000 for non-profit organizations only.
The 4th annual University Heights Arts Open announces its call for artists with a deadline of June 15. to be included in the (5,000+ full color) UH Arts Open programs. This is a juried exhibit. Artists can apply to display outdoors at the Trolley Barn Park on Adams Ave (limited to 50 artists) or as an open studio artist (provided they have their own workspace located in University Heights). The only fee to participate is $25. More info: Judy Riffle 619.508.4075
There are still spaces at the 13th Annual North Park Festival of the Arts on Sunday, May 17 we hear. Last year's attendance topped over 35,000. Deadline is April 30 while spaces last. More info: Jude Thomas
The San Diego Performing Arts League is pleased to invite you to attend Arts in Crisis: A Kennedy Center Initiative symposium that will provide planning assistance to arts and culture organizations seeking to survive today's economic downturn. Sponsored locally by The San Diego Foundation and the City of San Diego Commission for Arts and Culture as part of the "Survive and Thrive" Initiative, the day-long event will help performing arts managers and their volunteers put the recession in perspective and provide helpful tips for sustaining their organizations in the midst of economic turmoil. It takes place on Monday, April 27 from 8:30 am - 4:30 pm at The Joe and Vi Jacobs Center ( 404 Euclid Avenue, SD 92111) and is free. For more info: Marc Emmelmann, 619.238.0700.
El Cajon Community Development Corporation announces a call for artists to paint utility boxes. More info: Christina Burke, Community Development Coordinator, 619.401.8858 or click here for more information.
TRANSITIONS
Catherine Sass leaves the Port of San Diego, we hear, after doing an amazing job of bringing art for every taste to the major entry to our city.
Our thanks to Kevin Freitas for passing on the sad news that Glenn Dobrusky, was accidentally killed in a chainsaw accident while at work. He was 58 years old."Dubrusky was an excellent sculptor, at the top of his craft, producing some of his best work in years. He was dedicated, passionate, genuine and one helluva nice guy. He put to shame all those chainsaw happy, grizzly bear carving faux sculptors pandering their wares from Tucson to Utah. I will miss his candor, his gruff voice on the telephone, and unpacking his treasures freshly delivered to the gallery's doorstep. I will miss the man, I will miss his art. Farewell my friend, I hope the Good Lord has a place for a pelican or two. The full story can be read here."
MUSUEMS
Jane Hammond: Fallen opens at the MCASD Downtown location, Jacobs Building on April 26 and runs through July 5, 2009 This installation is about both accumulation and loss. It features a field of leaf forms, each of which bears the name of a U.S. soldier who died in Iraq. When the piece was first shown in New York in 2005 it comprised 1,511 leaves; for its San Diego presentation, the number will exceed 4,000.Fallen is on loan from the Whitney Museum of American Art, New York.The show is curated by Robin Clark who we are pleased to say contributed to the Art Notes for the SD Art Prize for Kim MacConnel.
If you are a wine lush like me…I mean wine lover like me you won't want to miss joining Museum of Photographic Arts (MOPA) in the most anticipated wine event of the year! VINTAGE is the signature benefit series for the MOPA. This year, VINTAGE includes two unforgettable events: 100 Point Wine Tasting on Saturday, May 9 th, 2009 and Grand Tasting and Wine Auction on Saturday, May 30 th, 2009. Proceeds benefit the museum's world-renowned exhibitions, film and education programs.
Happy first birthday to the The New Children's Museum. The will be celebrating on Sun. May 10 during monthly Target Free Second Sunday. Come enjoy an Xtreme Fun Dance Party and performances by the Monarch School Steel Drum Band, San Diego Youth Symphony, Oak Park Percussion Group and The Paul Green School of Rock Music Band. The day will be filled with hands-on art projects, giveaways, tours, and tons of engaging family fun at the Museum. There is also a birthday celebration fundraiser ($50 adult $25 children)on May 3 at 4:30 to help assure that the facility is stocked with free paint, clay and design materials . More info: info@thinkplaycreate.org 619.233.8792
More free fun for kids If you live north, you might want to head to the Free Family Day at the Oceanside Museum of Art on May 3 1:00-4:00 for a day of imagination where you can design wearable recyclable clothing and build sculptures out of recycled objects and make scented watercolor paintings. Internationally recognized fiber artist Valentyna Roenko Simpson is creating a new series of fiber portraits for her upcoming installation Cell Memory that opens May 4 th and will be on view in the Parker Gallery through July 2, 2009 at the Oceanside Museum of Art. Each portrait will be graphically designed, hand felted with merino wool and machine embroidered. "Meet the Artist" on Sat, June 20 th at 2:00 p.m. for an informal talk about the process. For info: Danielle Susalla 760.435.3722
Mingei Fusion in Balboa Park on Thurs, May 14, 6 - 9 pm ($100- $150) is an evening of international cuisine and performing arts. A variety of restaurants and caterers will offer tastings with wine, beer and sake pairings while musicians and other artists perform throughout the evening. A VIP Lounge will feature seated table service by an exclusive caterer. Limited to 300 total. You must be 21 or over to attend this event. More info: 619-239-0003, ext. 133 But in response to current economic conditions, Mingei International Museum in Escondido will reduce its public hours and lower its admission prices for one year beginning May 1. New hours will be Thursday, Friday and Saturday 11 a.m. to 4 p.m. Offsetting the shorter hours will be lower admission prices of $3 for adults and $2 for seniors, youth (6-17), students and active duty military with ID. But also remember Second Saturday hours will be 11 a.m. to 8 p.m. featuring family programs during the day and free admission between 4 and 8 p.m. and La Jolla Bank will sponsor complimentary admission on the First Thursday of each month.
TIDBITS
Lisa Roche who edits our SmART Collector feature has a book recommendation for arts organizations during these tough time: The Art of the Turnaround by Michael Kaiser His ten basic rules for bringing financially distressed arts organizations back to life and keeping them strong include the requirements for successful leadership, the pitfalls of cost cutting, the necessity of extending the programming calendar, the centrality of effective marketing and fund raising, and the importance of focusing on the present with a positive public message.
This report via Richard Kessler : The recent San Diego School District survey indicated that respondents are more supportive of cuts to other areas than for the arts (and physical education). Respondents would prefer moderate increases to class size (very interesting) instead of cutting band. Respondents would rather consider cuts to medical benefits and support services (professional development, etc.), than cutting visual and performing arts programs. Respondents would prefer to close schools with low enrollment, cut JROTC, and assign one principal to two small schools, rather than cut the arts.
We are noticing that as the publicly funded art is shrinking (SDMA cut their staff by 25%) the commercial market is pushing out with many more collaboration like Little & Large with it massive venue participation. Read more in this months A+ Art Blog
The Exposition Construction Authority of Los Angeles may convert Bergamot Station into a maintenance yard. This would mean approximately thirty galleries and a museum would lose their home in one of Los Angeles' premier visual art centers. For more info: Wayne Blank 310.453.7535
Petra & Jens Herrmann are doing us proud in Germany with a show titled South of the Border featuring artists from Baja California, Mexico Alida Cervantes, Julio Orozco, Jose Hugo Sanchez and Ricardo Sanders at KunstRaum H&H through May 23. Others show at thier gallery are Ricardo Sanders from Tijuana in September and John Dillemuth from San Diego in November. How wonderful to see a SD/Baja Norte presence in Europe.
For those of you who are artists making more than $20,000 a year and needing health insurance, here is a tip from Irene de Watteville that she picked up in New York. Freelancers Union. This is also confirmed by Dennis Batt.
The Bling

back to top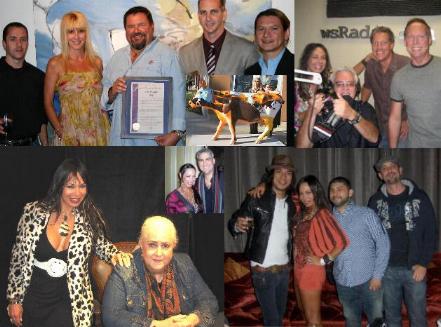 Synergy Art Foundation (SAF) is conducting an Artist Live/Work survey to evaluate the needs of San Diego County artists and arts organizations for permanent, affordable live and work space. The information collected will be will be shared with elected officials, community housing organizations, arts organizations, developers and potential donors, to inform them of the need for such projects in San Diego. It also will be useful in developing design guidelines and amenities for potential projects. Please take the time to complete the survey (about 10 minutes) and please forward this survey to any artists/arts organizations you think may be interested. It is critical to reach as many as possible. Fill out the survey is you need either work space or live work space. Please complete by April 15.

The new Se Hotel in downtown SD ( 1047 5 th Avenue, 92101) is now going to be open to the public on the fourth floor pool level which is called Kama Sīrĕn starting the weekend of March 27/28. Our readers are invited to come for free hors d'oeuvres from 5 to 7 and entertainment starting at 8 pm. There is a wonderful bar and the future will bring a variety of arts events. The Little and Large launch party will be held here on July 8 so mark you calendars and go visit and enjoy before that. We love the motto for this hotel, "Bringing Life to Luxury."

Richard Allen Morris is showing Small Ones at R.B. Stevenson Gallery (7661 Girard Aven. Suite 201, La Jolla, 92037) until April 30. If you are a new collector and want to start at the top than you could no better than purchasing work form this show. Prices are as low as $200 and there are dozens of yummy gooey art works under $1500. More info: R B Stevenson 858.459.0803. And this from the March 23 New Yorker Magazine's Goings On About Town, " The self-taught Richard Allen Morris, whose champions include John Baldessari, began making art while stationed on an aircraft carrier during the Korean War, he's been working under the radar in San Diego ever since. The artist's eclectic oeuvre – Pop-expressionist portraits, impasto-think abstractions, sculptures of guns made from studio scraps – is the subject of Morris Code at the Peter Blum Gallery, in Chelsea". You can be assured that prices in New York will not be the bargains you can get in San Diego. Buy Now!

On March 16-18, if you test drove a Scion, you could give a donation to SDVAN. We received $690!!! We really appreciate the effort the Toyota Scion company and the American Marketing Consultants Inc. AMCI made on our behalf. This money is earmarked for the SD Art Prize as it was Ann Berchtold (Beyond the Borders Art Fair Sept 2-4) that made this connection for us.

Is this Allison Wiese month? Allison Wiese and Marisol Rendon (both SD Art Prize) are featured in the Transfer Connection 4 show at Southwestern College Gallery until April16. More info: 619.216.6605

Allison is also included in University Of San Diego Art Department Faculty Exhibition opens this month until May 24 at the Fine Arts Galleries, Kroc Institute for Peace & Justice, (5998 Alcala Park, SD). Artists include Allison Wiese and Iana Quesnell (both SD Art Prize), Mike RIch, Bekkah Walker, Christopher Adler, Adam Belt, Neal Bociek, Andy Cross, Adriana Cuellar, John Halaka, Bill Kelly, Maryann Luera, Duncan McCosker, Saba Oskoui, and Joe Yorty More info: 619.260.4261.

POST -Card is curated by Brian Dick at Sushi (390 Eleventh Avenue, SD) until April 21 and even if you missed the opening performance this looks like a show worth seeing when fourteen artists make work in the context of cheap, disposable, anachronistic postcards including Allison Weise (there she is again), Eleanor Antin, Kim MacConnel, Jean Lowe, (all SD Art Prize) and Jamex and Einar de la Torres. More info: info@sushiart.org 619.235.8466 Bring your stamps!

Grossmont Art Alumni Invitational 2009 at Hyde Art Gallery, Grossmont College (8800 Grossmont College Dr.El Cajon, 92020) last just until March 26 but the reception is March 25.More info: Teresa L. Markey 619.644.7299

James G. Respess is having a one person show at Mission Trails Regional Park Center, One Fr. Junipero Serra Trail, SD, 92119. This work is perfectly chosen for its location. The show will run from March 28 to April 24 but the reception is on April 5th from 1 to 4 PM. To see examples visit his website: Green Flash Photography and email or call him for more information at 858.272.1926.

From March 15 to June 15, the work of artists from San Diego and Tijuana will be on display on 50 life-size fiberglass cows adorning the streets of La Jolla through CowParade La Jolla. Making its California debut, CowParade has been held in more than 50 cities on six continents and has raised more than $25 million for charities through live and online cow auctions at the end of each exhibit. Proceeds from CowParade La Jolla benefit local charities Rady's Children's Hospital and the Zoological Society of San Diego. If you want to do a tour, a good place to start is the Madison Gallery where you will see two of these critters and can pick up a map for the rest. Vicky DeLong and Danielle Smith were partners in creating the cow Isadora you see above. Denise Bonaimo and Don Knapp are two more cow partners...get along little doggy.

It's official. Gagosian Gallery has had an office presence in La Jolla for three years but now they will have a gallery space at 7938 Ivanhoe Ave # A, La Jolla, 92037 and that bodes well for the high end market at least. More info: 858.458.9428

Commesso: Made in America "Gemstone Fine Art" in The Parker Gallery,located on the 2nd level of Oceanside Museum of Art on view until May 1. Artist and Curator Dennis Paul Batt will talk about "Gemstone Fine Art" on Sat April 25th at 2:00 p.m. For more information: Danielle Susalla 760.435.3720. Free with admission to the Museum. Trios Gallery is having a Mosaic Exhibit from March 29 (reception 2-5) to May 10 in conjunction with the The Society of American Mosaic Artists (SAMA) 8 th Annual Mosaic Arts International juried exhibition taking place at the Museum of Man in Balboa Park until April 26. If you have not been go to all and be amazed!

Its not to late to see Echoes in the Ice: Collages by Rik van Glintenkamp until April 16 at San Diego Mesa College Art Gallery , ( D101, 7250 Mesa College Dr., D-101, SD, 92111). The exhibit draws from van Glintenkamp's body of work, profiles of fifty daring men who explored the Arctic and Antarctic and also highlights the upcoming adventure of Mesa College student Hermes Castro. Castro was partially paralyzed after being hit by a drunk driver in 2006. Last year, he attended a talk at the college by renowned British explorer Sir Robert Swan, the only person to walk across both Poles. Swan was impressed by Castro's spirit and determination, and invited him to join the March 2009 "Inspire Antarctic Expedition." Swan is underwriting fees and expenses for the trip, while the Mesa College Interclub Council and Associated Student Government are fundraising to purchase special equipment, gear, computers, and airfare. More info: Pat Vine, Gallery Coordinator 619.388.2829

Seminal Projects announces an exhibition of new audio-mechanical sculptures and photo/print collages by Jason Sherry, titled Time Space Trials and the Packrat Dirge (or the Theme from Human Interest Story). This will be the artist's second solo exhibition at the gallery, on view from March 27 through May 2, 2009. An opening reception will be held on Saturday, March 28, from 6:00 to 9:00 p.m. Jason was one of the emerging artists from last season SD Art Prize. In Gallery Two are works by Mark Mulroney, titled Nude Drum Solo. More info: Luis De Jesus at 619.696.9699

Hot wax indeed! There are two exhibitions featuring encaustic paintings. Hot Wax is the title of the show at the Front Porch Gallery ( 2903 Carlsbad Blvd 92008) opening on March 28 with artists Josie Rodriguez, Betty Hock, Judith Parenio and Ruth Gooch. Until May 3. More info: Steve Nossan 760.795.6120

St. Claire Gallery (at the East County Business Center , 270 East Douglas Avenue, El Cajon, 92020) holds it reception on Sun, March 29 th from 3:00 to 6:00 pm. and is showing encaustic works by Wilma Lopez plus another 190 works by 36 artists in a variety of mediums. Until April 10. More info: Howard Bagley 619.401.4000

How can you resist an exhibition that happens in pitch darkness. Artists are exploring the dimensions of sound/art in the manner of John Cage. The Sound of IT includesTimothy Gaewsky, Seth Cluett, Robert Fraher, Amy E. Day, Tania Kupczak, Neil Matthiessen, Travis Janssen, Mark Eden, and RobeSound Of It at Garage Gallery (4141 Alabama Street #4, SD, CA 92104) opening Friday, April 10, 7:00pm More info: Larry Caveney 6192976032

Debby and Larry Kline have a fascinating show at California Center for the Arts Escondido called Divi/Nation. We especially like the art they made while at restaurants dining together. Intimate and personal, these works don't appear to have a political agenda like much of the other work, but are visually charming. Nina Waisman (SD Art Prize) has works as well in a feature called Between and her walkway of sound explosion is threatening and fun at the same time.. Both shows on until June 21.

Art for your floors (or walls if you prefer) is being offered by Mixture with a line of hand made rugs, which you can commission from your own choice of art design. Or if you are an artist yourself, your own design can be transformed. The company and product is HZL by Henzel out of Sweden.

Curator Melissa Stager (of Susan Street Fine Art Gallery ) has started a alternative project we are calling Rooms in Cedros and their first nineRooms,LIVEArtINSTALLATIONS took place on short notice in March. Nine artists and their processes were on exhibit for one night with the help of the South Cedros Property Owners Association. The exhibition included installation and performance pieces by MiraCosta College professors, Yoshimi Hayashi and Anna O'Cain, and San Diego Artists, Chris Warr, Hollis Swan, Benjalmin Eldworlds, Jessica Gannon, Joshua Bellfy, Justin Morrison, and David White, (Agitprop). Live music was also included an this event which is ongoing but will change venues on Cedros expects to unite a large diverse crowd from both the San Diego and North County areas who are coming together to explore the engaging multi dimensions of live art. We are happy to see that this took place on Cedros Third Thursday Gallery Walk Night. Watch for future events by Ms. Stager.

We hear that the galleries in La Jolla are finally getting it together for a First Friday La Jolla event each month starting April 3….hurrah! We will await more details and try to keep you informed. The TNT from the Museum of Contemporary Art San Diegois temporarily suspended due to the economic downturn (Last one is April 2). Interesting how the museums cut programs and the galleries start them up when things get tough. Don't you just love life!

Did you know that there is a San Diego Science Festival on right now until April 4. Chris Orfescu is presenting just one of 500 different activities and you can see his NanoArt exhibition is at the Mission Valley Library.

Cheryl Tall, Sandra Chanis, Lori Escalera, Michael Steinagle celebrated their show the Goddess Eternal at the Solana Beach City Hall Gallery (635 S. Pacific, 92057) and the Spring Equinox with a lively Goddess Art reception on Sat March 21 (It was Cheryl's birthday!). See for yourself the Goddess reception. Show until April 11. More info: design.etc@cox.net 858.720.2454. Also see Lori in the August Blick Studio Catalog...page 305!

The second annual Gaslamp Art Showcase will be held on March 29 from Noon to 5 pm on the streets of our famous entertainment district in downtown San Diego. They will feature a wide variety of talented artists in a diverse showcase including The Brokers Building is located at 402 Market Street between 4th & 5th Avenues with the following artists all in one space: Madeline Sherry, Anthony SantosJoan Matheson, Carl Schmidt, Scott Gengelbach, Rod Engel,Sonia K.. Glassman , Judy Mandel, Anoop Patel,LaVerne Brock,Richard Glassman,Chobo & AnnieLou.

OPPORTUNITIES (click to see a list of all current opportunities listed on SDVAN)

Front Porch Gallery in Carlsbad is looking for Curators to make best possible use of our 1,000 square foot gallery for an exhibit later this year or early next year. They will provide marketing, P.R., invitations, an Opening Reception and cost of installation for successful proposals. This exception opportunity for a curator is wide open and could be a theme show, guest artist, group show, sculpture, paintings, photography, etc. But spirituality, aging, intergenerational projects and special consideration to installations or interactive proposals will be favored. Send a 100 word proposal including costs (if any) for installation. They will be reviewing proposals immediately and ongoing through July. More info: jweaverling@frontporch.net.

Bonita Museum & Cultural Center Audi Lawson Gallery announces a call for artists for their Juried Photography & Digital Art Exhibit from May 9 – June 13. Open to all SD county artists including color, black and white and digital mediums. The juror is Arthur Ollman former director of the Museum of Photographic Arts and now Director of the School of Art, Design and Art History at San Diego State University. There is a $20 entrance fee for 2 works and awards will be given on the opening night May 9. The deadline for entry is Wednesday, April 22, 4:00 pm. For more info: bonitamuseuminfo@sbcglobal.net 619.267.5141.

Keikichi Honna announced his latest call for Spamalot. Send him the best internet scam story you create, or you've heard/received. He says, "Originality is a big point, and no cookie cutter varieties. (and no Obama stimulus package deal thing). Winner will be announced sometime in the future. And s/he will be showered with cash award and some of my crappy art work!" We can wait to see the winner and what Honna makes of it.

The dates for the 2009 ArtWalk on the Bay are now set for September 12 and 13 at downtown San Diego's beautiful Embarcadero Marina Park North. This event showcases art in the most stunning waterfront setting imaginable. Each year, attendance has grown for this event, to an estimated 30,000 visitors in 2008. Warm, sunny San Diego weather and magnificent waterfront views make this event a must for fine artists. To apply, click here.

A few openings are still available for artists seeking to exhibit at The Seaport Village Spring Art Show over Easter Weekend. In addition to all of the on display and for sale, there will also be live music and other performances at this family-friendly weekend event at San Diego's waterfront dining and entertainment complex. The event will run from 10 a.m. to 9 p.m. Friday, April 10, Saturday, April 11 and Sunday, April 12, and attendance is free of charge. Applications can be found on the website. More info: Sigal Brown 760.547.6832

There is a budding art area called Art in the Alley with a duplex located in north Spring Valley (south of Mount Helix). One side is a refurbished two bedroom Craftsman with a fenced yard and view for $1100 per month. The other is a Mammoth Mountain style open-beam wood ceiling with two bedrooms and an enclosed patio area which has paid utilities at $1200. Storage space is available for extra cost. Both are being refurbished in this with new tile, carpet, paint, and so forth. For more info: David Beck-Brown 619.957.4083

Gallery La Mesa is looking for artists to complete its fall 2009 line up. Please email art images and a short artists statement to Kirstin Sturdivan 619.462.5760

There is a new online literary and arts journal for San Diego just starting out. Check out The Latent Print. Not much information yet, but might be one to watch and they are requesting submission in lots of cultural areas.

There are Only 3 Studios Left at the Barracks 19 Leasing which is the Art & Design Center in the North Promenade Barracks of the NTC Foundation (2690 Historic Decatur Road at Dewey Road, SD 92106)
More info: Sean Giffin 619.573.9304 . We also heard of studio spaces available at the former Wonderbread Factory. Contact Jeff Hoffman, Strom Commercial Real Estate 619.243.1244

Just announced: The Balboa Park Learning Institute is a new professional education program of the Balboa Park Cultural Partnership, the collaborative body and collective voice of 24 diverse cultural institutions in Balboa Park, San Diego, California. They are looking for thier first Director to lead and shape the Learning Institute in the formative stages of its development into full operation.Submit a cover letter and resume via e-mail to bpcp@bpcp.org by Friday, April 10.

TRANSITIONS

Andrew Newell Wyeth (American, July 12, 1917— January 16, 2009) was one of the most recognized, appreciated and famous American contemporary artists; art historians have defined his art as sentimental and antithetical to the abstract theory of the 20th century. In honor of the artist, who passed away on January 16, 2009, the following two artworks, part of the permanent collection of SDMA, are now on view in the American gallery: The Pikes (1965) by Andrew Wyeth and Andrew Wyeth (1994) by Arnold Newman. Make sure to stop in soon to see these works.

MUSEUMS

The fragrance "OMA" will be launched Saturday, March 28 th from 5:00-7:00 p.m. at the opening reception of Institutional Wellbeing: An Olfactory Plan for Oceanside Museum of Art. This site-specific installation created by conceptual artist Brian Goeltzenleuchter explores the perception of fragrance as an art media for interior environments. Goeltzenleuchter, a UCSD graduate and San Diego resident, will design the fragrance "OMA" to accompany the exhibition as both a scent presented in the installation and as a retail product available in the museum's store so that visitors can incorporate the museum experience into their personal environment. The exhibition will be on view through August 9, 2009. Brian will also be making a scent portrait of curator Teri Sowell as part of the Movers and Shakers exhibition phase two coming in Jan of 2010.

You can also join the OMA for a Daytime Bus Trip to the Getty Center Thursday, April 23 rd. The deluxe coach will depart from the museum at 10:00 am and return at 5:00 pm. For more info: Danielle Susalla 760.435.3722

We love that the Lux Art Institute is now free on Saturday April 4 from 11 to 5 for adults only on Wed April 15 and May 20 from 7 to 9 pm. Our thanks to Supervisor Pam Slater-Price, County of SD, City of Encinitas and the Mizel Family Foundation for making the wonderful resource free on those days. Currently in residence is Victoria Adams. More info:760.436.6611

Jane Hammond: Fallen will be on view at the Museum of Contemporary Art San Diego's downtown location from April 26 through July 5, 2009. The artwork is comprised of a low platform covered with over 4,000 digital prints of unique leaves, each inscribed with the name of a U.S. soldier killed during the war in Iraq. Also on view at the same time and location, Sandow Birk who
uses satirical realism for example in his painting of Secretary of Defense Donald Rumsfeld Presenting His Plan for the Invasion of Iraq (2007) providing related commentary on the depravities of war. More info: Denise Montgomery 858.454.3541 x116

The first comprehensive retrospective of the works of Evelyn and Jerome Ackerman, is coming to the Mingei in Balboa Park on March 29. This 50-year collaborative partnership exhibition focuses on their outstanding work in decorative art and design and highlighting their central role as designer-craftsmen who helped shape the California Mid-Century Modern style. Want to go to the Mingei but the bank balance is low? Community Sunday admission from noon to 4 p.m. is $5 for families and $3 for individuals the last Sunday of the month and they are throwing in a DISCOVER MINGEI! Museum Treasure Hunt with prizes.

TIDBITS

In Paris, the auction houses have discovered an under-served group of collectors. At Sotheby's Contemporary art sale in Paris this December, an astonishing 30% of the buyers were new to Sotheby's. Grégoire Billault, Director of the Contemporary Art department, identifies many of these new bidders as French and European collectors who have neither the time nor inclination to travel to London or New York to attend a sale. But when the art arrives in their backyard, so to speak, these collectors have propelled sales at Sotheby's in 2008 30% above the previous year despite the worldwide economic crisis affecting the December sales.

Our home grown National city born John Baldessari makes a splash in Germany in the Museum Haus Lange. Catch this view of him sitting in a ear coach besides two nose wall vases. John and Yoko Ono are receiving the Golden Lions life time achievement awards at the Venice Biennale this year.

Congratulations to Lori Lipsman and her co-exhibitor Hee Ouk Kim for their show at LA ArtCore (120 Judge John Aiso St. 90012) in Los Angeles on until March 29.

If you thought you might get an NEA grant now that funds seem to be forthcoming, think again, unless you have already received a grant from them. The NEA is requiring that any applicant for the direct grants must have received an NEA grant within the last four years. The agency has set this requirement as a result of direction from the White House Office of Management & Budget (OMB). OMB has recommended obligating funds to existing award recipients as a method of ensuring that the applicant pool can be considered quickly and to ensure quality. Complete details on applicant eligibility and the rest of the recovery grant program are available on the NEA's Recovery website .

Under the "duh.." category, someone at the NEA spent money to prove that unemployment rates for artists has risen more steeply than other professional categories of employment. Give us a break or better yet, give us the cash!

The parent company of The San Diego Union-Tribune announced that it has reached an agreement to sell the newspaper to the Beverly Hills private equity firm Platinum Equity for an undisclosed price. La Jolla-based The Copley Press Inc. had been seeking a buyer since July 2008, when it hired investment bankers to explore strategic options amid a nationwide decline in newspaper advertising and circulation.

Today some people are strapped for cash, others strapped for kicks. Times are tight, and somehow bondage is back in style, with black straps pulling looks together, especially on the object of everybody's favorite fetish─the feet. Step softly and break out your strappy sandals for Spring!

The Bling

SD Art Prize: New Contemporaries II opened at the Noel-Baza Fine Art ( 2165 India Street, SD, 92101) and will run until March 21 with a reception on March 13 from 6 to 9. Presented by the San Diego Visual Arts Network this is your chance to see all thirteen artists nominated for the SD Art Prize emerging artist category. More info: noel-baza@cox.net 619.876.4160

Were you one of the lucky ones to be at the panel Snapshots: Changing perspectives in the San Diego Art Scene with Philly Joe Swendoza (ArtRocks!), Robert Pincus (SD Union Tribune), Patricia Frischer (San Diego Visual Arts Network), and David White (Agitprop Gallery) and Moderator: Katherine Sweetman (Director, Lui Velazquez) and held at Art Produce Gallery and hosted by Lynn Susholtz (3139 University Ave, SD 92104). Here is your link to the summary of the evenings hot topics by Patricia Frischer with a chance to enter your comments. More info: Kevin Freitas (Art as Authority) 619.337.4891

We are so excited to see a new community project Art @ the Core in North Park and City Heights that utilizes art as a catalyzing force for positive change. They want to increase access, engagement and participation in the civic process through cultural development. Stone Paper Scissors, transcenDANCE Youth Arts Project, Eveoke Dance Theatre and North Park Main Street are all involved and Stone Paper Scissor s will have art classes every Thurs from 4:00-5:00 pm at North Park Recreation Center ( 4044 Idaho St. SD 92104). For more info: Lynn 619.584.4448

We don't know how much money they raised at the Garage Sale at Agitprop in Northpark, but it was certainly a fascinating concept. Read all about the show written up by David White and see the photos at Art As Authority. Contributions were made by Joy Boe, Judith Pedroza, Eddie Miramontes, Josh Bellfy, Joe Yorty and David White himself.

Cardiff artist Mireille Des Rosiers is featured in a solo exhibit during February at the Paul Bartl Gallery inside New Village Arts Theatre. Born and raised in Haiti, Des Rosiers earned arts degrees in Montreal and at UCSD and has exhibited her colorful oil and acrylic portraits around the world. She is involved in the Movers and Shakers project as an artist for both the first and second season. This exhibit ties into Black History Month and New Village Arts' opening of "Bulrusher," a Pulitzer Prize-nominated drama about black identity until March 1. If you have not seen this space, do drop in as it is much more than usual art lobby gallery. The painting looked super and we were glad to see landscapes as well as portraits by this artist to watch. More info: Laura Kurner 760.433.3245.

Congratulations on her grand opening as Irina Negulescu's new studio La Jolla Fine Art Gallery comes to life at 7602 Fay Ave on Sat, March 21st from 5-8 pm. More info: irina@negulescu.com

We were there but the local film maker Jeff Durkin of Breadtruck Films has just released the Conspire documentary and it is as good as the evening. Thanks to Sanctuary 143 for producing the evening and posting the film.

On the first weekend of February, my spies visited 5 different shows in North County including Mireille Des Rosiers' show mentioned above. They were all jam packed….art is alive and well contrary to reports from nay Sayers. The West Coast Drawing Show at The Boehm Gallery at Palomar College ( 1140 West Mission Road, San Marcos, 92069 until April 4) was an elegant mix of very high quality work. We were thrilled especially to see art by Ted Washington, Robert Nelson, Anthony Beltran and one work by Cheryl Cotman. K.D. Benton showed a large hells angel type figure which gives you a clue to her inner fantasies perhaps! Some lovely banners, as always, at the Arts Alive 2009 Auction. Bidding starts at $150 and your can bid by phone at 760.943.1950. The live auction is May 31 at Cardiff Town Center Courtyard….that's a first. Half the money goes to the artists and the rest to either 101 Artists Colony, Cardiff 101 or Leucadia 101. Cool jazz at Trios Gallery was on tap during their evening parties now held about once every two month, but watch for a busier schedule coming in the late spring. Hearts for Healing, a community project aiding Scripps Memorial Hospital in Encinitas and part of its Arts for Healing Program which is coordinated by Gerrit Greve, was a sell out with sales are going 100% to the hospital. You can still buy the book of these delightful works by the students of R. Roger Rowe School in Rancho Santa Fe and Santa Fe Christian School. Thanks to Nate & Ralyn Wolfstein for their generous donation for materials.

Perry L. Meyer Fine Art (2400 Kettner Blvd. Suite 104 SD, 92101) presents "Clay Walker: A Retrospective" from March 13, 2009 – May 2, 2009 with an opening reception in conjunction with Kettner Nights Fri, March 13, 2009 6:00 - 9:00 p.m. clay Walker passed away in March of 2008 after spending his last years in Escondido. For more info 619.358.9512 info@plmeyerfineart.com

Mary Brooks has resurfaced and is promoting works by Eliza Tolley now on display on the 18th Floor of the AT&T Building, 101 Broadway #1800, SD, 92101 on show until March 27. Her own works with Lory Smith on display at Mission Beach Coffee Break, 2888 Mission Beach Blvd, SD 92109. And watch for their new frame shop opening March 2nd on Kurtz Street. More info: 619.424.5886

Dragon Knights silts walker will knock you socks off at the anniversary celebration for the one year anniversary of the new Encinitas Public Libraryon Sat, Feb. 28, from 1:00-4:00pm. More info: Jim Gilliam 760.633.2746

OPPORTUNITIES (click to see a list of all current opportunities listed on SDVAN)

The Beyond the Border International Contemporary Art Fair. San Diego's first Contemporary Art Fair is scheduled for Sept. 2-4, at The Grand Del Mar Hotel and will feature 40 exhibitors from around the world showcasing over 500 works of art created by more than 200 established and emerging contemporary artists. The event is designed to attract over 3000-4000 international, national and regional qualified art collectors. This is a fair with a difference as it is dedicated to and will showcase the work of new contemporary art practices with an emphasis solo projects. Beyond the Border-Art, Inc, the producer, is a strategic business-consulting firm comprised of leading professionals in the areas of art, marketing, architecture and development. If you would like your gallery to be considered for BTBICAF please submit your application by going to the following link: http://beyondtheborder-art.com/exhibitors.html or by contacting Curatorial Director, Maureen Gibbons or Ann Berchtold

The Art of Photography Show 2009 international exhibition at Lyceum Theatre Gallery in the Gaslamp is coming again and will open on Sat, August 29th, The Prospectus and entry details are now available with a deadline of May 22. The online entry process is very easy, simply filling out a short registration form and then uploading your images as JPEG files. Charlotte Cotton is the Judge for the Art of Photography Show 2009. Ms. Cotton is Curator and Head of the Photography Department at the Los Angeles County Museum of Art (LACMA) and is highly respected in the global photographic community, so it's a significant honor to be selected by her.$10,000 IN AWARDS (Double what was awarded last year) and still $25 for the first entry, $10 for each additional entry.

Our hats are off to La Entrada or The Entrance which is new low-income housing development in Barrio Logan, but also a public art project that will transform the community of Barrio Logan. You can see the public mural installation video by Eduardo Cervantes, Carlos Solorio, Geraldine Lozano and Werc or go tot the corner of Beardsley and Logan Avenue and see the actual painting on two sides of the building. The next step is a collective group of artists, The Prizm Process, who will paint murals on the doors of resident's homes, small business, and abandoned buildings. On Saturday, March 7, 2009 from 10 am to 2 pm, you can meet them at the center of Chicano Park, when they will distribute a map of doors and begin painting. Everything will be supplied. They are also holding a series of educational workshops all from 10 am to 2 pm. The next is Screening Roots on March 14th conducted by Phat Roots at Voz Alta Community Pictures on March 21 st is conducted by Carlos Solorio and meeting at Chicano Park, then disperse within the Logan Community to gather photographs of Logan. And finally Urban Textiles on March 28th conducted by Geraldine Lozano and Karina Valdez at The Gateway Apartments. For more info: Crol

A thriving art teaching studio is for sale in La Jolla. Contact Sophie Plassard who is moving and trying to find an artist/teacher to take over about 40 students and her Birdrock La Jolla Art studio space starting in May.

The New Children's Museum is looking for some hip teens to join the Mind Your Own… Teen Advisory Council. Open to high school students from schools throughout San Diego County, the council offers direct input into the process of Museum programming and an opportunity to respond to exhibitions and programs. Access to artists and the opportunity to work alongside them is a central feature of the program. Learn more about how the Teen Council gets involved.

Lux Art Institute is looking for a full time Director of Development to implement and grow all resource development activities including the annual and capital funds, major gifts, grant and foundation support, membership programs, sponsorship, special events, and planned giving. Bachelor's degree with 3 – 5 years of fundraising and supervisory experience if needed with a firm grounding in writing, research, and strong attention to detail required. Contact Dan Buryj 760.436.1400

25th Anniversary Mission Federal ArtWalk Artist Project is seeking artists to create their own artistic interpretation of a kite in support of ArtReach art education program. The Art of the Kite will generate a great deal of publicity for the artists over the months prior to Mission Federal ArtWalk and will be featured in the event magazine, on their web site, and at displays throughout the county in the months leading up to the 25th Anniversary of Mission Federal ArtWalk. For more information, please email info@missionfederalartwalk.org

New classes at the SD Art Department include: Plein Air Painting Weekend Workshop with Judith D'agostino, Get It While It's Hot: The Art Of Encaustic Painting with Josie Rodriguez, Basic Photography For Film & Digital Cameras with Tom Shjarback, Tool Stamping & Joining Metal with Denise Bonaimo, Find The Art In Collage: Express Yourself with Carla Christensen, Silk Painting II with Jan Janas and for the kids Art Around the World & More with Thia Nevius. More info: Andrea Chamberlain 619.299.4278.

Urban Trees 6 call for artist was announced and artists must submit by April 6 at 5 pm. This is such a great project for SD and allows our sculptors to get paid ($2500) for making and then loaning their creations for all to see for 12 months. More info: 619.686.7247

The Women's Caucus for Art San Diego has a call for artists for their Herstory Exhibition: Ain't Nothing Gonna Stop Us Now! Juried Exhibition, March 7-29, 2009. This show is open to all women artists, held at the Women's History Museum and Educational Center located at 2323 Broadway #107, (Golden Hill) San Diego, (619) 233-7963. This multi-media exhibition will be juried by widely renowned artist, and S.D.S.U. Art Professor, Janet Cooling. Deadline for submissions: Saturday March 7. For prospectus and more information visit the website or call Cynthia Gott 619.508.7155 or Laura Jean Thompson 619.750.6205.

If you live near Oceanside, here is an incentive to join the Oceanside Museum of Art Artists Alliance. They have put all a call for artist for their exhibit "Strokes of Color" to be held at Oceanside Art Gallery ( 602 Mission Avenue). Members of the OMA Artist Alliance are invited to submit up to four pieces of art for a juried show to be held March 7, to April 11. Entry is on March 7. For more info: Bev Stuber

The Ordover Gallery at the San Diego Natural History Museum announced a call for entries for the Best of Nature Photography Show. Entrees may be submitted between January 15 and March 15, 2009. The international juried show of outstanding nature photography will be on view between June 27 and September 13, at both The Ordover Galleries. The show is juried by staff of the San Diego Natural History Museum and Abe Ordover. Entry due by March 15 online. For more info: 858.720.1121

MUSEUMS

Watch for the new exhibitionCommesso: Made in America "Gemstone Fine Art" in The Parker Gallery, located on the 2nd level of Oceanside Museum of Art on view March 2 - May 1. Artist and Curator Dennis Paul Batt will talk about "Gemstone Fine Art" on Sat April 25th at 2:00 p.m. Commesso: Made in America is the first art museum exhibition of the American made fine art of creating commesso di pietre dure e tenere, stone mosaic pictures. The artwork is made from precise placement of hand cut rocks and gemstones, with an occasional shell or other hard material. Today Commeso is a nearly extinct art form with few American practitioners and is rarely exhibited. For more information: Danielle Susalla 760.435.3720. RSVP to lecture free with admission to the Museum: 760-434-8825.

The Society of American Mosaic Artists (SAMA) 8 th Annual Mosaic Arts International juried exhibition takes place at the Museum of Man in Balboa Park from Feb 28-April 26. Included are seventy two exceptional mosaics selected from submissions by over 200 artists in seven countries chosen by an esteemed panel of judges including our own Irene de Watteville (Mover and Shaker 2008) who is a tile artist and Board Member of the Tile Heritage Foundation. Two other San Diego Artists were juried into the show: Kim Emerson and Laura Mika. "….This exhibition will inspire museum visitors as they discover the tactile innovation of contemporary mosaic art," says Karen Ami, SAMA President. Four hundred SAMA members will convene March 25-28 in San Diego for the 8 th Annual Mosaic Summit which includes workshops, presentations by internationally recognized mosaic and design industry professionals, networking and a vendor show. The keynote speaker this year is SD's James Hubbell, award winning artist and architectural designer. SAMA members will be giving back to the community hosting their conferences by working marathon style at Bayside Community Centerto create a mosaic mural masterpiece. For more info: Kim Emerson 619.379.1123

Hot off the press: Three Balboa Park museums – Mingei International Museum, the Museum of Man and the Museum of Photographic Arts (MOPA) announced a three-month reduced admission program. From March 1 through May 25, 2009 (Memorial Day), the three museums will offer half-price admission on Saturday and Sunday mornings from 10 a.m. to noon.

We couldn't be more delighted to see such activity at The New Children's Museum beginning in February; Design It, Print It is a chance to get creative carving with wax in the Paint Studio. Children will see their designs come alive when ink is added to create a one-of-a-kind print. The Design Studio will be transformed with Flower Power into a whimsical plastic garden, complete with a watering tower and moveable sculpture! Kids can create their own zany garden sculpture out of interlocking grass shapes or build a fantastic flower with color sticks, bottle caps, and recycled toy parts. But the biggest news is that a family of four can now go to your local library and check out a pass to visit the museum for free! The New Children's Museum (NCM) is proud to launch Check Out The New Children's Museum in partnership with San Diego Public Library. You get full membership benefits at the Museum. This includes free admission to the galleries, hands-on art projects in the studios, as well as discounts at the cafe and store.

Want to know more about Art Resouces for Children in SD then please check out our new feature page especially for them.

Mingei International Museum presents Masters Of Mid-Century California Modernism — Evelyn and Jerome Ackerman. This retrospective will present for the first time a comprehensive view of the Los Angeles-based couple's collaborative partnership and their outstanding work in decorative arts and design, and will highlight their central role as designers who helped shape the California Mid-Century Modern style. The exhibition, which opens March 29 at the Museum's Balboa Park location, will continue through October 18. Plus plenty of time to see Shibui - The Subtle Beauty of Japanese Craft extended to June 28 and India Adorned - Selections from Mingei International Museum's Stephen Huyler Collection extended to September 6. More info: Martha Ehringer 619-239-0003, x. 113

In 1991, Lou Stoumen established an endowed gift to be given through Museum of Photographic Arts to a photographer whose work related in spirit to his own humanistic style of photography. Mikhael Subotsky, whose documentary photographs of South African prisons are both compassionate and revealing is the 2009 Stoumen Prize Winner, On view until May 17, Lou Stoumen Award Winners: The Legacy exhibition at MoPA begins with his photographs and continues with previous Stoumen winners Debbie Fleming Caffery (1996), Kenro Izu (1999), James Nachtwey (2002), and Gary Schneider (2006) by examining the photographs that won them the award alongside new work created after receiving it. Several new exhibitions start this month including: Considering Edward Curtis: Recent Gifts to the Permanent Collection and Picturing the Process: Exploring the Art and Science of Photography and join two other begun in January: Lou Stoumen: The Naked Truth and Edward Steichen: The Early Years. With an Ansel Adams show and the intriguing Jo Whaley: Theater of Insects coming this summer, it is a bumper year for MoPA.

Beginning Thurs, February 19,the Lux Art Institute is asking for drop-off of fabulous designer unused or gently used items that are clean and in good condition. Drop-off hours are Monday-Friday, 10:00 AM - 4:00 PM, thru Friday, April 17. Lux Art Institute will be hosting an exciting, upscale Designer Estate Sale on Saturday, April 18, from 10:00 AM - 5:00 PM, to help raise funds for its education programs on Sat, April 18, from 10:00 AM - 5:00 PM.Think: gowns, party dresses, sweaters, blouses, men's suits, handbags, shoes, silk scarves, hats, antiques, unusual objets d'art, unique furniture, china, and sports equipment. Everything and the kitchen sink!! 1550 S. El Camino Real, Encinitas, 92024 More info: 760.436.6611

TRANSITIONS

We are sad at the passing of Aida Mancillas, a SD artist and city commissioner with the City of San Diego Commission for Arts & Culture. Aida Mancillas was an artist working in San Diego, California on projects ranging from paintings, installations, and artists books, to large scale public art works. She received her undergraduate degree in Visual Arts from Humboldt State University, and an M.F.A. in Visual Arts from the University of California, SD. Ms. Mancillas has received numerous awards for her work including a national fellowship from the National Endowment for the Arts for "works on paper," one of 17 awarded nationally in 1991. Her public art work has garnered Orchid Awards from the American Institute of Architects, SD, and has also been honored by the American Planners Association.

Ricardo Vela is closing the Ricardo Vela Gallery which will now become an exclusively online website.

Device Gallery has moved from La Jolla to central San Diego a 1815 B Main Street , 92103. Drawn to the juxtaposition between the classical and the unusual, the gallery features work bound by artistry and skill, rather than genre or medium. You can get more info about this gallery which exhibits work that embraces the spirit of invention and ingenuity from Amy at 619.278.8455

TIDBITS

The high tech highlight of the SD Art Prize: New Contemporaries II was the use of dog tags with bar codes for each guest. A scanning camera took pictures and we could all see ourselves using the code number the next day online. So cool. Ego Id Media are leaders in One-to-One digital marketing solutions and the FotoZap picture marketing system is their baby. Everyone enjoyed having their photo taken for free and this is the perfect idea for an event when you have to have ID. You can have cards made if you don't want the dog tags, but they were the jewelry de jour for this event. For more info: 619.283.1199 visit www.egopics.com

A group of California foundations, known as the Foundation Coalition, have been working together since June 2008 on grant making and community activities focused on the needs of minority-led and small grassroots nonprofits that serve minority populations. Their report "Strengthening Nonprofit Leadership and the Capacity of Minority-Led and Other Grassroots Community-Based Organizations" outlines their planning process and the initial grant making activities of the foundations. We found this information on the Annenberg Foundation website site. So check it out if it applies to your group. Read the Foundation Coalition's report, Strengthening Nonprofit Minority Leadership and the Capacity of Minority-Led and Other Grassroots Community-Based Organizations, for background and details.

Good luck to the seven San Diego artists showing in Santa Ana in the show called Health. Adam Hathorn, Chandu Reading, Die Kuts, Monica Hoover, NEKO, thatkidpeep and SURGE.

We were glad to see news of Christine Lee in a recycled project in SF. We loved her shim show at Art Produce last year.

If you are a teaching artist in any discipline (visual arts, music, dance, theater, writing, etc.) or manage teaching artists, please register for the first National Teaching Artist Research Project. The Obama campaign pledged to advance arts education and to create an Artists Corps. What we learn through this study will help assure that new policies and practices create meaningful opportunities and real support for artists who do extraordinary work but who have rarely been recognized. This study focuses on teaching artists who live or work in the metro areas of Boston, Providence, or Seattle, in Chicago, and throughout California. For more info: Shawnee Barton, SD Artist and Arts Advocate or Nick Rabkin, Teaching Artist Research Project 773.256.6026.

Americans for the Arts is pleased to offer three types of scholarships to arts leaders throughout the country to assist them in participating in the Americans for the Arts 2009 Annual Convention. The purpose of these scholarships is to provide assistance for arts professionals to attend the convention to network with peers and share strategies for success.

Three types of scholarships are available; Emerging Leader, Underserved Community and a simple $500 for those who need the help. All applicants get a reduced rate of $375 to attend the conference. For questions regarding scholarships, please contact Stephanie Evans 202.371.2830.

The U.S. Senate, during their consideration of the economic recovery bill, strongly approved an egregious amendment offered by Sen. Tom Coburn (R-OK) that stated "None of the amounts appropriated or otherwise made available by this Act may be used for any casino or other gambling establishment, aquarium, zoo, golf course, swimming pool, stadium, community park, museum, theater, art center, and highway beautification project." Oh, dear.

Artists Stacy Smith (SDVAN Movers and Shakers artist 2008) is knitting 44 sweaters in honor of our 44 th President Obama as part of her pledge to Starbucks! If you want to help, check out her blog and contact her.

Local non-profit organization The San Diego Musicians Collective (co-founded with Jefferson Jay in 2005) is holding a fundraising benefit concert on Wednesday March 4 at 8 pm at The Belly Up Tavern in Solana Beach. info:619.223.7625

RAW January 2009

The SD ART PRIZE in its third year is proud to present thirteen local emerging artist chosen by art professional and leading artists. These New Contemporaries II Artists will be exhibited as a group at Noel-Baza Fine Art from Wednes. Feb 18 to Sat March 21. But wait, there's more…..these artist are eligible to be chosen by Kim MacConnel or Richard Allen Morris, this year's established artists for a mentored show at the L-Street Gallery of the Omni Hotel later in the year. The catalog for this show gives illustrations and biographical material about all the artists. ALL emerging artists in the SD region are eligible to be chosen by the established recipients each season including but not limited to nominated artists in this and previous New Contemporaries exhibitions. And even more, the public is invited to a reception for these artists on March 13 from 6 to 9 pm. Emerging Artists: David Adey, Tania Alcala, Michele Guieu, Keikichi Honna, Omar Pimienta, Daniel Ruanova, Marisol Rendon, Tara Smith, Matt Stallings, K.V. Tomney, Jen Trute, Gustabo Velasquez, Yuransky. Thanks to Troy Washington for his article Eyes on the Prize in Riviera Magazine page 42 Jan 2009, New Contemporaries II and the SD Art Prize, and to Robert Pincus, SD Union Tribune, MacConnel, Morris tabbed for S.D. Art Prize honors.
There is a chance before that to hear Marisol Rendon speak about her work on Thurs, Feb 5, from 7 to 10 Pm at MCASD Downtown with Mely Barragán as they discuss their art on view in the exhibition, Drawing the Line.
We were particularly impressed with the work of Keikichi Honna (SD Art Prize 2009) and Sandee Manuel who went to Tijuana to commission a giant piñata, when they also found a shop dedicated to making figures of Nativity scene. They were awe struck by the view of unfinished white baby Jesus figures without eyes, hung up side down all over the ceiling, and stack on the floor. So when they were invited to participate in Conspire organized by Sanctuary 143 , they used twenty blind baby-J figures to create a series of artworks. The event was held at a 1920's hotel building ( Martin Building+Flats, 401 Olive, SD, 92103) renovated into a hip apartment and was enjoyed by a large crowd.
Commemorating our 44th president Obama, Keikichi Honna made a one dollar Obama Dollar bill from the real US one dollar bill. This is genuine legal tender and the same time limited edition art. Each dollar bill is numbered and signed (an edition of 44) and available for auction on eBay. You get the bill plus, one paper cup from Seven/Eleven and assortment of Change We Can Believe In (not exceeding 1US$).
We were so happy to see three of our SD Art Prize artists on the Robert Pincus Art: Craft, vision, obsession – the right ingredients for creativity article which was rather like a best picks of 2008. Lael Corbin, David Adey and Eleanor Antin all made an impression.
From The Russian Academy of Arts, St. Petersberg to the Community Room of the Encinitas Library, 540 Cornish Drive, a Russian Art Exhibition of more than 45 artworks is a cultural exchange between Russia and Encinitas. Hosted by Studio 2nd Street and Synergy Art Foundation and funded by the City of Encinitas and Mizel Family Foundation both giving thanks to Ron and Vanessa Lemen who have worked for more than a year on this project. You are not too late to go to the reception on Sat, Jan 31, 4:00-7:00pm. With Art, Music and Refreshments and all free. Show continues until Feb 27 th. For more info: studio2ndstreet.com 760.479.1848
The ArtWalk team announced their exciting new partnership with Mission Federal Credit Union who is now the title sponsor of the newly named Mission Federal ArtWalk. They share together a concern for focus on art education for children (ArtReach) and community involvement. We are all delighted to know that this event has a solid future with this wonderful new collaboration. Mission Federal ArtWalk is April 25/26, 2009 – Noon to 6: and ArtWalk on the Bay is Sept 12/13, 2009 – 10 to 5.
Congratulation to Sophie's Art Gallery where they are celebrating ten years with a tin manGotta' Have Heartexhibition and fundraiser on Fri, Feb 6 from 5:30 to 8 pm. More info: sophiesgallery@stmsc.org 619. 593.2205
We are all looking forward to the Bronowski Art & Science Forumon Thurs, February 5, at 6:30 PM when Reesey Shaw , Director, The Lux Art Institute will speak about the Lux and its evolution. The talk is at the Trustees Room, of the Salk Institute. For more info: Ron Newby. Appearing at the Lux right now is Jolynn Krystosek. Don't miss a chance to view the exquisite wax floral relief carvings, large-scale paper cut-outs, and feather embellished watercolors of this young artist-in-residence who you can meet until January 31. The show continues until March 18 and there is a free Saturday from 1 to 4 on Jan 31.

Deportation Nation: History Repeats presented by SD Ethnic Studies, Calaca Press and the Red CalacArts Collective. This entire cultural series highlights the issue of deportation in America through Visual Migrations. The art exhibit addresses the issue of deportation featuring works by San Diego artists Berenice Badillo, Doris Bittar, Chikle, Isaias, Nuvia Crisol Guerra, and Ricardo Islas as well as artists from Arizona and Texas. Opening reception Saturday, January 31, 2009 7pm and is free at the Centro Cultural de la Raza 2125 Park Blvd, SD, CA 92101 Show continues until March 8, 2009. For more info: Brent E. Beltran 619.920.1713
Now is a good time to see the newly cleaned and repaired 8 year old mural titled Journey toAztlán. Created by contemporary Mexican American artists Einar and Jamex de la Torre, the mural is located on the north and south retaining walls along Harbor Drive in front of the Convention Center in downtown San Diego. The City of San Diego through the Commission for Arts and Culture recently completed the conservation of this local City-owned work of art with finances from a National Endowment for the Arts grant. The mural pictorially illustrates a surreal dreamscape composed of six colors, studded with mirrored glass masks adapted from the enigmatic grinning and laughing masks of the Pre-Columbian Veracruz period.
The San Diego Foundation has been awarded a two-year, $500,000 grant from the John S. and James L. Knight Foundation to help fund the development of an online local news network to better inform San Diego citizens and inspire action. The Regional Information Initiative will have digital story stations and multi-media artists will be available in public libraries and other population hubs region-wide. A "San Diego-pedia" of people, places, things and other topics that distinguish the region will be developed.
More than 150 artists and carvers from the United States, Canada and Japan will compete for awards and exhibit their work at the 36th annual California Open Wildlife Art Festival Feb. 14-15 at Liberty Station's NTC Promenade in the Corky McMillin Event Center, 2875 Dewey Road, Point Loma. Show hours are 9:30 a.m. to 4 p.m. on Sat and 9 a.m. to 4 p.m. on Sun. Entry is $5. Children under 12 are free. The festival is sponsored by Pacific Southwest Wildlife Arts Inc., a nonprofit organization that promotes and supports wildfowl art, particularly the traditional hunting decoy. For more information, contact Bob Berry 619.588.7141 or 858.748.6643.
One we were sorry to miss was the Charles Bronson and Elon Ebanks opening at the Vista Gallery. We were told almost 200 people attended over the 3 hours and sales in the thousands---the Musician Jam went to midnight. Luckily there was a video made and you can see it by clicking here.
The same night was the Off Track Gallery opening in Encinitas and although there was no jam session, it was jam packed!
Post Cards and Paper Dolls is the next show of new collage paintings by Susan Snyder at The Andrews Gallery starting on Feb 7 with a reception at 7 pm. This artist splits her time between San Diego and San Miguel de Allende, Mexico and her style between abstract and collage kitsch. This show ends Feb 28. The Andrews Gallery ( 1002 N. Coast Highway, in Encinitas) is a new fine art gallery and live studio dedicated to providing fresh work of the highest quality to the North County San Diego community. Open 7 days a week. Call ahead for hours. 760.230.2680.
OPPORTUNITIES (click to see a list of all current opportunities listed on SDVAN)
On Sat Feb 14th, yes that is Valentine's Day, treat yourself to this unusual pairing of Dancing Brush Painting, Tai Chi and the Vietnamese Culinary Arts with chef, Jayne Nguyen Moulton, The class will begin at 10:00 a.m., ending 5-ish. (So you will still have time to dress for your romantic dinner) Fee is $150, which includes your dining experience and painting materials. For more info: Rosemary KimBal 760-943-7496
Call for Entries: Biennial Artists\' Books Juried Exhibition at the Athenaeum Unique and one-of-a-kind books or editions of no more than ten with awards for 1st, 2nd and 3rd places. There is a fee of $15 for Athenaeum members, $20 for non-members with a deadline to submit of March 6, 2009.
Port of San Diego is seeking artists to submit proposals for original sculptural artworks for its Urban Trees 6 exhibit. Up to 30 proposals will be selected. Download Call-for-Artist (RFP) from Port web site. Artworks will be exhibited along North Embarcadero pedestrian promenade between Broadway & Hawthorn Street in San Diego. Deadline April 6. For more info: Allan Tait 619.686.7246/7247
Call for entries for Best of Nature Photography Show which is the International Photography Competition at the San Diego Natural History Museum. For more info check out the link or contact Lollo Enstad 619.255.0220
The on-going monthly group led by Pamela Underwood called The Expressive Arts Lab is now open to new members! Sat mornings from 10 to 12:30 for the next six months starting Feb 21 is $180 which includes the journal & all materials. The intention of this group is to provide a long term monthly commitment, thus ensuring a sense of safety to explore personal and global themes through visual art, sound, movement and poetry. With no art background necessary, this might be your place to start that New Year's resolution to be more involved in the arts. More info: Pamela 858.857.8820
La Entrada or The Entrance is a project to paint a mural at the corner of Logan and Beardsley. There will be 10 to 12 diverse workshops in different venues within the Logan Community open for everybody in connection with this project. The workshop leaders like the workshops are from different artist backgrounds such as photography, film, painting, storytelling, writing, music, screen printing and graffiti art! In order of workshops these include Irene Castruita, Geraldine Lozano, Mario Torero, Vyal, Victor Ochoa, Werc, Phat Rootz, Carlos Solorio, Eduardo Cervantes, Armando de la Torre. Now it gets interesting: The Plan is to paint as many doors artistically within the Logan Community, including businesses doors, friend's doors, community doors, abandoned buildings doors, doors without a home and then finding a home for them. No experience is necessary and all are invited to participate in any way they can. .Several sessions are planned with the first Sat, Feb 28 from 10 am to 2 pm at the center of Chicano Park and the second one on Sat. March 7 Saturday at the same time and place. Everything will be supplied. Contact Crol If you want to be more involved in this project, there is an orientation meeting on Sat. Feb 14 at 2 pm at Chicano Park. More info on that from Mario Torero .
A call for artist comes in from the Art of Framing who is hosting "Idol Worship" a national juried group show in March. Artists are asked to submit pieces by email by February 27th featuring famous idols or icons throughout history. Good news, there is no entry fee. For more info: Blythe Goodwin 619.563.9770.
Plus a bumper crop of artists studios are available at a variety of prices and sizes. Check out the opportunity listing for more details for spaces at SDAI , Barracks 19 Leasing at NTC Liberty Station, and even the new Yoga Swami in Encinitas where they are renting out studio and gallery spaces for the first time.
MUSEUMS
During the month of February, the San Diego Museum Council and Macy's invite San Diegans to visit more than 30 participating institutions at half-price admission with a free Museum Month pass. With so many museums and organizations to visit—from botanical gardens to science, and animals to visual arts, the Museum Month pass is a chance to try it all! The special Museum Month brochure and pass, sponsored by Macy's, will be available free of charge at all San Diego County Macy's stores beginning February 1st.
We are delighted to hear of this exhibition about one of the great visual artists of all time.The Da Vinci Experience will open at the SD Air and Space Museum (2001 Pan American Plaza, Balboa Park) on Feb 1, and runs until Dec 31. The exhibition will contain reprinted art and interactive models built by a group of Florentine artisans who have spent the last half century studying the original notes and drawings of Da Vinci's various projects, and have created this international exhibition of fully-functional and interactive models of Da Vinci's creations. These models offer fun hands-on activities for all ages. The exhibition also has a classroom activity guide with historical information and activities about Da Vinci. The Museum's Education Department is also offering a class about Da Vinci which you can read about in their Educator's Guide. For more general info: Gail Brenner 619.234.8291 or call the Education Department on ext.119.
New fun at the Oceanside Museum of Art with Art After Dark, which is a quarterly party starting Fri, Jan 30, 2009. From 7-10:00 pm. Cost is $15 but only $10 for OMA members and you will see their two shows Lowbrow Art: Nine San Diego Pop Surrealists (including Pamela Jaeger and Jen Trute both SD Art Prize) and Quilt Visions 2008: Contemporary Expressions plus a special video installations by local artists Robert Twomey and Peter Schwartz , hear DJ Danny Massure, eat sushi from Harney Sushi, drink beer from Stone Brewing Co and there will be a drawing workshop with OMA Art instructor Harry Hamernik so you can get your hands dirty as well! But for free you can become an artist for a day on Family Fun Day Feb 1 st from 1:00-4:00 p.m. You can create a unique hand made art quilt. No sewing experience is needed. Children can also enjoy an informational docent tour geared specifically for kids at 1:30 p.m. and 2:30 p.m.
Museum of Contemporary Art San Diego will open Cerca Series 2009 with Javier Ramírez Limón at its La Jolla location. The exhibition--curated by MCASD Assistant Curator, Lucía Sanromán, will feature photographic works by this Tijuana-based artist who documents different moments in the process of migration and adaptation of Mexican communities in the Southern United States. Javier Ramírez Limón is the fifth recipient of MCASD's annual purchase award honoring regional artists of exceptional promise.On view through May 10, 2009. And don't forget the Jasper Johns: Light Bulb, on view through May 10, 2009. A traveling exhibition organized by the Museum of Contemporary Art San Diego, Jasper Johns: Light Bulb focuses on Johns' first sculpture, Light Bulb I (1958), a recent gift to MCASD. The exhibition brings together for the first time Johns' light bulb sculptures and related drawings and prints, including several drawings and modified prints from the artist's collection that have never before been exhibited.
Debby and Larry Kline announces their new exhibition Divi/nation opening at the California Center for the Arts Museum on Feb 7 from 6 to 9 and continuing until June 21. The Klines will discuss their work on March 14, from 2-3 PM. Then on May 16 th visitors are invited to interact with artwork by playing The Game at Hand while the artists film participants playing this unusual game of chess. For more info Teresa Ramirez 760-839-4111
Also at California Center for the Arts MuseumBetween - works from the past 8 years of Nina Waisman (SD Art Prize emerging artist 2008), opening at the same time and including 2 recent interactive sound works, as well as prints and paintings sharing similar concerns.
Nina's work Between Bodies, whose run in the new "EL CUBO" wing of the CECUT in Tijuana has been extended until at least early March, and probably until early May. More info and images/video of the CECUT piece can be found hereon her website.
TRANSITIONS
Barrack Obama has moved into the White House.
Quincy Jones has started a petition to ask President-Elect Obama to appoint a Secretary of the Arts. While many other countries have had Ministers of Art or Culture for centuries, The United States has never created such a position. We in the arts need this and the country needs the arts--now more than ever. If you agree with this request, please take a moment to sign this important petition and then pass it on to your friends and colleagues.
On Wednesday, January 21, 2009, the U.S. House Appropriations Committee considered an $825 billion economic recovery package that currently includes $50 million in special funding for the National Endowment for the Arts and a number of other arts-related items.
Americans for the Arts and The United States Conference of Mayors (USCM) presented the Public Leadership in the Arts Awards at the USCM winter conference on January 19, 2009, in Washington, DC. California Gov. Arnold Schwarzenegger received the State Arts Leadership Award for his support of increased funding for arts education by $600 million in 2006.
An alliance of arts leaders and policymakers in San Francisco convened in December to launch a National Campaign to Hire Artists to Work in Schools (NCHAWS) by using federal job stimulus funds. The concept has been presented to the Obama-Biden Transition Team and to Speaker Nancy Pelosi for consideration under the new Administration's prodigious Jobs and Growth stimulus package. Artists of all stripes represent a cost-effective investment to bring their performing, visual, and technical talents to a variety of school, neighborhood, housing, health, and community development settings. In the coming weeks, the steering committee of the National Campaign will be engaging artists and arts advocates in all 50 states in the elaboration of this proposal and building a broad-based constituency to promote its adoption by the new Administration and Congress. For more information and to add your endorsement: Michael Nolan, project consultant, 415-282-9043
TIDBITS
We were delighted to hear that Becky Guttin's "Migration Kit" was selected by MOCA curator Alma Ruiz for inclusion in "Women Artists on Immigration: Crossing Borders, Confronting Barriers, Bridging Identities." The exhibition will be on view at the Korean Cultural Center ( 5505 Wilshire Boulevard, Los Angeles, CA 90031) from February 20 to March 7, 2009.
Kudos to local artists Sherry Krulle-Beaton whose work Rainclouds was displayed in the annual Topanga Canyon Gallery Juried Open Exhibit chosen by Laddie John Dill.
Dr Nicholas Penny , the director of the National Gallery in London, who has previously criticized the growth of blockbuster exhibitions that offer up major artists, is advocating recession austerity for 2009 with exhibitions consisting of a single work of art and costing only £1. "It is about learning to look at one picture and that is what people did, they stood for a long time and looked, puzzled over it, drew it, argued about it….." If things get worse we suggest Penny charges a penny.
On a cold Washington DC morning Joshua Bell stood for 45 minutes at a metro station playing Bach violin concertos. Only 6 people stayed for a while. About 20 gave him money but walked on. He collected $32. The violinist was Joshua Bell, one of the finest musicians in the world. On a three and a half million dollar violin, he played one of the most challenging concertos written. Two days before playing in the subway, Bell sold out a Boston theater where admission was in the hundred dollar range. Playing incognito in the metro station, he had been invited by the Washington Post to take part in a social experiment about perception, taste and priorities of people.
Our choice of art travel destination is Doha, Qatar. Last fall was the grand opening of the Museum of Islamic Art, said to be the last cultural building by I.M. Pei, the 91-year-old architect. The city also boast a number of new contemporary art galleries in Doha's historic souk, the Souq Waqif. The Emir and his daughter are said to be responsible for this focus on the arts.
Alexandra Rosa
RAW for SDVAN
Now watch Alexandra Rosa on Video at ArtRocks247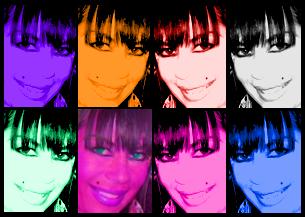 Any tidbit, gossip or news of the immodest kind can go directly to Ally Bling Bling for publication the next Raw. All sources are, of course, kept confidential. Hear Ally and Philly live/archived at ARTROCKS! Internet radio.

back to top