REAL ART WEST: Art a la mode by Alexandra Rosa
(Don't forget - Check out the Picked RAW choices for next month)


ARCHIVED RAW
RAW Archived for 2010
RAW Archived for 2009
RAW Archived for 2008
RAW Archived for 2007
RAW Archived for 2006
RAW Archived for 2004 and 2005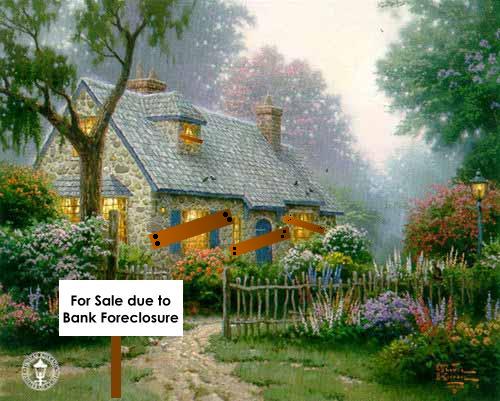 ArtsReady San Diego on Sat. Feb 19. This is a FREE two-hour workshop for SD regional artists that will provide information on preparing for unexpected disasters. There will be FREE inventory tools to organize your studio, track your artworks, materials, and mailing list, and much more. Please sign up now to reserve your place. There are two session to choose from 11 am to 1 pm or 2 to 4 pm and a free lunch will be laid on for both groups together. Both workshops will be held at Space4Art at 325 15th Street, Downtown San Diego 92101. This project is coordinated by Synergy Art Foundation, sponsored by SDVisualArtsNetwork and funded through a grant from the San Diego Regional Disaster Fund, a supporting organization of the San Diego Foundation. RSVP and questions: msbzmsbz@hotmail.com 760.729.2821.
One of the winners of the Arts Meets Fashion online competition is Dan Adams. Dani Dodge wrote this very nice article about him in the Voice of San Diego.
Meyer Fine Art ( 2400 Kettner Blvd ; Suite 104, SD 92101) is proud to announce the exhibition and sale of original etchings by renowned British artist Howard Hodgkin from Jan 14 to Feb 26. The show will overlap the Hodgkin painting exhibit "Time and Place" coming to the San Diego Museum of Art. More info: 619.358.9512 info@plmeyerfineart.com
The Gotthelf Art Gallery is offering a tour to Unique Spaces in Unusual Places starting at 9:45 am on Jan 14. You will visit Space4Art, Periscope Project, Lunch at Blueprint Café, Glashaus and Alexander Salazar Fine Art Gallery. Tickets $45 per person(transportation and lunch included) RSVP 858.362.1154 gallery@lfjcc.com by January 3
We love the idea of Elements of Expression: A Science-Themed Art Show at the Bar Basic (410 Tenth Ave, SD 92104) presented by Thumbprint Gallery on Jan 11 starting at 7 pm. Yonder Biology More info: Johnny Tran 619.203.6030.
Our friend Jason Horejs at Xanadu Gallery has made a series of videos to help artists, Practical Tips for Shipping Your Art is part one on painting and you can also see part 2 for sculptures. Jason has produced Art Tracker and we are giving away free copies of this program at the Synergy Art Foundation ArtsReady San Diego FREE workshop on Sat, Feb 19, 2011. 11 am to 1 pm or 2 to 4 pm (Space4Art, 325 15th Street, SD 92101). RSVP msbzmsbz@hotmail.com 760.729.2821. Arts Ready Press release. Space is limited so sign up soon.
Our own local novelist with art history as her subject is releasing a new book in January. Susan Vreeland 's Clara and Mr. Tiffany reveals the mystery behind the famous stained-glass Tiffany lamps though a spirited women living in a dynamic time in NY City. Book signing and presentation at Warwick's Books, La Jolla, Jan 11, 7:30, Bay Book Coronado, Feb 24, 6:00 and Book Works, Del Mar, March 1, at 7:00pm.
San Diego is going to have an auction house or so says Gallery owner Alexander Salazar. The new 5,000-square-foot space is close to Alexander Salazar Fine Art Gallery in downtown SD at 1047 Seventh Ave. So contact him if you have art, antiques or decorative items that need a new home.
We love this wonderful wacky GMN (Grown Man Naked) Naked Public Services project asking for two minutes of compliments to boost public and private morale. You can see Larry Caveney's example and you can send him copies of your attempts to enhance the holiday season or email him the avi or wmv file or YouTube link to deepseal2@aol.com .
Kelly Bennett and Felicia Shaw (SD Foundation and formerly of the Commission for Arts and Culture) commented in the Voice of San Diego on the recent proposed cuts to the Art Budget in SD by Councilman Carl DeMaio. Twenty five percent reductions means a $1.5 million cut and losing all but the executive director and one admin aide cutting that staffing budget by more than one third. (The proposed cuts to arts and culture come on page 37 of this PDF.) We would hate to see Dana Springs axed, but can't help thinking that a shake up at the Commission would not be a bad thing. However, 110 art organizations depend on this money and unless someone can come up with a good argument that has not already been used to justify the arts (like the financial benefit from arts tourism), it looks like the city is about to take a giant step backwards.
Market Street Group reaches a major milestone celebrating its 25 th anniversary on Feb11 from 5 to 9 for artists and on Feb12 from 12 to 5 for the public. They will be awarding the Sebastian Capella scholarship to an emerging artist and featuring his work together with works by past and present members of the Market Street Group ( 2400 Kettner Street, Suite 247, SD 92103). For more info: theMSGstudio@gmail.com or cprior@san.rr.com 858.254.1588
A great way to start the New Year is with Kelly Mellos at Watts Atelier (171 Calle Magdalena, Ste.103, Encinitas) for a fundamental class in drawing heads starting Jan 12. More info: kellymellos@sbcglobal.net
Rhythm - The Brain and a Drum is conversations with Drs. Aniruddh Patel and John Iversen with Professor Steven Schick - an evening with three most distinguished scholars: two neuroscientists and a world renowned percussionist on Thurs, Jan 13 at 7:00 PM. This is a The Bronowski Art&Science Forumheld atThe Auditorium - The Neurosciences Institute in La Jolla and is free and open to the public. For more info: Ron Newby .
Join Reed Caldwell at the Losina Art Center for Abstract Painting course on Jan 3-4 (Mon-Tue), 10am - 4pm, with 1 hour for lunch for $100. For more info: 619.630.9278 losinaartcenter@gmail.com
OPPORTUNITIES (click to see a list of all current opportunities listed on SDVAN)
Design Professional Douglas Reed is opening an innovative Art / Design + Entertainment venue on the busiest street in San Diego's Downtown Entertainment District He needs $15,000 to $25,000 to complete the final 1/3 of improvements. Impeccably organized, with business and architectural plans, he has devised an incredibly low operating costs and is offering an assured 25% annual return. Involvement can also be structured as a nonprofit for tax deduction. Beneficiary, if nonprofit, is negotiable. There is use of a one-of-a-kind urban pied-a-terre (or artist residence) also negotiable, for an investor. Bartering for architectural work considered. For more info: douglasreed@cox.net 619 234-1959
San Diego Visual Arts Network, San Diego Museum of Art, Fallbrook Art Center, Device Gallery, Oceanside Museum of Art, California Center for the Arts, San Diego Art Institute, ArtWalk, La Jolla Art Association, Distinction Gallery are all organizations that have listed either call for artists or for volunteers on the SDVAN Opportunity feature. Don't forget to list your call for artist, studio space or volunteer opportunity on SDVAN.
MUSEUMS
Mingei International Museum will host In Their Own Words : Classical and Contemporary Native American Art from Feb 20, 11 to Sep 5.
The San Diego Museum of Art is pleased to present Howard Hodgkin contemporary painting exhibit "Time and Place" from Jan 29, to May 01, which explores the most recent work of Sir Howard Hodgkin (born 1932), one of Great Britain's most renowned painters of the later 20th century. This shows at the same time as a spectacular array of 12 paintings by Sir Thomas Gainsborough (1727–1788), which explores the ways that women, art, and fashion came together to contribute to a new sense of women's roles in society in the mid to late eighteenth century.
Botanicals: The Photography Of Imogen Cunningham will open at Oceanside Museum of Art Sat, Jan 8, at 5:00 PM. Cunningham created intimate compositions which call attention to the abstract qualities of nature. This exhibition will feature her black and white botanical photographs from the 1920s-1930s. Admission at the door is $10 and free for OMA members.
The Museum of Contemporary Art San Diego and the Museum of Latin American Art (MOLAA) in Long Beach will jointly present Mexico: Expected/Unexpected, an exhibition featuring more than 100 artworks selected from CIAC (the Isabel and Agustin Coppel Collection), one of Mexico's most comprehensive and dynamic contemporary art collections. The exhibition, which opens at MCASD La Jolla on Feb. 5 and at MOLAA on Feb. 20, will be on view at both museums through May 15.
The Museum of Contemporary Art San Diego will host Kathryn Kanjo, MCASD's Chief Curator, and Dr. Nicolas Reveles, The Geisel Director of Education and Outreach for San Diego Opera, in a lively discussion about the Turandot opera designs of David Hockney on Jan 9 at 3 pm. More info: Rebecca Handelsman 858.454.3541 x1
California Center for the Arts, Escondido presents Patricia Patterson: Here and There (February 12–July 4, 2011), a landmark retrospective exhibition, filling the entire 9,000 square feet of Center Museum. The exhibition will attempt to summarize a lifetime of Patterson's work.
TRANSITIONS
Famed Northern California artist Nathan Oliveira died on November 13. He was 81. He received a Guggenheim Fellowship and honorary doctorates from CCA (1968) and the San Francisco Art Institute (1996).
TIDBITS
Steve Martin has written a new novel An Object of Beauty out in time for holiday purchase. It is about a young art dealer named Lacey Yeager starting at Sotheby's auction house but finally getting her own gallery in the Chelsea, New York. "Just for the record, I love the art world," Martin said. "I really like everything about it except, you'll see in the book, artspeak, which is slang for esoteric art writing which is impossible to parse or understand. It's probably the thing I attack most in the book." Martin is a major art collector but says he is now priced out of the market and is no longer actively buying. He sold an Edward Hopper painting at Sotheby's for $26.8 million in 2006.
Eyes in the back of your head department: Professor Wafaa Bilal had a digital camera implanted in the back of his head, in New York. Bilal, a performance artist, was commissioned by the Arab Museum of Modern Art in Doha, Qatar and the work is titled The 3rd I which is on view from December.
Save the Date for the 2011 Americans for the Arts Annual Convention from June 16–18, 2011 at the Hilton San Diego Bayfront. More than 1,200 participants from communities across the country will gather to strategize for the future support and advancement of the arts in rapidly changing American communities.
We have enjoyed the whole series of Nowness video on the participants of Art Miami especially this charming on with John Baldessari. Sotheby's also did a video record sending their experts into different part of the fair. It is fun and gives an insider view of the all the action in Miami. Art Basel Miami Beach, Design Miami , SCOPE Miami , Rubell Family Collection are all featured.
The ultimate conceptual Christmas tree has been created by Giorgio Sadotti for Tate Britain. The work, entitled Flower Ssnake, is an unadorned spruce with a bull whip coiled at it base. On 5 January 2011, the spell of Christmas will be dramatically whipped out of the tree in a performance art finale.
The 16 th Annual Los Angeles Art Fair is Jan 19-23 at the LA Convention Center. The L.A. Art Machine presents Vox Human, an exciting large-scale, live art installation by celebrated international street artists and 53 Art Museum, a new avant-garde contemporary art institution located in Guangzhou China will present an exhibition of three cutting-edge artists, Feng Feng, Qin Jin and Liu Qingyuan.
"Painter of Light" Thomas Kinkade, MONTEREY, CA, loved and hated for his cutesy home and hearth paintings will go to jail in June for drunk driving. Read about his other debaucheries in the full article in ArtInfo. PS. Did you know that his production company declared bankruptcy? How the mighty have fallen.

back to top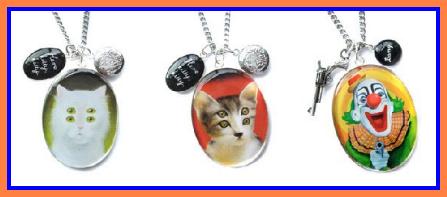 We love these new charms from Kelly Hutchison at Dark Vomit. They are $58 each and available from his Etsy site. They are made in England by Holler.

San Diego Visual Arts Network Holiday pot luck party on Tuesday December 14 from 11 am to 2 pm . This year we will include an accessories exchange (jewelry, shoes, scarves, belts, purses). Bring one dish that serves 8 and clean out your closets. Clean and repaired or barely used items can be exchanged at no charge, just for the fun of finding a new home for your clutter. RSVP to Patricia Frischer 760.943.0148

The Annual Theme Show this year Art Meets Fashion at Fusion Glass Company is Nov 27, 8:00-11:00 p.m. They are featuring several AMF participants including Debby Sloan, Jennafer Grace, Thomine Wilson, and Marilyn Mitchell as well as work by Susan Ludwig and John Caved who has turned his hand to making men's bracelets in stainless steel. This is an Art meets Fashion: the Fringe Events promotion with all sorts of free goodies and your chance to shop for presents with a portion going to charity. Nov 27 from 8 pm. ( 8872 La Mesa Blvd , La Mesa 91942 ) More info: Debbie 619-461-4440

Einar and Jamex de la Torre have won 2 nd place in the Estandartes Biennial in Tijuana The jury was Santiago Espinoza de los Monteros (México), Yu Yeon Kim (Corea) y Gerardo Mosquera (Cuba). These 39 banners are on view in the foyer of the CECUT open daily.

We are NOT thrilled at all to see that some wonderful writers are being given an opportunity to write a blog for the Union Trlibune on the arts for NO PAY. NOt all the article will makie it into the print edition that weill be financially rewarded but the Sketchbook blogs online are introduced by David Fobes and are giving space to Joe Nalven, Richard Geaves, William Parson, Drew Synder, and Allesandra Moctezuma. Letting Robert Pincus go was bad enough, but getting these artists to write on spec is outrageous. It is like the UT is holding the art world to ransom because if these writers do not write, how will we get coverage. Katherine Sweetman 's resignation from her blog duties was withdrawn from the UT site in 13 hours, but you can read it and register your protest on The SD Reader thanks to Don Bauder . There is talk of a boycott. Here is our cry to SD art writers: If you are going to write for free….write for SDVAN and serve an organization that gives back to the community.

Angela Carone is also starting a Culture Lust blog for KPBS. We are not sure if this is paid or not.

Dana Springs has started a Facebook group called San Diego Artists - Resources, Opportunities & Online Community. It is a good source for calls for artists outside of San Diego.

The Feast has come to San Diego. The Feast leads you to the best places to eat, shop and play in the city. They combine their own real-time, meta-ranking system, the Feast Rank, with expert stories and video, as well as social search tools that bring the web - and your friends - to The Feast universe. The Feast offers readers a bespoke city -- a city experience custom tailored to your own taste, style, and preferences. For example, once you're logged in you can decide to follow or unfollow voices on The Feast as you wish. Chantal Gordon writes for and is editor of Feast Shop in SD. Read her Art Meets Fashion article and join the fun.

The Feast and other things food reminds us that the Eat Paint Love show is on until the end of Dec at the L Street Fine Art (628 L Street, San Diego 92101. Did you know that the quesadilla had more zip and the taco tasted a bit sweeter as Mexico celebrated its food being put on the United Nations list of intangible cultural heritage, alongside the lofty art of eating in France. Watch for more An Eat Your Art Out Fundraisers for SDVAN in 2011.

Sent to us byMs Springs: Behance CEO Scott Belsky writes, "The potential of our own creativity is rapidly being compromised by the era we live in." His recommendations to unplug and allow deep thinking are explained in an article posted on 99% the website for his company. We think it is worth a read. And by the way this chap is local and single.

Dancing Brush ® was chosen as "business of the month" for November-December at US BANK (the Encinitas Branch on Santa Fe Drive across from Scripps Memorial Hospital) so 14 of Rosemary KimBal's paintings will be on display in November followed by photographs by Raymond Ellstadin December. Rosemary will be at the branch demonstrating this Fri, Nov. 26th from 11:00 am to 3:00 pm.

Do we smell a controversy brewing over a possible statue of Ted William? Check out the article by Randy Dotinga: Ted Williams: A New San Diego Icon? You can track the story on Dana Springs's blog as well as Culture Lust.

We loved the article and video posted in City Beat about painter Duke Windsor and his transitions from representation to abstraction. We are featuring Windsor in the Art Meets Fashion project in April 2011. Watch for the video film which was shot the first week of November.

It was fun to see Alexandra Hart 's lovely face in the November issue of Riviera Magazine as the Alchemist. She will be featured Thurs. Nov 18, 4-6 in the newly revamped Adorn Gallery.. Alex is on one of the teams for Art Meets Fashion.

Scott White Contemporary Art is pleased to announce the arrival of New York based artist Tony Oursler into the gallery. Oursler's works are held by prestigious museums internationally including, the Museum of Modern Art and the Metropolitan Museum of Art, New York; Tate Gallery, London; Musée d'Orsay and Centre Georges Pompidou, Paris; as well as LACMA in Los Angeles, and Museum of Contemporary Art San Diego. You can now experience his installations at Scott White's gallery. ( 939 West Kalmia Street, SD 92101) More info: 619.501.5689

Bare, Naked & Nude is an eclectic selection of artwork focused on the human form in honor of the publication of a new book Naked: The Nude in America by Bram Dijkstra and running until Dec 18 at Noel Baza Fine Art. More info: 619-876-4160 or noel-baza@cox.net

Translucence: Judit Hersko and Lea Dennis are featured at Space 4 Art ( 325 15th Street, SD 921010) with live music from John Meeks and Cascavell and open studios for more than 35 Space 4 Art artists. Visit during the opening reception on Dec 4 starting at 6 pm. More info: Ruby Cougler 619.269.7230

Holiday Gifts with a Creative Twist is the theme of Dec 3rd's Friday Night Liberty Open Galleries & Studios at 5pm. Explore the NTC Promenade Arts & Cultural campus and enjoy a FREE evening of art, music, food, drink and exhibits, while finding a great array of holiday gifts and ideas at 2640 Historic Decatur Road, San Diego, CA 92106. More info: Kate Marshall 619.573.9260

Alexander Salaza r continues to amaze us with the quality of events he put on every month. For November: Benjamin Heneberry was his artist in residence, Artist Catherine Carlton was featured at 57 Degrees Wine Bar curated by Alexander Salazar Fine Art. There was a Harvard Alumni Event, a Francis Parker School Anna Stump Exhibit also curated by Alexander Salazar and a chance to meet Natasha Zupan at the gallery…..all between the 5 and the 20 th.

A selection panel of The Public Art Department of the SD Port's Public Art Department: recommended that artist Suikang Zhao be awarded the agreement for design, fabrication and installation of public artwork for the America's Cup Harbor parking facility located on the east side of North Harbor Drive, across the street from the Point Loma Marina.. Zhao, who lives in New York City, has designed and installed several permanent public art commissions. His recent artworks include the architectural sculpture, "Winds of Aphrodite" at the Kansas City Bartle Hall Convention Center, The project is still in the design phase, but is anticipated to begin construction in June 2011. Construction should take just under a year to complete.

The former Pacific View School property in Encinitas is owned by EUSD. Encinitas City Council was requested by EUSD to change the zoning of the school site to Residential, thus allowing EUSD to sell the land and net a tremendous profit. The City Council unanimously denied the request. The school district has the option to sue the city or keep the current zoning of Community Use. DEMA has sent a conceptual proposal to EUSD regarding the conversion of the school site to an Arts Center and will be attending theirboard meeting on December 7 th to further express their vision. A general request to advocate for this has been made. For more info: Dody Crawford, Executive Director of DEMA.

We loved watching the latest ArtPulseTV video on Gustaf Rooth and Anjela Piccard and their brand new studio in Hillcrest Planet Rooth Design Haus . There is no stopping Gustaf and he is starting a plan to bring Hillcrest to life with a 5 th on 5 th program which will be a community walk every 5 th of the month on 5 th avenue. Go Gustaf! And by the way, great chairs from wine barrels. Planet Rooth is one of the venues for Art Meets Fashion.

We also enjoyed both the Interview with Kim MacConnel(SD Art Prize) and Sarah Bancroft who spoke about the 8 SD Artists curated into the 2010 California Biennial at the Orange County Museum of Art (including Brian Dick and David Adey both SD Art Prize emerging artist recipients) Both videos are produced by ArtPulse.TV.

OPPORTUNITIES (click to see a list of all current opportunities listed on SDVAN)

Five Studio spaces are being offered in Oceanside for $1.25 per square foot plus utilities and one of them is large enough to share at 1,698 square feet. There is tons of parking and are located close to the beach and close to several freeways at 1930 South Coast Highway, Oceanside, CA 92054. For more info: Michael Witkin 760.721.1625 or Miki Davis 619.861.1125 or 760.727.2207

gallery@calit2 is making a call for proposals with the theme Anti Anti-Utopia. This space is in Atkinson hall at UCSD and aims to advance our understanding and appreciation of the dynamic interplay among art, science and technology. Contact Trish Stone 858.336.6456

Amy Brotherton (Device Gallery) announces that a creative studio space has just opened up at Glashaus. It is an upper studio of 400 square feet at $575/month with free WiFi, trash, electrical included. They will be interviewing potential Glashaus tenants immediately. Please email Matt or Greg if you want to become part of this amazing creative community.

The next Certificate for Business in the Arts course for art administrators starts at USD in January and runs until August and includes Financial Management, Board Development, Fundraising for the Arts, Website Optimization-SEO, Social Media for the Arts, Effective Grant Writing/Proposal Writing, Marketing Technologies, Audience Development for the Arts. Each session is once a week for three weeks. For more info: Monica Zambrano 619.260.5986

San Diego Art Institute (SDAI) is putting on its 51st International Awards Exhibition in April 2011. It will be juried (from online submissions) by the Director of the San Diego Museum of Art, just hired from Mexico City's Museo del Palacio de Bellas Artes. There are many awards, adding up to $6750. The cost for nonmembers of SDAI is $40 for one entry and $50 for two entries; for members $20 & $25. Deadline is January 30, 2011. More info Kerstin Robers 619.236.0011

The Center for Cultural Innovation (CCI) Round VII of the Investing in Artists grants program for Visual Arts, Craft, & Literary Arts gives funds for Artistic Equipment and Tools; and Artistic Innovation with a deadline of Jan 14. For more info: Katy Hilton 800.418.,1671

For Arts Organization to encourage emerging leadership the NextGen Arts Professional Development Grantsis for Professional Development Grants for young leaders (up to $1000) and Innovation Grants for arts organizations to support their emerging arts leadership (up to $10,000). More info: Nicole McGovern or Jayna Swartzman 877.482.0530

Southwestern Artists' Association 10th Annual Juried Art ShowTop 100 ( includes a One Foot Show) is from Feb 26 - March 13, but applications are due Tue, Feb. The juror is Grant Pecoff, and this show is only for 2-D art. For more info: Jennifer Meeder


MUSEUMS

Visions 2010: No Boundaries , the biennial international exhibit of art quilts is now open at the Oceanside Museum of Art, until March 13, 2011. Thirty-nine exquisite works juried from 601 submissions display innovative approaches to visual art combining fabric and stitch. Two San Diego artists, Jane LaFazio and Valya were selected for inclusion. Create a miniature quilt ornament out of fabric scraps, cardboard, Styrofoam balls and CDs at the next Free Family Art Day Sunday, December 5 from 1:00 to 4:00 p.m. On a smaller scale are two other art quilt exhibits: Art Quilts at the Adobe 2010 by Pacific Quilt Artists at Rancho Buena Vista Adobe Gallery, Vista, until Dec30, and Art Quilts by Jill Le Croissette at Carlsbad City Library ( Dove Lane, Carlsbad) until Nov 30. And don't forget the shows at the Visions Quilt Art Gallery which have ongoing quilts shows.

Join Lux Art Institute in welcoming the next artist-in-residence of the 2010/2011 Season, New York City-based David Humphrey. From November 11 through December 4, Humphrey will be living and working at Lux while creating a site-specific installation. Visitors can "see art happen" while he is in-studio and view his show, featuring surreal canvases full of kitsch images and exuberant colors, through January 1.

Snow, Santa and free admission to the California Center for the Arts, Escondidoall together is a great combination to get us in the holiday spirit. Dec 4, 4-6 pm. Don't miss opportunity to take the kids to one of the best child friendly exhibitions in town.

New Children's Museum continues to amaze us with their artist of the month program. We love reading the interviews and this month it is one of our favorite Ernest Silva. Q: Do you talk to animals? A: In 1974, I heard a bird singing in a tree, and I whistled back to him. We ended up having a conversation that lasted nearly 20 minutes.

TIDBITS

John Baldessari has taken Giacometti long skinny sculptures, made them immense and clothed them for a show in Milan at The Prada Foundation . The Giacometti Variationsis dressed in garments and objects designed by Baldessari himself. Their look is inspired by archetypes whose origins lie in the imagery fostered by the interrelationship between film and fashion. They range from the hot-pink bow in duchess satin—an ironic revisiting of the 1950s Hollywood glamour of Marilyn Monroe—to Rapunzel's long blond tresses; from the burning pyre of St. Joan of Arc to Dorothy's ruby slippers in "The Wizard of Oz; from the nineteenth century crinoline of "Gone with the Wind" to Humphrey Bogart's trench coat in "Casablanca." Baldessari himself says there is a blurring between Art and Fashion...WOW, this international artist was born right here in SD.

For the category of why can't we have this in San Diego Harbor: Now in its second year, DRIFT is staged by Illuminate Productions with installations include waterfalls at two locations on the river which feature words from live news feeds falling through a curtain of water. The amazing technology used to create bit.fall allows words to be displayed in mid-air in the droplets.

Govenor-elect Jerry Brown demonstrated his support by naming the arts, art s education, creativity and imagination centerpiece of his victory speech. Within the first few minutes, he explained that he selected the historic Fox Theater in downtown Oakland to deliver this speech because of its restored beauty as an arts venue and home of the Oakland School for the Arts. He spoke of the students on stage from the Oakland School for the Arts as examples of the creativity and imagination California needs going forward.

We are so impressed with this article The Crossroads Nation by David Brooks published in Nov in the New York Times. From this story you can see that economic power in the 21st century is not going to look like economic power in the 20th century. The crucial fact about the new epoch is that creativity needs hubs. Information networks need junction points. Study after study finds that Americans are not hierarchical. Please take a moment and read the whole article….at SDVAN we hope to continue to build a network based on those principals.

They have an app for that category: In conjunction with the exhibition Abstract Expressionist New York , on view at The Museum of Modern Art through April 25, 2011, MoMA announces a free application for the Apple iPad, now available through the App Store.

back to top


Brian Dick at Orange County Museum of Art, Patricia Frischer in front of Lori Escalera chalk painting at Coastal Rail Trail Day Festival

Eat Paint Love is an Eat Your Art Out Fundraiser for SDVANon Sat. Nov.13 with a reception and auction of student works form 4 to 6 pm. This is part of the Healing Arts project produced by Gerrit Greve and co-founded in 1993 with philanthropists Ralyn and Nate Wolfstein. Greve works with intern teachers, whose works will also be on display, to help students to learn that helping someone else they are empowered to help themselves. .Artist Interns/ Teaching Assistants include Allyn Pilacio, Gamble Fechter, Tamara McDonald, Karen Moore, Heather Locke, Mireille DesRossiers, AnnMarie Mancini, Heather Denis. L Street Fine Art (628 L Street, San Diego 92101 Show until Dec 31. More Info: Kay Colvin 760-492-2876

Art Meets Fashion: The Fringe Event Tagged on Sat. Nov 13, 7 to 10 pm. In aid of Jeans4Justiceat the Mosaic Gallery ( 3422 30 th Avenue, Northpark SD, 92104) Order a pair of tagged jeans by on of SD finest artists or bring a pair and have them tagged on the night. Other denim is available as well. Tania Alcala, Shay Davis, Jason Feather, Mark Jesinoski, Monty Montgomery, Greta Proctor, AnsAnsley Pye, John Thomas, Juli Vee, Ronald Wickersham, Eric Wixon, Fei Zhou.More info: Mark Jesinoski 619.906.4747

Trios Gallery and Susan Hirsch invite you to attend Art for the Cure, Trios Gallery Artists will be donating art and jewelry for our huge raffle with all proceeds benefiting The American Cancer Society on Sat, Oct 30, 7-9 pm. ( 404 North Cedros Ave Solana Beach, 92075). More info: Susan Hirsch


Recipient of the SD Art Prize 2010, Einar and Jamex de la Torreare being featured in the Oct/Nov issue of Art Ltd. Congratulations to them for this wonderful spotlight.

We enjoyed the discussion between Kelly Hutchinson (Dark Vomit) and Philly Joe Swendoza on Art Rocks Radio on Paying to Display Your Work.

Urban Trees 7, which is a Port of SD project, opens with a dedication on Oct 28 from 4 to 6 pm at the B Ship Cruise Terminal on 1140 Harbor Drive. We are looking forward to the latest growth of trees and wondering if this is the last in a series that gave so many artists an opportunity to show large scale works.

We are very excited to see the new show by Robin Bright: Now and Then opening on Nov 18, 6 to 8 pm at
Eric Phleger Gallery ( 828 North Coast Hwy 101, Encinitas 92024). The show continues until Jan 5, but go early and go often. More info: Eric Phleger 760.436.1440

The Voice of San Diego, the online, nonprofit news organization, has added arts coverage to their extensive in-depth and investigative reporting. Kelly Bennett is the Arts Editor and – along with other contributors – writes the "Behind the Scene" column on "The Art and Drama of Making Art in San Diego."

The City of San Diego Commission for Arts and Culture has added a new feature providing is a list of resources for artists: http://www.sandiego.gov/arts-culture/news/resources.shtml. SDVAN has been included and we received thanks for what we are doing to assist artists in thriving.

The Haudenschild Garage has announced an educational Observatory Project headed by Felipe Zúñiga González for students at Guillermo Prieto Elementary School who will produce in 2011 three projects addressing themes of identity, community and justice. Visual illiteracy will be tackled with the help of young visual artists and educators from the Laboratorio Experimentación de Óptica (L.E.O.) of the Escuela de Artes, Universidad Autónoma de Baja California. More info: info@haudenschildgarage.com

An artwork web of eucalyptus tree limbs that have been splayed and spliced together by San Diego artist Roman de Salvo (SD Art Prize) will greet you eventually at the Ruocco Park. The artwork was designed in conjunction with Dennis Otsuji's plans for the park. The 3.3-acre park is at the southwest corner of West Harbor Drive and Pacific Highway at the former Harbor Seafood Mart site. Most of the existing buildings in the area will be demolished to make way for the park. A $3.5 million donation managed by the San Diego Foundation from the Lloyd and Ilse Ruocco Fund was awarded to the Port of San Diego in November 2008 to enhance the park's design. Lloyd Ruocco was a noted San Diego architect and considered the father of the modern architectural movement here and he often featured minimalist designs that highlight nature and the environment.

It was a totally enjoyable day at the Coastal Rail Trail Day Festival in Solana Beach . Congratulation to Anita Edman and Irene de Wattevilleand their wonderful team of volunteers. We especially like the chalk street art by Lori Escalera, the wonderful flying banners by Lisa Schirmer called Windglyphs and the fabulous dancing by Jean Isaacs SD Dance Theater. A little rain did not daunt the crowd or the performers.

Sound of IT 2010 at the Garage (4141 Alabama Street #4 SD, 92104) is the second exhibit of sound compositions at this space. Each sound piece is under 5 minutes long. One night only Nov 6. More info: Larry Caveney

Arte Fresca (Fresh Art) is a new San Diego event that features local, young, eager artists and musicians in a low pressure and no attitude environment. They hold their shows at Suture in the East Village ( 655 10th Avenue - the Big Red Door, SD 92107). Artists in the last one night event included Jason Acton, Jessica Rose, Ariel Noguera, Ciomara Franco and eSte. More info: Angela Sahyoun 619.850.7096

UArt is the name for the utility box painting project in El Cajon which now numbers 24 and appears to be ongoing. Funded by El Cajon Redevelopment Agency and coordinated by the El Cajon CDC, you can get more info and become involved by contacting Kellye Buchanan 619.401.8858.

In All That Remains,Melissa Beck, Vincent Robles, John Dillemuth, Amber Odhner and Micajah Truitt will explore the delicate connections between nostalgia and memories featuring artwork that blurs the lines between youthful fantasy and the reality of adult recollection at SUSHI with a reception Thurs., Nov. 18 from 5 – 9 p.m. This show is curated by San Diego Mesa College's Museum Studies class and continues until Dec 12.

Duke Windsor shows his newest work resurgence: Red and Black on Nov 5 at 7 pm. (Ballpark Loft 1041 J street, SD 92101) For appointment and info: Tony Wright 619-446-6767

OPPORTUNITIES (click to see a list of all current opportunities listed on SDVAN)


ArtsReady San Diego is a FREE two-hour workshop for SD regional artists that will provide information on preparing for unexpected disasters. There will be FREE inventory tools to organize your studio, track your artworks, materials, and mailing list, and much more. Please save the date: Saturday, February 19, 2011. There are two session to choose from 11 am to 1 pm or 2 to 4 pm and a free lunch will be laid on for both groups together. Both workshops will be held at Space4Art at 325 15th Street, Downtown San Diego 92101.This project is coordinated by Synergy Art Foundation , sponsored by SDVisualArtsNetwork and funded through a grant from the San Diego Regional Disaster Fund a supporitng organization of the San Diego Foundation.. RSVP and questions: msbzmsbz@hotmail.com 760.729.2821. Arts Ready Press release

This is a call for artists for the Annual Theme Show, this year, Art Meets Fashion at Fusion Glass Company, Nov 27 (8872 La Mesa Blvd. La Mesa, 91942) More info:info@fusionglassco.com 619.461.4440

San Diego Foundation is preparing a survey of artist in preparation for an individual artist grant program. Watch for the survey, as there will be a place at the end to add your contact details to get more information on how to apply.

The Friends of the Fallbrook Library (FOFL) are pleased to announce an Art Assistant position at the new art-themed Fallbrook Library. This individual will work closely with the artists chosen to display their art in rotating exhibits at the library eight to twelve shows a year/ The FOFL will pay a $100 stipend per show. Qualified applicants should send a cover letter along with a resume, samples of their written skills (e.g., artists' bios, art descriptions), and photos (limited to 3) of any previous hung work or shows to: Friends of the Fallbrook Library. Attn: Janice Phoenix, P.O. Box 2586, Fallbrook, CA 92088. Submissions by November 15, 2010. There is also a call for artists for the Art of the Holiday show. Prospectus & Application is on the Fallbrook Art Center website. More info: 760.728.1414 info@fallbrookartcenter.org

Can you believe it is already time to sign up for Art Walk again! If you haven't yet applied for Mission Federal ArtWalk, April 30 & May 1, 2011, don't miss out on the Featured Artist selection deadline. Featured Artists for this event benefit from high-profile placement in the ArtWalk Magazine, on the event website, and in pre-event publicity. In order to be included in the selection process, your event application must be completed by November 5.

Laura Thompson announced an opportunity for TV show appearances through the Community Artist Connection. The next show will be taped November 10th - 6:30-10:00 pm and will be aired within a month of the taping on a Thursday evening at 9:30 pm on Channel 23 in San Diego and 18 in North County. The first to two artists to confirm their availability will get this taping date. The next taping after the November 10 taping may be in December but will mostly like be in January 2011. If you are interested in being a guest or being part of the volunteer crew and for more info: Laura Thompson 619.750.6205

Bravo School of Art (at NTC) is looking for experienced Art Instructors for fine art, mixed media, decorative art, fibers, craft, jewelry or design. Part time, paid as an independent contractor, based on enrollment. Contact Lauren Becker Downey 619.223.0058

MUSEUMS

Here is your heads up for a Zandra Rhodes Fashion show on Fri. Jan 21, 2011to benefit Mingei International Museum and the exhibition Zandra Rhodes — A Lifelong Love Affair with Textiles. Information: 619-239-0003 ext. 133

The San Diego Museum of Art held a meeting to introduce the new Maruja Baldwin Executive director Roxana Velásquez, This invitation was exclusive to the SDMA support organizations so have a look and join one these wonderful groups including the Contemporary Arts Committee. .

Art Meets Fashion at the Oceanside Museum of Art presents Art After Dark: Dr. Steampunk's Art Extravaganza on Nov 5 from 7:00 -10:00 PM. A carnival of wonders awaits you where industrial meets Victorian in a circus of oddities and artistic inventions. Steampunk is a sub-genre of science fiction where steam power and Victorian era Britain collide in fantastical inventions, ironic sculpture, and technological developments. There will be a fashion show, art by 12 artists including Greg Brotherton, Shay Davis and Denise Bonaimo. $25 / $20 OMA members, for tickets call 760.435.3720

More than 120 works, including two huge canvases commissioned for the exhibition, are included in a retrospective of legendary American artist John Baldessari at New York's Metropolitan Museum of Art. Hurrah for our home boy. They claim he is from LA, but we all know better as he is an alumnus of SDSU and you can see two of his works in their Downtown Gallery, both on load from The Museum of Contemporary Art San Diego.

We love watching the New Children's Museumat play. This time it is at a two-day mini-golf event which takes an unconventional approach as golfers will have an opportunity to explore contemporary art and the Museum's architecture through an unexpected nine-hole course designed to challenge and inspire.

California Center for the Arts, Escondido welcomes you to a free community Día de los Muertos celebration on Mond, Nov 1 from 6 - 9 p.m. Visitors are encouraged to participate in the Center's annual installation of Muerte de todos ofrenda de participacion (Death Comes to Everyone: A Participatory Offering) celebrating Day of the Dead by making an offering and leaving personal objects in memory of loved ones.

TIDBITS

Many of our SD regional artists are being shown in the 2010 California Biennial from Oct 24 to March 13, 2011 at the Orange County Museum of Art. Watch for David Adey, Agitprop, Brian Dick, Camilo Ontiveros, Nina Waisman, and Allison Wiese.

Two recommended by Jill Rowe through the Digital Art Guild: 1. Documentary film, Waiting for Hockney is a mesmerizing true story about an artist who spends 10 years working on a portrait and wants David Hockney to have the honor of discovering him. As the documentary unfolds it weaves between the stories of how/why the artist spent 10 years making this portrait and his attempts to meet Hockney. 2. Art Race Two artists must cross the US surviving only on their art. They are each given $1, and they must trade their artwork for everything, food, lodging, travel costs etc. One is coming from NY to LA, and the other from LA to NY. They have 40 days to do it and when they arrive at their destination they each have an art show and whoever makes the most money wins. There are about 10 half hour episodes, and yes, it's a reality show, but it's a lot of fun and well worth it! See it on Halogen TV.

President Obama 's committee on Arts and Humanity presented a live talk which was archived. You can listen to it here. They are an independent advisory committee of 35 many of then artists this year, founded in 1982 under Ronald Regan. This video has visual artist Chuck Close (first visual artists on committee since its beginning) speaking about how the focus needs to stay on art and not on policy or admin and taking questions from an interesting group of people. Close talked of not inventing programs, but finding the best ones and spreading those ideas around. He also suggests using the skills of the new immigrant society in all the arts. Seeing these people as assets turns our attitude about them completely around. He also views anyone who sees a need and does something about it as a role model.


The TED Prize winner for 2011 is JR who is a photographer and artist whose work is based on the ability to remain anonymous. In other words, he's a guerilla artist. In 2007, he did Face 2 Face, In 2008 Women are Heroes, in Paris and in 2010 "Women Are Heroes in Africa. He has huge collaboration and thousands of volunteers that make his work public. The prize is $100,000 and it will be interesting to see what he does with it. This is a perfect example on one man who sees a need and takes action.

The 37th edition of FIAC takes place from October 21st through October 24th at the Grand Palais, the Cour Carrée du Louvre and the Tuileries Garden located in Paris. At the close of the eighth edition of Frieze Art Fair several galleries reported their strongest sales since the fair's inception in 2003. Remember Art Basil Miami is Dec 2-5 this year. Arte Fiera Art First

celebrates its 35th edition from 28 to 31 January 2011 at the Bologna Exhibition Centre. One of the first of the international modern and contemporary art fairs organized in Italy.

Come celebrate the launch of Alterna the theme of the 2011 Fashion Show featuring the talented students of the Art Institute of Califonria - San Diego. Meet the school's faculty from the Fashion Design and Fashion Marketing & Management on Sat, Oct 30, 11:00am to 1:00pm. Help raise funds by purchasing artistic jeans decorated and reconstructed by AiCASD students for sale to raise funds for Jeans4Justice. Enjoy festive samples of food, beverages and music. More info: Dan Flores 858.598.1270 Free with RSVP.

back to top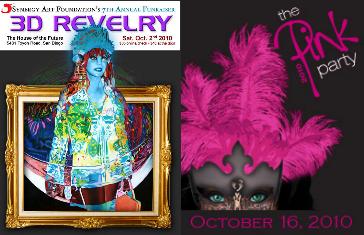 Gail Roberts and is having her SD Art Prize show at the Athenaeum Music & Arts Library from Sept 25 - Nov 6. ( 1008 Wall St., La Jolla, 92037) More info: athpr@pacbell.net 858.454.5872. Appellations is a two person show with the artist Sondra Sherman.

Einar & James De La Torre and Raul Guerrero ( both SD Art Prize) art at the Oceanside Museum of Art. Einar and James de la Torre also are showing work at Koplin Del Rio in LA Sept 11 – Oct 22 with an artist talk at 5:30, at Borderlandia Craft and Folk Art Museum in LA, Sept 26 - Jan 9, 2011 and Obsidian Mirror-Travels: Refracting Ancient Mexican Art and Archaeology at the Getty Research Institute in Los Angeles (group show), Nov 16 - Feb 6, 2011 . Wow, they are slamming this year! And watch for their work at the Athenaeum Music & Arts Library in April, 2011 for the SD Art Prize.

3D Revelry is Synergy Art Foundation annual fundraising event this year on Sat, Oct 2nd from 7:00 p.m. at The House of the Future, (5481 Toyon Road, SD) The price $35 ( $40 at the door) includes great food and fabulous entertainment. There is a no host bar. 21 and up only. For tickets click here or payable by check to 251 Barbara Ave., Solana Beach, CA 92075. More info: Naomi Nussbaum

Coastal Rail Trail Day Festival is Sun. Oct. 17, Noon to 4 pm in Solana Beach (near Amtrak Coaster Station). This includes Artist's painted chairs organized by Irene de Watteville, dance by Jean Isaacs' San Diego Dance Theater, chalk street painting with Lori Escalera and stilt walking by our favorite Lilli Noden with her Dragon Knights. More info: Anita Edman 858.720.2454

AMF Fringe Event: The RealLife of Mannequins by Janine Free

and

Guy Mayenobe is tworadically different ways of unveiling the real life of mannequins: Janine Free is capturing reflections which look digitally manipulated; Guy Mayenobe is creating pictures that look real but are fabricated.Showing at Gallery 21, Spanish Village in Balboa Park fromSept 29 to Oct 11 and an opening reception Fri Oct 1 st, 6:00 to 9:00 and closing one on Sun Oct 10 th, 11:00 to 2:00. More info: janinefree@gmail.com 760.753.8336

AMF Fringe Event: The Pink Party is committed to supporting breast cancer research, patient and family care, to educate about environmental/biological causes and the importance of early detection. Join them at House of Blues (1055, 5 th Avenue, SD 92101) Oct 16 starting at 8 pm with tickets ranging from $45 - $80. Cirque, performers, music, fashion and art chosen by the San Diego Visual Arts Guild (special 25% off for Guild members). More info: Sonya Zeigler 619.384.7910

AMF Fringe Event: Flesh Fold by Natasha Zupan on Sept 24 – 29 at Alexander Salazar Fine Art, (640 Broadway SD, 92101). Many of us can relate to this work as the artist (now living in Spain) created them after her studio burned and she discovered her cleaning lady dressing up in her undergarments. Everyone seems to have a story about their underway says Ziupan, "Because they are the door to the universe!' "More info: 619-531-8996 alexandersalazarfineart@gmail.com

Discover lively masterpieces and intriguing works of art along the historic streets of Old Town at this year's Old Town San Diego Art Festival on Sat. and Sun, Oct 9 th and 10 th, from 10 am to 6 pm. Become inspired as you encounter a showcase of paintings, sculptures, ceramics, chalk art, fashions, furniture, jewelry and local art galleries, with over 100 contemporary artists from around the world. For more info: Andrew Tsui 619.233.5008

We loved hearing Susanna Peredo speak about the future of San Diego's cultural scene when we can all collaborate to raise the profile of this region. Hear it for yourself on Art Rocks! Radio Interview Under ArtRocksRadio, click " Podcast", then scroll down the page and click " ArtRocks!"and then CLICK " 01 Special Edition, Cynthia's Sound Off Salon"

Allison Neuman launched a new series of jewelry called the Montana Sapphire Collection at her studio at the Glashaus (1815b Main, SD 92113). All the jewelry is made from recycled and refined gold and sapphires from unheated Montana deposits. For more info: allisonneumann@me.com 858.717.2803

Dick Ditore's Glass Sculpture can be viewed in the four fabulous new books: Fused Glass, Art Glass Today, Best of American Art Glass, and The Joy of Coldworking .

David Hartig, who is one of our Art Meets Fashion documenters, has produced exciting photographs of Jajah Ling, the conductor of the San Diego Symphony.

Concurrent to Mo`olelo's production of Yellow Face,10th Avenue Arts Center resident artist Gerald Montoya will curate an art exhibit in the lobby and 2 nd floor galleries of The 10th Avenue Theatre titled "Answers from the Universe." The exhibit will run from October 3 – 31. Opening Night for "Answers from the Universe" will be held October 3rd. Works from Clyde Yoshida, as well as resident artists Adam Lewis Smith, Gerald Montoya, and Theresa Wear will be on display.

Lu Magdaleno and Alexandra Rosa have produced a new video together for Jenifer Broomberg. For more info on getting your own video contact Lu at lu@artrocks247.com or 949.374.8797

OPPORTUNITIES (click to see a list of all current opportunities listed on SDVAN)

We are pleased to announce that Synergy Art Foundation, sister organization to the San Diego Visual Arts Network has been given a grant by the San Diego Foundation to produce Arts Ready San Diego. SDVAN is the media sponsor for this event which will be held in the new year and will help artists prepare for emergencies in the studio. Watch this space for more information about how to attend and get free goodies.

Call for Artists from Edgeware Gallery Christmas in New York: Art and Artifacts. Pieces related to either part of the theme (Xmas or NY) are invited. All media welcome: paintings, drawings, sculpture, photography and unusual media. Bonus points for Xmas AND NY in same piece. More info: Dave 818.625.7872

The College Art Association (CAA) has selected the San Diego Foundation to sponsor and present the next CAA National Professional-Development Workshop for Artists. This one day workshop The Nuts and Bolts of Professionalizing Your Art Practice will focus on career-building skills for visual artists, including valuable tools, tips, resources, best practices, and networking suggestions and is scheduled for Sat, October 2, from 8:30 AM to 5:00 PM at Space 4 Art, (325 15th Street, SD 92101). $15 for students, seniors, and CAA members; $25 for all others. Stipends are available. More info: Susan Schear, 973.482.1000BV

Aaron Brother Art and Framing announces their Body of Art contest. Body of Art is a wearable art contest for young artists ages 15-29. Enter anything you can wear or carry that you have decorated by Sept 25 as a 4x6 or 5x7 picture, which you deliver to a local Aaron Brothers shop. Customers will choose store winners via in-store voting on October 1 and 2. Of the 145 store winners, ten finalists will be chosen by Aaron Brothers' panel of judges. The finalists' art will be posted on aaronbrothers.com/bodyofart for online voting, October 15-31. The Grand Prize will receive a $2,500 Aaron Brothers gift certificate and their art will be featured on the Aaron Brothers website and publicized.

There is an Art Reproduction Seminar held on Tues, Oct12, 6:00-8:00PM at Warp 9 Imaging ( 3820 1/2 Ray Street, SD 92104). Learn all the ins and outs of making a high quality digital copy. This is a free event and you get to make a copy of your image during the seminar. RSVP is required 619.677.2118

Alexander Salazar Fine Art Artist-In-Residence Studio ( 638 Broadway, SD 92101) has just been announced and is to designate an open artist studio space where artists can go to create new works. Alexander Salazar encountered many artists that were painting in their kitchen, back yards, bedrooms, living rooms, or had lost their artist studio due to financial reasons. Salazar decided to rent out a small sophisticated studio that can also function as a selling gallery for the artist in residence. He hopes that by doing so, the artist can generate interest in her/his work to raise enough funds to perhaps afford a permanent work space. His first three artists in residence are Oct - Benjamin Henneberry, Nov- MAXX Moses, Dec - Alejandro Garza. Artist can not have a studio already or be showing at any other gallery. For more info: Alexander

Vallo Riberto turned us on to this amazing way to fund art projects called KickStarter.com. Take a look and be astonished at how many people are willing to give hard cash to these inventive artists so that they can follow their bliss.

MUSEUMS

Kim MacConnel (SD Art Prize) is having his first full-career retrospective in San Diego at The Museum of Contemporary Art San Diego . A pioneer of the 1970s Pattern and Decoration movement, MacConnel has uniquely and variously engaged the decorative arts throughout his career. Exhibition in La Jolla Oct 10 to Jan 16, 2011.More info: Claire Caraska 858 454 3541 x1

Quilt Visions 2010: No Boundaries will surprise visitors with 39 exceptional art quilts in its fifth exhibition in conjunction Quilt San Diego/Quilt Visions at the Oceanside Museum of Art. This year a distinguished panel of jurors reviewed 601 entries submitted by 270 artists from 20 states and five foreign countries. The exhibition opens with a preview reception October 23 from 5:00 – 7:00 pm. Admission to the reception is $10. Members of OMA and Quilt Visions enjoy complimentary admission as a benefit of membership. OMA is also holding a Season of Chagall featuring two performances of Chagall: A Dance/Musical by Yale Strom and John Malashock, performed by Malashock Dance and HOT PSTROMI on October 20 & 21 (only the event on the 21 is a fundraiser for OMA), an illustrated lecture on Chagall's art and life on November 14, and Roots of Chagall: The Sights and Sounds of Vitebsk, a concert featuring music and archival images from Chagall's birthplace in Belarus on December 8. More info: Danielle Susalla 760.435.3722

Zandra Rhodes — A Lifelong Love Affair with Textiles will open at Mingei International Museum in Balboa Park on October 3. Since the 1960s, this internationally renowned British designer, who lives and works half the year in the San Diego area, has been creating imaginative, colorful fabrics and clothing. This retrospective will present her textiles as well as 47 high fashion costumes she has created. Rhodes will also select textiles or objects from a number of the cultures represented in Mingei International's collection to display alongside her work, initiating a lively conversation about influences and inspirations. The exhibition, which continues through April 3, 2011, has previously been seen in London, Italy, Australia, and Mexico City.

The third annual community Diwali Festival, the Indian Festival of Lights, will take place in Balboa Park on Sun, Oct 24, from 4 to 8 p.m. featuring arts, a cultural program and procession, music, dancing, Indian food, and the traditional ceremonial lighting of lamps. Co-sponsored by the San Diego Indian American Society, Mingei International Museum and The San Diego Museum of Art in association with its Committee for the Arts of the Indian Subcontinent. Also at the Mingei is Beauty and the Built Environment, another in the series of Conversations on Beauty presented by the Ilan-Lael Art and Education Foundation taking place Tue, Oct 12, 5:30-7:30 p.m. For info 619.239.0003

We loved the Timothy Horn at the Lux Art Institute showing until October 30. They call these mixed media sculpture but they are made from rubber, glass, sugar crystal and are wild and sexy and weird and funky, Don't miss this one. And you can support them by going to Lux After Dark on Saturday, October 9, at a beautiful private estate in Rancho Santa Fe! For more information, please contact Development Manager Colleen O'Halloran 760.436.6611.

New Children's Museum has outdone itself with new enormous balloon sculptures by Jack Hackenweth. Don't miss these works of art for young and old.

Sandra Chanis will hold a free, public lecture on her work and travels for Amazon Sisters on Sat, Oct 16 th at the Women's History Museum (2323 Broadway, #107, SD 092101 More info: info@womensmuseumsd.org 619.233.7963

TRANSITIONS

Rita Bronowski , an inspiration for Bronowski Art and Science Forum has sadly passed away this month. She is remembered fondly.

Jerome Lipetzky , Alpine,CA landscape painter, passed away peacefully, with his family by his side, on September 7, 2010.

TIDBITS

Art Institute of Chicago Fashion Design Department Chair Nick Cave's world-famous Soundsuits are featured in an eight-page spread in the September issue of Vogue. Shot by fashion photographer Raymond Meier. Take a look at this creative output of excellence, which combines Art and Fashion.

They are Eating Their Art Out in a big way in London with The Cake Britain exhibition. Held at The Future Gallery this show is sponsored by Tate & Lyle Sugars and produced by the Mad Artists Tea Party.

Did you notice the article in the LA Times called Well Dressed Walls? It was all about how boutiques are showing art. You know, like Art Meets Fashion.

Sotheby's New York will present the third offering of rare books and manuscripts from the illustrious James S. Copley Library on October 15, 2010. The eight-part sale commenced on April 14th and extends through April 2011; this segment will highlight an important group of documents, pertaining to the growth of the Western states and Mexico. Mr. Copley was a well-known newspaperman and philanthropist in San Diego as we know, and a substantial section of the sale reflects his particular interest in the early history of California. We wonder why none of this collection went to a San Diego Museum or the new library?

Bankrupt financial group Lehman Brothers Holdings Inc is selling off part of its art collection, including works by Gerhard Richter and Maya Lin, in the hopes of returning millions to creditors. Despite a lukewarm modern art market, Sotheby's raised $12.3 million for 160 works in New York on Saturday more than then $10 million estimate. Proceeds of the sale will be used to pay creditors owed hundreds of billions following its 2008 bankruptcy, the largest ever in the United States. Also interesting that Sotheby is going into the retail market with wines and probably next with art as they expand out of the auction business to make more use of the expertise of their staff. The world turns!

For fifty years, Faith Ringgold, has used her art to comment on racism and gender inequality. Though best known as the progenitor of the African American story quilt revival that began in the 1970s, it is her pointed political paintings of the 1960s – many of which disappeared from view -- that are the focus of American People, Black Light: Faith Ringgold's Paintings of the 1960 – on view at the Neuberger Museum of Art, in Purchase, New York, from September 11 – December 19, 2010. The Neuberger Museum has organized this first comprehensive survey of these early paintings to coincide with the artist's, a San Diego resident, eightieth birthday. Happy birthday, Faith.

Many San Diego artists are included in the 2010 California Biennial at the Orange County Museum of Art including SD Art Prize recipientsDavid Adey, Brian Dick, and Allison Wiese from Oct 24, 2010 - March 13, 2011. This year's Biennial is curated by OCMA Curator Sarah Bancroft.

back to top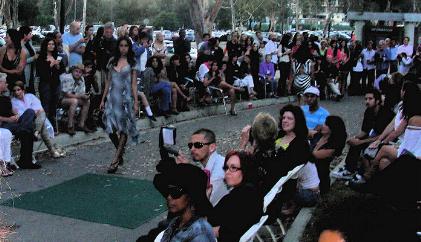 Jon Block scored a bit with part of the Fringe for Art Meets Fashion at Love Struck the La Jolla Playhouse


Join the volunteers of San Diego Visual Arts Network atArt San Diego Contemporary Fair September 2-5 at the Hilton Bayfront Hotel as we celebrate the works of the SD Art Prize 2010 recipients Julio Orozco,Einar and Jamex de la Torre, David Adey, and Gail Roberts featured in Booth 7. Opening night tickets are $75 and include a donation to the SD Art Prize.

Jon Block'sSight & Sound, whichstages the biggest monthly music and arts events in San Diego, is presenting FREE concert on Friday Sept 2 from 7 to 10 pm at the Hilton Bayfront Hotel outside of Vela Restaurant as part of the Art San Diego Contemporary Fair. It will feature alternative San Diego bands including Republic of Letters as well as alarge-scale installation by Rich Walker and several different dance troupes. This concert is presented by Trumer Pilsner, Refine Cocktail Mixers and Infinium Spirits and is in celebration of the 2010 SD Art Prize recipients and the emerging artist nominated for the prize in the San Diego Visual Arts Network's New Contemporaries III exhibition. Come early to the fair that day and hear Lucía Sanromán, Associate Curator, The Museum of Contemporary Art San Diego, speaking about Between Here and There. Curatorial Strategies Towards a Regional Survey from2– 3 pm. Fair entrance is only $15 but free for SD Art Prize and New Contemporaries artists thanks to the generosity of the fair organizers.

Jon Block scored a bit with part of the Fringe for Art Meets Fashion at Love Struck the La Jolla Playhouse. A huge crowd watched a historic runway show with fashion supplies by the Women's History Museum followed by a contemporary show including fashion by Stacie "May"Taylor, on of our AMF team members.

A one-day conference titled: "Art in the City - Utilizing Art & Culture as Transformative Tools." is about how innovative arts/culture programs have added to the civic and economic life of cities across America. It will be held at the Art San Diego Contemporary Fair Bayfront Hilton on Saturday, Sept the 4th as part of ART SAN DIEGO 2010. The fair organizers are offering non-profits a discounted rate of $25 to attend the conference. Please register to receive passes. Please note that this registration does not include the lunch featuring speaker Bob Lynch and Victoria Hamilton, but tickets can be purchased for the lunch for $65 once you register for the conference.

Mimosas and discussion begin at 11:00 a.m. at L Street Fine Art , followed by lunch at McCormick & Schmick's in the Omni Hotel at 12:00 p.m. for those who join Art Talk: Art Walk where a select collection of Jian Wang's recent paintings will be on display in collaboration with Art Expressions Gallery . Featuring special guest speakers are Ann Berchtold (Executive Director of Art San Diego Contemporary Fair ), Peter Fehler (Publisher of Art Ltd. Magazine), Robert Pincus (distinguished Art Critic from the San Diego Union-Tribune) as well as the artist. Then a shuttle will take you to the fair. All of this is included in the price of $75 per person (in advance) $85 per person (at the door). A portion [20%] of the proceeds will benefit ArtsBusXpress, which provides SD County schools with grants to fund transportation for field trips in the Arts and Sciences. For more info and tickets: Art Expressions Gallery 858.270.7577

Easel - A San Diego Art Af(FAIR) will be one week only from Sept 2 – 6 (one day longer than the Art San Diego Contemporary Fair) This Affair features Dan Camp and up to 200 works by a variety of artists who are each paying $50 to show a work. Organized by Alexander Salazar Fine Art in a rented space at the corner of 7 th Avenue and C with 5,000 sq. ft. the maximum price of work for sale is $2,000 and proceeds will benefit It's All About the Kids Foundation. For more info: Alex 619.531.8996. In 2011, Alex will be hosting the New Contemporaries IV for SDVAN SD Art Prize as well as an Art Meets Fashion team.

Bronowski Art & Science Forum presents conversation with artist Ruben Ochoa and architect Teddy Cruz with moderator Robert Pincus, art critic, Union-Tribune, on Thurs. Sept 23 from 6:30 at The Neurosciences Institute auditorium. 10640 John Jay Hopkins Drive. La Jolla For more info: Ron Newby 858.442.3030

SDVAN sponsored the Workshop during Survey Select: Collecting Artworks and Art of Marketing at the Wonder Bread Factory ( 171 14th Street, SD, 92101). The show there goes from through Sept 15. More info: Mark Murphy 619.743.0405 Patricia Frischer gave a lecture on High End Art Market, Mark Jerinowski spoke about his art selling philosophy. Collector John Purlia discussed his collection and gave tips for collectors and Kinsee Moran from City Beat gave great information about getting your work noticed about by the SD media.

SDVAN is offering a FREE bus trip and entrance to entijuanarte2010 Art Fair at the Cecut in Tijuana. We have been invited to fill two buses on Fr. Oct 1 leaving at 5 from Balboa Park and returning at 10:30 for the VIP opening celebrations. There are also 1-2 buses on Sat Oct 2 leaving at 4 and returning at 10 and including a trip to Revolucion Avenue at 8 pm. Please send your RSVP request to be included so we can add your name to the list. Space is limited so please sign up ASAP. You will get complimentary snacks and beverages, VIP wristbands, special souvenirs and Entijuanarte 2010 activities programs. Contact patricia@sdvisualarts.net

The Art Meets Fashion fundraiser is as easy as a click on your computer. San Diego Visual Arts Network is partnering with ArtHatch in the Pepsi Challenge to encourage teens at risk to look at the arts and fashion industry as a career. Voting is free and your vote will support buying supplies for lesson plans created by 13 creative teams of the Art Meets Fashion project. These teens will have a chance to show their work at the SD International Airport from July to Sept 2011. So please vote once a day for ArtHatch.

September 11 is the opening celebration of Art Produce Garden and the kickoff event is whEAThARvesT, an interactive integration of art and urban agriculture by artist David Krimmel. The project utilizes locally grown grain to promote awareness of current issues in commercial food production. This past spring a vacant lot in urban North Park was transformed into a field of wheat. Eveoke Dance Theater will leads participants in transporting locally grown wheat to Art Produce Gallery. Using threshing tables, winnowing baskets and a bicycle powered grain mill, participants are invited to process the grain into flour. On exhibit in the gallery will be a wheat inspired installation, documentation, and artist designed grain processing equipment. More info: Lynn Susholtz 619.584.4448 Show until Oct 24.

What a delightful revelation to learn that John Wilson the Timken Museum director is a big fan of contemporary art. We found this out not just because he juried the 19th annual show at the Athenaeum but also because Jim Chute wrote about him in the Union Tribune. Jim is covering the beat that Robert Pincus used to call his own.

How fun is this! A play about an artist and featuring local artwork and actors by local NCTimes columnist Charles Carr is going to be put on to benefit the Escondido Arts Partnership. "All the Time in the World" will be performed four times 8:00 p.m. Oct. 8, 9 & 15, 16 at the Escondido Municipal Gallery ( 262 E. Grand Ave. Escondido, CA). More info: 760.480.4101

A new jewelry Line Montana Sapphire Collection by Allison Neumann is being launched at The Glashaus (1815-b Main Street, in the Barrio Logan) on Sept 11, 7-11pm. These are handcrafted using Montana Sapphires from a private family holding and recycled with refined gold. More info: Allison

No one is busier that Valentine Viannay. She is in a one women show in San Francisco called Serendipity introduces Princess Animal starting on Sept 4 as well as making Art Meets Fashion scarves with Rosemary KimBal for launch at the Art San Diego Contemporary Fair, is part of one of the AMF teams showing at Space4Art, and helping Irene de Watteville in her Imperialist Stomach fund raising dinner for Eat Your Art Out sold out Aug 27.

The refurbished / integration mural Los Portales de Chicano Park originally painted by Roberto Salas worked on by Isaias Crow, Chor Boogie, Apex, Pose 2, Mike Maxwell, Evolve, Sake is just mind blowing and seems to go on and on and on. Check it out soon on the mural that bridges over the I-5 Freeway to Chicano Park.

Books, Murals and Miracles is a 4 week long mural creating workshop program for 8 -19 year olds. It is held in connection with Space4Art and the Synergy Art Foundation and led by Isaias Crow and The Prism Process, which provides programs designed to transform, inspire and uplift communities through the arts and civic engagement. The theme this year was "The Importance and Magic of Literature." Each part or segment represent a different genre of books. This very powerful experience fused literacy, murals, graffiti and life skills to generate one story that the group then painted on a 150' x 12' mural. The kids need this kind of engagement, attention and stimulation of their mind, spirit and soul. You can view this mural at The Bookman the corner of 37 th St. and El Cajon Blvd. For more info: Isaias Crow

You have the next 7 months to view the fabulous sculptures wonderfully sited by Naomi Nussbaum at the San Diego Botanic Garden's ( 230 Quail Gardens Drive, Encinitas 92023) in the show Sculpture in the Garden. For more info: Becky Reeb 760 436-3036. Some of the artists in the show include Jeffery Laudenslager, James Hubbell, Nicole Deline, Peter Mitten, Christopher Lee, and Charles Bronson.

OPPORTUNITIES (click to see a list of all current opportunities listed on SDVAN)

The Art Meets Fashion Mannequin Project is looking for artists invited to create works of art from mannequin forms to be displayed at various Art Meets Fashion events in public venues ( San Diego County) throughout 2010 and 2011. One lucky mannequin will even be showcased at the SD International Airport. Mannequin Manifesto and Medium is wide open except all must be suitable for outdoor display. Interested artists will be asked to submit the following: 3 images in your existing collection plus a biography/resume or a website link with all that information on it. For more info or to send in your application, contact the co-chairs Ariane Brittany or Denise Bonaimo. Donations of mannequin blanks for this project are gratefully received.

The SD International Airport is accepting applications for artists for exhibitions in several locations. They are currently openings in the exhibition calendar for January, March, and September of 2011. The deadline is Oct 15 for the application. This lively program is supporting the SDVAN/FOCUS Art Meets Fashion project.

ArtWalk needs 100 volunteers on Sept 18 &19 at the Hilton San Diego Bayfront hotel for event setup event strike, greeting and assisting attendees, conducting surveys, helping with deliveries, and traffic control. As an ArtWalk on the Bay volunteer you receive our official 2010 ArtWalk on the Bay T-shirt. More info: Sandi Cottrell 619.615.1090

A Young Rembrandt (the power of drawing for our youth) franchise opportunity has opened up in San Diego. To find out more contact Kim Swanson 847-742-6966 ext. 231

Tania Alcala is now a certified Art for Healing practitioner. On August 31st at 6:15pm her workshop at the Joyce Beers Center in Hillcrest will be Expressing Feelings with Color. Participants create a series of abstract paintings that bring to the surface his or her own story. No art background is required. Fee $35.00 plus $15.00 for art materials. Contact Tania for more information.

The Colony Studio/Gallery ( 10855 Sorrento Valley Road, SD 92121) is a community gallery and artist collective that will give artists studio and gallery space to create and showcase their particular media to the public. As Colony tenants/artists will have access to the Colony Gallery for monthly shows, permanent window installations and classrooms for holding their own community classes. Amenities include kitchenette, Hi Speed Internet, make-up table, reception area, and restrooms. 1000 SF Main Studio and shooting space, 18 x 36 cyc wall (white), ground floor with roll-up door and 24hr access. Rent: $350. For more info: Rebecca Fox 858.945.3469.

Old Town San Diego Art Festival has early bird pricing until Sept. 24 thfor artists wanting to participate.Artist applications are available now. The festival is Sat/Sun, Oct 9-10 from 10 am to 6 pm at from San Diego Avenue from Conde Street into the Old Town San Diego State Historic Park) More info: Andrew Tsui 619.233.5008

Spa Velia Art Gallery in Little Italy has made a call for artists for a juried solo art exhibition with a deadline of Sept 3. For more info" Kelly Fitzgerald 760.670.6616. This is for 2-D work only for artists living in SD.

MUSEUMS

At theSD Natural History Museum All That Glitters: The Splendor and Science of Gems and Minerals Gems seduce us with their sparkle. Did you know that San Diego County is one of the most famous gem-producing regions in the world? The exhibition, developed and built by Museum exhibit designers, features a stunning selection of spectacular natural mineral crystals, exquisite jewelry, and works of art. All That Glitters is on until May 2012.

Liquid: Richard Gleaves will be on view at Oceanside Museum of Art Parker Gallery from Aug 21 – Nov 21. with a floating 8-foot cube constructed from 19,000 feet of monofilament fishing line. The cube creates what the artist calls "a tactile field of simulated liquid" which abstractly represents both the visual and tactile properties of water. You get to walk through this one. Meet the artist on Saturday, Sept 25 at 2:00 p.m. . For more info: Teri Sowell, Director of Exhibitions 760.435.3730 Note: Neville Page's From Page to Screen on view in the OMA Groves Auditorium Gallery is extended to Sept 12, 2010

The San Diego Museum of Art Young Art 2011: Making Multiples from April 16 - May 29, 2011 has been announced and Information on how to submit works for consideration into the exhibition will be available online starting September 2010! This is a biennial exhibition of K-12 student artwork from San Diego City and County schools which focuses on art that explores the repetition of images and ideas. Works may be objects that are part of a series; be the original object from which a series of objects are created; include multiple objects of similar subjects; be a combination of the above. Works may be executed in two-dimensional or three-dimensional media, including, but not limited to, printmaking, mold making, photography, bookmaking, digital art, zines, and video art. For general questions about the Young Art program, please email youngart@sdmart.org

Leveled: an Interactive Experiement in Art is a show at California Center for the Arts, Escondido where you can touch, alter and interact with the artworks of Doris Bittar (in collaboration with Diane Gage and Jonathan Glasier) Wes Bruce, Ingram Ober and Marisol Rendon. Can't get there or want to keep informed go to Leveled: The Blog . Don't miss the chance to make Almost Edible art with Marisol Rendon (New Contemporaries II ) on Aug 28, 1 p.m. - 4 p.m Learn how to stuff and sew fabric fruit and vegetable sculptures, all of which may be taken home with you at the end of the day. Tickets: $18.00 for Members, $25.00 for non-members. RSVP please call 760.839.4120

Mingei International Museum started a new exhibition Tequila Bottles from El Agave plus on Sat, Sep 11, 10 7 - 9 pm there will be a Tequila – a Lecture and Tasting.

Art Meets Fashion at the Art of Fashion 2010 as the Timken Museum of Art and Fashion Careers College (FCC) will host the third annual event from 6:30 to 8:30 p.m. on Saturday, August 28. Guests will see interpretations of clothing worn in 16 masterpieces from the permanent collection at the museum. Guests can extend the fun by staying for an exclusive VIP after Party from 8:30 to 10:30 p.m. to enjoy signature cocktails and mingle with the models and designers. Cost is $125 for Art of Fashion or $150 for both Art of Fashion and the VIP after Party. For more info: 619.239.5548 x100 fashion@timkenmuseum.org

Lux Art Institute has announced its new season 2010-2011: Timothy Horn Sept 9, David Humphrey, Nov 18, Alison Saar, Feb 3, Rick Stich, March 25, and Claudette Schreuders May 28.

TIDBITS

Young vandals are tipping 600 pound sculpture cows over in Burlington, Vermont. Those colorfully painted cud chewers are hitting the dust, but one of them managed to hit back and broke the foot of its attacker. The town has organized bartenders to watch out for the cow's safety. They call them 'cow tenders". How come we find ourselves rooting for the vandals on this one?

Joe Nalven sends us this link to an article Should Artists Publish Their Own Catalogues? by Daniel Grant writing for the Hoffington Post. . An interesting read for all artists contemplating this direction.

Ryan Crowley of Symbolic Collection says don't miss the film Herb and Dorothy about the art collectors who prove that you don't need to be a Rockefeller to collect art. There are even some very affordable works at Symbolic now even though the $1 million Elvis piano is on view in the new gallery in La Jolla this month.

The Work of Art winner is Abdi Farah. It might not be your choice of the next great artist but it will be fascinating to see if this TV program has an impact on the art market for Abdi or any of the other artists involved.

VIP Online Art Fair could be the future. The list of galleries involved is impressive and it is only on line and only for one week in Jan 2011.

back to top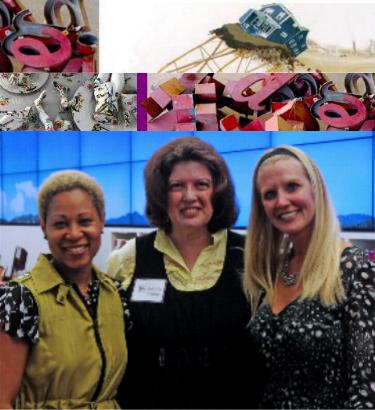 Art SD Contemporary Fair, below Constance White, Patricia Frischer and
Felena Hansen, AMF. Celebration Launch. Photo below by Ron Brillantes

SD Art Prize 2010 recipeints Julio Orozco, Einar and Jamex de la Torre, David Adey, and Gail Roberts featured in Booth 7, Art San Diego Contemporary Fair September 2-5 at the Hilton Bayfront Hotel.
There are a few places left for The Imperialistic Stomach: Absurdist Dinner on Fri, Aug 27 th, 6pm at the home of Irene de Watterville (749 N. Granados Avenue , Solana Beach 92075) This is an Eat Your Art Out fundraising dinner for SDVAN. More info and RSVP: Patricia Frischer 760.943.0148
For the third consecutive year, San Diego Botanic Garden ( 230 Quail Gardens Drive, Encinitas 92023)is presenting Sculpture in the Garden. The unique exhibition showcases sculptures of 17 talented artists set against the beautiful backdrop of dragon trees, fruit gardens, bamboo groves and throughout the lush and natural 36-acre setting in Encinitas, CA. This year's curator, Naomi Nussbaum Art & Design, has orchestrated an eclectic exhibition ranging from functional "garden" artwork to large abstract work with an emphasis on diversity of media and scale. The exhibition runs from August 22, 2010 through April, 2011. For more info: Becky Reeb 760 436-3036
Want to keep abreast of the news about the plans for the waterfront? David Malmuth and his team has started a SD Arts and Culture at the Waterfront facebook page so you can find out and also send in your views.
The Girl in Red Shoes three-foot-tall bronze sculpture of a young girl holding a rose and a carnation is by Japanese artist Munehiro Komeno and now stands near the Friendship Bell at the tip of Shelter Island. It symbolizes the many decades of friendship between sister ports, the Port of San Diego and the Port of Yokohama. Kimi was an orphan in Japan in the 1920s. An American couple adopted her and planned to bring her to the United States. However, it was later learned that Kimi had tuberculosis and could not leave Japan. The story of Kimi, of which there are many versions, became a national symbol of goodwill between the United States and Japan.
You are invited to join Congresswoman Susan Davis and the National Endowment for the Arts (NEA) for a grants workshop at the Old Globe (Karen and Donald Cohn Education Center in Hattox Hall) on Wed Aug 25 from 9:30. This event will provide specific information regarding NEA funding opportunities for arts organizations and other non-profits, and the event will review the NEA's processes for applying and reviewing applications. RSVP online at http://www.house.gov/susandavis/events.shtml
Congratulation to the Bravo School of Art ( 2690 Historic Decatur Rd, Studio 206) on their one year birthday. They are celebrating on Sun. Aug 1 from 1 to 5 pm with a party and garage sale of art supplies. More info: Lauren Becker Downey 619-223-0058
OPPORTUNITIES (click to see a list of all current opportunities listed on SDVAN)
SDVAN is so pleased to me the sponsor of Getting Known, A Non-Marketing Approach for the Rest of Us which is a workshop presented by Joseph Bennett on Sun, August 15 from 11 – 4 at Eveoke Dance Theatre, 2811 University Avenue, SD. For more information please contact Joseph Bennett 619.574.0196 who is generously donating a portion of the fee to SDVAN.
SDVAN is sponsoring the Workshop during Survey Select: Collecting Artworks and Art of Marketing held on Thurs. Aug 12, 5 to 8 pm at the Wonder Bread Factory ( 171 14th Street, SD, 92101) Do see the Survey Select: Narrative Art Exhibition when it opens with a Reception Thurs, July 15. The show goes from July 16 through Sept 15 at the Wonder Bread. More info: Mark Murphy 619.743.0405
Jon Block , producer of music and art experiences is looking for artists to contribute one piece on the theme of Midsummer Night's Dream or Shakespeare to a group show at the La Jolla Playhouse on Saturday August 21 for the closing Saturday of the play. He wants art pieces minimum 2' x 3' size, as well as a few sculpture & photographic pieces. This is an opportunity for 12 to 16 pieces altogether. This event will be an Art Meets Fashion Fringe Event. Contact Jon Block
Art Meets Fashion Fringe events are sprouting up every where. One of our favorites, The Mannequin Project, is looking for artists invited to create works of art from mannequin forms to be displayed at various Art Meets Fashion and Fringe events in public venues ( San Diego County) throughout 2010 and 2011. One lucky mannequin will even be showcased at the SD International Airport. Mannequin Manifesto and Medium is wide open except all must be suitable for outdoor display. For more info about how to apply contact the co-chairs Ariane Brittany or Denise Bonaimo . Donations of mannequin blanks for this project are gratefully received.
We're so excited that the new classroom at Space4Art( 325 15th Street, D 92101) is ready and there first summer classes have begun. If you think you would like to teach there, they are currently accepting proposals for arts related educational events. Space 4 Art offers multiple venues for educational opportunities and community outreach including a classroom, patio area, lounge, and gallery. The cost for the classroom is only $15 per hour. For more info: sdspace4art@gmail.com 619 269 7230
Garage is making a call for artists for Pencil Scar Memories, a show of photos based on pencil scars and the memories. If you ever have been jabbed or scabbed with a #2 pencil in your past, and have a small gray dot on your body as evidence of that event/time/place, they want to hear from you. . Deadline Oct, 1 10/01/2010 More info: Larry Caveney 619.297.6032
The Museum of Contemporary Art San Diego' is looking for an Annual Giving Manager in the Department: Advancement. This is a full time position in La Jolla responsible for fundraising for various areas within Advancement, including managing the membership program and annual fundraisers. Key responsibilities include overseeing the administrative aspects associated with advancement operations such as gift processing and donor tracking processes. For more info: clee@mcasd.org .
For our fashion designers: Thread is in SD again on Sept 26. This year they are partnered with DiningOut Magazine to introduce NOSH - a showcase of local restaurants in an additional space at THREAD Show. Consumers will get into NOSH as a free bonus and will be privy to $1 and $2 samples from the top local restaurants. They are testing this as a model to bring to other markets in the hopes that an additional number of consumers will come for the food and discover your brands along the way! Sign up now for the next event at Horton Plaza.
Please join Congresswoman Susan Davis and the National Endowment for the Arts (NEA) for a grants workshop Wednesday, August 25 (Registration- 9:30am, Program- 10:00am – 12:00pm) at the Old Globe. (Karen and Donald Cohn Education Center in Hattox Hall, 1363 Old Globe Way, SD 92101-1696) This event will provide specific information regarding NEA funding opportunities for arts organizations and other non-profits, and the event will review the NEA's processes for applying and reviewing applications. Space is limited so RSVP is required for this event. This event is open to the public. RSVP online http://www.house.gov/susandavis/events.shtml
Big changes to Ray at Night coming on Sat, August 14 th, 6 PM to 9:30PM. A new city permit is completed and they are now able to have Artist Spaces for a Ray At Night Art Walk on the street during Ray At Night. This includes 12 Artist spaces, 5 Student spaces and one non-profit space available. In order to maintain a high quality and diversity of work this will be a juried show. Deadline is for August 14 th is Tue, August 3 rd .
Remember Jeffrey R. Brosbe told us of a large juried show for the La Jolla Art Association. This show is open to ALL media as long as the works are Black and White (Sept 15 to Oct 10). Deadline has been extended for entry to Aug 27 and it is open to any artists living in South California. There will be prizes and sculptress, Manuelita Brown is the juror. Prospectus and application can be found on the website.
Sophies Art Gallery is making a call for artists for the exhibition The Looking Glass. The entries will be judged by Amy Galpin – San Diego Museum of Art Project Curator for American Art for this show held at New Americans Museum at NTC Promenade from Oct 1 – 24, with a reception at the NTC First Friday, October 1, 5 -8 p.m.. Deadline for entries August13. For more info: Wendy Morris 619-593-2205 Look within and share your private wonderland.
MUSEUMS
Looking Back / Moving Forward: Contemporary Mexican-American Art , an exhibition that celebrates Mexican culture by examining the recent work of Einar and Jamex de la Torre (SD Art Prize 2010) and Raul Guerrero (SD Art Prize 2006/07) from July 31, 2010 – October 31, 2010 at the Oceanside Museum of Art.
On Thurs, August 12, TNT (Thursday Night Thing) returns to The Museum of Contemporary Art San Diego's downtown location with a dynamic evening of live music, art-making activities, and interactive performances themed around the new street art exhibition, Viva la Revolución: A Dialogue with the Urban Landscape.
Join the artist Neville Page on Sat, July 31 at 2:00 p.m. as he discusses his work on movies such as Avatar and Tron: Legacy. The lecture will be followed by a presentation on How to Create a Creature from Soup to Nuts. Attendees will have a chance to win signed prints from Page's collection. Reservations are $35 or $25 for Oceanside Museum of Artmembers. Show until Aug. 15 th. During Free Family Art Day children and their parents work closely in the creative process designing small works of art that reflect concepts and themes from the exhibitions on view. On August 1, from 1 -4, children can make a Family Flag. Flags are symbols representing ideals, people or cultures. View the Painting World War II: The California Style Watercolor Artists.
Opening July 11 , and on view through December 12 , the San Diego Museum of Art will showcase its summer blockbuster, Toulouse-Lautrec's Paris: Selections from the Baldwin M. Baldwin Collection . Comprised of nearly 100 works by Henri de Toulouse-Lautrec, the Baldwin M. Baldwin collection pays tribute to an extraordinary modern artist and one of the Museum's foremost patrons. Shown together in San Diego for the first time in 20 years, Toulouse-Lautrec's Paris provides a last look at this first-class collection of paintings, drawings, prints and posters before the Museum begins a campaign to conserve and digitize these important works. The Museum's newest program, Summer Salon Series will continue each Thursday at 9 p.m. through September 2. Free with Museum admission, guests are encouraged to meet up with friends, grab a drink in the rotunda, and interact with local contemporary artists in a whole new way.
On Sat, August 21, The New Children's Museum will hold its 3 rd annual gala Party Animals! benefiting arts education and San Diego's neediest kids. This dynamic, action-packed event includes live performances with Third Eye Blind and Get Back Loretta, decadent cuisine from San Diego's leading culinary artists, and unique activities designed to unleash your inner rock star. Co-chairs Celeste and Ted Hilling have created an unforgettable evening that offers guests a one-of-a-kind experience, with an opportunity to party with a purpose!
Timken Museum of Art and Fashion Careers College (FCC) will host the third annual Art of Fashion from 6:30 to 8:30 p.m. on Saturday, August 28
If you're interested in the American Association of Museums conference, but not able to attend, the Balboa Park Cultural Partnership is arranging for you to have AAM here in SD! The Learning Institute will re-broadcast the virtual conference in August with some live presenters as well. Check out the virtual session line-up on AAM's website. To register, email your name, title and organization to Paige Simpson or Katherine Sanford 619.232.7502
TRANSITIONS
The City Council voted 6-2 to move forward with library construction in July on a new $185 million main library downtown, The new library will contain an art gallery and so we are all agog to see what it will be like. Mayor Jerry Sanders, The San Diego Board of Library Commissioners and the San Diego Public Library Foundation invite you to attend the New Central Library Groundbreaking Wed, July 28 at 10 a.m., 11th and K St. downtown. More info: SupportMyLibrary.org.
Ryan Crowley tells us Symbolic Collection will soon be in a new home at 7412 La Jolla Boulevard, La Jolla starting July 30. The gallery is moving from their previous space in Sorrento Valley.
TIDBITS
We got a sneak peak of the new glass wave panels created by the talented Deanne Sabeck for Mel Gibson's Costa Rico home. WOW!
Americans who are using high tech media to inform themselves actually attend twice as many art events than those who don't have the Internet, television, radio, computers, and handheld devices. (Who if left, exactly?) This was reported by National Endowment for the Arts and available at www.arts.gov. We wonder how much that study cost? They are also three times as likely to attend events and attend more varied events. Goes without saying….but maybe this means a collaboration between high tech and arts and culture can now be proven to the shirts that make the decisions on funding. And it is important for all arts organization to get up to speed with new media. But of course if you are reading this, you know that.
Kudos to The Long Beach Museum of Art who is presenting A Light in the Shadow – Decades of Art by Women. Approximately sixty works by women from the Museum's permanent collection will be on view. .The Long Beach Museum of Art with nearly twenty-five percent of the permanent collection by women is way ahead of the national average of six percent.
Charles Saatchi just gave his $37 million dollar collection to the British government and his museum will be re-titled the MOCA London.
The London Art Auction scene could get a shake up as the EU's "droit de suite" might come into affect in England. Nearly 40 percent of the 7.7 billion pound annual British art market is accounted for by modern and contemporary art and that tax would have to be paid to the inheritors for artists who have died within the last 70 years on any work resold in auction.
Five members of the art activist group Culture Beyond Oil poured non-toxic black oil around the British Museum's world famous Easter Island sculpture, in protest at BP's sponsorship of the museum. They were careful not to get any oil on the art.
The

U.S. House of Representatives passed H.Con.Res. 275, legislation designating the second week of September as "Arts in Education Week." Authored and introduced by California Representative Jackie Speier (D-CA), this resolution is the first Congressional expression of support celebrating all the disciplines comprising arts education.

back to top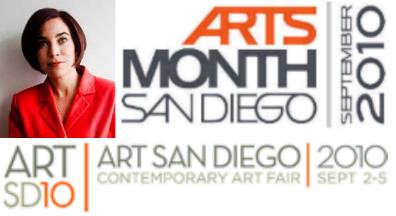 Roxana Velásquez Martínez del Campo new executive director of The San Diego Museum of Art
We are pleased to announce we are listed as partners on the ArtsMonth San Diego September. Please support this project by listing your September cultural events.
Do not confuse that promotion with the Art San Diego International Fair September 2-5 at the Hilton Bayfront Hotel. You can get two free passes for the fair is you are one of the first 100 to register. SD Art Prize 2010 recipients Gail Roberts, David Adey, Enir and Jamex de la Torre and Julio Orozoco will be featured in the SD Art Prize booths at the fair.
We are also excited to announce collaboration with the brand new Microsoft Store in the Fashion Valley Mall (between Juicy Culture and Louis Vuitton). They are hosting our celebration for all the Art Meets Fashion team participants in July.
Artist meets Neuroscientist in the Bronowski Art and Science Forum with artist Roman De Salvo and neuroscientist Dr. V. S. Ramachandran at the Neurosciences Institute Auditorium was a huge hit with standing room only. You can see the video of the event if you missed it made by Sidney Wildesmith. It was also reviewed b yMarilyn Mitchell on Art As Authority. More info: Ron Newby, SDVAN is the fiscal agent for the Bronowski A&S Forum.
Rejected from Here Not There: San Diego exhibition will be held at the Garage, 4141 Alabama Street SD. 92104 on July 5 from 7 to 10 pm for one night only. Hey, it's a pot luck and artists have to show the actual rejection slip! More info: Larry Caveney 619-297-6032. Here Not There: San Diego Art Now, June 6 – Sept 19, at The Museum of Contemporary Art San Diego, in La Jolla, CA
The opening and public reception forHomage, Contemporary Art in Digital Media, will be from 5:30 pm to 8:30 pm on Sat, July 10 th at the Escondido Arts Partnership Municipal Gallery ( 262 E. Grand Avenue , Escondido, CA 92025 ) . About 50 artists represented in Homage reside in Arizona, California ( San Diego, Los Angeles), Florida, Georgia, New Mexico, New Jersey, New York, Texas, Australia, China, England and Canada. For more info: Jim Respess 858.272.1926. The layout for the exhibit catalog is designed by Joe Nalven 858.679.1242 and can be previewed at Blurb.com and can be purchased online.
Just published: Becoming A Corporate Art Consultant, The Handbook for Corporate Art Consultation, by Barbara Markoff. Markoff who is a corporate art consultant has contributed articles for our SmART Collector feature. The book is available at www.theartconsultant.biz, or from the publisher, PFM Books at www.pictureframingmagazine.com . More info from bmarkoff@mac.com 858.452.7280
It's All About the Kids and EZ Learning's Project are hoping to win $250,000 from the Pepsi Refresh Project. Their project will award 500 single high school class scholarships to EZ Learning's Brookshire International Academy by running an essay contest to select the winners. Click Here To Vote Now! and help them help the kids. Voting ends June 30 and you can vote everyday.
Mission Federal ArtWalk 's 2010 Festival artists are featured at The Westgate Hotel's Versailles Ballroom Fri, July 23, from 6 - 8:30 pm at an evening called Art and Elegance. The art will transform the venue into a one-of-a-kind gallery filled with art of all kinds with live demonstrations, music food and wine. $29 per person. Click here to buy tickets online or call 619.615.1090
Here's a new twis: Mark Quint launches an on-line store of unique collecttiables: SPECIMEN now open for business!
It is very exciting to see the three plans put forward to light the Coronado Bridge. We urge you to the Unified Port of San Diego Public Art website and watch the video and see which one you prefer.
David Malmuth is attempting to help the city of San Diego take its rightful place as a cultural capitol. He is trying to get real people (1,000 people and 25 arts organizations were invited) together with the stake holder to give feedback on new plans for the waterfront (North Embarcadero Visionary Plan) in an attempt to bring the state Coastal Commission and the Port of San Diego together in agreement so some sort of project can actually happen. There is $120,000 (which has been off and on the table) at stake at this point, but the project is much larger than that ultimately.
Mayor Sanders and the San Diego Regional Arts and Culture Coalition released the 2009 Arts and Culture Economic and Community Impact Report.
Grace Slick is making a rare personal appearance at Alexander Salazar Fine Art (corner of 7th and Broadway downtown SD). Slick will be at the exhibit to discuss her new paintings with collectors on July 10 th from 6-9 PM. For more info: Alex Salazar 619.531.8996
Stephen Burns has a new book Photoshop CS5 Trickery & FX where you can learn how to use the new tools to create eye popping artistic scenes. Check out the website for all sorts of how-to digital books and magazines.
June 26th and 27 th from 9am to 5pm is the La Jolla Festival of the Arts, one of the most prestigious outdoor art festivals in the United States! Lisa Roche is at booth #420 along with close to 200 juried artists from all parts of the United States and Mexico.
OPPORTUNITIES (click to see a list of all current opportunities listed on SDVAN)
We are pleased to announce an Art Meets Fashion online competition hosted through Zhibit.org. This competition is a support project to the Art Meets Fashion project and will give as many artists as possible a free opportunity to become involved by expressing their creativity on this subject. Both judged and popular winner will be announced before the end of 2010 in adult and teen categories. We are looking for art inspired by fashion and fashion designs inspired by the visual arts. The Judge is Kay Colvin, curator of L Street Fine Art Gallery. Prizes are inclusion on the banner on SDVAN.net, plus posting on Art Meets Fashion.org, Press release announcements, free Platinum, Gold and Silver upgrade membership for 1 year on Zhibit, and discount coupons for all new Zhibit memberships. You must register to enter, but you do not need to have a Zhibit.org website. There is no fee to register or enter. Maximum two entries per person. Opening date June 30, 2010 Closing date: Nov 15, 2010 .Adults: 19 and older - To enter visit the competition page on Zhibit.org. Teens: 14 - 18 to enter visit the competition page on Zhibit.org. For absolutely anyone, get a free portfolio website on Zhibit.org with up to 100 MB of storage. You can also use coupon code amf2010 when you sign up and get $20 good towards upgraded premium services.
SDVAN is so pleased to be the sponsor of Getting Known, A Non-Marketing Approach for the Rest of Us which is a workshop presented by Joseph Bennett on Sun, August 15 from 11 – 4 at Eveoke Dance Theatre, 2811 University Avenue, SD. For more information please contact Joseph Bennett 619.574.0196 who is generously donating a portion of the fee to SDVAN.
Jeffrey R. Brosbe is helping to put together a large juried show for the La Jolla Art Association. This show is open to ALL media as long as the works are Black and White (Sept 16 to Oct 10). Deadline for entry is Aug 17 and it is open to any artists living in South California. There will be prizes. Prospectus and application can be found on the website.
ArtWalk on the Bay 's 2010 dates are September 18 & 19 and they are now at a new location at the Hilton San Diego Bayfront Park . Artist application information, as well as a virtual tour of the venue, is available online.
Edgeware Gallery announces a call to Artists for their Out From Underground. San Diego's Museum of Contemporary Art is having the first major International Street Art Exhibition, Viva La Revolucion, which opens on July 18, 2010 and features works by artists from 8 countries, including Banksy, Shepard Fairey, Invader, etc. To coincide with this show and capitalize on the media attention and public awareness, Edgeware Gallery in San Diego will also be having a street art show, which will open July 24, 2010 and run through early Sept. Edgeware Gallery is run under the auspices of the Autism Research Institute, with 40% going to autism research, and 60% going to the artist. More info: Dave 818.625.7872
Fallbrook Art Center announces a call for printmakers for Transferring Ink 2. Open to all artists 18 years or older and all forms of fine art printmaking but no giclee reproductions. The work must have been completed within the last five years. More info: Mary Perhacs 760.728.1414
The Port of San Diego seeks to commission an artist or artist team to create permanent site-specific artwork for the America's Cup Harbor Parking Facility planned for North Harbor Drive between Nimitz Boulevard and Scott Street and across from the sport fishing and leisure boating basin in San Diego, California. Art Budget is $76,500 and applications are due by July 12. For information regarding eligibility and complete details on submission requirements, please take a moment to review the Call for Artists. More info: Christine Jones 619.686.7254
Gallery 262-B , connected to the Escondido Art Partnership Municipal Gallery on Grand Avenue is calling for Artists with an open submission, no juror, no them, all media. For more info: Guy Lombardo 619.436.8312
MUSEUMS
Here Not There: SD Artist Now exhibition until Sept 19 a tThe Museum of Contemporary Art San Diegoin La Jolla is a wonderful showcase for our emerging artists. Read more about this show in our A+ Art Blog this month.
Oceanside Museum of Art Defying Expectations: Contemporary Native American Art from the San Diego Region features the work of four contemporary Native American artists, James Luna, Gerald Clarke, Catherine Nelson-Rodriguez, and Raymond Lafferty curated byLeah Cluff opening on Sat, July 10 from 5:00-7:00 pm. Following the reception for an extra fee at 7:00 pm will be a performance by James Luna, Native Stories: Basically Factual with Maurice Caldwell and Raymond Lafferty. RSVP to 760.435.3720. Show through Dec 12. More info Danielle Susalla 760.435.3721
Opening July 10 , and on view through December 12 , the San Diego Museum of Art will showcase its summer blockbuster, Toulouse-Lautrec's Paris: Selections from the Baldwin M. Baldwin Collection . Comprised of nearly 100 works by Henri de Toulouse-Lautrec, the Baldwin M. Baldwin collection pays tribute to an extraordinary modern artist and one of the Museum's foremost patrons. Shown together in San Diego for the first time in 20 years, Toulouse-Lautrec's Paris provides a last look at this first-class collection of paintings, drawings, prints and posters before the Museum begins a campaign to conserve and digitize these important works. In support of the show, they have already started a saloon series from 5 -9 pm and free with admission to the museum. Don't miss these and more coming up. July 18: Michele Guieu (NCII) , July 22: Tristan Shone (NCI), July 29: The Border Patrol, Brian Dick (SD Art Prize) , August 5: David White, May Martinez (SD Art Prize), and Cauleen Smith.
Lux Art Institute is showcasing Sati Zech in the studio until June 26 and exhibited until July 31. Sati red splotched and canvas pieced unstretched pictures are almost like fabric designs instead of paintings. The show space is delighted mess of scraps and you can almost imagine you are in the garment district.
Mingei International Museum will close its Escondido museum galleries to the public on June 26. But Folk Art Treasures of Romania, opening Sun, Aug 1 at Mingei International Museum in Balboa Park, and will showcase the rich and diverse artistic expression of this ancient territory. It will continue through February 13, 2011. The exhibition's guest curator is Joyce Corbett.
Get inspired by Allison Wiese's (SD Art Prize) Barn Dance and create objects based on a vision of a rural life at the New Children's Museum . Wieseuses recycled materials to make this countryside masterpiece. Workshops held daily at 12pm and 2pm, recommended for ages 5 and older.
Join the California Center for the Arts, Escondido for Curiosity: SEASONed to Perfection on July 24th and seize the opportunity to bid on one of a kind works of contemporary art by prominent San Diego artists as well as a variety of magnificent auction items and experiences.. Performances and interactive art stations inspired by each season will entertain you throughout the evening. All proceeds support the Center's Education, Museum and Performing Arts programs. Tickets $75 tp $90.
TRANSITIONS
We are very sorry to hear of the passing of David Lewinson. He wrote the introduction for our Movers and Shakers exhibition with clarity and passion. He cared about the community and its involvement with the arts. Our thoughts go to his family and friends.
The Board of Trustees of The San Diego Museum of Art has named Roxana Velásquez Martínez del Campo as the new executive director of the Museum. The internationally celebrated director is the first female ever appointed to this role and starts in early fall.
Kathryn Kanjo has been appointed the new Chief Curator and Head of the Curatorial Department of the Museum of Contemporary Art, SD replaced Stephanie Hanor who left in 2009.

Mark Quint just announced that he is moving his Quint Gallery space and the current show Double Up, Double Up is the last in the La Jolla location.
Joseph Bellows Gallery is pleased to announce the inauguration of their new Atrium space, located directly above their previous gallery at 7661 Girard Avenue in La Jolla. They also have a space in Rancho Santa Fe. (16904 Via de Santa Fe
92067).
Dennis Hopper has died at 74 from prostate cancer. Besides his memorable film career (Easy Rider), Hopper was a noted photographer and had recently showed his work at the MoPA here in San Diego.
TIDBITS
As the auction house scurry to recover market share, they are adopting some gallery strategies. They have started to put on theme auctions and now they are inviting guest curators like those at the new Carte Blanche series of sales at Phillips de Pury & Company. The first of these new series of sales curated by notable art world figures will be by Philippe Segalot, a distinguished art advisor and former international head of Christie's Contemporary Art department.
Marilyn Monroe's "Blondes" Dress Heads to Auction and the superstarlet's gown from "Gentlemen Prefer Blondes" carries an estimate of $150,000 to $250,000. Is this were Art Meets Fashion? Princess Diane's racy black dress has already sold for $275,000.
Work of Art: The Next Great Artist on Bravo TV (channel 42 in North County, Wednes at 11 pm) is one to watch. Reality TV finally comes to Fine Art.
Our new favorite site for video is The Madness of Art recommended by Jeffery Laudenslager. Check out this off the wall day in a life of an art gallery….what a hoot!
Red by American playwright John Logan won the Tony for best play and is about the life of Mark Rothko. Eddie Redmayne won best featured actor in a play for his performance as the young, increasingly defiant assistant to the artist.

back to top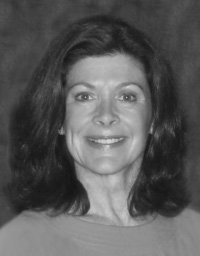 Kay Colvin, new curator of the L Street Fine Art Gallery

Artist meets Neuroscientist in the Bronowski Art and Science Forum is a program featuring artist Roman De Salvo (San Diego Art Prize) and neuroscientist Dr. V. S. Ramachandran. Billed as an "evening for inquisitive minds", it begins at 6:30 PM May 27 at the Neurosciences Institute Auditorium, 1640 John Hopkins Dr. La Jolla. More info: Ron Newby.

We loved the Summer Runway Show at Five Loaves Two Fish Clothing which was held last month at their location at the NTC. We are delighted that they will be one of the teams and a venue for our Art Meets Fashion promotion in April of 2011.

Montage : North County Artists from May 1 – June 30 is a group exhibition of North County artists, will open at with a reception on Sat., June 12, 5 - 8 pm Bruno Levin Gallery ( 115 W. Grand Ave., Escondido). A partial list of artists in the exhibition include: Cheryl Tall, Maria De Castro, Bruce Tall, Donna Butnik, Patricia Frischer, Norma Yuskos, Cyndy Brown-Carlson, Kathy Mason, Lisa Bebi, Janine Free, Chris Evans, Carol Beth Rodriguez, Petra Bauer-Ryna, Donna Klipstein, Diane Uke, Diane Stacey, Richard T. Powers. Live music by Endangered Speciez, light jazz by Marvin Free and his band. While you are there check on the Escondido Second Saturday Artwalk. For more info: Bruce Tall 760.434.1125.

Julia San Román: Cante Jondo combines painting and sound in a special installation featured at the San Diego International Airport's WestEnd Gallery (located second level pre-security at the end of Terminal 2, in the rotunda). showing through October 2010. .For more info: Julia San Roman What for the Art Meets Fashion group exhibition in this space in April of 2011.

Did you have a chance to see the Inflatable sculptures from Wendell Kling's class (New Contemporaries III) on view at Student Art Exhibition at Mesa College in May? All aspects of the exhibition were designed and executed by Professor Alessandra Moctezuma's Museum Studies class.

Here is a trend we LOVE! Michael Carini has donated two paintings (Cut Deep and Pulse) and a signed lithograph (You Can't Save Me From Myself) available at the show Anomalies and Associations at Thumbprint Gallery this past month. Proceeds benefited SDVAN and Friends of County Animal Shelters. He also will be donating a painting at Project X: Art for the show with Jesse Kerr called Conflicted Harmony and this time proceeds will benefit SDVAN and Free Arts For Abused Children. The show is from May 25 to June 19 and opens with a reception for the artist on May 29 from 6 to 10.. We love you Michael. Please let us know if any other artist would like to donate to SDVAN in this way at your next exhibition. patricia@sdvisaularts.net

SDVAN sponsored the New Contemporary III, 2010, at Project X: Art of work by Stephen Tompkins, Kelsey Brookes, Robert Nelson, Lesha Maria Rodriguez, Stephen Curry, Julio Orozco, Heather Gwen Martin, Allison Renshaw, Wendell M. Kling, Greg Boudreau, Brian Goeltzenleuchter, James Soe Nyun, Steve Gibson and there was a huge crowd at the opening including Robert Pincus. Both the walk through for the Contemporary Art Committee of the San Diego Museum of Art and also the panel discussion when the nominators stood up for their artists were fascinating. We are pleased to announce that the San Diego Art Prize 2010 emerging artist recipients chosen by Einar and Jamex de la Torre is Julio Orozco.

We can all take a stand against sexual assault at the Jeans 4 Justice Launch Experience on Thursday June 3 rd from 7 to 10 pm at FLUXX. The eveningboasts a line up of powerful speakers, inspiring community leaders, professional athletes, talented artists and of course...a brand new batch of signature pieces of Jeans 4 Justice denim, giving meaning to America's favorite clothing staple. For more info: Jessica Johnson 858.761.2699.

We love the sounds of the Pajama PartyFriday, May 28 and Sat May 29 from 6 to 10 p.m as "a sexual art exhibit and garage sale, with very frank discussions, adults only…." Laura Mappin and Richard ChauDavis will fill the house and Garage with items like the "Screw Me Silly" pillow which can be turned over to display "Dream On". Garage Gallery is located at 4141 Alabama St., North Park. More info: Larry Caveney

Not all artists are equally capable of speaking about their work, that is why we are pointing out a newish book by Wendy Richmond Art Without Compromise. You can read a review of the book by Jim Rulan Richmond had a show at Gallery@Calit2 at UCSD called Overheard and the article refers to this show. The book is being recommended for the curriculum for workshops, university classrooms, so read it and avoid the class fee.

The Symbolic Collection ( 11425 Sorrento Valley Road, SD, 92121) is a new 3000 square foots space which is now probably the best looking and certainly the largest private sales space in town. Gerrit Greve Masterworks are showing there until the end of May and they have a large private collection which normally rotates in this space and the one they also own in London called Scream. On the first Friday of each month, Symbolic Collection will be hosting red carpet events in their gallery space featuring: exhibitions from world-renowned artists; fine wines sponsored by Montesquieu; classic cars from Symbolic Motors and catering by a new restaurant each month. Fri. June 4 at 6 pm is the next reception for the Golden Age Of Glamour Vintage Photographs Taken And Printed By MGM Studios In The 1920s, 30s & 40s For more info: Ryan Crowley 858.259.4411

We love these collaboration…great artists, wonderful venue, first class media connection and esteemed producers. It will be exciting to see SD local artists Dark Vomit/Kelly Hutchison, Gustaf Rooth, and Bret J Barrett showcased in the Enrique (Limon from City Beat) Experienced exhibition on May 29 from 7 pm to 1:30 AM at Glashaus presented by Jon Block. Admission is $5.00 and proceeds benefit Mama's Kitchen, serving AIDS patients. For more info: Jon Block/Adam Rosen 619.846.7180/85

"In our life there is a single color, as on an artist's palette, which provides the meaning of life and art. It is the color of love." —Marc Chagall. Dance and Art combined is like cake and ice cream.So we are lookingforward to the Malashock Dance with Yale Strom on the subject of Chagall from June 10 to June 13 at 7:30 (Lyceum Space, 324 Horton Plaza, SD 91201) This is a world premiere with live music and there are support event so check the website. More info: Lucy Glover 619.544.1000

Art San Diego Contemporary Art Fair 2010 announces a one-day conference focused on determining how the most transformative arts and culture initiatives nationwide can be implemented in San Diego. The program, Art in the City: Utilizing Art and Culture as Transformative Tools , will be moderated by David Malmuth, an arts and entertainment developer responsible for the rebirth of the New Amsterdam Theater in NYC and the Kodak Theater in Hollywood. The conference will take place at the Hilton San Diego Bayfront Hotel on Saturday, Sept. 4th from 8am – 5pm. $150.00 includes all sessions, networking breakfast, lunch with key-note speaker, post-conference cocktail reception and entry to the fair on Saturday which includes the Young Collector Night & Wine 2.0 party on Saturday evening. Discounted tickets are available for non-profits and students. Early bird rates apply if booked before June 30th. For more info: Julie Schraeger 858.735.4914

You have a chance to vote (Via Art Pulse TV) for the San Diego Fine Art Society Art Awards, a celebration of select individuals, exhibitions, and projects that have made a significant impact on the field of contemporary art during the past year. The nominees were announced at the Hollywood Glamour Ball. The winners will be announced at the VIP Opening Night Art Awards Dinner benefiting SDFAS at Art San Diego on September 2. The categories include: Museum Exhibition of the Year (Tara Donavon at MCASD, Avedon at SDMA, Picturing the Process at MOPA): Gallery Exhibition of the Year: (David Adey (SD Art Prize) at Athenaeum, Charles Arnoldi at RB Stevenson, Shawn Wolfe at Subtext): Patron of the Year (Ian Mausner of NCM, Anne Berchtold of ArtSDCAF and Steven Churchill Art of Photography): New Artist of the Year (Greg Brotherton, Suzy Bielak, Shinpei Takeda); and People's Choice (Constance White of the SD International Airport, Matt d'Ariggo of ARTS, Bob Leathers and Cheryl Nickel of space4Art, Skip Pahl and Danielle Susalla of OMA): all much loved contributor to the arts in whatever capacity, who ll deserve a nod. (Please note: links to all these organizations can be found in our Directory)

SUSHI Contemporary Performance and Visual Arts Center will host its annual Red Ball fundraiser to celebrate 30 years of bringing contemporary art to Southern California. Guests will enjoy an evening of music, dance, visual art, performance, food, booze and a touch of madness all benefiting SUSHI and local artists on Sat, June 5, 2010 from 7 – 11 p.m. Go to the website link for more info or buy tickets here.

Norma Brown Hill invites you to create photo prayers as a way to vision who you want to be in a workshop at the Omega Institute on June 6-11. No experience required. For more info: photoart@optonline.net or click here.

San Diego Arts & Culture News is a new newsletter reporting on the strategic marketing initiative designed to enhance communications, drive attendance and generate donations to San Diego arts and culture organizations. The ad campaign designed by Departure, a local ad agency, was developed by the City of San Diego Commission for Arts and Culture and The San Diego Foundation in partnership with San Diego Convention and Visitors Bureau (ConVis) as part of their Survive and Thrive Initiative. Their first effort was two "More Beauty for Your Buck" billboards funded by the San Diego Museum Council, the Timken Museum, the San Diego Natural History Museum, the California Arts Council among others and used to promote the San Diego Art + Sol brand and the ConVis website. They have all sorts of schemes lined up like "bang for your buck" coupons. Still a bit confusing but hopefully we will learn more from additional email updates. To add your name to their email list contact: Toni Robin.

Don't confuse that project with the latest from Ann Berchtold is San Diego Arts Month (September 2010). The website just launched so make sure and check it out. Email MEMMELMANN@SDPAL.COM to request a copy of the SDAM worksheet with all the details and sign up information. SDVAN joins with Ann and many other organizations to urge San Diegan's to enjoy the best the art world has to offer without leaving San Diego this September. SDVAN presents the San Diego Art Prize 2010 at Art San Diego Contemporary Art Fair with Gail Roberts with emerging artist David Adey, Einar and Jamex de la Torre with emerging artist Julio Orozco.

Debby and Larry Kline announce that they are recipients of the Investing in Artists grant fromThe Center for Cultural Innovation (CCI). CCI is supported by The James Irvine Foundation and The William and Flora Hewlett Foundation.

Congratulations to Ted Washington on several counts. He has a work Race Track in West Coast Drawing at the Oceanside Museum Of Art from June 12 – August 13 with an artist talk and reception Sat, July 12 at 2 p.m. He won the The Hoffman Trust Purchase Award at theSouthern California Regional Juried Awards Exhibit at the San Diego Art Institute in Balboa Park. He has a poem Ten Days in the movie by Daniel Gonzalez premiered at the MoCASD. Go Ted.

In 2008,Joseph Bellows Gallerypartnered with Lumiere Press to publish the book Paul Caponigro, On Prior Lane: A Firefly's Light (limited edition of 225). They have just received word that the prestigious American Institute of Graphic Arts has selected the book as one of the 50 best books of the year. Founded in 1914, the AIGA has been choosing the year's "50 BEST" since the award was established in 1941. This year's honorees were chosen from over 800 entrants.

Congratulations to Neil Bociek, Lia Strell, Carolyn Guerra and the 27 others that are among the artists selected to create newest addition of the Urban Trees exhibits by the Port's Public Art Committee. After reviewing 82 scale models, the committee made their selection Urban Trees 7 Selected Artists (78.38 kB) for the last exhibit that will be planted along the North Embarcadero later this year. The "trees" are artworks that are displayed in concrete planters to enliven the waterfront. For more info: Allan Tait 619.686-7247, Dale Frost 619.686.6461

OPPORTUNITIES (click to see full details of all current opportunities listed on SDVAN)

Yes, ArtWalk is over for April but the call for ArtWalk on the Bay (September 18 & 19, 2010) is now open. With a new location at Hilton San Diego Bayfront Park with 4.3 acre park and easy access for artists, thousands of parking places and a spectacular bayfront setting. Artist application information as well as a virtual tour of the venue are available at: www.artwalkonthebay.org

Grumbacher paint is looking to hire acrylic painters to teach two hours workshops at a major retailer in locations across the United States and Canada including San Diego. Artists must be capable of demonstrating a still life, landscape, seascape, and floral. They plan to conduct approximately one to four workshops per store per month and the artist will have flexibility in scheduling. Compensation is $100 per workshop, and teaching materials will be provided to the artist at no cost. For more info contact Katie Blanchard with examples of their work in acrylics, along with a resume and contact information.

Guy Lambardo is making a call for artist for Gallery262 ( 262 B Grand Avenue in Escondido). The show is from June 12 to July 14 and there is a fee to participate but it is an open submission and he is filling 1500 sq feet of space in this very active area of town. guylombardo1@gmail.com or find him on facebook

Join the Alliance for California Traditional Arts (ACTA )staff for an informational meeting to learn about Living Cultures Grants Program, Apprenticeship Program and Traditional Arts Development Program on Wed., June 2, at 12:00 – 2:00 pm (Brown Bag Lunch) at the City of San Diego Commission for Arts & Culture Conference Room, 1200 Third Avenue, Suite 924 SD, 92101 More info: info@actaonline.org or 415.346.5200

University of San Diego 's Corporate and Professional Education is launching Blazing My Trail program for middle school and high school students. The program is dedicated to raising the next generation of professionals. There are two 3 ½ day session, one in July and one in August. For more info: Jodi 619.260.4231.

Extreme Bio Makeover produced by Ladies Who Launch on June 24 at 6 pm is your chance for $69 to have new professional headshots and bio writing at a fraction of the price. You will get to work with professional writers to write the perfect bio and receive styling tips and professional makeup by celebrity makeup artist Carol Meredith, Head-shots taken by professional photographers Patricia Bean of Briscoe Productions & Jennie Edwards of Guided by Imagination. All images will be retouched, sized and delivered for your immediate use on your web site and social media profiles. Plus you can meet other accomplished women while enjoying light food and drinks. Corporate Office of Proflowers, UTC 4840 Eastgate, SD 92121.More info: Felena Hanson 619.889.7852. Early bird price is only $59.

We have very little information about this call for artists from the Carlsbad-Oceanside Art League held at the Coal Art Gallery opening on August 4 th. but do contact Vaughn Custer to hear more about it at 760.529.5708.

Last chance - CALL FOR ENTRIES Art of Photography Deadline June 1, 2010Juried by Natasha Egan,Associate Director and Curator at the Museum of Contemporary Photography, Chicago For more info: Steven Churchill 858.793.0900

University Heights Art Association is making a call for artists for 5th annual UH Arts Open on September 12, 2010 from noon-5pm. For more info see website/or: Judy Riffle 619.508.4075

The Museum of Contemporary Art San Diego is looking for sites in the downtown San Diego area that can be used by artists -- featured in the upcoming exhibition Viva la Revolución: A Dialogue with the Urban Landscape-- to create murals and other site-specific works on building walls. This is the public's chance to experience the art of renowned, international artists as well as contribute to the enhancement of San Diego's urban landscape. MCASD's curatorial team will choose the final site selections from the submissions in early July. All submissions must be sent to walls@mcasd.org , with the subject line "Viva Murals".

MUSEUMS

Marcos Ramirez ERRE (SD Art Prize) is currently Artist of the Month at the New Children's Museum and you get a chance to see his two headed Trojan horse once more in this guise the Toy an Horse. Watch for our report on this show by Lesley Ma in Picked RAW Peeled.

Congratulation toThe Museum of Contemporary Art San Diego for acquiring Kim MacConnel' s enamel on wood painting which was decided at the 2010 Collectors' Selection Dinner by MCASD's International Collectors and Contemporary Collectors who voted to purchase this work by the local SD Art Prize) recipient. Don't forget the opening of Here Not There on Sat. June 5. That will be a terrific party with about 16 New Contemporary Artists featured.

How exciting....Banksy comes to San Diego and with Shepard Fairy in tow! The Museum of Contemporary Art San Diego (MCASD) will present Viva la Revolución: A Dialogue with the Urban Landscape, an exhibition that explores the dialogue between artists and the urban landscape, opening July 18, 2010 through January 2, 2011 at MCASD's downtown Jacobs Building location. Viva la Revolución: includes a diverse range of 20 artists from 8 countries The exhibition is curated by guest curator Pedro Alonzo (curator of Shepard Fairey survey, Supply and Demand, at the ICA/Boston) and MCASD Associate Curator Lucía Sanromán.Viva la Revolución will be comprised of four parts: work inside MCASD's galleries, public commissions, interventions, and a collaborative site.

Lael Corbin ( SD Art Prize ) is showing Bird in his CERCA series solo show on view at the The Museum of Contemporary Art San Diego through June 20.. The exhibition runs concurrent with his second solo exhibition at the Luis De Jesus Los Angeles Gallery , titled Greetings from Earth through June 26.

Congratulations to David Adey, Kelsey Brookes, Brian Dick, Tom Driscoll, Steve Gibson, Brian Goeltzenleuchter, Heather Martin, May-Ling Martinez, Marisol Rendon, Allison Renshaw, Jason Sherry, Tristan Shone, Stephen Tomkins and Allison Wiese who are all SD Art Prize emerging artists from the past three years chosen as 14 out of the 43 artists to be included in the June 6 – Sept 19 show Here Not There: SD Artist Now exhibition at The Museum of Contemporary Art San Diego in La Jolla.

Leave the driving to Oceanside Museum of Art and take a relaxing Daytime Bus Trip to the Getty Villa in Malibu to see the powerful exhibition, The Aztec Pantheon and the Art of the Empire at the Getty Villa on Sat, June 12. Reservations are $45 or $35 for OMA members and include museum admission, bus transportation and driver gratuity. The deluxe coach will depart from OMA promptly at 9:30 a.m. and return approximately at 5:30 p.m. For reservations, call 760-435-3720.

Victoria Hamilton of the San Diego Commission for Arts and Culture and Mayor Jerry Sanders have announced the launch of Blue Star Museum, a partnership among Blue Star Families, The National Endowment for the Arts,and 600 museums across America to offer free admission to active duty military personnel and their families between Memorial Day and Labor Day 2010. Some SD museum included, Mingei International Museum , Museum of Photographic Arts and The San Diego Museum of Art.

The Summer Salon Series at The San Diego Museum of Art gives you a chance to enjoy late hours and the legacy of Henri Toulouse-Lautrec and the upcoming exhibition Toulouse-Lautrec's Paris. On June 10 from 5 – 9 pm, Sheryl Oring comes to the Museum to present I Wish to Say, a work in which she sets up a portable office complete with manual typewriter and invites visitors to dictate a letter to the President. Oring keeps a carbon copy of the letter for her records, the original is sent to the White House. Note: This is San Diego LGBT Pride Night. More info:Alexander Jarman 619 232-7931

Twelve worthy students have applied for Lux Art Institute's Summer Art Camp Scholarship, and they only have funding for six.They can't stand to say "no," so are asking for your help. Will you make a gift to the scholarship fund? For just $100 you can sponsor an unforgettable week of Summer Art Camp for a student who needs it most! For more information call 760-436-6611.

Purchase your tickets to the California Center for the Arts, Escondido's annual silent auction,Curiosity: SEASONed to Perfection and seize this unique opportunity to participate in an evening of art, entertainment, dancing and fine dinning while bidding on great works of art and other extraordinary items. All proceeds support the Museum, Education and Performing Arts departments at the Center. The event takes place on Sat July 24 from 5:30 - 10:30 p.m at the museumand cost $75 per person through May 31 st (non-member $90 per person) and $70 per person for tables of ten or more. Dragon Race 500 is on Sat, June 12 at12:00 p.m. - 4:00 p.m.at Studio 2 & Museum Sculpture Court. The $5.00 includes admission to both the Center Museum and the Escondido Children's Museum

TRANSITIONS

Malissa Saghatchi is now working with Lorna York at the Madison Gallery. Ms. Saghatchi is the former curator of the L Street Gallery and that position is now held by Kay Colvin.

Bruno Levin Gallery was founded by Bruce Tall in 2008, and initially was a "gallery without walls". The artwork was presented via online exhibitions at the gallery website, and exhibitions in temporary locations such as storefronts, office and bank lobbies, and industrial spaces. It moved to its present and temporary location in Escondido in May 2010 courtesy of a landlord who needed the space filled while waiting for a new tenant. Exhibitions will continue at the 115 Grand location until the space is leased, and then exhibitions will continue via the internet and other locations For more info: Bruce Tall 760.434.1125. This is a new trend and one we welcome…galleries on the move to take advantage of spaces..

TIDBITS

Seattle is proud to present Pimp My Glass, an exhibition of new works by Einar and Jamex de la Torre (SD Art Prize) at the Travers Gallery ( 110 Union Street #200 Seattle, WA 98101 ) from May 7, 2010 - May 30, 2010. More info: 206.587.6501 info@travergallery.com

Steve Gibson (New Contemporaries III) is showing his work at The Center for Contemporary Printmaking in Norwalk, Conn. in a show titled Footprint 2010 from May 20- September 5. Gibson is also included in Sensory Overload at the Corcoran Gallery of Art, Washington DC from July 7 to Aug 1 exhibiting a work on paper titled Vishnu in Glasgow.

Big Congrats to Kelly Mellos whose recent work is being used to promote LA Opera's Ring Cycle.

Peter Schjeldahl (Man of the World, New Yorker, Dec 21,2009), reminds us, "Pleasure is the only trusty teacher and guarantor of seriousness in art."

back to top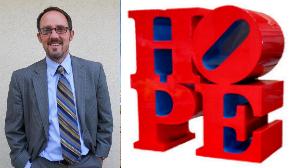 Oceanside Museum of Art announced the appointment of Ed Fosmire and Scott White Contemporary Art announces Robert Indiana 's HOPE, 2009 sculptures

SDVAN sponsors the New Contemporary III, 2010, at Project X: Art opening this month on Sat. April 24, from 7 to 10 pm. Shows runs until May 22. Panel discussion May 15 from 6 – 8 pm.Stephen Tompkins, Kelsey Brookes, Robert Nelson, Lesha Maria Rodriguez, Stephen Curry, Julio Orozco, Heather Gwen Martin, Allison Renshaw, Wendell M. Kling, Greg Boudreau, Brian Goeltzenleuchter, James Soe Nyun, Steve Gibson (320 S. Cedros Ave. Ste. 500 , Solana Beach, 92075). For more info: Chris Martino 858.792.968

Remember Art Meets Fashion whereThe San Diego Visual Arts Network (SDVAN) and FOCUS ( Fashion Opportunities Connect US) invite you to our information meetingat the Fashion Institute of Design & Merchandising (FIDM) on Thursday. April 22, 2010 from 5:30 to 7:30. FIDM: 350, 10th Avenue, 3rd Floor, SD 92101map. To RSVP for this meeting contact Felena Hanson and remember Application and guidelines (due by May 15, 2010) are new posted. Contact us to learn about this project. info@sdvisualarts.net.

Conversations of Art & Science with Roman De Salvo (SD Art Prize) and Dr. V.S. Ramachandran presented by the Bronowski Art & Science Forum on Thurs, May 27 at 6:30 is for the first time at the Neurosciences Institute (10640 John Jay Hopkins Drive, SD 92121). More info: Ron Newby SDVAN is happy to be the fiscal agent for this forum.

Mark Murphy is extending an invitation to the Survey Select Wine, Cheese and Dessert fundraiser ( 1240 Golden Gate Drive, SD, CA: 92116) on May 6, 2010 from 6 pm to 10 pm. Please join in this great community assembly of creative minded professionals to network and raise needed funds for Survey Select—Narrative Art Exhibition. A donation of $75 is requested to assist with the show held July 15-September 5, 2010 in a Warhol inspired warehouse in downtown SD and offering the public workshops, student scholarships and inspiration in a museum setting : P.S. There will be prize give-a-ways and goodie bags, too. For more info: Cindy 619.743.0405. P.S. Mark is still looking for community participation in this exhbiiton with workshops, lectures, film showings on all sorts of related areas.

We came across this UTube 2010 interview with Janet Cooling by Kevin Freitas and it isa riveting historical documentary. It comes in five parts but here is a link to the first part.. You can also see a preview of the new work in a video made by Susan Richard. Welcome back, Janet Cooling.

ArtTraxx is a community art event along the Sprinter railway in Oceanside from Oceanside Transit to Mira Cost and includes interactive visual, performing arts and musicians at 6 stops along the railway. The event is sponsored by the Oceanside Art Commission and chugs it way to you on May 7 from 4:40 to 7:30 pm. For more information Lisa Hamel

San Diego Artist and Gallery owner Betsy Lane and the NTC Foundation have partnered to create the NTC Outdoor Gallery of sculptures to enhance the NTC Promenade as an Arts & Cultural District. Already in place are two sculptures by Robert Holmes: "She Dances" and "Bolero" at Dance Place. The goals of the NTC Outdoor Gallery are to make NTC a destination for sculpture, feature San Diego, California and Mexican artists, create opportunities for future relationships with artists, including onsite creation of new work, and provide revenue to the NTC Foundation and the artists through the sale of sculptures. More info Betsy Lane 619.997.7491.

The Faculty Coalition of UCSD is standing up to accusation made about Professor Ricardo Dominguez who is accused of criminal practice because of his b.a.n.g. lab and Electronic Civil Disobedience Theater (EDT). This program is central to his role as a researcher in Visual Arts at UCSD.

The board of education in Encinitas is thinking of eliminating the Visual and Performing Arts position due to budget cuts. Fran Carrillo of the Encinitas Alliance for Arts Education which is connected to the California Alliance for Arts Education is working to change that decision. Contact her for more information.

Scott White Contemporary Art is honored to announce that Robert Indiana 's HOPE, 2009 sculptures are now available through their gallery. The work comes in painted aluminum, polished bronze, brushed stainless steel, and other painted finishes. Hope is a variation on the famous LOVE sculpture from the 1960's. More info: info@scottwhiteart.com 619.501.5689

Annual Mother's Day Weekend Artist Studio and Garden Tour features nine San Dieguito Art Guild members' homes, gardens and art studios and is held Sat/Sun, May 8 th and 9 th. The Off Track Gallery will open at 8:30 for ticket sales $20 and the homes will be open from 10 am to 4 pm. Tickets can also be bought in advance and at each of the homes on the day. Each home will feature several artists some even entertainment. All are in the North San Diego coastal area. What do moms want most from their children? Time. This is a perfect way to spend a day with your mother. Most homes will have food so you can skip the crowded restaurants this year and just eat your way through the tour. Tickets are good for both days. For more info: Grace Swanson

A shout out to Josie Rodriques who has created an Alley Art Wall where she recycled some of her art work to the community for free.

Joe Nalven noticed this article in USA Today and tells us that a 16-by-20 inch canvas digital photos is usually a standard $90, the retail giant Costco is offering the same prints via Costco's website (and 50 California Costco retail stores) for $39.99.

You have plenty of time to check out the show at the new SDSU Downtown Gallery. Divergence showing John Baldessari, Deborah Butterfield, and Andrea Zittel and will be up until Jan, 2011. The Gallery is located across from the MCASD Downtown in the Electra Building. We like the name Electra Gallery but guess that was not meant to be. Associate director of the space is Catherine Gleason, formerly with the Oceanside Museum of Art and the space is under the remit of Arthur Ollman, SDSU Director of the School of Art, Design, and Art History formerly of the Museum of Photographic Arts so there are pedigrees abounding here. It was a long time coming and we are now glad to see this small space supplied by Nat Bosa and Bosa Development Corporation.

On Friday, May 7th, 2010 from 6-9 pm and ever first Friday until the end of the year

Symbolic Motors

will be presenting a combination of an artist with a classic car. The first in the Symbolic Collection series is The Masterworks of Gerrit Greve along with The Rolls Royce Ghost. ( 11425 Sorrento Valley RoadSan Diego, CA 92121)

More info: Ryan Crowley 858.259.4411

The San Diego Fine Art Society has started a fun nomination for best museum show, gallery show, art patron, and people choice as well as artist. You can watch a video and then vote for your favorite on the Art Pulse TV internet site.

OPPORTUNITIES (click to see full details of all current opportunities listed on SDVAN)

The Art of Photography Show 2010 will take place August 28 through November 7, 2010 again at the Lyceum Theatre Gallery so it is call for entries time again. Simply filling out a short registration form. Additional details are in the FAQ page here. The juror this year is Natasha Egan who is Associate Director and Curator at the Museum of Contemporary Photography in Chicago. She has organized and curated photography exhibitions around the world and has written numerous catalogs, essays and articles on various aspects of photography. She holds an MA in museum studies and an MFA in fine art photography. Natasha Egan is highly respected in the global photographic community, so it's a significant honor to be selected by her.

The latest from Ann Berchtold is San Diego Arts Month (September 2010) which is collaboration between dozens of local arts organizations, arts and civic leaders, artists, philanthropists, and committed public and private partners. It will begin a new tradition in San Diego that aims to connect the City's wonderfully diverse communities to the arts, while also showcasing our vibrant arts community to national and international visitors in an ongoing effort to increase cultural tourism. Through a dedicated webpage, social media, community outreach, banner program in September and a Special Insert in ART LTD July/August featuring San Diego Arts Month/September, local promotional ticket giveaways, and a viral word-of-mouth and print and radio campaign, SDVAN joins with Ann and many other organizations to urge San Diegan's to enjoy the best the art world has to offer without leaving San Diego. We are hoping for the launch of the website and first press release by May 1st so please respond ASAP. Email MEMMELMANN@SDPAL.COM to request a copy of the SDAM worksheet with all the details and sign up information.

The Gallery at the New Americans Museum ( NAM) is currently available for monthly rental.The Renter will plan, produce, present, and promote their exhibition and staff the Gallery when it is open. Gallery Rental Fee - for one month - For-profit (individual or group): $900 plus Commission (15% on sales) to NAM. Non-profit Organization: $300 plus Donation (15% on sales) to NAM. There is also a meeting room/classroom available adjacent to the Gallery at an addition low fee. The Gallery space may only be available until the end of the year, but if demand is great, a NTC rental gallery might join the ranks of the many art facilities now at that location. For more info: Lee Lipsey, NAM Facilities Coordinator, 619.248.9601.

Marjorie Taylor has a studio to share on Ray Street which is 1450 square foot at $875 per month includes utilities, wifi, parking For info: taylorstudio@sbcglobal.net 619.298.0063

Applications are now being accepted for the City of Encinitas and Mizel Family Foundation Community Grant Program (CGP). Grants for up to $5,000 are given to non profit, arts and community organizations to carry out projects and programs that directly benefit the residents of Encinitas. The City Council has allocated $54,000 in fiscal year 2010-11 and the Mizel Family Foundation has announced that it will donate $54,000 in matching funds, bringing the total available to $108,000. Contact Jim Gilliam or 760.633.2610 for more info and an application due May 27.

Edgeware Gallery, Kensington, is seeking artists to participate in a jazz-themed show. The artwork can either be literal (i.e. portraits of jazz personalities, instruments, venues, or other jazz-related subject matter), or more jazz-inspired (i.e. abstract/impressionistic). The show opens May 8 (until June 27) and applications on due by May 2. On May 15, we're sponsoring a concert featuring Matt Savage, an 18 year old jazz prodigy who's played at the Kennedy Center, New Orleans Jazz Festival. For more info or David Gillerman 818.625.7872

MUSEUMS

The Museum of Contemporary Art San Diego (MCASD) will host its seventh Benefit Art Auction at its La Jolla location ( 700 Prospect Street) on Wednesday, April 21, 2010, at 6:30 pm. The benefit auction, one of MCASD's most popular and exciting events, features a live and silent auction of artworks by both internationally recognized artists and emerging contemporary artists. August O. Uribe, Senior Vice President of Sotheby's New York, will preside as auctioneer. Funds raised will help support MCASD's art acquisitions and future exhibitions.

Congratulations to David Adey, Kelsey Brookes, Brian Dick, Tom Driscoll, Steve Gibson, Brian Goeltzenleuchter, Heather Martin, May-Ling Martinez, Marisol Rendon, Allison Renshaw, Jason Sherry, Tristan Shone, Stephen Tomkins and Allison Wiese who are all SD Art Prize emerging artists from the past three years chosen as 14 out of the 43 artists to be included in the June 6 – Sept 19 show Not There: SD Artist Now exhibition at The Museum of Contemporary Art San Diego in La Jolla.

Banksy is coming to SD so you are advised to bone up on the Best Banksy Controvesies…So Far as posted on Flavorwire. Plus: Exit Through the Gift Shop website, which is the new Banksy movie, coming to SD soon?

Mingei International Museum will close its Escondido Museum galleries and store to the public on June 26, 2010 while continuing to use the facility as a fulfillment center for Museum publications and for archival and related storage uses. This is due to the uncertainty of the current economic climate and lack of sustained patronage, As a gesture to the Escondido and North County communities, the Museum will be open free of charge through June, featuring the current exhibition, RITE AND RITUAL – Ceremonial Art Across Cultures. Fee-based Second Saturday programs will take place as scheduled. They will continue to maintain an aesthetic presence on Grand Avenue after the galleries and store close by exhibiting objects from Mingei International Museum's collections in the display windows.

A variety of restaurants and caterers will offer tastings of African, Cuban, Mexican and American cuisines plus entertainment will be featured at Mingei Fusion 2.0, the second edition of last year's successful fundraiser at Mingei International Museum in Balboa Park. The date is Wednesday, May 5, the time 6 p.m. The lead sponsor of the event again this year is Audrey Geisel. Reservations may be made by calling 619.239.0003, ext. 133.

Mingei International Museum, The San Diego Museum of Art, Timken Museum of Art, and Museum of Photographic Arts are all featuring Mexican themes shows to celebrate the 100 th anniversary of the revolution and the 200 th of independence. The Mingei shows ¡VIVA MÉXICO! – Heroes and Artisans and Tempering Memory - Photographs of Contemporary Mexico by Julio Rodríguez. SDMA is featuring Mexicans Hugo Crosthwaite, Raúl Anguiano. The Timken presents singer-songwriter Gabriela Flores and storyteller Lisette Atala for Spanish-Language Storytelling on May 1. MOPA has a series of Mexican Film Classics including a Santo Mini-Series featuring five films starring the iconic, masked Luchador.

Art Alive is The San Diego Museum of Art 's preeminent fundraiser and one of the most widely attended events of its kind in the United States. For four floral filled days and nights the Museum is transformed into a glorious spectacle of art and flowers, creating an enchanting spring exhibition. The floral presentation is punctuated by a host of special events-including an Opening Celebration, Member Preview, a "Special Edition" of Culture & Cocktails, and family-oriented " Garden of Activities." Click here to see a full Schedule of Events. Free members/$15 nonmembers from April 29 - May 2.

The Board of Trustees of Oceanside Museum of Art announced the appointment of Ed Fosmire as executive director. A start date of April 15, 2010 is anticipated. Mr. Fosmire comes to OMA with a strong background in arts fundraising and over 17 years experience in the arts. He has most recently been a Director of Development at California State University, Long Beach. Under his leadership his programs raised almost $1.5 million over the last year. Welcome Mr. Fosmire.

In partnership with the San Diego Jewish Film Festival, Oceanside Museum of Art will screen " Shanghai Ghetto" on Thursday, May 13th at 7:00 p.m. The documentary film " Shanghai Ghetto" tells the powerful story about the formation of a small Jewish community of exiles in the exotic city of Shanghai, far from the comforts of their European culture. The evening will begin with guest lecturer Scott Marks, film historian and co-host on KPBS Radio who will provide an overview of the film addressing the surrounding historical context and will moderate a post screening discussion. Terra catering is creating a delicious menu for the evening including Teriyaki Salmon Tacos, Chinese BBQ lettuce wraps, ginger chicken potstickers, calamari steak salad, dessert, wine and coffee. Reservations are $20 for OMA & JCC/SDJFF members and $25 for non members. Call the museum for reservations at 760.435.3720.

Experience the rebirth of California cool as Museum of Photographic Arts celebrates the best of California wine, food and photography at Vintage 2010 on May 22 from 6-10pm. Immerse yourself in the easy glamour of California in the 60's as you savor tastings from California's best boutique vineyards and San Diego's hottest restaurants. Enjoy era-inspired entertainment while exploring the Museum's galleries featuring 22 of California's top contemporary photographers. And relax, there's no auction this year so you can celebrate throughout the evening. More info and RSVP: Sue George 619.238.7559 ext. 202

We enjoyed meeting the artist Robert Lobe during his current residency at the Lux Art Institute. Mr. Lobe has covered various local trees with various metals giving us a fresh view of nature but his two newer works of composed natural elements as high relief wall art seems the freshest of those works on display. We were sorry not to be privileged to see the works by Jean Lowe and Kim MacConnel arriving in the Institute's shop.

TRANSITIONS

Colosseum Fine Arts is pleased to announce the opening of the new La Jolla location opening April 1 st at 7946 Ivanhoe Ave. Suite 102, 92037. They also have a space in Los Angeles. More info: Floyd Elmore 619.795.3704

We are so sad to say good bye to Keikichi Honna who is returning to his home country Japan. A great send off and celebration of his time in San Diego noted by a cover and story in of CityBeat. Come back and visit us often.

TIDBITS

The Mayor of London announced that the Award winning London-based artist Anish Kapoor has been given the commission of a lifetime to design the spectacular new public attraction in the Olympic Park. 'The ArcelorMittal Orbit' will consist of a continuous looping lattice of tubular steel. Standing at a gigantic 115m, it will be 22m taller than the Statue of Liberty in New York and offer unparalleled views of the entire 250 acres of the Olympic Park and London's skyline from a special viewing platform. You can see the illustration above.

The EyeWriter has been chosen as the winner of the first FutureEverything Award, a £10,000 prize set up to celebrate the creative imagination that will shape our future. The EyeWriter is a pair of low-cost eye-tracking glasses that allow artists and graffiti writers with paralysis to draw using only their eyes. Inspired by Tony Quan, a graffiti writer, social activist and publisher who was diagnosed with Amyotrophic Lateral Sclerosis (AML) in 2003, The EyeWriter is the result of collaboration with five other artists and a production company. Tony Quan comments: 'Art is a tool of empowerment and social change, and I consider myself blessed to be able to create and use my work to promote health reform…"

Our new favorite video art interviewer is the elegant and articulate Melissa Chiu who is broadcasting on Thirteen Sunday Arts. She choice of subjects and her delivery make her the woman to watch. The program comes out of PBS New York but because of that it is quite international.

Take a look at the great video made of Kaz Maslanka of his show at Lab Gallery in New York. Congratulations to them all for a fascinating art work, a wonderful installation and a terrific video.

Tate Modern , London, is seeking to appoint a Director to succeed Vicente Todoli, who has led the Gallery with distinction since 2003. The new director will report to Nicholas Serota, Tate's over all director.

Watch out for the scam "Jan Benham, an American but I reside and work here in Australia." who is offering to buy work from galleries/artists. The email is titled "placing an order".

Looking at art is an active process. We imagine the act of buying. The artist is betting his life that the looker will be an acquirer.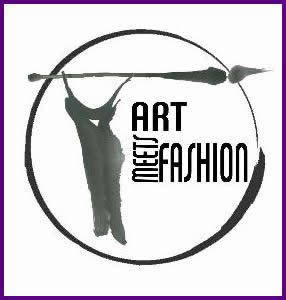 Art Meets Fashion on SDVAN is launched this month with guidelines and an application for potential participants. Please go to the official Art Meets Fashion site which is maintained by FOCUS and read all about this exciting opportunity to collaborate. A special group including Denise Bonaimo, Rosemary Kimbal, Chelsea McGraw and Julie Goldstein who have been working on the logo for this project (above) and Vanessa Lillegren and Felena Hanson areresponsible for the application. A public meeting to get more information and help with the application will be held April 22 from 5:30 to 7:30 at FIDM. For more info and to RSVP for the meeting: Felena Hanson or Patricia Frischer
Art San Diego Contemporary Art Fair just announced a new title sponsor for 2010. USB Financial Services is an international company with offices in downtown San Diego and Rancho Bernardo. The fair is scheduled for Sept 2-5 at the Bayfront Hilton Hotel. Our announced SD Art Prize artist recipients for this year are all featured artists at the fair. Congratulations to Einar and Jamex de la Torre, Gail Roberts and David Adey.
You will enjoy a Weekend with Pablo Picasso at the Lyceum Theater put on by the SD Repertory Theater starring Herbert Siguenza playing until April 11. Mr. Siguenza is believable Picasso and even paints a number of pictures while on stage. While there, take a look at the Allied Artist Association of SD who have an exhibition of works by local artist. Their reception is April 2, 6:00 to 7:45 p.m. and is open to the public.
We were intrigued to see the results of the Vos Alta's Responsibility Art for the Homeless. Artist were asked to make signed suitable for homeless people. The public was then invited to purchase the signs and give them away to those unfortunate of live on the streets. Daniel wrote a report of the evening where he described how patrons who bought the works wanted to keep them. Sales were slow until Daniel was lucky enough to find a non domiciled man and invite him into the gallery. He was given his choice and picked a work by Daniel, which was an eyeball icon image with the words I am more than U see. "…. this interaction was what the whole premise of the show was based upon, now people see for themselves, the impact of giving. This energy flooded throughout the gallery as all eyes were on us and suddenly people were just buying paintings off the wall. The night proved to be a huge success as discussions flowed on how the next show could expand."
Check out the final images from the Movers and Shakers reception that are now posted on SDVAG by Alex Berkowitz. Better late than never, Alex and we really appreciate the effort and the vitality that she caught in her shots.
More portrait projects…hurrah. We have started a trend at SDVAN since our Movers and Shakers promotion. During Mission Federal ArtWalk 2010 you can bid on a fine art portrait created just for you. Fourteen artists have offered their portraiture talents in support of ArtReach. You can choose the style you prefer from a variety of media and sizes. Then visit the Silent Auction Tent (#528) near Date and India Streets between 11 am and 6 pm on April 24th & 25th. Winning bidders will be notified by phone or email on Monday, April 26.
Alexander Salazar Fine Art (640 Broadway, corner Of 7th And Broadway,92101), is opening his doors on March 26 and 27 for the public from 7 pm. 15% of all sales will be donated to It's All About the Kids and Christies Place Aids. Check out Roger Weik and Chris Truemen on the new website as well at Tania Alcala who will be the next featured artists. More info Alex, 619-531-8996.
We love the video demonstration about bead making by Christine Nixon. You can try this out at Fusionglass Gallery & Studio located at 8872 La Mesa, Bl, La Mesa, 91942
The newhaudenschild Garage website debuted this month with projects Madrid Abierto byTeddy Cruz,Recoleta Revisited by Lisa Tan and Aa Band & Juvenile Hall collaboration with Sean Neil.
Over heard at the Fine Arts Festival VI, which is the SDMA Artist Guild annual show at the museum this year: "... this show and the SDAI are good places for beginning collectors. ..... Melva Riley's colorful abstract landscapes would hold up in any contemporary collection......Ally Benbrook's water color horse heading into the snow painting would be in my collection if I had more space.... Marcy Stinton's glass perspectives "Jellies" caught my eye......I wanted to see more of a mix of art styles, more modern, more 3 dimensional."
Calling All Veterans! Kevin Connors is taking free photographic portraits and the sitter willreceive prints and digital files with his compliments.Coast Highway Photography is located at 415 S. Cedros Ave., Ste. 120 in Solana Beach, 92075. Contact Kevin 858.350.4799 for more details and pass this on to anyone you know who is a veteran. Our hat goes off to Kevin for this generous project. Watch for all the War exhibitions at the OMA (see below) while you are in North County.
A symposium on installation art moderated by Museum of Contemporary Art, San Diego Associate Curator Lucîa Sanromån will be held at Southwestern College Art Gallery ( 900 Otay Lakes Rd. Chula Vista 91910) on April 8 starting at 11 am. For more info: Vallo Riberto.
Mise en Scène: New Paintings and Assemblagesby Marianela de la Hoz at Noel-Baza Fine Art ( 2165 India Street, Little Italy) open on March 26 th until May 1 st. On April 9 th from 6 p.m. – 9 p.m. a free reception will be held at the gallery. The exhibition consists of 27 new works, all miniature egg temperas, ensconced within and on objects creating a 3 dimensional and sculptural work. RSVP Required. For more Information and to RSVP: 619.876.4160 or noel-baza@cox.net
OPPORTUNITIES (click to see full details of all current opportunities listed on SDVAN)
SDVAN is looking for a Video Volunteer/Intern to work with the Coordinator, Patricia Frischer. This is a post especially geared to students. For the special candidates who qualify SDVAN will give training and public credit for all achievements. All projects will have a finite time schedule. Year-round program is offered during the summer, fall, and winter/spring semesters with a maximum of five (5) hours per week during the academic school year and up to 10 hours per week during summer holidays depending on our needs. The objective will be to assist the Coordinator of SDVAN in various video projects and initiatives including the Art Meets Fashion Project and our new UTube linked site. Experience with video media and uploads to the internet are required. More info: Patricia Frischer 760.943.0148
Through the Art San Diego Contemporary Art Fair Internship, high-school students interested in art and event planning, people studying for their first degree, engaged in post-graduate studies or just out of college, can find out more about the contemporary art world and what their role in it might be. This is a networking opportunity as well as a chance to acquire new skills. Deadline to apply is June 25. Please send your resume and specific area of interest to: Heidi Slack, Volunteer Coordinator.
Yvonne Wise , Port of San Diego's Public Art Director has announced the Call to Artists: Urban Trees 7. This will be the last year for up to 30 artists (or artist teams) to create original sculptural artworks for display along Harbor Drive between the "B" Street Cruise Ship Terminal and Hawthorn Street. Submittals must be received by no later than 5:00 p.m. on Monday, May 3, 2010.For more info:l619.686.7246.
If you want to get news of opportunities at the Port of San Diego Public Art Projects, then you must sign up for their email newsletter. We have been given a direct link to do so by Yvonne Wise. We recommend everyone joins this list http:/j.mp/PublicArt so you can stay up to date with the plans and outcomes of one of the largest art funders in San Diego. Just a hint, they use a capchta system to avoid bots and if you can not read it, just open a new page and you might get an easier word to decipher. Here is a link to their new Public Art Master Plan (Draft). More info: Yvonne Wise 619 686 6465
Fallbrook Art Center has a new gallery store and is making a call for Artisans. The Find is located in front of The Janice Griffiths Gallery fronting on Main Street. It will be open daily, even when the Fallbrook Art Center is closed during show set-up. Store Hours: Mon-Sat 10am-4pm | Sun 12-3pm They are looking for Functional Art Pieces - ceramic, wood, glass, fiber; Wearable Art - jewelry, scarves; Hand crafted greeting cards, journals & photo albums. To receive details on showing contact thefind@fallbrookartcenter.org
City of Oceanside Art Commission has a call for their juried banner painting competition, with $850.00 in prize money for top three winning artists. For more info: Eugenia Bizzaro 760.967.4957. They are also calling for a juried sculpture competition with $4000.00 in prize money for the top four winning artists. For more info: Corrine Perez-Garcia 760.845.9878
TheSD Foundation is offering a free workshop at the end of March Tue, March 30: Your Board & Fundraising. 9:30 am - 11 am. This introductory class, primarily for small nonprofits, systematically leads them through the process of getting their board involved with fundraising by examining key elements: role of the board, overcoming reluctance to fundraise, and participating in the fundraising process. There is also Securing Corporate Partnerships on Mon, March 29: 9 am. - 4:00 pm. Fee: $195. Nonprofits turn to corporations for grants, sponsorships, and in-kind donations. This course helps will help you articulate your nonprofit's assets and values to corporate partners and give info on how to gain their support and long-term commitment. More info: sue@sdfoundation.org
The sixth annual LeucadiART Walk will be held on Aug. 29 but their call for artists ends April 5. The event draws over 3,000 people each year. This is a juried show, and samples of work must be sent so please visit their website for more information and to download an application or contact Paula Kirpalani 760.436.2320
La Jolla Shores is looking for an artist for a design vision suitable and adaptable for use as a logo-to be used on all merchants and business literature and a large entry sign to La Jolla Shores and future banners and merchandizing. For more info contact: Monica Cadish 858.459.1196
The City of San Marcos is now accepting applications for its San Marcos Arts and Cultural Grant Program which awards up to $6500 total in grants. The deadline is April 8 so better gets your skates on. This tip came to us from Colleen R. Lukoff, CFRE, President at the San Marcos Community Foundation who also announces the Arts & Culture Regional
Information Session on Wed March 31, 4-5:30 p.m. where The San Diego Regional Arts & Culture Promotion Campaign (sandiego.org/artandsol) will be discussed and explained. Making presentation will be Michael Yee, Arts & Culture Working Group, San Diego Foundation, Emily Rex, Departure Advertising and Felicia Shaw, Director, Arts & Culture Analysis & Strategy, San Diego Foundation. This is all held at the Valley of Discovery Room, San Marcos City Hall, One Civic Center Drive, San Marcos, CA (next to the Council Chambers) More info: Andrea Rouse 760.744.1050 x 3116.
The City of San Diego Commission for Arts and Culture announced a public call for artists for the project Asian Pacific Historic Gateway sponsored by the commission and the Centre City Development Corporation. The budget was this project is approximately $300,000 with a dealine of May 14, 2010 Full RFQ. More info: Dana Springs 619.236.6790
Artists are invited to submit an artwork, made from recycled materials, in the City of Encinitas Environmental Art exhibit at the Encinitas Library, Earth Day, April 22 to Environment Day, June 6, 2010. This is the 2 nd year we have presented this unique open call exhibit. All artwork will be juried with awards given for best of show, first place and honorable mention. You can submit three works and the deadline to apply is noon, Monday, April 12. You can download the pdf application here . For more info: Jim Gilliam
MUSEUMS
The Museum of Contemporary Art San Diego (MCASD) will host its seventh Benefit Art Auction at its La Jolla location ( 700 Prospect Street) on Wednesday, April 21, 2010, at 6:30 pm. The benefit auction, one of MCASD's most popular and exciting events, features a live and silent auction of artworks by both internationally recognized artists and emerging contemporary artists. August O. Uribe, Senior Vice President of Sotheby's New York, will preside as auctioneer. Funds raised will help support MCASD's art acquisitions and future exhibitions. Before that on Thurs, March 25, TNT (Thursday Night Thing) returns to the Museum of Contemporary Art San Diego's downtown location with a dynamic evening of live music, art-making activities, and interactive performances themed around four new exhibitions. Including Ruben Ochoa, Lærke Lauta, Lael Corbin (SD Art Prize recipient) , Mara De Luca, Agitprop, Bobby Birdman and YACHT
Oceanside Museum of Art is opening two news shows on March 27: Honor: Marine Portraits by Stathis Orphanosin the Groves Gallery ( Meet the artist Sat, April 24 at 2:00 p.m); The Things They Carried: World War II Trench Art in the Parker Gallery with a reception May 1. Also war related, watch for Painting World War Ii: The California Style Watercolor Artists with a reception on Saturday, April 17 at 5:00 P.M. More info: 760.435.3720
Lux Art Institute presents Robert Lobe who depicts rocks and trees in shimmering, hollow forms using heat-treated, hammered aluminum. In Studio from Mar. 27 to Apr. 24, 2010 and on Exhibit from Mar. 27 to May 22.
California Center for the Arts, Escondido presents Museum Discussion: Dysfunctional Furniture, Sat, April 10th at 2 p.m. Material Matters artists Jennifer Anderson, Matthew Hebert and Paul Henry lead an informal discussion on the process and inspiration behind their current bodies of work. A question and answer session will follow.
We love the artist of the month project at the New Children's Museum. For March it features Sun K Kwak who is using colored masking tape to enhance a climbing wall. They are encouraging kids to make their own tapescape. This is a truly creative program and we are all proud of the work that they are doing in our city.
TRANSITIONS
We are pleased for the Joseph Bellows Gallery which has announced an additional location in Rancho Santa Fe at 16904 Via de Santa Fe, 92067, 858.759.1453.This joins their La Jolla space ( 7661 Girard Avenue, 92037, 858.456.5620) More info: Jospeh Bellows

TIDBITS
.Check out these paddy fields in Japan that have been planted with various colored rice to create living murals. Definitely worth a click. Thanks to Deanne Sabeck for feeding our souls with this tidbit.
We support the artists of Temecula who are struggling with issues of censorship. Hopefully they will have a home for their art in the future where the freedom of expression will be respected. For now, no nudes in the public library unless they in behind closed covers. Good luck to Sissi Hale who curated the affected exhibition.
The artists of Sophie's Gallery are included in an Outsider Art Show until April 20 at So Sho Me Gallery ( 587 Palm Canyon Drive, Suite 108 Borrego Springs, CA 92004,) 760.767.1155. Sophie's Gallery & Gift Shop is an art program of St. Madeleine Sophie's Center that serves adults with developmental disabilities. While in the desert, check out the wildflowers.
When you dream in color, it's a pigment of your imagination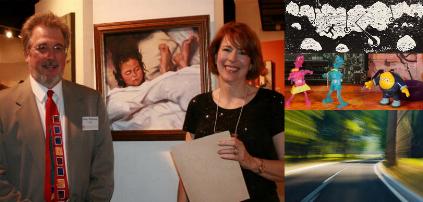 Sidney Wildesmith was the juror for the Jan/Feb SDAI Museum of the Living Artist (MOLA) exhibition. He introduced a People's Choice Award which was won by Margo Palmer for her painting Sound Sleep. She received $126 from a ballot donation and the visitors had an extra incentive to look at the work with the perspective of making a quality choice. What a great new tradition. (Image left)

Panache 2010 Invitational for Ecsondido Arts Partnership previews on Sat. March 13, 11 am to 8 pm during 2 nd Saturday ArtWalk. Their Auction/Fundraiser is on Sat March 27th, 2010, 5:30pm - 8:00pm and benefit Escondido Municipal Gallery ( 262 East Grand Avenue at the corner of East Grand Ave. and Juniper, Escondido, 92026). P anache 2010 Artwork can also be previewed on-line after March 11. Reservations for the "Panache 2010" fundraiser are $55 in advance and $65 at the door. More info: Wendy Wilson 760.480.4101. (images right)

Each year SIGGRAPH produces a convention that highlights digital art and technology as an interactive and visual concept. Our own Stephen Burns is a juror for this year show. He is also running the 2D and 3D digital arts presentations that will be a part of the many activities of The Studio. The Studio is the location at SIGGRAPH where attendees can come and experience art and technology first hand. The conference is in July this year at the Los Angeles Convention Center.

We love the progress that Sezio is making. They are no an official 501 (c) 3 non profit organizations and they raised $2,000 from their last event. This money will help buy a case of disposable cameras, prepare for a big Art/Music event on June 12th and launch there Membership Program this spring. They are also launching a weekly, hour-long radio program on Friday at 2pm on Legit Radio. Focusing on hometown and national talent, Sezio's hour-long program will feature a mix of music, cocktails, weekend events and special guests.

Ellen Speert , Director of the Center for Creative Renewal might be starting a art knitting group, co-led by Nancy Nelson who owns a wonderful yarn shop, Common Threads, in Encinitas. They want to hear from you especially if you have eating issues as this a wonderful, creative way to keep your hands busy and out of the refrigerator! Learn a new skill or just come to enjoy the companionship of knitting with them.

How thrilling! Saatchi, London online TV & Daily Magazine editor Rebecca Wilson has chosen Dan Adams and his panting Hoot as one of the top 10 for the week (Feb 1).

The organizers of Mission Federal ArtWalk need your help to choose this year's T-shirt design. Each year, the event t-shirt is distributed to artists and volunteers, and is available for purchase during the weekend. Many art lovers have been collecting ArtWalk t-shirts for the past 26 years. This year, for the first time, the art piece on the t-shirt will be selected based on your votes. All of the art pieces are by artists of Mission Federal ArtWalk. Click here to vote – you may return and vote as many times as you wish but be quite as it closes on Feb 28.

We very much enjoyed the latest film by Charles Bronson on the subject of Man Ray. Check out the others in this series of famous artists like Picasso.

City Beat is now doing more extensive reviews of shows and posting them as a group. On February 17 a notice was sent out with reports by Baudelaire Shepherd, Lorena Nava Ruggero, Sarah Nardi, Seth Combs with the group title Surveying the Landscape. In Nov, we saw Around the Block and in Dec, Around the Corner. We love this easy to read format with the groupings and applaud the added coverage of art exhibitions. Remember you can see our new reports every month on Picked RAW Peeled.

Next month, the new United States Embassy will open in Sarajevo, Bosnia and Herzegovina, and will feature the works of many talented Bosnian artists. Galeria JAN has helped the U.S. State Department's Art program to choose art works for this embassy. From the group of artists selected by the committee, Galeria Jan would like to present two of those Bosnian artists Nebojsa Seric Shoba, and Cedomir Kostovic at their La Jolla gallery. Each has limited edition art works exclusively selected for this government center, which will open in the spring of 2010.

The Artist Guild is holding their annual Fine Arts Festival VI from March 12 –14 at the James S. Copley Auditorium of the San Diego Museum of Art. The guild raises funds for The San Diego Museum of Art. There is an exclusive Special Preview on Friday, March 12 from 5:00 p.m. – 8:30 p.m.

Silvia Valentino is showing her work DRIVEN…. at Sophie's Gallery at the NTC with a reception Fri. March 5, 5 p.m. - 8 p.m. They have very cleverly asked her to conduct two workshops, one at the NTC and one at St. Sophie's at El Cajon where she will help students to make Key chains…nice tie in. More info: St. Madeleine Sophie's Center 619-593-2205

NTC Foundation presents an exhibition featuring photography, architecture and landscape architecture of the new NTC Promenade Arts & Cultural District. The exhibition titledNTC Promenade Views & Visions opens on Friday, March 5, 5-8 p.m., and continues through March 21. The show site is the New Americans Museum Gallery , 2825 Dewey Rd., Suite 103. SD, 92106. For more information contact Lee Lipsey 619.248.9601.

Family Matters at SUSHI is on view from Thur, March 4 through Sat, April 24, and focuses on a young person coming to terms with his own family history. Curated by Brian Goeltzenleuchter, artists and performers featured in Family Matters include Lisa Hutton, Andrew Kaufman, Lauren Tyler Norby and Donna Stack as well as The Cedar Tavern Singers. Family Matters is conceived as a visual arts exhibition and a dynamic series of special events programming, including music concert, film screening, panel discussion, and urban interventions. For full info visit the website or call 619.235.8466.

OPPORTUNITIES (click to see a list of all current opportunities listed on SDVAN)

Artists: Are you tired of waiting to be discovered by a gallery director? Do you have a body of work you would like to display? Would you like to expand your patron email list? Maybe it is time to take matters in your own hands and curate your own group art show. Galleriest: Are you looking for exciting new ideas so your space looks fresh? Would you like to attract a new audience to your venue? Is it time to use social networking to spread the word about your collaborations. This lecture will also be directed to artist who will be encouraged to make proposals to venues for exhibitions.
How to Curate a Group Show lecture by Patricia Frischer is held onTue, March 23rd from 6:00 - 7:30pm. Learn the details of curating a group show from finding a theme, working with other artists, locating a venue, getting the word out, and traveling the show. Admission is $5 members / $10 non-members of San Diego Art Institute Museum of the Living Artist, 1439 El Prado, SD 92101. More info: Andrea Chamberlin 619-236-0011

Once you have been to the lecture, apply to Warp9 for a space in their gallery for the monthly ArtWalk in North Park called "RayAtNight". The event is held the 2nd Saturday of every month from 6PM to 9PM. March will be the 102nd consecutive monthly show. They are looking at submission for March, May, June, July and August at this time. They attract anywhere from several hundred to over 1000 people per month. For more info: Larry Stein

The Encinitas Chamber of Commerce is starting a new program, Artist in Business, which places original artwork by Encinitas artists in local businesses. It is an opportunity to get more art to be seen by the public and sell art. The Chamber is now accepting artist applications for all those in Encinitas. For more info: Pat Reinhardt at the Chamber of Commerce. 760.753.6041

The Bonita Museum's Annual Juried Fine Art Exhibit is scheduled for March 6 – April 24. Deadline for entries is February 20. They are accepting online entries only this year so contact Vicki DeLong for more info: 619.267.5141

Spring Exhibition at UCSD is Exploring the "M" Word (motherhood),which is an exhibition created, composed of, and installed by ALL women. The term "women" includes bio-women, trans-women and all women who are woman-identified as well as our transgender brothers who have experiences as women or with motherhood. More info: Aimee Harlib: All submissions are required by March 1 st, 2010. The Event date is May 4 th, 2010

Villa Musica is looking for another non-profit willing to share an office in Sorrento Valley. Ideally this will be a 12 month lease beginning in April, 2010. The rent is $250 per month with another $50 for utilities. The office will be available to the organization 24/7 with excellent wireless connection, use of rehearsal/board meeting facilities (at a special reduced rate of $10 per hour) as well as being a part of an arts-friendly community. For more info: Dr. Fiona Chatwin 858.405.2691

The Fallbrook Art Center presents Wheels of Desire, an astounding collection of bikes spanning over 100 years in addition to related art. Open to all artists portraying motorcylces, supercross and/or motocross with emphasis on high-quality work possessing precision, a strong sense of design and technique. FAC also presents a call for artists for the 13th Annual Galaxy of Glass. For more info: Mary Perhacs 760.728.1414

MUSEUMS

The Museum of Contemporary Art San Diego (MCASD) announced its second grant for Phenomenal: California Light and Space which now makes a total of $450,000 from the Getty Foundation to support the exhibition and accompanying publication. The show slated for October 2011 is curated by Dr. Hugh M. Davies, The David C. Copley Director of MCASD. And will focus on perceptual investigations by artists that began in Southern California in the 1960s, fomenting many of the vanguard practices still engaging young artists today. At the downtown venue opening Friday, March 26, for the Cerca Series exhibition, Lael Corbin (SD Art Prize) will turn the Strauss Gallery ( Jacobs Building) into a makeshift airplane hanger. In this space, visitors will find workbenches topped with partially constructed objects; large bulletin boards filled with drawings, photographs, and scribbled notes; and at center, the skeleton and shell of an experimental aircraft. The exhibition is curated by MCASD Curator Dr. Robin Clark.

Oceanside Museum of Art is presenting Art After Dark - InfoTopia: Feed the Art Side of Your Brain on March 12, 7-10 PM. The Ancient Gallery will present Total Information Awareness, an interactive black light installation assembled from mass-produced cultural icons and original fabricated sculptures and paintings on view in their Groves Gallery. In this mystical black light room you can experience avant-garde dance and acro yoga by the San Diego Acro Yoga Acronauts in UV reactive costumes, and body models air brushed in glow in the dark designs. Admission to Art After Dark is $25, or $20 for OMA members and includes art, music, performances, and complimentary refreshments. For more info: Danielle Susalla 760.435.3720

Try not to miss one of the most interesting "performance" art works this year at the San Diego Museum of Art as Hugo Crosthwaite draws directly on the wall creating a work that goes way beyond the typical idea of a drawing as a sketch for a painting. He will then small white square by small white square cover the work with paint thus deconstructing it at the same time as he pixilates it. I know, it doesn't make much sense so watch this video instead. Brutal Beauty: Feb 27 - July 18 San Diego Museum of Art(1450 El Prado, SD 92101) Culture & Cocktails, Feb 25, 6:00 - 9:00 p.m. After Party with the Artist, 9:00 p.m. - Tin Can Alehouse, 1863 5th Avenue, San Diego More info: culture@sdmart.org 619.955. 8525 Artist Talk: March 14 at 3 PM Dark Dreams: Drawings at Noel-Baza Fine Art Gallery (2165 India Street, SD 92101) March 5 - March 20 More info: Pierrette Van Cleve-Van Cleve Fine Art 619-876-4160

The biggest news from Mingei International Museum is the new show Tempering Memory, an intimate exhibition of photographs of historical locations in Mexico by Tijuana-based photographer Julio Rodríguez, which will open to complement the exhibition ¡VIVA MÉXICO! on Sunday, Feb 28. ¡VIVA MÉXICO! — Heroes and Artisans. celebrates the 200th anniversary of Mexican independence (1810), the 100th of the Mexican revolution (1910) and the folk art that expresses the nation's spirit and continues through Jan 2, 2011. Mingei International Museum is extending three exhibitions. Transformed By Fire and Fifty-Six Hatboxes will be on view through Saturday, July 3.Fisch Out of Water — Sea Creatures Of Arline Fischnow closes Sunday, May 16. The Mingei RT EXCURSION: Downtown Los Angeles is on Thurs, March 18, approx. 8 am – 7 pm and cost $85 members / $115 non-members. More info: 619.239-0003, ext. 116 or Register Online.

TRANSITIONS

Alex Salazar, who after a long and successful tenure at Madison Gallery in La Jolla, is departing to open his own gallery downtown. Alexander Salazar Fine Art will be located 640 Broadway, SD, 92101. His grand opening will be March 26/27. .

Cedros Design District is now having its openings the first Thursday every other month April 1, June 3 etc. We are delighted to see that these will coincide with the street fairs that the Cedros Organization is having in Spring and Winter. We are grateful to Susan Street Gallery for this update. We are upset that the entire street has been threatened by the ABC for serving wine at art openings. You would think they have something better to do that slam galleries who are having a hard enough time surviving by telling them they can not give away wine to the public at their openings. From now on you will see stricter adherence to wine only for INVITED guests.

Luis de Jesus LA and no longer Seminal Project, is now in Los Angeles, well actually Santa Monica at Bergamot Station ( 2525 Michigan Avenue). His first show features Daniel Tierney and opens March 6. He is also showing New Contemporaries artists David Adey, Lael Corbin, Brian Dick and Jason Sherry. Good luck, Luis, we are so happy to see these artists getting more exposure in LA.

Drew Snyder is moving the Andrews Gallery from Leucadia to be full time at 2400 Kettner Arts complex #212 SD, 92101, so watch for his continued lively presence downtown

Our sympathies to theLa Jolla Art Association and to the family of Anthony Cuban who was the exhibition director who pass away Feb 11. It was Tony's idea to have the 1st Food and Art Exhibit with the winners featured in a cook book (a collection of recipes) called "No Starving Artist's - An Artist's Collection of Recipes". We shall look for that book in his honor in the future.

Trios Gallery ( 404 N. Cedros Ave., Solana Beach, 92075) has new walls and if happy to show them off with mosaics by Irina Charny and fused glass by Sherry Salito-Forsen. More info: Sheri Fox 858.793.6040

TIDBITS

Art LA is postponed until Jan 2011. They say they have not been sold. It has not been deactivated or ended. It's just resting. Art LA is the original New Los Angeles International Contemporary Art Fair and will return bigger and better than ever in 2011. No explanation of why it was cancelled this year, were given.

Alberto Giacometti's L'homme qui marche I (Walking Man I) sold for $104,327,006 and is now the most expensive work of art ever sold at auction and was sold and reported by Sotheby's. Christie's International announced that 2009 sales totaled $3.3 billion, (a 35% decrease in $) over 2008 sales. But they are now jumping for joy as they compare 2009 Feb to 2010 February and say there is a 225% increase. Is this too soon to say the depression for high end works is over. Mid-range works are certainly not out of the woods yet.

Artist and health care is an ongoing problem and hopefully in the future there might be help for many uninsured artists. Right now you can sign a petition to get Gov. Schwarzenegger to put caps on how much the cost of existing policies can be raised. Blue Cross and Aetna are both trying for outrageous hikes in the 39% - 40% range. They obviously want those who may need insurance badly to drop out of the system entirely and are looking for those who can pay to continue making them huge profits. Boy is this system broken. The country should look to California to help fix it as they did when social security and then Medicare was first introduced in this state before the others.

Neil Shigley's Invisible People series is on exhibit in LA at The Celebrity Vault including a portrait of pro surfer and environmentalist Dave Rastavich. The piece will be sold with proceeds going to Surfers for Cetaceans.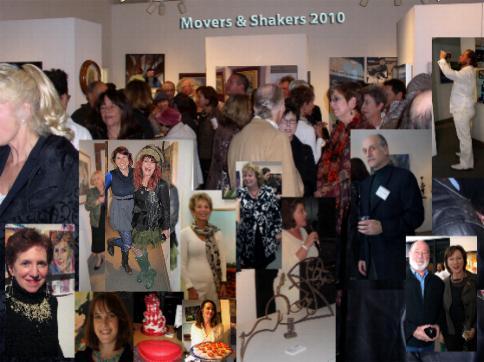 Congratulations the Movers and Shakers project of the San Diego Visual Arts Network which has been recognized for excellence by the California State Legislature and District 77 Assemblymember Joel Anderson with a certificate in honor of outstanding service presented at the opening of the Movers and Shakers 2. Photos in the montage above come from Sidney Wildesmith, Rosemary KimBal, Charles Bronson and Fritzie Urquhart. See all their photographs in detail on the Movers and Shakers/SDVAG site. Cheryl Sorg gets a thumb up from Angela Carone's blog on KPBS.
You can win prizes on Jan 27 when you listen to ArtRocks! Internet Radio live from 7 pm to 8 pm. Listen for the password for the night and then email me ( Alexandra Rosa). Let us hear from you if you win a prize! Pump up your sales with a web video produced by the Art Rocks247 Team complete with spokesperson. This is the hottest, most cost effective way to reach a moneyed up target audience. And it has a money back guarantee! Look for the Movers and Shakers video on ArtRocks247.
Applications are now being accepted for San Diego's Beyond the Border International Art Fair . The selected galleries will be notified in March. The biggest news is that the venue has changed and the fair organizers have committed to hold the fair at the new Hilton Bayfront Hotel for the next three years. We can't wait to see the next showing from Sept 2-4. San Diego Visual Arts Network is the fiscal agent for the non-profit component of the Fair which benefits the SD Art Prize
Congratulation to all the artists chosen to be featured in the Mission Federal Art Walk (April 24/25). Special cheers to San Diego regional artists: Dani Dodge, Karen Eastman, Ben Horne, Wade Koniakowsky, Monique Straub, and Diane Uke as well as Kandy Allen, Nobe Babayan, Andy Anh Ha, Thomas Barbey, Charles Sherman, and Red Wolf who are coming specially for this event.
The African Archives by Lauren Woods includes videos, still photographs and other mixed-media works. M(other)land, and is on view in February 2010 at the University Art Gallery, UCSD. This show offers a glimpse into The African Archives and provides a space for viewers to sift through their own projections about a continent still primarily glimpsed through the veil of social crisis, Hollywood movies and television news. The exhibition is curated by Los Angeles-based independent curator Lisa Henry. Ms. Woods will give a talk about her work on 2 March at 6:30pm in the Visual Arts Facility Performing Arts Space. To accommodate visitors the gallery will be open until 6:30. More info: Isabelle Lutterodt, Exhibition Coordinator 858.534.0419
Barbara Markoff has announced the publication of her book, Becoming a Corporate Art Consultant, the Handbook for Corporate Art Consultation due out in February. It retails for $29.95 and is the first we have heard of in this field. We certainly need more business people representing artists and we hope she will follow up with a book for Artists Agents.
We were very impressed with the found object folk art pieces shown by St. Madeleine Sophie's Center at the San Diego Art Department. These works were inspired by a tour and grant from the House of Blues Foundation when nine of their students were invited to participate and be inspired by southern folk artist Roland Knox, who is in the collection of the HOB. An outside consultant was hired by the HOB to run 4 days of classes over a month period. The original 9 pieces were included in a group show at the gallery at Jazzercise Headquarters in Carlsbad. Then works were showcased at the El Cajon City Hall and Passageways: The Road of Life held at Sophie's Gallery. Each artist picked a central symbol that became the theme of their work. Sophie's also offered classes in the folk art tradition to the public. Several pieces have sold and this is the fourth year that San Diego Art Department has shown the work of this terrific group of artists. Watch for these works at the San Diego Regional Office at Santee, 8760 Cuyamaca St. #100.
The new Martha Pace Swift Gallery at NTC (main foyer of Building 201 ) has a grand opening with an inaugural exhibit from February 5 - April 2. The Garden of Mythos: Abstraction in Collaboration with Nature featuring recent oils by Anna Zappoli Friday, February 5, 5 to 9pm. The Swift Gallery is the 6th visual arts space to open at NTC and will be curated by the Expressive Arts Institute. The gallery will share the building with ARTS: A Reason to Survive. The grand opening coincides with the newly launched Friday Night Liberty, a monthly open house to showcase the museums, galleries, arts and design studios, dance companies and other innovative organizations that call NTC Promenade home.
Consejo Fronterizo de Arte y Cultura (COFAC)/ Border Council of Arts and Culture, was awarded $10,000 by the National Association of Latino Arts and Culture (NALAC) Transnational Cultural Remittances (TC) Grant Program to support and expand the Home Intervention Mural (HIM) Project in La Colonia Federal, Tijuana, B.C., Mexico and in Highland Park, California in collaboration with Avenue 50 Studio, Inc. Artists from both countries will work together to create four exterior Home Intervention Murals on houses in these neighborhoods customized to respect and enhance the architectural integrity of the structure. Homeowners will be active participants in the design and content of the mural. This project will be well documented via photographs, videos, and interviews at COFAC's La Casa del Tunel: Art Center and Avenue 50 Studio Gallery. For more info contact Gerda Govine Ituarte 626.484.0740
My Better Half: Mr. and Mrs. Larsen's Valentine's Eve Art Show is at the Thumbprint Gallery on University Avenue starting on Sat, February 13, 6pm to 10pm. Is that eve as in the day before or Eve as in Adam and Eve?
The Stardust Arts had its first Fine Art Exhibition in Oceanside with 87 pieces of art from young artists completing courses with the Stardust Arts Program and artist/instructor Cheryl Ehlers. Ehlers just received funding from the Oceanside Art Commission (Jan 2010) to contribute to The Stardust Art Program through June of 2010.
Congratulations to Gerrit Greve for another successful Arts for Healing exhibition at the Morrison Hotel Gallery in Del Mar. They raised $10,000 and every painting sold!
A new mural by Werc Alvarez and Geraldine Lozano representing the emergence of art and revitalization of the area is now on view on the eastern facade of the historic Bekin building, located at 3727 El Cajon Boulevard. Werc has contributed much of his creative talent to El Cajon Boulevard, including the mural that was painted on the San Diego Stage and Lighting building last summer as well as more than 15 utility boxes. The El Cajon Boulevard Business Improvement Association is astonished by every one of Werc's pieces and is very grateful for the high standards that he has set for the emerging Boulevard Arts District. With help from a generous grant from the County Supervisor Ron Roberts, art has always been used as a tool for retelling the history of the community as well as revitalizing neighborhoods.
Jeffery Laudenslager was represented at the L.A. Art Show by Sculpturesite, his gallery in San Francisco & Sonoma. Also, Jeffery's sculpture Mikoshi (at the entrance of Scripps Hospital Encinitas, donated by Nate & Ralyn Wolfstein) has been nominated for the Orchid Award 2010. You can view it and add any comments at the link.
Deborah Francis is one of the artists in the Small Image Show (everything is under 10" in every dimension). It is in Gallery 21 at Spanish Village in Balboa Park and runs until Feb. 28 th.
OPPORTUNITIES (click to see a list of all current opportunities listed on SDVAN)
Southwestern Artists' Association 's 9th Annual Juried Art Show 2010 "Top 100" including a One Foot Show Opens February 27 through March 14, 2010 in Balboa Park.. It is open to all San Diego County residents for 2-dimensional wall-hung artwork. Mail-in registration deadline for entries is Monday, February 1, 2010. Juror: Mollie Kellogg, Art reception is Sunday, February 28th, 5:30-7:30pm. More info: Jennifer Meeder 619.232.3522
Oceanside Museum of Art is offering the perfect Valentine's Day gift but is in need of an artist to donate their talent to painting a backdrop for the singers of More That's Amoreé. The dimensions of the canvas are 16' wide x 9' tall. A heart or love theme would be perfect. We are offering the artist 2 free tickets to the event, including Champagne, chocolate, and love songs. Mention in the program and at the event. Please contact Carolyn Mickelson, 760-940-8200.
Dottie Stanley has a lovely studio space (total 658 square feet) available to share at 7602 Fay Avenue in La Jolla. Contact her at 858.352.8192 or dottieartist@san.rr.com ,
MUSEUMS
The Museum of Contemporary Art San Diego (MCASD) is showing Fifty-Six Chinese Hat Boxes — And One Hat! Hat boxes made of wood, lacquer, paper and leather; from the late Qing Dynasty (c. 1890-1912) are showing t hrough March 21.
We can't wait to see Allison Renshaw: Plastic Fantastic at the Oceanside Museum of Art (704 Pier View Way, Oceanside, 92054) opening with a reception Sat. Jan 30, 5 -7 pm. There is also a gallery walk and talk with Renshaw on Thurs. Feb 25, 7 pm and the show continues until June 20. More info: Danielle Susalla 760-435-3720
Bankruptcy is topical right now and Rembrandt's Recession: Passion and Prints in the Dutch Golden Age is continuing at the Timken Museum of Art until May 2. The exhibition features 15 exceptional impressions of Rembrandt's landmark prints illustrating Gospel narratives from the 1650s. At a time of economic hardship and a strict moral code, Rembrandt made some of his most compelling imagery using scenes of compassion and sacrifice from the Gospel. Rembrandt's Recession examines this New Testament subject matter in light of Rembrandt's personal life, his 1656 bankruptcy and other factors of the times.
Parents, children, and educators are invited to visit The San Diego Museum of Art's James S. Copley Auditorium to learn about resources for home schooling families and educators available at the Museum. Activities will run from 1:00 - 3:00 p.m. on Sat Feb 6 and will include hands-on art making, museum program information, and presentations by museum education staff. Light refreshments will be served. To attend, RSVP by Wed, Feb 3rd to Amy Briere, Coordinator, Educator and Student Programs at 619.696.k1952
Lux Art Institute is presenting Iva Gueorguieva through March 17 and you can watch her in-studio while she creates another large-scale work from start to finish through Feb 6. Free Saturday is Feb 6, 11am-3pm. Enjoy free admission all day, guided tours, music by Italian jazz guitarist Daniele Spadavecchia and refreshments! Studio Series is Feb 25 with a wine reception: 5:30-6pm and discussion: 6-7pm and you can hear Iva Gueorguieva and LA Times art critic Leah Ollman. $5 for members; $10 for non-members. RSVP kleen@luxartinstitute.org 760.436.6611.
Coming in Feb 28, 2010 to the Museum of Photographic Arts (MoPA) is Viva Mexico – 1810 / 1910 / 2010. In celebration of Mexico's 200 years of independence and the 100 th anniversary of its Revolution, Mingei International Museum is collaborating with the Central Cultural de Tijuana to exhibit an important collection of folk art housed there by the federal government. Among the 150 objects that will be on loan for nearly a year are a set of glazed and painted plates commemorating the heroes of Mexico made twenty-five years ago for the 175 th anniversary of Independence. Among other distinctive objects is a monumental Tree of Life in painted clay. P.S. On-Assignment: Exploring Sunrise Highway is a photo workshop held on February 13, 8:00 am - 3:00 pm
Just in time for Valentines' Day, California Center for the Arts, Escondido presents an Art & Intrigue opening reception: Courtly Love including Material Matters: Selected Works by Allied Craftsmen , Seth Augustine's Chimerica Dreality , and Chance & Circumstance: Works by Anne Mudge all starting. Saturday, February 13 with a Sneak Peak Preview · 6:00 - 7:00 p.m.
Heroes and Artisans, opening Sun, Feb 28 at Mingei International Museum in Balboa Park and celebrates the 200 th anniversary of Mexican independence (1810), the 100 th of the Mexican revolution (1910) and the folk art that colorfully expresses the nation's spirit. The exhibition continues through January 2, 2011. Organized around the three themes of Search For Identity, Daily Life And Religion And Festivity, works in the exhibition express Mexico's cultural diversity and are grouped as Independence, Revolution, The National Shield, The Sacred and Profane, Trees of Life, Pottery Vessels, Skeletons and Masks. Among other exceptional objects in the exhibition is a monumental (more than six feet tall) abundantly ornamented, painted clay tree of life.
During the month of January, New Children's Museum celebrates Ernest Silva (SD Art Prize recipient) and The Rain House. Known as a visual storyteller, Silva's calm and contemplative environment encourages play in unexpected ways. For Animal Art, the artist created a new giant foam puzzle and an interactive felt mural in the "backyard."
TRANSITIONS
The Board of Directors of the San Diego Performing Arts League has named Kevin Chaisson as Chief Executive Officer. Chaisson has served on the Board of Directors since 2004. For the past 2 years he has been Board President and acting Executive Director. During this time he reorganized the finances and services of the organization balancing the budget for the first time in over 8 years. Along with a dedicated board, he was able to retire over $160K of debt and bring the payables up to date avoiding closure of the League. In June of 2009, Mr. Chaisson would be 'termed out' and the League Board felt that action must be taken in order to continue the work of the San Diego Performing Arts League. We will watch for the 5 year plan soon to be revealed.
We may have lost Derrick Cartwright from the SDMA and Skip Pahl from Oceanside Museum of Art but we are not alone. James N. Wood, president and CEO of the J. Paul Getty Trust, announced that Dr. Michael Brand has elected to step down as director of the J. Paul Getty Museum at the end of January. If you have suggestion for a new director for OMA, please do contact them. Marla Winitz 760,720.1781. They are seeking to hire a dynamic Executive Director who is passionate about art and who will lead the Museum to its goal of becoming the premier regional art and cultural institution in Northern San Diego County. The Executive Director is responsible for providing leadership in financial and staff management, fundraising, marketing, community relations and public programming. Successful candidates should possess 8 to 10 years management experience as a Director or curator in an art museum or gallery. An undergraduate degree or higher is required and a BFA and MFA are preferred.
It seem negations have fallen through in La Jolla for Luis de Jesus Seminal Projects and so they will be moving to Los Angeles but hoping to keep a presence in San Diego as well, perhaps with a private dealing? We are glad to see that they will continue to promote San Diego artists and nice these worthy talents will get a toe hold in LA.
TIDBITS
We liked this Flavorwire list of Contemporary Trends that include Video Art, Art Salons, New Media, Found Object Design, and Abstraction. The article ends with a series of other suggestions including information imagery like charts and graphs, social media, online art vendors, virtual art tours, and earthy/imperfect art. Let us know if you have other ideas. info@sdvisualarts.net.
Take a look at the really fun digital show at the Victoria and Albert Museum as report by the BBC in London. Digital Design Sensations exhibition includes Eyes that look at the viewers and gestures that result in flung paint.
We won't even begin to describe this show A Spectrum of Jewels by Kaz Maslanka at Roger Smith Lab Gallery (New York City) The show, curated by Robert C. Morgan, will run from March 5, 2010 to March 26 th 2010 and will feature what Maslanka calls a 'Dodecaorthogonal Space Poem' But luckily for us there is a computer aided design mockup showing the main structure of the installation which is well worth viewing.
The graffiti artist Banksy will/might/could premier a film at the Sundance Film Festival. Exit Through the Gift Shop is narrated by Ifans and might have been directed by Banksy. Terry Guetta has been recording graffiti are for years and it is believed that a meeting between the two resulted in this premier. But the film maker is anonymous and then could be an art hoax.
We understand from contact in London that The Royal Academy of Arts is showing Vincent van Gogh with a new twist. The multi-volume book of his letters inspired this show which matches descriptions in his letters to the images on display…plus the letters have his own drawings of the work incorporated into the text. If you go, you will see 35 letters, 65 painting and 30 drawings. These are works gathered from all over the world and many from private collections not seen in recent times.
Here is a fair in London that would be possible in San Diego. Somerset House will present Pick Me Up, the first contemporary graphic art fair in the UK. The fair will bring together a selection of the most innovative galleries, collectives and designers under one roof, and showcase affordable work by the world's most cutting-edge graphic designers and illustrators.
Alexandra Rosa
RAW for SDVAN
Now watch Alexandra Rosa on Video at ArtRocks247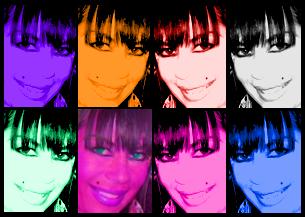 Any tidbit, gossip or news of the immodest kind can go directly to Ally Bling Bling for publication the next Raw. All sources are, of course, kept confidential. Hear Ally and Phillyarchived at ARTROCKS! Internet radio.

back to top