RAW Archieved for 2013

(Don't forget - Check out the Picked RAW choices for next month)

RAW Archived for 2012
RAW Archived for 2011
RAW Archived for 2010
RAW Archived for 2009
RAW Archived for 2008
RAW Archived for 2007
RAW Archived for 2006
RAW Archived for 2004 and 2005
"You can't use up creativity. The more you use, the more you have." - Maya Angelou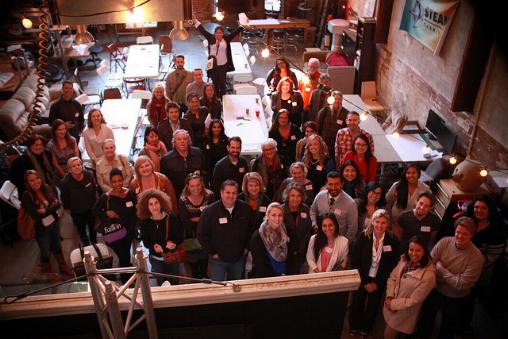 We saw a preview of the Two Bits CircusSteam Carnival scheduled for 2014 in LA. The trip was arranged though Steam Connect, by Kim Richards and Ed Abeyta from SDSU. The warehouse we visited was full of examples of electronic toys so rather had the feeling of a discovery museum but with kits to make your own versions of these science experiments. We particularly liked the high heels with LED lights! And I was able to see myself as Don Draper from Mad Men. It was also a charette so we divided into teams to think about STEAM education. Our team concentrated on building enthusiasm from teachers and giving them the support they need to teach art and science in tandem. We had one man on the team who designed software for competitions called Skild and a member of the Y and another from Fusion Academy and Learning Center looking for lesson plans. SDVAN is always looking for teachers who want lesson plans as we have created many in the projects like DNA of Creativity. We came up with the idea for a camp as a short term introduction to both teachers and students which was a way of combining all of our interest.
One of the SDVAN interviewers for the SmART Collector and writer of Picked RAW Peeled blog is the subject of an interview herself. Read about Cathy Breslaw in the World of Threads Festival website. There are great photos with this article so click and enjoy!
We were lucky to hear news from Cheryl Nichols on the bus ride to see a preview of the Two Bits Circus Steam Carnival. Cheryl and her husband Bob Leathers are responsible for Space4Art. This the live/work shared space in the East Village which holds all sort of events and workshops. Cheryl tells us they are close to acquiring a new permanent property to house the project. They are not sure of their current lease as the building changes hands, and it is wise to own a property and not be at the mercy of a landlord. Space4Art got its own non-profit status this year after years of using Synergy Arts Foundation (and indirectly SDVAN) as their fiscal agent. The property could be secure but they will need major fund raising to build the facility. They had to say farewell to Patric Stillman whose forte was not fundraising. They hope the board will take on this task instead and have hired Alisunn Curtin to be the administrator.
We hear Autonomy has been replaced by Utopia to help the Balboa Park Celebration Inc, organize the 2015 centennial celebration of the 1915 Panama-California Exposition in Balboa Park. Both firms are from LA. The celebration is planned to be year long and there should be many opportunities for collaborations of all sorts. We are waiting to hear the new plans from Utopia.
The future home of Sophie's Vineyard at St. Madeleine Sophie's Center will be introducing newly planted crop of grapes and sharing the progress of the vineyard during their annual brunch on April 12, 2014. To date, the soil has been cleared and prepped. The plan includes planting both grapes for wine-making for their students to grow and sell at the farmer's markets they work in the Summer and Spring months. A nice glass of wine might make for more art to be sold at Sophie's Galleries. For more info and to buy frog for their raffle and book tickets for the event contact Kellye Buchanan, Development Coordinator 619.442.5129 ext. 332
A show of 123fakes entitled "The Complete Frida Kahlo: Her Paintings, Her Life, Her Story." is kicking up controversy : All 123 paintings in this traveling show are fakes painted by four anonymous Chinese artists. Currently on view in San Diego at Barracks 3 at the Naval Training Center at Liberty Station in Point Loma., this is a project of Dr. Mariella Remund and her partner Hans-Jürgen Gehrke, who obtained rights to reproduce the paintings from the Diego Rivera and Frida Kahlo Museums Trust. But in signage and catalog it is not made clear that these are fakes. Hugh Davies, David C. Copley director and CEO of the Museum of Contemporary Art San Diego (MCASD), didn't mince words when asked about the exhibit, on view through mid-January. ."To have a show entirely of copies and to promote it as all Frida Kahlo's paintings together for the first time is completely dishonest," he said. "It bothers me that I did not see the word replica there," said Roxana Velazquez, executive director of the San Diego Museum of Art, after visiting the exhibition. "If you're walking in and not understanding that these are copies, it is giving a false presentation to the viewer and the audience," says Alessandra Moctezuma, a fine arts professor who teaches museum studies at San Diego Mesa College. Moctezuma thinks the word replica should be placed next to the title of each painting, along with credit to the Chinese artist who painted it.
Save the date for Sea Changes: Act opening at the Museum of Monterey MOM, March 8 from 5-7pm. Sea Changes: Act is part of SDVAN's the DNA of Creativity project .
Friday Night Liberty - New Year! New Art ! on Jan 3 is a good way to welcome the New Year. Liberty Station ( 2640 Historic Decatur Road) hosts multiple new exhibitions from talented local artists, free preview performance of San Diego Dance Theater's There is the Dance, along with live demonstrations. Meet the author of An African ABC, Janet White, in store at Yellow Book Road. Still want to see the Complete Frida Kahlo? Stop by FNL for a discounted ticket good for any date of the exhibition!
OPPORTUNITIES (click to see a list of all current opportunities listed on SDVAN)
Theatre Arts West is accepting submissions from female visual artists, composers, musicians, and playwrights for The Women's Project. For guidelines and details visit our website and go to the ART menu. For more info: Visual Arts Director/Curator Gabriele Bitter 805-704-7482
San Diego Botanic Garden (SDBG) Sculpture Exhibition in Encinitas is making a call for sculptors for the 2014 season. Please send jpeg(s) of the works with title(s), materials, dimensions, price and any special installation requirements, no later than January 15, 2014 to Naomi Nussbaum Art & Design.
Walls are available for your work at Protocol Wine Studio ( 4186 Sorrento Valley Blvd, SD 92121). They are a wine educational & retail studio that believes art plays a part in true wine culture. They have two spaces and rotate their art every 3 months. For more info: Tina Morey 619.840.8067
MUSEUMS
The SD Natural History Museum Real Pirates: The Untold Story of the Whydah from Slave Ship to Pirate Ship will open at the San Diego Natural History Museum on February 8, 2014. but tickets will go on sale in January.
Iana Quesnell, Jean Lowe and Doris Bittar at the Women, War and Industry exhibition at The San Diego Museum of Art
Supported by a grant by the James Irvine Foundation, Oceanside Museum of Art launches a series of interactive and public artist-in-residency projects carried out in non-traditional off-site locations throughout San Diego with an emphasis in North County. This project will encourage risk-taking residencies by regional contemporary artists and/or artist collaboratives with high levels of public engagement and public art making. These interactive venues/forums aim at increasing the public's comfort level with art, specifically contemporary art. With this residency series OMA strives to blur the lines between art and life through the process of active participation vs. passive observation. Winter Wonderland by Armando de la Torre at Westfield Plaza Camino Real - November 29, 2013 through December 24, 2013 is the first of these.
The Commission for Arts and Culture is funding with TOT monies $328,037 to eight local institutions for centennial-related projects for 2015 and not all of these are in Balboa Park. It is nice to see the Commission stepping forward to make sure this celebration will be city wide. The Museum of Contemporary Art San Diego is receiving $54,014 wil "engage noted contemporary artists to creatively interpret how the visitors to the Panama-California Exposition might have entered and experienced San Diego in 1915.Ruben H. Fleet Science Museum will use $58,703 to create "Science@Play," an "innovative play area." San Diego Museum of Man spends $27,395 on an outdoor, interactive experience dealing with the issue of immigration for 2015 with a project called "Border Crossing: Personal Stories and Diverse Perspectives on the San Diego/Tijuana Border" which will take place on the trails and canyons of Balboa Park.WorldBeat Cultural Center, Balboa Park is getting $9,784 to set up an ambitious "Virtual Pavilion," which it describes as "a series of music events, video and film series, emerging technologies, online live networked performances, and four sponsored international cultural exchanges (West, East, South, North) with the focus on art, new technologies, and botanical biodiversity offerings in the world's food, green practices, and indigenous and native plants and gardens." Whew!
At the end of January The Museum of Contemporary Art San Diego open X-TO+J-C: Christo and Jeanne-Claude Featuring Works from the Bequest of David C. Copley. They'll kick the exhibition off with a Members' Opening AND lecture with Christo on February 1 at the La Jolla location. In February they'll explore Tijuana's vibrant architectural and urban development with a field trip including the studio of Marcos Ramirez ERRE. And don't forget Chicanitas: Small Paintings from the Cheech Marin Collection at its downtown location. The exhibition will remain on view through March 23, 2014.
Food Truckin' at New Children's Museumat is an art installation that lets visitors customize their own food delivery vehicles and role-play transportation and distribution. Jason Torchinsky is an artist, writer, and designer based in LA who has a strong interest in and connection to the automobile industry as a test driver and reviewer. For this project, Jason tapped his love of cars and trucks to specially design kid-sized vehicles that help explore the transportation of food.
TRANSITIONS
We are much relieved to learn that, Robert Pincus, since being laid off from the MoCASD by Hugh Davies, has gotten tons of free lance work and also some teaching jobs and so for at least now, will be staying in San Diego.
TIDBITS
Rhode Island is making Artwork free from sales tax starting this month. With that change, Rhode Island becomes the first state in the nation to exempt artwork from the sales tax, according to the Rhode Island State Council on the Arts. "I'm very excited about it," said Marika Van Vessum, owner of Van Vessum Gallery, 63 Muse Way. "It was a hassle to collect the tax and pay it every three months and keep track of all the paperwork. It will save me a lot of work. "Plus, on a $2,000 painting, the tax is $140. That makes a real difference. I think it will make buying more attractive to our customers."Art is defined as books or writing, plays, musical compositions, paintings, prints, photographs, sculpture, traditional crafts and fine crafts. Commercial photography and pictures, such as wedding photographs, are not considered art and will be taxed, according to the Rhode Island Division of Taxation.To get the sales tax exemption, artists must register for a sales tax permit and then apply for the exemption certificate. Rhode Island is now declaring the entire state an arts district. Rhode Island is about ¼ of the size of San Diego County with about 1/3 of the population.
LACMA Launches Art + Technology Lab. The Lab is an experiment in bringing artists and technologists together to develop projects that we plan to share with the public here at the museum. They issued their first call for proposals. Artists and collectives interested in pursuing projects that engage emerging technology are invited to apply by January 27, 2014, for grants up to $50,000, plus in-kind support from our advisory board and participating technology companies.
Frustrated artist to show director "I'M NOT WHINING I'M EXPLAINING!"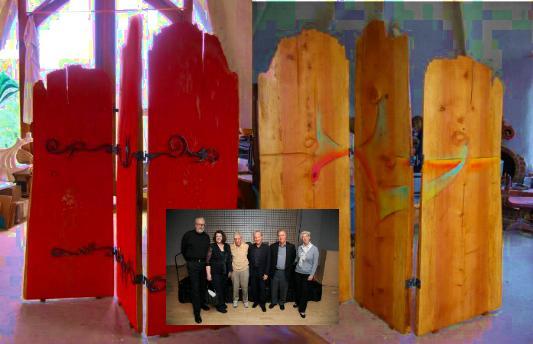 Hugh Davies, The Museum of Contemporary Art San Diego, during the Ilan-Lael Foundation's Conversations on Beauty: San Diego…Where The Arts Belong Panel which also included Daniel Foster, Patricia Frischer, April Game, James Hubbell, Peter Jensen was able to tell us about the $142 million that was paid for a Francis Bacon triple painting of Lucian Freud at Christie's Auction house. Davies arranged an exhibition of Pope painting by Bacon at the MCASD several years ago. You can see the entire video of that Conversation online at this link. . This was just days after the Art San Diego fair when James Hubbell's fabulous screen was featured in the SDVAN SD Art Prize booth. It is only one of two screen ever made by Mr. Hubbell and it was created espeically for the SD Art Prize. More info: Patricia Frischer

We love that this guy named Ryan, a member of MakerPlace, developed his Can Stamp project for the past year and it has now gone live! He came up with the idea for this project a few years back when he and a friend had accidentally swapped beers one evening. He wanted to make an easier way for people to mark their cans, so they could easily be distinguished amidst everyone else's. A friend told him that if he purchased a MakerPlace membership he could access all of the tools he would need for his project. He is now selling his gadget for under $10. Great present for the holidays for all the can drinkers on your list. The gadget embosses words right on the aluminum.

The Balboa Park Explorer is an exciting new program that provides general admission to all the museums in the Park for an entire year. Adult $129, Student , $99, Senior $99, Family $199. For families with five or more children, add an each $25 for each extra child.

Gail Goodman announced two new works added to the Public Art at the County of San Diego Operations Center (5600 Overland Avenue) You can see the plaza sculptures by Jun Kaneko and further artifact display Installations by Jay Johnson starting on Tues, Dec 3, 2013. They are also launching a brochure and guidebook about the collection. For more info: Gail Goldman at Gail M. Goldman Associates 858.490.9270


Kinsee Morlan published the following report on the Art SD fair and Arts Are All Right on Nov 12 in Voice of San Diego

The Little Art Fair That Could: Dozens of artworks, handmade furniture, jewelry, talks and performances were packed under the roof of the Balboa Park Activity Center during last weekend's Art San Diego Contemporary Art Fair. From a skull drawn live by Larry and Debby Kline using the world's first three-dimensional printing pen and a posh lounge designed by NewSchool of Architecture and Design students to Raul Guerrero's eye-catching portraits of John Baldessari and Bob Matheny and Shinichi Sugimoto's immersive "City of Gravity" installation, the annual fair rolled in and out of town leaving a trail of fawning media, dozens of art-inspired photo opps and — if organizers and galleries met their financial goals — several big art transactions in its wake. Art San Diego founder Ann Berchtold told U-T San Diego the local fair isn't like its bigger, more expensive and intimidating cousins, such as Art Basel. "Our show is a little different," Berchtold said. "We present new galleries, but also museums and local artists. It is a fair commanded by the economy, but also by art. And because we are a little smaller than the fairs of Miami or New York, our prices are not so high, in terms of spaces for exhibitors." Thanks to those less expensive booth spaces, Berchtold said the San Diego fair is the perfect place for a young collector to make his or her first big buy. Whether enough visitors dipped their toes into the turbulent waters of art-buying or the crowd was mostly filled by art scensters and lookie-loos likely won't be determined until next year. Will the same galleries return as happy customers of the art-fair experience or simply say no to taking another chance on the pretty-but-pint-sized art fair in San Diego?
The Arts Are All Right

OPPORTUNITIES (click to see a list of all current opportunities listed on SDVAN)

ArtWalk is making a call for artists to create a rendition of "30" for their 30 th anniversary. Any medium or form of self expression can be used. Depending on the response they may feature an exhibit of them at ArtWalk. To enter submit a high resolution file of your "30" rendition by Dec 31, to michelle@artwalksandieog.org. Artists' names will be used in conjunction with any materials generated by ArtWalk. They will send you a "release" form to return to us with your image. ArtWalk cannot guarantee that all submitted images will be used but it is their intent to utilize them in some way.

Ellen Arcadi is offering a charming cottage and art studio for rent in her private estate Madrigal in La Mesa. She is looking for community minded people including gardeners, artists, and writers who want to live in a peaceful and nurturing setting. Contact her at Ellen Arcadi 619.316.5437

Three calls for artist from Escondido Arts Partnership Summation 2013 from Dece13, 2013 to Jan 4, 2014 is the annual year-end juried exhibition features some of the finest work produced and displayed by San Diego and Southern California regional artists in 2013. Artwork from the exhibition will be a part of the annual Summation publication by Poet's Inc. which documents poetry inspired by works of art in the exhibition. Summation 2013 celebrates the summations of an artist's vision and process during the year. For info: Chris "Wood" A Furniture Show V Jan 10 - Feb1, 2014 is The Escondido Municipals Gallery's show which will present their fifth exhibition highlighting works created in wood, sponsored by Murphy's Fine Woodworking. Wood workers from the So. Calif. region are encouraged to submit contemporary furniture, art furniture, traditional furniture, veneering and marquetry furniture and wood turning into the exhibition. More info from Juror Brian Murphy. Submit your ideas for an 'artist in schools' program from January to February of 2014 for the SmART Friday "artist in schools" project. Works created will be displayed at citywide arts festival March 8th 2014. For all three call 760.480.4101 or contact Wendy

The City of Vista welcomes submissions from artists for the Kites Over Vista exhibition for summer 2014. This temporary sculpture exhibition is featured mainly in the downtown area of Vista. More info: Bill Fortmueller 760 726.1340

MUSEUMS

Mingei International Museum – We enjoyed very much the new Chair exhibition upstairs at this classy museum. It was inspiring to see such a huge variety of buttocks bearing apprentice.

The SD Natural History Museum was host to a party held for all the board of directors of all the museums in Balboa Park. This was a gala event with music by the Untouchable and the Gay Men's Choir, terrific food by all the venders who cater refreshments in the park. We loved the title of the evening One Park One Team. Pulling together to celebrate the 100 anniversary in 2015 is a big goal.

The San Diego Museum of Art received a grant from the James Irvine Foundation to put public art in four underserved neighborhoods. They chose Lincoln Park, Logan Heights, National City and Lemon Grove. Each project is slated to take six months and has a budget of $30,000. Instead of a committee of art experts choosing an artist's proposed project for each neighborhood, the residents of the community come up with the site for the work and what the piece will look like. Read about the first at Lincoln Park at the KPBS site.

Oceanside Museum of Art is thrilled to announce a $75,000 matching "challenge" grant gifted by The Howard Charitable Foundation. Please seriously consider making a timely, meaningful and 100% tax-deductible gift to the 2013 OMA Annual Campaign.

The Museum of Contemporary Art San Diego - Photographer Dana Montlack's richly hued images isolate and abstract biological specimens into beguiling graphic elements. Working with micro lenses, Montlack makes the unseen visible in compositions that convey both specificity and mystery. Her newest body of work directly references John Steinbeck's The Log from the Sea of Cortez (1951). The show is organized with support from UC San Diego Scripps Institution of Oceanography and Birch Aquarium.

Women's History Museum and Education Center displays Behind the Glamour: The Women Who Built the Industry 1920 - 1940- The glamour of Hollywood in the early part of the 20th Century became available to the modern women of the 20s and 30s thanks to the business brilliance of a handful of pioneering women. Well-known names of Estée Lauder and Helena Rubenstein are still industry giants today, This exhibit will includes a collection of women's compacts of the era; each one a unique work of art.

Lux Art Institute - The portraits of Melora Kuhn examine issues of identity, history and personal vs. public spheres. Painting, sculpture, and installation all play a role in her exploration of classic narratives filled with stately figures and poetic interpretations of inner and outer realms.

Ruben H. Fleet Science Museum has launch Mysteries of the Unseen World and it sounds stunning….in IMAX should it should and there is an exhibition Unseen Science

California native Megan Dickerson returns to her home state to serve as Manager of Exhibition Development New Children's Museum. Working within the Exhibitions department under the direction of Tomoko Kuta, Director of Education and Exhibitions, Dickerson will lead the exhibitions team to develop the next generation of innovative, transformative exhibitions for children and families.

TRANSITIONS

We are deeply saddened to hear of the passing of Martha Longnecker (93). Ms Longnecker was the founding president and director emerita of the Mingei International Museum, which is a depository for the best of the best craft in the world. Founded in May 1978 the term Mingei means art of the people. At the time of her retirement in 2005 Mingei International had grown into a museum of international repute housing a collection of more than 17,000 objects from 140 countries and serving over a hundred thousand visitors each year. She will be missed.

Larry Stein is closing down Warp9 Imaging which is sad as he has been a help to so many artists. The good new is that he is opening a pub in Tierrasanta called, of course, Steins.Good luck to Larry and all that may raise a stein at Steins.

We have heard .lots of rumblings about Bob Kelly retiring as director of the SD Foundation. He is not going until Sept of 2014 but we are sure they are doing a search to replace him. The question hangs….what will Mr. Kelly do next.

One to watch as the La Jolla Light is now owned by the same management at the Union Tribune. It could be more bad news for art coverage in San Diego.

Anthory Caro dies at age 89. His sculptures range from playful and bright pieces covered in colorful hues to darker, weightier works that retained their raw steel surfaces.

TIDBITS

With the municipal bankruptcy of Detroit, the art collection of the Detroit Institute of Art might be up for grabs. It will depend on how the emergency manager plans to move forward and what the governor then decides. Are the works in trust for the citizens or can they be sold to the highest bidder? Blouin ArtInfo reports.

Olafur Eliasson was named 2014 McDermott Award Recipient which is a $100,000 prize from MIT. Eliasson is famous for the weather he created at the Tate Modern. We enjoyed especially the video on his newest work called Little Sun which is a solar flashlight.

"I always wanted to be a headlight. Instead ended up being a deer. Why?" Keikichi Honna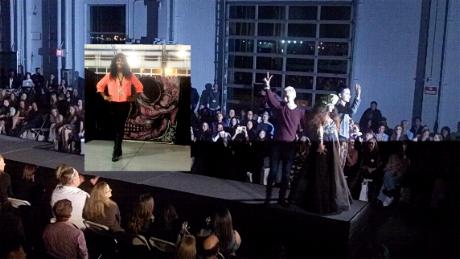 Antonette Ranson and The Estrada Brothers at Ambush 2.

San Diego Art Prize 2013 at Art San Diego Contemporary Art Fairon November 7-10, 2013 at Balboa Park Activity Center (2145 Park Boulevard, San Diego 92101) James Hubbellwith emerging artist Brennan Hubbell Booth #36 and Debby and Larry Kline with emerging artist James Enos Booth #34

Silent Disco @ Art San Diego to Benefit for SD Art Prize Sat, Nov 9 from 6 - 8 pm. Featuring: Guest DJ . Rather than using a speaker system, music is broadcast via an FM-transmitter with the signal being picked up by wireless headphone receivers worn by the participants. Those without the headphones hear no music, giving the effect of a room full of people dancing to nothing. $15 Online – $20 Door +21only . Limited to 100 participants

SD Art Prize Panel Discussion, Sunday, November 10th 12:00 – 1:00 pm / Lounge G with Moderator: Phyllis Van Doren, Senior Editor, San Diego Home/Garden Lifestyles Magazine. Panelists: James Hubbell, Debby & Larry Kline and James A. Enos, Patricia Frischer. Free with admission to the fair

Want to hear more about this, then turn in to Patricia Frischer speaking on Blog Talk Radio about The San Diego Art Prize with host Sherri Rabinowitz
We need a few more volunteers for the San Diego Art Prize 2013 at Art San Diego Contemporary Art Fai from November 8-10, at the Balboa Park Activity Center (2145 Park Boulevard, San Diego 92101) You will get training about presentations at the art fair and free entrance and parking. Contact: Patricia Frischer 760.943.0148.
DNA of Creativity: Something in the Heart is Never Lost: A Do Art Daily Challenge features a PAMM in Concert with Ted Washington. This is a memorial exhibition for Cara Mia Ciasulli presented by OpenArtsCollective on Sat. Nov 9 from 6-10 pm at Space4Art 325 15 th St. SD 92101)More info: Michelle Coltart
Space4Art presents artist Allison Wiese's Road Movie.The exhibit, based in sculpture and video, documents the entire final leg of a passage across the continental United States. Banal and sublime vistas are accompanied by raw and found material toying with American myth. Opening Nov 16th from 7-10 pm and runs to Dec 14..
We are really happy to pass on the news that the SD City Commission for Arts and Culture is finally making the application for funds online. They will be using a company called Westaf and hopefully this will go smoothly and eliminate the arduous previous process!.
Congratulation to Karen McGuire who has choose all women for this sixth Invitational exhibition at . William D. Cannon Art Gallery ( 1775 Dove Lane, Carlsbad, 92011)from Nov. 17, 2013 – Jan. 5,Catherin Colaw (photography), Linda Kardoff (painting), Allison Renshaw (mixed-media collage), Julia San Roman (painting), and Cheryl Tall (ceramics) were all selected from the 2013 Juried Biennial Exhibition.
The grand opening of Thumbprint Gallery's second gallery TPG2 in Hillcrest! is on Fri Nov 15 from 5 to 10 pm at the newest location 1475 University Avenue, 92103. This joins there space in La Jolla and the art events that they put on at Bar Basic downtwon.
Although Sparks Gallery is closed for major renovations, they are open by appointment and have just announced they are representing Hill&Stump's Butterfly Florals series. More info: Sonya Sparks.
Our own Kim Richards (KDR Pr) who is managing the press for the DNA of Creativity travels to Doha in Qatar to co-facilitate the STEAM Roundtable followed by the WISE conference (World Innovation Summit for Education). She is making a wonderful career out of combining art and science promotions.
David Hartig had his photo choosen for the cover of Healthy Stables by Design of a shot he took at Lucky Jack Farm in Rancho Santa Fe for Blackburn Architects
The San Diego Foundation and Nonprofit Management Solutions are collaborating to bring both of their library of resources of information about grant making together. The combined resource center, located in Kearny Mesa, will continue to be open to the public as a free service. In addition, Nonprofit Management Solutions is planning a new initiative so that nonprofits throughout the county will have closer access to this valuable directory by taking the resource "On the Road" with knowledgeable individuals to provide training on how to effectively use this powerful tool. This partnership starts on October 28 th and Nonprofit Management Solutions will be hosting an open house at their location ( 8265 Vickers Street, Ste. C San Diego 92111) from 3:00-5:00 PM.
From Kelly Bennett Cultural Report at Voice of San Diego
Artist Dan Allen is commissioning large sculptural installations and performance art to fill his new downtown gallery space, called Canvas. (VOSD)
Syracuse photographer Carrie Mae Weems was one of the recipients of the MacArthur Foundation "genius" grants announced last week. Weems makes photographs focused on African-American culture and identity in the United States. She went to UC San Diego for her master of fine arts degree, which she earned in 1984. ( Syracuse Post-Standard)
From Kinsee Moran Cultural Report at Voice of San Diego
OPPORTUNITIES (click to see a list of all current opportunities listed on SDVAN)
The San Diego Art Institute has posted its call for a new Executive Director. Please apply or spread the word.
The City of Carlsbad seeks to commission an artist/artist team to design, fabricate and install a permanent piece of original art to be located in the center of a roundabout at the intersection of Carlsbad Blvd and State Street. The design of the roundabout is complete and the plans are being finalized. The project will begin construction in January and completion is expected by June 2014. The total project budget is $100,000, all inclusive of travel expenses, taxes and other project costs. The application deadline is 4 p.m. Friday, November 8, 2013. The call is open to professional artists residing in the United States. More info: Karen McGuire
Vision is the title of a new group show opening Nov 1 at Twenty 20 Gallery( 3637 Vista Way, Oceanside 92056). There is no fee for entering up to three digital images. Vision has many diverse meanings. What is your vision? More info: Robert Pendleton 760-212-4077
Centro Cultural de la Raza is making a call for Dia De Los Muertos Event November 2nd and is also looking for hair makeup design teams for a Muertos Fashion Event on Same Day. The Art Exhibition from Oct 26th-Nov 8th Submission deadline is Oct 11th Extended to Oct 18 th. More info: Rogelio Casas
Mission Federal Credit Union ArtWalk 2014 is now accepting applications from fine artists. They are able to offer the same pricing as last year for artists and to keep the event free to attendees. April 26 & 27, 11:00AM to 6:00PM in Little Italy.
We think that the Blick - Art inspired Halloween costume contest sounds like great fun. It is a thinly veiled attempt to get more face time on their Facebook site, but the prizes are $50 to $200 which would buy a lot of candy.
The California Center for the Arts, Escondido has issues a call for talented youngsters to accompany an upcoming museum exhibition commemorating the festive and reflective Mexican holiday of Día de los Muertos. "Los Colores de la Muerte: A Day of the Dead Festival" also known as the Day of the Dead. They want Día de los Muertos-themed artwork from middle school students (grades 6 through 8) in local school districts to include from Nov 1 to Dec 1. Any media is acceptable, so long as it follows in the traditions of the arts and crafts associated with the Día de los Muertos holiday. All work submitted must be of a size and weight to hang easily from a suspended wire. Three-dimensional work may be accepted if it follows these guidelines and is ready to be hung (i.e., a mask would need to have a cord attached).Submit by Oct 26. For more info: Kirsten Vega 760.839.4176
MUSEUMS
Mingei International Museum is hosting Ilan-Lael Foundation's Conversations on Beauty: San Diego…Where The Arts Belong with panel: Hugh Davies, Daniel Foster, Patricia Frischer, April Game, James Hubbell, Peter Jensen on Tuesday November 12th from 5:30 - 7:00pmPlaza de Panama, Balboa Park, 1439 El Prado, SD 92101). More info: Marianne Gerdes

Also at Mingei International Museum Please Be Seated tells a story of seating across both culture and time, addressing the never-ending quest to seat people comfortably, appropriately, and fashionably. Drawn from the Museum's permanent collection and from other institutional and private collections, the exhibition presents a diverse range of seating, from woven Japanese mats and simple stools to the manufactured mid-century modern styles by popular American and European designers.
The San Diego Museum of Art presents Women War and Industry which uses works from its permanent collection to give a snapshot at the way women are portrayed, manipulated and perceived. Although it focuses on the two world wars, it also addresses our present-day wartime by including some contemporary works.
Oceanside Museum of Art Auction on October 26, 6:30 - 9:30 p.m with a chance to purchase works from Oct 5 when the exhibition opens. Featuring 115 work by over 80 southern CA and San Diego artists hand picked by Sandra Chanis former president of the board, this silent and live art auction is a terrific opportunity to collect exceptional works of art while supporting OMA. More info: Danielle Susalla Deery 858.414.0792
Staking Claim: A California Invitational will show at Museum of Photographic Arts which invited 16 California-based photographers to participate
One of Mexico's most celebrated photographers, Mario Castillo, will return to California Center for the Arts, Escondido (the Center) Museum this fall in a new exhibition that commemorates the festive and reflective Mexican holiday of Día de los Muertos. "Los Colores de la Muerte: A Day of the Dead Festival" will open Nov. 1 the first day of the annual festivities during which family and friends gather to honor and celebrate the lives of those who have passed. The exhibition will run one month only and end Sun Dec 1.
Feast! The Art of Playing with Your Food is now launched at the New Children's Museum 200 West Island Avenue, SD 92101 ) More info: Lauren Calvillo 619 233 8792
Timken Museum of Art plays host to a significant loan from the Hammer Museum: A Peasant Smoking at a Cottage Door by the great English artist Thomas Gainsborough. Showcased alongside the Timken's View of Volterra by Jean-Claude-Baptiste Corot, these two masterpieces, painted 50 years apart, demonstrate how landscape painting changed at the end of the eighteenth and beginning of the nineteenth centuries . Showing until April 2014.
TRANSITIONS
Susan Street Fine Art Gallery will only be open by appointment. Ms. Street's new focus will be on providing guidance to clients as art consultants/art advisors/private dealer. Bob Nugent will be the featured artist in the Gallery through December.
Fusionglass Co . is spreading its wings and joining forces with Jay Moeini of Bijou Boutique so they now have a second retail location at 7966 Herschel Ave , in La Jolla!
We are sorry to lose Amy Gilpin who was an associate director at the The San Diego Museum of Art who is taking a position as curator at Cornell Fine Arts Museum at Rollins College in Florida.
TIDBITS
You have got to love this video story of the artist Ken Delmar who took his blotting paper towels and landed with a show at a gallery in NY!
Grayson Perry has been asked to do the annual Reith Lecture for the BBC. You can read the transcript of his lecture titled Playing to the Gallery – Democracy Has Bad Taste. You may remember that Perry showed at the British MuseumThe Tomb of the Unknown Craftsman a few years ago and we covered that in one of the letters from London. He speaks about how the art world functions in a most amusing way.

RAW September 2013

"You were born an original. Don't die a copy." - John Mason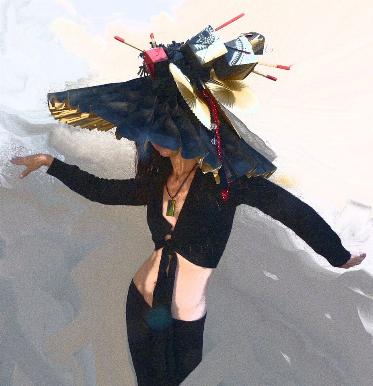 Debb Solan in her own hat creation shown at FusionGlass
"You were born an original. Don't die a copy." - John Mason
San Diego International Airport Art Program presents an Art and Culture Symposium: Aesthetics & Authenticity on Sat, Oct 12, at 9:00 AM - Sun, Oct 13, at 3:30 PM Registration Now OpenThe symposiumwill present different perspectives on the authenticity of place and how art, design and culture play a significant and important role in the infrastructure of our Cities and our Regions. Seven conversations and sessions will exemplify how intentional planning and implementation for art and culture on a civic scale has a positive impact on how we live and how we experience our communities. Held at The Southwest Fisheries Science Center ( 8901 La Jolla Shores Drive, La Jolla, 92037) For more information: art@san.org
Exhibit Ambush Phase 2 benefiting Susan G. Komen for the Cure, San Diego at the Port Pavillion (Broadway Pier) 1000 N. Harbor Drive, SD, 92101 on Oct 19, 2013, 5pm-9pm with a VIP Pre-Party 4pm-5pm. Doors open to the public at 5pm and a rocking After Party from 9:30pm-11:30pm Go to the website for tickets now available $40 admission, VIP $100, VIP table for 6 $1000 or contact Antoinette Ransom 818.400.6308
The 5 thAnnual 2013 Taste of North Park will take place on Sat Oct 5 th from 11:00am to 4:00pm. For one ticket price of $30 you will enjoy over 40 restaurants and 12 specialty brews. Each restaurant location will offer bite size tastes of house favorites while the galleries and boutiques offer a chance to shop while sipping award winning micro-brews. More info: 619.294.2501.

There is an Arts Mega Conference in Balboa Park on October, 11 hosted by Arts Empower SD and AERO. Dance, music, theatre and visual arts educators and advocates from all over southern California will be congregating in Balboa Park to attend workshops, network and listen to engaging speakers. For more information please contact Russ Sperling at the County Office of Education:
We are sorry to hear about the delay in the plan by UC San Diego visual arts professor Teddy Cruz and political science professor Fonna Forman. They were invited by former Mayor Bob Filner to set up a $1 million effort to invoke innovative ideas in city neighborhoods. Now that seems to be on hold while Todd Gloria decides what to do.
Ed Roxburgh sends us news from the Lemon Grove Library( 3001 School Lane, Lemon Grove 91945) On view Nov1-Dec 30 are his works spanning plein air landscapes, graphic design, theatre set painting, book and magazine illustrations, and multimedia works. More info: 619-463-9819
Creative Catalyst Program Funds announced its Individual Artist Fellowship by awarded $20,000 each to 10 local artists. These artists include local filmmaker Neil Kendricks; jazz musician Charles McPherson; instrumentalist Wu Man; visual artist Eva Struble; digital media artist Andrew Bracken; installation artist Jamex De La Torre; mixed media artist Miki Iwasaki; puppet theater artists Iain Gunn and Bridget Rountree; and video artist Cy Kuckenbaker. Felicia Shaw is still in charge of this program for the SD Center for Civic Engagement which is connected to the SD Foundation. . Wouldn't it be fun to see one collaboration between all of these artists!
OPPORTUNITIES (click to see a list of all current opportunities listed on SDVAN)
SDVAN is looking for 10 more volunteers for the San Diego Art Prize 2013 at Art San Diego Contemporary Art Fair from November 8-10, 2013 at the Balboa Park Activity Center (2145 Park Boulevard, San Diego 92101)The booths feature James Hubbell with emerging artist Brennan Hubbell Booth #36 and
Debby and Larry Kline with emerging artist James Enos Booth #34. You will get training on speaking about the artists, presenting at an art fair and representing SDVAN and free entrance and parking. Volunteers are asked to choose a 4 hour shift either noon to 4 or 4 to 8 pm on Friday 8, Sat 9. or Noon to 3 or 3 to 6 on Sun.10 of November. The last shift on Sunday will help take down the show and give you a chance to meet the artists. . We are also looking for a few special volunteers to help on Wed Nov 6 from 10 am to 7 pm or follow up on Thurs Nov 7 from 9:30 to 2 pm. to hang the show. Do note: the fair has changed to NOVEMBER and is no longer in September. Contact: Patricia Frischer 760.943.0148.
House of Israel has a call to artists to submit compelling works for an exclusive publication (short stories/ poems/ sculptures/ drawings/3D/ photographs/ paintings/etc.) that express the artist's personal connection to the land of Israel or/and to its people. For more info: Smadar Samson 858 408 5980
Without Walls (WoW) Festival takes place at and around La Jolla Playhouse from October 3-6 and will feature over 100 international and national artists appearing in nearly 20 projects developed with three incredible partner institutions:UC San Diego, Museum of Contemporary Art San Diego and The New Children's Museum. Guests can enjoy complimentary artists talks, a beer garden with live music, food trucks, and many free public performances. Click here to volunteer
San Diego Art Department is making a call for professional/working artists to submit a proposal to be juried by a selection committee for a solo or group exhibition in our main gallery. We are seeking artists for our October/November 2013 exhibition, as well as several within the 2014 calendar year. For a complete applicaiton and list of requirements, dates and deadlines, and more info: Lesley Anderson . 619.299.4278
The City of Coronado is seeking applications for a contract Arts Administrator ($65k) to work with the Cultural Arts Commission to fulfill its mission to strengthen, coordinate, and connect the arts with the citizens of Coronado. For more information use this link. Submittals due 5:30 p.m Mon, Sept 30
The San Diego Art Institute has posted its call for a new Excuctive Director. Please apply or spread the word.
From Rising Arts Leaders here are a list of paying jobs in the visual arts.
Director of Development, A Reason to Survive (ARTS)
Contract Arts Administrator, City of Coronado
Membership Assistant, Museum of Contemporary Art San Diego
Gallery Educator, Museum of Contemporary Art San Diego
Educator: School and Educator Programs, Museum of Contemporary Art San Diego
MUSEUMS
On view through Dec 31 at Mingei International Museum is Quilts from the Pat L. Nickols Collection which celebrates the recent gift of 350 American quilts from these local collectors
Oceanside Museum of Art Art Auction on October 26, 6:30 - 9:30 p.m . with a chance to purchase works from Oct 5 when the exhibition opens. Featuring 115 work by over 80 southern CA and San Diego artists hand picked by Sandra Chanis former president of the board, this silent and live art auction is a terrific opportunity to collect exceptional works of art while supporting OMA. Outside :Selections from the collection of Doug Simay continues through January 5, 2014. More info: Danielle Susalla Deery 858.414.0792. OMA also announces its first satellite venue opening on Saturday, October 5 from 6-8. in Del Mar at the Herb Turner Galleries at Southfair with The Unerring Eye:Paintings by Herb Turner and Photographs by H. Montgomery-Drysdale. Free to the public, Southfair is located at 2010 Jimmy Durante Blvd. in Del Mar. OMA also announces their first on-site education classroom, Studio O. They are asking you to join their title sponsor, Oceanside Firefighters' Association, in supporting Studio O through www.kickstarter.com. The campaign kicks off on October 6, 2013 on Free Family Art Day.
The San Diego History Center and the Oceanside Museum of Art exhibit Nature Improved: SD Artists Interpret Our Landscape with 90 works and 28 SD artists until Jan 26 at SDHC and Feb 23 at OMA.
It continues to be all change for art exhibitions in October at theThe Museum of Contemporary Art San Diego Photographer Dana Montlack's Sea of Cortez, a collection of brightly-colored abstract images inspired while collaborating with the Scripps Institute of Oceanography. Lost in the Memory Palace: Janet Cardiff and George Bures Miller—large-scale installations and Scripps on Prospect: Evolution of Villa and Cottage, a collaboration between the museum and the La Jolla Historical Society. All on view through Jan. 12.
Lux Art Institute Lux After Dark has a special evening on Sat Oct 5 from 6 -10 pm for their annual gala in support of Lux Education and Exhibition Programs.at the The Rancho Santa Fe home of art collector and Lux Board Vice President Linda Brandes. Tickets from $400. For more info cstefanko@luxartinstitute.org.
Museum of Photographic Arts: Staking Claim: A California Invitational This original exhibition is the second installment of a triennial series showcasing the talent of and diverse scope of photographic work being done by photographers living within the Museum's home state. Sixteen different artists, all of whom reside in California, are featured in the exhibition and all of the work has been created within the past five years. This show opens on8 Oct and continues until 26 Jan, 2014
New Children's Museum presents two all-new art installations that will be part of Feast: The Art of Playing With Your Food. Orange We emits sounds that relate to this citrus fruit as kids approach or touch. As they activate the piece, kids can create their own unique sound-filled journey through the orange-inspired landscape. In Sound Kitchen, kids can be a chef, a musician, a singer and a recording engineer all at the same time. Feasting in Versailles is their patron's preview and dinner event that will take you back in time to the court of Louis XIV and the Palais de Versailles but is held on Thurs. Oct 10 San Diego time. For more info: Lauren Calvillo and to reserve tickets.
Object Lessons: Gainsborough, Corot, and the Landscape of Nostalgia will be opening on Oct 4 at the Timken Museum of Art and showing until Feb 2 A significant loan from the Hammer Museum: Peasant Smoking at a Cottage Door by the great English artist Thomas Gainsborough showcased alongside the Timken's View of Volterra by Jean-Claude-Baptiste Corot, (these two masterpieces painted 50 years apart) will demonstrate how landscape painting changed at the end of the eighteenth and beginning of the nineteenth centuries.
TRANSITIONS
We are sad to see the closure of Mixture in Little Italy but understand they are relocating to be near family. Hopefully they will find new owners of the business and we will see the same exciting mix of art and furniture and gifts. They will be missed.
Richard Allen Morris (SD Art Prize) transitions into his 8th decade going strong. His new show at R.B. Stevenson Gallery is a testament to the power of art to keep you young. Our congratulation go to him so drop in until Oct 19 and have a look see.
TIDBITS
San Diego 's own Eleanor Antin (SD Art Prize) will be showing "Selves" at the Multiple Occupancy show at the Wallach Art Gallery, ( Columbia University School of the Arts, New York). This show is curated by Emily Liebert and on view: 4 September – 7 December 2013.
Wendy Richmond our former SD artist is teaching a 15-Second Videos with Your Cell Phone course in New York. The process is simple: no editing or manipulation or special effects. Instead, students learn to identify, frame, and/or construct a scene for maximum results in a 15-second scenario. Through examples, class critiques, and shooting in the city, students discover new ways to convey slices of life that are funny, poignant, political, or personal. We think this is a great idea and someone in SD should teach a similar course!
Guns into sculptures that play music…that is the Creator's Project called Disarm by Pedro Reyes who creates second generation instruments from dismantled guns. With a team of musicians and new media studio, Cocolab, Reyes has made mechanized instruments from these one-time harmful weapons.
Art Dealer Benjamin Tischer of Invisible Exports, May 8, 2012
As told to ARTINFO in a recent article about the art world's growing concerns for "fairtigue" : "If only cocaine were in vogue again.
Entijuanarte 2013 is featuring the state of Durango, Mexico and is again at The Centro Cultural Tijuana (CECUT) Paseo de los Heroes 9350, 22010 Tijuana, Baja. The Inauguration reception is at 7:00 pm on Fri Oct 4 th and the show is also noon to 11 pm on Sat/Sun Oct 5/6 th.
Exhibit Ambush Phase 2 benefiting Susan G. Komen for the Cure, San Diego at the Port Pavillion (Broadway Pier) 1000 N. Harbor Drive, SD, 92101 is happening this year on Oct 19, 2013, 5pm-9pm with a VIP Pre-Party 4pm-5pm and doors open to the public at 5pm and a rocking After party from 9:30pm-11:30pm Go to the website for tickets now available $40 admission, VIP $100, VIP table for 6 $1000 or contact Antoinette Ransom 818.400.6308

Federico Calzi settled in Encinitas from Italy just a few years ago and is already launching his International Online professional network for artists, ( both performing and visual) art organizations and art lovers called I'm Gonna Make It. This is a completely free site to showcase Federico's coding talents. However, we are the ones that can benefit from it. We simply have to use it along with the performing and visual arts communities around the world. This site allows you to add images both still and video, list events and makes recommendations/reviews of all the arts. You can follow artists or organization and get their updates. He is gearing it for the man on the street, so don't expect to see detailed categories and or any art speak. Yes, it is early days and there will still be bugs in the system (we still have bugs in ours!), but take a look and try it out. It has started in San Diego but its designer has connection world wide so it might just go viral.
We are delighted to learn of Adam Belt (SD Art Prize) will be showing again at Quint Contemporary Art. The show reception for Longviewis Sat Sept 14 at 6 pm and this exhibition will continue until Oct 26. ( 7547 Girard Avenue, La Jolla, 92037) More info: Mark Quint 858.454.3409
Wowie, Zowie, make sure and take a look at the new gates for terminal 2 at the SD Airport. The Journey is the largest new piece of art and artist Jim Campbell's largest piece. It's a light ribbon six feet wide and 700 feet long and made of 38,000 LED lights. Sublimare, by Merge Conceptual Design (Franka Riehnelt and Claudia Reisenberger), is a giant kelp forest that references harvesting in the 1940s and its significance to San Diego. For the entry walls of eight new bathrooms, Erik Carlson created interactive videos showing local surfers, skateboarders, roller coasters and more. The longitudinal and latitudinal location of each beach featured is laminated next to each video display. The Relativator, by Living Lenses (Po Shu Wang and Louise Bertelsen), is an elevator that explores Einstein's theory of relativity in the sequence of elevator glass. This gravity meter calculates the weight and movement and displays that calculation in binary code. Constance White who is responsible for this art, is such a star and we really did something right to have her grace our city.
The Athenaeum Music & Arts Library announces its Artists' Books Catalogue collection, which it began in 2010 as a way to document its world-renowned collection of conceptual artists' books. Work on a booklet begins when the collection of artist's books by a particular artist is complete. To date, the series includes Ed Ruscha, Ida Applebroog, and Allen Ruppersberg's artists' books. John Baldessari and Bruce Nauman are currently in production and catalogues are planned for Allan Kaprow, Mel Bochner, Sol LeWitt, and Lawrence Weiner.
Project Hermès is a site-specific installation in a vacant house in La Jolla. Eloisa Haudenschild exchanged stories with the artist Mark Bradford of an eccentric, former neighbor who harbored deep antagonism and paranoia towards her and her family. Once she died, Haudenschild bought the property and Bradford has used black lines that aggressively cut across the interior of the neighbor's dilapidated house. This is described as "the thin line between sanity and madness. Love and hate." Project Hermès opens in August for only twenty-four hours. After which, both the house and installation will be completely demolished and a new art complex will be added to the Haudeschild properties.
We can't wait to see the elevator art that Einar and Jamex de la Torre (SD Art Prize) installed in the new SD Central downtown library. It looks like one of the most exciting concepts incorporating both their lenticulated visually changing surfaces with their absurdist glass figure work. The library opens in September full of permanent specially commissioned art and with a gallery as well.
The La Jolla Art Association Gallery is showing artists' photography and digital art at it La Jolla location at 8100 Paseo del Ocaso for two weeks ending Sept 8. For more info: Dana Levine 858.459.1196
If you have a desire to live in an art work, then the house built by James Hubbell (SD Art Prize) for private clients in Alpine can be yours for only $385,000. For more info: Elizabeth Courtier Historic & Architectural Specialist 619.813.6686
OPPORTUNITIES (click to see a list of all current opportunities listed on SDVAN)
Oceanside Museum of Art is making a call for artist for a participation project involving the local community. Due Sept 6 and with a stipend of $6500, this is the first of five project funded by a grant from the James Irvine Foundation. They also have $3500 to pay an administrator to monitor the project. More info: Danielle Susalla Deery and check out the two links on SDVAN for full descriptions. Exploring Engagement Project Coordinator and Request for Proposals Oceanside Museum of Art Exploring Engagement Artist-In-Residence Series
The San Diego International Airport Art Programis seeking original proposals created in any media inspired by the creative intersection of art, science and technology. Exhibitors should look to the global community of artists, scientists and curators exploring creative collaborations in this area. Proposals should offer insight into innovative possibilities involving the creative processes that merge the disciplines of visual arts with the fields of science and technology. Exhibitors are invited to be inspired by the theme "Converging Ingenuities" and are encouraged to interpret the subject in a way that resonates with their interests and respective fields of study. Due date for applications is Sept 13, 2013 for the 2014 season of shows. For more info: art@san.org
There is an NEA Arts Grant Workshop with featured speakers from: the National Endowment for the Arts (NEA), the San Diego Museum of Art, the Museum of Photographic Arts, the San Diego Commission for Arts and Culture regarding NEA funding opportunities.This is for arts organizations and other non-profits to review the NEA's processes for applying and reviewing applications, and conclude with a panel Q&A session. Tues. August 27, 2013, Registration Program 9:30am 10:00am – 12:30pm and held at The Old Globe, Karen and Donald Cohn Education Center in Hattox Hall ( 1363 Old Globe Way , SD 92101) RSVP online at: www.house.gov/susandavis
Developed in response to the growing need for a creative outlet for our children, and the cries of no funding for field trips from teachers FusionGlass is putting on a Take p-ART event on September 14th from noon to 6pm. This will help fund their traveling arts program. So bring your unwanted, used or unused art supplies and/or tools of any kind to Fusionglass Co. before September 13 th to 8872 La Mesa Blvd, La Mesa, CA 91941 On Sept 14th all items will be made available to the public. Most of the items will be priced at only $1.00. This gives you a chance to shop and experiment with something new with the added boost of knowing you are helping foster creativity in our next generation. More info: Debb
MUSEUMS
Nature Improved: San Diego Artists Interpret Our Landscape, a two-museum, juried exhibition, features interpretive works of art depicting the San Diego region. This is the first such collaboration between Oceanside Museum of Art opening on Oct 26 and The San Diego History Center, which opens first on Sept 20, 2013
The Museum of Contemporary Art San Diego has announced big news to greatly expand its plant size. In order to add 30,000 square feet they will be raising $50 million. The auditorium as it exists now might have to go but hopefully a small gathering space will still be available. Until that happens we would certainly like to the Bronowski Art and Science forum in the space with is self confessed to be empty most of the time. Read the whole article in the UT.
Museum of Photographic Arts On Aug 1 st, Pulitzer Prize winner and former POYi winner Brian Smith shares insights from his last 30 years in editorial photography as he moved from Pulitzer Prize-winning sports photographer to celebrity portrait photographer for Hollywood\'s A-List. Smith will speak about both the art and commerce of editorial photography and what every artist needs to know about the business of photography to remain in business. In this presentation, Smith will share ways to grab and keep the attention of photo editors and art directors, how shooting personal projects can promote your vision and land the jobs you'll love to shoot, and ways to keep your portfolio and vision fresher than next year's winner of The X Factor, Brian Smith is a Sony Artisan of Imagery and a former winner of Pictures of the Year International (on view now at MOPA).
San Diego Art and Space Museum Adventure awaits you after dark on Aug 23 at 7 pm in the newest exhibit, Ripley's Believe It or Not! The Night at the Museum sleepover is for adventurers and explorers ages 7-12. When the lights go out, kids will search for a lost treasure and explore galleries by flashlight. As the stars begin to shine, there will be a movie screening. At bedtime, curl up next to an old plane---they promise they won't take off and wake you up in the middle of the night!
TRANSITIONS
We are delighted to congratulate Claire Slattery whohas been appointed the Interim Executive Director for The San Diego Art Institute. She previously served as the Chair of SDAI Board of Directors and board member of COVA, the Combined Organization for the Visual Arts. She replaces Tim Fields and the board will be looking for a new director in the coming months.
We are very sad to report the passing of Reed Cardwell(1955-201) Cardwell was an abstract figurative artist of great integrity. His work and teaching reputation will live as a tribute to his life. There is a Celebration of Life on Sunday, August 25, 3-6 p.m. at Art Academy of San Diego
We have lost Denise Montgomery over the allegation of misconduct by Mayor Filner. We are distressed to hear of her resignation from the post of Executive Director, City of San Diego Commission for Arts and Culture. We understand that she could not support a government that supports this major. We understand that to recall the mayor will take a huge effort.
RIP: Walter De Maria , the artist that created large-scale installations, minimalist sculptures, and earthworks died on Thursday at age 77. His work was featured earlier this year at LACMA.
TIDBITS
Artist Edi Rama is the new Prime Minister of Albania. Albania is one of the few European countries experiencing growth and Mr. Rama will be turning the capital Tirana into a center for the European art world. Ten years ago, as the mayor of Tirana, he transformed the gray city into a festive multi-hued landscape by painting all the fronts of the building different colors. Amazingly this made people not just hopeful but also safer. He has added parks and new buildings and we could all take a page from his book to respect people and help culture make change in our society. See the TED video.
Michelle Kurtis Cole sent us news of this lovely installation from London. Argentine artist Leandro Erlich was commissioned by the Barbican in London to install a version of his wildly popular optical illusion that creates the visual effect of instant weightlessness. Using a wall of giant mirrors propped against a huge horizontal print of a Victorian terraced house, visitors are free to climb and jump around as their reflections appear to move freely without the pesky effects of gravity. Titled Dalston House the piece was erected in Hackney just off Dalston Junction on a disused lot that has remained vacant since it was bombed during the Second World War.
Marti Kranzberg sends us this link to the Arts Everywherecampaign in the UK reported on CBS. . 22,000 poster sites, 57 works of art, 2 weeks – this charitable art project has transformed billboards and poster sites across the UK into great British masterpieces chosen by the public. They are coming to the US and the world, but they haven't quite figured out how yet. Public donations have made this project possible and they convinced all the billboards and poster site to donate the space.
It turns out that the theft of the Lorax sculpture from Theodor Seuss Geisel (Dr. Seuss) property was a college prank in 2012. His widow is very happy that the work has now been restored from where it was dumped a ½ mile away in a canyon near the estate.
back to top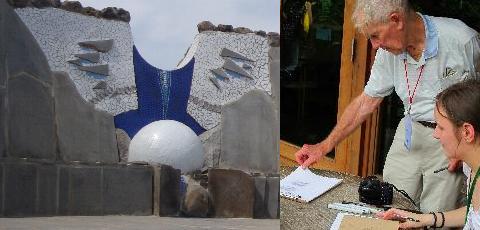 From July 13-Aug. 10 James Hubbell (SD Art Prize, 2013) (see image above right) will lead a team of 30 international architecture and art students in Kaohsiung, Taiwan in the creation of the seventh Pacific Rim Park, joining parks in Russia, America, China, Mexico, Philippines and Korea (Jeju, 2010 see image above left) in a mission to help bridge countries of the Pacific Rim from a "ring of fire" to a "string of pearls."

"There's this kind of inbred quality, like the painting is eating itself. Which feels like what I do as an artist in my studio; I feel like I'm constantly consuming myself and spitting myself out and then there's another version of me, and then we battle it out, and whoever wins eats the other one. So I'm changing and this avatar of myself is constantly changing." Artist Trenton Doyle Hancock, November 26, 2012
DNA of Creativity:Urban Succession Tour (preserving wild life in urban settings) has a NEW DATE Starts at 1 pm on Sat. Aug 3 Soil Blind, Microbial Knot, Orb Weaver Loom, Spiral Pigeon Housestarting at Space4 Art 325 15th Street , SD 92101 and ends with a picnic at 4 pm at San Diego Academy near SDSU, 6104 Adelaide Ave. San Diego, CA 92115. More info: Jason Rogalski 619.582.2820
Art+Science: Ubiquity and Permanence August 9 - September 28 will explore questions surrounding a collective scientific history and an individual's perception of the world and how we archive both kinds of knowledge in the face of constant change. The juror for this show at the Escondido Art Partnership Municipal Gallery is Claire L. Evans. More info: eapemg262@gmail.com
Save the Dates Oct 12-13: Aesthetics & Authenticity: An Art and Culture Symposium . This is a cross-disciplinary discussion on how art, culture and creative design affect how we live and how we experience our communities. It is presented by Constance White as director of the Art Program of the San Diego International Airportat the Southwest Fisheries Science Center( 8604 La Jolla Shores, La Jolla 92037). More info and registration (in August): art@san.org. This is your chance to hear many experts from all over American and network with some VIP within our own arts community.
Sat, August 3 , is the date of the Idea Tournament at the Voice of San Diego's annual Politifest, at Liberty Station NTC Promenade, a family-friendly festival featuring community booths, activities, music, food and a beer garden. Community organizations across San Diego were invited to submit a proposal for a local improvement project that can be accelerated or advanced with a $5,000 grant made possible by the Malin Burnham Center for Civic Engagement, which also support the art program of the SD Foundation. The top five community organizations will present their plans in person to a live audience and judging panel on the day.
We were so impressed to see the work of Spencer Little in Blouin Art Info (Internationalzine). We first saw Little's work in a little pop up show at the Encinitas Library that was part of the Talmadge Art Show. He is now showing with Alexander Salazar Fine Art Gallery. Go Spencer!
The California Arts Councilis a proud recipient of $2 million in savings from the 2013 State Assembly operating budget. The funds, directed to support arts and arts education programs in California communities, will help enhance local creative economies, fund effective arts learning programs, and support the growth of the state's creative workforce. Support will be distributed during the 2013-2014 fiscal year. The funding will not be used for administrative costs at the agency, but go to direct services for local communities in California and will be leveraged with other funds to prove that the arts is one of California's premier investments. In San Diego, it is only the SD Commission for Arts and Culture, which only funds project in the city of SD, which is allowed to apply for these funds, but a county wide arts council could be formed if approved by our 5 supervisors and that new entity would be allowed to apply.
OPPORTUNITIES (click to see a list of all current opportunities listed on SDVAN)
Call for Artists: Live Artist Only on Wed Aug 7 from 9:30 to 1:30 is an event where artist will paint a work during that 4 hours and have it for sale. Prices are capped at $200 and size is restricted to 30" X 40" The open theme is Live, Living, Life, Love, Music. Arte Fresca will take 25% commission and keep works for one month for further sales. More info: Angela Sahyoun 619.850.7096
Call for Mature Artists: The Kenneth A. Picerne Foundation will award up to 20 artists $12,000 to provide under-served groups with educational, mentoring, and/or therapeutic arts experiences of their own design. These art experiences are intended to reach people of all ages who lack opportunities to engage in meaningful arts programs. Artists choose a nonprofit to collaborate with and the population they are interested in serving. Artists awarded the grant are expected to contribute an average of six hours a week to the people they are serving over the course of one year. More info: Victor Nelson 949.267.1517
Space4 Art is making a call for artists for STEAM Youth Art-based Teen Workshops: They are seeking artists, scientists and educators to submit workshop proposals for teen after-school STEAM (Science, Technology, Engineering, Arts, Mathematics) workshops utilizing Space 4 Art's classroom and outdoor yard. Three is a second call for seeking artists to create one of five arts-based experiences for October's Adjacent Possible II. Experiences may include performance and/or exhibition. Dancers, visual artists, media artists, puppeteers, performance artists and sculptors encouraged to collaborate. Letter of Intent may be e-mailed, mailed or dropped off for both by 5 PM on Wednesday, July 31 s t More info: patric@sdspace4art.org 619.269.7230
Teaching Artist Training is now accepting applications. This is a program of Young Audiences of San Diego and the Teaching Artist Institute of San Diego and is a comprehensive, 15-week opportunity includes access to quality instruction from curriculum specialists renowned in their field, one-on-one coaching with mentor teaching artists and practical teaching experience in the classroom. For more info: Jennifer Oliver 858.699.2780 – Congratulation to the first graduating class of this new program. Of the 12 students that took the course, four of the students were invited to teach with various San Diego arts education non profits including Young Audiences of San Diego, one of the students is working with the Visual and Performing Arts Department for San Diego Unified, one student is creating her own company with an outreach component, and two of the more veteran students are continuing their work as teaching artist with new tools and resources that have furthered and deepened their work.
MUSEUMS
15 Minutes of Fame: An art installation by Lauren Carrera/Prudence Horne on Sat and Sun August 3 and 4th at the San Diego Art Museum Summer Break 2013 from noon to 5 pm. 15 Minutes of Fame will celebrate 30 San Diego painters exhibiting their art in a garden setting inside the museum. Our own Patricia Frischer, coordinator of SDVAN will be one of the featured artists at the San Diego Museum of Art as part of Summer Break : The who, what, when, where, and why fromThursday, August 1 through Sunday, August 10. Soak up 10 days of contemporary art, performances, lectures, and workshops. Summer Break takes inspiration from Arnold Newman: Masterclass, and explores themes of fame, infamy, and the concept of double portraits. Attend a symposium on portraiture, a 24-hour event starting with Culture & Cocktails, or view Double Portraits, an intervention into the Permanent Collection..
Ruben H. Fleet Science Museum On the Fly: Technology Takes Off is a show about Unmanned Aerial Vehicles. As advances have been made in AEV technology, their usage has expanded. Faster, lighter hardware and more sophisticated software have increased their ease of use and maneuverability. Quadrotor design has become a popular consumer hobby, and their appeal is widespread with local clubs, blogs, websites, competitions, off-the-shelf consumer products and even phone apps for controls. Starts on Friday, August 2, until the end of the year.
Feast! at the New Children's Museum The Art of Playing with Your Food runs from Oct. 13, 2013- Oct. 2014 Feast! will feature art installations created by sixteen artists.
TRANSITIONS
Formerly located on the opposite side of the bay,ArtWalk @NTC Liberty Station found its new home in the NTC Arts & Culture District. On Saturday, August 24 and Sunday, August 25, 2013 NTC's Ingram Plaza will welcome 100+ artists, a dozen live musicians, and variety of food and interactive art activities. ArtWalk @NTC offers free parking, complimentary admission for all ages. In addition, KidsWalk allows families to try their hand at various interactive "ARTivities" set to inspire their inner artist to bloom. Formerly located on the opposite side of the bay, this event found its new home in the NTC Arts & Culture District.
McNabb Martin Contemporary Arts will close on July 31 st. The last show was of work of its organizer/owne rPat McNabb Martin.The gallery represented about 25 artists including Neil Shigley and Alberand Luna de Matteis.
TIDBITS
James Turrell has a major exhibition at LACMA. You have to book to get in this show and you do experience about 10 pieces of light art and also a room of holograms and some documentation. For one of the works you have to wait to get in about 30 minutes so allow extra time to see the show. Some of the works are projections and some are changing colors and others affects of the light with neither of these and just relying on your own eyes and how they adjust. We suggest you watch both of the shorts video and the slide show of his other works. No photographs are allowed but this link of his work in Las Vegas will give you a good idea of some of his work. We walked away knowing that this is one of the major artists of our time, working on a legacy on the scale of a wonder of the world. This art gives us a way of looking at the world in a slightly different way. Noticing how we are influencing what we see, not just thinking of the visual world as a given.
Kaarin Vaughn turned us on to artist David Choe who claims he hid $10,000 in small bills around Detroit. The LA and Las Vegas-based artist is known for edgy, sexually charged murals, a voracious gambling habit and stunt road trips. Choe can well afford the gesture. He made his first million gambling in Las Vegas and had an even bigger payday — some $200 million when Facebook went public last year as he was paid for a mural he completed for them in stock. Read more in The Detroit News:
Amazon.com is expected to launch an online art gallery later this year reports The Art Newspaper. They aim to offer over 1,000 art objects from at least 125 carefully selected galleries, according to dealers who have been approached by the website's business development group. Amazon executives told one dealer that 109 galleries have already agreed to participate. The LA Times adds that Amazon tried this before with Sotheby's in 1998 but it was a no go, but online sales in art are predicted to raise form the current $870 million to $2.1 billion by 2017.
If you want to know at the NEA's Our Town projects and the privately funded Art Place projects, this is the article to read.Creative Placemaking Changes The Look and Feel of Cities and Towns Across America published in The Huffington Post and written by John Eger.
RAW June 2013



Alternative Materials Panel Discussion with moderator Jim Gabriel: ARCHITECTS Hanna Gabriel Wells , Brennan Hubbell, Timonthy Earl Neill, Larry and Debby Kline, James Enos and James Hubbell (SD Art Prize recipients 2013) and selected NCVI artists at the Sparks Gallery

What's the weirdest thing you ever saw happen in a museum or gallery? "As I was stepping out of the elevator to enter Fraenkel Gallery to see my exhibition in San Francisco, a lady tried to warn me, 'Dogs!'"
Artist William Wegman, October 29, 2012

One of the major art advocates for turning STEM into STEAM is SD's own John M. Eger, Van Deerlin Endowed Chair of Communications and Public Policy and Director of the Creative Economy Initiative, San Diego State University.Read his recent articles in the Huffington Post including The Arts Are Not a Luxury where he shows the progress this movement is making. This is a good time to remind all readers about SDVAN's DNA of Creativity as well as the Incubator for Innovation project organized by the Art of Science learning and produced by the Balboa Park Cultural Partnership. You might also enjoy his article about Colorado and their formation of Arts and Culture Districts to enhance economic growth, LA's push for arts education (P.S. Arts, Inner City Arts, Arts for LA, Arts for All), a Blueprint for Creative Schools state wide, Can Washington Get Anything Right? where he describes why we should leave behind, no student left behind and standardized testing and The International Power and Potential of the Arts about the artist citizen. John is firing on all cylinders right now!

Joanne Tawfilis, Co-Founder of the Art Miles project with a base in San Diego tells us that the murals will be shown at the state Capitol complex in Hartford, Connecticut for the month of June, as part of a special show entitled, "Celebrating Community, Safety and Bravery: An Artistic Tribute to Newtown and Connecticut." Congratulations to Joanne for her continued work with this project.

Sent to us by Jay Johnson (SD Art Prize), a very nice video about the County Center Art Collection speaks about how the art has made the County Center a destination. Thanks to the city for making this happen and Gail Gorden for her art consultancy on the project. The collection is open to the public at no charge. See Jay's work at the Oceanside Museum of Art.

Port art program takes hit which is an article in the UT and video by Trent Seibert and makes interesting viewing. Lots of controversy about if funds should be spent on the arts and what is worthy of expense and how the money is shifted from one fund to another. Luckily Gail Roberts is standing up for the arts because most of the opinions are by lay people and do not take into account how important culture is to our community. They persist in thinking of the arts as frivolous or simply useful as a sweet reminder of the past instead of embracing how the arts mean economic gain. Our city has to attract good brains and innovative thinking and that will not happen in a community that is more interested in sand and sea than in culture. We need to strike a balance and make room for both. The tiny amount allocated to the arts is the best value for money you can get in SD. But it has all been wiped out by the greedy and miss-managed Port Authority. They should look at how the Airport Art Program has thrived under the directorship of Constance White.

How a New Chief Hopes the City Will Boost Arts is an article by Kelly Bennett posted June 10 which describes how Denise Montgomery will start in her new job as head of the Commission for Arts and Culture for the city of SD. So far, she is very cautious which is to be expected but hopes for a general tax to help art education. One thing we are not seeing is how the entire county can be helped. For far too long, funding goes mainly to the city and not through the County Supervisors to the entire county of San Diego.

National City'sButterfly Parkthe first of two San Diego Gathering Place projects at the Pomegranate Park was made possible by a collaboration between the Malin Burnham Center for Civic Engagement, A Reason to Survive (ARTS) and Olivewood Gardens and funded by the Rokenbok Foundation and Myron Eichen Memorial Funds at The San Diego Foundation and Green Mountain Coffee Roasters. For more info to volunteer: Felicia Shaw

Congratulations to Sophie's Gallery NTC which received the third grants from California Institute of Contemporary Arts totaling $50,000 since 2011. Their gift of $20,000 will help to meet the 3:1 match required by the San Diego Commission for Arts and Culture that pledged $9,408 toward the operation of this program from July 2012 through July 2013.

Congratulations to April Game and Art Pulse TV on the launch of a weekly half-hour television show every Saturday at 5 pm on NBC 7 covering San Diego County and Baja. It airs for the first time on July 6 th. Terri Beth Mitchell has a regular segment called "Terri Tries It" which should be a highlight of the show. Terri will try her hand at ballet or throwing on the pottery wheel and that is clever and will make the arts come alive for the audience. I like the idea of a reporter being embedded in an event so it is not just talking head interviews. There will be 4 segments in each ½ so we won't expect too much in depth.

The Jacobs Center for Neighborhood Innovation has announced the appointment of Victoria Hamilton, founding Executive Director of the City of San Diego Commission for Arts and Culture, to serve in the newly created position of Director of Arts and Community Development. In addition, Leah Goodwin has been appointed to the position of Director of Visual and Performing Arts Programs.

OPPORTUNITIES (click to see a list of all current opportunities listed on SDVAN)

Jason Rogalski (DNA of Creativity Urban Succession) is offering an awesome art camp this summer July 8 to 18th. It will be fun, educational & affordable for grades K-12: Students will rotate through a series of "stations." Station activities will be appropriate to each age bracket and include: Guitar, Sculpture, P.E./Games, and Painting & Drawing. Students bring their own sack lunch. They will provide a healthy snack & water. Awesome Camp will be held at the San Diego Academy campus. Located at: 6104 Adelaide Ave. San Diego, CA 92115 and cost$200 per week or two for $300. More info: rogalskijason@gmail.com 619.582.2820

Join Prudence Horne and Lauren Carrera in a Summer Break project for the San Diego Art Museum by becoming part of their 15 Minutes of Fame installation. Bring one work that can rest on an easel, sit or stand with it for 15 minutes and be prepared to be looked at and to be videographed. You have to sign a waiver, but this should be great fun and a very nice thing to add to any resume. Contact Lauren Carrera for your application before July 5 and more information.

Calling on artists to exhibit at the 5th San Diego Spirits Festival, Bayside Art Festival. The first 30 artists will be provided with tents sponsored by Roaring Lion. Cost to participate $100 for the weekend August 24-25. For more info: Liz Edwards 858-551-1605

Robert Tharp (a local SD resident) is seeking to partner with creative and entrepreneurial organization or individual that would be interested in selling and distributing over 10,000 original un-circulated back-issues of Art in America magazine dated from1958-2009. Ideas for shared fundraising, marketing and/or artistic creation are welcomed. Visit Dropbox address for photographs For more info: 8312384707

MUSEUMS

Mingei International Museum presents San Diego's Craft Revolution – From Post War Modern to California Design is the Allied Craftsmen annual exhibition. Founded in San Diego in 1947, they have been a significant community for SD and will be showing through Jan 5, 2014..

Visions of India: South Asian Paintings from The San Diego Museum of Art will debut at the Museo Nacional de Antropología in Mexico City on June 12. Featuring more than 100 South Asian paintings from the Museum's renowned Edwin Binney 3rd Collection, Into India offers an introduction to the vast, rich, and inexhaustible set of traditions of the Indian subcontinent.

Oceanside Museum of Art Mega Exhibition Reception is on Sat, June 29 from 5:00 - 7:00 p.m. and is free for member and only $10 for nonmembers. Intersections: Charles Arnoldi, Tony DeLap: Selections from 50 Years, Volcanos and Full Moons: Ernest Silva, Looking for Things: Jay Johnson

The Museum of Contemporary Art San Diego welcomes Comic Con with Approximately Infinite Universe, a show is inspired by science fiction, with its exploration of other possible worlds, its dislocation of spatial and temporal trajectories, and its challenges to distinctions between human and alien, self and other.

Women's History Museum and Education Center will host Guest Speaker: Denise Montgomery, Executive Director City of San Diego Commission for Arts & Culture. at the San Diego Regional Arts and Culture Coalition Meeting Thurs, June 27, 8:30 am - 10:00 am (NTC at Liberty Station, Barracks 16, 2730 Historic Decatur Road, SD 92106) RSVP: AMaricle@TheOldGlobe.org

Ruben H. Fleet Science Museum is celebrating their 40 th Anniversary with a Fan Favorite Film Festival. The will show nine favorite films, one a week, twice a day from Friday, July 5 through September 5 in the Heikoff Giant Dome Theater

New Children's Museum held its Mass Creativity Day in June. This was the final celebration of an artist-led community outreach program that includes a series of eight workshops throughout various San Diego neighborhoods. These art experiences were free and designed for all ages. No prior art experience necessary! This event was free to the public and featured hands-on art-making activities, live music, and food trucks. Watch for the Full Steam Networking event coming to the museum on July 23 at 6 pm

TRANSITIONS

A talented model, and loyal Ambush fan Ms. Evelyn Courtney died in an accident in Poway in June. She will be greatly missed by the Ambush team including Antoinette Ransom. Ms. Ranson will honor Evelyn in this year's October 19 Ambush event.

TIDBITS

Christie's Auction House is crossing the line into gallery territory when they presented a survey exhibition of Ruth Asawa. Objects & Apparitions in her first major solo show in New York in over fifty years. This curated exhibition featured fifty works including sculpture and works on paper — for private sale or on loan for three weeks on the 20th floor of 1230 Avenue of the Americas, at Rockefeller Center. These works might remind you of Ann Mudge or Arline Fisch, two artists working locally to the same high standard.

The Auction Room, is now doing live online auctions but with an opportunity to see the works before hand at Brown's Hotel in London for three days prior to the auctions. Started by former Sotheby's specialist, they are starting with jewelry, watches and decorative silver. Prices start at about $500, works are guaranteed and the buyer charge is 17.5%, a bit lower than Sotheby's. It will be interesting to see if this combination of live and virtual auction gets results. One the one hand they have an international market to tap into but with the advantage of being able to try thing on for size if you happen to be in London. We looked at the catalog and for jewelry artists this might be a source of inspiration….or maybe you just are looking for a Victorian mustard pot

Art Daily reports that after a day of explosions and gunfire, residents of Kabul woke up to be greeted by a public art project in which volunteers handed out 10,000 neon-pink "peace" balloons, organized by Yazmany Arboleda, a 31-year-old conceptual artist from the United States. The Taliban criticized it as un-Islamic behavior.



back to top




Mayor Filner, Naomi Nussbaum (Synergy Art Foundation) and SDVAN coordinator Patricia Frischer at the Palette 2 Palate fundraiser April 2013. (left) Poteets, Sergotts, and Slindees at Zedel's in London, May 2013.(right)
"All the people an artist wants to avoid come to his opening. Glommers, creeps, parasites, and wannabes. Inevitably, they say the stupidest, most hurtful things possible. They look around and say: your art reminds me of myself, now you owe me! Of course, no one buys anything at the opening. So why be there? But then, after a while, why not?" Artist Mark Flood, September 24, 2012
San Diego Visual Arts Network , presents New Contemporaries VI at Sparks Gallery ( 530 Sixth Avenue, SD 92101). These are artists nominated for the SD Art Prize 2013 in the emerging category. The opening reception is Sat. June 8, 7 to 10 pm (RSVP/Facebook required 619.866.3146) Show goes form Sat. June 1 to Sun. June 30th, 2013. Artists included are Jennifer Anderson, Irene de Watteville, Michelle Kurtis Cole, Franco Mendez Calvillo, James Enos, Brennan Hubbell, Sonia López-Chávez, Marie Najera, Timothy Earl Neill, Griselda Rosas, Ilanit Shalev , Anna Stump
Echoes by Tom Driscoll (SD Art Prize) and Bound by Lisa Venditelli are opening at Athenaeum Music & Arts Library ( 1008 Wall St, La Jolla, 92037) with a r eception on Friday, June 21, 6:30–8:30 p.m. The show continues until July 27. More info: Katie Walders 858.454.5872
The El Cajon City Council finalized the approval of a request from St. Madeleine Sophie's Center for 2013-2014 Community Development Block Grant (CDBG) funding. City staff recommended that the Center's request be fully funded in the amount of $10,000. Congratulation to SMSC! We are very grateful to St. Mads for donating over 800 cookies to our Palette 2 Palate event. We had over 2000 sweet bites donated, more than we actually needed and these have gone home with our volunteers and also many are being further donated for other charity functions. I know we will be serving them at our next SDVAN meeting. Thanks to St. Madeleine Sophie's Center for the gift that keeps on giving.
Chelsea McGrew has been successful in using Kickstarter to raise her $1500 for a printing project for silk scarves. It is so interesting to see how this venture capitol, advance selling technique is being used to finance some very interesting creative efforts. We know that Debby and Larry Kline were able to print a book using this technique and Brian Dick has used USA Projects in a similar way. Let's watch and see if this is new marketing for art we have been waiting for and a good tip is to keep the amount no more than $3000 we understand.
Space4Art is doing another Kickstarter to raise funds for their excellent programming. Their goal is $12,500 and on the way up to that they are giving away t-shirts, mugs, tote bags, original art and art receptions. You have until June 13 to help them out.
Carolyn Guerra 's sculpture Shade of My Tree has a new home at Scripps Wolfstein Sculpture Park. Click the link to see the installations.
Concetta Antico has made a $1,900 donation to Rady Children's Hospital. This local SD artist plans to contribute a mural sized painting inspired by the children for the lobby and to donate more than $5,000 this year which will qualify her as a Miracle Maker for the hospital. We applaud her generosity for the health of the children of our city.
Teddy Cruz was honored with the 2013 architecture award from the American Academy of Arts and Letters. Cruz is an architect, academic, and activist whose San Diego-based studio has been exploring and challenging the politics and economics that drive urban conflict.
We are so excited to see two more artists (Fred Tomaselli and Julian Opie) added to Murals of La Jolla project.. These are world class artist and they are enhancing the city and aiding the dialogue about local art. Check out Kim MacConnel, Roy McMakin, Anya Gallaccio, John Baldessari, Ryan McGinness, Ann Hamilton, Robert Ginderand Richard Allen Morris. It is a stellar committee choosing the artist including Mary Beebe, Matt Browar, Hugh M. Davies, Erika Torri, Lynda Forsha, Michael Krichman and Mark Quint. This makes ten but we hope they continue with the aid of the La Jolla Community Foundation.
Hey kids, let's put on a show….in a warehouse! Parachute Factory did in it Feb, SDVAN and Synergy did it with Palette 2 Palate in May and Warehouse 1425 did it in May. Who is next? Maybe Ambush n October?
ART SAN DIEGO Spotlight Artists for 2013 have been announced and include three SD regional artist : Margaret Noble, Marcos Ramirez "ERRE" represented by Luis De Jesus Los Angeles, and KREASHUN. Also included are Pablo Lehman represented by Black Square Gallery, Miami, FL; Drew Tal represented by Emmanuel Fremin Gallery, New York, NY
OPPORTUNITIES (click to see a list of all current opportunities listed on SDVAN)
The Mission Trails Regional Park Foundation is making its call for artist for 2014. These displays are limited to two-dimensional and hanging three-dimensional work by small or large groups and solo artists. Displays of artwork are rotated every four weeks throughout the year. Artists may apply in the Group Show category every year or every other year for a solo show. Applications are due June 30 th. Application fee is only $15.00 and if accepted there is a $100 fee. More info: Vicky DeLong . There is also a call for artist for a juried show with only a $5 per work fee: Art in the Park : A Fine Art Exhibition and A Wine, Cheese, & Chocolate Art Fundraiser Sept 21 – Oct 18, 2013 with entries due July 15.
FusionGlass Company and Art Gallery ( 8872 La Mesa Blvd, La Mesa, 91942) is looking for a dynamic intern with excellent communication skills and familiarity with all aspects of social media marketing. Duties will include organizing art events, shows and classes working with artists, instructors, and company owners, and posting to twitter, FB, etc. They are also making a call for artists to show in their working gallery studio. For more info and to apply for either opportunity: Debbie 619.461.4440.
The Innovation Incubator project of the Art of Science Learning is now launching and looking for 100 local participants in San Diego. There are three information meetings Thurs, May 30, 3:30-4:30 PM - UCSD, Natural Sciences Building Auditorium, Sat June 1 10:00-11:00 AM - Reuben H. Fleet Science Center, Balboa Park and Sat, June 1, 1:00-2:00 PM - Malcolm X Library at 5148 Market St, SD CA 92114. The incubator will kick off in October with 100 selected participants, and after the first three months 10 teams will self-select, five addressing the innovation challenge and the other five creating new programs integrating arts into STEM learning. The curriculum will be taught by a group of experts most likely during Saturday sessions for a total of 150 hours over a year's time. Participants will become certified Art of Science Learning Fellows and will be armed with brand new tools to innovate. RSVP online at bpcp.org/incubator. For more info: Nan Renner
Remember you can learn about other STEAM events through the STEAMConnect. website which is transforming into a resource center, making important connections across the U.S., and collaborating with various organizations in San Diego on upcoming events. They will have July and September events, as well as the first STE+aM conference in the works for 2014.If you have a STEAM event make sure and let them know at events@steamconnect.org.
Escondido Municipal Gallery is making a call for artist for a show juried by Annette Cyr. The show runs from June 7 to July 6 and is their small scale (1212x12) exhibition. Receiving of up to six pieces on Fri May 17th and Sat May 18th from 11-2pm. For more info: Chrisanne Moats 760.480.4101
MUSEUMS
Mingei International Museum Craft your own Dejembe drum with gourd artist Rosario Wilke at the Crafting Musical Gourds – A Drum Making Workshop on Sat June 1, form 9 am to 4 pm. Participants will choose their own embellishments, and use carving tools and lacing, painting and tinting techniques to create a working musical instrument. All materials are included. Register here.
Mega Exhibition Reception at Oceanside Museum of Art on Sat June 29 from 5 - 7 pm includes Ernest Silva Exhibition Reception in conjunction with the opening of Jay Johnson, Charles Arnoldi and Tony Delap Exhibitions, OMA Members complimentary / $10 Nonmembers
The Museum of Contemporary Art San Diego will present Approximately Infinite Universe at its La Jolla location from June 8 through Sept 1, 2013. This is an exhibition inspired by science fiction, with its exploration of other possible worlds, its dislocation of spatial and temporal trajectories, and its challenges to distinctions between human and alien, self and other. On view throughout the summer with new extended hours (until 8 PM-every Thursday evening from June 13 through August 29 except July 4) this show featuring work by seventeen emerging and mid-career artists.
Friday, June 21 at 6 pm is the date for the 6th AnnualWine, Cheese and Chocolate Festival at: Liberty Station put on by the Women's History Museum and Education Center.
Through a James Irvine Foundation $175,000 grant, The New Children's Museum is hosting a two-year long project, Mass Creativity, centered on the theme Community Portraits. The Mass Creativity project involves art-making workshops in low-income, ethnically diverse San Diego communities culminating in a large annual celebration at the Museum. Seven community-based organizations and four local artists (Jim Brown, Perry Vasquez, Amy Mayfield and David White) have been identified for the outreach workshops to take place in April and May . An eighth community-based organization will be confirmed by June . The culminating event entitled Mass Creativity Day, a free daylong outdoor celebration, to be held Sat, June 22, 10 am – 4 pm
TRANSITIONS
Mayor Bob Filner announced his appointment of Denise Montgomery to head the City of San Diego Commission for Arts and Culture. Montgomery held a post with the Museum of Contemporary Art San Diego as well as run her own communication consulting firm, CultureThrive, and was former executive director of the Denver Commission on Cultural Affairs. She replaces Victoria Hamilton in this post. Montgomery overseas a $9 million budget which is up $1.7 million in the fiscal year 2014.
We heard from Naomi Nussbaum that the talented artist, Charlotte Mitchell, passed away on April 24, 2013, after a long battle with cancer. She lost all during the 2003 firestorms. She died as she lived - in peace and with concern for others. A Celebration of her Life will be held at 2 p.m. on May 26th at her beloved Julian Library. She will be missed. May she rest in peace.
TIDBITS
Turner Prize 2013 at the Tate Britain has now been announced. How could our fearless leader take a trip to London without mentioning this?
Cuatro Corridos is a chamber opera addressing one of the most critical human rights issues of our time: human trafficking. Based on true events, it tells the story of women trapped in a cycle of prostitution and slavery in and around the San Diego/Tijuana border region and represents an unprecedented collaboration between internationally acclaimed Mexican and US-based creative artists. There is a full team of production artist working on this project are led by Grammy Award winning soprano Susan Narucki and noted Mexican author Jorge Volpi, and the world premiere performances will take place in early Mayin the Experimental Theater of the Conrad Prebys Music Center at the UCSD and will be followed by one in Dallas, Texas in October. Congratulation to the entire company.
What a pity to miss Mint Tea and Minarets book signing by Kitty Morse who recently curated the meal for the Eat Your Art Out dessert menu at Palette 2 Palate . It was in mid-May at Cardiff-by-the-Sea City Library and included a presentation and talk followed by a short demonstration with food sampling of Fresh Flavors of the Kasbah: Moroccan adventures in food and travel. Interested, try the book instead!
We applaud the launch of the new Pruitt Igoe recording Symbiosis.Krista Coppedge is on trumpet and synthesizer with Ted Washington on vocals and drum machine. Please have a listen to it and congratulation to Ted and his group. This is a pretty dark album so maybe we should also wish Ted happier days soon. His Poetry Performance for the Palette 2 Palette event is lighter but you can't hear his wonderful voice. But do have a read of them as well.
Lovely to hear from Isaias Crow with news of his latest murals in this very good video record. Check it out and congratulation to Isaias for his continuing work. He now lives is in Texas but the mural is in San Francisco.
Artist Ed Moses, August 30, 2012 "I don't like the terms art or artist."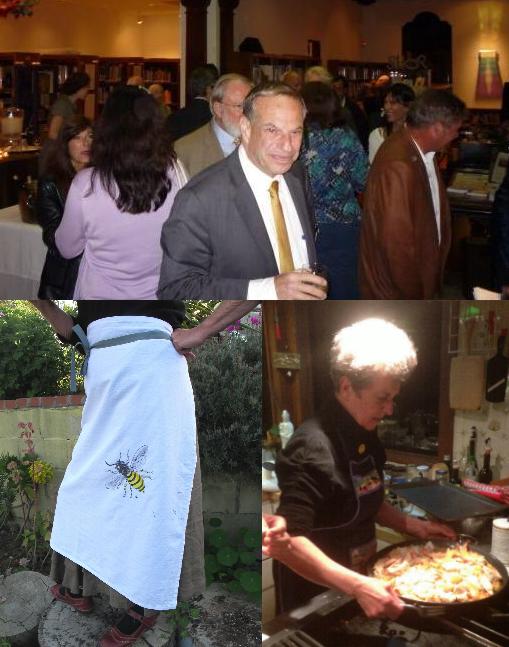 Mayor Filner at the Athenaeum Music & Arts Library opening for Jeffery Laudenslagerwith emerging artist Deanne Sabeck, Arline Fisch with emerging artist Vincent Robles from until May 4. Irene de Watteville's Busy Bee aprons and hard at work for the palette 2 Palate event on April 27.
EAT YOUR ART OUT :Palette to Palate SDVAN/Synergy 10 th Anniversary Party on April 27, in support of Synergy Art Foundation, San Diego Visual Arts Network and Feeding America SD, Please pre-book your Blank to Beauty Bash tickets and rock to Ruby and the Redhots, find incredible art in the silent auction, eat terrific desserts. $15 now but $20 cash at the door at 9 pm. Cash bar. For entrance go to Synergy Arts Foundation
We are pleased to present Jennifer Cerutti Art Walk Business of Art Scholarship recipient booth #567 at the 2013 Mission Federal ArtWalk in Downtown, Little Italy. This is the second year that SDVAN has mentored a SDSU student for their first public showing at the art walk.
More info: Sandi Cottrell 619.615.1090
We are also happy to announce the participation of Jason Rogalski( JCS San Diego Academy) leader of the Urban Succession team of the DNA of Creativity who will be showing in the Mission Federal Kidswalk
Connect with your inner Picasso and learn from artist Gabriela Alvarezon how to use both paint and your fingers to create unique works of art in her interactive workshop called Grown Up Fingerpainting. Gaby's technique utilizes an inventive combination that results in unique blending of colors, shapes and shading. SDVAN is happy to support this interactive part of the Art Walk that gives hands on experience to the general public. Look for Gabriela on India Street near Dick Blick who is also a sponsor of this presentation. All these events and so much more are April 27 and 28 th from 11 am to 6 pm

Last chance to see Two Perspectives from Two Generations (click this link for the video) photography by Nancy Everds and Joan Everds until April 5 at the Mission Trails Regional Park.
OPPORTUNITIES (click to see a list of all current opportunities listed on SDVAN)
TAKE A SEAT is a chairs for charity event where area designers, artists, craftsmen and students will take an old chair (or existing materials) and create something special and unique to benefit Hurricane Sandy and Japan Tsunami relief efforts. They are calling artists (by April 30 th) to use their talents to reinvent an old chair into something special. It does NOT have to end up as a piece of furniture, but can be an art piece or sculpture. This international event is being held simultaneously in New York, San Diego, and Osaka, Japan and sponsored in San Diego by the Southern California branch of The International Furnishing and Design Association. After the kick-off party on the evening of May 7 these chairs will be on display daily at Planet Rooth Design Haus beginning May 8 and the exhibition concludes with a gala event and auction on May 16, where the chairs will be sold to the highest bidder. More info: Karen C. Wirrig 602-321-9154
2nd Annual Art in the Park Fundraiser and Juried Fine Art Exhibition with wine, cheese & chocolate. Held atMission Trails Regional Park(One Father Junipero Serra, SD 92119). Contact Vicky DeLong for a prospectus 619.668.3281
Frame of Reference Exhibit at Studio M on 10th invites artist to submit for the upcoming exhibition concurrent with Mo`olelo Performing Arts Company's production of Extraordinary Chambers, June 6 – 30th, at 10th Avenue Theatre and Arts Center. ( 930 Tenth Avenue, San Diego, CA 92101) Submissions by May 17, $25 registration for 5 images. More info: Gerald Montoya 619.356.0410
Summer Break is The San Diego Museum of Art's new contemporary culture series. Summer Break uses contemporary art to explore a theme present in another exhibition currently on view at the Museum. Lectures, video screenings, workshops, performances, readings, and concerts are all equally valuable parts to this program, which this year will use the Museum's exhibition Arnold Newman: Masterclass for inspiration. Summer Break is 10 continuous days of presentations, occurring from August 1-10. Go to the link Summer Break for content for this year series along with instructions for submitting a proposal.
MUSEUMS
Oceanside Museum of Art presents Dr. Steampunk's Art Extravaganza part of their Art After Dark program on Fri. May.10, 7 to 10 pm with Dr. Steampunk's Cabinet of Curiosities in the Gerald and Inez Grant Parker Gallery from May 7 – 10. ( 704 Pier View Way, Oceanside, 92054. $10 for members, $20 for non-members. More info: 760.435.3720
The Museum of Contemporary Art San Diego and The San Diego Museum of Art present internationally renowned sculptor Charles Ray as the featured speaker for the 13th annual Axline Lecture on Thursday, May 16 at 7 PM at MCASD La Jolla. Ray's work is currently on view at MCASD as part of Lifelike. The Los Angeles-based artist is best known for his uncanny sculptures, which alter and refashion familiar objects, testing the viewer's ability to discern between what seems to be and what is .
Art Alive opening celebration is Friday, April 26, 7:00 - 11:00 p.m. at The San Diego Museum of Art and is $200 for members and $250 for nonmembers. Ticket includes admission to Flowers After Hours, the after-party for this event. 9:30 p.m. – 1:30 a.m.
Lux Art Institute presents James Chronister until May 18 and we visited this show which probably one of the most obsessive compulsive visions we have yet seen. This artist painted every pixel with a dot of paint. It does retain the hand man, hand craft appeal of original art. As always, it is fascinating to see the process of the artist first hand.

Ruben H. Fleet Science Museum Co-Chairs Lori Fleet-Martin and Nancy Robertson invite you to celebrate the Fleet Science Center's past, present and future at the 40th Anniversary Big Bang Gala honoring Executive Director Jeffrey Kirsch on Sat May 11 from 6 to midnight.
On Sat. May 18 at 11:00 a.m. Timken Museum of Art professional storyteller Harlynne Geisler will share the story of Bartolome Esteban Murillo's life and will weave a fanciful tale about angels and peaches in front of the artist's masterpiece. Afterwards, gather outside the museum and get creative as we make wearable angel wings with artist Elizabeth Washburn. Ages 5 and up are welcome. Admission and art materials are FREE!
No reservations required.
TRANSITIONS
We are devastated to announce the tragic lost of Cara Mia Ciasulli. She was a web designer, developer and founder of Park Blvd. Marketing - a full-service boutique web agency serving San Diego and the world. While she held a Bachelor of Science from New Jersey Institute of Technology, her 12 years' experience in web is entirely self taught. An additional passion is being the founder and coordinator of San Diego's Open Arts Collective, an association promoting community multimedia arts engagement via large-scale arts events. Cara Ciasulli was also an electronic musician, vocalist, and photographer. Cara Mia Ciasulli passed away in March, 2013. We honor her memory with our continued work on the SD View Art Now app that she was so dedicated to bringing to life.
ArtPulse, a visual art training and exhibition nonprofit, is moving from the Liberty Station to Bread and Salt in Barrio Logan.
TIDBITS
Do we see a trend here? The Frieze Fair May 9-12. in New York has new satellites whirling around it. The latest to join the Frieze fray is the new Fridge Art Fair, a small, 12-exhibitor event being held at the Lower East Side's Gallery Onetwentyeight. Fridge Frieze, get it! Many of the SDVAN artists were contacted by Parallax Art Fairalso held at the same time and offering affordable space for individual artists. Multiple events give more reasons to visit a city during a fair season. The Amory in March is losing some of it's participants but this April show still has the Affordable Art Fair and we are happy to SD Sergott Contemporary Art Alliance showing there.
Here is one for the books and takes our Murder Mystery theme for the table at Palette to Palate (Black and White and Red All Over) part of the way into real life. Adam Parker Smith set out to steal a whole show of work for an exhibition. Once he purloined the art, he wrote and called each of the artists to tell them what he did. They all seem to agree to the joke and agreed to show their work with a small percentage of anything sold going to Mr. Smith. This little tidbit was sent to us by Michelle Kurtis Cole.
back to top
Artist and YouTube Art Guru Hennessy Youngman, June 11, 2012
"The Art World and the World of Hip-Hop, at least from a music industry standpoint, are pretty similar actually. They're both filled with delusional people who truly believe the things written about them in their press releases."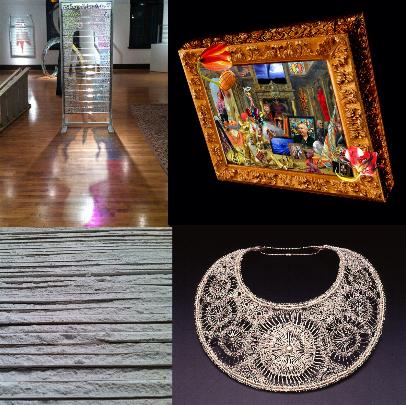 Deanne Sabeck, Jeffery Laudenslager, Vince Robles and Arline Fisch
Newly published is a great catalog from the Athenaeum Music & Arts Library( 1008 Wall St. La Jolla, 92037) Jim Hubbell, Jay Johnson, Dave Adey, Gail Roberts, Raul Guerrero, Kim MacConnel, Jean Lowe, Adam Belt, Ernie Silva and many other artists we have had in the SD Art Prize. This is theirvery first catalogue Athenaeum Music & Arts Library: Selections from the Permanent Collection and it celebrates 20 years of collecting showing 40 artists that have had solo shows and are also in the permanent collection of the library. $25 for members and $30 for nonmembers. You can pick on up when you go to the 2012 SD Art Prize recipients exhibition including Jeffery Laudenslagerwith emerging artist Deanne Sabeck, Arline Fischwith emerging artis tVincent Robles fromMarch 30 - May 4, 2013 with a reception on Friday, April 5, 6:30 PM – 8:30 PM More info: press@ljathenaeum.org 858.454.5872. And you can check out the SD Art Prize 2012 Catalog and download it for free.
SDVAN has just announced the New Contemporaries 2013 Nominated Artists who will be showing at Sparks Gallery ( 530 Sixth Avenue, San Diego 92101) opening Reception Sat. June 8, 7 to 10 pm and running from Sat. June 1 to Sun. June 30th, 2013 More info: Sonya Sparks.The artists are:
Jennifer Anderson nominated by Arline Fisch, Artist
Irene de Watteville nominated by Jeffery Laudenslager, Artist
Michelle Kurtis Cole nominated by Patricia Frischer, San Diego Visual Arts Network
Franco Mendez Calvillo nominated by Debra Poteet, Collector, SD Art Prize committee
James Enos nominated by Ann Berchtold, Art San Diego Contemporary Art Fair
Sonia López-Chávez nominated by Sonya Sparks, Sparks Gallery
Marie Najera nominated by Deanne Sabeck, Artist
Timothy Earl Neill nominated by Catherine Gleason, Associate Director, SDSU Downtown Gallery
Griselda Rosas Nominated by Vincent Robles, Artist
Ilanit Shalev Nominated by Betsy Lane, Betsy Lane Art
Anna Stump Nominated by Erika Torri, Athenaeum Music & Arts Library
P Squared
: PALETTE TO PALATE
is the event to watch for in April. You can still get tickets to theafter party with Ruby and the Redhots band, the Blanks to Beauty Silent Art Auction of original works by our local artists, a food -related art boutique, and magical surprises throughout the evening. The event will benefit Synergy Art Foundation, San Diego Visual Arts Network and Feeding America San Diego .
April 27 at 9 pm: Buy tickets for Blanks to Beauty Bash
The California Alliance for Arts Education and the California State PTA are sponsoring ACR 12, a concurrent resolution honoring March as Arts Education Month. The resolution will be heard in the coming weeks in the Assembly Arts, Entertainment, Sports, Tourism & Internet Media Committee before passing on to the Assembly floor. Read the resolution here.
We are delighted to see that Marcos Ramirez ERRE is one of the featured artists in the 2013 Art San Diego Contemporary Art Fair in Nov 2013. Erre was on of the SD Art Prize 2008 recipients in 2007/2008. Luis De Jesus Los Angeles is featuring Marcos Ramirez ERRE in his first solo exhibition titled Playing Series Serious, on view April 6 - May 11 reception Sat April 6th, from 6:00 to 9:00 p.m., ERRE's uses humor, word play, and the format of crossword, game search, Sudoku, labyrinth, and maze puzzles to continue his strategic appropriation of language-based signage. An opening night-only participatory performance titled The Bottlefield, starts at 7:30 p.m. More info: 310.838.6000 gallery@luisdejesus.com.
The KCET Artbound article From the Center of the Margin: Contemporary Art Galleries in Downtown about independent art spaces in Tijuana has received enough attention to be chosen as "People's Choice" and is now eligible to become a documentary short! If the piece is voted in, KCET will be sending their video crew to Tijuana! Please help them make this reality by voting for them.
Smart About Public Art ([public art programs, processes and opportunities in the San Diego region) will be discussed on Wed. April 10 at 4:15 by a panel including Constance Y. White - San Diego International Airport, Yvonne Wise - Port of San Diego, Dana Springs - City of San Diego Commission for Arts and Culture and Gail Goldman - Public Art Consultant. San Diego County Regional Airport Authority Computer Terminal ( 3225 N Harbor Drive, SD 92101) For more info and RSVP: Mary De Felice, 619.400.2400
OPPORTUNITIES (click to see a list of all current opportunities listed on SDVAN)
Leucadia 101 Main Street is making their annual call for artists for the 8 th LeucadiART Walk held in August. They accommodate 100 local artists exhibiting their work along Hwy 101. Live music and art activities for children are also planned. No charge for this event, free shuttle bus provided. Attendance is approx. 3,500 and the Artists Fee is $75 returning; $85 new; $100 late fee after May 25, 2013. For more info: Paula Kirpalani 760.436.2320
For artists under 25 The Museum of Contemporary Art San Diego has a call for artist by Monday, April 22
A panel of judges will select 25 finalists whose work will be displayed in a showcase event at MCASD Downtown on Thursday, May 16 from 5-7 PM. The public will be invited to vote on their favorite artworks in person and on Facebook. Four winners will be selected in the two categories: People's Choice (first place and honorable mention) and Curator's Choice (first place and honorable mention). The first place winner in the Curator's Choice category will win a $500 gift certificate to Blick Art Supplies and a Dual/Family Membership to the Museum. Learn more about the contest at www.feedyourgreedyorgan.com.
The Foundry Studios at New Village Arts ( 2787 State Street, Carlsbad, 92008) has 5 studios available for lease: 3 immediately, one on April 1 and one on May 1. They range in size and rental amount. For more info: Laura Kurner 760.433.3245
Private Fine Art Figurative Sculpture Lessons are offered by figurative sculptor Julia S. Rasor in her private studio ( 3860 Riviera Drive, #102, SD 92109). All experience levels welcome. Instruction is tailored to your individual goals, style desire (representational to abstract) and schedule. Classes are from 2 to 4 hours. $30 per hour. Ceramic water-based clay is provided. More info: 858.999.0818 jsrasor@RasorsSculptures.com
MUSEUMS
The Museum of Contemporary Art San Diego is offering a trip to TJ onSaturday, April 13, 2013 with an artist studio visit, a curator-led tour of El Cubo, Centro Cultural Tijuana (CECUT), and lunch at Chef Miguel Angel Guerrero's restaurant El Taller-housed in a converted warehouse, tour with a visit to the Pasajes Rodríguez and Gomez, a covered alley built 64 years ago where two dozen painters, photographers, performance artists, and graphic designers who have transformed small storefronts into studios and galleries, a studio visit to Jaime Ruiz Otiz, For more info: April Farrell at 858.454,3541 x162
Five of the region's most respected and accomplished business leaders have been named to the new Executive Cabinet of the California Center for the Arts, Escondido. The Cabinet includes Angelo Damante, business and civic leader; Dave Ferguson, partner of Lounsbery Ferguson Altona & Peak; Greg Koch, CEO and Co-Founder of Stone Brewing Company; Jack Raymond, business leader, philanthropist and chairman and CEO of the Raymond Companies; and George Weir, founder of George W. Weir Asphalt Construction, community leader and philanthropist.
TRANSITIONS
We are losing a wonderful support for the arts with the closure by Patty Smith of Art Expression Gallery. We wish Patty well in her retirement and hope to see her out and about now that she will not have to man the ship. PS. She is liquidating and selling her own stock at up to 90% off so check out the gallery before the end of March.
Julia Marciari-Alexander is leaving the The San Diego Museum of Art to head the Walters Museum in Baltimore. Her husband John who is also a European curator at the museum will also leave to go to Baltimore.
We are sorry to hear that Leigh Timmons from Timmons Gallery sold off her stock and is now out of business.
What will happen to the Birch North Park Theater now that the Lyric Opera has declared bankruptcy and how will that affect the North Park Art Distinct? Read the article in the Free Press
Dr. Jeffrey Kirschi is reitiring after 30 years as the Executive Director of the Ruben H. Fleet Science Museum in June 2013 and he will be followed by Steven Snyder, Ph.D. Dr. Snyder is currently Vice President, Exhibit and Program Development at The Franklin Institute in Philadelphia, PA
Artists Gilbert & George, April 27, 2012
George: " Not every artist wants to do a picture of a sex beast, but we want to."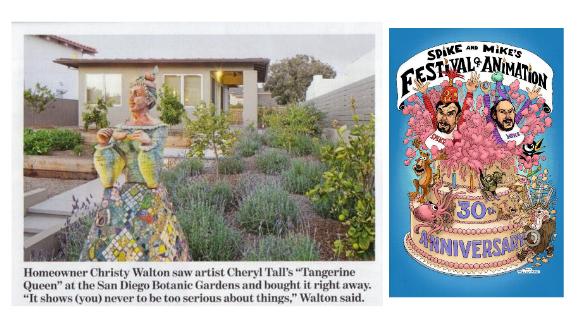 The Cheryl Tall sculpture Tangerine Queen featured in the San Diego Union is part of the collection of Christy Walton, of the Walmart Stores family. Alice Walton has opened Crystal Bridges Museum of American Art and she is Christy's sister in law. The work is shown in front of the Leucadia property's guest house, in front of Christy's own personal garden of lavender plants and tangerine trees. The house, called Neptune Norte, was awarded the highest environmental certification for 'green' architecture by the US Green Builders Council, only the third custom built home in the country with this certification.
The 30th Anniversary Celebration of Spike and Mike's Festival of Animation held at the The Museum of Contemporary Art San Diego ( 700 Prospect St. La Jolla, 92037) continues until March 30 th. features the most popular and award winning short animations from the festival's influential history. See early works of Disney Pixar Director Ralph Eggleston and over 10 Academy Award Winning or Nominated short animations. More info: Josef Liebhardt858.459.8707
EAT YOUR ART OUT : Palette to Palate SDVAN/Synergy 10 th Anniversary Party is April 27, in support of Synergy Art Foundation, San Diego Visual Arts Network and Feeding America SD, VIP dinner tickets are now SOLD OUT, but let us know if you want to be put on a waiting list. Contact Patricia Frischer patricia@sdvisaularts.net We are looking for bartenders and volunteer help for greeting and service, who will all get free entrance to that after party. If you can not come to the dinner, make sure and come to the Blank to Beauty Bash afterwards and rock to Ruby and the Redhots..RSVP: Meral ajdaluna@yahoo.com If you have a food related art boutique item, we are so delighted to announce that Vicky deLong 619.286.1361.will be in charge of that part of the P2P Boutique on the night. Please contact her for more info. Blanks to Beauty canvases are now available. For info and to see where to pick up the free canvas go to Blanks to Beauty and you should also sign up at Blanks to Beauty 2013 Form. Canvases are due by March 30 th.
Inocente , directed by the team of Sean Fine and Andrea Nix Fine, won the Oscar for documentary short. The film follows a homeless, undocumented immigrant teenage girl in San Diego as she relentlessly pursues her dream of becoming an artist.With heart and wit the film explores the issue of homelessness among youth while also capturing the power of art and ambition. We are so happy that this local girl Inocente Izucar has been catapulted into fame. We know that Art A Reason to Survive was instrumental in giving her a start in her art.
San Diego 's first annual Fringe Festival will take place from July 1st – 7th and does include the visual arts. The selection is intended to be uncensored, un-juried and cutting edge. Artists from around the world alongside local artists will present works in San Diego using the original Edinburgh Fringe Festival model Art forms may span from cabaret, comedy, cirque, dance, film, theatre, puppetry, music, visual art, multi-disciplinary arts, etc... There will be a "Fringe Central" and "Fringe Satellite Locations" throughout downtown San Diego including our good friends at Space 4 Art (in the East Village). They will assist the matching of artists with venues and providing scheduling, programming, funding, ticketing services, marketing and publicity. Check out the site and sign up as a venue or artist if you have not already done so. SDVAN will be making a choice of visual arts Fringe Festival event for our Picked RAW feature in July. More info: Michale Schwartz
Nan Renner , Director, San Diego Incubator for Innovation, reports that Water, the mismatch between regional supply and demand will be the challenge to galvanize the San Diego Art of Science Learning Incubator for Innovation. San Diego currently imports 90% of its freshwater supply, while demand continues to increase. How can our region ensure the reliable, sustainable, high quality water supply it needs to support a healthy society, economy, and environment? How can we creatively reduce demand, while meeting the region's needs? The SD selected 100 artists and scientist will be tackling this in ten teams of ten.
Joe Nalven gifted Patricia Frischer with a wonderful Valentine present - an interview in the San Diego Union Tribune. Q&A with Patricia Frischer: Seeing the Art Scene in San Diego.
We are happy to see that the Ice Gallery crew (Michael James Armstrong, Thomas DeMello, Joseph Huppert and Lee Lavy) are getting a chance to show again after the closure of that space. Architect James Brown is offering them a space in the old Weber bread factory building in Barrio Logan. The first show opened Feb. 8. and they are calling the space Bread and Salt. ( 1955 Julian Ave.) Watch also for San Diego Museum of Art, artists' live-work spaces in this space. More info: Lee Lavy
Ste(+a)m has a new website so congratulation to the developers and advisors who have made this a reality. F ull STE+aM Ahead is a quarterly networking event. The +a in STE[+a]M fuses arts, creative, and self-aware studies with STEM (science, technology, engineering and math) to engage the whole child and foster high achievement in all areas. In a rapidly changing world, our youth must become well-rounded global citizens who have the imagination and skills to conquer new challenges.
San Diego Book Arts is hosting a revival of the Edible Book Tea on March 3 at 1:30pm at the Women's Museum of California (2730 Historic Decatur Rd. SD 92106). They invite all our members and friends to get into the kitchen and create an edible book. The general public is invited to join us, enjoy the creative delights of the participants, and learn more about the art of the book. Refreshments will be served. More info: Gary Miller 619.540.9069
No new western entrance to Balboa Park. The city council axed the plan to take away some of the car and add loads of extra parking in Balboa Park and so we know just have to wait and see what happens next. Sorry, Mr. Jacobs, they didn't like your plans.
It is official. The bronze version of Unconditional Surrender AKA The Kiss, was installed Feb 16 along the downtown waterfront as part of the Port of San Diego's permanent public art collection. USS Midway raised $1 million to have this permanent copy made of the work created by New Jersey artist Seward Johnson.
Close to the Soil is the new photography exhibition by James G. Respess at the Mission Trails Regional Park and will on view until March 8. More information Vicky DeLong
Mark your calendars now for the 15th Annual Morning Glory Brunchwill be held on Saturday, April 13, 2013 (10:00 am to 2:00 pm) at St. Madeleine Sophie's Center. This event attracts over 500 guests and is known for its fabulous food and beverage tastings provided by local restaurants, breweries, and wineries; fabulous boutique shopping, art demonstrations, live music, Frog Race.
Three to see in Encinitas: Ceramic artist Lily Pourat, Whispering Trees to Feb 27 and painter Martin Nasim, Trees and Ocean Themes to Feb 28, both at the Encinitas Library (540 Cornish Drive 92024) and painter Steve Webb, Dogs, Houses and Pictures to February 28 at the Civic Center Gallery. ( 505 S. Vulcan, 92024.
Mesa College Gallery presentsGift : Women as Givers: Installation and Performance by Feminist Image Group (FIG) with an opening reception and performance: Thursday, March 14, 5-7 pm and continuing until April 18. Two New Contemporaries artists are included: Lauren Carrera (2012) and Anna Stump (2013). A very interesting panel discussion will follow the reception at 7 pm in building G101 with panelist Doris Bittar, artist and owner Protea Gallery, Amy Galpin, Ph.D, Associate Curator, Art of the Americas, San Diego Museum of Art , Allison Wiese , Assistant Professor of Art, University of San Diego, Allyson Williams , Ph.D, Adjunct Professor of Art History, San Diego State University and moderated by Susan Myrland, independent curator and artist, Silvergate Consulting. There is a further Conversation with the Artists on Wednesday, April 3, noon, Art Gallery D101. This is part of Mesa College's celebration of Women's History Month. More info Alessandra Moctezuma
OPPORTUNITIES (click to see a list of all current opportunities listed on SDVAN)
There is a call to artists for two exhibitions at La Jolla Art Association La Vie en Rose Feb. 12 - Feb. 24 and Send in the Clowns Feb. 26 - Mar.10. for more info: DanaBet@yahoo.com 858.459.1196
The San Diego Foundation announces the release of the 2013-2014 Creative Catalyst Fund: Individual Artist Fellowship Program (CCF Fellows Program) guidelines and application, and invites San Diego-based professional artists to apply for fellowships. Grants will range from $10,000 to $20,000. Letters of Intent online are due Wed, Feb 27, 2013 by 5:00 pm. More info: Kerri Favela 619.235.2300
The Art of Photography Show (Oct 12 to Nov 17) is an international exhibition of contemporary photography at the San Diego Art Institute, located in Balboa Park. The Prospectus and entry details are available here. $10,000 in Cash Awards will be given out. Julia Dolan, Curator of Photography at the Portland Art Museum, is the judge. .For more info: Steven Churchill 619.825.5575.
Sign up to volunteer at the 2013 Mission Federal ArtWalk. They are looking for 250 volunteers for April 27 & 28, Current volunteer positions available include: magazine and postcard distribution throughout SD County in late March/early April, event setup (all days), event strike (Sat and Sun evening), booth sitters, block captains, selling merchandise, floater, conducting surveys, parking lot attendants, table tenders, and traffic control. As a Mission Federal ArtWalk volunteer you receive the official 2013 T-shirt and may participate in a "volunteers-only" raffle of great artwork and prizes, donated by our artists and sponsors. Minimum age to volunteer is 16 years. For more info: Carmen DeBello.
Young Audiences needs a volunteer coordinator to help repeat volunteers prepare for one day fundraising event on Sat. Aug 24 in Rancho Santa Fe for their Summer Sol annual fundraiser celebration. They will need to manage logistics, prepare guidance and timelines for arrival of vendors and volunteers/auction items/guests and are encouraged to attend one meeting per month in preparation in the University Heights area. Other volunteer committee members are welcome as well. For more info: Thomine Wilson 858.564.9416
Eighteen o Five ( 1805 Columbia Street, SD 92101) invites Artists to submit and is looking for all mediums, that explore and investigate unique ideas within their artwork. Eighteen o Five provides a space for diverse artists that seek to explore experimental and conceptual art, while still demonstrating a love for traditional mediums. Please submit a resume, an artist statement, and three to five images of current work. More info: Info@EighteenoFiveSD.com . 619.888.8288
Front Porch Gallery is making a call for artists for an open juried show for SWD County Artists from June 2 - July 14 with prizes totally $400 and Honorable Mention receives free entry into the following year's exhibition. Artwork should be created in 2011-2013. Artists Opening Reception on Sunday June 2, from noon – 2pm will feature live music and hors d'oeuvres. Submissions to be received by April 10, 2013. Artists will be notified of acceptance or non-acceptance by email by May 1, 2013. Entry Fees: $25 for up to 3 entries. For more info: Julie Weaverlng 760.795.6120
FIGMENT is open for art project submissions for the first FIGMENT San Diego taking place on Sun, April 7 in Chicano Park (5152 Muir Avenue, SD 92107) The 1st FIGMENT San Diego is a one-day event designed to promote spontaneous collaboration, active communication, and significant fun. Scheduled artists will co-mingle with contributors bringing unplanned commissions to the site. More info: Angela Sahyoun 619.850.7096
Now is the time for the second installment of the tidelands, a Port of San Diego program designed to encourage artistic exploration of Port tidelands by California artists. Artists selected will create temporary public artworks such as installations, social and spatial interventions and other inventive practices that reflect their visual art practice and are created in direct response to a site with the aim of stimulating dialogue and providing new perspectives on the San Diego waterfront. Up to three artists/artist teams will each receive $20,000 budget to realize their artwork. More info: callsforartists@portofsandiego.org 619 686 6200
This is an open call from the Museum Studies class of SD Mesa College Art Gallery to exhibit at Art Produce. Artists should submit a link to their online portfolio to sdmesaart2013@gmail.com . For more info: Alessandra Moctezuma 619.388.2829
Centro Cultural de la Raza in Balboa Park will hold their 4th Annual La Hermandad Art Exhibition from March 19th -April 8 th. They are making a call for artists for a farm-worker struggle themed show. The deadline is March 12 and the artists will be notified immediately after. More info: Rogelio Casas 619.235.6135
The space formerly occupied by Sushi Performing Arts is now available at a reduced rate of $1.33 per square foot in a $2.25 rental market. This is 6,050 SF Ground Floor space with Mezzanine at 11th and J Streets in the ICON Building. The monthly rent of $8,061 with annual CPI increases for a 5 year lease.For more info: Gary Margolis
Galería Circulo is making a call for artists for a show called This is me Looking for portraits in the 12 x 12 format. You may send the image as a jpeg between 150 - 300 dpi to Antonio Escalante. to be printed to the 12 x 12 size. Send images before March 5 or you may deliver original works before March13 to the gallery in TJ (710 ·36 Pasaje Rodríguez, Avenida Revolución entre 3ra y 4ta, zona centro, Tijuana) More info: 664 331 2300
MUSEUMS
Women's History Museum and Education Center presents One Woman's Journey by FrancineFilsinger fromMarch 1-31, 2013 in conjunction with Women's History Month. The opening reception is March 1st at 6:00 pm.. The reception coincides with First Friday when local galleries will be open in the Liberty Station. A Lecture and Panel is on March 14th at 6:00 pm.
Oceanside Museum of Art is having their Free Family Art Day on Sunday March 3 where families can create mixed media sculptures inspired by two of OMA's exhibits: In Search of Shadows by artist James Hubbell and Flavia Gilmore's assemblage exhibition.
The Museum of Contemporary Art San Diego presents Lifelike at its La Jolla location from March 1 through May 27, 2013. Lifelike invites a close examination of artworks based on commonplace objects and situations, which are startlingly realistic, often playful, and sometimes surreal. Lifelike investigate the quieter side of the quotidian, choosing often overlooked items or moments as subject matter: a paper bag, an eraser, an apple core, a waiting room, an afternoon nap. This acclaimed exhibition was first presented at Walker Art Center last year and showcases works from the late 1960s to the present by over 50 artists, including Vija Celmins, Fischli and Weiss, Robert Gober, Alex Hay, Kaz Oshiro, Charles Ray, Andy Warhol, Sam Taylor-Wood, and Ai Weiwei. And on Thurs, March 14 from 7-10 PM, TNT (Thursday Night Thing) returns downtown to celebrate the exhibition Scoli Acosta: ELEMENTALISTHMUS.
California Center for the Arts, Escondido presents the Light: Watercolors by Duane R. Light. This solo exhibition features the works of the acclaimed artist who made Escondido his home. Praised for his contributions to the local art scene, Light embraced his adopted community. He served as the President of the Board of Directors for both Watercolor West and the San Diego Watercolor Society. He also served on the Board of Directors of several organizations including the La Jolla Art Association, the San Diego Art Institute, Rancho Bernardo Art Association and the Big Bear Art Association, among others. The exhibition will be on view through March 24.
San Diego Art and Space Museum presents a special presentation on Mon Feb 25 at 11:30 am by Willard Wigan, creator of the world's smallest sculptures. Wigan's Buzz Aldrin sculpture is currently on display in the Museum's Ripley's Believe It or Not! exhibit. Admission to Ripley's Believe It or Not! is only $5 (with general admission) and includes entrance to the general Museum galleries. More info: Kristen Koeblin 619.234.8219
New Children's Museum is free on the second Sunday of each month (next one March 10), thanks to Target!
TRANSITIONS
Starting on Feb 1, Patric Stillman is now the new executive director of Space 4 Art.
Fallbrook Arts, Inc . announces the promotion of Mary Perhacs as Executive Director of both the Fallbrook School of the Arts and Fallbrook Art Center. Mary managed the School from 1999-2002 before she accepted the position of Director of Exhibitions at the Fallbrook Art Center. She has been Executive Director of the Art Center since 2006. Mary is assisted at the School and the Center by Gregory De La Rosa who joined the organization in 2011 and Jenna Anguiano who started this January.
Tijuana Cultural Center/Centro Cultural Tijuana AKA Cecut, has a new director, Pedro Ochoa Palacio, formerly of the Mexican Consulate in San Diego working as a cultural liaison.
Lydia Vogt is the Interim Director of Education at the California Center for the Arts.
Richard Artschwager , minimalism, conceptual, and pop artist, has died at 89. His second Whitney Museum retrospective has just opened in New York and it will come to the Hammer Museum in LA next.
TIDBITS
Firefighters crashed an event at Queen's Nails, a gallery on Mission Street in San Francisco, after the intentional burning of French artist collective Claire Fontaine's American (Unburnt/Burnt — a sculpture in the shape of the United States made of matches — got out of hand, causing $5,000 in damage. "It was a piece of art that this person had lit up thinking it was not a problem," said deputy fire chief Mark Gonzales. "It turned out to be a problem... It was done more out of ignorance, not maliciousness, as far as we're concerned." From Bay City News via ArtInfo
The Art world turns on a dime again when Haunch of Venison announced it will stop representing artists. The Auction house Christie's bought the gallery from Harry Blain and Graham Southern who now formed a new gallery, BlainSouthern. Haunch will only sell on the secondary market and it will be interesting to see how many of those living artist represented go back to the orginal owners. This is another case of the Auction sector of the market trying to figure out what their future should be as they continue to dip their toes into the contemporary sales pool.
National Center for Arts Research launches in Dallas with the goal of becoming the leading source of expertise on arts attendance, patronage, management, and the industry's financial stability. A joint effort between Southern Methodist University and the Cultural Data Project in Philadelphia, it will also offer arts organizations the ability to compare themselves with similar organizations using an interactive "dashboard" created in partnership with IBM. SDVAN already has this ability through the California Cultural Data Project, but it will be interesting to see what else the NCAR is able to research.
Here's something new you can expect at a museum exhibition: London-based artists Random International have transformed the Barbican's Curve gallery into what they call a "carefully choreographed downpour," or a 100-square-meter field of falling water accompanied by the immersive sound of rain. Thanks to sensors operating the storm, the water never falls where it senses the presence of a person — which means that visitors are given the rare experience of walking through a monsoon without feeling a drop.
Finding Vivian Maier: this amazing story is very tantalizing – Chicago resident John Maloof stumbled upon a collection of obscure street photographs in 2007.
The only gossip I'm interested in is things from the Weekly World News - 'Woman's bra bursts, 11 injured'. That kind of thing." Johnny Depp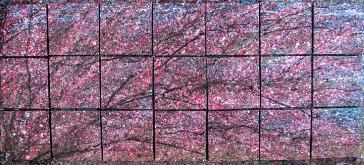 Diana Carey is having a show of her paintings Creating a Storm, Sakura Fubuki at the Japanese Friendship Garden in Balboa Park opening on Thurs, Jan 31st from 5-7p.m. and running until April 28.
P Squared: PALETTE TO PALATE Save the date: Sat. April 27 from 6:30 pm. Eat Your Art Out dinner party for 60 VIP patrons featuring artist-designed table setting, a sit-down tasting menu of delectable delights and includes an after party with band, Blank to Beauty Silent Art Auction of original works by our local artists, a food -related art boutique, and magical surprises throughout the evening. The event will benefit Synergy Art Foundation, San Diego Visual Arts Network and Feeding America San Diego .
John Eger gives us more words to ponder on the arts in his latest Huffington Post article The Museum is Open. He gets a quote from Derrick R. Cartwright, former director of both the San Diego Museum of Art, and the Seattle Art Museum, and now director of the gallery at USD about how do not touch signs should become a thing of the past and gives a plug to the innovation incubator, part of a $2.6 million federal grant from the National Science Foundation focusing on how the arts can spark innovation in workforce development and 21st century STEM (Science, Technology, Engineering and Math) education.
Congratulations to the2013 Mission Federal ArtWalk (Downtown, Little Italy from April 27 – 28, 11:00 AM to 6:00 PM) featured artists from San Diego Mark Jesinoski , Shay Davis , Christopher M, Norm Daniels, Gabriela Firehammer, David Wiemers. Other featured artists include Ebrahim Amin, Richard Curtner, Hannie Goldgewicht, James Hill, Nicola Katsikis and Niki J Sands. Jennifer Cerutti has been selected as the SDSU student to receive the Art Walk Business of Art Scholarship booth for 2013. SDVAN's coordinator Patricia Frischer is again the mentor for this student. And great news: ArtWalk on the Bay has a new name Art Walk San Diego @NTC Liberty Station, new dates August 24 – 25, 10:00 AM to 6:00 PM. The 8th Annual Festival will be at NTC Promenade's Ingram Plaza. The venue also offers plenty of FREE PARKING for both artists and attendees.
The Athenaeum Music & Arts Library is pleased to announce the Special Exhibition of Zandra Rhodes' Aida at the University Club atop Symphony Towers o n view January 28 through April 29 and opening Reception on Tuesday, January 29. In celebration of the San Diego Opera production of Verdi's Aida (running April 20–28, 2013), the Arts Committee of The University Club, courtesy of the Athenaeum, will exhibit the signed giclée prints of Zandra Rhodes for the sets and costumes of the classic opera.
Congrats to Dana Springs (in her last few days of interim director of the Commission for Arts and Culture) who made the list of people to watch in the San Diego Magazine. City law states that she can only hold the position for a month or they actually have to pay her a compensated salary. Let's hope someone does something to save the commission.
Irene de Watteville reminds us of the local film that has made it to the academy awards next month in the Best Documentary Short Subject category. Inocente the story of a homeless San Diego teen, Inocente Izucar, whose life was transformed by art taught at ARTS: A Reason to Survive.
Marc Kitaen, photographer and Ellary Branden, painter are in a dual show call Wild Beauty at Main Street 5 Gallery. ( 124 E. Main St. El Cajon, 92020) Reception Fri Feb. 8th 5-8pm and continuing until Fri March 22.
Congratulations to Elizabeth Washburn. Through a generous request from Rising Arts Leaders, a non-profit group in San Diego, her project Combat Arts was the beneficiary of a holiday fundraiser. Lots of art supplies and gift cards were donated, making starting up the new class at Balboa Naval Hospital a lot easier financially. She is now working with the Wounded Warrior Project through the Timken Museum of Art to try for more funding. Good luck, Elizabeth, and keep up the good work.
We are delighted to hear of the grand opening of the Swoon Dessert Bar and re-opening Art Produce Gallery( 3139 University Ave., SD, 92104 on February 9, 2013 6:00-9:00pm. For more infoLynn Susholtz
OPPORTUNITIES (click to see a list of all current opportunities listed on SDVAN)
The 52nd International Award Exhibition of the San Diego Art Institute runs April 13 through May 26, 2013. Artists from all over the world are encouraged to submit their art. No residency restrictions. There are over $7,000 in awards and the juror this year is Daniel Foster- Executive Director of the Oceanside Museum of Art and past education director at SDAI. $20 for the first entry. $10 thereafter. No limit to submit. More info: Kerstin Robers 619.236.0011
James Stone of Stone and Glass has a small portable hot glass shop. $5000.00, a Denver Glass Machine Diamond band saw. $2500.00 plus shipping from Denver and a custom made 14 inch diamond wet cutoff saw all for sale. Contact him if you are interested and want more details. James Stone
California Sculpture Academy ( 300 E. Alvarado St., Fallbrook, 92028) is hosting a sand molds for metal casting workshop on Feb 9/10. These molds can be made simply and quickly by carving designs into a slab of sand, or by packing a polystyrene sculpture in the sand. It's easy, fun, and direct. Cast iron sculptures workshop on Feb 16. Fee from $45. More info from the instructor sculptor Peter Mitten.
Rising Arts Leaders (RAL) San Diego is getting a makeover, and are looking for talented, creative designers to submit ideas for a new RAL logo. The winning designer will receive a cash prize in the amount of $250. The contest is open to all. Please submit your design no later than Feb 1 to Erin Knightrisingartssd@gmail.com. For more info: 619.235.2300
Distinction Gallery is accepting submissions for the exhibition for The Prodigy ShowHipstomatic Addict Insane Artwork will be exhibited in April 2013, for a one-moth period and is open to all photographers and artists worldwide. Works should be straight cell phone photograph (Hipstomatic, Instagram, and other phone based filters are acceptable). This exhibition will be juried by gallery owner Joseph Bellows. Awards and prizes will be given to the top three photographs, as well as two honorable mentions. Submit by March 9TH. More info: Melissa Walker
The Trans-Border Institute (TBI) at the University of San Diego (USD) is spearheading an educational event for our region's youth in order to improve awareness and action surrounding US-Mexico border issues. Through creative and thought-provoking engagement, local High School and College students have been invited to submit digital photos and an essay on the subject (see http://www.sandiego.edu/peacestudies/tbi/photo_contest/ for details), including the impact of borders, in general.
MUSEUMS
February is San Diego Museum Month with passes available Feb. 1. Discover more than 40 museums in San Diego this February. Presented by Macy's, this annual event allows participants to enjoy half-off entry fees at San Diego Museum Council member museums. Museum Month Passes may be picked up starting February 1 at participating Macy's locations. The passes are free while supplies last and can be used all month long!
A traveling exhibition of the work of folk artist Bill Traylor with 60 of his drawings, including human and animal figures in depictions of his memories of plantation life of the south will open at Mingei International Museum on Sat, Feb 9.
The San Diego Museum of Art Experience 1950's Americana at the January edition of Culture & Cocktails inspired by Behold, America!. Come dressed in blue jeans, a poodle skirt, or your favorite vintage garb. Complete the look at the mobile spa offering blowouts for the ladies and straight razor shaves for the fellas. Enjoy a twist on an American classic with a spiked root beer float, or sip on lemonade (classic, cherry, or lime) from Hot Dog on a Stick. Thurs. Jan 31 at 6 pm. Free for members.
Oceanside Museum of Art Art After Dark: Ecotopia is Fri, Jan 25 from7:00 – 10:00 p.m. Responding to the exhibition Enviroscapes: Jen Trute Retrospective, OMA's next Art After Dark will echo the environmentally-minded subject matter. Guests will enjoy a new admission price of $10 for OMA members or $20 for nonmembers. This price includes complimentary appetizers and one drink ticket,
The Museum of Contemporary Art San Diego Eleanor Antin: Conversations with Stalin Thurs, Feb 7, from 7-8:30 PM at MCASD La Jolla . A reading and performance, this smart, no holds barred, black comedy in the picaresque coming of age tradition of Holden Caulfield, Huck Finn, Little Orphan Annie, and the irrepressible Dorothy on the road to Oz. This presentation is part of a North American tour. Impatient with the timidity of the current publishing world, Antin is now bringing her new memoir directly to the public through a series of performance readings in museums, art spaces, and universities around the country. This presentation is held in conjunction with Behold, America! at MCASD. Free for Members; free for Non-members with paid Museum admission. Remember the museum is free every third Thursday of the month. On Thurs, Jan 31, the Museum of Contemporary Art San Diego (MCASD) will offer free admission in honor of David Copley who recently passed away and was board president and a long-time benefactor whose birthday falls on that day.

Ruben H. Fleet Science Museum will explore the origins, recent discoveries and cutting-edge science relating to comets, asteroids and meteors, as well as what they tell us about Earth at Great Balls Of Fire!
TRANSITIONS
James Chute reminds us Never Say Never. Vance Kondon was not supported during his life in SD but after his death in 1996, if was revealed in his wife Liesbeth Giesberger's will that they did indeed donate 78 works of art to the San Diego Museum of Art and the Museum of Contemporary Art San Diego
TIDBITS
Peach was produced by Arthur Flick in mid January at the Andaz Hotel's Wine Bar. Festivities included a show called 'Milagros' based on creating 5 surprise 'miracles on stage. Performers included Jonathan Glasier, Joe Monzo, John Chalmers, (all members of the DNA of Creativity team PolyAesthetics:Mapping the Muses and many others
We missed this the first time around and it makes for very interesting reading. A Portrait of San Diego Artists: A Research Report and Summary of Findings - 2011 issued by the SD Foundation. With approximately 10,000 artists, San Diego is the 11th largest community of artists in the nation. Fifty-five percent of those are visual artist which is 10% above the national average.

Art Price: New York is clearly the best market place for sculpture with seven of the best results versus just three for London. And Christie's is by far the winning auctioneer generating nine of the Top 10 sculpture results. As for the artists, four of the six present in this Top are modern, but the ranking is dominated by a Contemporary, Jeff Koons. For Thierry Ehrmann - Artprice Founder and CEO says his event of the year on the art market was "The world record sale for the pastel version of Edvard MUNCH's The Scream, which went for $107m in May at Sotheby's in New York. It was a historic sale for two reasons: firstly because Munch dethroned the absolute king of the market – Pablo PICASSO – and also because a drawing, by achieving the coveted position of the world's most expensive work, overturned the established hierarchy of genres." And his forecast for 2013, "The explosion of the art market on the Internet. The tragic transformation that lies before auction houses is comparable to the crisis facing the press, given the deluge of information on the web. The dematerialization of the old economy will continue because all the players on the world art market with serious purchasing power are now online and therefore have no reason to turn up in person at an auction house."

Any tidbit, gossip or news of the immodest kind can go directly to info@sdvisualarts.net for publication in the next Raw. All sources are, of course, kept confidential.

back to top