REAL ART WEST: Art a la mode by Alexandra Rosa
(Don't forget - Check out the Picked RAW choices for next month)


ARCHIVED RAW
RAW Archived for 2010
RAW Archived for 2009
RAW Archived for 2008
RAW Archived for 2007
RAW Archived for 2006
RAW Archived for 2004 and 2005
Good gossip is just what's going on. Bad gossip is stuff that is salacious, mean, and bitchy; the kind most people really enjoy. Liz Smith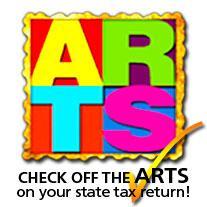 Here is a suggestion from Victoria Hamilton, Executive Director, City of San Diego Commission for Arts and Culture to give to the arts from your tax returns. The Franchise Tax Board's form will allow California taxpayers to easily contribute to the California Arts Council and its arts programs for children and communities. Every dollar you contribute is tax-deductible Check out this tutorial on how taxpayers can contribute.
DNA of Creativity Information Meeting is being held on Wednesday Jan 18, 7 pm to 9 pm at MiraCosta College Student Center Conference Rooms A&B ( 3333 Manchester Avenue, Cardiff, CA 9200). This is your chance to put together a team of artists and scientists and get a $2000 grant as seed money for a team project. Come and hear more and network with other interested DNAers. More info: patricia@sdvisualarts.net 760.943.0148. Team Application PDF & Word doc Please take the survey if you have not already done so
We are very pleased to announce that the New Contemporaries V will be held in 2012 at Susan Street Fine Art Gallery from June 2 to July 3, 2012 and opening on Thursday June 7th, 2012 from 6pm-9pm. ( 200 North Cedros Avenue, Solana Beach, CA 92075) More info: Melissa Stager 858.793.4442 . Nominations have been sent out to last years contributors to the SD Art Prize notes and the 2011 recipients as well as the SD Art Prize committee. The 2012 established artists recipients should be announced in February of 2012 as well as those emerging artists included in NCV.
Great thanks to every one who donated in the Give Big event supported by the SD Foundation. SDVAN donations totaled $876 through this project. The SD Foundation will match that to a total of 13 cents on the dollar. Here are some of the things achieved: 1. 315 out of 374 nonprofit participants raised $2,109,640. Money eligible for matching funds is $2,090,640 (there were four gifts greater than $10,000). 2. A self-reported 25% of donors stated that this was their first time donating to their respective nonprofits. 3. Donors came from 48 states and seven other countries ( UK, Australia, New Zealand, China, Belgium, Mexico and Canada) 4. 6175 donations were made in the 36 hours, making the average donation $342. 5. Post-event: a Google search for "giveBIG San Diego" returned 247,000 results. 6. Donations were also accepted on 108 nonprofit websites (including ours!), thanks to the ability to embed the giveBIG donation form anywhere. 7. The highest donation hour was during the 9 am hour on 12/14 with more than $201,000 raised across 393 donations.

Remember you can b e a part of our region's future and join the conversation for Our Greater San Diego Vision also sponsored by the SD Foundation.
On Jan 14 th there will be a community "art walk" in La Jolla and Scott White Contemporary Art will unveil the gallery's second show in this new location having moved from Little Italy, "Stranger Than Paradise" a retrospective of photographs by Stefanie Schneider that have been hand-picked by White himself. Although her work has been showcased in collections and museums around the world, this is Schneider's 1st solo show in San Diego. .
We were so impressed the activities of UCSD students and faculty in December that we are listing a whole selection here. MFA Candidate Kate Clark Featured in the San Diego Reader Kate Clark's Sculptures Stuffed with Ephemera by Chad Deal, Double Breaks Includes Alumni and Students, MFA Alumnus, Kathleen Marshall Showcases a Solo Exhibition at the AthenaeumStill in Paris, MFA Candidate Ela Boyd's Book Release Parties in San Diego and Los AngelesReflection, Refraction, Projection, Speculative Religious Electronics Presented by Michael Trigilio, G.L.O.W. (Gone Livin Out West) Features Alumnus Suzanne Wright , UCSD Undergraduate Honors Students Exhibit at Double Break.Thanks to UCSD VisArts for this information.
Art Fist Collective was instrumental in getting the City of San Diego to halt the irregular decision to paint over downtown's historic Caliente racetrack mural. It is now in the hands of the City's Historic Resource Commission to determine the piece of public art's "historic significance.
The SD Foundation Creative Catalyst Fund: Individual Artist Fellowship Program gave out 15 grants and four them went to visual artists: $25,000 to Wes Bruce, Sponsoring organization: Lux Art Institute for his project: Based on interviews with hundreds of individuals regarding their connection to places in their lives (home, church, workplace), he will create an experimental installation that documents their stories through a variety of mediums, from poetry to photography. $23,954 to Vicki Leon Sponsoring organization: Mojalet for her project: "Quilts of Light," a series of wall installations made of maneuverable glass pieces that will throw reflections onto walls, floors, ceilings and people during a dance performance.$17,567 to Brandie Maddalena Sponsoring organization: Young Audiences of San Diego for her project "The Nature of a Door Is To Be Opened," a collaborative project that involves several nonprofits and hundreds of children and will culminate in an interactive community installation comprising 60 cabinets (each with an audio recording of a memory and an art work responding to the memory) in City Heights and $21,658 to Margaret Noble Sponsoring organization: Museum of Contemporary Art San Diego for her project "44th and Landis," a one-woman installation and performance piece combining poetic narration, soundscapes, archival photography and design in recounting the story of a latchkey girl in City Heights in the '80s. A total of $285,000 went to the visual and performing artists in our community. We are also pleased to see that Kira Carrillo Corser received $21,938 for her project with Jean Isaacs San Diego Dance Theater, "The Door Is Open: An Intergenerational Dance Project," a new multimedia dance work that will involve senior dances. Congratulations
OPPORTUNITIES (click to see a list of all current opportunities listed on SDVAN)
International Residency Space and Artists Studios in Tijuana, Mexico are live/work at $300 US unfurnished and $500 US furnished. The studios have an average of 660 sq. ft., consisting of one bedroom with closet, working area, kitchenette, and bathroom with shower and hot water. The building is totally secured. Free Wi-Fi. US cell phones can be used to call the US and to receive calls from the US. Super Close to US/Mex border. Easy to walk or can email Katherine Sweetman if you want a ride or more info.
Since 1986, theLa Jolla Festival of the Arts has been a two-day event that features established fine artists displaying original work in an environment geared toward higher income patrons of Southern California, Southern Nevada, Arizona, and Baja Norte They are now making a call for applications for the 2012 event. For info email artist@lajollaartfestival.org

Docents for the Timpkin Museum of Art provide guided tours and in-gallery talks to a wide range of museum audiences from novice to expert alike. They also serve as ambassadors for the museum, give talks in the community, and help with museum special events and programs. The next docent training program will begin in February 2012 with classes taking place at the museum every Monday from 9:00-11:00 am, for 14 month. What a fabulous way to get an art education. After your training you must give 4 hours a month back to the museum as a volunteer. . If you are interested in becoming a docent contact Kristina Rosenberg 619.239.5548 x105
Museum of Photographic Arts (MOPA) seeks a highly motivated and energetic individual with strong communication, leadership and organizational skills for the position of Director of Development starting in Jan 2012 and responsible fro 4 staff members, interns and volunteers. This is only a part time job. For more info go to this link or contact taylor@mopa.org .
MUSEUMS
Mingei International Museum has two new shows now open: A Fantastic Voyage, the Art of Ynez Johnson is an exhibition of six decades of the artist's wood and bronze sculptures, paintings, prints and ceramics from the 1940s to 2010, including recent works that have never been publicly shown and New Jewelry in a New Medium, the Art Of Polymer Clay, one of the most adaptable art mediums available, will showcases the beads and imaginative jewelry of several polymer masters, including Pier Voulkos and Tory Hughes.
The San Diego Museum of Art will feature Kuboku Takaku (1908–1993) from Feb 18 through May 27. The artist perfected the ancient Japanese technique of wax resist dying to create textile paintings on obi, kimono, and screens. His works merged Japanese subjects with cubist and modernist styles, and he was the only textile artist who effectively transitioned from the Fine Arts circles of the 1930s through 1960s into the world of high fashion for Japan's elite. His daughter Hisako (born 1944) ) is now one of the last living artists who preserves the knowledge of this painstaking dying technique, and her obi and kimono continue to be among the most chic and sought-after throughout Japan. In this exhibition 71 obi, kimono, and other textile paintings of Kuboku and Hisako Takaku will be on display outside of Japan for the first time.
Oceanside Museum of Art is showing now William Glen Crooks' luminous landscapes and urban scenery. Marking the first museum exhibition of his work, The Point of View will feature over 80 works ranging in medium from oil on canvas, to watercolor and pencil sketches created over the last 25 years. Born and raised in San Diego, and currently working in Imperial Beach and is guest curated by Scott White of Scott White Contemporary Art, La Jolla. OMA is also presenting its newest innovative night event, Artists @ Work. On the second Thursday of each month OMA will showcase a different artist or artist collaborative by commissioning them to produce an original artwork live in front of guests during the newly-extended hours of 4:00 p.m. to 8:00 p.m. Artists @ Work Launch Party is Thurs, Jan 12, from 4 to 8 p.m. presenting live artist Ian Ross, an abstract painter and muralist. Tickets are $20 or $15 for OMA members and can be purchased by calling 760.435.3721.
The Museum of Contemporary Art San Diego Xcerpts is a reading and discussion group that will take place in the thoughtLAB—a space for creativity and curiosity. Join them for their next discussion on January 19 from 4-5 pm. Reading Selections will be taken from: "Please Pay Attention Please: Bruce Nauman's Words: Writings and Interviews. To obtain a copy of the excerpt, e-mail: education@mcasd.org
Lux Art Institute From Jan 12 , Lila Jang, a young sculptor from Seoul, South Korea, makes a practice of transforming the ordinary into the extraordinary. Inspired by the limitations of a small apartment and the desire to escape the often monotonous routine of real life, Jang finds utopia by turning the traditional idea of furniture literally onto its head. Tables, chairs, desks, and stools take on the fluid, playfully exaggerated and voluminous characteristics of fantasy home furnishings, becoming whimsical pieces that are anthropomorphic, gestural, artful and vaguely humanoid without completely disconnecting from their original, more functional nature.
New Children's Museum Celebrate 2012 with an all-day, family-friendly New Year's Bash. Toddlers can shake their diapered booties to musical performances by tween popsters Pink Army, storytelling fun band Clint Perry & the Boo Hoo Crew, Rhythm Child and others. There will also be arts activities, a show by the San Diego Guild of Puppetry, and kids can run wild in the museum's current exhibition, Trash. Bonus: Because it's from 11 a.m. to 4 p.m. Friday, Dec. 30, you can still get sloppy on New Year's Eve.
TRANSITIONS
It is wit great sadness that we note the passing of Gene Nocon. He was a rare man who left a lasting impression and was so generous with his knowledge and his enthusiasm for life and for photography. He raised awareness of the value of this medium at a critical time and although a master printer, he embraced the new technology as a true creative. .You can leave a message for his memorial Gene was recognized as one of the best photographic printers of his generation.
In 1975 Gene moved to England where his expertise in the photographic darkroom was recognized and appreciated. He worked for many of the most famous names in the industry amongst them were Terence Donovan, Terry O'Neill, Linda McCartney, Cecil Beaton, Norman Parkinson, and through John Kobal printed for George Hurrell, C S Bull, and other Hollywood greats. With Terence Pepper of the National Portrait Gallery in London he printed for Paul Tanqueray and Howard Coster. He became a photographic advisor to Prince Andrew. Working with Sarah, the Duchess of York, Gene helped organized the largest photographic event ever held in Great Britain. One Day for Life was a year in the making culminating on 13 August 1987, with thousands of men women and children taking pictures to capture a moment in their lives on that day. Edited and made into a best-selling book it raised money for cancer research. Nocon was honored as a Fellow of the Royal Photographic Society (FRPS) for his contributions to photography and he help found The Society's Distinction Panel for Photographic Printers and served as its first Chairman. He lectured for The Society at the National Portrait Gallery in 2006. Nocon appeared on television and published several books and had in recent years moved back to California.
John Chamberlain , an artist who turned automotive scrap metal into sculpture, dies at 84.
Helen Frankenthaler, esteemed abstract artist for six decades, dies at 83
After a five-month national search, the board of directors of The New Children's Museum announced the appointment of Julianne Markow as Executive Director and Chief Executive Officer. Markow will assume her new duties in December, upon the departure of the current executive director, Rachel Teagle, who resigned earlier this year. Teagle had served NCM since 2007.
Dr. Hugh M. Davies , The David C. Copley Director and CEO of the Museum of Contemporary Art San Diego, announced that Jill Dawsey has been appointed the new Associate Curator. Dawsey has held curatorial posts at the San Francisco Museum of Modern Art and, most recently, at the Utah Museum of Fine Arts. She began work at MCASD Dec. 5 and is a former SD resident.
TIDBITS
Martin Boyce has been announced as the winner of the Turner Prize. Your heard it first in the London Newsletter from Patricia Frischer, "Turner Prize 2011 nominees — Karla Black, ethereal pastel sculptures which try hard to involve the viewer on a visceral level, George Shaw, hyperrealist paintings of council estates who succeeds to connect with most viewers, Hilary Lloyd, semi-abstract video installations which are confusing even to the artist herself and Martin Boyce modernist constructions inspired by a concrete sculptural tree from 1950 which are intellectually rigorous but obscure are all well served by the video interviews by the artists. I wish those were all online for you to see. This is the first time the Turner Prize is being launched at a non Turner site and we went to Gateshead, Newcastle to see the show at impressive Baltic Centre for Contemporary Art. The winner of the £25,000 ($39,161) award will be announced on December 5 and thinking about who will win is one of the most fun parts of this annual show. You want to like Karla but her work just falls short, the popular choice without a doubt would be George, but the prize is usually not given to anyone so real, Hilary's works don't hold a candle to the Risti show at the Hayward right now and I think she doesn't have a chance. My guess will be Martin Boyce as he is a curator's artist giving them lots to write about the development of his ideas."
For the first time in its history, the TED Prize is being awarded not to an individual, but to an idea. It is an idea upon which our planet's future depends. The 2012 TED Prize is awarded to... the City 2.0..You can join in a TED Conversation to discuss the question: If you could make a wish on behalf of the City 2.0, what would it be?
Entanglement is a solo exhibition of new and existing paintings by Gail Roberts (SD Art Prize) at Carnegie Art Museum ( 424 South C St. Oxnard, 93030 until Feb 19 with an artist's talk on Feb 9 at 6:30.
Work of Art: Kymia Nawabi, an exhibition by the winner of the second season of Bravo's Work of Art: The Next Great Artist, opened to the public on Thursday, December 22, and will be on view at the Brooklyn Museum through February 5.
The Collection of Elizabeth Taylor: The Legendary Jewels Evening Sale achieved $115,932,000, becoming the most valuable jewelry auction in history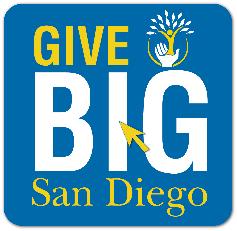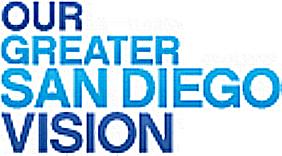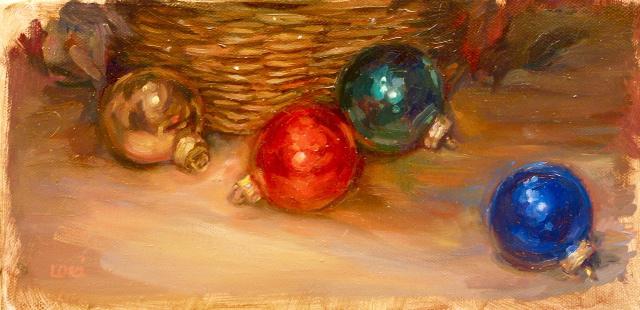 Annual SDVAN pot luck lunch Tue, Dec 13 from 11 to 2
Donate to the San Diego Visual Arts Network on Wed Dec 14 from 7 am to Thurs Dec 15 to 7 pm using a Visa or master card and your money will be matched from approx. 25 - 35 cents on the dollar by Give Big San Diego, which is a project of the SD Foundation. This is a perfect time to swell the impact of your gift by making your annual donation to SDVAN with a minimum of $25.
Please join us in Cardiff by the Sea on Tue, Dec 13 from 11 to 2 for our annual SDVAN pot luck lunch and accessory exchange. We promote the visual arts in San Diego and would love you to join us in any way you can. If you can not attend, an annual donation is a great way to start. Please give generously. Donate online, by phone or by post Take a look at the 2011 donors and join this list of adored patrons. All donors' names with links remain on this list for a full year. Donations of $25 or more go on our permanent sponsor list. Your contributions are tax deductible. More info: patricia@sdvisualarts.net
Show Your Love from Nov 30 tomid Jan by clicking the link to Voice Your Choice for our Greater SD Vision. There are four focus areas: 1. LIVE: Cost of Living, Housing, Transportation, Water, Environment: 2. LEARN: Education; 3. WORK: Jobs, Economic Development, Border, a nd 4. ENJOY: Arts & Culture, Parks & Recreation, Entertainment, Facilities. This is your chance to be heard.
April Game is stepping on the toes of the Commission for Arts and Culture with her new push to create a county wide Arts Council. Do the various art commissions in each of our cities centers need to talk to each other…definitely. But it will be interesting to see if this is just another waste of money on administration or it gets money into the hands of artists who need it.
Evidently there is a candidate for Mayor of San Diego Nathan Fletcher who has a plan to re-organize the Commission for Arts and Culture and breathe new life into it. It might be worth watching his progress.
We are hearing news of the Ambush Event and it is all good. We especially like the participation aspect of the evening. Antengo were teaching the guests how to download the "Exhibit Ambush" app for free. They had artists painting live and teaching the importance of color theory and creativity and they had a catering company that made the appetizers to resemble the Amazon Rainforest theme and gave out a booklet on how to make them at home. .
At the SD International Airport Art Program the temporary and rotating exhibits include From China To Gold Mountain's Finest City , San Diego Chinese Historical Museum, Luminous Layers, Josie Rodriguez, bothTerminal 2 West, Pre-security, Gia: Celebrating Birthstones, Gemological Institute of America, Terminal Two, post-securityGood News, Curtis Bracher, Commuter Terminal Lobby, Pre-security. There is also a full schedule of Performing Arts events. For more info: art@san.org 619.400.2400
Tastes & Toasts to Support Art in Schools is a fundraising wine and food event held by ArtReach on Sun. Dec. 4, 4pm - 6pm at WineStyles ( 928 Orange Avenue, Coronado)$35 per ticket in advance, $40 at the door info@artreachsandiego.org 619.615.1093
Emilio Perez is the new artist at Lux Institute and is i n the studio Nov. 10-Dec. 10 and on exhibit: Nov. 10-Dec. 31. Good newsadmission to Lux is now $5 for two visits within a single residency! (Under 21 & members still free) Open to the public Thursday & Friday, 1-5pm; Saturday, 11am-5pm
Happy 25 th Anniversary to Biljana Beran and Galeria JAN who will be celebrating with a reception at 6pm on Friday, November 25 th. The show "Slow Train Coming" with work by Bosnian artist, Jan Beran was a decade in the making and influenced by Mr. Beran's witness of the Bosnian war and his transition to American life after fleeing from his homeland. Rock music from the 1970s plays a key role in the creation and titling of this work.
Sean Brannan , who is currently in a show at the Zepf Alt Gallery, informed us that his listing on SDVAN got his a commission from the Dolby Chadwick Gallery in San Francisco. Congratulation to Sean.
Ellen Dieter shares the culmination of works produced while in November residence at Alexander Salazar Fine Arts studio on Dec 7 at 7 pm.
Encinitas Alliance for Arts Education is a coalition of educators, art-smart parents, administrators, policymakers, city representatives, business leaders, arts and community organizations who care about delivering arts education to all Encinitas students. It is a member of the California Alliance for Arts Education and the Local Advocacy Network. Their next meeting is Nov 30. Please contact Sandra Jordan for more information.
John Eger 's article in the Huffington Post speaks to one side of the Future of Business is in the Arts. This is an interesting article although we need to also think about teaching business practices to artists and other creative types. Contrary to some beliefs, this will not crush the creative impulse, and could aid in the eliminating the language barrier. Most art departments are still not teaching business practices, which means artists go out into the world unprepared to leverage their talents. Eger was also on a panel on Beauty and Education at the Mingei this month and you can read about that in our Picked RAW Peeled column.
OPPORTUNITIES (click to see a list of all current opportunities listed on SDVAN)
We love the Art-A-Thon. Melissa Walker from ArtHatch ( 317 E. Grand Ave, Escondido, 92025). This is a 24 hour marathon of artistic creation on Jan 14 (from 10 am) –Jan 15 (until10 pm), 2012. Twenty-give artists are asked to volunteer from San Diego County who will seek pledges of $ .25/per hour and up to create artwork for up to 24 straight hours. As works are finished, they will be added to the ArtHatch gallery space and auctioned off for a one month period following the event. Proceeds from pledges and art sales will be divided between the artists and ArtHatch to help support the center's free art education program for local teens. For more info email Melissa or call on 760.781.5779
The SD International Airport Art Program announced there are four new projects request: Artist Residency, Restroom Entry Walls , Passenger Hold Room Bays, Terminal 2 Ceiling Node, You may register in order to receive the full Request for Qualifications. For more info: art@san.org 619.400.2400
Members of the Oceanside Museum of Art Artist Alliance are invited to submit up to three entries for consideration for an exhibit at OMA. Selected works will be on view in the Groves Gallery from February 4, 2012 through April 1,2012. Entries due by December 1st. Membership is open for the OMA AA. More info: Bev Stuber 760.732.0399
If you are an artist, it might be wise to educate yourself with a free newsletter on business at Arts Business Institute by joining their mailing list. So far they have given out good information about art shows and mentors.
Here is a reminder that The Kenneth A. Picerne Foundationwill begin accepting Artist Outreach Project applications on Jan 2, 2012. Each year the Foundation awards up to 20 artists $12,000 each to provide educational, mentoring, and/or therapeutic arts experiences of their own design to under-served groups. These art experiences are intended to reach people of all ages who lack opportunities to engage in meaningful arts programs. Artists choose a nonprofit to collaborate with and the population they are interested in serving. Artists awarded the grant contribute six hours a week for one year to the people they are serving. To be eligible, artists must be at least 55 years old and live in North San Diego County or Orange County California. Visual, literary, and performing artists are welcome to apply. The application deadline is March 30, 2012 For more info: Victor Nelson 949-267-1517
Prodigy School of Arts in La Jolla is seeking a part time art instructor for classes on Wednesdays and Saturdays. Pay is $20+, DOE and candidate must have a high level of energy and excellent curriculum planning skills. For more info: Erin Roberts Hall 858.456.2753
Slavery is Alive and Thriving Here in San Diego. Girls and Women (especially young girls) are coerced, unpaid, and terrified of their captors. The Sex Trade is the most visible to many of us, but slavery can come in many forms: from household workers to those who toil in factories or farm fields. La Jolla Art Association is hosting Help Us Free The Girls, (Dec 5 – 18) a community outreach exhibition co-sponsored by Soroptimist International of La Jolla. The art benefit and reception is on Fri, Dec. 9 from 6 - 8:30 pm and a percentage of proceeds from art sales to benefit the Bilateral Safety Coalition.
Guy Lombardo is asking for artists' submission again for the 1735 Hancock Street space in downtown SD. The next isk is due one week before the opening in Jan . The show runs for two months with live music. Contact Guy for more information: 858.863.7842
MUSEUMS
Mingei International Museum is showing San Diego's Craft Revolution from post-war modern to California design through Apr 15, 2012. This is a joy of a show showing sleek modernism as well as unconventional handmade objects and is part of the Pacific Standard Time promotion.
The new show at The San Diego Museum of Art, Mexican Modern Painting from The Andrés Blaisten Collection (through Feb 19, 2012), is wonderful to see just for the varied styles and high quality of the work on display. There are two educational rooms within the show space. One has a time line with four ways to listen and interact with the information presented. The other has specially commissioned drawing benches with a chance to create right there.
Oceanside Museum of Art has a full roster of shows right now.A Matter Of Space: Cathy Breslaw is showing at the Parker Gallery until Jan 5 andWe Can Work It Out: Becky Guttin until Jan 29 is the foyer display.It's Not My Fault: The Art Of Everett Peck until Feb 12, Parallel Visions: Transitional Youth Academy until Dec 18 and Vantage Point: UCSD Visual Dialogues until Jan 15.
The Museum of Contemporary Art San Diego is showing Phenomenal: California Light, Space, Surface until Jan 22 at La Jolla and Downtown.
Lux Art Institute exhibits Emilio Perez until Dec 31.
California Center for the Arts, Escondido is finally contacted us with info about visual arts. They have installed four large Niki de Saint Phalle sculptures in the grounds of the center and we congratulate them for keeping the visual arts spirit alive at the center.
Jessica McCambly's Float Is a fanciful sculpture is made of recycled plastic bags collected from New Children's Museum members and visitors. You can relax on a platform and manipulate the color of light in this uniquely magical and beautiful installation which sounds charming. And we love the new Family Room online resource. Check out the video of the mural painting up now.
TRANSITIONS
Scott White has moved his gallery back to La Jolla to 7655 Girard Ave. Suite 101, 92037 and is showing Ross Bleckner paintings until December 21.
TIDBITS
From John Eger we were sent this link to a video of CA Lt. Govenor Gavin Newsom: Don't Overlook Arts Education . He is a great cheerleader for the arts.
It is interesting to note some of the design trends for 2012 Recycled , Felt, Robots and Monster, Glass, Nostalgia, Cross-cultural , Unfinished Looks, and Big Texture. These are as noted in the Arts Business Institute which is a new website of information for artists. We are happy to say that SDVAN is listed as a resource on this site.
Andrew Logan (jeweler to Zandra Rhodes ) is known in the UK for his Alternative Miss World annual party. They have now made a full length movie of this event over the year called the British Guide to Showing Off. Take a look at the trailer and with some luck it will come to the USA as well. Andrew is the brother of Peter Logan , renowned British sculptor
Lori Escalera, who supplied the image for this year's SDVAN holiday potluck, was a privileged part of the International Street Painting Festival in Sarasota, Florida with 200 of the world's most famous chalk and vertical street artists. Here is the link for all the artwork, fun and happenings for the week.
L.A. Art Machine, and three prominent California artists, Mear One, Chor Boogie (from San Diego), and Shark Toof, brought suit in federal court against Anschutz Entertainment Group (AEG) and the Ritz-Carlton Residences at L.A. Live, for destroying $100,000 of their artwork. The artwork had been loaned to AEG and the Ritz-Carlton Residences for a high-end promotional event at the luxury condos located at L.A. Live, but instead of being returned to the artists, the artwork was dismantled and discarded. Photos of the destroyed artwork .

Seduced by Dance is a solo show featuring the Dance Photography by Raymond Elstad opening on Friday Night Liberty, Nov 4th from 5 to 8 pm. The show will run the entire month of November at the NTC Promenade of Liberty Station. There will also be dance performances by Malashock Dance, the Jean Isaacs San Diego Dance Theater and the San Diego Ballet during the opening. Best of all they will be serving Black Berry Mojitos during the reception.
Part Two of the London diaries of Patricia Frischer are now posted online. This includes Frieze Art Fair and shows at Tate Modern, Degas at the Royal Academy, Frank Stella at the Haunch of Venizen, Raqib Shaw at the White Cube, Grayson Perry at the British Museum, more news of the design shows at the Victoria and Albert Musuem, Pipilotti Rist at the Hayward Gallery and the Turner Prize show at the Baltic in Gateshead and many more totaling 12 illustrated pages of coverage.
ArtsReadySD: SDAI Professional Artists Series presented by Synergy Art Foundation and San Diego Visual Arts Network and funded by San Diego Regional Disaster Fund, a supporting organization of The San Diego Foundation is holding a second session on Wed. Nov 9, 6-9 pm at the San Diego Art Institute. (1439 El Prado, The House of Charm, Balboa Park, 92101) You will get lots of tools for organizing your studio and making it safe and it is being combined with a session on starting an art blog by Don Masse. Presentations will be made by Patricia Frischer (SDVAN), Naomi Nussbaum (SAF) and Meryl Zwanger (SD Foundation). $10/SDAI members $5. More info: Lesley Anderson 619-236-0011
If you can not make this workshop then CERF+ offers a free 45 minute webinar on preparedness for organizations and individuals who present professional development information to artists. The webinar's focus is on incorporating emergency preparedness tips into existing presentations, and on the use of the Studio Protector wall guide and online guide. Webinar participants receive: PowerPoint slides, list of FAQs (Frequently Asked Questions) and a set of handout cards - all designed to help you easily convey this information to artists in professional development programs or in one-on-one discussions. Get more information or register now. CERF+ has presented this webinar before and it has been getting great reviews!
Jason Horejs from Xanadu Gallery (they supplied the Art Tracker software for our ArtsReadySD project) has started an art book club to discuss the lives of artists written about by good authors. Joining is free, although of course, you have to buy or borrow the book he chooses to discuss. You then join in a web discussion. The first book is Caravaggio and you can register and take part with the first one in about 6 weeks.
John M. Eger, Professor of Communications and Public Policy and Director of the Creative Economy Initiative at San Diego State University made a new post in theHuff Post titled Sorry: Art Is a Business.He joined our good friend Phillip Swendon of ArtRocks fame in calling for art entrepreneurship but we didn't know is "A minor in art and entrepreneurship is offered in the Department of Art Education at Ohio State University. And at The University of Texas in Austin, Columbia College in Chicago, The Meadows School of the Arts at SMU in Dallas Texas, and Millikin University in Decatur Illinois, those skills are woven into the fabric of the arts degree." San Diego Universities heed this advice! Only USD offers any course for arts administrators but entrepreneurship can take many other forms.
We love this new San Diego Mesa College Art Gallery FACULTY PLUS ONE biennial exhibition with a twist. Art faculty invites guests to exhibit artwork alongside their own. It takes place Oct13 - Nov 9. The opening evening included a PechaKucha Night. Pecha Kucha was devised in Tokyo in February 2003 as an event for young designers to meet, network, and show their work in public. It has turned into a massive celebration, with events happening in hundreds of cities around the world, inspiring creatives worldwide. Drawing its name from the Japanese term for the sound of "chit chat", it rests on a presentation format that is based on a simple idea: 20 images x 20 seconds. It's a format that makes presentations concise, and keeps things moving at a rapid pace. For more info: Alessandra Moctezuma 619.388.2829
We welcome a new publication Depict Art Magazine which is based in Oceanside. Their mission is to nurture the artistic spirit and provide artists with an outlet and opportunity to move art lovers.

Luminous Layers, an encaustic show by San Diego artist Josie Rodriguez, is now being exhibited at the San Diego International Airport, Terminal Two East from September 2011 to March 2012. Josie is inspired by the visceral, messy and spontaneous character of encaustic art. Because of the construction at the airport please see their website for updated information regarding parking.

La Jolla, CA-Athenaeum patron Alice Goldfarb Marquis (1930-2009) has left a significant donation of $536,000 to the library in her will. Joan & Irwin Jacobs Executive Director Erika Torri says "The Athenaeum Music & Arts Library is most grateful for this generous gift from Alice Marquis. Alice was a wonderful friend and enthusiastic supporter and participant of all our activities. This bequest is the second largest gift in recent Athenaeum history, and it is a most exciting moment for the organization", says Torri. Alice Goldfarb Marquis was a highly recognized author of numerous books on art and culture as well as a devoted patron of the Athenaeum.
Kinsee Moran from City Beat is encouraging Every second Thursday of the month as San Diego Monthly Blackout. When the power shut off in San Diego and surrounding areas on Sept. 8, neighbors were out and about. Parks filled up. People talked to one another. No TV seemed to bring out the best in people. Want to join in then do your part by starting your own satellite blackout party in your neighborhood!
The seventh and final season of the 30 sculptures in the Urban Trees 7series, which has animated the waterfront of North Harbor Drive from Hawthorn Street to the B Street Pier, will be on view only until October 31 at which time The Port of San Diego will begin removing them. Many artworks from the current exhibition, as well as from previous Urban Trees exhibitions, are available for purchase from the participating artists. Artist contact information is available from the Port's Public Art Office at 619.686.7246. (You can see many of the trees at the Wolfstein Sculpture Park on two campuses of Scripps Hospital.) A new era starts with the construction of the North Embarcadero Visionary Plan Phase I project. The project, which breaks ground January 5, 2012, will include widened esplanades, landscaping, street improvements and public artwork. Artwork by internationally-known artist Pae White will be integrated into the esplanade architecture.
Meyer Fine Art as a participating gallery with Pacific Standard Time , presents an exhibition for 21st century artist Clay Walker, featuring his work from 1963-1980 in Southern California. From Fri, Nov11 (reception 6-9) to Dec24 and in conjunction with a special Kettner Night presented by galleries and artists of the Art and Design District of Little Italy North. More info: info@plmeyerfineart.com
We enjoyed the short film produced about La Jolla artist John Purlia by KPBS, cinema junkie Beth Accomando and videographer Katie Euphrat.
The NTC Foundation and Alan Ziter announced it has now the $20.2 million in financing to begin Phase 2 renovations at NTC Promenade, San Diego's center for arts, culture and creativity in the former Naval Training Center (NTC) at Liberty Station in Point Loma. A mere $57,000 remains to be raised for historic Officer's Quarters D and its one acre of gardens in order to complete renovations in accordance with the Secretary of the Interior's Standards for the Treatment of Historic Properties.
SD artist Eleanor Antin (SD Art Prize) was one of the ten women of 2011 awarded the Anonymous Was A Woman sixteenth annual "no strings" grant of $25,000 enables women, over 45 years of age and at a critical juncture in their lives or careers, to continue to grow and pursue their work. The name of the grant program refers to a line in Virginia Wolf's A Room of One's Own. As the name implies, the nominators and those associated with the program are unnamed. To date, 161 women have received the award.
OPPORTUNITIES (click to see a list of all current opportunities listed on SDVAN)
OMG, they just finished ArtWalk on the Bay and the dynamic team lead by Sandi Cottrell has already announced Mission Federal ArtWalk 2012 from April 28 & 29, 11:00 AM to 6:00 PM. This is the one in Little Italy and they are now accepting applications from fine artists. Artists whose applications are received early get the benefit of having a broad selection of tent locations in the 2012 show. Remember, only artists who apply before NOVEMBER 4 will be entered into the Featured Artist selection process. They attract more than 100,000 attendees each year. Date are already set for ArtWalk on the Bay for Sept 22 and 23, 2012.from 10 am to 5 pm.
A new craft beer/wine bar & eatery 98 Bottles with a separate entertainment venue located in Northern Little Italy's art and design district has a lot of wall space and are seeking artists to create work depicting "bottles" whatever that means to them in any and all mediums, oils, water colors, photography, sculpture, etc. For more info: Jill K. Mesaros760.815.1396
A juried art show with the theme Visions of Coronado will be exhibited from January 12- February 20, 2012 organized b the Coronado Historical Association. For more info: Susan Enowitz 619.435.7242
Guy Lombardo is asking for artists' submission again for the 1735 Hancock Street space in downtown SD. The next is Living In The Future and work is due one week before the opening on Nov 5. The show runs until Jan 8, 2012 with live music and effects by Greg Lloyd and Kinetic Collage Contact Guy for more information: 858.863.7842
Ramona Art Guild is making a call for artists for a showed juried by Pat Kelly . The deadline is Nov 11 and the show will be held at the Poway Center for Performing Arts. For more info: Susan Bainbridge 858.555.1212
MUSEUMS
San Diego's Craft Revolution From Post-War Modern to California Design continues until April 15. 2012 at Mingei International Museum. This original exhibition documents a fascinating, inspiring and overlooked chapter of San Diego's recent past: the important contribution of San Diego craftsmen from the postwar period beginning in the 1940s up through the 1970s. This show is part of Pacific Standard Time.
The San Diego Museum of Art presents Mexican Modern Painting from the Andres Blaisten Collection opening and Symposium on Sat, Nov 5. This exhibition features a selection of 80 paintings from one of the premiere collections of 20th century Mexican art. Artists on view include María Izquierdo, Diego Rivera, David Alfaro Siqueiros, Rufino Tamayo, and many others.
Oceanside Museum of Art is showing two of SDVAN's great supporters, Cathy Breslaw (T he Matter of Space)and Becky Guttin (We Can Work it Out) .
The Museum of Contemporary Art San Diego is presenting one of our major contributions to Pacific Standard Time.Hear from Light and Space scholars at the Phenomenal Symposium on Sat Nov 5 from 11 to 2 pm, which also serves as the launch of the exhibition catalogue. Phenomenal authors Michael Auping, Robin Clark, Stephanie Hanor, Adrian Kohn, and Dawna Schuld will share highlights of their research. They will be joined by Tom Learner, head of contemporary research at the Getty Conservation Institute and curator of the exhibition From Start to Finish: De Wain Valentine's 'Gray Column,' and Andrew Perchuk, deputy director at the Getty Research Institute and curator of Pacific Standard Time: Cross Currents in LA Painting and Sculpture, 1945-1980.
Watch for Emilio Perez opening Nov 10 at Lux Art Institute. The artist's unique process entails painting sheets of latex and acrylic in different hues onto wood panels and then, using an x-acto blade, slicing away at and removing layers, revealing tracts of muted colors underneath.
New Children's Museum has a new display and engagement activity. Did you know the average American produces 4.5 pounds of waste a day? Trash is an invisible but important issue. From Layer's 34-foot, three-horned beast to Jason Rogenes' cardboard Fortress of Solitude, you'll be astounded by each artist's imagination. And they hope it sparks your own too.
You may have missed the first Art Through the Ages lecture by Julia Marciari Alexander, Deputy Director for Curatorial Affairs and Education at the San Diego Museum of Art on Anthony Van Dyck at the Timken Museum of Art but you can still hear Victoria Sancho Lobis, Curator of University of San Diego's Robert & Karen Hoehn Family Gallery on Oct 25 on Peter Paul Rubens, Ann Hoehn, Art Historian with a special piano performance by Mary Barranger on Nov 1 on Nicolas de Largillierre and Jacques-Louis David and also on John Singleton Copley on Nov 8. All lectures start at 6:30 and are on Tuesdays. Single lecture price: $15 members / $20 non-members. More info: 619.239.5548 x100
rsvp@timkenmuseum.org
TRANSITIONS
After 10 years of working with both the local and international art communities from their Little Italy–based headquarters, Scott White Contemporary Art (SWCA) announces that the gallery and all operations are relocating to 7655 Girard Avenue, La Jolla. The debut will be celebrated with an opening on November 19 th featuring paintings by world-renowned fine artist, Ross Bleckner.
Steve Jobs (Apple founder) passed away this October and many artists are paying tribute to him with a collection of portrait on the Huffington Post website. It makes a fitting tribute as many of those same artists used his computers and software to make the images. Jobs didn't just invent the look of the Mac, the ipod, the iphone, and the ipad has changed the way we behave because of these inventions. But if you want to hear the reason not to honor this mere mortal get the other side of the story at ArtInfo.
TIDBITS
Here it is the best video promotion ever for ART , Pacific Standard Time: Jason Schwartzman Celebrates John Baldessari
Great fun to watch all four parts of the new Sotheby's series on artists, collectors, auctioneers and the auction business. James Frey says in the first one, "The best art changes you. You are not the same after you see it. "
Read this interesting article from ArtDaily.org, Insite: How to borrow $10 millionabout how art is used as collateral in the current economy when stocks are so volatile. It starts off with a lesson for young collectors in how to catch auction fever.
Picasso to Koons: Artists Jewelry puts us back in mind of Little and Large and is showing New York for those of you on the move. There is a terrific little video on the website link. Enjoy and know that someday, maybe our SD jewelers will get the same attention!
You might want to check out a new site that aims to help artists with business issues. Arts Business Institute holds workshop partnerships throughout the US and Canada. More info: info@artsbusinessinstitute.org. They very kindly listed SDVAN in their resource directory.
It is well worth reading the interview with Thierry Erhmann from Art Price. He has the resources and vision to capitalize on the future of the art market. Part One and Part Twoare must read articles for artists as well as collectors, galleriest and art fair organizers.
New York painter Chuck Close and other artists are suing Sotheby's, Christie's and eBay, contending the auctioneers willfully violated a California law requiring royalty payments on sales of their works. The three federal suits seek class-action status to represent many other artists and demand unspecified royalties and damages — which could total hundreds of thousands of dollars given current art prices. he law applies only to original paintings, drawings, sculpture or glasswork by living artists or those who have been dead for less than 20 years.
Occupy Wall Street Art and Culture Committee public meeting in NYC has been recorded by a UTube video and it is a cool way in the public place to get the word out by having the group repeat what each person is saying.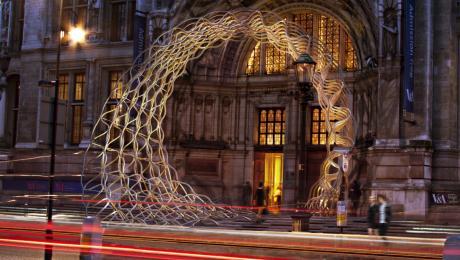 Timber Wave by Amanda Levete at the front entrance of the Victoria and Albert Museum, London, England

For those of you curious about the London art and design team, make sure and read Part one of the London Newsletter by Patricia Frischer on her A+ Art Blog
We are happy to announce that BioEASI is now offering creativity infused biology classes through the UCSD Extension School's College Exploration program! Starting Fall Quarter, BioEASI (Biology Education and Art for Science Innovation), will be offering fun science courses taught with a creative spin on traditional lecture-based courses. The goal is to incorporate activities into lessons that allow students to engage in 'whole-brain' learning. See course descriptions and to register, visit: http://k12.ucsd.edu/index.cfm?vAction=saCourses
We are happy to bring you a few updates from Ted Washington and Pruit Igo: View pics of the reception at his Browery Gallery in New York here. Read Joe Nalven writing for for the San Diego Union-Trbune art blog at this post and check this video from a recent performance at Vos Alta Lab in Barrio Logan.
The Tijuana/San Diego artist and writer Omar Pimienta has launched his fundraising campaign with the support of the United States Artist program to organize a series of 10 events that will take place in different public spaces of Colonia Libertad Tijuana. Pimienta's project utilizes Mexican and American iconography by appropriating the statue of liberty and a pre-Columbian pyramid to create the neighborhood\'s monument: Lady Libertad.
Sharon Hickley started doing photography recently and has made a La Jolla 2012 calendar published this month. It is available in 14 shops and online and would make a lovely holiday present. You can pick one up at the SDVAN holiday party on Dec 13 if not before.
OPPORTUNITIES (click to see a list of all current opportunities listed on SDVAN)
John and Kathy Rubesha , long-time artists and arts advocates, will open a fine-craft gallery inside the Escondido Municipal Gallery on October 8, 2011. They are looking for artists who work in clay, glass, fiber, wood, and metal, and who create wearable art, weavings, hand-painted silk, functional pottery, art pottery, raku, jewelry, vases and other decorative items.Commission on work sold will be 60% artists and 40% gallery. If you think your work would fit the above description, please contact Rubesha@cox.net ,
The Fallbrook Art Center presents the 3rd Annual Signature American Watercolor Exhibition. The exhibition will be presented with the traveling exhibitions of both the American Watercolor Society and the National Watercolor Society. Fallbrook Art Center is proud to be the only venue in the Country hosting both of these prestigious exhibitions at the same time. Open to all artists who have achieved official signature status in one or more of the one or more established watercolor societies in the U.S, paintings must be watermedia on paper or yupo, have been completed within the past two years, and source material original. Deadline Nov 18. For details and submission guidelines 760.728.1414 or info@fallbrookartcenter.org AND they are also seeking holiday and non-holiday artwork perfect for gift-giving. Open to all artists with emphasis on high-quality work possessing precision, a strong sense of design and technique.

In collaboration with a team of arts education specialists, Young Audiences is creating the first Teaching Artist Institute in San Diego. Our professional artists are educators who integrate their art form, perspectives, and skills into a wide range of settings. Working individually and within arts education programs, they have used their creative processes to bring arts experiences to learners. Young Audiences staff, guest teachers, and mentor artists will work with this year's cohort to impart the knowledge and skills that will ensure their success as teaching artists. If you would like to participate or to learn more, contact jennifer@yasandiego.org
Read about funding for new creative clusters national wide in an article by John M. Eger in the Huffington Post. Organizations, and individual who wish to apply for a grant from ArtPlace, should review the guidelines on ArtPlace's website and complete the Letter of Inquiry by November 15, 2011. Applicants can also register for a webinar on October 3 at 3pm ET to learn more about developing a Letter of Inquiry.
MUSEUMS
The San Diego regional weekend for Pacific Standard Time: Art in L.A. 1945 – 1980 will take place November 3 – 6, 2011, with events, symposiums and special offers at both Mingei International Museumand the The Museum of Contemporary Art San Diego's (MCASD) downtown and La Jolla locations. Mingei International and MCASD are the only two San Diego institutions participating in Pacific Standard Time but shows will also be held at private galleries: Stevenson Gallery with James Hayward paintings; Quint Contemporary Art with new works by Peter Alexander, Mary Corse and Robert Irwin; Meyer Fine Art, Inc. with Clay Walker; and Scott White Contemporary Art with works by Valentine, Larry Bell, Craig Kauffman and Eric Johnson.
Mingei International Museum with featureSan Diego's Craft Revolution from Oct 16 to April 15, 2012 with over 60 artists from the postwar period beginning in the 1940s up through the 1970s, San Diego's Craft Revolution will explore the progression from sleek modernism to unconventional handmade objects of use such as furniture, doors, jewelry and ceramics.
The Museum of Contemporary Art San Diego will open its most ambitious exhibition to date. On view from Sept 25 through Jan22, 2012 at MCASD's two locations in La Jolla and downtown San Diego, Phenomenal: California Light, Space, Surface takes an in-depth look at 13 artists whose work with light as a medium in the 1960s and '70s defined an era of art making in California. Featured artists include Peter Alexander, Larry Bell, Ron Cooper, Mary Corse, Robert Irwin, Craig Kauffman, John McCracken, Bruce Nauman, Eric Orr, Helen Pashgian, James Turrell, De Wain Valentine and Doug Wheeler.Phenomenal is one of only two San Diego exhibitions that are part of the Getty-initiated Pacific Standard Time: Art in L.A. 1945-9180, a collaboration of more than sixty cultural institutions coming together this fall to tell the story of the birth of the Los Angeles art scene.
Oceanside Museum of Art will be presenting the work of Cathy Breslaw: A Matter of Space from Oct 22 (opening reception form 2-4 pm) to Feb 12, 2012. Informed by the boundless concept of space, SD artist Breslaw will create a site-specific installation in the OMA Parker Gallery that uses industrial materials to investigate her interest in how people relate to changing physical and intangible environments. Through the twisting, stretching, painting, wrapping, slashing, tying, layering and folding of materials, painting and drawings, Breslaw embraces the challenge of manipulation while transforming commonly overlooked items, creating spatial awareness that transcends functionality and purpose.
New Children's Museum will be temporarily closed until October 14 for the installation of the new exhibition. When they reopen, everything will be brand new!
TRANSITIONS
Our own sweet Lois Stecker died this month and she will be so missed. We know she is resting in peace. Born in 1919 she was at every event and intrepid to the very end. This is a very sad passing for the SD Visual Arts world. San Diego Visual Artist Guild has a memorial gallery for their artist and you can see both the work of Lois Stecker and Jen Trute on that site.
Trios Gallery space in north Cedros is sadly closing but the good news is that they will be selling online from now on.
Wow, Wow, Wow. They must be doing it right. Thumbprint Gallery is moving from North Park to La Jolla and will now be located at 920 Kline Street. Good luck to this go gallery. Their first show is Hood Etiquette Feat. Neko, Bekm, Walker & Baby Boy which opened on Sept 10
Charlotte Cagan was named Interim Executive Director of the San Diego History Center, the large museum in Balboa Park that also encompasses the San Diego Historical Society archives and library and that owns and operates the Serra Museum in Presidio Park. David Kahn, the director and also a colleague of Cagan's, left for a new position without a great deal of notice and rather than initiating a national search, the Board appointed Cagan as Interim Director.
Richard Hamilton has died in London at age 89. He is one of the pop artists of the 1960's and managed to remain legend for 50 years.
TIDBITS
Bravo's colorful competition series "Work of Art: The Next Great Artist" returns on October 12 .
Rates of participation in the arts are not evenly distributed across California. The San Francisco Bay Area contributes disproportionately to the state's higher overall participation rate, with 66 percent in 2008. Three major urban centers — Sacramento, Los Angeles and San Diego (52%) — anchor regions with relatively high participation rates. The lowest rates are found in the Inland Empire and San Joaquin Valley.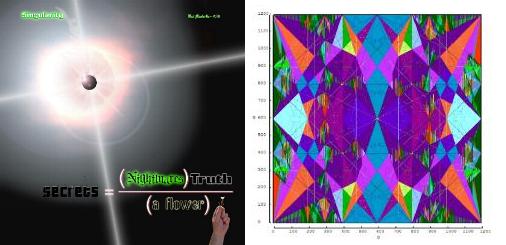 Kazmier Maslanka , Singularity and John H. Chalmers Ellis Duodene, images above are included in the Art and Science Juried exhibition at Escondido Art Partnership. Juror Ruth West , Aug 9 to Sept 30
It is exciting to finally see art by the SD Art PrizeAward Recipients for 2011, Ruben Ortiz-Torres with emerging artis Tristan Shone, Jay Johnson with emerging artist Adam Belt presented a booth #11-12. at Art San Diego Contemporary Art Fair. Sept 1 -4, Hilton Bayfront Hotel. The fair is getting massive national press which is so healthy for San Diego. We are thrilled to announce a special video/photo display of all 4 of the SD Art Prize recipeints at the fair by Melissa Au .
You can get free admission on Sunday Sept 4 to the Art San Diego Contemporary Art Fair and discounts to other exhbitions if you go to the SD Art Month site and print of a copy of their pdf Art Pass. This pass is also available on the back of the SD Art Guide which is available at all galleries and at the sales desk for the fair.
Also join David Malmuth at the Art SD Fair Hilton Hotel along with private sector and public sector leaders September 1 -2 to get the best ideas and techniques for sparking and growing innovation economies in your city during Urban Land Institute's Powering Innovation Economies Conference. Place-making, arts and education play an important role in attracting high tech, bio tech, design and emerging new business sectors that will be the engines of future growth. They also drive jobs creation and real estate development. You will get real-world examples from New York, Chicago, Denver, San Diego, and other communities. Find out how public and private partners worked together, what was successful, and how you can define your own region's innovation economy attributes to grow your city or your business. Plus Art Labs features 19 projects by more than 150 artists at public spaces around the Hilton SD Bayfront.
Hurry over to New Contemporaries IV. at Public Reception Sat. Aug 27, 6-9. but now showing for only a few more days to Aug 31, 2011 at Alexander Salazar Fine Art 1040 7th Avenue , SD, 92101 with Mely Barragan, Adam Belt, Susannah Bielak, Fred Briscoe, Isaias Crow, Shay Davis, Damian Gastellum, Gretchen Mercedes, Han Nguyen, Jaime Ruiz Otis, Lee Puffer,Christopher Puzio, Cheryl Sorg. Photos of the show by Jack Foster Mancilla and Photos by YCWong .
There will be a chance to remember Jen Trute at a Memorial Exhibition onSat. Sept. 3, 2 pm – 7 pm at Noel Baza Fine Art (2165 India St. SD) Exhibit through Sept 24 th
Watch for the new sculpture installation by Deanne Sabeck at the new Whole Foods ( 687 S. Coast Highway 101, Encinitas 92024). You have to look up to see it as it shimmers down casting colored shadows and raising the design aesthetics of the whole building. A benefit for SurfAid was held at the launch.
STUDIO C Contemporary ( 140 E.Main St., El Cajon, 92020) is the first and only contemporary art studio/exhibition space in El Cajon and the East County. The Studio was created in June 2011 by two of San Diego's prominent artists- Silvia Valentino and Carlos Castrejón who will host its first international exhibit Des-Hechos featuring the works of nineteen renowned artists from Mexico, the US and Bulgaria. The show opens Sept 10 from 7 to 9pm. More info Silvia 619.379.6514
Graffiti Parks May Be the Answer is an article by John Eger which highlights the work of WriterzBlok (5010 Market St., SD 92102) funded by The Jacobs Center for Neighborhood Innovation. since 1999. The philosophy is simple: "Call a kid a tagger and he's a criminal. Help him become an artist and everything changes." Offering over 10,000 sq. ft. of paintable walls, it is free to the public to bring their creativity and paint. The art park attracts an average of more than 500 youth, artists, community members, and visitors each month.
The SD Foundation has launched its new website Our Greater San Diego Vision. They have organized 150 Ambassadors, four Task Force team on economic development; housing, environment, transportation and cost of living; education; and community and cultural amenities. (SDVAN's Patricia Frischer is on the Community and Cultural Amenities task force), Partnersorganizations and of course their dedicated Staff. They also have a facebook page for feedback so the public can be involved as well. Join the mailing list and friend them to participate in the 50 and 100 year vision plan for region.
The Greater SD Vision has a pubic outreach called ShowYourLoveSD and they are requesting that interested parties attend one of a series of workshop Sept 13, 14 or 15 at various locations around the county. They will be asking you to share your vision of the future of our region in a three hour workshop.
We welcome the Getty Foundation¹s regional initiative Pacific Standard Time prepares to launch in October. The Getty¹s groundbreaking collaboration brings together more than sixty cultural institutions throughout Southern California to tell the story of the rise art scene and its impact on the art world. Scott White Contemporary Artis presenting Shift.Space.Slick, a sculpture exhibition exploring the work produced by Light & Space artists Larry Bell, Craig Kauffman, De Wain Valentine and Eric Johnson from Sept 9 to October 8, with the opening reception taking place on Fri., Sept 9 from 6 to 8 p.m.
Felena Hanson (co-director of Art Meets Fashion) has moved into her fabulous new space Hera Hub , the woman's work center. ( 9710 Scranton Road, #160 , SD 92121 ). She constantly arranges events like her first in this new location, a workshop in making imovies. Besides providing office space, this is great networking for professional women and she will be hanging art shows quarterly as well. Watch for the SDVAN Hats Off to Life exhibition next Feb. More info: Felena Hanson 619.889.7852 or on Facebook
OPPORTUNITIES (click to see a list of all current opportunities listed on SDVAN)
The Redevelopment Agency of the City of San Diego (Agency) is seeking qualifications from Consultants or Consultant Teams with specific experience in arts and culture planning to facilitate the development of a Public Art Master Plan for the North Park Redevelopment Project Area. The North Park Public Art Master Plan (NPPAMP) will align with the citywide 2004 Public Art Master Plan and guide the Agency on how to direct resources and how to ensure arts and culture are an integral part of the North Park Redevelopment Project Area in the future. Prospective proposers are invited to submit information demonstrating experience in arts and culture planning and community outreach to enable the Agency to consider the selection of a Consultant with whom to negotiate a contract. More info: Michael Lengyel 619.236.6269
Artists for Animals is a fundraiser for the FACE Foundation. Local wood-workers have assembled 60 raised wooden dog/cat food bowl stands. Artists will then "create" something with the stand. It does not have to be functional. The stands will be auctioned off to benefit FACE. Stands are ready to be picked-up or delivered now! More info: Mary Sparks 858-450-3223
Synergy Art Foundation is inviting local artists to participate in a fun and creative fundraiser called From Blanks To Beauty. All monies will benefit Synergy's Emergency Artists' Support League (SD-EASL), which has, since 2003, provided grants to numerous local visual artists in catastrophic circumstances. Synergy is providing two hundred (200) 10" x 10" blank canvases to local artists. Canvases will be issued on a first-come first-served basis. Interested artists may pick up a blank canvas (two (2) maximum per artist) at any one of four locations spread throughout the county. Artist must drop off completed artwork by Sat Oct 15 at one of two locations. The exhibition/silent auction of works will be held on Thurs, Nov17 from 6:00pm - 10:00pm at The Mosaic Wine Bar, For more information or questions, please contact synergyartf@gmail.com
Arts Month SD 2011
We are happy to list the following exhibitions that are part of the September promotion of the visual arts in San Diego. There are another 21 events and 12 performances. . We are also happy to report a promotion in the UT called "Fall for the Arts" which is being worked on by the Commission for Arts and Culture with the Port of SD, NEA, SD Foundation, CA Arts Council, SD Convention & Visitors Bureau (Convis), etc. It would be great if we had Winter, Spring and Summer for the Arts as well! We hope they can do as good a job as Arts Month SD which has a super website.
SAN DIEGO ART PRIZE 2011 @
ART SAN DIEGO Contemporary Art Fair
Thursday, Sept 1, 2011 through Sunday, Sept 4, 2011
Hilton San Diego Bayfront / 1 Park Boulevard / SD CA 92101
MATTER // an exhibition at THE BAKERY
Thursday, Sept 1, 2011 through Sat, Sept 10, 2011
Opening Reception: September 1, 2011 / 6:00 pm – 10:00 pm
The Bakery / 1701 National Avenue / SD CA 92113
CELEBRATING OUR NEW GALLERY LOOK
Thursday, Sept 1, 2011 through Friday, Sept 30, 2011
11:00 am – 4:00 pm
San Diego Potters' Guild / Spanish Village Art Center / Studio 29, Balboa Park / SD CA 92101
EAST VILLAGE RANDOM ACTS OF ART
Sat, Sept 3, 2011 / 12:00 pm – 5:00 pm
Throughout various locations in East Village / SD CA
DISAPPEARING LANDSCAPES: The American Delta in Distress
Tuesday, Sept 6, 2011 through Thursday, Sept 29, 2011
Reception: Thursday, September 8, 2011 / 4:30 pm – 7:00 pm
D101 & Gallery Courtyard / Artist Lecture: 7:00 pm in G101
San Diego Mesa College Art Gallery / 7250 Mesa College Drive / SD CA
BRAWN AND BEAUTY: Works on Copper by Richard Hawk
Tuesday, August 16, 2011 through Sunday, Oct 16, 2011
Opening Reception: Saturday, September 10, 2011 / 6:00 pm – 9:00 pm
L Street Fine Art / across from the Omni San Diego Hotel / 628 L Street / SD CA 92101
IMMORTALIZED: Rods and Customs of Distinction
Friday, September 9, 2011 through Saturday, October 29, 2011
Opening Reception: Friday, September 9 / 7:00 – 11:00 pm
ArtHatch 317 E Grand Ave / Escondido, CA 92025
FARMACY
Sat, Sept 10, 2011 through Thurs, Sept 29, 2011
Opening Reception: Saturday, September 10 / 6:00 – 10:00 pm
680 West Beech Street / Little Italy / SD CA 92101
MANNY FARBER Selected Works From The Artist's Estate
@ Quint Contemporary Art
Saturday, July 23, 2011 through Saturday, September 10, 2011
Opening Reception: Saturday, July 23 / 6:00 – 8:00 pm
7547 Girard Avenue / La Jolla, CA 92037
POETRY IN THREE LANGUAGES: An Art Show by Dani Dodge
Sept, 2011 through Saturday, Oct 29, 2011
Opening Reception: Thursday, September 22, 2011 / 6:00 pm – 8:00 pm
Pimento Fine Art at Olive PR Solutions, Inc. / 350 W. Ash Street / SD CA 92101
ART + SCIENCE, SHAPES OF NATURE
Tuesday, August 9, 2011 through Friday, Sept 30, 2011
Opening Reception: Sat, Sept 10, 2011 / 5:30 – 8:00 pm
Escondido Arts Partnership – Escondido Municipal Art Gallery / 262 East Grand Ave / Escondido, CA 92025
ART OF PHOTOGRAPHY SHOW
Sat, August 13, 2011 through Sunday, Oct 23, 2011
Opening Reception: Saturday, August 13, 2011 / 6:00 – 10:00 pm / Free Event
Lyceum Theatre Gallery in Horton Plaza / San Diego's historic Gaslamp Quarter / SD CA 92101
GUSTAV STICKLEY and the American Arts and Crafts Movement
Sat, June 18, 2011 through Sunday, Sept 11, 2011
The San Diego Museum of Art / 1450 El Prado / SD CA 92101
Plus
FROM EL GRECO TO DALÍ
SPANISH MASTERS FROM the Pérez Simón Collection
Sat, July 9, 2011 through Sunday, Nov 6, 2011
Plus
PORTRAIT OF AN ARTIST AS A YOUNG MAN:
Works by Rubén Ortiz-Torres
Sat, July 30, 2011 through Sunday, Oct 16, 2011
DIGITAL ART GUILD: / METALPHOR /
Sept 2011
Art Institute of California SD / 7650 Mission Valley Rd / SD CA 92108 and Main Street 5 Gallery / 124 E. Main St / El Cajon CA 92020
JENNIFER STEINKAMP: MADAME CURIE
Sunday, January 23, 2011 through Monday, January 2, 2012
Hours: 11:00 am – 5:00 pm daily / Closed Wednesday
Museum of Contemporary Art San Diego (MCASD) - Downtown, Jacobs Building / 1001 Kettner Blvd. / SD CA 92101
PHENOMENAL: CALIFORNIA LIGHT, SPACE, SURFACE
Sunday, Sept 25, 2011 through Sunday, Jan 22, 2011
Museum of Contemporary Art (MCASD) - La Jolla / 700 Prospect Street / SD CA 92037
Plus
EMPEROR'S RIVER: Philipp Scholz Rittermann
Sat, May 28, 2011 through Monday, Sept 5, 2011
Plus
HIGH FIDELITY: Selections from the 1960s and 1970s
Sat, May 28, 2011 through Monday, Sept 5, 2011
THE VIRGIN'S DREAM: Beatrice Wood Drawings and Ceramics
Sat, May 21, 2011 through Sat, Sept 10, 2011
OMA | Oceanside Museum of Art / 704 Pier View Way / Oceanside CA 92054
Plus
TRANSITIONS: The Work of Francoise Gilot
Sunday, June 12, 2011 through Sunday, November 13, 2011
Lecture with the curator, Mel Yoakum, PhD / Sat, Sept 25 / 2:00 pm
Plus
METAMORPHORES: Marianela de la Hoz
Sat, July 2, 2011 through Sunday, Oct 9, 2011
Plus
IT'S NOT MY FAULT: The Art of Everett Peck
Sunday, Sept 11, 2011 through Sunday, January 29, 2012
Preview Reception: Sat, Sept 10, 2011 / 5:00 – 7:00 pm
Plus watch for Becky Guttin's We Can Work It Out featuring colorful vinyl paintings of mythical animals mounted on the museum's front windows starting Oct 1.
GALAXY OF GLASS @ Fallbrook Art Center
Open Daily: Sept 4, 2011 through Oct 16, 2011
Opening Reception: Sat, Sept 3, 2011 / 5:00 – 7:00 pm
Fallbrook Art Center / 103 South Main / Fallbrook CA 92028
TRANSITIONS
The University of California, San Diego Visual Arts Department is pleased to announce that Merete Kjaer will be joining the staff as the new Exhibition Manger for the University Art Gallery (UAG). The University Art Gallery Director who is also the Chair of the Visual Arts Department is still Grant Kester but Merete Kjaerwill provide a full range of support to the Gallery's contemporary visual arts programming, while managing the day to day operations of the Gallery. She will also play an important role in the UAG's upcoming Curatorial Fellowship program, which will begin in Fall 2012, helping to mentor the Curatorial Fellows and facilitate their work for the gallery. Isabelle Lutterodt was the former. Exhibition Manager who left last November.
The San Diego History Center (SDHC) announced that their Executive Director, David M. Kahn, will step down on August 31. Kahn joined SDHC in August 2008 and will assume his new position as Executive Director of the Adirondack Museum in upstate New York.
Susan Street Fine Art will relocate to 200 North Cedros in September near Trios Gallery.
California Arts Advocates announced Craig Watson as the newly appointed Director for the California Arts Council. He starts on August 15 and replaces Muriel Johnson as director of the CAC. This appointment is the first time that the Director has been hired directly by the CAC instead of being appointed by the governor. Prior to this appointment, Craig Watson served as the Executive Director of the Arts Council for Long Beach. They are trusting that the art license plates will raise $40,000 for arts education.
TIDBITS
Cindy Sherman , the self-described "anonymous" self-portrait artist known for portraying the likes of Marilyn Monroe and Marie Antoinette with an extra emphasis on their class and gender, is putting one of her assorted talents to use in a makeup line with MAC Cosmetics, set to debut September 29 as reported in ArtInfo.
Alexander McQueen videos are the perfect way to see his show in New York if you can not attend. Take the time to watch each and every video including the final Nick Knight collaboration, The Bridegroom Stripped Bare. If you were excited about the La Jolla Fashion Film Festival and missed that or you want to see more, check this out. Thanks to Lonnie Hewitt from the La Jolla Light for turning us on to this site and to Irene de Watteville who loaned us the catalog from the exhibition.
From Naimeh Tahna, we got this lovely article on Affordable Art is the New Realityfrom the LA Times. Works at Artspace Warehouse on Beverly Boulevard in Los Angeles start at as little as $40 and are so much better than those bought at Ikea. This is a large space from this idea from Europe with branches in Zurich and Cologne.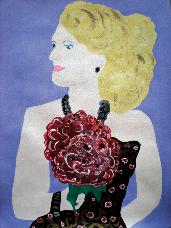 John Agostini at Haute for Heart, St. Madeline's Sophies' Center Fashion Show
This is your invitation to attend New Contemporaries IV at Alexander Salazar Fine Art. Opening Reception Monday Aug 1, 6-9 (+18 only please) but there is a closing public reception as well on Sat. Aug 27 from 6-9. Show from Aug 1 to Aug 31, 2011 Mely Barragan, Adam Belt, Susannah Bielak, Fred Briscoe, Isaias Crow, Shay Davis, Damian Gastellum, Gretchen Mercedes, Han Nguyen, Jaime Ruiz Otis, Lee Puffer, Christopher Puzio, Cheryl Sorg. 1040 7th Avenue , SD, 92101. More info: alexandersalazarfineart@gmail.com 619-531-8996
We are so happy to have featured the La Jolla Fashion Film Festivalon our home page with a banner, Don't forget to attend on Fri/Sat. July 29 & 30th, 7:30-9:30 pm at the Museum of Contemporary Art 700 Prospect Street, La Jolla 92037, $50-$75 per night . After party BarFly More info: Fred Sweet,
Article by Lonnie Hweitt in La Jolla Light and Video Promotion by Mahal Style .
Art Meets Fashion continues in many ways. SDVAN is media sponsor for Exhibit Ambush Multi-Sensory Fashion Show, an art and fashion show at Horton Plaza on Oct 22 at 7pm. Exhibit Ambush is attracting individuals who relishes taking risks. Exhibit Ambush is partnering with the Amazon Foundation to raise a substantial amount of money, that will go directly to providing health services to the children of families living in the Amazon Forest Region.Gen. Admission $50, Student ID: $25.00, VIP Admission: $75.00. More info: Antoinette L. Ransom 818.400.6308.
Art Meets Fashion Mannequin Project artists Deborah Francis, Keith Greene, Paris Davis, and Jana Lauritsen have been asked to show their art works at the 34th Annual Haute for Heart: Big Dreams, Blue Skies, the annual fundraiser for St. Madeline's Sophies' Center Fashion Show on Saturday August 20 th at the Sheraton SD Hotel & Marina (1380 Harbor Drive, 92101) from 10 a.m. - 2 p.m. VIP $150 or regular $80. fiveloaves twofish fashion will be showing their children's clothing and Pamela Pogue has jewelry on the runway and John Agostini's artwork is featured on all of this year's print materials. .Tickets available on-line at www.stmsc.org/events
Extended Art Meets Fashion Artists Exhibition at NTC Promenade until mid-Oct at the Mandell Weiss Gallery at Jean Isaacs San Diego Dance Theater, Dance Place San Diego (2650 Truxtun Road, Suite 108, SD 92106) More info: Jean Isaacs 619.225.1803
We are delighted to read the series on creativity posted by Thomine Wilson on the Art West Agency Creativity site. New interviews by Felena Hanson, Debbie Solan and Paul Fernandes and Jeffrey Steorts join those by Kira Corser and Patricia Frischer.
To support the GLBT community, Alexander Salazar Fine Art (ASFA) marched in the Gay Pride Parade hosted a booth at the Gay Pride Festival featuring the work of Heidi Thompson. As the Juror for The Art of Pride 2011, Alexander Salazar selected works of art from the community that will also be exhibited at the Gay Pride Festival. Additionally, to support EQUALITY CA, ASFA supported their event at the W Hotel by donating 25% of any artwork sold from works installed throughout the W Hotel. Chris Trueman and ASFA donated 15% of all sales to San Diego LGBT Pride . Finally at the Gay Pride Events at Eden NightClub - ASFA donated 25% of any of the artwork sold by Leslie Lemberg installed at Eden to various charities.
There is a new hard copy guide to fine art in town. San Diego Art Guide Issue No.2 for September - July 2011 is out now. You will find a Calendar of Upcoming Events, maps of each neighborhood, and listings of over 125 galleries and museums in San Diego County. To advertise if you are a gallery or receive copies email Jocelyn Waters
ART SAN DIEGO Contemporary Fair is announcing two exhibitions focused on furniture design. One is from NAFTA 3 Countries | 2 Borders | Contemporary Furniture Design from Mexico, Canada, and the US exploring the borders between furniture, art and utility. The second is local: Domestic Pleasures a selection of works by SDSU School of Art, Design and Art History Furniture Design Program, students and alumni that extends our perceptions of furniture and the role that these objects can have in a domestic setting. This exhibition is curated by: SDSU Professor Wendy Maruyama and SD Architect Jennifer Luce. Furniture as sculpture is a first for the fair and should be a really fabulous addition.
San Diego Magazine published a short list of co-working spaces in San Diego. ArtLab Studios in Normal Heights on Adams give you studio space for $25 a month and for Women starting their own business, you could do no better than our friend Felena Hansen's Hera Hub which moves to their new location in Sorrento Valley in August.
ArtLawn 2011 is a fundraiser and art show hosted by The La Jolla Historical Society and will take place on the beautiful lawn of Wisteria Cottage, 780 Prospect Street, La Jolla, on August 6-7, between the hours of 11am and 5pm. Admission is free. The show will feature the work of La Jolla artist Mohan Sundaresan. On display will be art in various media, including aluminum etchings with a 3 dimensional effect and acrylic paintings in vibrant colors on wood, canvas, and poster board. Prices will be extremely affordable. More info: Steve Medoff

Alejandro Martínez-Peña is showing at CEARTE (Centro Estatal de las Artes, Ensenada, B.C.).on Fri, Aug 5th, at Muñoz Acosta Hall, 7:30 pm.
There are two changes afoot in Balboa Park. This came in from Rob Sidner of the Mingei Museum: "The first issue is the potential closure of the Cabrillo Bridge and the Alcazar Garden Parking Lot as an "experiment" to observe the effect on cultural institutions and on Park attendance. The other issue is the need for an environmental impact study of the Plaza de Panama project. This visionary project proposes to restore the Plaza de Panama to a traffic-and-parking-free grand public space in time for the 2015 Centennial Celebration. Lots of controversy about both.
OPPORTUNITIES (click to see a list of all current opportunities listed on SDVAN)
As most of you have heard by now, The San Diego Foundation is offering grants to artists through the Creative Catalyst Fund. Just a heads up again that the deadline is August 4th,
Urban Tales is a juried exhibition held at Sophie's Gallery in downtown El Cajon during the Alley Cat Festival (Oct 14 – Nov17) and judged by Amy Galpin, Curator for American Art, San Diego Museum of Art. The gallery is making a call for artists by Aug 18 on the theme of exploring the relationship between individual growth and a greater sense of community through art. There will be $1500 in prizes and an opening reception on Fri Oct 15 from 5 -8. pm. For more info: Wendy 619-593-2205
Death is an inevitable part of life and Oceanside Museum of Art invites you to express your thoughts on death and what becomes of us in the upcoming juried exhibition Memento Mori: Remember Your Mortality. Presented in conjunction with the museum's next Art After Dark event on October 28 in time for Halloween. Works will be on public view in the museum's Groves Gallery from October 15-30, 2011. All submissions are due by September 1, 2011.For more info: Danielle Derry
Art of the Vine is a Silent Auction of Fine Art and Collectible Wines to benefit the nonprofit Fallbrook Arts, Inc. Custom The Fallbrook Art Center is making a call for a wine label competition where the winning label will appear on select bottles of Fallbrook Winery wine. A portion of the sale of such bottles will benefit Fallbrook Arts, Inc. For more info: Mary Perhacs 760 728 1414
Dana Springs from the Commission for Arts and Culture offered Summer Office Hours for San Diego artists. She gave 50 minutes sessions on a first come, first served basis to for one-on-one focus to each artist to help them get feedback on art proposals, grant applications, resume content, letters of interest, answer questions about public art policies, procedures, practices, give portfolio reviews, general business advice and help setting goals and general problem solving. We hope this occurs on a yearly basis as we are sure it is very helpful.
The San Diego Foundation announces the launch of the Creative Catalyst Fund: Individual Artist Fellowship Program (CCF Fellows Program), a competitive grant that will provide opportunities for local professional artists to create new work. The program, which is part of The Foundation's Innovation through the Arts Initiative, will fund fellowships ranging from $5,000 to $20,000 to San Diego artists working in all disciplines and at all stages of their careers. For more info Meryl Zwanger
A Reason to Survive (ARTS) is looking for instructors to teach 10-20 children ages 10 -18 for a minimum 2-4 hours a week/4 months required. They are requesting a description of lesson plans. For more info: Hulya D'Arrigo 619-297-2787 X2. These are volunteer positions.
Art & Soul
is an evening of performing and visual arts benefiting 4EverKids on Sat. Oct 8, 5-8pm at T2 Filipino Fusion Restaurant

in National City. They are looking for two artists to display their work which can be for sale on the night

For ore info: Ranee Alano
MUSEUMS
Check out the Picked RAW Peeled: From El Greco to Dali at The San Diego Museum of Art and Edges featuring: Rubén Ortiz Torres and My Barbarian, Thurs. August 4, 7 pm Gallery 16,
Part of the Summer Salon Series, What Does a City Need, Every Thurs. from June 2 to Sept 1.Plus: Portrait of an Artist as a Young Man:Rubén Ortiz-Torres July 30th - Sept 30th.
Meet the Artist: Marianela De La Hoz at Oceanside Museum of Art on Sat July 30 from 2 to 5 pm. Marianela is also showing in LA right now and is a hot ticket!
The Museum of Contemporary Art San Diego On August 4 from 7-10 PM a unique pop-up shop will open at the Museum of Contemporary Art San Diego's downtown location. Product Porch is a six-month retail experiment that will serve as a destination for new design and creative retail in San Diego and is a collaboration with successful design retailers Brooks Hudson Thomas and Blaire Dessent, Product Porch will offer side tables, chairs, lamps, benches, jewelry, and even scarves made by a new generation of creative talents from all over the world starting from $75.. TNT will also be the first opportunity to view the work of artists Larry Bell, Mary Corse, and James Turrell, whose work is being installed on a staggered schedule leading up to the official grand opening of Phenomenal: California Light, Space, Surface on September 25.
TRANSITIONS
We are so sad to hear of the passing of Jen Trute, local and beloved SD artist this month. Jen's dedication to all issues environmental and her shining talent made all our lives richer. Jen participated in the Movers and Shakers exhibition with her portrait of Dennis Batt (read his notes on her life)and was a New Contemporaties II artist in 2009.Her worked was featured at the Oceanside Museum of Art and at Noel Baza Fine Art where a memorial exhibition will be held (2165 India St. SD). The opening will be on Saturday, September 3rd from 2:00pm - 7:00pm. The exhibition will run through September 24th.You can still read the Robert Pincus article in the Union Tribune, The Reluctant Artist. If there is a dinner party up there for all artist missed this month, she will be in good company with Cy and Lucian.
Cy Twombly, died in Rome Tuesday. He was 83. His work was part Abstract Expressionism, part Minimalism, part Pop Art and part Conceptualism and he was know in Europe and the rest of the world as one of our premium painters.
Lucian Freud died in England at 88. He was known for his realistic nude painting with every detail revealed.
Andrea Chamberlin is leaving the SDAI in Balboa Park and SD Art Department in Northpark to join her husband in northern California, San Francisco. Andrea has done the most amazing job building up the educational components of SDAI and took over from Stephen Wagner who now runs ARC in SF. Before that the position was held by Daniel Foster who is working in Riverside for the good of the art community. They were lucky to have Andrea and she will be much missed. Leslay Anderson is taking over her duties. Good luck to her in this exciting role.
For the last 15 years, Martha Ehringer has been the public relations and special events person at Mingei International. She is now the new events manager. The public relations duties will now be handled by Marketing Manager Jessica Hanson York and Marketing Coordinator Johanna Saretzki.
A little bird tells us that the Women's Museum of California now located on Broadway will be moving to larger space at the NTC Promenade, Liberty Station. We don't know a time line yet, so watch this space.
TIDBITS
Fractured Atlas is a non-profit organization that serves a national community of artists and arts organizations. Its programs and services facilitate the creation of art by offering vital support to the artists who produce it. They help artists and arts organizations function more effectively as businesses by providing access to services such as fiscal sponsorship (to fundraise for artistic projects) and online arts-business courses. Check out the website because much of this is free to use and for those of you needing fiscal agent service, it could be the way to go.
As reported in ArtInfo, Helmut Lang will not be returning to fashion design. Instead he is creating sculptures by repurposing 6,000 assorted clothing items. The sculptures made from shredded objects and garments that he created over his nearly 30 years as a fashion designer, will be shown in the exhibition "Make It Hard," presented by Neville Wakefield from July 22 to August 8 at the Fireplace Project in East Hampton, New York.
The US House Appropriations committee passed the Interior Department budget for FY2012. Unfortunately this included a $20 million cut to NEA's budget. It still has to be passed by both houses.

back to top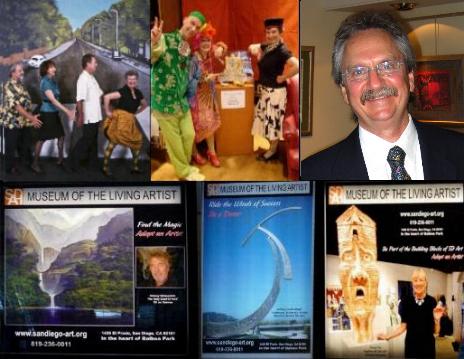 Top L to R. Tom and Ann Sergott, Larry Poteet and irene de Watteville at the OMA, Andrew Logan, Zandra Rhodes and Irene de Watteville at the Athenaeum, Bruce Tall, Bottom L to Right, Sidney Wildesmith, Jeffery Laudenslager, Cheryl Tall.
Thanks to Bruce Tall, a new advisory board member for the San Diego Art Institute, you will see SDAI advertisements at the SD International Airport. We love the ones with Cheryl Tall and her ceramic sculpture, Jeffery Laudenslager's kinetic sculpture and the glorious landscape painting of Sidney Wildesmith.
Italo Scanga: Restorations: Art and Artifacts is an exhibition of mixed media works by the late local artist. An opening reception will be held on Friday, June 24 from 6:30 to 8:30 p.m. at th eAthenaeum Music & Arts Library. Show continues from June 24 to July 30 Jennifer Pyun 858-454-5872
The new art form exploding onto the fashion world known as the fashion film is returning to be showcased at the 2nd Annual La Jolla Fashion Film FestivalFri/Sat, July 29 & 30. With directors attending and exhibiting from Europe, North America, Asia, and South America, the La Jolla Fashion Film Festival has once again become the center of intense focus of iconic fashion brands and their marketers to see what direction this new phenomenon is moving. Fashion cinema is revolutionizing fashion marketing, and LJFFF is at the cutting edge, combining cinema, social media, and fashion into one of the world's premiere digital fashion events. This year's festival will be at the Museum of Contemporary Art, $50-$75 per night. After party BarFly. More info: Fred Sweet . We urge you not to miss this exciting evening
Alexander Salazar Fine Art donated $9,781.50 to support San Diego Children's Art Summer Program for It's All About the Kids Foundation. Congratulation to both and hurrah for this worthy cause. Alex now has just under 30,000 feet of space for artists downtown. The formal gallery, an artist in residence studio space, a large exhibition space for display and auctions and the new artist studio designated for very large works. We are looking forward to seeing the SD Art Prize emerging artists show New Contemporaries IV at the large exhibition space August 1 -31, followed by his Art Fair Sept 2, 3, and 4 th.
Victoria Hamilton , Executive Director of the City of San Diego Commission for Arts and Culture, issued this statement in early June: "Congratulations to all of you for your vigilance and dedication, it paid off today when the City Council considered final modifications to the FY 12 Budget. Without even discussing the potential of cutting arts funding, the City Council supported the Mayor and IBA's recommendations to keep our budget flat. Now lets all enjoy the spotlight on our arts and culture community and its accomplishments during the Americans for the Arts convention next week!"
Mark Patterson is the "Surfing Madonna" artist, but now that he has been identified, the City of Encinitas is going after him for inflicting graffiti on the bridge. Patterson first started doing mosaics at his house in Leucadia and hopefully the community will be able to resolve this issue in a satisfactory way for all involved.
Jocelyn Waters is the new editor and publisher of the San Diego Art Guide. The first hard copy is of this quarterly is due out in July.
St. Madeleine Sophie's Center 's 34 th Annual Haute with Heart Fashion Show attracts more than 500 guests for a day of couture fashions, fabulous food, shopping, and fun. Held at the Sheraton San Diego Hotel & Marina on Saturday, August 20, 2011 from 10:00 a.m. to 2:00 p.m. The Fashion Boutique is an important component of this fantastic event. You are invite you to participate as a Fashion Boutique Vendor to sell fashions, jewelry, and gift items before, during, and after the fashion show to all guests. Application or contact Jeff Redondo 619.442.9651 ext 115.
Made for Adults is a small exhibit displaying works by local artists for an adult audience put on by the Puppetry Center (San Diego Guild of Puppetry). Come by Space4Arts ( 325 15th Street, 92010) and see what is possible when puppetry goes beyond socks and what you saw on Mister Rogers show. Through Aug 15. More info: Lynne Jennings 619.427.8088
OPPORTUNITIES (click to see a list of all current opportunities listed on SDVAN)
The Escondido Municipal Art Gallery has asked curator Ruth West to look for a few invitational pieces to highlight the show, Intersect: Art + Science, Deadline for submission is July 7. National Endowment for the Arts funding will allow a digital catalog. This call is open to all media. Please email artsciwest@gmail.com to get full details of submission. There are also workshop/lectures opportunities. Exhibition duration: August 9 - September 30.
Exhibit Ambush is an art and fashion show at Horton Plaza on Oct 22 but their mandatory participants meeting is July 6, 2011 from 6pm-9pm at 770 11th Ave, San Diego, CA 92101. For more info: Antoinette L. Ransom 818.400.6308. This group is coming down from LA so a good chance to make some LA contacts.
Art Academy of San Diego will be providing three prizes totaling $2400.00 for an " Arts Pass" design competition for the SD Art Month in September. Prizes are free classes and the competition is juried by the following five faculty members from AASD: Connie Athens, Stuart Burton, Stephen Curry, Loretta Kramer and Brian Lemke. This competition is open to all artists in the San Diego Region (Tijuana/San Diego/North County) 15 years of age to 18 years of age. All entries must be original two-dimensional works of art. They accept oil, acrylic, watercolor, mixed media, drawing, pastel, traditional print, photograph, graphic, and digital art. There are also volunteer opportunities (with free entry) at the fair and first and foremost is at the SD Art Prize booth sponsored by SDVAN. Contact patricia@sdvisualarts.net
Beth King Studio is offering Summer Seminar, a program of fine art instruction for High School art students, and Portfolios, a mentoring program dedicated to assisting artists with applications to art school. Held in Santa Ysabel, Beth King has a BFA in Painting and Printmaking, an MFA in Sculpture and Glass, studied at Pilchuck Glass School, was a fellow at the Creative Glass Center of America, has work in the American Museum of Glass, and has shown her work both nationally and internationally. She also worked for many years in Graphic Design, specializing in Sign Design. Go to Sculpture magazine's International Sculpture Center Web site, www.sculpture.org to see her work. You can contact Beth King at 760-765-2055 for more information.
The 6th Annual ArtWalk on the Bay festival takes place September 10 & 11. ArtWalk on the Bay applications are available here. The Hilton San Diego Bayfront Park is a spectacular setting for this two-day fine art festival. Artists and attendees love the new location, with its expansive grassy park and spectacular waterfront vistas. All of the surrounding parking options make the Park the ideal home for ArtWalk on the Bay.
NTC Promenade, Naval Training Center Newly Renovated Art/Design Studios, Creative Retail & Nonprofit Office Space are now leasing for late 2011/early 2012. For leasing information and pricing please contact Alan Ziter at 619 573-9315
Here is a new one! Mezuzah Workshop at Bravo School of Art taught by nationally recognized Metal smith / Jeweler / Instructor: Lisa Slovis Mandel. For all levels of ability on Thurs, Aug 11, 2011 9am – 3pm. More info: Lauren Becker Downey 619-223-0058
Chris Flores is offering a Live/Work Space Available in Barrio Logan. It is a newly renovated 3 bedroom/1 bath house with 400 sq ft garage/artist studio. Off-street secured parking, patio and large back yard with fruit trees. Current artist/tenant seeking housemate to share house and studio space. Available immediately. Rent is $875 plus half of utilities. Artist will also rent studio space separately. For more information contact: bldgthirtyseven@gmail.com
A primary objective of the University Heights Arts Open is to provide an affordable event for artists to showcase and sell their works as well as offering a wide range of artistic expression, varied talent and cultural context for visitors .Event fee still only $25.Artists will be featured in the event program (7,500 4-page full color event brochures distributed throughout SD County beginning in August). 10,000+ postcards, posters, event website and will be publicized in citywide media and various local organization websites. Deadline June 30th.Contact Judy Riffle 619.508.4075
Fallbrook Art Center is a hybrid museum and private gallery. The glass exhibition Galaxy of Glass is a show and sale of fine art glass. There will be 2 separate sections to the show: The Gallery Shop showcasing jewelry, functional ware, and lower cost production pieces and The Main Gallery showcasing unique works. Submission Deadline: July 1, 2011, For the prospectus and application please email info@fallbrookartcenter.org or check the website link.
Stuart Burton from the Art Academy on 30 th Street in North Park is teaching Mosaic Classes on Tuesday 6:00-9:00 p.m. Learn a variety of direct mosaic techniques in this exciting, hands-on class. Mosaic is one of the oldest and most enduring art forms, dating back to 5000 BC, when mosaics were constructed out of colored pebbles. Today mosaic artists work with cut ceramic tiles or marble, ceramic dishes and glass. You may create mosaic table tops, boxes, containers, sculpture or stepping stones made of wood, ceramic, cement, metal or terra cotta. Produce 3-4 different projects.
MUSEUMS
The Ordover Gallery at the SD Natural History Museumis pleased to present Among the Giants, August 23–December 31, 2011. The show will feature photography by National Geographic's distinguished photographer Flip Nicklin. This is an exhibition of Nicklin's photographs of whales from throughout the world as featured in his new book "Among the Giants" published this year. The show will also feature additional images from Ralph Lee Hopkins, Paul Nicklen and Abe Ordover. Accompanying the photographs will be a showing of the magnificent whale sculptures by world-famous sculptor Randy Puckett.
The San Diego Museum of Art presents the Summer Salon Series, What Does a City Need every Thursday From June 2 to Sept 1. Watch for Edges Featuring: Rubén Ortiz Torres and My Barbarianon Thurs. August 4, 7 pm Gallery 16. Mark your calendars for Portrait of an Artist as a Young Man: works by Ruben Ortiz-Torres July 30 to Oct 16. Gustav Stickley and the American Arts and Crafts Movement is now open until Sept 11. Visitors who are already familiar with Stickley furniture will be rewarded by a rare opportunity to see some of the finest surviving examples of his work, the majority of which are from private collections. For those less specifically interested in Craftsman design, the exhibition offers a fascinating look at the history of American taste and of the ways in which a philosophy can be used to promote a style.

Until Nov Oceanside Museum of Artpresents Transitions: Works by Françoise Gilot, Known for her earlier relationship with 20th century icon Pablo Picasso, Gilot resided for many years in La Jolla with her husband, polio vaccine pioneer Dr. Jonas Salk. Don't forget their Summer Soire on July 23 which is an annual gala fundraiser for the museum and "Meet the Artist" Marianela de la Hoz on Saturday, July 30 at 2:00 p.m. and hear her discuss the process involved in and the meaning behind her work. The talk is complimentary with museum admission and free for OMA members.
The Museum of Contemporary Art San Diego will open two new exhibitions at its La Jolla location.High Fidelity: Selections from the 1960s and 1970s and Emperor's River: Philipp Scholz Rittermann will be on view through September 5, 2011. We are waiting patiently for Sept 25, 2011, when the Museum will open its most ambitious exhibition to date. Phenomenal: California Light, Space, Surface takes an in-depth look at 13 artists working in Los Angeles in the 1960s and '70s whose perceptual investigations and work with light and innovative materials helped define an era of art making in California. She's a self-styled fashion icon, a trailblazer, and without a doubt the biggest name in burlesque since Gypsy Rose Lee. She's Dita Von Teese. On September 10, 2011, the queen of burlesque will perform at the MCASD 35 th annual gala, Monte Carlo Goes Burlesque.
At the Lux Art Institute, see the work of South African sculptor Claudette Schreuders and the new sculpture she created while in residence at Lux. Kelly Schnorr's delightful ceramic sculpture are also on view in their gift shop for such reasonable prices we couldn't resist.
New Children's Museum has launched the Family Room, an online community expanding on the experience with the Museum providing news, advice, a calendar of events worth considering, a place for kids to talk back and a blog for parents and grandparents to chime in. Look for a poll question each week where you can sound off about what's going on in the world and a monthly Q&A where experts in various fields will discuss topics aimed at helping us as individuals and members of a family. This new online resource is a project of Jane Clifford who serves as writer and moderator. Connect with her directly at jclifford@thinkplaycreate.org,
George Inness in Italy until September 18, 2011 at theTimken Museum of Art will showcase the Italian landscapes of painter George,19th-century landscape painter born in Newburgh, New York, whose work was inspired by old masters, the Hudson River School, the Barbizon school, and, finally, by the theology of Emanuel Swedenborg, whose spiritualism found vivid expression in the work of Inness' maturity. Inness made two trips to Italy (1851-1852 and 1870-1874), where he developed the tonal style of landscape for which he is most renowned. Eleven of Inness' paintings will be shown, including L'Ariccia , which is a part of the Timken's permanent collection.
TRANSITIONS
We got the very sad news this month at Sushi Contemporary Performance and Visual Arts is closing its doors for good for financial reasons. This is certainly marks the passing of an era. They lasted 31 years! Condolences to Indra Gardiner, current president and all the fine artists and supporters of that organization. As a last hurrah, take a look at the slide show from the last exhibition of the fine artist Bob Matheny.
A small update on Robert Pincus, former art critic for the Union Tribune. He is now Grants and Art Writer at Museum of Contemporary Art San Diego, Adjunct Professor, Fine Arts and Art History at University of San Diego and Corresponding Editor at Art in America. Congratulation to Mr. Pincus for going through the door of opportunities beyond UT.
TIDBITS
Specially created for London's Royal Academy Summer Exhibition,Coloring Book by Jeff Koons Hon RA consists of highly reflective stainless steel with a surface decoration of brightly colored swirls, and was unwrapped over the course of several hours which you can view at this video link.
Just for the fun, check out this digital kaleidoscope. Great fun and you can move your curser to make it change and speed it up.
Sent to us by Kim Richards is news of Engine28 temporary website that pops up just for a set of art events and then disappears. it is always fascinating to see what others are doing and it must morph into something else but we am not sure what that will be. They are hoping to address the problem which we certainly experience in SD of "Hey You! critic" when a hapless news journalist ordered by an editor to switch beats overnight and cover the arts because somebody hadn't been planning ahead. We think this sounds rather like the super heroes of journalism, flying in to save the day. Wouldn't we like to have that great team here!
ARTINFO visits Chambers Fine Art Beijing in Caochangdi, China the booming new art district in the capital city. Here's a preview of the latest exhibition "The Way of Chopsticks III" from Song Dong and Yin Xiuzhen which also gives you a little overview of the art scene.

back to top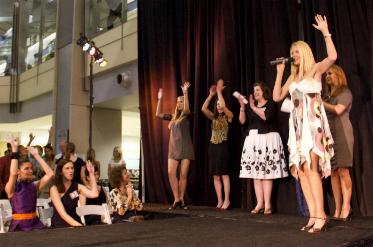 Krystel Tien

, Rana Sampson, Patricia Frischer, Constance White, Jodi Kodesh, Felena Hanson
photo by Boyd and Evans


If you have not done so already, then Art Meets Fashion Video of Runway Show at the SD International Ariport by John Schell is not to be missed.

We are happy to announce the emerging artists have been chosen for this year's San Diego Art Prize 2011 at Art San Diego Contemporary Art Fair. September 1 - 4, 2011 The opening night VIP event is Thursday, September 1 from 7 to 9 pm. At our booth we are featuring Ruben Ortiz-Torres with emerging artist Tristan Shone and Jay Johnson with emerging artist Adam Belt , The fair is held at the Hilton San Diego Bayfront, Hotel, 1 Park Boulevard, 92101. Hours: Fri and Sat, Sept 2/3from noon to 8 pm, Sun, Sept 4 from noon to 5 pm. More info: Ann Berchtold 858.254.3031. If you are interested in volunteering contact patricia@sdvisualarts.net

SDVAN is one of the partners of the Art of Science Learning conference June 14-15 at California Institute of Telecommunications and Information Technology (CALIT2) at UCSD witha discount for early booking. This is part of our push for the DNA of Creativity project.

The American Association of Airport Executives and San Diego International Airport are hosting 9th Annual AAAE Arts in the Airport Workshop during the annual convention in June. The is only one in the world dedicated to art programs in airport facilities and it is here in SD at the same time as our Art Meets Fashion Display and the Americans for the Arts 2011 Annual Conference, June 16-18. Join more than 1,200 arts and community leaders coming together to imagine and plan for a creative future through leadership and innovation in San Diego.

Kira Carrillo Corser's Metaphor and Mystery starts June 18 th from 6 to 9 pm at L Street Fine Art. We are all invited to dress mysteriously so dust off your masks. . More info: Kay Colvin

The Neurosciences Institute - La Jolla, CA on Thursday, June 02, and h osted by: Bronowski Art&Science Forum. Dr. Richard Krauzlis , of the Salk Institute looks at eye movements and Dr. Jack Greenstein, Art History prof at UCSD looks at late medieval and Renaissance art. What they find to discuss together should be fascinating. More info: Ron Newby

Our Art Meets Fashion Honorary Patron Rana Sampson is on the cover of San Diego Women this month. Check out the article on page 21.

The staff and Board of Directors of the Escondido Arts Partnership/Municipal Galleryare thrilled to announce that the EAP/EMG has been chosen to receive a grant from the National Endowment for the Arts in the amount of $10,000. The grant will support the 2011 Art + Science, and the 2011 Recycled Art & Runway exhibitions. Congratulations to them for this wonderful news.

OPPORTUNITIES (click to see a list of all current opportunities listed on SDVAN)

For those of you who missed this first chance, ArtsReadySD (a workshop for emergency preparedness) is offered again as a part of the SDAI Professional Artists Series held on Wed. July 6, 6-9 pm. It is presented by Synergy Art Foundation and San Diego Visual Arts Network and funded by San Diego Regional Disaster Fund, a supporting organization of Arts and Culture Program of the The San Diego Foundation. This one is at the San Diego Art Institute. (1439 El Prado, The House of Charm, Balboa Park , 92101) It is only $10 or $5 for SDAI members. You will get over $75 worth of organizational tools for artists at this workshop. More info: Andrea Rodriguez Chamberlain 619-236-0011

The Art Of Photography 2011 Call for Entries has been extended May 31th. Judge Anne Lyden, Associate Curator of Photography, J. Paul Getty Museum with the show opening Aug 13 Lyceum Theatre Gallery. For info: Steven Churchill : 619.825.5575

Moya Devine tells us that The Sappi organization is offering Ideas the Matter grantso check it out if you are a designer.

Dottie Stanley is looking to share her lovely studio space in La Jolla. 658 square feet, good light, gallery walls and lighting and ample parking. 7602 Fay Ave, 92037. Contact her 858-456-3960 or dottieartist@san.rr.com

Guy Lombardo is making a call for a Comprehensive Group Show at a multi media group venue 57 Degrees ( 1735 Hancock Street, SD 92101) Application until June 14,Show opens June 18. http:// guylombardoblogbot.blogspot.com. 858-863-7842 guy.lombardo@facebook.com

Thursdays on the Coast in Carlsbad, The Experience is the fourth Thursday of the month from March to October and they are making a call for artists to participate.. More info: Cheryl Ehlers 760-519-1551

Beth King is offering a $500 - $800 Artist Studio in beautiful Santa Ysabel. Two rooms for one or two artists, separate entrance, access to the bathroom, kitchen, and laundry, as well as an outside sink and work area. The house is on a ranch, with many acres of hills studded with oak trees to explore, and a river running through it. More info: 760-765-2055. bethkingsculpture@sbcglobal.net

MUSEUMS

Oceanside Museum of Art presents The Virgin's Dream: Beatrice Wood Drawings and Ceramics from May 21 - Sept 11, "The "Mama of Dada" comes to OMA with an exhibition featuring the drawings, figurative sculpture and vessels of renowned California ceramic artist Beatrice Wood (1893-1998), the only woman artist to be associated with the Dadist group in New York during the 1920s. Transitions: Works by Françoise Gilot opens on June 12 for those Interested in mythology, symbolism, and the power of memory. Gilot uses abstract organic shapes to reflect her interest in the formal arrangements of lines and planes, tone-color coordination, and her respect for simplicity. Also known for her earlier relationship with 20th century icon Pablo Picasso, Gilot resided for many years in La Jolla with her husband, polio vaccine pioneer Dr. Jonas Salk. This exhibition is curated by Mel Yoakum, Ph.D.

With more than 300,000 military personnel and family members living in San Diego County, The Museum of Contemporary Art San Diego is committing to serving families of service men and women by offering them free year-round admission. Thanks to support from the Contemporary and International Level Collectors, MCASD has added 87 works to its collection-works that were collectively purchased for approximately $3 million and that today are valued at over $12.6 million. Some of these acquisitions are now on view at MCASD Downtown as part of the exhibition Prospect 2011, through July 10, 2011 and include Ai Weiwei's sculpture series, Marble Chair. The Museum conducted a 24-hour protest to call for the release of detained Chinese artist Ai Weiwei on May 19. MCASD staff, members, and community leaders occupied two traditionally styled Chinese chairs for one-hour periods. Internationally acclaimed Chinese artist Ai Weiwei was detained April 3 at the Beijing airport as he attempted to board a flight to Hong Kong. MCASD has stood alongside members of the international art community in voicing its disapproval and encouraging action from members, the community and the government to call for the artist's release.

TRANSITIONS

It appears that Derrick Cartwright (xdirector of SDMA)is leaving his job at the Seattle Art Museum but staying in Seattle. Follow the story in the Daily Nag pages of the SDVAN Picked RAW Peeled Blog.

Larry Stein is moving Warp9Imaging from Ray Street to Tierrasanta just off the 15 and Clairmont Mesa Blvd. He is still working by appointment. The phone number remains the same, 619-677-2118 and the email remains larry@w9imaging.com plus he will make deliveries for two of more works at no charge with in the central SD area.

TIDBITS

Thanks to Diana Jeon for sending us this link to a very interesting short article about Sebastian Smee,
Pulitzer winner for art criticism defining it "making a value judgment on what they see."

Know any enterprising women looking for part-time work or meeting space in central San Diego? Just a quick note to let you know about Hera Hub, a collaborative office space designed specifically for female entrepreneurs. Both work and meeting space are FREE while we're in our temporary location ( 3422 Tripp Court , San Diego , 92121, just north of the 805/5 merge). Open 10am-5pm. For more info:. Felena Hanson , 619.889.7852 facebook.com/herahub


President's Committee Makes Strongest Case Ever for Arts Education is the title of a Huffington Post article by John M. Eger. It looks like we are getting confirmation from the top down that the arts will be integrated back into the school system as long as he is in charge.

Leo Bleicher sent us info about the Art For Science Sake contest open until July 31 for entries and until August 7 for voiting. Join in the fun and take a few minutes to see some of the entries in this Los Alamos Science and Math-based Art Contest.

If you an artist are planning a trip to the Istanbul Biennial, there is a great way to join in. For only $10 a day you can have a desk in the 5533 Project. From the beginning of June until the end of October, 2011, Working Table Program provides a working space to conduct work and research. hopefully resulting in daily interaction and exchange and even a chance to organize presentations, talks, meeting and workshops. 5533 will also offer assistance and information about opportunities to be found in the city, access to the 5533's artist,curator, and institution archives as well as a connection to free Internet. Desks can also be rented weekly or monthly at more reduced rates. For more info: Nancy Atakan

RAW April 2011




Felena Hanson, FOCUS and Patricia Frischer, SDVAN, Jamex de la Torre, Ann Bertchtold, Julio Orozco, Patricia Frischer, Erika Torri, Adam Belt.
Art Meets Fashion is Big, BIG, BIG - make a $125 donation to view the VIP event at the SD Airport on April 28. info@sdvisualarts.net . Rana Sampson, First Lady of San Diego - Art Meets Fashion VIP Honorary Patron and Jodi Kadesh, NBC San Diego Traffic & Weather Anchor - Art Meets Fashion Master of Ceremonies
Friday, May 6 AMF Team opening receptions at NTC Promenade, 2640 Historic Decatur Road, 5:00-8:00 p.m.
Jean Isaacs San Diego Dance Theater performance
AMF Teams Fashion show
Our Open Catwalk is very simple...no need to sign up before or even RSVP. Just show up on May 6 in your local designer clothes and fill out a card with name and designer and our MC for the night Jessica Johnson ( Jeans4Justice ) will announce you to the assembled masses. This will happen after the dance performance and the more formal but still casual team fashion show. Shy? Ask a friend to wear your clothes. Come in a group and you can all perform together. Questions info@sdvisualarts.net

NTC Exhibitions all opening on Friday May 6 from 5 to 8 pm
April-May in downtown San Diego
Continuing in North Park
San Diego Visual Arts Network and Zhibit.org are happy to sponsor an Art Meets Fashion Fringe event at L Street Fine Art opening on Friday, May 29 from 6-9 pm. Kay Colvin, director of L Street Gallery, is juror for this competition. Teen category winner for this competition are announced: 1st prize N-GOM Teen Producers Project with Dulce Martinez, Paloma Arias, and Trevor Seines is a production company composed of at-risk teens organized by the non-profit organization, Media Arts Center San Diego. Two of their works will be on display. 2nd place prize Dagmar Bjork, Model-turned-entrepreneur/iconic Designer will be present. Bonus trunk show: Playing With Fire includes glass jewelry by Lisa Van Herik, Michelle Kurtis Cole, Kaarin Vaughn and Patricia Frischer
Irinia Negulescu and Scott Wright will be showing their work at Colosseum Fine Arts(7946 Ivanhoe Ave.La Jolla 92037) on Sat., May 7 · 6 – 9 pm and we are delighted to say that Floyd Elmore is donating 5% of all sales on the night to benefit SDVAN. We are delighted to support galleries that support our mission to improve the clarity, accuracy and sophistication of discourse about San Diego's artistic and cultural life. If you come on the night you will gowns by Anjela Piccard and a solo ballet performance by TraeLee Costello. More info: 619.795.3704
Jean Isaacs San Diego Dance Theater's' annual dance concert is all about collaboration with SDSU graduate design students in lighting, costume and set design and with the San Diego Visual Arts Network to incorporate the work of Zen Brush Painter Rosemary KimBal. The collaboration will preview as part of SDVAN's Art Meets Fashion on May 6, 5-8. at NTC Friday Night Liberty. Artistic Director Jean Isaacs will re-set a 2004 piece entitled "Hunters" featuring music by Steve Reich and a new work "Gatherers" both which incorporates KimBal's fabric designs. Isaacs will also be premiering a tango commissioned by Orchestra Nova San Diego featuring Blythe Barton and Trystan Loucado. This year the complete dance show also features new works by local emerging choreographers Blythe Barton, Anne Gehman, Minaqua McPherson, Anjanette Maraya Ramey, and Stephanie Smith. May 14, 8 pm & Sun. May 15 th, 5 pm at the Don Powell Theatre, SDSU, Performing Arts Plaza, SD More info: Jean Isaacs 619.225.1803
Christine Forester spoke to ArtPulse TV about the value and importance of the arts as the portal through which societies nurture creativity and innovation. Ms. Forester is one of the most influential fundraisers for the Democratic Party in the country. She has served on the boards of the Museum of Photographic Arts and the Board of Trustees for the Museum of Contemporary Art, and is a published author and illustrator. In 2010 she was appointed to the Presidents Committee on the Arts and Humanities.
Kinsee Moran writes about the need for a more open attitude to provocative art in her recent article in City Beat, Art With An Edge.. We must not forget however, that art is for everyone and not just for those who want to be provoked.
Andrew Printer who is relatively new to SD but is hitting the ground running with 2837 University Project ,a neighborhood wide (North Park and surrounding areas i.e. South Park, University Heights, City Heights, Normal Heights, Hillcrest) event with two current needs: a. Teachers with interested students(age 8-14). They provide free package of colored pencils/crayons/art paper for parent/kids to make portraits of each other for eventual exhibition. b. A possible source of funding for a small amount ($100-$200) that will be added to the $25 from Artist & Craftsman to pay for non returnable art material for each participating child (approx.20). Contact Andrew for more info.
Attention all DNA of Creativity followers, it is not too early to book your place at the one and half day Art of Science conference June 14-15 at California Institute of Telecommunications and Information Technology (CALIT2) at UCSD.
Dollars and Sense 2010:
SD investment in arts and culture $6.4 million.
An economic impact of $173 million, including $98.8 million in salaries supporting more than 7,000 jobs.
4.9 million people had attended arts events
1,448,400 visitors participate in cultural activities with a longer stay (3.8 vs. 1.8 days) and spent more per trip ($561 vs. $235).
4,417 visits to schools and community organizations, reaching 514,095 people.
4,290 arts-related businesses ( for profit and not-for-profit) employing 22,727 people, placing SD ninth nationally
"While there is no doubt that arts and culture organizations have been affected by the national economic crisis, the impact of these organizations remains steady, which in this economy, is a huge success," says Mayor Sanders. Sanders said the city's public art program, which had been suspended, will be reinstated "once the economy picks up." He didn't foresee cuts in 2011 to the arts commission's programs.
OPPORTUNITIES (click to see a list of all current opportunities listed on SDVAN)
Mine the Chatter is a show juried by Kevin Freitas at the California Center for the Arts, Escondido. Open to all media and mediums from June 10 - July 1, 2011 Reception: Sat. June 11th, 5:30 - 8:00 pm. click here for the printable prospectus
The San Diego Art Department and the California Art Club invite artists to participate in the 3rd Annual Plein Air North Park competition and exhibition at the San Diego Art Department. An artist may paint any subject or scene he/she chooses, as long as it is within the boundaries of North Park city limits (a map will be provided at registration). Paintings will be judged on Tuesday May 17 to be exhibited from May 21st-June 11. More info: Lesley Anderson 619.299.4278
Visions Art Museum is announcing its call for the themed Interpretations 2011 Juried Biennial Visions Members Exhibit. Jurors this year are Jamie Fingal is an award-winning, mixed-media fiber artist and author. Catherine Gleason, Associate Director of San Diego State University's Downtown Gallery and Rob Sidner is the Director of Mingei International Museum. Online entries will be accepted June 1, 2011 through July 16, 2011. You can get more info and check at the entry form from Beth Smith 619.546.4872
Interested in Public art, then tune into the Public Art Network (PAN) Blog Salon to join in as public art professionals from across the country discuss all-things public art. In particular, they will be highlighting topics of the upcoming Public Art Preconference, "Innovations in Infrastucture," June 15-16, in San Diego.

Americans for the Arts Public Art Network (PAN) is pleased to offer scholarships to artists to participate in the 2011 Americans for the Arts Public Art Preconference Artist Professional Development Track, June 15-16, in San Diego. The Track is for artists who have basic familiarity with public art and have applied for, but may not have been awarded, a public art commission. Topics covered will include: applications and how to present your work, collaboration with design teams and community, budgets, contracts, fabrication, and working with or without an organizational partner. Artists seeking to create art in the public realm are encouraged to apply. Public Art Preconference Full Schedule:
MUSEUMS
Watch for Bold Expressions - African American Quilts which is the first ever museum exhibition on quilts from Chicago collector Corrine Riley opening Sun, May 15 at the Mingei International Museum
The San Diego Museum of Art – Yes, Art is Alive and in bloom again for Arts Alive on their 30 th anniversary. April 28 to May 1.
If you missed the panel discussion on Italo Scanga at the Oceanside Museum of Artmoderated by Doug Simay then there is a wonderful chance to hear Robert Pincus and Ernest Silva discussing the late artist's work with Maureen Cavanaugh and produced by Angela Carone on KPBS These Days.Thanks to all of them for keeping us alert to this local talent whose art will also be on display at the Athenaeum in June.
Lux Art Institute shows Rick Stich until May 18. An avid surfer, Stich finds his inspiration in the color, reflection and movement of water and in its interplay with light and landscape. Maybe he should check out Reflection and Flow, which is part of Art Meet Fashion event with a similar theme.
California Center for the Arts, Escondido – Look at the call for artists in our Opportunity section!
The San Diego History Center Fall/Winter 2011 TREND REPORT on Thurs., May 19th From the runways of New York, London, Milan, and Paris, see concise and comprehensive coverage of apparel, accessories, color, and fabric trends. See insider views from industry leaders, with commentary by MaryLou Luther .Panel discussion on the importance of social media and PR, and how to grow a business using social media outlets with Rebekah Sager, writer for San Diego Magazine, Danielle Gano, CEO of Elle Communications and Moderator, Malgorzata Slocumb, Owner and head designer, Malgorzata Couture. FGI Members, $15, Guests, $25, Students, $10 Includes TREND materials, appetizers, wine, and champagne. RSVP aheadinc@cox.net by May 15th
Congratulations to the
New Children's Museum
Birthday Bash
on Sat, May 710am–12pm for Members Only, 12pm–1pm, School of Rock and 1pm–3pm, Rockola
Timken Museum of Art is extending the Robert Wilson Video Portraits Exhibition through May 22, 2011. Three of the portraits are displayed on 65-inch high-definition plasma monitors. The fourth is projected on the west exterior wall of the museum after sunset. The portraits depict recognizable personalities from the world of performing arts including Robert Downey, Jr., Mikhail Baryshnikov, Jeanne Moreau and Winona Ryder who take on an aspect of their professional lives by being captured in character—but in character inspired by great masterpieces of European art. Admission is free.
TRANSITIONS
Baby Sebastian David Banda (6lbs 12oz) joins his new mother Louisa Garcia on April 4 th and we send congratulations to the family. Louisa has been a Picked RAW Peeled writer for SDVAN and has written more than 25 articles for us over the years. She will be moving with her husband and baby boy to the Great Lakes and we wish them the very best on their new adventure. You will be missed, Louisa!
West Coast Sculptor John McCracken passes away at age 76. McCracken and lived in New York and Santa Fe New Mexico for the last years. From his New York times OB, "…. he differed from the Minimalists — and from the Los Angeles "light and space" and "finish fetish" artists with whom his work was also affiliated — in his belief in U.F.O.s, extra-terrestrials and time-travel."
TIDBITS
Luis De Jesus LA Gallery is holding an exhibition of new paintings by Gail Roberts, titled "Entanglement", on view through May 28, 2011. Roberts is a SD Art Prize recipient.
We thoroughly enjoyed seeing the video made by Ollie Bell of Larry Bell during his recent major show in Nimes, France. It is charmingly made and shows off the work beautifully. One of the best artist documentaries we have seen reminds of us Mr. Bell's visit to SD at last year's Art San Diego Fair at the Hilton Bayfront.
The House Appropriations Committee publicly released the final budget agreement for FY 2011 negotiated by President Obama with House and Senate leaders, which includes $155 million in funding for the National Endowment for the Arts (NEA). This represents a cut of $12.5 million from the FY 2010 enacted level of $167.5 million, which is significantly better than the previous House-approved level of $124.4 million. Also included in this bill is $25.5 million in funding for the Arts in Education programs at the U.S. Department of Education, which had been zeroed-out in a previous continuing resolution. This compromise legislation is set to go to the House floor before moving on to the Senate for final approval.
If you missed Bill Cunningham New York movie at the Landmark Ken than watch for it on DVD, online or another art cinema. Not to be missed. "He is obsessively interested in only one thing—the pictures he takes that document the way people dress." But our favorite line was, "If you seek beauty, you will find beauty."
An index of creative and innovative education is on the cards as John Eager in his Huffington Post titled Measuring Creativity in California and the Nation reports on steps to legislate creativity. It was only a matter of time! Senator Curren Price of the California legislature wants an Advisory Committee on Creative and Innovative Education because, he says, the state schools aren't teaching kids to be creative.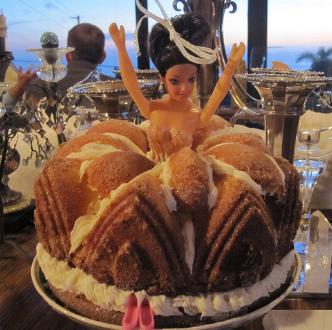 Art Meets Fashion

delivery party featured this doll cake. A mouthfull was had by all.

We are so pleased to remind you of the SD Art Prize 2010 exhibition of Einar and Jamex de la Torre and emerging artist Julio Orozco from April 2 to May 7, 2011. The opening reception is April 1 from 6:30 – 8:30 PM and is free! Athenaeum Music & Arts Library (1008 Wall St, La Jolla, 92037). More info: Jennifer Pyun 858.454.5872 or read the press release Athenaeum Exhibition to Showcase Works of SD Art Prize Winners, March 2010.

The Art Meets Fashion Team Group Exhibition opens to the public at the San Diego International Airporton April 2 and will be on view until September, 2011 at Terminal 2, West baggage claim.

We are excited to preview the Art Meets Fashion Video promo on the giant screen along with the Shay Vision Movie on Fri, April 8 from 6:30 to10:30;at Birch North Park Theatre (2891 University Ave., North Park.) Tickets $10, $1 of every ticket sale will be donated to the SDVAN. Hurrah!

Rosemary KimBal is demonstrating her Giant Zen Brush Painting technique with a chance for all the visitors to the 2011 Mission Federal ArtWalk ( Little Italy, SD, 92101) to join in on Sat April 30, 11 am to 5 pm. Remember the artwalk is both Sat, April 30 and Sun May 1, 11 am to 6 pm and Rosemary's demonstration is an Art Meets Fashion Fringe Event. More info: info@missionfederalartwalk.org

Becky Guttin is giving us a special exhibition: "Above us only sky…" The continues until April 13 at the San Diego Mesa College Art Gallery ( 7250 Mesa College Drive, D101, SD 9211) for more info: 619.388.2829

The San Diego Fine Art Society annual Art Award is open for nomination . These awards honor the achievements of individuals, organizations and programs committed to enriching our community through the arts. There are five categories Exhibition Museum , Exhibition Gallery, Artist, Patron, and People's Choice: They request nominations by April 9 th.

Katherine Sweetman is launching a new venture called SD Art World Insider with David White from Agitprop.. They are taking various art patrons and professionals out of their comfort zones to see art in new spaces in our county.

Double trouble at the NTC Foundation. The have tax problems, which means rents are going up for non-profit arts organizations because of a strategy to create profit corporations to own the buildings to get certain funding, but now there is a price to pay. They also have censored some nudes at the Martha Swift Gallery and that is never an easy thing to do in the eyes of the art community. That particular space is in a public location with no doors so impossible to close off to the eyes of the very young. We hope that the city recognizes the value of this resource for SD and cuts them a break.

Interested in censorship then Under Wraps: Controversy and Art in Public Spaces – a panel discussion will be held Wed. March 30 at 6:30 at the Expressive Arts Institute adjacent to the Martha Swift Gallery at the NTC Promenade. Panel inlcude Ann Berchtold, Kinsee Moran. Alan Ziter and Robert Pincus amongst others and is introduced by Kevin Freitas and moderated by Katherine Sweetman. .More info 619.337.4891 or 619.239.1713 ajgsandiego@att.net


Prodigy School of Arts ( 5725 La Jolla Blvd. La Jolla, 92036) announces their 2nd Paint Dancing event on April 22 from 7-9 pm. You are invited to bring your IPOD, share your favorite tunes and dance and paint for $15. Neither painting nor dancing skills are required. More info and RSVP: Aimee Dupuis 858.366.8902

For DNA or Creativity fans: Bronowski Art & Science Forum with Professors Francesca Polletta, Professor of Sociology UC Irvine and Grant Kester, Associate Professor of Art History and Chair of the Visual Arts Department, UC San Diego. "Are Two Heads Better than One? Collaboration in Art and Politics" These two scholars examine the current status of collaboration across the arts and the social sciences. "What we're interested in are efforts to make political decisions and art collaboratively rather than individually, in the case of art, or hierarchically, in the case of politics. Is Democratic Art Possible? Is Democratic Politics Practical?" April 21 at 7 pm, Free tickets are required for admittance. Contact Ron Newby 858.442.3030


OPPORTUNITIES (click to see a list of all current opportunities listed on SDVAN)

Last year the City of San Diego declared September of each year as "Arts Month San Diego". Arts Month San Diego(AMSD) returns again in September 2011 with a broader promotional campaign and broader area spotlighting the arts in San Diego. Participation is open to all non-profit and for-profit visual and performing arts organizations that are located in the Greater San Diego / Tijuana region. There is a $100 annual fee to be listed on the website, in press releases, print and social media channels, and an opportunity to list on the Arts PASS. This contribution will go to support the ongoing development and hosting of the web site as well as to help with the design of certain collateral elements. SDVAN is the fiscal agent for this project but the contribution is not tax deductible as you are getting value for this fee. For more info: participate@artsmonthsd.com

Already that time of year again for The Art of Photography . This year's judge is the impressive Anne Lyden, the Associate Curator of Photography at the J. Paul Getty Museum in LA. Submit your best photos by May 17. For info: Steven Churchill : 619.825.5575

Cathy Breslaw is the juror for the Women's Caucus of the Arts San Diego on-line exhibition deadline April 20. Accepted Entries will appear at www.zhibit.org/sdwcajuriedshow Exhibition Awards: Best in Show - Most representing the theme: to be the featured artist for 2 months on 2 websites, WCA San Diego Chapter site and our online juried show site1st Place - $100, 2nd Place - $50, 3rd Place - $25 Prospectus, Registration Form or Questions Laura 619/272-3231

Art San Diego Fair has made a request for proposals for experimental art pieces to be shown during Art San Diego Contemporary Art Fair, Sept 1- 4. For more info: Susan Myrland 619.316.6022 and look at the "Art Labs Prospectus" under Exhibitors section of their website. This is a great opportunity to be seen by a wider audience.

Since 1997, The North Park Festival of Arts draws over 25,000 people to North Park and showcases a wide variety of artistic expressions including dance, music, hands‐on art activities and demonstrations, culinary creations, unique arts and craft vendors and fine arts exhibitors. Artists of all mediums are encouraged to participate in this juried event. Applications and registration information can be found on their website.

Pulse Gallery is the commercial gallery of San Diego Fine Art Society and there is a gallery intern position available with flexible hours. .Contact April Game 858 205-4354

Fallbrook Art Center is pleased to announce its second open juried exhibition All's Fair in Art... Again. Open to all artists at least 18 years of age. All media and disciplines accepted. For more info: Mary Perhacs 760 728 1414

Manuelita Brown is looking for interns to help with admin and her cast sculpture figuative art works. Contact 760.436.0362 Manuelita

MUSEUMS

Mankeki Neko: Japan's Beckoning Cats — From Talisman to Pop Icon opens at the Mingei International Museum on March 14. Hello, Kitty! 155 maneki neko cats were given to the Museum by collector Billie Moffitt. Made in the 19th and 20th centuries from clay, wood, metal, ceramic or papier mâché, each cat is unique.

The San Diego Museum of Art i s digging deep and turning the soil over to give the annual Art Alive event full glory in its 30 th year. On Thur. April 28 from 7-11 p.m the $200-250 donation there is Cuisine and specialty cocktails from 25 of San Diego's finest restaurants, Music and dancing in the big tent. Flowers After Hours is a posh party for San Diego's late night bloomers on Fri, April 29 7:00-10:00 p.m. For only $100, enter a raffle where the winner takes home their choice of any silent auction item- before the bidding even begins! Only 300 Masterpiece Tickets will be sold. Lecture and Demonstration by René van Rems is on Fri, April 29 11:00 a.m. -12:30 p.m.

We can't wait to see the Oceanside Museum of Art Looking for a Miracle? Italo Scanga exhibition which opens on April 2 from 5 to 7 pm. Scanga is a deserving local favorite who passed away in 2001 and is much missed. We are so happy to see this retrospective being mounted of his sculptures.

Join Lux Art Institute in welcoming the next artist-in-residence of the 2010/2011 Season, Santa Barbara-based painter, Rick Stich. From March 25 through April 23, Stich will be living at Lux while working on a large-scale, water-inspired painting and a series of studies. Visitors can "see art happen" while he is in-studio and view numerous examples of his vivid creations. On exhibit until May 18.

Museum of Photographic Arts is offering on April 8, 2:00 pm museum docents tour to engage people with mild-to-moderate Alzheimer's and an accompanying family member or friend in discussions about the artwork to stimulate visual and verbal abilities, and to spark memory. The do this every second Friday of each month from 2:00-3:00 at an exceptional San Diego museum for a unique docent-led discussion and tour. Museum admission and tour are free to participants. The tour is limited to 8 pairs (16 participants total). Pre-registration is required. Please call Lisa Snyder at the Shiley-Marcos Alzheimer's Disease Research Center at 858. 622.5800 to register for the tour.

California Center for the Arts, Escondido has put loads of new items in their very imaginative gift store. Some of them are especially complimentary to the Patricia Patterson exhibition Here and There, Back and Forth, which is not to be missed. Plus now you can get Valentine Viannay ( Art Meets Fashion) items such as kitchen towels and sumptuous scarves and beautifully crafted Macbook and Kindle sleeves. Valentine's designs are functional fine art with a clever twist ($10.00 - $150)

New Children's Museum announces the expansion of their popular "Check out the New Children's Museum" program. This innovative partnership with San Diego County Library and San Diego Public Library allows families to check out a circulating membership card for the museum just as they would a book. For the 10-day period in which the family holds the card, they receive all the benefits of membership including free admission to the museum, discounts at the cafe, on classes, camps, and parking. That's a saving of a regular family membership beginning at $85.

Timken Museum of Art presents Robert Wilson Video Portraits from Feb 25 - May 15 displaying three of the portraits on 65-inch high-definition plasma monitors. The fourth is projected on the west exterior wall of the museum after sunset. The portraits depict recognizable personalities from the world of performing arts including Robert Downey, Jr., Mikhail Baryshnikov, Jeanne Moreau and Winona Ryder who take on an aspect of their professional lives by being captured in character—but in character inspired by great masterpieces of European art. Art at Sunset Gallery Talk March 3, Thurs., 6:00 p.m. with Dr. John Wilson, Executive Director, Timken Museum of Art. Art in the Afternoon Gallery Talk March 10, Thurs, 12:30 p.m. with Robert Pincus, PhD., Art Critic, Art. Free admission; reservations required. More info: 619.239.5548 info@timkenmuseum.org

TRANSITIONS

After five amazing and productive years at the MCASD Lucia Sanroman is leaving to pursue an independent curator career. We will miss her collaborations and hope she stays local. .

TIDBITS

This is compulsive reading for the same reason we all like to stop and look at an accident. The 10 Best Abused Artworks Ever was compiled by ArtInfo. If your Warhol Mao silkscreen is shot by Dennis Hopper and those shots circled added to by Warhol it is now worth $302,000.

Huffington Post writers are calling for a strike as they are not paid. Similarly, Katherine Sweetman resigned as a writer for the UT when Robert Pincus was fired and she was not offered pay. Is the world awakening to some of the injustice of this issue? We would like to point up the difference between writing for a not-for-profit charity like SDVAN and the obviously very profitable Huffington Post, which was just sold to AOL for $315 million. Just like at the UT, the strike was posted and then withdrawn from the site.


John M. Eger, Director, The Creative Economy Initiative, SDSU, is now addressing the issue of The Changing Role of Museums as Partners in Education and we have to admit we would miss these missives on the Huffington Post if John went on strike.

Charles Bronson has some of his copper art in movie Refuge from the Storm starring Michael Madsen. Also look for him as an extra in the artist studio scene when the movie is release on Nov 11….that is 11.11.11.

China is now ranked number one in the world art auction markets. Beijing, Hong Kong and Shanghai are replacing New York and London and Paris is in fourth place. Plus four of the top 10 selling artists are now Chinese. This news was reported in Art Price.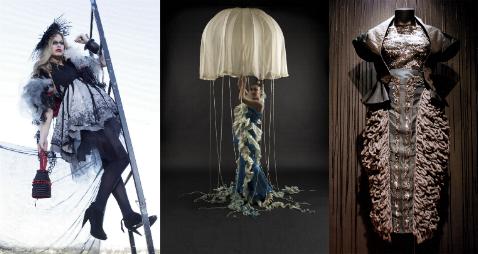 Fashion Designers:April Cromer (AMF team
Elevation
photo Aurelia d'Amore),
Elina Sheripova (AMF team
Transformation/Evolution photo Henry Young),
Osbaldo Ahumada (AMF team La Femme Noir photo Susan Lazear
You don't have to fly away at theSan Diego International Airport to see the new SDVAN Art Meets Fashion display opening on March 26 at Terminal Two Baggage Claim. This show in 6 display cases will give you a good taste of the 11 exhibitions for the participating teams held in three hubs NTC Promenade at Liberty Station, Downtown and North Park. Mark your calendar for the public launch of this event on Fri, May 6 at the NTC and for a few special VIP's at the fashion show at the airport. But the display is up until September so watch for it this side of security…no pat down necessary.
Mark your diaries now for the Shay Vision Movie on Fri, April 8 from 6:30 to 10:30. This evening supports the arts through film by showing four short films about the SD arts community and a feature documentary on the life and art of Shay Davis. At 6:30-7:30 there is a Sambazon cocktail hour, from 8 -9:15 film intro and viewing, and 9:15-10:30 an after party at .the Birch North Park Theatre, ( 2891 University Ave., North Park). Tickets can be purchased at www.shayvisionmovie.com and we are pleased to announce that $1 of every ticket sale will be donated to the San Diego Visual Arts Network.
A new white paper Art Education and the Innovative Economy by John M. Eger, Lionel Van Deerlin Endowed Chair of Communication and Public Policy at the School of Journalism and Media Studies, Director, The Creative Economy Initiative at San Diego State University is now available at Amazon. This document makes the case for an art infused curriculum to provide new thinking skills to assure innovative workers so we can compete in the new global economy. Eger often publishes his view on the Huffington Post. One of these is posted on the new DNA of Creativity blog site, (Profesor John Eger is gathering STEAM) compiled by Kaz Maslanka for SDVAN's. future Art and Science project.
Becky Guttin is giving us a special exhibition: "Above us only sky…"opening onThu, Mar 10, 4.30 - 7pm.with an Artist talk at 7 pm following reception in G101. The show continues until April 13 at the San Diego Mesa College Art Gallery ( 7250 Mesa College Drive, D101, SD 9211). We can't wait to see this show as her piece at the Cannon Gallery juried show was outstanding. For more info: 619.388.2829
FIG Feminist Image Group)presents: What Women Want,at the Lyceum Theatre (Horton Plaza) March 16 - April 17, with an Artist Reception: Fri., April 1, 6-8pm and Panel Discussion: Sun, April 10, 4-5pm, moderated by: Robert Pincus. Both events free and open to the public. Some of the artists included are Irene Abraham, Jeanne Dunn, Michele Guieu, Daphne Hill, Lori Lipsman, Marcela Villaseñor and Anna Zappoli. Topics at the panel will include the place of women in the local arts scene, what motivates women artists, and the how politics and gender are linked in current arts practices.
Congratulations to Diana Carey artist for completing a video about her art practices. We would like to see many more local artists making digital videos to inform the public of their work.
Exquisite Corpse: Femme Fatale on Fri, Mar 4 from 6-9 pm at Women Museum of California presents four garments (articles of historical clothing from the collection) + four Artists (Linda Churchill, Leah Intravaia Younker, Lynn Schuette and Cindy Zimmerman) + one Curator (Carol McCusker), The artists have an opportunity to work with the Surrealist's concept of the Exquisite Corpse in a contemporary format. The result is a thoughtful educational experience that examines how "clothing makes the woman" in more ways than one. Show continues until Sat, Apr 2.
San Diego Foundation is conducting a comprehensive survey of San Diego County professional artists. The information they learn from you will be used to inform the development of a new individual artist grant program to be launched later this year. The online survey only takes 10 minutes to complete. The survey closes on Mon, Feb 28, If you know of other San Diego County-based professional artists who you think should participate in this survey, please feel free to forward this. For more info: Felicia, Director of Arts and Culture
Two resources for Art Consultants passed our desk this month. Dana Springs turned us on to Lynn Basa through the Chicago Art Collectors website where she posted an article Art Consultants: Seven Secrets Artists Should Know . Barbara Markoff's book Becoming A Corporate Art Consultant is good bedside reading by our very own local consultant. Contact her at bmarkoff@mac.com to get a copy of this "how to" book. If you are instead, interested in artists agents (they have a small number of artists on their books and represent the artists…consultants have a large number of artists on their books and they represent the buyers) then contact Patricia Frischer and take her Artist Agent training course.
Through March 11, choose your favorite piece of artwork for the 2011 Mission Federal ArtWalk Festival T-Shirt. You may vote once every 24 hours.
Yes, two "that time of year again" events. Panache Art Auction – Fundraiser for the Escondido Municipal Gallery/ Escondido Arts Partnership. Book early for better prices and see the Auction Preview: March 12th, 5:30 - 8:00pm with the actual auction at the Panache Event on March 26th. Cornerstone of auction includes original pieces by Niki de Saint Phalle. For more info: Wendy 760.480.4101
And
Morning Glory Jazz Brunch, where you see who wins in the Frog Race on April 16 starting at 10 am at St. Madeleine Sophie's Center. More info Karen Amoroso 619.442.5129
We have news of the schedule of this year's Kettner Nights always on Friday, March 11 th, April 13t, July 8 th, Sept 9 th and Nov 11 th. For more information on these Little Italy North events, please call Meyer Fine Art 619.358.9512. And bravo to Perry for his stunning Howard Hodgkin show and to the Jet Gallery for the Ron Miriello exhibition and those 50 fabulous globes.
OPPORTUNITIES (click to see a list of all current opportunities listed on SDVAN)
The 6th Annual ArtWalk on the Bay festival takes place September 10 & 11. ArtWalk on the Bay applications are available here. Plus Art and Elegance returns to the Westgate Hotel on Fri, Mar 18 from 6 -8 where Mission Federal ArtWalk in Little Italy and the hotel have again partnered to turn the hotel's Versailles Ballroom into an art gallery for a few hours where guests can view, buy and interact with many of the participating artists and join in a silent auction for to benefit art education programs by ARTREACH Tickets available on line for $32 plus convenience fee.
We are so impressed with the art in Fallbrook. They have continued to expand and improve their services. Now available are the Arts Alliance, the Art Center, Art in Public Places(now looking for volunteers to expand this program), the Brandon Gallery and the School of the Arts. All of them are divisions of Fallbrook Arts. More info: Mary Perhacs 760.731.9584
Artist Luis Ituarte has opened his new studio at Mariposa, a new artist's space across the street from La Casa del Tunel: Art Center in La Colonia Federal Tijuana, Mexico. There are more, affordable artists' spaces available at Mariposa so contact Luis for more info.
Learn how to create Artist Trading Cards (ATC's) and join the worldwide phenomenon of trading and collecting art by artists near and far. ATC's are original works of art limited to a 2.5" x 3.5" size and also can include your current contact info to create a unique business card for yourself. No prior art experience needed, all levels welcome! All Materials included. Join instructor Carla Christensen on Mar 6 from 11-2pm for the workshop at San Diego Art Department. More info Andrea Chamberlin 619-299-4278. Also watch for ATC workshops at Prodigy Arts. Contact prodigyarts@me.com 858.366.890
This is a temporary Management Position (Feb. 1 – June 30, which may be longer pending funding) at the Escondido Municipal Gallery. Contact Wendy Wilson for details.
Larry Caveney is making this Artist Call to older white and pasting type of gentlemen. Go to your basement. Strip down to your underwear. Stand on a round carpet. Face video camera. Dance to your favorite tune. Send video to Grown Man Naked Projects ( 4141 Alabama Street #4, SD, 92104)

Front Porch Gallery is pleased to invite artists 18 and over and living in the U.S. to submit artworks produced post 2008 to be considered for an upcoming exhibition Art of the Book. There is no fee for submission. The exhibition is to be organized by Steven Nossan, Gallery Director and Julie Weaverling, Assistant Director. Approximately thirty works will be chosen for display in the gallery .Check out all the details. Book Arts Prospectus or contact Julie Weaverling 760.795.6120
MUSEUMS
Your can now see a video of the fashion show from the Zandra Rhodes exhibition at the Mingei International Museum. The show is more dramatic than the fashion show which was a fundraiser, so don't miss seeing the exhibition here in SD through April 3. .
Life and Truth: French Landscapes from Corot to Monet has started at The San Diego Museum of Artand will show until July 10. Reviewing the Paris Salon of 1868, the novelist and critic Émile Zola pronounced classical landscape painting dead, "murdered by life and truth." This, for Zola, was not a lament but rather a celebration. In place of carefully composed traditional landscapes, Zola celebrated the rise of a new kind school of landscape painting. The key figures in this development were Camille Corot and the Barbizon School, a group of painters working in the Forest of Fontainebleau.
Have you ever wondered how the SDMA gets it's funding? Of course there is the basic membership which is vital. But The San Diego Museum of Art not only has committees that you can join for low fees to get extra benefits in particular areas like Latin America, Contemporary, Indian and Asian art, even a North and East County committee and an Artists Guild, but there is a higher level of donation called the Circle with various amounts giving different benefit. They now also have the Gallery for younger collectors.Corporate partners give sponsorship and government funding is vital as are foundation grants. Bequests, Charitable Gift Annuities, and Charitable Remainder Trusts and actual gifts of art all play a part. They have worked hard to make sure there is some way for everyone to get involved and meet people, enjoy the collection and special exhibitions.
A diverse collection of hair combs from Asia, Africa and Oceania will be on view in the Parker Gallery from March 5-May 29 called COMBS from Asia, Africa and Oceania: A Selection from the Lazar Collection at the Oceanside Museum of Art. Also celebrate Mardi Gras at the Tradition of Royal Mardi Gras Brunch on Sunday, March 6 from 10:00 a.m. to 1:00 p.m. at the El Camino Country Club, 3202 Vista Way in Oceanside. Guests will be treated to an elegant champagne brunch featuring New Orleans style cuisine, complimentary mimosas and lively jazz entertainment from the Phil Burns Trio. $65 and $55 for OMA members. Advance reservations are required by March 1 760.435.3721.
Learn about the art and life of renowned Modernist photographer Imogen Cunningham from her granddaughter, Meg Partridge, during an illustrated slide lecture on Saturday, March 5 at 1 p.m. at Oceanside Museum of Art. This lecture is an ancillary program for Botanicals: The Photography of Imogen Cunningham featuring over 40 black and white botanical photographs from the 1920s-1930s. The exhibition will be on view through May 22.
The Museum of Contemporary Art San Diego continues to show Mexico: Expected/Unexpected at MCASD La Jolla until May 15 with 100 artworks selected from the Isabel and Agustín Coppel Collection, which is one of Mexico's most comprehensive contemporary art collection. Raúl Cordero: Hendrickje is MCASD Downtown, Jacobs Building through Apr 17. Video, installation, graphic and fashion design, architecture, art history and music all play a part in Raúl Cordero's ambitious painting. The Cuban-born artist was a preconscious pioneer of video art in Cuba during the 1990s.
Lux Art Institute A reminder that acclaimed Los Angeles-based sculptor Alison Saar has a residency through March 5 and that Rick Stich is coming on March 25. Lux has lowered its individual membership to $50, which is good news. Plus Lisa Venditelli, who uses painted pasta, silk thread, antiques, fake nails and eyelashes and other unexpected materials to create her one-of-a-kind items, is now featured in their gift area. Lisa has shown at the MCASD Café.
Museum of Photographic Arts presents Streetwise: Masters of 60's Photography until May 15, 2011 Streetwise builds on Swiss photographer Robert Frank's snapshot aesthetic, which gained attention following the release of his groundbreaking book, The Americans in 1959. Frank's focus on a more personal documentary style influenced a new generation of photographers, including legendaries such as Diane Arbus, Lee Friedlander, Jerry Berndt, Ruth-Marion Baruch, Garry Winogrand, Bruce Davidson, Danny Lyon and Ernest Withers. Also continuing until Sept 15, Inside Out: Portraits from the Permanent Collection.
Don't miss the Patricia Patterson show at California Center for the Arts, Escondido. It is lovely and once again they have chosen a show that will resonate with their local audience and is of a very high quality. Knit & Dish: Learning to Knit on March 6th & 13th from 1:30 p.m. - 3:30 p.m. will give you the skills to then Knit & Dish: An Aran Scarf on March 20 th & 27th, or April 3rd, & 10th. Patterson spent time in that remote Scottish Island and that is the theme behind her show Here and There, Back and Forth on until June 30.
Enjoy New Children's Museum for free on the second Sunday of each month, coming up March 13 thanks to Target. Special activities and performances are available throughout the day. NCM is open from 10am - 4pm.
Timken Museum of Art presents Robert Wilson Video Portraits from Feb 25 - May 15 displaying three of the portraits on 65-inch high-definition plasma monitors. The fourth is projected on the west exterior wall of the museum after sunset. The portraits depict recognizable personalities from the world of performing arts including Robert Downey, Jr., Mikhail Baryshnikov, Jeanne Moreau and Winona Ryder who take on an aspect of their professional lives by being captured in character—but in character inspired by great masterpieces of European art. Art at Sunset Gallery Talk March 3, Thurs., 6:00 p.m. with Dr. John Wilson, Executive Director, Timken Museum of Art. Art in the Afternoon Gallery Talk March 10, Thurs, 12:30 p.m. with Robert Pincus, PhD., Art Critic, Art. Free admission; reservations required. More info: 619.239.5548 info@timkenmuseum.org
TRANSITIONS
We are thrilled that Robert Pincus is staying in San Diego. He accepted the position of Senior Institutional Giving Manager in charge of grant writing for The Museum of Contemporary Art San Diego. The best part is he will be conceptualizing various kinds of projects at the museum.
American artist Dennis Oppenheim (72) passed away on Saturday, January 22, 201. We remember Oppenheim's artwork "Engagement" which featured two large-scale steel and glass engagement rings standing approximately 29 feet high, which was installed at the Laurel Street triangle in San Diego near the airport.
TIDBITS
There is a new link to many museums of the world called the Google Art Project. There is a nifty little video that explains it. What an incredible resource for the world. Thank you, Google!
Spend a few minutes and watch this John Clease tape on creativity if you have not already done so. It explains a lot about why creativity is so valuable and why it is lacking in our schools.
Rock and a hard place feature : The first amendment offered by Rep. Scott Garrett (R-NJ) would zero out funding for the NEA completely. The second amendment of concern is offered by Rep. Tim Walberg (R-MI). It would reduce funding for the NEA by an additional $20.5 million, resulting in an allocation of $124.5 million for the Endowment.
A show of the collection of Ute and Rudolf Scharpff at Kunstmuseum in Stuttgart has over 30 years of graffiti art. Hard to believe this movement is already that old. Street artist Banksy's first film Exit Through the Gift Shop is up for an Oscar – Watch for an unorthodox awards campaign on the walls and billboards of Los Angeles.
Art Market is BACK big time. Sotheby's February Series of Impressionist, Modern and Contemporary Art auctions, realized almost $400 million. ($393,550,838) This exceptional sum not only represents the highest total achieved in London by any auction house this season, but also the second highest total for any sales season ever held at Sotheby's in London.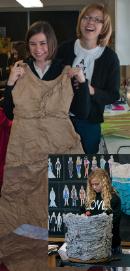 Robin Przybysz with her Santa Fe Christian Schools students preparing for Art Meets Fashion. Photo by Jeffrey R. Brosbe.
One of our newly announced SD Art Prize nominated artists Lee Puffer, who will be showing in the New Contemporaries IV exhibition in late summer is having a show starting Feb 1 to March 6. Being Human Now is at the Art Produce Gallery (3139 University Avenue, North Park, SD 92104) Reception February 12, 2011 6-9pm in conjunction with Ray at Night For more info: leepuffer@hotmail.com 619.584.4448
Do you or anyone you know have a mannequin that could be borrowed for an art exhibit at Visions Art Museum? They are needed for an exhibition titled "Fabric-Free Fashion" in early May. Please contact Beth Smith, Executive Director, if you can lend a hand. The Art Meets Fashion Mannequin Project also needs mannequins so please spread the word and tell Beth or Denise Bonaimo.
There will be a Salon Talk by Pamela Underwoodcalled Living With Images As Companions on Sat, Feb 12 from 5-6pm at the Fallbrook House of the Arts (432 E Dougherty St.Fallbrook, 92028). Pamela will present a 5 year creative process chronicling the relationship that developed between her and the images that emerged while painting the "Maiden of Fire". This painting process supported her journey (2003-2008) while rebuilding her burned home/studio and finally gaining a sense of safety again, after her return. For more info: Cassandra Newberry 760-525-3745
Her house burned and she recovered, but would you fare as well. ArtsReady San Diego on Sat, Feb 19, 2011. 11 am to 1 pm or 2 to 4 pm is a FREE two-hour workshop for SD regional artists that will provide information on preparing for unexpected disasters at Space4Art coordinated by Synergy Art Foundation, sponsored by SDVisualArtsNetwork and funded through a grant from the San Diego Regional Disaster Fund, a supporting organization of the San Diego Foundation. For those who want to attend but can't make this date, please also RSVP and we will do our best to arrange to give you the tools and instructions needed to start the process of emergency preparedness. If you signed up and can not attend it is important to let us know. That is the only way you can still receive the free gifts. If you have signed up, don't forget to fill in your registry form ASAP if you have not done so. RSVP msbzmsbz@hotmail.com 760.729.2821
Quint Contemporary Art is thrilled to announce they now have a new location. Opening on March 25 th they will be at 7547 Girard Avenue, La Jolla, 92037 (next door to Harry's Coffee Shop). The first show in the new space is featuring paintings by John McLaughlin & new work by Roy McMakin. You can also see them at the Los Angeles Contemporary Art Fair, Santa Monica from Jan 27-30.
Mark you diaries for Art Meets Fashion at Mission Federal ArtWalk with Dancing Brush Demonstration by Rosemary KimBal, Sat April 30, starting at 11:30 am. Watch and partake in the Giant Zen Brush painting, preview the materials used in Jean Isaac's SD Dance Theater performance and have a chance to see special Art Meets Fashion scarves.
Appearing as featured artists in 2011 Mission Federal ArtWalkSan Diego (Downtown, Little Italy) this year from April 30 & May 1, 2011, 11:00 AM to 6:00 PM are Maite Benito Agahnia, Donald Archer, Manuel Avendano, Esther Barr, Patrick Blythe, Stevens Jay Carter, Nelson De La Nuez, Fritz and Mischell, Michael Hall, Roy Kerckhoffs, Amos Robinson, and Robert Weil. Selection was based on the following criteria: originality, interesting use of materials, scale, boldness, energy, interesting interpretation of subject matter, and coherent political social commentary (if applicable).
If you missed the latest Bronowski Art and Science Forum you can watch in on a video made by Sidney Wildesmith. "Rhythm - The Brain and a Drum" was a conversation with Drs. Aniruddh Patel and John Iversen with Professor Steven Schick. We went and enjoyed it so much. These three guys were so entertaining and could take this act on the road.
The Cannon Art Gallery's 2011 Juried Biennial was juried by Peter Frank, art critic for the Huffington Post and Senior Curator at the Riverside Art Museum, Riverside, and Larry Baza, Co-Director of Noel-Baza Fine Art, San Diego. The exhibition includes 61 works and opens Saturday, January 29, 5 - 8 p.m. Funded by the Carlsbad Friends of the Arts. We were so happy to see Lee Puffer, Ellen Salk, Dan Adams, Irene Abraham, James Soe Nyun, Larry Careney, Ellen Dieter, Gerrit Greve., Becky Guttin, Viviana Lombrozo, Steven Nossan, COMA (Conrad Mecheski and Maura Vazakas), Joyce Cutler-Shaw, Sherry Krulle-Beatonl, Nanette Newbry, Karen Rhiner, Josie Rodriguez, and Nadine Spier amongst all these worthy artists.
The Talmadge Art Show is this year at the NTC Promenade on Feb 27. Sixty artists will be showcasing and selling high quality craft. Three food trucks will be joining the show. More info: Sharon Gorevitz 619.559.9082
The North County Chapter of the SD Museum of Art meets monthly and you can join them on February 28 for Museum docent Marilyn Woods will talk about the exhibition Thomas Gainsborough and the Modern Woman and how it explores the ways that women, art and fashion came together to contribute to a new sense of women's roles in society in the 18 th Century. This exhibition is a small but spectacular group of paintings by the renowned artist. Then on March 21, Museum of Photographic Arts: Mission, History, and Collection will be discussed by Amber Lucero-Criswell, Director of Education and Public Programs at MOPA. Meet at 9:30 am at St. Peter's Episcopal Church, Del Mar. More info: Stefana Brintzenhoff
The Contemporary Committee of the SD Museum of Art will be visiting a select private collector's home in February and hearing from the artist David Adey, SD Art Prize emerging artist in 2010 with Gail Roberts. This is occurring on the third Monday of the month. .
The famous and well-loved father and son team of James and Drew Hubbell (internationally renowned artist and architect) talk to Phoebe Chongchua from ArtPulse.TV about life, art, and how mistakes have paved the way for greater success.
Kinsee Moran's article in City Beat about the show Synthesis: Processing and Collaboration makes it sound even more interesting than we imagined. It is on view at gallery@calit2 (first floor of Atkinson Hall, UCSD) from Fri, Jan. 14, through March 11.
Through the Eyes of an Artist at the SD Botanic Gardens, Cheryl Tall, Feb 12, 2-3 pm. This is a chance to hear Cheryl Tall speak of her ceramic and mosaic skirted figure called Orange Zinger at the former Quail Gardens in Encinitas. It is a whole day event from 10 to 4 with many speakers and a workshop for kids.
OPPORTUNITIES (click to see a list of all current opportunities listed on SDVAN)
Jurors are needed to jury on-line exhibitions for SD Women's Caucus for Art . In 5 exhibitions this coming year the themes will be (1) Transformation (2) Express Yourself (3) Bursting Out (4) Diversity and (5) Telling Stories. The juror for each exhibition will be paid $50. For more info: Laura Jean 619.272.3231
ArtClash, a worldwide artists collective committed to community arts engagement, will be having it\'s first San Diego-based community Fun-A-Day art show with30 local artists pursuing their medium of choice this month - from sculpture, painting and photography to 3D animation, music, film and more. The premise of Fun-A-Day is that local artists commit to work on a project each day during the month of January, then will show at a collective art show on Feb 18 from 6-10pm hosted by Space 4 Art downtown.
Women's History Museum has made a call for paintings, sculpture, mixed media, film, video and theatrical presentations all base on the theme of Celebrating Giants. This is a Multi-layered exhibition focused on the life and work of Sojourner Truth and the African American Women's Suffrage Movement. from Feb 1-27. More info: Ashley Gardner 619-233-7963
This fabulous opportunity offered The Kenneth A. Picerne Foundation is now accepting Artist Outreach Project Grant applications. This grant supports accomplished visual, literary and performing artists, 55 years of age or older, who are motivated to give back to their community. The Foundation will award up to twenty artists $12,000 to provide educational, mentoring or therapeutic art experiences of their own design to under-served people who lack opportunities to engage in meaningful arts programs. Artists are asked to collaborate with a Nonprofit organization (and SDVAN is glad to sponsor candidates in SD) of their own choice to pursue their proposed project. Artists must live in North County San Diego or Orange County to be eligible for this grant. More info: Victor Nelson 949.267.1517
Front Porch Gallery has issued a call to Artists for a juried exhibition March 19-May 8, Prizes are 1st: $250 2nd: $100, 3rd: $50. This non-profit gallery, located in Carlsbad invites artists living in San Diego County, 18 and over to submit works of any media. Size limited to 48" x 72" and 50 pounds. Gallery Director Steven Nossan and Assistant Director Julie Weaverling will be jurors. Submissions received by Jan 30 will be considered for the exhibit announcement. All entries due no later than March 12. Entry Fees: $25 for up to 3 works. More info: Julie Weaverling 760.795.6120.
SD Fine Art Society and Pulse Gallery are inviting San Diego based artists to submit art for an exhibition called The Naked and the Nude that debuts in March. What is the difference between "naked" and "nude"? Pulse is looking for artwork that explores one or the other of these concepts... psychological, emotional, physical nakedness - the celebration of creation, nurture, sexuality, sensuality in the nude. Please submit your ideas and images to Ansley Pye. 619.995.2515
The El Cajon Community Development Corporation (CDC) is looking for community involvement in establishing a Cooperative Art Gallery in Downtown El Cajon. They held a meeting in Jan and are interesting in offering an almost rent free space for the right group of local artists and arts organization in the El Cajon/San Diego area. For more info: Sarah Miralles 619.401.8858
It is that time of year again in Downtown El Cajon for the painted utility box call for artists. This season, project organizers are particularly interested in artwork promoting public transportation or environmental health. Of course, artists and community members are also invited to contribute creative designs that celebrate the identity and character of El Cajon - its past happenings, signature community events, distinctive businesses, historic buildings, natural beauty, culture, and more. More info: Rebecca Reye 619.401.8858
Jewelry Studio Rental is available for classes, meetings, lectures, demonstrations, workshops or Trunk Shows at Whaley Studios ( 3848 Fifth Avenue, upstairs Suite B in Hillcrest).on an hourly basis with a 2 hour minimum, as well as weekly and monthly. The room is8.5 ft. X 10.2 ft. and two adjacent rooms equipped with two jewelry benches, soldering station, rolling mill, buffing wheels and a photography set up. For more info Jay Whaley 619-299-9619. Rates are available upon request. Priority offered to frequent users.
Santos Fine Art Galleries in Encinitas is currently looking at portfolios to fill our 2011 monthly feature artist shows. If you would like to be considered send a bio and 10 images to Santos Orellana. 760.633.1644
Join Ingrid Hoffmeister and Savannah Sincoff at the Tuscan Renaissance Center, a magnificent 13th century converted monastery, with guest instructor, painter Pia Stern to move, write, and make art. June 25-July 2 for $2495. Workshop includes: accommodation, instruction, transfers, food, wine and excursions. Airfare excluded. More info: Ingrid at www.play2create.com
Art in The Pines announces three opportunities for you to exhibit and retail your artwork: 1. Open Air Gallery, where you may submit several pieces and the docent society selects and staffs the gallery. 2. Set up and retail in your own booth. 3. Enter the Plein Air Competition. The 2011 application is Feb 15 th. A fantastic committee is already in place building and expanding on what we have achieved and learned in 2010. Suzan Potuznik is Docent for the Torrey Pines State Natural Reserve (TPSNR) and Art in The Pines 2011 Committee Member. For more info: Grace Swanson 760.942.6109
We just got news of the next three theme for the Fallbrook Library Juried shows - "Watercolor Images of North County San Diego" due February 11 for March 8, "Wildlife Art" due April 1 for April 27 and "America: One Nation, Many Voices" due May 13 for June 7.
MUSEUMS
Good luck to the Mingei International Museum whowill open the lucky Maneki Neko ANEKI - Japan's Beckoning Cats – from Talisman to Pop Icon on Sun, March 13. On display will be selections from a collection of 155 cats given to the Museum two years ago by collector Billie Moffitt. Made in the nineteenth and twentieth centuries, each cat is unique. Most are made of clay, but some are wood, metal, ceramic and papier mâché. The exhibition continues through Sun, January 15, 2012
You can start looking forward to theSD Natural History Museum show Ends of the Earth: From Polar Bears to PenguinsMay 14, 2011 through April 15, 2012. As the world celebrates the 100-year anniversary of the Amundsen-Scott race for the South Pole, a new exhibition explores Earth's extreme—and extremely fragile—polar ends with stunning vistas, massive polar bears, comical penguins and brave explorers.
The San Diego Museum of Art long awaited Howard Hodgkin: Time and Place exhibition runs from Jan 29, to May 01. The exhibition features a powerful body of new work, painted in the last year, never exhibited before and is coupled with another brit from an earlier time: Thomas Gainsborough and the Modern Women show which has become one of our Arts Meets Fashion fringe events. The exhibition will also feature a small selection of period dresses from the Cincinnati Art Museum, further contextualizing Gainsborough's portraits while affording visitors a view of the material accessories of the "modern woman." More info: programs@sdmart.org 619.232.7931
Oceanside Museum of Art will showenvironmentalist, photographer and adventurer Carolyn Guild in Affirmations of Spirit, where she captures the majesty of nature in her black and white landscape photographs from Feb 5 through April 3, 2011. Guild show locally with Eric Phleger Gallery. Islands Of Color: Polynesian Quilts runs Feb 12 – May 1.Congratulations to Carolyn Mickelson who is the new President, Board of Trustees for OMA.
On Sat Jan 23,The Museum of Contemporary Art San Diego opens three new exhibitions -Jennifer Steinkamp: Madame Curie, Raul Cordero: Hendrickje, and Joan Jonas: The Shape, the Scent, the Feel of Things- at MCASD's downtown Jacobs Building location. The Museum's TNT (Thursday Night Thing) event on Thurs, March 10 at 7PM, will allow Members and visitors to interact with the artists and enjoy gallery tours, music and art-making activities throughout the evening. MCASD Members receive advance admission at 6PM during a special preview hour. Mexico: Expected/Unepected opens in La Jolla on Fri. Feb 4 for members from 7-10 pm and features 110 works from the Isabel and Agustin Copal collection.
Lux Art Institute presents the LA based Alison Saar with narrative life size figures and installations. You can view them for free on Feb 16 and March 16 from 7-9 and on Feb 19 from 11 to 3 pm.
Museum of Photographic Arts will present Streetwise from February 5 - May 15, which builds on Swiss photographer Robert Frank's snapshot aesthetic. Frank's focus on a more personal documentary style influenced an entire generation of photographers. Streetwise highlights nine influential photographers of the 1960's and illuminates their investment in recording the rapid social and political changes taking place in America. Also Jerry Gardner has spent 2010 digitizing nearly 6,000 images from MoPA's permanent collection. The National Endowment for the Arts and the Institute for Museum and Library Services will allow them to share their treasured permanent collection online with a global audience. In the past, viewing a work from the collection meant scheduling an appointment for the print-viewing room and pulling the piece from our vault. In 2011, it will be as easy as a click of the mouse.
California Center for the Arts, Escondido is presenting two new art education programs. ArtSmart meets every 4 th Friday of the month from 10 a.m. - 11:30 a.m. and is hands-on for 1 to 4 year olds and their parents/guardians. Explore music, movement, and paint with professional artists and specialists who will share information about ways to boost your child's development with Art in Action meets every third Saturday of the month from 10:30 a.m. -12:00 p.m. More info: 800.988.4253. Don't miss Patricia Patterson: Here and There, Back and Forth starting on Feb 12. .
The San Diego History Center is the re-branded name of the SD Historical Society (SDHC) which announced it was awarded a grant from the Center for Library & Information Resources (CLIR) totaling $162,024 to support the identification, cataloging and improved access to 133 of SDHC's 284 archival collections. Congratulations to them and to SD for getting this improved resource.
At the New Children's Museum artist Joshua Krause and his senior art and design class have transformed the Teen Studio into Studious. This new project, I Can Feel the City Breathing..., explores issues related to waste in each student's neighborhood and the San Diego region. Finding inspiration in disordered signage, repurposed cardboard, and discarded junk mail, the collaborative artwork will result in an urban-influenced community garden and a meeting place for San Diego youth. Starting in January, kids age 11 and up can contribute to the project to repurposing trash into thought-provoking art.
TIDBITS
In June 2010, a landmark gathering of some of the world's leading providers and brokers of online public art resources took place in Baltimore, Maryland. A well-known leader, Jack Becker, Executive Director, Forecast Public Art convened the meeting, co-sponsored by the Public Art Network of Americans for the Arts. Attendees committed to a process of identifying needs and opportunities to advance public art by collective action. You can now read the results of that summit in a 66 page PDF document.
With the rise of starchitectculture in recent decades, there has been a subsequent rise in the number of museums designed by celebrity architects. A big name architect does indeed draw a crowd. Check out ten of the most eye-catching modern museums on the planet — including a few that are still currently in progress compiled on the Flavorwire site.
Ai Weiwei is a Shanghai art activist and documentary maker whose obviously upset the government with two films he made. One about a lawyer stranded at an airport and one about a man who was killed by the police. They destroyed his $1 million studio but strangely they say he will be compensated. Even more strange is that the same government requested that the studio be built to begin with. A complicated web of intrigues which feeds the stereotype of the inscrutable Asian mind. We saw this story reported in ArtInfo and they got it from Global Times.
Alexandra Rosa
RAW for SDVAN
Now watch Alexandra Rosa on Video at ArtRocks247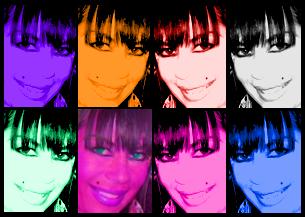 Any tidbit, gossip or news of the immodest kind can go directly to Ally Bling Bling for publication the next Raw. All sources are, of course, kept confidential. Hear Ally and Phillyarchived at ARTROCKS! Internet radio.

back to top